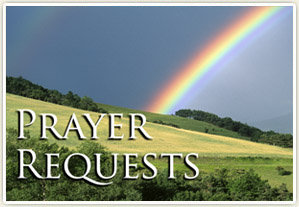 Faith is simple in its operation and powerful in its results. We believe that prayer is the key in the hand of faith to unlock heaven's storehouse, where the boundless resources of Omnipotence are treasured. We consider it a privilege to pray for you.
NOTE: Please read the prayer petitioners' guidelines, and send only 1 prayer request per week, unless it is an emergency.
To post a prayer request, you must first register an account or login. This is necessary to protect the community and the prayer board from being abused by spammers. We sincerely apologize for this inconvenience.
I request prayer that God manifests in my work
arturo castaneda
United States, 2014-03-09 00:09:46

Please pray for me to have favor in the sight of my helpers
odaibankss anang
Ghana, 2014-03-07 16:37:02

Hi Brethren, I am kindly requesting for prayers for God to answer our heartfelt prayers. Hence, pray that my wife will receive the transfer applied for and that I will get the job applied for. We are also seeking prayers for healing.
Reuben Sitali
Zambia, 2014-03-07 04:29:47

May YAHEWA richly bless you who diligently seek Him. I have a daughter with a 6'3" Hawaiin woman with her masters degree in Hawaii history, language, and culture. Her name is Pulama. She is one of the people in charge of Hawiian immersion. My name is Daniel and I am 6'10" and was blessed with extraordinary physical talent in sport. Needless to say my precious little girl is 8 and is about 5'8" and her name is Zhen Li Kekuakamahao. People mistake her for being 14 and she is a perfect treasure all the down to a beauty-mark right on the corner of her mouth stunning girl with grace and grown man strength. She truly loves YAHUWA. However her mother has had her in hula dancing since three. The mother and I went to court for custody 2 yrs ago. She had number 1 attorney in Maui, I had my faith in Justice. For six years she was in my custody 50/50. At court we verbally agreed that I would just have to take a parenting course, after 90 days she would go back to 50/50. They told the Judge some words that SOUNDED like it was all good. I was so happy I just signed the contract trusting the process. I signed over full custody, no phone calls, only spends the night Sundays and 3 hour visits on weds. Wow have I been burning. All that aside, her mother just took her to New Zealand for a week to stay at a pagan temple and I keep seeing them planning to indoctrinate her. She told me she was scared to go because they will be at a temple not of YAHEWA. She said "daddy is it ok when we have to say Amen I can say in YESU name in my heart when they want me to say Keakua. I was so proud of her to care about that. Yesu is Jesus in Hawaiian. After she left on Monday I discovered this website and my whole life is turned upside down praise YAHEWA! Please pray a Mighty Hedge around my little princess! Incest and sexual issues ran rampant in her family. May YAHEWA richly bless you for your concern and prayers. P.s. My little boy Joshua Hossana will be born any day now. Please also consider praying for he and my wife Jubilee. She thinks I'm crazy up to 20 hours studying my new found faith so please pray for her and my other 6 yr. old Kelea who was forced to have oral sex with her paternal father. When I met them last year she was a broken, hurt, angry,rebelliousness lying little girl. And now she is so well! She shines now when she smiles. She courteous, honest, outgoing, trusting and loves the Lord of Hosts! Hallelujah. Again please pray for Zhen Li's guidance and protection of her purity. I love you all. See you all soon when we have our Acts 4:20 moment in Isreal together. Blessings.
Daniel Richards
United States, 2014-03-06 11:48:05

dear friends my self raviteja completed my m.pharmacy looking for a job and my mother health is not good. please pray for us to get me good job and settle my family in good manner. i'm going to convert christian please pray me also. thank you
ravi teja
India, 2014-03-05 11:20:04

Please pray for me to have favor in the sight of my helpers
odaibankss anang
Ghana, 2014-03-05 10:26:53

Dearest Friends, Christian Greetings from Seoul South Korea! Please, include us (Dolly, Nathaniel, Elizabeth & Maggie) in your prayer. We'll be renewing our visa here in korea tomorrow and we are not sure if we'll be granted by the immigration officer(s), but we strongly believe that everything is possible with God. This term will be our last and also we need you to pray for our thesis that we may able to finish and depend it on time, this spring. We really appreciate your support and prayers. Thank you and be blessed always.
maggie mancia
South Korea, 2014-03-05 09:27:25

hello my name is lennon st.ville. i live with my girl friend and kids we woud love to know and be committed to the laws and ways of the lord god.yashua. and we ask that u pray in helping us find ouray please before its to late .to give his sabbath in the appointed time. i printed the carlender of the lord and i would like to keep his sabbaths and hold his feasts and to walk in his way.may the lord u for what u have been doing.
lennon st.ville
France, 2014-03-04 03:55:54

pray that i will recive the baptism of the spiritpray for my friend to quit drinking bless you all
kathy evans
United States, 2014-03-03 07:50:19

For God's guidance
Mrs Ebiaku Dupe Ben
Nigeria, 2014-03-03 04:16:46

Please pray for me to have favor in the sight of my helpers.
odaibankss anang
Ghana, 2014-03-02 14:48:36

Salvation for my elderly mother and "HeRose777" band, musical ministry to usher in his spirit,not for entertianment
Phillip Henry
United States, 2014-03-01 16:55:19

For My aunt who was admitted in hospital due to a severe pain near her pelvis now she has just recover from an operation pray that she recover well and soon because her two children miss her a lot and his husband thanks for your Prayer
GAEL MERITE
Mauritius, 2014-03-01 02:45:17

my best friend was put in the hospital, with double ammonia, she had a fallow up check today. the doctor put her in the hospital and the doctor did x-rays of her lungs and didn't find the ammonia was not there, but she dose have brokenitas I hope and pray that she dose better she needs Jesus healing hand. amen..
malena rodriguez
United States, 2014-02-28 20:17:53

I am a website developer. please help me with prayers to get a good paying and also i want to be strong in worshiping Yehuwa and to do his work.
Raph Addo
Ghana, 2014-02-28 09:12:41

My twelve years old sister is going through rough time, she is hurting herself both physically and psychologically. Please pray for her to find the right path.
Elvan Özbek
Sweden, 2014-02-28 09:11:01

Brother fred i want to open my own work and also beptism and i trying to keep sabbath day holly.....and my father suffring to peyralizd please pray for my family and to start a new work of mine.......
kamal nakwal
India, 2014-02-28 07:41:54

please pray for me for the Lord to direct me to my helpers and also promotion.
odaibankss anang
Ghana, 2014-02-26 12:17:41

For all sick peaple and another that are suffering with the drougth ...
Edilson Souza
Brazil, 2014-02-25 19:47:09

HELP ME PRAYING FOR BREAKTHROUGH IN MY STUDIES. I AM CURRENTLY DOING MY FIRST YEAR IN COLLEGE AND I AM STARTING EXAMS NEXT WEEK
STORY MBEWE
Malawi, 2014-02-24 16:58:13

Please pray for my family to be in frat to save God in this last days..
samuel kalamula
Malawi, 2014-02-24 09:25:56

I pray that this week will be my week of BRAEKTHROUGH
odaibankss anang
Ghana, 2014-02-24 07:00:57

Please Pray for the salvation of my family, that YAHUWAH Elohim and His son Yahushua send his spirit to guide thier mind...
Jenelito Juntilla
Philippines, 2014-02-24 00:17:45

My health is very weak and having more stomach problem day by day and also headache very often, please pray for my urgent remedy.
JOSEPH HASDA
India, 2014-02-23 09:21:03

For all people lost in the drug's world and the sick people in hospitals.
Edilson Souza
Brazil, 2014-02-22 14:54:06

Please WLC team pray for Manisha and Lakhan they both in hospital and they are very serious so lease pray for them for better health...shalom
Rashmi Vijay
India, 2014-02-22 13:33:45

Since the road towards the footsteps of my master Yahushua, it is my biggest joy to thank Him with the biggest joy ever. However, i would like to ask for more prayers towards my weaknesses in praying to Him always. Also i would like to ask for more prayers towards the mission of saving souls by His grace.Amen.
yussuf tsela
Swaziland, 2014-02-22 04:52:20

I am powered in my belief
susiyanto ,
Indonesia, 2014-02-21 19:53:46

My mom´s health :(
BRUNO ARRIBAS
Brazil, 2014-02-21 05:49:34

I have been working as a casual staff in BPSL for 1year & 6months with little PAY. I give my best to the organisation,I even work extra HOUR in the oganisation, Yet no dine is added to my PAY. I dont Enjoy any benefit Accrude to staffs because i'm CASUAL. PLEASE PRAY for ME TO BE STAFF I need this job and a high pay I BELIEVE in YAHUWAH
Mugalla Andrew Kpokpor
Nigeria, 2014-02-19 08:36:51