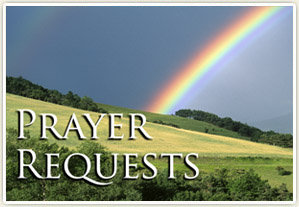 Faith is simple in its operation and powerful in its results. We believe that prayer is the key in the hand of faith to unlock heaven's storehouse, where the boundless resources of Omnipotence are treasured. We consider it a privilege to pray for you.
NOTE: Please read the prayer petitioners' guidelines, and send only 1 prayer request per week, unless it is an emergency.
To post a prayer request, you must first register an account or login. This is necessary to protect the community and the prayer board from being abused by spammers. We sincerely apologize for this inconvenience.
Can you please pray for my studies debts and the wellbeing of my family
nomfundo khubone
South Africa, 2013-12-06 05:04:43

My precious Father! Send me the right life partner. Bless me Lord so that I can build up a family for Your glory! I pray in the matchless name of Lord Jesus.Amen.
Svetlana Nikifirova
Russian Federation, 2013-12-06 01:18:19

Brother please urgent pray for my uncle's mother..she is now in hospital..at morning suddnly faint and fell down and still she doesnt not open her eyes..please pray..
Rashmi Vijay
India, 2013-12-06 00:33:43

Please pray to Jesus Christ the Messiah to have great mercy on myself and my mother Sonia Carrrasquillo and to lead us to salvation all the days of our life. Amen
Benny Rodriguez
Puerto Rico, 2013-12-03 18:07:29

Please pray for me i have a severe depression , and i tryed to kill myself 2 times and i started to thing that God isn't love.
Lorena Rosu
Romania, 2013-12-03 13:20:21

please pray for for my health as I was extracted my wisdom tooth by surgery method. Some of the samples are sent for biopsy . Please pray for good reports of biopsy with better results .
kandula prabhakar
India, 2013-12-02 11:06:45

Please pray for me that this blasphemous thought leave me, i need to serve god and live… i don't seek for material things cause i know those things i can't take with me when i'm gone, i need to start walk with the true and living god in spirit and in truth, pls help me.
Jermaine Danvers
Jamaica, 2013-12-01 18:47:57

I pray for peace in the world so can we be better place.I pray all our spiritual, emotional, financial, and basic needs will be satisfied and that we will endure until Jesus comes so we can see his holy face. I prayer a person with a sickness will be healthy and live forever.
Sabrina Bernard
Trinidad and Tobago, 2013-12-01 15:53:22

It has come to the attention of my church that I keep the lunar Sabbath and many of them are calling me and I am having a hard time explaining this so that they understand. I am being told that I am following the devil! But I keep telling them that God's calendar has not changed, but man's calendar has but they don't seem to understand. I am praying for them and for myself too. Please pray for me and them.
Ramona McKutcherson
United States, 2013-12-01 11:53:46

please pray for my attendance so that i can write the exams
Ajay Kumar
India, 2013-11-29 16:48:30

Dear brothers and sisters in Yahushua's name. Please help me. Please pray for the fast recovery of my wife's nephew who is only a little boy, now in a hospital in ICU, and doctors could not detect what his ailment is... The doctors suspect is that he has a virus in his brain... The boy's status is that he is still wit dextrose, couldn't open his eyes and couldn't speak but he is not commatose... When he is awake, he just moves his arms, head and feet.... His name nickname is Cobi, his family name is Varias... please help me to pray to our Greatest Creator Yahuwah and our Savior Yahushua for his fast recovery... amaniYAH... halleluHYAH...
Arturo Cabrera
Philippines, 2013-11-27 21:03:31

please keep my family in your prayers, so that all our spiritual, emotional, financial, and basic needs will be satisfied and that we will endure until Jesus comes so we can see his holy face.
Jerome Williams
Jamaica, 2013-11-27 12:32:51

Kindly uphold our family in your prayers, so that all our financial problems must go cleared soon....
Sam Paul
India, 2013-11-27 00:48:48

Please pray for me in order to get a right job I completed my study last year.
james thendo
Tanzania, 2013-11-26 17:28:46

Please pray for my family members for good health and to cum out of financial problems
Leo Richard
India, 2013-11-26 08:27:26

Thank God for keeping me alive until now and also for my new job. May God allow me to reach client and colleagues for Him, that they may know Christ and Him crucified. Please pray for me that I may get sales in my new job. There is one big sales project, may God give me favour here. I want finances for His work next year and also for migration mercies. Pray for me healing o-in Goitre. healing for my both sons low immunity and brain booster to improve his studies. Amen. regards Irene
irene wanjiru
Kenya, 2013-11-26 01:40:04

I would like to ask a prayer to God that we may give us more lights, and strengthen our faith in Him especially this days of trials.
Jonathan Sadullo
Philippines, 2013-11-25 03:43:09

for change of mind
wisdom bless
Ghana, 2013-11-23 11:55:20

i would like to request all the Members of this Worldlastschance to remember me in your personal prayer because i have face financial problem to pay for my tuition fee.
Simeon Lalhmudik
India, 2013-11-23 10:09:08

please pray for me to forgive all my sins , and pray for my family and for me to get a job in my coming campus placements
sushmitha katikitala
India, 2013-11-22 09:51:04

pray for me...
dharma teja
India, 2013-11-22 06:27:05

GOD LOVES U
DEVA JYOTHI
India, 2013-11-22 05:19:45

Please pray for me because I am being tormented and followed by evil spirits wherever I go. I feel a constant feeling of hands on my body. Strange stuff sometimes happens to me that is not natural. Its been going on for two years now. Please pray for me for deliverance. Thank you. John
John Archer
Namibia, 2013-11-22 01:01:34

my beloved family, i am weak in spirit, i am very lazy at worshiping God. please pray for me to gain strength in worshiping Him.
Emmanuel Antwi Yeboah
Ghana, 2013-11-21 16:46:02

Please pray for me to know what to do on the future, And to keep the sabbaths
Lorena Rosu
Romania, 2013-11-20 12:48:33

Good Day! I''m enlighten to every revelation I discovery from this may the Lord help follow and take action. Pray for me I really want to follow the Sabbath religiously. I have faith that this the true time to worship our Father. Also pray for my business network, more business partners will come and invest. My leadership skills to handle people, financial freedom. Shalom
Samuel Marquez
Philippines, 2013-11-20 11:56:30

Please pray for my family, church, friends ..and that my health will keep gettin better and better..pray for all the people that dislike me and bless them in the name of Jesus.
Jenny Pease
United States, 2013-11-19 16:42:39

a prayer request for visa approval to the united state of american
Jolly Onoriode
Nigeria, 2013-11-19 12:56:11

pray for my family and getting good job to my sister and myself and good health to my family members and relatives
vikas kothapalli
India, 2013-11-18 06:05:38

Please pray for me at this time, I am having some problems that only God can heal. Thank you, and God bless everyone.
Karen Redding
United States, 2013-11-16 23:53:06