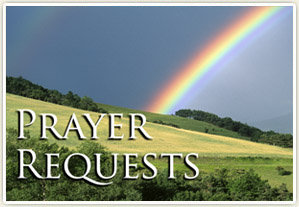 Faith is simple in its operation and powerful in its results. We believe that prayer is the key in the hand of faith to unlock heaven's storehouse, where the boundless resources of Omnipotence are treasured. We consider it a privilege to pray for you.
NOTE: Please read the prayer petitioners' guidelines, and send only 1 prayer request per week, unless it is an emergency.
To post a prayer request, you must first register an account or login. This is necessary to protect the community and the prayer board from being abused by spammers. We sincerely apologize for this inconvenience.
Please lift a brother in Yahushua up in prayer , he has suffered greatly with a heart condition and is facing surgery. Let us pray for a miracle for this true man of God , in the name of Yahushua - Amen
alice collins
United States, 2014-08-21 00:31:18

Recently I was in the hospital because of blood lost. I was diagnose that my pancreas has a cyst and a mass on my kidney. I haven't seen the doctor yet of what will be my outcome of what things going to be. Even though i suffer with diabetes,and high blood pressure. I have been sick on and off. But would like you to know that I don't claim these problems because i always had have believe in God's blessing's. I ask to help me keep my faith strong and all that my illness will subside.
Cynthia Jones
United States, 2014-08-20 14:56:45

Please pray for me to found favor in the sight of my helpers
odaibankss anang
Ghana, 2014-08-20 09:02:41

Past 49days I have been waiting for my employment visa to come out from Ajman UAE. Normally it take only 4 to 5 working days for the visa to come out , in my case every time some or some obstacles for the visa to come out. My previous visa has cancelled and my grace period is over , I have to pay fine for over stay , I am in such a situation neither I can travel nor I can stay here freely , I humble request to you all please pray for me, for my visa to come out fast
Adolph dsouza
United Arab Emirates, 2014-08-19 15:59:38

Requests for prayer a lady from the Czech republik ; Please pray for you my friend ... who has big problems. He suffers from bipolar disorder. Thank you. His name Pavlik . We publish every day to witness to Christ ... already praying. However, the barrier is pray for each other. Do not you realize the existence of God . But I know him . A sometimes has deep thoughts about God. Though not believe yet . It's true ... special , but on the Lord when it is touched . Thank you for your prayers for him ...
Adam Paška
Czech Republic, 2014-08-18 07:01:27

Hi name is sylvia for the past two years i've been looking for a job i dnt get it,is just temporary job,sPls pray for me to get a proper Job and a good husband,
Sylvia Bosega
South Africa, 2014-08-15 18:15:16

I'm doing job in a university as Clerk, I want to registered and run my own company of Import & Export. Please pray for me. Sajid Masih
Sajid Masih
Pakistan, 2014-08-15 00:38:29

I really want to take you for your prayersn,It helps me a lot,even i don't believe in prayer good things happen in my life,And i am so happy know that someone care about me,Even i make a lot of mistakes and i must remove them,Thank you , You guys are the best friends ever ;) !! Hope you know that and that you are incredible and deserve a lot of compliment ;) :) :D Thank you !!
Lorena Rosu
Romania, 2014-08-12 17:42:53

Please pray for our this bible study this friday, and please pray for me for the holy anointing and leading of the Holy Spirit because I will be the one to share this friday. Also please pray for my brethren's in the ministry and for my family. Financial provision of the Lord and a healthier Faith and Spirit. Thank You all., God bLess! Really need this prayer.
Claire Pascua
Philippines, 2014-08-11 10:28:00

Oh Lord Christ , Yahushuah, please give me a healthy body for this is my only mean to continue serving you. Make me live in a fuller life... And save us from our enemies, give salvation to your servants. Avenge our blood from our enemies...
jonathan Sadullo
Philippines, 2014-08-10 15:45:28

My name is Sharee Hill and my prayer request is for miracles in my life, i need God to reposition my entire life and deliver me from witchcraft, voodoo, & poverty put upon me since childhood. please pray that all my children are saved and that i find a really good christian man. Also that a recent traffic ticket be cancelled and a new & i get a new car & better job or position, thank you so much.
sharee hill
United States, 2014-08-07 02:33:08

Sir, i am 23 years old young man. I was a member of WLC in 2012. But due to my peronal stress and probem i discontinued from WLC. I am facing many temptation now and fell down in sin. please pary for me that i can resist satan and be pure.
PRADIP KUMAR SAHA
India, 2014-08-05 07:55:27

Please pray for my family to be saved and understand the God truth, pray for me to keep Yah commands and development in my business(I am doing ICT business).
Severin Philemon
Tanzania, 2014-08-02 02:44:23

May Yahuwah protect and watch over all of his children. Please pray for me and my family for us to be under constant protection of Yahuwah.
Raph Addo
Ghana, 2014-07-30 10:42:29

pls pray for me. im a little confuse of my situation today. i dont know what to do.. i cant think very well, i have no peace in my mind.. i know that God is with me.. he's watching over me.. still im not following his will.. i want to walk to his will for me.. pls help me, i cant share what is really happen to me now.. i pray that God would sustain me in His will. God bless and thank u so much.
jelly ann chiyuto
Philippines, 2014-07-30 03:52:08

My wife has been injured for two years and now her solicitors are saying that she may get nothing from her claim. Please pray that the Almighty will intervene and guide those that are making the descisions to bring this to a fair and just close.
David Hatton
United Kingdom, 2014-07-28 19:55:41

The daughter of a friend of mine has a suspicion of malignant nador.Prosim pray for her , it's a little girl Jessica (from Czech Republic). Thanks to all . . .
Adam Paška
Czech Republic, 2014-07-28 12:01:11

I pray to have my son Jeff's faith return to him and my grandchildren to turn God, so they may written in The Lamb's Book of Life. Amen
Donna Gibbs
United States, 2014-07-26 07:47:14

pray for my elder brother he is not accept Lord Jesus Christ please pray God changed his heart and he took baptism and pray for my mother she has body pain because she works hard in village and that area is hot area she only walking one place to another place.
justin david
India, 2014-07-26 03:39:43

I have stopped going to the 7 day adventist church because I cannot accept their stance anymore or some of their doctrines. I need fellowship. I know no one like ' the 'congregation of yahweh', olivet discourse.com , and now you 'worlds last chance'. I am still observing the 7th day sabbath and read the aramaic in english translation. I prayer is that I can meet someone her in my town who is likeminded in the way
john delamere
New Zealand, 2014-07-26 01:06:05

Oh Lord Yahushuah, until when will we wait to avenge your servants that they have betrayed, we are a faithful friends as we were with you but this world has denied us even if we are a faithful friend... Let them reap what they have sown it's time to avenge your servants... Let evil vanish from your sight and from the sight of your servants... Amen.
jonathan Sadullo
Philippines, 2014-07-24 10:37:41

Oh! Lord Yahushuah, let those who practice iniquity reap what they have sown, it's time for them to pay their evil ways... They have forsaken my blood, they have sinned one of the commandments of Yahuwah, let them know that You are my God whom your servant have served...
jonathan Sadullo
Philippines, 2014-07-24 10:06:19

brethren please pray for me i have believed everything here but my problem is whenever i decide to fast or do anything to please Yahuwah i tend up not doing it and also my health is not good my liver and other health issues i am suffering from hepatitis b
erskine amissah
Ghana, 2014-07-23 15:08:35

Please pray for me,my examination is starting tomorrow but i feel so down that i cant prepare for my exam.i cant focus i dont know why.please
petrus seditse
South Africa, 2014-07-22 11:28:21

i need protect from Him, My brother not belived Jesus, he just belive about agnostic, i'm so sad to hear that. please help me to pray him. God Bless Us. thanks
novita yansen
Indonesia, 2014-07-16 22:20:44

Peço oração pra meus filhos Fernando e Ruanna me obedecerem e estudarem,e pra meu marido Andre vim logo pra Pernambuco e sair da cadeia,pra receber a idenização da minha casa pela caixa,e minhas idenizações trabalhistas do colégio meridional e do Colégio Aplicação e pra minha vó Maria José vender o apartamento,reformar minha casa,pagar as dívidas,limpar meu nome e montar meu negócio e sermos uma família feliz e abençoada.Obrigada e Graças a Deus.
Rebeca Moraes
Brazil, 2014-07-16 16:58:08

Brother please pray for my good health..and most important please pray for my hair..suddenly I have lots of hair loss problem....shalom
Rashmi Vijay
India, 2014-07-15 00:53:22

Dear Sir Price The Lord Please pray for my new business of Krupa Keerthi Automobiles.
LEVI gollamudi
India, 2014-07-14 08:20:11

Pray for me to follow footsteps of the Lord.
Fred Okanta
Ghana, 2014-07-13 09:56:02

please pray for me to have favour in the sight of my helpers
odaibankss anang
Ghana, 2014-07-11 09:59:09