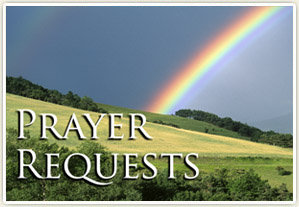 Faith is simple in its operation and powerful in its results. We believe that prayer is the key in the hand of faith to unlock heaven's storehouse, where the boundless resources of Omnipotence are treasured. We consider it a privilege to pray for you.
NOTE: Please read the prayer petitioners' guidelines, and send only 1 prayer request per week, unless it is an emergency.
To post a prayer request, you must first register an account or login. This is necessary to protect the community and the prayer board from being abused by spammers. We sincerely apologize for this inconvenience.
Oh Lord Yahushuah, until when will we wait to avenge your servants that they have betrayed, we are a faithful friends as we were with you but this world has denied us even if we are a faithful friend... Let them reap what they have sown it's time to avenge your servants... Let evil vanish from your sight and from the sight of your servants... Amen.
jonathan Sadullo
Philippines, 2014-07-24 10:37:41

Oh! Lord Yahushuah, let those who practice iniquity reap what they have sown, it's time for them to pay their evil ways... They have forsaken my blood, they have sinned one of the commandments of Yahuwah, let them know that You are my God whom your servant have served...
jonathan Sadullo
Philippines, 2014-07-24 10:06:19

brethren please pray for me i have believed everything here but my problem is whenever i decide to fast or do anything to please Yahuwah i tend up not doing it and also my health is not good my liver and other health issues i am suffering from hepatitis b
erskine amissah
Ghana, 2014-07-23 15:08:35

Please pray for me,my examination is starting tomorrow but i feel so down that i cant prepare for my exam.i cant focus i dont know why.please
petrus seditse
South Africa, 2014-07-22 11:28:21

i need protect from Him, My brother not belived Jesus, he just belive about agnostic, i'm so sad to hear that. please help me to pray him. God Bless Us. thanks
novita yansen
Indonesia, 2014-07-16 22:20:44

Peço oração pra meus filhos Fernando e Ruanna me obedecerem e estudarem,e pra meu marido Andre vim logo pra Pernambuco e sair da cadeia,pra receber a idenização da minha casa pela caixa,e minhas idenizações trabalhistas do colégio meridional e do Colégio Aplicação e pra minha vó Maria José vender o apartamento,reformar minha casa,pagar as dívidas,limpar meu nome e montar meu negócio e sermos uma família feliz e abençoada.Obrigada e Graças a Deus.
Rebeca Moraes
Brazil, 2014-07-16 16:58:08

Brother please pray for my good health..and most important please pray for my hair..suddenly I have lots of hair loss problem....shalom
Rashmi Vijay
India, 2014-07-15 00:53:22

Dear Sir Price The Lord Please pray for my new business of Krupa Keerthi Automobiles.
LEVI gollamudi
India, 2014-07-14 08:20:11

Pray for me to follow footsteps of the Lord.
Fred Okanta
Ghana, 2014-07-13 09:56:02

please pray for me to have favour in the sight of my helpers
odaibankss anang
Ghana, 2014-07-11 09:59:09

I would like to thanks for the blessings what Elohim the Father give me.., also I pray for the good health of my family my mama and brother and sister, nephew and niece... praise your name of Father Elohim by the name of Yahushua my master.
Jenelito Juntilla
Philippines, 2014-07-11 03:35:22

Blessed day everyone, may I ask for you to please pray for my fellowship with my brethrens tomorrow. I've been waiting for months for this to happen, we would like to rebuild our bible study group cause we've never seen each other for months, and please pray for the Father and the Holy Spirit to move and talk in each other's heart. I really need your prayers, thank you. GOD BLESS!
Claire Pascua
Philippines, 2014-07-10 08:16:25

Pray for a very large financial blessing for Go Back To GOD Ministries, to go varies places proclaiming the Gospel, and helping those in need.
Mr. Kelly Sutton
United States, 2014-07-09 19:46:03

my mom health.financially weak.
umgr356 jason
India, 2014-07-09 11:03:45

Please pray for my elder daughter Rachel who is studying in 9th standard and also for her studies for her salvation.
Robin Robin
India, 2014-07-07 03:45:12

Pray for all souls os Purgatory...
Edilson Souza
Brazil, 2014-07-06 19:31:09

Pray for me ...To seek Yahuwah Guidance and Blessings Upon me...and also Help me in Acquiring his divine favour and protect me from all the iniquities....To take control of my mind and my doings in life....Thanks Halleluyah Praise to Yah
Essuman Robert Aggrey
Ghana, 2014-07-06 18:15:15

Please pray for that i want to give my first preference in all to Jesus
James Sam
India, 2014-07-05 01:57:42

I ask that you pray for my friends, Trevor Nicholas and Coby, so that they may be changed for Yahuwah's glory and that they will choose to follow him. Thanks. :D
Zachary Shamp
United States, 2014-07-04 14:54:34

Please pray for me and my brethren for stronger and firmer faith, because my brethren's are not joining in our youth fellowship anymore. thank you, GOD BLESS.
Claire Pascua
Philippines, 2014-07-02 12:44:17

please pray for my family that they would accept the Lord Jesus Christ as LOrd nad saviour. And May God keep on protecting us and provide all our needs. thank you and God bless.. i will pray for u as well.
jelly ann chiyuto
Philippines, 2014-07-01 22:31:22

Please pray for my son Dr. Mac Antony Michael for good result who is preparing for his Post Graduation Entrance Exam. Also pray for him to strengthen his belief in Jesus and free from his affair with a non-christian girl.
Michael Jermany Joseph
India, 2014-07-01 11:49:22

Please pray for my sister Monica.. She suffering pain of womb very badly...please please pray for her for good health... Shalom
Rashmi Vijay
India, 2014-07-01 01:21:52

Ms. Evenjlina Christie sufferring from blood cancer, stone in gall bladder,s hospitalised , She is incritical condition as doctors desires that she be stable in her condition before operation of stone.
Anilkumar Frank
India, 2014-06-30 06:24:58

Please pray for me to can go to paris with my mother and father.Please pray for me is very important
Lorena Rosu
Romania, 2014-06-28 15:40:49

please pray for my sister the doctors said she only has about 8 to 10 months left to live if shes lucky she is in the last stage 4 of cirohsis of the liver shes in alot of pain and is swollen real bad in her stomach please pray that she turns from beer and turns to god before she dies so her soul want be lost
lisa wallace
United States, 2014-06-26 19:48:11

After about 15years of hard labour, my entitlements were withheld. I need the Power of YHVW to cause the release of my payments. Please, Please in Yahushua"s Name
Chris Orji
Nigeria, 2014-06-23 06:45:06

A fellow Pilgrims prayer request. I have awoke and I am learning the truth but my wife and children have not. Please pray that I can be who YHWH wants me to be for all the lost around me. This walk has been painful. Thank you.
Peter Greif
United States, 2014-06-21 07:14:37

and pray for whole world....
Subash Thapa
Nepal, 2014-06-20 01:18:42

Please pray for my one friend who is against the christ.... pray for change of his life and his name is dipesh.......... please please please pray for him..... HUMBLY REQUESTING YOU PLEASE PLEASE..........
Subash Thapa
Nepal, 2014-06-20 01:17:31