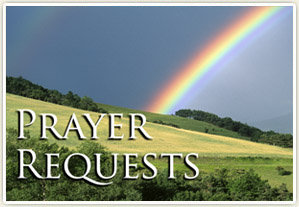 Faith is simple in its operation and powerful in its results. We believe that prayer is the key in the hand of faith to unlock heaven's storehouse, where the boundless resources of Omnipotence are treasured. We consider it a privilege to pray for you.
NOTE: Please read the prayer petitioners' guidelines, and send only 1 prayer request per week, unless it is an emergency.
To post a prayer request, you must first register an account or login. This is necessary to protect the community and the prayer board from being abused by spammers. We sincerely apologize for this inconvenience.
Please pray for my family to enlightened their mind, about the truth name of our CREATOR.
Jenelito Juntilla
Philippines, 2014-04-15 00:35:12

For God's inspiration and zeal to study His word
Bernard ThankGod Unumheste
Nigeria, 2014-04-14 16:58:22

I am a grandmother who raised my granddaughter from birth until she was almost 4.I was declared a defacto custodian. My daughter left her in my care because it was convenient to party. My daughter became jealous of our relationship. My daughter then called the police on my husband and I accused us of abducting her baby. My daughter had also Married a man that she let fraudulently adopt the child(long story). This man spent several days in the psych ward for using an AK-47 assault rifle to threaten an individual while intoxicated and refused recommended treatment. He has a similar history to the man in Fort Hood shooting. We have been in a custody battle trying to rescue my granddaughter for several years. We had to go to a custody evaluation done by a psychologist. This custody evaluator is all over the internet for aiding child molesters to get custody of children. I have no doubt this is what this evaluator does. This custody evaluator wrote a biased, untruthful report that was not done according to American Psychology Association guidelines. She attacked my religion by claiming my daily hygiene of the child as a cleaning ritual. My granddaughter had 12 vaginal infections in 6 months and was acting out sexually after being in my daughters care with her husband. My daughter was neglecting the child's health care, was not feeding her breakfast before school, too much to tell here. The custody evaluator made up a fabricated story that I was using a heat lamp on the child's vagina. We impeached this in court and was never mentioned in the facts of findings. I had another psychologist testify that her report was biased and did not follow guidelines. The judge kept this unethical report anyway. ignored all our evidence. The judge even ignored my testimony that there is no such cleaning ritual in my beliefs. In my testimony I was trying to show that most of us do a ritual every day for example brush your teeth, comb your hair, take a bath, etc. The judge said that I admitted to doing a hygiene ritual. I have taken to the streets to actively campaign against her using my constitutional rights. I currently have 2 appeals (one for the adoption and one for custody). We are also in the middle of fighting a bogus protective order that my daughters husband put against my husband which disqualifies my husbands handgun permit. I had to speak out against this judge in the primaries because if she wins the primary she automatically wins office. Only Republicans run in our county. I am being told in so many words that this will adversely affect my appeal and my protective order. I do not think there is a fair trial to be had anyway. I felt it was my duty to inform voters of what is going on in this court system. As I was on a corner with my sign the people from our local paper came to interview me. The paper also interviewed both candidates. The judge slandered me. I may have enough proof but again you are taking on a judge in a crooked system that will more than likely be on her side. My lawyers were not at all pleased with what I have done and could decide not to represent me anymore. I do not know how hard it would be to even get someone else. I am completely in financial ruin the way it is. If I bring charges of slander and not win I would have to pay her fees. I am going to continue to speak out. Please keep us in your prayers. My granddaughter wants to come home. My granddaughter asked us why she has to be stuck in a place where they do not take care of her and why can't we kill daddy and steal her away. Pray for our safety , monetary help and, victory. Shalom Christine
Christine Hogue
United States, 2014-04-12 13:10:20

Please pray for me to get a promised job as i am jobless for 3 years.
Johnson Idicula
India, 2014-04-11 23:18:17

Please pray for me to have favor in the sight of my DIVINE HELPERS and also as i bring my tithe to God store house GOOD opportunities should come my way.
odaibankss anang
Ghana, 2014-04-11 17:20:14

I need some one to pray for me. I cant stop myself from watching porn and some times masterbating. Also pray not just form me but for the people that are having the same problems.. thank you everyone may the Father bless you all Amen
jonhatan g
Mexico, 2014-04-11 15:44:25

I am requesting prayer for my mother who has a heart valve condition and also arthritis in her hip that is making it difficult and painful to walk.
Kent Chandler
United States, 2014-04-11 14:30:58

Please pray for my children. I hope they will know Jesus before they pass away. Thank you, Karen Redding
Karen Redding
United States, 2014-04-10 11:09:58

Please pray for me and my family that we have the victory in all things. Finances, health, a closer walk with The Lord. Pray for my brothers , sisters, my children, my cousins. Give us wisdom, knowledge, and understanding. May The Lord come now and supply all of our needs on this day in Jesus name. Amen. Thanks you all for your prayers.
Darryl Andrews
United States, 2014-04-08 09:56:08

i thank God for all situations i am skilled but jobless. God will use this opportunity to relocate me from this country. Amen. pray for migration mercies by end of this year
irene shiro
Kenya, 2014-04-08 04:22:55

hi, please pray for my sister's marriage and mine. I'm 32 and my sister, Mojgan, is 34 years old. we're living in Iran and too much restricted to be in contact or familiar with believers both male and female so we have too many problems getting familiar and marry a believer in Jesus. please pray for us and our family, my mother and father too in order to know Jesus and believe in Him as the Lord. they put us in pressure for our marriage and faith. please pray for me and my family. God bless you all.
mitra taheri
Iran, 2014-04-07 06:11:50

please pray for our fellow church members nation wide so that they can be one accord in christ and met the second coming of our soon coming saviour JESUS CHRIST'.
Mohammad Hassan
Papua New Guinea, 2014-04-04 22:16:49

please for me that YAHUWAH almighty EL give me strenght of life.
Jenelito Juntilla
Philippines, 2014-04-02 03:34:03

Pls pray for my family to be in peace, unity and love for my husband to kown God
scholar stephen
Nigeria, 2014-04-01 06:58:00

Please pray for me to have favor in the sight of my HELPERS
odaibankss anang
Ghana, 2014-03-31 14:57:52

Thank you for all yours prayers smile!!!
Lorena Rosu
Romania, 2014-03-30 13:07:23

PLEASE PRAY FOR ME AND MY FAMILY. WE NEED A PEACEFUL LIFE FOR ITS ALWAYS PROBLEMS ARISE INSIDE MY FAMILY. ALSO I HAVE DONE ENOUGH SINS WHICH I CONFESS TO MY LORD JESUS, I NEED A DELIVERANCE SO THAT MY LIFE AHEAD WILL BE FEARLESS AND PEACEFUL. PRAISE THE LORD.
SREEJITH V
India, 2014-03-30 02:26:59

please pray for me gaining a deeper understanding of the scriptures,and a closer walk with yahuwah.
valrie smalling
Jamaica, 2014-03-29 13:12:05

Please prayer for our Home church to grow...as now we are abit divided and most of us are weak in our spiritual growth. I am too. I need your prayers.
Honore Albert
Vanuatu, 2014-03-29 03:29:02

can I please submit a Prayer request. I NEED your help and prayers, for the last few months I have been searching for the truth in the bible on what to do with my life and who to follow. I found your site last week and have been watching the videos and reading all I can, anyway I guess that what I have been reading about Yahuwah and his beloved son Yahushua has been changing my attitude that others see. And my boyfriend I have been living with just told me that our relationship that we have is OVER. Mainly because I have been getting religious and he does not believe in Yahuwah or Yahushua. and he does not want to make me choose so he called it off.. we were together for 5 years, he was with me when my adopted father died 2 years ago as well. He says we can still be friends but he will not believe in any Gods.. so what do I do now? Please pray for me so that I can get closer to the TRUTH and to Yahuwah and Yahushua. and to all of you. can I call all of you my family now...??
Pamela Somers
United States, 2014-03-28 17:12:50

Pray for my health... let me make free from all diseases and virus. Please forgive my sin Amen
abhishek singh
India, 2014-03-28 03:39:57

to all members of the WLC please pray for my job at Adventist school so that I can perform all the tasks assigned to me. Adventist school in Malaysia known as Sekolah Rendah Advent..tq
Rikho jaffryEkho
Malaysia, 2014-03-28 03:20:59

Hi Praise the Lord, I have one of my best brother in Lord and His father has a very low vision in right eye since last 10 days.There is blockage in blood vessels of retina. Now He is under going with a treatment, so please pray for this particular request . and its very urgent. Bro. Name- Sushant Father Name- Hari Narayan Yadav Thanks Sunil Kumar
Sunil Masiha
India, 2014-03-27 17:14:03

Hi Praise the Lord, Please pray for me and my family that God may fulfill His vision for our lives and help us to take final decision. and for financial situation of my family as well. Thanks Sunil Kumar
Sunil Masiha
India, 2014-03-27 17:09:42

Please Pray That Yahuwah Eloah Will Help Spirit & Truth Fellowship Finish Translating the Old Testament of The REV Bible, Please Ask Yahuwah Father IN YASHUA'S NAME IN FAITH FERVENTLY To Help Spirit & Truth Fellowship Finish Translating the Old Testament of The REV Bible.
ShunRen Hu
Taiwan, 2014-03-27 09:41:25

pray all you holy ones for my son Natan, he has been taken from me by the state of Massachusetts and he was adopted. Department of children and families say that if a child is adopted then he can not be returned to the mother, it is a law in Massachusetts. Pray and our God can change all that, because He has given a law for all to listen to and they reject the good law. Our God can do miracles all we must do is pray. Peace to all who love the truth.
Marina Romanchenko
United States, 2014-03-26 15:31:55

Please pray for me that my friend to come at me on my birthday, please!!!
Lorena Rosu
Romania, 2014-03-25 14:11:01

To get relief from gods curses and anger.To get blessings and live in peace.
vinoth sen
India, 2014-03-24 07:13:03

I am looking for a suitable bride in my life, someone who understands, accepts and loves me for who I am, please pray for God's divine favor in this matter, thanks, God bless' Levin
levin abraham
United Kingdom, 2014-03-23 08:59:06

Shalum beloved brothers & sisters in Yahushua. This is my 2nd time to have prayer request if not mistaken on wlc.com. My urgent prayer request today is that, about my strength and faith and patient that may our Father Yahushua'll strengthen me, renew my soul, finish the work of Yahushua in me through His set-apart spirit before the pouring of latter rain to be ended that i may ready to face the great trails ahead, and still could help other for Yah. Let all the stubborn bad habits had been in the life Yah'll cleanse. Surround us with His presence together with His angels to protect us from evil & darkness that now encircle us here. Let all the peoples surround us will enlighten their heart and lead them to the truth of Yah and more & more people will grafted to the spritual YAsarEL/ the covenant family. Baruwk hata bashem Yahuwah.
Jack Haidi
Malaysia, 2014-03-22 20:43:09