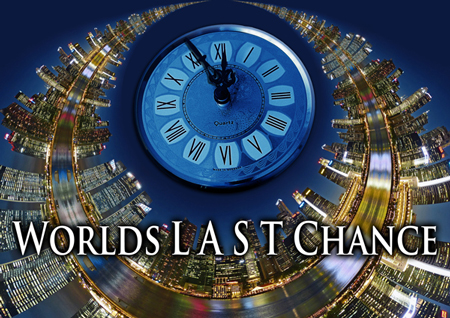 Why the name: World's Last Chance®

The name "World's Last Chance" was chosen for our website because it reflects our belief that Yahushua's return is imminent and the world's inhabitants are fast running out of time to accept Heaven's final invitation of grace and mercy.

When Adam and Eve sinned, a second chance was graciously granted the human race. Yahushua's death, burial, and resurrection guarantees every human being the opportunity to choose for themselves whether they will be loyal to their Maker or join Satan in rebellion.

The WLC Team is convinced that Yahushua will soon return in the clouds of heaven with power and great glory to set up Yahuwah's everlasting kingdom on earth! He will rule the world's nations from earthly Jerusalem with the redeemed for 1,000 years before turning the kingdom over to the Father. This is truly the world's last chance...
"And, behold, I come quickly; and My reward is with Me, to give every man according as his work shall be." (Revelation 22:12)
Today, if you will hear his voice, harden not your heart. Today is the day of salvation. You may never have another chance.
---
World's Last Chance® and WLC® are both registered Trademarks with the United States Patent and Trademark Office.