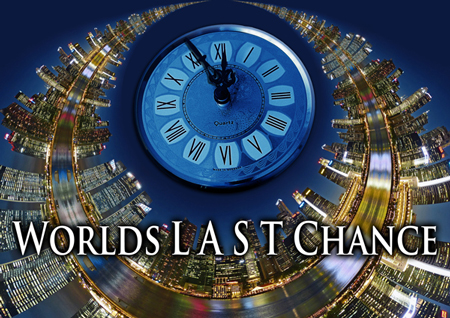 Why the name: World's Last Chance®

The name "World's Last Chance" was chosen for our website because it reflects our beliefs. Our beliefs rest upon a solid foundation of scripture, the Word of Yahuwah. In the last chapter of the last book of the Bible, a warning is given that a time is coming when Heaven will declare probationary time is over.

He that is unjust, let him be unjust still: and he which is filthy, let him be filthy still: and he that is righteous, let him be righteous still: and he that is holy, let him be holy still. (Revelation 22:11)

These words announce the close of probationary time.

When Adam and Eve sinned, a second chance was graciously granted the human race. Yahushua's death on the cross guaranteed everyone the opportunity to choose for themselves whether they would be loyal to their Maker or join Satan in rebellion. This time of probation is the 6,000 years set aside for sin to run its course. It follows the pattern of the six-day work week. Just as each week of labor is followed by a Sabbath's day of rest, the 6,000 years of probation is followed by the seventh millennium (1,000 years) of peace. (See Revelation 20:4.)
The WLC Team is convinced that the 6,000 years is almost over. Therefore, we feel a burden to warn the world that probation is soon to close. Shortly after the close of probation, the Saviour will return and His reward will be with Him.

And, behold, I come quickly; and My reward is with Me, to give every man according as his work shall be. (Revelation 22:12)

Probationary time is the second chance. There will be no more future opportunities to change sides in the great controversy between Yahuwah and Satan.

The acceptance of truth is quite literally The World's Last Chance.
---
World's Last Chance® and WLC® are both registered Trademarks with the United States Patent and Trademark Office.