Ibbuku lya Ciyubunuzyo ncipego cabulemu cizwa kujulu. Mulindilyo, Yahuwah wakatwaabila mulumbe uuyandika kubantu bakwe mumazuba aacizya kumbele.
Mukubelesya mikonzyano, Ijulu lyakayubununa nguzu eezyo ziyoolwana nkondo a Yahuwah muciimo cabasaante Bakwe kakutana sika Kuboola Kwabili kokwa Yahushua.
Cishinshimi caambilizya kuti cisi cimwi eeco ciyooba anguzu zipati atalaa nyika cinooli cisi ca Amelika. Cilipandulwidwe mu Ciyubunuzyo 13: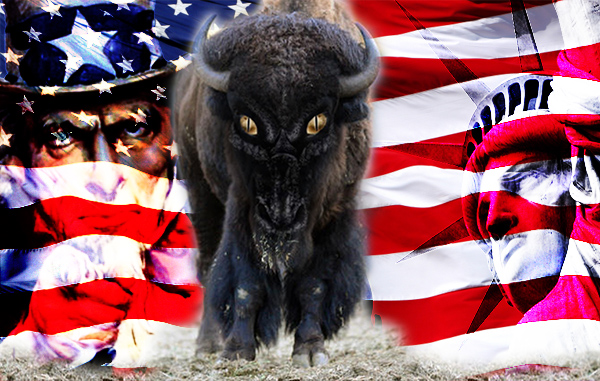 Mpoonya ndakabona munyama aumwi kabbuka kuzwa munyika, alimwi wakalaa meja obile mbuli mwanaambelele alimwi wakali kwaambaula mbuli simwaaba. Ulabelesya nguzu zyoonse zyamunyama mutaanzi munsi lyakwe, akucita kuti nyika abaabo boonse bakkede mulinjiyo bakombe munyama mutaanzi, ooyo wakayasidwe cicisa calufu pele wakapona. (Ciyubunuzyo 13:11, 12, NKJV)
Kutegwa ziteelelwe zikonzyano zili mucishinshim eeci ambozyeelela cisi ca Amelika, ncintu ciyandika kulekela Mangwalo kuti atupandulwide zikonzyano eezi. Mu Bbaibbele, "banyama" baimina mfulumende zya mapolitikisi anyika. Daniele wakatondezyegwa banyama bone kabaimpuka kuzwa mulwizi:
Daniele cakamukopa cilengaano. Taakamvwisisya mikonzyano yaabelesyegwa mulincico pe.
"Ime nde Daniele, ndakapenzyegwa mumoyo mukati kamubili wangu, alimwi zilengaano zyamumutwe wangu zyakandipenzya ime. Ndakaswena munsimunsi lyaumwi wabaabo bakaimvwi afwaafwi, alimwi ndakamubuzya masimpe aazintu zyoonse eezi. Aboobo wakandaambila ime alimwi wakandizyibya busanduluzi bwazintu eezi: 'Aabo banyama bapati, bone, mbami bone kababbuka kuzwa munyika'. (Daniele 7:15-17)
Aboobo, banyama baiminina nguzu zya mfulumende zyaanyika. Nokuba kuti kwakali malelo manjaanji aakalaa nguzu zyakatii yendelezye nyika mumisela, Mangwalo antonkomene anguzu eezyo zilwana nkondo abulemu bwa Kujulu.
"Ime ndakabona munyama uumwi kabbuka kuzwa munyika . . . ." (Ciyubunuzyo 13:11)
Munyama mutaanzi ooyo Johani ngwaakabona mu Ciyubunuzyo 13 wiiminina bupoopo. Cishinshimi cakaambilizya kuti munyama , bupoopo buyootambula cicisa calufu:
"Alimwi ime ndakabona umwi wamitwe yakwe wakayasidwe calufu . . . ." (Ciyubunuzyo 13:3, KJV)
Ooku kuyasa bupoopo cilonda kwakamanina muzintu zinjaanji zyaacitika mu 1798, aciindi mpeenya aawo munyama naakapompa kuzwa munyika, cisi ca Amelika, nicaatalika kubaa nguzu.

Munyama wabili ooyo Johani ngwaakabona mu Ciyubunuzyo 13 wakaliimpene kuzwa kuli bamwi boonse nkaambo wakapompa kabbuka kuzwa munyika.
Mpoonya Johani wakaambilwa kuti: "Aayo meenda ngookabona. . .mbantu, makunga aabantu, masi amilaka." (Ciyubunuzyo17:15) Aboobo, ooyo munyama wakazyila munyika wakali nguzu zya mfulumende eeyo yakatalikila akataa cooko canyika citakwe bantu banji.
Banyama aabo Daniele mbaakabona, amunyama mutaanzi Johani ngwaakabona mu Ciyubunuzyo 13, bakazyila mulwizi luvwundaukide. Zisi zipya kanjikanji zilatalikwa kwiinda mukutapula mfulumende yacisi cimwi, akubweza cibaka caco. Nokuba boobo, kwakanyina cisi cakutapula kutegwa kutalikwe cisi ca Amelika. Mbombubo mboceelela cisi eeci kuti cibe cikonzyano camunyama uubbuka kuzwa munyika.
Ibbala lya "kuboola" eelyo lijanwa mukaambo ka Mangwalo aaka, mumalembe aaci Giliki mataanzi, lyakali ἀνaßaίνω ( anabainō), eelyo lyalo antoomwe amabala nkolizwa muci Giliki, liiminina kuti – kusyuuka asyoontosyoonto...kukomena cabuumuzi alimwi mbuli (kasamu). Alimwi eeci ncintu ceelela.
G.A Townsend, eelyo naakali kupandulula kukomena kwacisi ca Amelika, wakaamba "maseseke aacisi eeci kuzwa aanyina cintu," alimwi wakati, "Mbuli nseke yuumwine twakakomena kuba bulelo." The New World Compared with the Old, pp.462, 635, G.A. Townsend) Limwi pepa lyakalembwa kubukuwa, The Dublin Nation, mu 1850 lyakaamba cisi ca Amelika kuti mbulelo bulibotela, oobo bwakali "kupampanuka," alimwi "akataa buumuzi bwanyika eeci cisi cakali kuliyungizyila nguzu abweebezi".
"Wakalaa meja obile mbuli mwanaambelele alimwi wakali kwaambaula mbuli simwaaba . . . ." (Ciyubunuzyo 13:11)
Munyama ooyo wakazyila munyika upandululwa kuti wakalaa meja obile, mbuli mwanaambelele. Ooyu tali munyama uukonzya mwanaambelele pe. Pele meja aakwe alaalweeno. Ucili munyama uulya banyamanyina, pele meja aakwe alibonya kuceya, kubula luciso alimwi akubaa luse mbuli mwanaambelele mubombe.
Kwamisela yobile, cisi ca Amelika, kacicili cisi cipya, cakazyila kukubula nguzu kukutalika kubaa nguzu, nceceelela bupanduluzi oobu. Tiicakazunda masi amwi alimwi cakajulila milyango yaco kuli akuvwuna baabo boonse bakali kutija kupenzyegwa mumasi aabo.
Mbuli Uulemekwa J.A Bingham mbwaakacipandulula, makunga aabantu akalongela ku amelika akuyandisya kubamba "Eeco catakangina bonwa munyika yoonse kwamisela minjaanji; nkokuti., cikombelo citakwe poopo, alimwi cisi citakwe muleli."
"Ulacita maleele mapati, cakuti ulakonzya akulosya mulilo kuzwa kujulu anyika mumeso aabantu." (Ciyubunuzyo 13:13)
Akataa zisi zyoonse zyanyika, cisi ca Amelika ncecaabaa nguzu, mpuwo abuvwubi cakufwambaana.
Busongo bwakubamba zintu bwakaya kumbele alimwi lwiiyo lwampindu amakwebo oolo lwakakunka kuzwa kucisi eeci, lwakajatikizya munzila imwi, buumi bwamuntu uuli woonse atalaa nyika.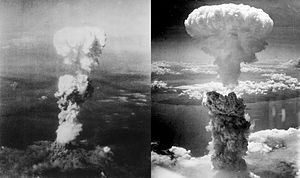 Kujaya minzi ya Hiroshima a Nagasaki azibelesyo zyamusela wamazubaano kwakapandululwa a Johani naakati: "Ulalosya mulilo kuzwa kujulu. . .mumeso aabantu."
Maseseke eeni aaciimo cacisi ca Amelika akutambula zileleko zyakujulu ngakuti milawo yaco yakali kwaandaanya Cikombelo a Mfulumende, akucita kuti lwaanguluko lwabuntu alwabukombi lube ko- nokuba akataa bantu aabo balangwa kuti tabakwe mulimo.
Munyama wameja obile taakali kukonzya kuba Cikombelo ca Katolika nkaambo Bukatolika bwacikombelo eeco nkuswaangana antoomwe Cikombelo a Mfulumende. Aboobo eeci ciyanza ca Cikombelo alusyomo lwaco kwiinda munguzu zya mfulumende zilakazyana a amilazyo eeyo njicaayasyigwa cisi ca Amelika.
Kuleka mbuli mikonzyano yabanyama imwi, ooyo munyama wakapompa kuzwa munyika wakali kulibonya bwiindene nkaambo taakajisi musyini, eeci ciiminina cisi citakwe mfulumende yaanyika.
"Musyini mukonzyano wamfulumende yabuleli bwamwami nokuba mufumpi, alimwi kuti kakutakwe misyini, mbuli mbokwaambwa aawa, inga caambilizya mfulumende iitakwe muleli, pele yeendelezyegwa mumaanza aabantu" U. Smith, Daniel and the Revelation, p. 581)
Cisi ca United States naa Amelika cakali cisi citaanzi kuzwa ciindi ca Loma eeco cakalaa musyobo wamfulumende iitakwe muleli omwe luzutu pele lwaanguluko loonse lwacisi abupaizi kaluli mumaanza aabantu.
Johani wakalangilizya cilengaano, nokuba boobo, cakatalika kucinca muciwa caco. Munyama wakalaa meja obile wakatalika kwaambaula mbuli simwaaba, aawa mikonzyano yobile yiiminina bukombi bwa zilengwa leza a Saatani lwakwe.
"Ubelesya nguzu zyoonse zyamunyama mutaanzi . . .akucita [kusinikizya] kuti aabo bakkede mulinjiyo bakombe munyama mutaanzi." (Ciyubunuzyo 13:12)
Kuleka kuba cooko calwaanguluko mubupaizi cakaceede anyika, munyama wameja obile wakalipeekezya kubaa nguzu atalaa nyika yoonse eezyo zitamweelede. Ooku nkusinikizya, ngomulazyo wamfulumende yokwa Saatani, ooyo uubelesyegwa kukomba munyama uumbi, ooyo wiiminina Bukatolika.
"Ulacita maleele cakuti ulalosya mulilo kuzwa kujulu kuzya anyika mumeso aabantu. Alimwi uleena aabo boonse bakkede anyika kwiinda muzintu eezyo nzyaakalekelwa kuti acite kunembo lya munyama, kaambila baabo bakkede anyika kuti babambe cinkonzya camunyama ooyo wakayasidwe calufu acceba alimwi wakapona. Wakapegwa nguzu zyakupa muuya kucinkonzya camunyama, kuti cinkonzya camunyama caambaule akucita kuti boonse aabo batakombi cinkonzya camunyama bajayigwe. Ulasinikizya boonse, basyoonto abapati, bavwubi abacete, baangulukide abazike, kuti batambule caando camunyama mujanza lyalulyo nokuba munkumo zyabo, alimwi kuti kutabi naba omwe wuula nokuba kuulisya pele buyo ooyo uulaa caando nanka zina lyamunyama, nokuba mweelwe wazina lyakwe." (Ciyubunuzyo 13:13-17, NKJV)
Masimpe ngakuti eezi nguzu zyaatamininwa acisi ca Amelika tizyaazumizyigwa abulemu bwakujulu pe nokuba kulelekwa mbuli bulembedwe Mumangwalo kujatikizya ncacita munyama ooyu:
Walo uleena aabo bakkede anyika
Walo ulasinikizya bantu banyika kuti bayake cibumbwa camunyama mutaanzi ooyo wakayasidwe cicisa calufu.
Walo ulaa nguzu zyakujaya baabo batakombi munyama mutaanzi.
Walo ulasinikizya boonse kuti batambule caando mujanza lyabo lyalulyo nokuba ankumo zyabo.
Walo ulasinikizya kulesya makwebo kuli baabo boonse batajisi caando, izina lyamunyama nokuba mweelwe wazina lyakwe.
Eeci ciimo cabulwani ciliindene kapati amilazyo yalwaanguluko ya Bulelo Bwakujulu.
Mangwalo alisalazyide kuti nkondo yamamanino akataa Yahuwah a Saatani inooyimvwi amakanaa kukomba- kapati, ciindi cakukomba. Yahuwah kunyina nasinikizya bantu kuti bamukombe Nguwe alimwi Saatani kunyina pe nasinikizya bantu kuti bakombe Yahuwah mu Nsabata Yakwe yakasimpe.
Kutobela boobo, kukomba ooko kusikikizyigwa acisi ca Amelika kunooli kukomba mubuzuba buteelede- Munsondo, akuzumizya baabo bakomba mu Mujibelo nokuba baabo bakomba muli Bwasanu kuti baye ku Mosiki kuti bakapaile, zyoonse eezyi kazyeendelana akkalenda lina Gregory eelyo libelesyegwa munyika yoonse iiyabaila kutobela munyama.
Cintu citakazumizyigwi ndwaanguluko lwakukomba kweendelana amizeezo yamuntu mwini lwakwe.
Cintu ciyootobela ncakuti, boonse bakaka kuteelela lusyomo oolu, lwakasinikizyigwa acisi ca Amelika (nokuba mfulumende iimwi) banokweelede kujayigwa. Kwiina ncobazumizyidwe aabo bakomba MuNsabata yakasimpe yamu Bbaibbele, eeyo iibalwa akujnwa kubelesya kkalenda litaanzi lyamwezi-azuba lyaku Malengelo.
Bulikke bulangizi bwamuntu, nkulyaaba cakumaninina kuluyando lokwa Yahuwah Elohimu. Mubusyu bwamunyama uuvwuluma, bantu Bakwe Yahuwah bayoofutulwa.
Boonse aabo bateelela Yahuwah atalaa milawo azilengwa zyabantu, bayoofutulwa muciindi camapenzi ciboola.
Kuciindi eeco, Mikayeli mungele mupati uukwabilila bantu bako, uyooimikila. Kuyooba ciindi camapenzi aayoosya aatanabwenwe kuzwa kuciindi kakutanaba masi pe, kusikila ciindi eeco. Pele ciindi eeco bantu bako, boonse bali aamazina aalembedwe mubbuku bayoofutulwa. Nkabela bantu banji balede mubulongo bwaansi, bayoobuka, bamwi bayoobukila buumi butamani, bamwi bayoobukila nsoni amasampu aatakamani pe. Aabo basongo bayoobala mbuli bubekema julu, aabo baleta bantu kubululami, bayoobala mbuli nyenyezi kwalyoonse alyoonse. (Daniele 12:1-3)
Izisyomyo zya Mangwalo zijulila Singuzyoonse kuli baabo boonse balemeka Mulengi wabo kwiinda mukubamba mulawo Wakwe, kukomba mu Nsabata Yakwe iisetekene eeyo iikonzya buyo kujanwa kubelesya nzila yakakubamba ciindi njaakabikka: kkalenda lya mwezi-azuba antoomwe.
Nkaambo wakabamba jwi lyakubikkilila lyangu, Ambebo ndiyookubamba muwoola lyamasunko, eelyo liboolela anyika yoonse, kuzyoosoleka baabo bakkede anyika.
Amulange, Ndaboola cakufwambaana: kojatilide eeco ncojisi kale, kutegwa kutabi muntu uutikubwezele musyini wako. (Ciyubunuzyo 3:10, 11, KJV)