Ibbuku lyokwa Daniele litaliboteli, ndimwi akataa mabbuku aacishinshimi mu Mangwalo woonse. Eelyo Ciyubunuzyo, nocibalwa kabotu-kabotu mpoonya akweezyekanya antoomwe abbuku lya Daniele, kuli tusimpe tusongwaazya busongo bwamuntu tuzwa mumabbuku obile aaya! Bantu banjaanji bakatonkomana kubala kwa mawoola manjaanji kuti bazubulule cintu ciimimina cibumbwa calubulo, banyama bakankamika, alimwi amulimo wa Mvwiki zili makumi ciloba mu Cishinshimi. Kuli bupanduluzi bunjaanji, pele "kunyina cishinshimi ca Mangwalo cilaa busanduluzi busisidwe" pe (2 Petulo 1:20). Swebo tweelede kulekela Bbaibbele kuti lilisandulule lwalyo lini. Kutegwa acite boobo, muntu weelede kutalisya kubala cilembedwe kale:
"Kulipimidwe nsondo zili makumi aali musanu aabili kubantu bako akumunzi uusalala, kuti insotoko zimane azinyonyoono zimwaigwe. Akuti milandu yacibi ilobelele, akuleta bululami buteeli; Kujala cilengaano acishinshimi; Akuti busena busalalisya bunanikwe. "Lino uleelede kuzyiba akumvwisisya, Kuti kuzwa kuciindi camulazyo wakubusya awakuyakulula Jelusalema kusikila aciindi cakusika kwa mwanaa Mwami Messiah uunanikidwe, kuyooba mvwiki zili makumi musanu azibili. Lino mumvwiki zili makumi aali musanu alimwi amvwiki zyobile, munzi uuyooyakululwa, uyooba amigwagwa amufolo wakuukwabilila muziindi zyamapenzi. Zimane mvwiki zili makumi aali musanu alimwi azibili, Messiah uunanikidwe uyoonyonyoonwa, cakubula sikulya zina, Nkabela bantu bamwami uuboola bayoonyonyoona munzi acikombelo. Izambangulwe liyooba ndeliyooumanizya, alimwi kuyooba nkondo mane kusikila kumamanino. Insaalo zilibikidwe. Lino walo uyootanga cizuminano ciyumu abantu banji mumvwiki yomwe, alimwi mucisela camvwiki yomwe uyoolesya zipaizyo azituuzyo. Nkabela Walo sikusaala uyooboola amababa aazisesemyo, mane lumwi mamanino aabikidwe akacitilwe sikusaala." Daniele 9:24-27
Cilisalede kuti eeci cibeela coonse caambilizya muntu ngweenya omwe buyo, Yahushua. Tacili cintu camaanu kuti inga kwatalika kwaambwa muntu uumwi waandeene akataa kaambo, akwaambilizya simukazya kristu.
Nkamu ya WLC ilanganya zintu zyaacitika kale mumisela yoonse kusikila ciindi cino mukuteelela Cishinshimi ca Mvwiki zili 70. Mumajwi amwi, ooku nkokwaamba kuti, "Mvwiki zili makumi ciloba" zyakacitika kale mumulongo waciindi wakainda musyule lyesu.1 Aboobo, kusalazya makani, eezi mvwiki zili 70 zyacishinshimi, tazyeelene amvwiki zili 70 zilaa mazuba aali ciloba yomwe-yomwe pe. Kweendelanya abulembedwe mu Myeelwe 14:33 amu Ezekiya 4:4-5, ciindi ca Cishinshimi cilipimidwe mumazuba pele cibalilwa mumyaka. Aboobo, Mvwiki zya Cishinshimi zili 70 zileelene a Mazuba Aacishinshimi aali 490, aayo mazuba mubwini myaka iili 490. Aboobo, kulangila cishinshimi eeci akuceendelanya kuzintu zyamisela, inga myaka iili 490 yabalilwa Bana ba Israyeli. "Malailile aakatuminwa kubambulula akuyakulula munzi wa Jelusalema" akacitika mumwaka wa 457 BC. Langa cilembedwe muli Ezra 7. Mumvwiki zitaanzi zili 7 (myaka iili 49), Jelusalema wakayakululwa akumanizya kubambululwa mu 408 BC. Mpoonya mvwiki zili 62 (myaka iili 434) yakatobela kuzwa waawo, kusikila Yahushua naakabbizyigwa mu 27 AD, akutalika mulimo Wakwe anyika. Akataa mvwiki iicaalizya ya 69th naa myezi iili 7 yacishinshimi, Yahushua wakapangana cizuminano cipya a Bana ba Isilayeli. Kukankaminwa Kwakwe mumyaka iili 3 ½ kwakatonkela ciindi cashinshimi kuya kumyaka iicaalizya iili 7 akumanina mu 31 AD, eelyo zyoonse zituuzyo azipaizyo nizyakalekela limwi kuumpwa acipaililo (Mateyo 27:51; Maako 15:38). Mpoonya kumamanino aamyaka iili 3 ½ , eelyo Stephen naakajaigwa kuumwa mabwe mu 34 AD, eeco ciindi ncobakapimidwe Bana ba Isilayeli cakagola, cizuminano cakazuzikwa, lino Mulumbe wakatalika kuya kuli Banamasi. Cisyomyo ca Mwami Yahuwah kuli Abrahamu cakasika mpocaazuzikwa. Cisyomyo Cakwe kuli Adamu a Eve cakacitika. Walo wakamanizya cibeela Cakwe mucizuminano eeco. Nokuba kuti aayo teesyi ngamakani aacibalo eeci, kweelede kubonwa kuzwa waawo kuya kumbelaa misela kuti, Bana ba Isilayeli, nkaambo kakukaka cizuminano eeco amicito yakusofwaazya bupaizi bwabo, TIIBAKACILI bantu basale baandeene bokwa Yahuwah pe.

Muntu umwi inga wayeeyela kuti, kulanga buyo ciindi cilamfu boobu eeci, ooku kuteelela "mvwiki zili 70" inga kwaba kuteelela boonse bana Kristu nkobeelede kuzyiba. Alimwi kuti yebo nooli kupona mumazuba aabaapositolo, inga walulama kuyeeyela boobo. Baapositolo abamwi basyaalizi muciindi eeco, mbuli ba Waldensiani, bakalijatilide kukuteelela makani oobo. Nokuba boobo, Bupoopo bwakatalika kuyaakubaa nguzu zyabweendelezi atalaa nyika, antoomwe a kusandulula Mangwalo munzila yabumpelenge. Daniyeli a Ciyubunuzyo bakashinshima kuti nguzu zya simukazya Kristu ziyoosimpilwa munguzu zyabupaizi amfulumende antoomwe. Bakatalika kweendelezya lusyomo lwabantu atalaa nyika akuvwunikila nyika kunsaa mudima bupaizi bwa lweeno kwamyaka iili 1260 – "ziindi, ciindi, akwiinda akati ciindi comwe" (Daniyeli 7:25, 12:7; Ciyubunuzyo 12:14; azimwi zinjaanji) Kwakali bamwi bana Kristu bamasimpe munyika zyakali kulaale, mbuli ba Waldensiani, aabo bakalaa lusyomo lwa Bwaapositolo Bana Kristu, pele eeco cakabaletela kupenzyegwa kapati kuzwa ku Cikombelo ca Loma.
Mbuli ciindi cakapimidwe bweendelezi bwa Poopo waku Loma nicakali kuya kumamanino, alwalo luzyibo lwaciimo cini capoopo mbuli keja kasyoonto ka bbuku lya Daniyeli anguzu zya simukazya-kristu, zyakatalika kulibonya antangalala. BOONSE basololi bambungano Zibambulula lusyomo abantu bakali kusyoma, bakalizyi alimwi bakali kukambauka kabacenhezya bantu ku nguzu zya munzi wa Loma wa Bukatolika, nzyenguzu zya simukazya-kristu eezyo zyakashinshimwa kulibonya atalaa nyika, nokuba kuti tiiyakaninga manina myaka iili 1260 yacishinshimi ca Ciyubunuzyo 12 a Daniyeli 7:25. Awalo Paulu wakacenjezya kuti "muntu wacibi …ooyo uulwana akulisumpula atalaa cili coonse cikombwa nokuba ciitwa kuti Elohimu, cakuti walo ulalikkazyika mbuli Elohimu mutempele lyokwa Elohimu, kalipeekezya kuti walo ngo Elohimu." (2 Batesalonika 2:3-4) Njembungano ilaa bulwani kapati alimwi iisesemya nziicita eeyi; Nkamu yaba Jesuiti. Munzi wa Loma wakalizyi alimwi taakali kuyanda kabunga ka Basikutongooka "batasyomi zintu zyakwe" aabo kuti bazumanane kukambauka Mulumbe mubotu kuti naa walo kaciyanda kubaa nguzu. Aboobo wakaanza Nkamu ya Jeesu, naa Nkamu yaba Jesuiti, akwiipa mulimo uugaminina kulwana kufumbwa Uubambulula lusyomo. Simwaaba waakalala ncobeni akunyemena Mukaintu (Cikombelo). Balo bakaunka ooku akooku kuyaa kujayaula akumwaya Kasimpe munzila zinjaanji, kuumpa kufumbwa bana-kristu basyomeka mumulilo akupenzya bantu kapati munzila yalunya. Pele azimwi nzila zyakutundulula zyakatalika kwaanzwa akubelesyegwa azyalo, alimwi eezyo nzila zyakujaya bantu zicibelesyegwa mazubaano, akucenga zyuulunzuma zyabantu; lino abalo Basikutongooka lwabo balabelesya nzila zyakutundulula eezyo! Nzila yiinda kucenga njakuyiisya zintu zyakubeja akutaminina kuti loonse lusyomo lwiimpene aceeco ndusyomo lwamalweza. Ooyu ngomulimo wini wakulwana Kubambulula Lusyomo kwiinda mukuyiisya kuti zyoonse zishinshimi zya Bbaibbele zyakacita kale nokuba kuti ziciyoocitika kumbelaa mazuba aazya kumbele.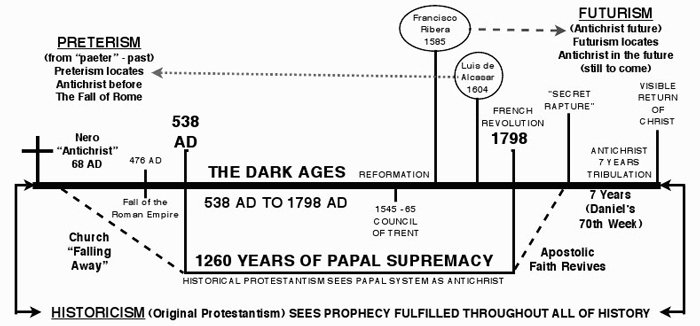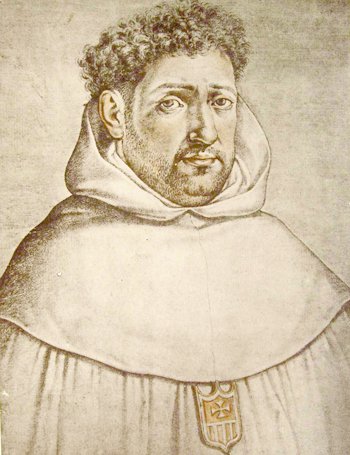 Makanze aakumwayaula kufumbwa Uubambulula lusyomo kwiinda mukujaya "bazangide mulusyomo", akaalilwa kuzwidilila. Mbuli mbubakali kuyaa kwiindila kujaya Basikutongooka, awalo mweelwe wa bantu basyoma wakayungizya kukomena. Cikombelo ca Loma cakeelede kujana nzila iimbi yakulisisikizya ciimo ca "keja kasyoonto" ka Daniele 8; aako nkaambo nkubaazyibide kabotu boonse Basikutongooka. Mu 1585 Francisco Ribera, sicikolo mu Jesuiti, wakatalisya lusyomo lwakulangila zishinshimi zyoonse kuti ziyoozuzikwa mumazuba aacizya. Kkadinalo Robert Bellarmine, umwi waazyibidwe akataa ba Jesuiti mukukwabilila zintu nzyobasyoma, wakagwasyilila mizeezo yokwa Ribera kuti izwidilile. Ribera wakabweza mvwiki iicaalizya mu mvwiki zyili 70 zya cishinshimi, akuyaandula muzibeela zyobile, mpoonya wakaambilizya kuti yiiminina simukazya-kristu, kuleka kwaambilizya Kristu. Walo wakabikkilizya amvwiki yomwe mumazuba aacizya kumbele, kutegwa simukazya-kristu abaange tanooliko kusikila mumyaka iili 7 munsaa kuboola kwabili kwa Yahushua. Eeyi nje "myaka iili 7 ya Mapenzi Aatanabwenwe" eeyo bantu lyoonse njobaciyeeyela kuyoocitika kumbelaa mazuba. Aboobo, bantu banji bakacengwa kuti simukazya-Kristu wakaliko kale kaindi, alimwi bacilinda akulangila simukazya-kristu mumazuba aacizya kakuli balimubwene kale kumbelaa meso aabo! Kuzwa mulusyomo oolo kwakasyuuka zintu zinjaanji zyakweena bantu mbuli – Kutolwa kujulu camaseseke mukulaba kwaliso kakwiina kufwa , myaka iili 7 ya Mapenzi Aatanabwenwe, akuti nkamu Yanguzu yaba Juuda iyoolwana nkondo kumamanino aaciindi ca Kutolwa kujulu kwamaseseke mukulaba kwaliso kakwiina kunjila mulufu – akataa zimwi zinjaanji nzyobasyoma.
Kutegwa bantu batalike kusyoma kuti zishinshimi zili mumazuba aacizya, kwakali kuyandika kuyaka Cisi ca Isilayeli, mpoonya eeco cakacitika mu 1948. Ba Zioni aba Jesuiti bakabelekela antoomwe kweena bantu. Kwiinda mukupelengusya kupandulula Daniele 9:27, balo bayanda kuyaka tempele lyatatu akujokolosya zituuzyo zisesemya kutegwa bakalete "simukazya-kristu" wamasendekezya ooyo uuyokwaatulwa a simukazya-kristu WINI uuliko kale lino, kalipeekezya kubaanga ngu Kristu wamasimpe. Ooyu mulandu mupati akataa bantu nkaambo kusikila munsaa buna Kristu boonse bwiide kuzuminizya lusyomo lwakuyaka tempele kakwiina kuzyiba citola busena kunzaa matewu.
Masimpe kuti Daniele 9:24-27 wakazuzikwa kale cakumaninizya, mubuumi amulimo wa Yahushua amukufwa kwa Stephen, muna-kristu mutaanzi kujayigwa.
Nkaambo balo bakkomanina kukopanya mizeezo yabantu akuleta lupyopyongano, munzi wa Loma, tuunamanizya kupindulula bupanduluzi busisa ciimo cakwe. Kucili lwiiyo lwakubeja lwabili lujatikizya zishinshimi zyokwa Daniele a Ciyubunuzyo, lwiiyo lwakuti simukazya-kristu wakasika kale eelyo munzi waLoma kuutaninga dilimunwa. Tiilyakalampa kuzwa Ribera naakasendekezya kulangila zishinshimi mumazuba aazya kumbele, mpoonya mu Jesuiti waku Spain, Luis De Alcazar wakalemba cibalo camutwe wakuti Investigation of the Hidden Sense of the Apocalypse. Oomo mucibalo, Walo wakalombozya kuti zyoonse zishinshimi zya Ciyubunuzyo a Daniele zyaambilizya Loma wakukomba mituni alimwi "tiicakajisi cibeela muzishinshimi zya misela yaakatikati nokuba mubulelo bwa poopo."2 Ncintu cikopa mizeezo ncobeni eeci bantu mbobazilaika akwiide kutambula ziiyo zyobile eezyi kakwiina kubuzya nizyaacitika. Kulangila simukazya-kristu mumazuba aacizya a kuyiisya kuti simukazya-kristu wakasika kale munzi wa Loma kuutaninga dilimunwa, eezi zyobile ziluukwete kucenga nyika yoonse, kusanganya a Basikutongooka abalo.
Kweelede kubikkila maanu kuti bunji bwazilembedwe zyakagwasyilizya lucengo oolu, mbuli mabbuku ookwa Margaret McDonald, Samuel Maitland, John Darby [ooyo uuzyibidwe kuti ngu wisi walusyomo lwa kutolwa kujulu camaseseke kakwiina kufwa mukulaba kwaliso], Samuel Tregelles, a Cyrus Scofield. Scofield "nguwakakulwaizya kapati malembwe ookwa J. N. Darby, akusanganya lusyomo lwakuzuzika zishinshimi mumazuba aaciboola mubbuku lyakwe lya Scofield Reference Bible. Kutaanguna lyakasimbwa aba Oxford University Press mu 1909, ziindi cuulunzuma comwe kusikila mu 1930. Ibbalibbele lya Scofield Bible lyakalaa mulimo mupati wakusimpa bulangizi bwaba Jesuiti bwa mazuba aacizya kumbele muzikolo zya Kwiiya Bbaibbele zya Basikutongooka mucisi ca Amelika mumusela wa 20th ."3
Mbombubo lweeno lwakulangila zishinshimi mumazuba aacizya mbulwaayambukila mu Zikolo zya Basikutongooka mu Amelika.
Kotyanka aawa kuti ubone mulongo wazikolo zimwi amazina aazyo.
Dallas Theological Seminary (cikolo citaswaange azikombelo ca Basikutongooka): Lewis Sperry Chafer (1871-1952), sicikolo waku Cyrus Scofield, wakatalisya Cikolo ca Evangelical Theological College (lino ciitwa kuti DTS) mu 1924, eeco cikolo ciinda kubaa mpuwo mu Amelika sunu. Kulangila zinshinshimi mumazuba aacizya, akutolwa kujula camaseseke mukulaba kwaliso kakwiina kufwa (ooko lino nkobaamba kuti nkulangila kulelekedwe), zililembedwe muzibalo 18-20 zyabo zya DTS mu Cizyibyo ca Lusyomo.

Akataa bamwi bazyibidwe mucibeela ca DTS mbaa:

John Walvoord (Mwiyi Mupati wa Systematiki Theologi, Musololi wa Dallas Theological Seminari kuzwa mu 1952 kusikila mu 1986, Mweendelezi wa DTS kuzwa mu 1986), mulembi wabbuku lyakuti The Rapture Question (1957), alimwi wakali umwi uubambulula lwiiyo lwa Bbaibbele lya The New Scofield Reference Bible.
Chuck Swindoll (Insight for Living), Musololi wa Dallas Theological Seminari kuzwa mu Kunkumuna Masamu 1994.
Charles C. Ryrie (Mwiyi Mupati ku Dallas Theological Seminari), mulembi wa The Ryrie Study Bible, eelyo lyaambwa kuti ndi Bbaibbele lyakalembululwa lya Scofield Reference Bible lya mamanino aamusela wa 20th.
Hal Lindsey, (hallindsey.com - hallindseyoracle.com) mulembi wa The Rapture: Truth or Consequences (1983), ambweni ngomulembi wacishinshimi wiinda kubaa mpuwo mumyaka yakainda iili 30. Alikke ngo mweendelezi uulaa nguzu atalaa Bbaibbele ku Trinity Broadcasting mucipekupeku camutwe wakuti Omega Code ca Simukazya-Kristu uucizya.
J. Vernon McGee (1904-1988), umwaya milumbe mu Through the Bible Radio series.
Kenneth N. Taylor (mweendelezi wakaindi ku Moody Press, Wakatalisya Tyndale House Publishing), mulembi wa The Living Bible. Basimba mabbuku ba Tyndale House balaampuwo mpati muzipekupeku zya Left Behind zyokwa Tim LaHaye a Jerry Jenkins.
Thomas Ice (Mweendelezi wa Milimo ku Pre-trib Research Center), Th.M. Kuzwa mu DTS, wakagwasyilila kubamba Pre-trib Research Center antoomwe a Tim LaHaye.
Renald Showers, Most High God: A Commentary on the Book of Daniel.

Moody Bible Institute yaku Chicago: Mu 1890, C. I. Scofield wakatalisya Ciiyo ca Kwiiya Bbaibbele mu Magwalo, mpoonya eeco cakazumananwa aba Moody Bible Institute (Dwight. L. Moody, wakatalisya Moody Church, akusandula Scofield, mpoonya Scofield wakakambauka akupa mulumbe kudilwe lyaba Moody mu 1899). [Cileelede kuzyibwa kuti Dwight Moody lwakwe kwiina cibeela ncaakajisi mulwiiyo oolu pe.]

Ba Moody Press bakatumizya Ziiyo zya Cikolo ca Nsondo kuzikombelo zya Assembly of God mu 1914, akujuzya zikombelo zya Pentecosti kusyoma kuti simukazya-kristu ucizya kumbele akusyoma kutolwa kujulu camaseseke kakwiina kufwa mukulaba kwa liso.
IBbaibbele lya Ryrie Study Bible, ndyaakalemba Charles C. Ryrie, ooyo wakali sicikolo ku Dallas Theological Seminari, lilaa twaambo tuli 10,000+ twaziiyo alimwi ndelimwi akataa mabbuku aali kumbele kuuzyigwa aba Moody Press.
Jerry B. Jenkins, mulembi uugwasyilila muzipekupeku zya Left Behind, wakali musololi wakusimba mabbuku ku Moody Bible Institute, wakali mulembi wa Moody Magazine. Lino mulembi waziiyo zinjaanji ku Moody Bible Institute.

Western Theological Seminary (Reformed Church yaku Amelika).

Alma Mater waku Tim LaHaye, wakatalisya Pre-trib Research Center, wakali mulembi uugwasyilila muzipekupeku amabbuku aa Left Behind, aayo aali kumbele kusendekezya lusyomo lwakulangila simukazya-kristu kumbelaa mazuba akutolwa kujulu camaseseke kakwiina kufwa, aakasimbwa ziindi 20+ zyuulunzuma. Akasimbwa aba Tyndale House, alimwi kucili aacisimbwa aali 12. Cipekupeku ca bbuku litaanzi cakabambwa abalembi bacishinshimi ba Peter a Paul Lalonde baku Cloud Ten Pictures. Cakatondezyegwa kutaanguna mucipekupeku ca kkaseeti mu 2001, aabo bantu bakacilangilizya cipekupeku ca Left Behind bagantaganta buyo kwaamba kuti cilakopa, tacikwe Mulumbe mubotu wa lufutuko kwiinda mukusyoma Jeesu Kristu, alimwi cuubaula evangeli, mbweenya mbuli cipekupeku caku TBN ca Omega Code aca Megiddo (Omega Code II).

Tim LaHaye School of Prophecy - cakajulwa mu Mukazi Maziba 2002 kubbuwa lya Cikolo cipati ca Liberty Lynchburg, V.A., Dr. Jerry Falwell – ngo Musololi. Tim LaHaye wakaamba kuti ulikondedwe nkaambo kamiswaangano ya cishinshimi ku Albury Park aku Powerscourt eeyo yakakkedwe ku Britain akataa 1820 a 1830 alimwi eeci cakagaminina kusolweda kukubamba busena bwa (Pre-trib Research Center). Edward Irving a J. N. Darby bakaliko mumuswaangano ooyo, alimwi bakasungilizya kapati kukkala miswaangano eeyi mumusela wa 19th yacishinshimi oomo lusyomo lwa kutolwa kujulu camaseseke kakwiina kufwa akulangila simukazya-kristu mumazuba aacizya mukwakabedaa mpuwo kapati akataa basicikolo abasikutongooka bakambauka cishinshimi.
Imbungano zilaa mpuwo mpati kuyiisya Kulangila simukazya-kristu kumbelaa mazuba a Kutolwa kujulu camaseseke kakwiina kufwa:
Trinity Broadcasting - ambweni ngo sikapepele mupati wabuna Kristu mu TV, nkamu ya TBN yakabamba zipekupeku zyobile zya kulangila simukazya-kristu zyakuti: Omega Code aca Megiddo (Omega Code II). Nkamu ya TBN yakatumizya muli sikapepele zipekupeku zyobile zitobela zya mamanino aaciindi, kutolwa kujulu camaseseke akulangila simukazya-kristu kumbelaa mazuba:
The Moment After - eeci cakabambwa aba TMA Productions.
Mucipekupeku eeci, bakapaso bobile ba FBI bavwuntauzya zyuulunzuma zyabantu bakasweeka aciindi comwe boonse.
The Gathering - eeci cakabambwa aba DRC Productions.
Mucipekupeku eeci, bamakaintu bobile batasyomi amwaalumi uusyoma, babona zilengaano zikopa mizeezo zya kupenzyegwa kuzyaa kuswena alimwi akutola Bana-Kristu kujulu mukulaba kwa liso.
End of the Harvest – eeci cakabambwa aba Christiani Film Group.
Mucipekupeku eeci, sicikolo ulota ziloto zigambya zya mulimi wa mpunga, akugwasyilila zishinshimi zyamamanino aaciindi zyamu Bbaibbele katayandide, mpoonya umwi sicikolo waalilwa kupandulwida nkamu yabantu bayeeyela kuti kunyina leza. Mubwini cipekupeku eeci cisisikizya kukulwaizya bulozi akupaila mizimo amasabe (kusonda akukanana aa mizimo).
Jack Van Impe Ministries - Amulembi wabbuku lya The Jack Van Impe Prophecy Bible abbuku lisandulula kampango komwe-komwe ka bbuku lya Ciyubunuzyo lilaa mutwe wakuti Revelation Revealed. Mucipekupeku cakwe ca TV, Jack utaminina kuti Leza Lwakwe wakamutondezya walo mpubaalubide kusandula Bbaibbele aabo bakalisandulula kaindi alimwi wakamupa busanduluzi bululeme bwa bbuku lya Ciyubunuzyo.Walo nguwaabamba zipekupeku zitobela ansi zya kulangila simukazya-kristu mumazuba aacizya kumbele:

Apocalypse I: Caught in the Eye of the Storm.
Apocalypse II: Revelation.
Apocalypse III: Tribulation.
Apocalypse IV: Judgment.

Jerry Falwell Ministries - eeyi mbunga isumpula kapati cikolo ca Tim LaHaye Cikolo ca Bible Prophecy, eeco cakajulwa mu Mukazi Maziba 2002 mubbuwa lya cikolo cipati ca Falwell Liberty.
John Hagee Ministries - Wakaabila John Hagee ciiyo ca Prophecy Study Bible, eeco caambilizya kuti "cilikke nceciiyo ca cishinshimi camu Bbaibbele camusyobo ooyo", cilaa mapepa aayinda 300 aaziiyo zya Cishinshimi ca Bbaibbele alimwi kacilaa zifwanikiso zyeebeka. John Hagee ulitonkomene kutabilila mabbuku aacipekupeku ca Left Behind acipekupeku eeco mumubandi uutola woola lyomwe mu TV.
The King is Coming, nkamu ya World Prophetic Ministry, Colton, California, Ed Hindson Mweendelezi. Yakabambwa aba Dr. Howard C. Estep (1916-1986), mulembi wabbuku lya The Catching Away (1967). Ulilisungwide kupandulula Bbaibbele. Dr. Dave Breese, musololi wakaindi wa mbunga ya W.P.M. Alimwi Mwiyi waciiyo cakuti "Mwami Ulaboola." Walo ubelesya nzyaakalemba Scofield eelyo nayiisya busanduluzi bwakwe bwa mvwiki zya Daniele zili 70 mu Kulangila simukazya-kristu mucipekupeku cakuti Mwami Ulaboola.Wakayunguzya makani muBbaibbele lya Tim LaHaye Study Bible, akulyaamba kuti "ndi Bbaibbele liinda kululama kwiinda woonse!". Tim LaHaye wakali nkumekume uupa mulumbe muzipekupeku zinjaanji zijatikizya "The King is Coming".
Grant R. Jeffrey (Cishinshimi Muluwo)
Hilton Sutton World Ministries
Zola Levitt - Zola Levitt Ministries "Bapandulula Bbaibbele kwiimina mujwi alimwi akuti tabakonzyi kulubizya, basyoma lufutuko kwiinda muli Kristu alikke, kutola basyomi boonse kujulu camaseseke mukulaba kwa liso akubamba bulelo bwa cuulu camyaka atalaa Nyika."
John Ankerberg (Ankerberg Theological Research Institute), (Harbor Lighthouse)
Perry Stone (Manna Fest), Wakabamba akusolweda nkamu ya Voice of Evangelism Ministries Inc.
Chuck Missler (Koinonia House). Questions Continue: The Great Snatch?
Dave Hunt (The Berean Call) - mulembi wabbuku lyakuti A Woman Rides the Beast, cintu cigambya aawa ncakuti, uyiisya kutolwa kujulu kwa maseseke akulangila simukazya-kristu kumbelaa mazuba aacizya.
(cakazyila mu Biblelight.net/antichrist.htm)
Hena, ono kucinyina bulangizi bubotu na? Nee kaka peepe, kutabi boobo! Bantu basyomeka bokwa Yahuwah baluujisi kukambauka mulumbe uubbununa makani aalucengo woonse aayo. Basikutongooka bakasunkwa ncobeni mulusyomo lwabo alimwi masimpe kuti lyoonse bakali kukambauka mulumbe uuyubununa bubeji bwa poopo. Joseph Tanner mumwaanda wamyaka yakainda wakaamba kuti, nokuba kuti "donda mwaka" lyakatalika kupona mu 1929:
Mumizeezo yabantu, Poopo wakacili Simukazya-kristu cakuti, munzi wa Loma wakalikakatizya kupindulula lusyomo oolo akujuzya nzila ziindene zyakusandulula Mangwalo, akulesya kutondeka akutamikizya Poopo kuti ngo Simukazya-kristu.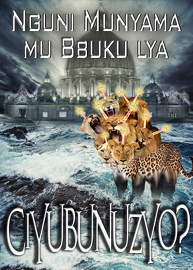 Aboobo cintu cakatobela ncakuti, kuya kumamanino aamusela wa Kubambulula lusyomo wakainda, basilisi bacikombelo bayiide kapati bakanjila mulimo, wakuyandaula cintu comwe boonse, eeco cikonzya kwiinda bantu boonse kunsaa maanu kutegwa kabatakubwene bulelo bwa Poopo mbobuyaazuzika zishinshimi zya Simukazya-kristu. Mu Jesuiti Alcasar (sic.) wakalyaaba kuleta busanduluzi bupya a Muzeezo wakulanganya simukazya-kristu mumazuba aakainda kale, eeco ncintu ncotwabona kale cisendekezya kuti zishinshimi zyaambilizya Simukazya-kristu zyakazuzikwa kaindi ba Poopo kabataninga lela munzi wa Loma, aboobo taziguminizyi Poopo wa mazubaano pe. Kujanza limwi, mu Jesuiti Ribera wakasoleka kulyatila ansi zishinshimi zyaambilizya Nguzu zya Poopo kwiinda mukuleta Muzeezo wakulangila simukazya-kristu mumazuba aacizya kumbele , ooyo muzeezo mubwini usendekezya kuti eezi zishinshimi tazyaambilizyi Poopo pele zyaambilizya muntu uumwi uulaa nguzu uucizyoolibonya kumbelaa mazuba, akuzumanana kulela myaka yotatwe acisela camwaka omwe. Aboobo, mbuli mbwaakaamba Alford, umwi Ribera muJesuiti, mu A.D.1580, wakali kulanganyigwa kuti ngo Waalatalisya Kulangila simukazya-kristu mumazuba aacizya kumbele.
Ncintu cuusisya kuti aabo basyoma mazubaano kuti simukazya-kristu uciboola kumbelaa mazuba, bunji bwabo mbobali Basikutongooka, bali kale mumaanza aamunzi wa Loma, alimwi basinkilila Poopo kuti atazyibwi mbwali Simukazya-kristu. Kanjaanji kwaamba kuti "Kulangila simukazya-kristu mumazuba aazya kumbele kwakazima mulilo ooyo Muya Uusalala nguwaakutwida atalaa Poopo." Eeci ceelede kubelesyegwa kapati muziindi eelyo Poopo Simukazya-kristu nalibonya kuti uyaa kujatila maanu aabantu mbweenya mbuli kaindi. Lino alimwi, mbuli muciindi ca Kubambulula lusyomo, ncintu ciyandika kapati kuti ciimo cakwe cizyibigwe abantu boonse basyomeka balaa "bumboni bwa [Yahushua]."4
Eeyi mizeezo yobile yaba Jesuiti yakupandulula cishinshimi; nokuba boobo, yakabambilwa kutozya mizeezo yabantu kuti baleke Kubambulula Lusyomo. Kunyina makani naa bupanduluzi bobile oobu mbumpelenge buli buti, pele bwakazwidilila mumulimo wakweena kusikila munsaa Bana-kristu boonse.
Pele cintu cikankamika akuzyondola maanu akataa zintu zyoonse ncakuti, Basikutongooka lwabo beni mukuya kwaciindi bakaba balongwenyina a poopo akutalika kumugwasyilila kutola makanze aakwe aabu Jesuiti akataa buleya. Ma! Babaanzi basikutongooka ncobazyokela kucintu ncibaabwene kabasalalidwe kuti ncikombelo cabwaamu cisolwedwa a simukazya-kristu eeco cakaambilizyigwa mucishinshimi, lino mbabaingene kumbele kukambauka kuti simukazya-kristu ucizya mumazuba aali kumbele muzikombelo zyabo. Kakwiina kudonaika, oolu lusyomo lwakazwidilila ncobeni kwiinda mbubakali kuyeeyela ba Jesuiti. Awalo muzeezo ookwa Luis De Alcazar wakuti simukazya-kristu wakainda kale, mbweenya buyo awalo wakainda bantu kunsaa maanu.5
Munzi wa Loma ookwa Poopo, nkakeja kasyoonto ka cishinshimi, nenguzu zya simukazya-kristu, ngosibwaamu uukoledwe bulowa, alimwi ncecuuno ca muntu wacibi. Kusikila munsaa buna-Kristu boonse bwakasweekelwa Kasimpe kayandisi aaka akuzelauka kuzwa munzila iiluleme. Koyeeyela mbwalaa mpuwo mazubaano Poopo Francis. Nyika yoonse ilamukkomanina akumuyanda. Pele webo kocenjela, utacengwi Omuyandwa wa Mwami Yahuwah. Kofwambaana kuyubila mucimvwule Cakwe. Kolibambila, kobamba Milawo iili Kkumi, a Bumboni bwa Yahushua, nkaambo Simwaaba wakalala ncobeni, aciindi camana.
---
1 Kunyina aawo Bbaibele mpolizumizya kupandaula mvwiki zyili 70 akusiila kumbali yomwe kuti iyoocitika aakale mumazuba aacizya. Cishinshimi coonse cakapegwa mbuli mulongo waciindi omwe buyo.
2 http://biblelight.net/antichrist.htm
3 Ibid.
4 Kuzwa mu Daniel and the Revelation: The Chart of Prophecy and Our Place In It, A Study of the Historical and Futurist Interpretation, caba Joseph Tanner, cakasimbwa ku London aba Hodder a Stoughton, 1898, mupeeji 16,17.