JOIN TODAY!
Meet new people from all over the world, make friends, change your status, upload photos, earn points, & so much more! Chat, post comments or questions on our forum, or send private emails to your friends! There is so much to do and Learn here at World's Last Chance! Join our growing Christian Community Today and receive your Free Gift!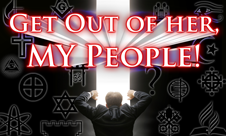 eCourses Completion Status
Yahuwah's Greatest Gift For This World
We have restored on the WLC website, in the Scriptures quoted the Names of the Father and Son, as they were originally written by the inspired authors of the Bible. Click here to download the Restored Names Version (RNV) of Scripture. The RNV is a non-WLC resource. -WLC Team
At Yahushua's incarnation, sin had become a science. Rebellion had struck its roots deep into the heart of man.
It was demonstrated before the universe that, apart from Yahuwah, humanity could not be uplifted
. A new element of life and power must be imparted by Him who made the world.
"With intense interest the unfallen worlds had watched to see [Yahuwah] arise, and sweep away the inhabitants of the earth. And if [Yahuwah] should do this, Satan was ready to carry out his plan for securing to himself the allegiance of heavenly beings. He had declared that the principles of [Yahuwah's] government make forgiveness impossible. Had the world been destroyed, he would have claimed that his accusations were proved true. He was ready to cast blame upon [Yahuwah], and to spread his rebellion to the worlds above. But instead of destroying the world, [Yahuwah] sent His Son to save it. Though corruption and defiance might be seen in every part of the alien province, a way for its recovery was provided. At the very crisis, when Satan seemed about to triumph, the Son of [Yahuwah] came with the embassage of divine grace. Through every age, through every hour, the love of [Yahuwah] had been exercised toward the fallen race. Notwithstanding the perversity of men, the signals of mercy had been continually exhibited. And when the fullness of the time had come, the Deity was glorified by pouring upon the world a flood of healing grace that was never to be obstructed or withdrawn till the plan of salvation should be fulfilled." The Desire of Ages, page 37.

Yahuwah's Eternal Gift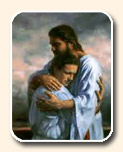 1. How does Yahuwah feel toward mankind separated from Him through sin?
"I have loved thee with an everlasting love: therefore with loving-kindness have I drawn thee." Jeremiah 31:3.
Answer: "We are to regard . . . [Yahushua] as having loved us personally and individually. Let us consider how much pains . . . [Yahuwah] has taken to make us feel that He cares for us personally. It is so in His providence, and so also in His gospel. He would fain make us single ourselves from the mass and feel that His loving eye and heart are upon us individually." Charies G. Finney, Sermons on Gospel Themes, pages 307, 308.
2. What evidence is there for us to see that Yahuwah really loves us?
"For Yahuwah so loved the world, that he gave his only begotten Son, that whosoever believeth in him should not perish, but have everlasting life." John 3:16.
"In this was manifested the love of Yahuwah toward us, because that Yahuwah sent His only begotten Son into the world, that we might live through Him. Herein is love, not that we loved Yahuwah, but that He loved us, and sent His Son to be the propitiation for our sins." 1 John 4:9, 10.
Answer: Because He loved us so much that He was willing to see His only begotten Son suffer and die rather than be separated from you and me for eternity. We will not be able to understand it, but He did it--just for you!
3. Was Yahushua the Son of Yahuwah?
Yahuwah testified. "This is My beloved Son, in whom I am well pleased." Matthew 3:17
"Yahushua . . asked His disciples, "Whom do men say that I the Son of man am? And they said, Some say that Thou art John the Baptist: some, Elias; and others, Jeremias, or one of the prophets. He saith unto them, But whom say ye that I am? And Simon Peter answered and said, Thou art the Anointed One, the Son of the living Eloah." Matthew 16:13-16.
Answer: Yes.
The testimony of the prophets; Yahushua' power to heal the sick and raise the dead; His peerless teaching; His own resurrection; The testimony of His friends; The admission of His enemies; lives transformed by His power, all testify that Yahushua is the Son of Yahuwah.

Yahushua—The Son Of Yahuwah
4. What was the relationship of Yahushua to Yahuwah, the Father?
"Yahushua, the Anointed, is the Son of Yahuwah." Mark 1:1.
5. Did Yahushua exist before He was born in Bethlehem?
"Now, O Father, glorify thou Me with Thine own self with the glory which I had with Thee before the world was." John 17:5.
"But thou, Bethlehem Ephratah, though thou be little among the thousands of Judah, yet out of thee shall He come forth unto Me that is to be ruler in Israel; Whose goings forth have been from of old, from everlasting." Micah 5:2.
Answer: Yes. Before anything existed, Yahushua came forth from Yahuwah, as His only begotten Son!
6. In what respect was the birth of Yahushua supernatural?
"Therefore the Sovereign Himself shall give you a sign; Behold, a virgin shall conceive, and bear a son, and shall call His name Immanuel." Isaiah 7:14
"Now the birth of Yahushua, the Anointed, was on this wise: When as His mother Mary was espoused to Joseph, before they came together, she was found with child of the Holy Ghost. . Now all this was done, that it might be fulfilled which was spoken of Yahuwah by the prophet, saying Behold, a Virgin shall be with child, and shall bring forth a son." Matthew 1:18, 22-23.
Answer: You see, the Scriptures teach that Yahushua was conceived by the Holy Spirit, and born in the flesh, of a virgin. This is known as the incarnation. Yahushua was not a new being, but He appeared in human form. "The Word was made flesh." John 1:14. "Who being in the form of Eloah thought it not robbery to be equal with Yahuwah; but made Himself of no reputation, and took upon Him the form of a servant, and was made in the likeness of men." Philippians 2:6-7. "They shall call His name Emmanuel. . . Eloah with us." Matthew 1:23.
Our Saviour
7. What was Yahushua's purpose in coming into the world?
"And she shall bring forth a son, and thou shalt call his name YAHUSHUA: for he shall save his people from their sins." Matthew 1:21. "To call ... sinners to repentance." Matthew 9: 13.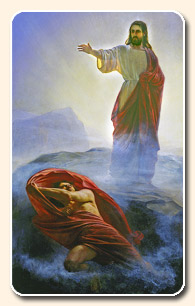 8. Did Yahushua leave us an example to follow in His struggle with temptation?
"The Anointed also suffered for us, leaving us an example, that ye should follow His steps: who did no sin, neither was guile found in His mouth." 1 Peter 2:21-22.
"I have kept My Father's commandments." John 15:10.
"[Yahushua] was in all points tempted like as we are, yet without sin. " Hebrews 4:15.
"Though he were a Son, yet learned he obedience by the things which he suffered." Hebrews 5:8.
"What the law could not do, in that it was weak through the flesh, Yahuwah sending His own Son in the likeness of sinful flesh, and for sin, condemned sin in the flesh: that the righteousness of the law might be fulfilled in us, who walk not after the flesh, but after the Spirit." Romans 8:3-4
So the Son of Yahuwah overcame in the flesh, demonstrating that Yahuwah's law can be kept, and He is ready to dwell in us by His Spirit and fulfill His will in us. As we yield to the Spirit, we receive power to obey Yahuwah.
Answer: Yes, the Scriptures declare that Yahushua overcame temptation and lived a sinless life, and because the Son of Yahuwah lived a sinless life in the flesh, He accomplished five things:
A. He demonstrated that, by the indwelling power of Yahuwah, the law of Yahuwah could be kept by converted man;
B. His righteous life in the flesh is now available to cover man's past sins;
C. He is able to sympathize with man in his struggle against sin;
D. He has successfully revealed Yahuwah to man;
E. He is in a position to impart overcoming power to all who are tempted.
Power To Save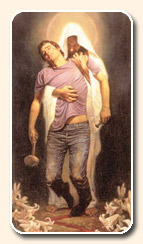 9. How fully can Yahushua save men from sin?
"Wherefore he is able also to save them to the uttermost that come unto Yahuwah by him, seeing he ever liveth to make intercession for them." Hebrews 7:25.
"I can do all things through the Anointed which strengtheneth me." Philippians 4:13.
Answer: He is in a position to impart overcoming power to all who are tempted to sinning.
10. What does the Bible say will take away sin?
"The blood of Yahushua, the Anointed, his Son cleanseth us from all sin." 1 John 1:7.
Answer: The Scripture also affirms that "it is not possible that the blood of bulls and of goats should take away sins." Hebrews 10:4.
11. Was it necessary for Yahushua to die in His own behalf?
No, Pilate, after carefully examining Him, declared, "I have found no cause of death in him." Luke 23:22. He had no sin, and therefore was under no condemnation.
Deep Sympathy For Us
12. For what reason, then, did He die?
"But we see Yahushua, who was made a little lower than the angels for the suffering of death, crowned with glory and honour; that he by the grace of Yahuwah should taste death for every man." Hebrews 2:9.
Answer: It was for sinful, fallen humanity that He died.
13. What sentence had been pronounced upon the human family?
"Wherefore, as by one man sin entered into the world, and death by sin; and so death passed upon all men, for that all have sinned." Romans 5:12.
"Now we know that what things soever the law saith, it saith to them who are under the law: that every mouth may be stopped, and all the world may become guilty before Yahuwah." Romans 3:19.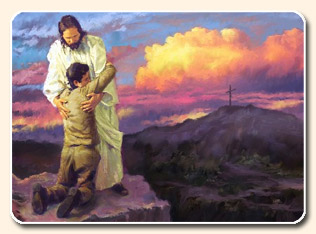 14. How could the death of Yahushua help to free man from his sins?
"Yahuwah hath laid on him the iniquity of us all." Isaiah 53:6.
"For he hath made him to be sin for us, who knew no sin; that we might be made the righteousness of Yahuwah in him." 2 Corinthians 5:21.
Answer: He took the sinner's place and assumed the guilt as if it were His own.
15. When Yahushua died, therefore, for whose sins did He die?
"But he was wounded for our transgressions, he was bruised for our iniquities: the chastisement of our peace was upon him; and with his stripes we are healed." Isaiah 53:5.
"For I delivered unto you first of all that which I also received, how that the Anointed died for our sins according to the scriptures." 1 Corinthians 15:3.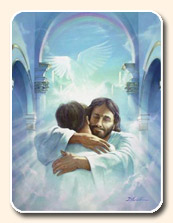 16. What did the death of Yahushua achieve for us?
"Yahuwah commendeth His love toward us, in that, while we were yet sinners, the Anointed One died for us." Romans 5:8.
"He took the cup, and gave thanks, and gave it to them, saying, Drink ye all of It; for this is My blood of the new testament, which is shed for many for the remission [forgiveness] of sins." Matthew 26:27-28.
Answer: When a sinner accepts Yahushua as his Saviour, Yahuwah counts the death of Yahushua as punishment for his sins. The sinner is forgiven and goes free. He is "redeemed" from death through the sacrifice of Yahushua. You see, since the holy law of Yahuwah is as sacred as Yahuwah Himself, only one equal with Yahuwah could make atonement for its transgression. That someone was Yahushua, wonderful Yahushua. The human mind may never fully fathom the science, philosophy, or theology of the atonement, but we can accept it; and all who will accept the sacrifice of Calvary will have the joy of a changed heart.
"[Yahushua] was treated as we deserve, that we might be treated as He deserves. . He suffered the death which was ours, that we might receive the life which was His. 'With His stripes we are healed.' By His life and His death, [Yahushua] has achieved even more than recovery from the ruin wrought through sin. It was Satan's purpose to bring about an eternal separation between [Yahuwah] and man; but in [Yahushua] we become more closely united to [Yahuwah] than if we had never fallen. In taking our nature, the Saviour has bound Himself to humanity by a tie that is never to be broken. Through the eternal ages He is linked with us." The Desire of Ages page 25.
Our Mediator And High Priest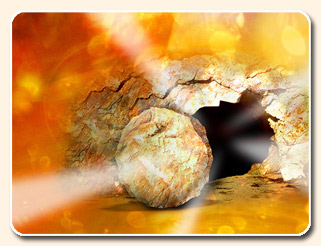 17. Is the resurrection of Yahushua important to us?
"I am the first and the last: I am He that liveth, and was dead; and, behold, I am alive for evermore, Amen; and have the keys of hell and of death." Revelation 1:17-18.
"If, when we were enemies, we were reconciled to Yahuwah by the death of His Son, much more, being reconciled, we shall be saved by His life." Romans 5:10 (See 1 John 5:12).
Paul goes so far as to say: "If the Anointed One be not raised, your faith is vain; ye are yet in your sins. Then they also which are fallen asleep in the Anointed One are perished." 1 Corinthians 15:17-18.
Answer: The Scriptures teach that Yahushua rose a victor over death, to save us by His life and to assure us of our resurrection from the grave. Moreover, the resurrection of Yahushua from the dead is a doctrine that distinguishes the followers of Yahuwah from all other world religions. Buddha, Confucius, Mohammed, and the founders of other religious movements are dead. Yahushua alone points to an empty tomb as evidence of divine power and of conquest over death. No fact connected with the life of Yahushua is so firmly supported as the fact of the resurrection. The resurrected Yahushua is a living Saviour. It is only the power of the living Saviour, the power of the resurrection that can change the life of man and save him. Paul sought to know the power of His resurrection as a daily experience, that he might at last be raised in the resurrection of the dead (Philippians 3:10-11). The resurrection of Yahushua is thus a sample and pledge of ours. "The Anointed One, the first fruits; afterward they that are the Anointed One's at His coming." 1 Corinthians 15:23.
18. Where is Yahushua now and what is He doing?
"While they beheld, He was taken up; and a cloud received Him out of their sight. And while they looked stedfastly toward heaven as He went up, behold, two men stood by them in white apparel; which also said, Ye men of Galilee, why stand ye gazing up into heaven? this same Yahushua, which is taken up from you into heaven, shall so come in like manner as ye have seen Him go into heaven." Acts 1:9-11.
"And it came to pass, while he blessed them, he was parted from them, and carried up into heaven. And they worshipped him, and returned to Jerusalem with great joy." Luke 24:51-52.
Answer: According to the Bible, Yahushua ascended to heaven and is now mediating in our behalf. Forty days after the resurrection Yahushua ascended to heaven and His disciples were left behind.
A. Yahushua ascended to heaven, to become our mediator and high priest. "There is one Eloah, and one mediator between Yahuwah and men, the man, the Anointed Yahushua" 1 Timothy 2:5. See Hebrews 8:1; 7:25.
B. We need a representative in heaven who understands our problems. Yahushua does. "For we have not an high priest which cannot be touched with the feeling of our infirmities." Hebrews 4:15.
C. He was "made like unto His brethren, that He might be a merciful. . high priest." Hebrews 2:17. We may come in reverent boldness to the throne of mercy, grace, and power Hebrews 4:16.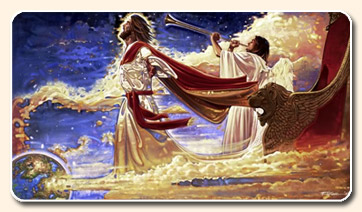 19. Will Yahushua come again?
"In my Father's house are many mansions: if it were not so, I would have told you. I go to prepare a place for you. And if I go and prepare a place for you, I will come again, and receive you unto Myself; that where I am, there ye may be also." John 14:2-3.
"The disciples were still looking earnestly toward heaven when, "behold, two men stood by them in white apparel; which also said, Ye men of Galilee, why stand ye gazing up into heaven? this same Yahushua, which is taken up from you into heaven, shall so come in like manner as ye have seen Him go into heaven." Acts 1:10, 11.
"So the Anointed was once offered to bear the sins of many; and unto them that look for Him shall He appear the second time without sin unto salvation." Hebrews 9:28. (See Revelation 19:11-16).
Answer: Yes, the Scriptures testify that Yahushua will come again. Let us be ready to meet Him. The second coming of Yahushua is the climax of the gospel. It is the time of reward. Without it the cross loses its meaning. The cross is the seed sowing of Yahuwah's love, the second coming is the harvest time. It is the homecoming of Yahuwah's people.
"The promise of [Yahushua's] second coming was ever to be kept fresh in the minds of His disciples. The same [Yahushua] whom they had seen ascending into heaven, would come again, to take to Himself those who here below give themselves to His service. The same voice that had said to them, "Lo, I am with you alway, even unto the end," would bid them welcome to His presence in the heavenly kingdom." The Acts of the Apostles, page 33.
The loving invitation of Yahushua to you is, "My son, [daughter] give me thine heart" (Proverbs 23:26). Will you give Him your heart today?