JOIN TODAY!
Meet new people from all over the world, make friends, change your status, upload photos, earn points, & so much more! Chat, post comments or questions on our forum, or send private emails to your friends! There is so much to do and Learn here at World's Last Chance! Join our growing Christian Community Today and receive your Free Gift!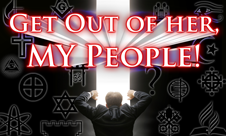 eCourses Completion Status
Prayer is the Key
I still remember the day my son called me "Mama." My first child, each new experience with him was precious. Actually, he did not call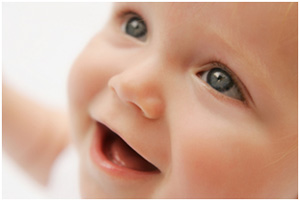 me "Mama." It was more like mamamama! I did not care! His little face had lit up with happiness when I walked in to get him after his nap, his little arms waved, and then the sweetest sound I had ever heard: "Mamamama!"
While it was not said perfectly, it was music to my ears. It showed that his little heart recognized me, his mother. This is what is experienced in a true prayer relationship with the Creator. There is great value in knowing the true, personal name of the Creator . . . but it is not for His benefit. It is for ours. He is our Father. No loving parent rejects the request of his child because a young child can only say "dada" rather than "Daddy." No loving parent refuses to listen or help unless the child stands a certain way or holds her hands "just so" when making the request.
The same is true of the Heavenly Father. He has a name, a personal name and He invites all to call upon it. However, He understands that we are but dust. Some languages contain sounds that other languages simply do not contain and unless a person is raised from babyhood forming those sounds, it is not always possible to make the tongue produce unfamiliar sounds. My mother was raised in an English speaking home, but as a very young child learned French from her playmates. She could make her tongue form certain sounds that, no matter how I try, I have never been able to duplicate.
No one, parent or otherwise, refuses to respond to someone calling his or her name if the person calling cannot pronounce the name perfectly or speaks with a lisp. A friend of mine is French Canadian. We have an old mutual friend named Thackery. My French Canadian friend has never once been able to pronounce his name because French does not have the soft "th" sound. The closest she gets is Zachary. However, he does not ignore her because she cannot pronounce his name correctly. Likewise, a woman named Rachelle would not ignore someone from China pronouncing her name "Lachelle." She would be understanding because Chinese does not contain the "r" sound.
So too, ". . . [Elohim] does not stand afar off as I struggle to speak. He cares enough to listen with more than casual attention. He translates my scrubby words and hears what is truly inside. He hears my sighs and uncertain gropings as fine prose."1
Far more important than pronouncing the divine name The Precise Way the angels say it, is to know the meaning of the name. It is only when the meaning of the name is understood, that one can fully exercise faith in the power of the One Who bears that name. It is here that the importance of knowing the Father's personal name is seen in its importance.
When the divine name is understood in its fullness, it is seen to be a promise. This promise itself inspires all to call upon the Creator for every need. Certain titles are acceptable to use when calling upon the Almighty. The Saviour Himself has encouraged us to call upon the Omnipotent One. To strengthen our confidence in Elohim, the Saviour has taught us to call upon Him by a new name, a title that is entwined with the closest affections and deepest love of the human heart. He has given us the honor of calling Elohim our "Father."
This name, spoken to Him and of Him, is a sign of our love and trust toward Him, and a pledge of His regard and relationship to us. Spoken when asking His favor or blessing, it is as music in His ears. That we might not think it presumption to call Him by this name, He has repeated it again and again. He desires us to become familiar with the appellation [name]. . . . [Elohim] regards us as His children. He has redeemed us out of the careless world and has chosen us to become members of the royal family, sons and daughters of the heavenly King. He invites us to trust in Him with a trust deeper and stronger than that of a child in his earthly father. Parents love their children, but the love of . . . [Elohim] is larger, broader, deeper, than human love can possibly be. It is immeasurable. Then if earthly parents know how to give good gifts to their children, how much more shall our Father in heaven give the Holy Spirit to those who ask Him?2
Scripture tells us that Elohim is LOVE. (See 1 John 4:8.) As the embodiment of pure love, He does not set exacting standards of bodily position or perfect pronunciation before He will listen to our prayers. He assures every hesitant soul, "All that come to Me, I will in no wise cast out." (See John 6:37.) In His "Sermon on the Mount" the Saviour taught what kinds of prayer are acceptable and what kinds of prayer are unacceptable to Elohim. He said:
When you pray, you shall not be like the hypocrites. For they love to pray standing in the synagogues and on the corners of the streets, that they may be seen by men. Assuredly, I say to you, they have their reward. . . . [And] when you pray, do not use vain repetitions as the heathen do. For they think that they will be heard for their many words. Therefore do not be like them.3
Prayer is never to be a particular set of words or motions we go through in order to buy divine favor. The Saviour explained that such tradition and theatrics were unnecessary when speaking to the Father.
But you, when you pray, go into your room, and when you have shut your door, pray to your Father who is in the secret place; and your Father who sees in secret will reward you openly. . . . For your Father knows the things you have need of before you ask Him.4
Prayer is not for the purpose of making known to Elohim our needs. He already knows our needs and has the way all planned to provide for us.
Prayer is the opening of the heart to . . . [the Father] as to a friend. Not that it is necessary in order to make known to . . . [Elohim] what we are, but in order to enable us to receive Him. Prayer does not bring . . . [the Father] down to us, but brings us up to Him.5
Or, as Oswald Chambers once said: "Our ordinary views of prayer are not found in the New Testament. We look upon prayer as a means for getting something for ourselves; the Bible idea of prayer is that we may get to know . . . [Elohim] Himself." This is the purpose of prayer, and it is the reason why it is important to know the divine Name. Elohim's personal name is as holy as Himself and it is a revelation of His character.
When a person knows Elohim as his loving Father, he will have the trust to call upon His name in prayer. This will not be a lazy, half-hearted, vague prayer. Charles H. Spurgeon, the well-respected minister from the 19th century once observed: "There is a general kind of praying which fails for lack of precision. It is as if a regiment of soldiers should all fire off their guns anywhere. Possibly somebody would be killed, but the majority of the enemy would be missed." A person who trusts his Maker as he trusts his human father, will not be afraid to lay out his needs in as simple and trusting a manner as a child asks for a drink of water when he is too short to reach the faucet.
We are to trust to the promise of . . . [Elohim]. We are to go about our business believing that . . . [He] will do just what He has said He would do, and that the blessings we have prayed for will come to us when we most need them. Every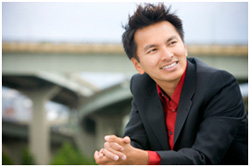 petition enters into the heart of . . . [the Father] when we come believing. We have not faith enough. We should look upon our heavenly Father as more willing to help us than an earthly parent is to help his child. Why not trust Him? "He that spared not His own Son, but delivered Him up for us all, how shall He not with Him also freely give us all things?" (Romans 8:32)6
Prayer is a privilege, but it is not a luxury that one can take or leave at the dictates of whim or time. Calling upon the Name of the Father is a vital necessity! As the great Protestant Reformer, John Wesley, once observed: "I have so much to do that I spend several hours in prayer before I am able to do it."
Prayer is the breath of the soul, the channel of all blessings. As . . . the repentant soul offers its prayer, . . . [the Father] sees its struggles, watches its conflicts, and marks its sincerity. He has His finger upon its pulse, and He takes note of every throb. Not a feeling thrills it, not an emotion agitates it, not a sorrow shades it, not a sin stains it, not a thought or purpose moves it, of which He is not cognizant. That soul was purchased at an infinite cost, and is loved with a devotion that is unalterable.7
One who loves his heavenly Father, will not hesitate to call upon His name in every trial or perplexity. Trusting in the love and power of the One Who bears the name of promise, it is a natural thing to follow Paul's instructions: "Rejoice always, pray without ceasing, in everything give thanks; for this is the will of . . . [Elohim] in . . . [the Saviour] for you." (1 Thessalonians 5:16-18, NKJV) The Saviour
has urged that His people pray without ceasing. This does not mean that we should always be upon our knees, but that prayer is to be as the breath of the soul. Our silent requests, wherever we may be, are to be ascending unto . . . [the Father], and . . . [the Saviour] our Advocate pleads in our behalf, bearing up with the incense of His righteousness our requests to the Father.8
It is not possible to be continually on one's knees. However, the heart may be drawn to the Father in prayer. When in trouble, when sad or confused, prayers, like arrows flown heavenward, receive the immediate attention of the Father. In His presence is fullness of joy! It is our privilege to be in His presence when we pray. Therefore, prayer should be as natural to His children as breathing. "Accustom yourself gradually to carry Prayer into all your daily occupation -- speak, act, work in peace, as if you were in prayer, as indeed you ought to be."9
Tell . . . [the Father] all that is in your heart, as one unloads one's heart, its pleasures and its pains, to a dear friend. Tell . . . [Him] your troubles, that . . . [He] may comfort you; . . . [tell Him] your longings, that . . . [He] may purify them; tell . . . [Him] your dislikes, that . . . [He] may help you conquer them; talk to . . . [the Father] of your temptations, that . . . [He] may shield you from them: show . . . [Elohim] the wounds of your heart, that . . . [He] may heal them. If you thus pour out all your weaknesses, needs, troubles, there will be no lack of what to say. Talk out of the abundance of the heart, without consideration say just what you think. Blessed are they who attain to such familiar, unreserved intercourse with . . . [their Maker].10
While engaged in our daily work, we should lift the soul to heaven in prayer. These silent petitions rise like incense before the throne of grace; and the enemy is baffled. The Christian whose heart is thus stayed upon . . . [Elohim] cannot be overcome. No evil arts can destroy his peace. All the promises of . . . [the Father's] word, all the power of divine grace, all the resources of . . . [the Omnipotent One], are pledged to secure his deliverance.
It is a wonderful thing that we can pray effectually, that unworthy, erring mortals possess the power of offering their requests to . . . [their Creator]. What higher power can man desire than this,--to be linked with the infinite . . . [One]? Feeble, sinful man has the privilege of speaking to his Maker. We may utter words that reach the throne of the Monarch of the universe. We may speak with . . . [our Saviour] as we walk by the way, and He says, I am at thy right hand.
We may commune with . . . [the Father] in our hearts; we may walk in companionship with . . . [His Son]. When engaged in our daily labor, we may breathe out our heart's desire, inaudible to any human ear; but that word cannot die away into silence, nor can it be lost. Nothing can drown the soul's desire. It rises above the din of the street, above the noise of machinery. It is . . . [Elohim] to whom we are speaking, and our prayer is heard.
Ask, then; ask, and ye shall receive. Ask for humility, wisdom, courage, increase of faith. To every sincere prayer an answer will come. It may not come just as you desire, or at the time you look for it; but it will come in the way and at the time that will best meet your need. The prayers you offer in loneliness, in weariness, in trial, . . . [your Father] answers, not always according to your expectations, but always for your good.11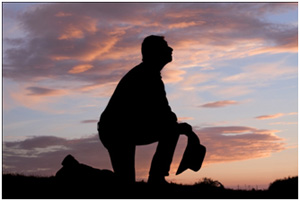 When you call upon the name of the Father, you may not always see or feel an immediate response. However, your prayer is always immediately heard. It is often said that sometimes the answer isyes; sometimes the answer is no; and sometimes the answer is wait awhile.
But too often, people give up too soon. They either do not persevere in praying, or they think perhaps they are asking for something too large and ask for something smaller. However, the Father "does not delay to hear our prayers because He has no mind to give; but that, by enlarging our desires, He may give us the more largely."12
Sometimes a person just learning to pray is unsure how to pray. It is always appropriate to give thanks to your Creator. Tell Him what you are thankful for! You can also pray what has come to be known as "The Lord's Prayer." This is the prayer which the Saviour taught in His Sermon on the Mount:
Our Father which art in heaven,
Hallowed be Thy name.
Thy kingdom come.
Thy will be done in earth, as it is in heaven.
Give us this day our daily bread.
And forgive us our debts, as we forgive our debtors.
And lead us not into temptation, but deliver us from evil:
For Thine is the kingdom, and the power, and the glory, for ever.
Amen. (Matthew 6:9-13, KJV)
This is also the prayer that He taught His disciples. (See Luke 11:2-4.) It is the model prayer because it acknowledges the Father in Heaven, it asks for His will to be done, it lays out the simple needs and asks for spiritual blessings, while leaving all to Him Who is infinite in wisdom. There would be nothing wrong with praying this perfect prayer to close one's own private times of prayer every day.
Secret prayer, prayer prayed in the privacy of one's own heart, brings divine strength needed by all who would overcome in the warfare against sin and self. However, there are other types of prayer that can be a great blessing as well. Praying in groups can be a tremendous blessing, as the Holy Spirit comes and draws hearts together in unison and up to Elohim. Sometimes, if there is a large group, people will break up into small groups of four or five.
Another way to pray that brings tremendous blessings is praying "in one accord." One person starts the prayer and tells the Father what is on his heart. Another person can join in at any time, and anyone else can, too. When praying around a circle, one at a time, the Holy Spirit can bring thoughts to the mind that, by the time one's own turn comes to pray, have already been forgotten. Being free to speak up and pray "in one accord" as the Spirit moves is a deeply enriching and spiritually uplifting experience.
The Creator has given every encouragement for His children to call upon His name.
Our heavenly Father waits to bestow upon us the fullness of His blessing. It is our privilege to drink largely at the fountain of boundless love. What a wonder it is that we pray so little! . . . [Elohim] is ready and willing to hear the sincere prayer of the humblest of His children, and yet there is much manifest reluctance on our part to make known our wants to . . . [Him]. What can the angels of heaven think of poor helpless human beings, who are subject to temptation, when . . . [the Creator's] heart of infinite love yearns toward them, ready to give them more than they can ask or think, and yet they pray so little and have so little faith? The angels love to bow before . . . [their Maker]; they love to be near Him. They regard communion with . . . [their Creator] as their highest joy; and yet the children of earth, who need so much the help that . . . [Elohim] only can give, seem satisfied to walk without the light of His Spirit, the companionship of His presence.
The darkness of the evil one encloses those who neglect to pray. The whispered temptations of the enemy entice them to sin; and it is all because they do not make use of the privileges that . . . [the Father] has given them in the divine appointment of prayer. Why should the sons and daughters of . . . [Elohim] be reluctant to pray, when prayer is the key in the hand of faith to unlock heaven's storehouse, where are treasured the boundless resources of Omnipotence? 13
Call upon the name of your Creator! He is waiting with longing heart to answer your prayers. He will be found by all who call upon His name in faith.
---
1 Timothy Jones
2 E. G. White, Christ's Object Lessons, p. 142.
3 Matthew 6:5, 7-8a, NKJV
4 Matthew 6:6, 8b, NKJV
5 E. G. White, Steps to Christ, p. 93.
6 E. G. White, That I May Know Him, p. 230.
7 E. G. White, Maranatha, p. 85.
8 E. G. White, That I May Know Him, p. 78.
9 François Fénelon
10 Ibid.
11 E. G. White, Messages to Young People, pp. 249-250.
12 Anselm of Caterbury
13 E. G. White, Steps to Christ, p. 94.