JOIN TODAY!
Meet new people from all over the world, make friends, change your status, upload photos, earn points, & so much more! Chat, post comments or questions on our forum, or send private emails to your friends! There is so much to do and Learn here at World's Last Chance! Join our growing Christian Community Today and receive your Free Gift!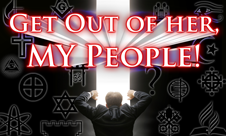 eCourses Completion Status
What was Nailed to the Cross? Colossians 2 | Part A
Forgiven! . . . Free! . . . Not guilty!
The hope-inspiring message which the apostle Paul brought to Gentiles was that their record of sins had been cleansed! It had been nailed to the cross. They were forgiven! No more did they need to labor under the burden of working their way to Paradise.
Salvation by works is a doctrine held by all pagan religions. Paul brought the joyous message that all of the "works" had been accomplished by the Saviour, Yahushua. Now, salvation came by faith in Him alone!
For I am not ashamed of the gospel [good news] of Yahushua, for it is the power of Yahuwah to salvation for everyone who believes, . . . For in it the righteousness of Yahuwah is revealed from faith to faith; as it is written, "The just shall live by faith." (See Romans 1:16-17.)
Those who exercise faith in Yahushua accept His death in place of their own as the price demanded for their sins. Then, they can be "resurrected" with Him in newness of life. No longer are they bound by their old sinful nature. They are free in Yahushua!
I have been crucified with Yahushua; it is no longer I who live, but Yahushua lives in me; and the life which I now live in the flesh I live by faith in the Son of Yahuwah, who loved me and gave Himself for me. (See Galatians 2:20.)
Here is the power of the gospel! Repentant sinners can, through faith in their Saviour, have the record of their sins nailed to the cross and live a new life in Yahushua. This truth transforms lives!
Satan knows that his enslaving control over lives is broken by the power in the gospel of Yahushua. In order to keep this life-transforming truth from the world, Satan has taken one of the clearest statements explaining this process and, through mistranslation and misunderstanding, has enshrouded it in darkness.
This passage is found in Colossians 2:13-17:
"And you, being dead in your trespasses . . ., He has made alive together with Him, having forgiven you all trespasses, having wiped out the handwriting of requirements that was against us, which was contrary to us. And He has taken it out of the way, having nailed it to the cross. Having disarmed principalities and powers, He made a public spectacle of them, triumphing over them in it. Therefore let no one judge you in food or in drink, or regarding a festival or a new moon or sabbaths, which are a shadow of things to come, but the substance is of . . . [Yahushua]." (Colossians 2:13-17, NKJV)
Satan has misled multitudes into thinking that the "handwriting of requirements" spoken of in this passage which Yahushua has taken "out of the way" and nailed to the cross is the divine law. They assume that the divine law is no longer binding and that the statutes and commandments regarding eating only clean meats and worshipping on the feasts, Sabbaths and New Moons has been "done away with." Thus, Satan leads many to actually break the divine law because they believe this text teaches that the law is no longer binding.
However, a careful examination of the text reveals the error of this belief.
"What was this 'handwriting of requirements'? These words are translated from the Greek phrase cheirographon tois dogmasin. Cheirographon means anything written by hand, but can more specifically apply to a legal document, bond or note of debt. Dogmasin refers to decrees, laws or guidelines governing a person's conduct or way of life." (Earl L. Henn, "Was God's Law Nailed to the Cross?")
The "requirements" that are "against" us cannot be the divine law, because the divine law is for us! Paul himself states: "the law is holy, and the commandment holy and just and good." (Romans 7:12, KJV)
The law of Yahuwah is perfect, converting the soul; the testimony of Yahuwah is sure, making wise the simple. The statutes of Yahuwah are right rejoicing the heart. More to be desired are they than gold, Yea, than much fine gold; Moreover by them Your servant is warned, And in keeping them there is great reward. (See Psalm 19:7-8, 10-11.)
Paul is proclaiming the good news of salvation in Colossians 2! By the Saviour's death, the debt of guilt owed for sin is wiped clean! Sin is the "handwriting of requirements" and it has truly been "against us."
When a person was crucified, a list of the crimes committed was also nailed to the cross. Pilate inscribed Yahushua's crime: King of the Jews. As our King and as our Saviour, Yahushua received the punishment for our sins.
"He was numbered with the transgressors, And He bore the sin of many, And made intercession for the transgressors." (Isaiah 53:12, NKJV)
"For He made Him who knew no sin to be sin for us, that we might become the righteousness of . . . [Yahuwah] in Him." (2 Corinthians 5:21, NKJV)
All who accept the death of the Saviour for their sins, have the record of their sins "taken away" and "nailed to the cross."
Yahushua also suffered for us . . . who Himself bore our sins in His own body on the tree, that we, having died to sins, might live for righteousness - by whose stripes you were healed. (See 1 Peter 2:21, 24.)

---
WLC Source:
https://www.worldslastchance.com/winds-of-doctrine/what-was-nailed-to-the-cross-an-examination-of-colossians-2.html