JOIN TODAY!
Meet new people from all over the world, make friends, change your status, upload photos, earn points, & so much more! Chat, post comments or questions on our forum, or send private emails to your friends! There is so much to do and Learn here at World's Last Chance! Join our growing Christian Community Today and receive your Free Gift!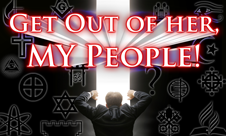 eCourses Completion Status
What was Nailed to the Cross? Colossians 2 | Part B
Colossians 2 presents a very beautiful and profound truth: the doctrine of justification.
"And you, being dead in your trespasses . . ., He has made alive together with Him, having forgiven you all trespasses, having wiped out the handwriting of requirements that was against us, which was contrary to us. And He has taken it out of the way, having nailed it to the cross." (Colossians 2:13, 14, NKJV)
The "it" that was nailed to the cross is not the "holy, just and good" divine law. What was nailed to the cross and "wiped out" was the record of trespasses and sins! When the sinful record was wiped clean, Satan's power over lives was broken!
"Having disarmed principalities and powers, He made a public spectacle of them, triumphing over them in it." (Colossians 2:15, NKJV)
This is good news today, and it was good news to the Colossians.
Colossæ was a pagan city. Their religion was one of salvation by works. They taught that perfection could be achieved only through extreme self-denial and abstinence from pleasure. They believed that anyone claiming to be religious should practice the austerity they practiced. This influenced the young Christians in Colossæ who had previously been pagans. Instead of trusting fully in the merits of their crucified and risen Saviour, the Colossians were returning to a self-imposed denial, assuming it to be a requirement for salvation.
Paul warned them against trying to "work their way to Heaven."
Beware lest anyone cheat you through philosophy and empty deceit, according to the tradition of men, according to the basic principles of the world, and not according to Yahushua. (See Colossians 2:8.)
Self-punishment is never required by Yahuwah in order to be saved. Paul encouraged the Colossian believers to be free in Yahushua and not influenced by the self-imposed abstinence of the pagans around them.
Therefore let no one judge you in food or in drink, or regarding a festival or a new moon or sabbaths, which are a shadow of things to come, but the substance is of Yahushua. Let no one defraud you of your reward, taking delight in false humility . . . and not holding fast to the Head [Yahushua] . . . (See Colossians 2:16-19.)
"But the substance is of Yahushua" is a phrase that has been mistranslated.
"A literal translation of the last few words of Colossians 2:17 reads, 'but the body of Christ [Yahushua].' What is the body of . . . [Yahushua]? 1 Corinthians 12:27 supplies the answer: 'Now you are the body of . . . [Yahushua], and members individually.' The body of . . . [Yahushua] is the church!" (Earl L. Henn, "Are the Sabbath and Holy Days Done Away?")
Paul taught the Colossians that they should not allow the criticism of the surrounding pagans to dictate their practices, but that the ekklesia should make such judgments. They were now free of the pagan philosophies and could live a balanced life in Yahushua.
The reason why we use Ekklesia and not church when referring to Yahuwah's faithful in WLC content is because the word "church" does not accurately convey the meaning of the original Greek, "Ekklesia." Throughout the New Testament, Ekklesia refers to the Called Out Ones. The word "church," which emphasizes a group, is therefore an erroneous translation and should never have been used. Christians are literally the Called Out Ones. The true followers of Yahushua are indeed the Called Out Ones from the organized denominations and religions of fallen Babylon. When the call to flee Babylon has been heard, none are to again return to Babylonian churches and forms of religion.
Therefore, if you died with Yahushua, from the basic principles of the world, why, as though living in the world, do you subject yourselves to regulations - 'Do not touch, do not taste, do not handle,' which all concern things . . . according to the commandments and doctrines of men? (See Colossians 2:20-22.)
No longer do any need to cling to man-made traditions to work their way to Heaven. Yahushua's death on the cross has forgiven the debt owed by sinners. The record of your sins has been nailed to the cross.
"He was wounded for our transgressions, He was bruised for our iniquities; The chastisement for our peace was upon Him, And by His stripes we are healed. . . . [Yahuwah] has laid on Him the iniquity of us all." (Isaiah 53:5, 6, NKJV)
You are forgiven! You are free!

---
WLC Source:
https://www.worldslastchance.com/winds-of-doctrine/what-was-nailed-to-the-cross-an-examination-of-colossians-2.html