December 31, 2022
Twaleka kusyoma kuti Poopo Francis ngo Mwami wa lusele mu cishinshimi. Nokuba boobo, tucizumanana kusyoma kuti bami/malundu aali ciloba mbaa poopo bali ciloba, lino kusanganya antoomwe a Poopo Benedict XVI uufwide kali mwami wa ciloba. Ooku kucinca mukuteelela kwesu kwakaboolela mu luzyibo lwa zintu ziyoocitika kumamanino nzyaakaambilizya Ezekiya. Yahuwah aakulesyelela canguzu akunyonyoona impi zya Russia, Turkey, a Iran mumalundu aa Isilayeli, Isilayeli uyootola myaka ciloba [Ezekiya 39:7] kubungila zilwanyo zya lumamba luyookomwa. Atweezyeezye lino kuti twayungizya kuli ceeci ciindi ciyandika kuti cisi ca Russia cikamaninizye kunyonyoona cisi ca Ukraine akupwanyangula mbungano ya NATO. Kuti caba boobo tunoolangila ciindi cilamfu kwiinda myaka eeyo poopo Francis njaceelede kulela.
Kuyungizya waawo, kaambo kali mu [Ciyubunuzyo 17:11] aako kapandulula kuti 'wa Lusele ngumwi akataa bali ciloba' kalatukopa. Cimwi ciyeeyelwa mu mpasulula balozi ya bulemu eeyi ncakuti ambweni ooyo poopo uutobela Francis unooli daimona lilicengeezya kuba Poopo John Paul II. Ikuti eeco cacitika , inga busanduluzi bwayelela kuti mwami wa Lusele ngumwi akataa bali ciloba. Aboobo Poopo Francis Mwami uuzuzika biyo ciindi nkaambo tali umwi akataa bali ciloba. Ncintu ca maanu kuti ciseese cilipeekezya kuba John Paul Ii cicilelema nkaambo nyika yoonse tiilibambide kubona zintu ziyoovwundumuka mumasena manjaanji, eezyo ziyoomanina mu kuboola kwa Yahushua.
Tulangila cakutontomana kuboola kwa Yahushua kuzyoolela masi aanyika kuzwa Ku Jelusalema. Pele tatukonzyi kubinzya mulongo wa ciindi cokwa Yahuwah pe.

Cikombelo ca Katolika caku Roma cicizuunyene kulibanda kuti calo ncecikombelo cilikke ca Bunakristu, camasimpe, akuzumizyigwa mumulawo atalaa nyika. Citaminina kuti cakatambula nguzu zyaapedwe baapositolo, nzyaakakona poopo kuzwa kumwaapositolo, Petulo; aboobo, cilyaamba kuti calo kunyina pe nocinga calubizya.
Ooku takuli kulidunda buyo kwaamulomo pe. Kweendelena bwaamba John J. Kelley, ooyo wakali mupaizi:
Muswaangano waku Trent, umwi mulazyo ookwa Pius IV, wakabikkwa kuti citakakonzyeki kubambulula Cikombelo ca Katolika caku Roma. Kwakasanganyigwa . . . milawo iili kkumi ayibili ya Mulazyo waku Nicene. . . . Ooyu Mulawo wa Pius IV mundomba wabbwe lilema mbuli ziyo lyaangilidwe musingo ya munzi wa Roma. Lyaangilide Cikombelo ca Katolika caku Roma lyoonse antoomwe kuziyanza zya kukomba zibumbwa amituni. Ooyu ngomusunko uucumba muntu woonse kufumbwa uukakatila Kubambulula Lusyomo.2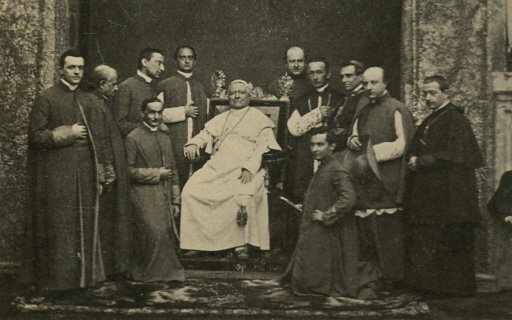 Poopo Pius ix
Aaka nkaambo kayandika kapati kumvwisyisya. Takuli kufubaazya makunga aabantu aabo bakayiisyigwa kuzuminizya akutambula ziiyo zya Bukatolika kuti nga masimpe. Pele boonse beelede kumvwisyisya nkaambo bupaizi bwa mbungano zyoonse zya mazubaano, kusikila aasyoonto amuzibeela zinjaanji, bwakakungilizya ziyanza atunsiyansiya ntweenya mbuli twa Cikombelo ca Roma mbocibelesya nguzu zyaco. Aboobo eeci ncintu ciguminizya muntu uuli woonse atalaa nyika nkaambo, nkamu ya WLC isyoma kuti Francis ngo poopo walusele alimwi ngowa macaalizyo mucishinshimi, boonse bakkala anyika linolino bayoomvwa cikkelo ca nguzu zya munyama nayoofunta muya wakubukulusya nguzu zya Roma.
Nkaambo kakuti Cikombelo caku Roma tacicinci ncobeni, alimwi kutegwa amvwisyigwe bwini Poopo Francis, makanze aakwe mbwali poopo amweendelezi wa cikombelo, ncintu ciyandika kuzubulula buyo milazyo yakainda nsiku akulangisya nzila zyoonse bapoopo mbubakali kusubula bantu batakali kweendelana ambabo, nobaba bami naa bantu batuba. Cikombelo caku Roma lyoonse cilaa nyota yajana nguzu mu mapolitikisi amu bupaizi.
Bakafumisya ncobeni, ba bbishopo baku Roma kulitondezya kubaa muya wakuliyanda abumpelenge; pele, mumisela mitaanzi yotatwe, kutaminina bulemu bwiinda boonse kwakayeeme buyo mumusololi wabupaizi bwabo, akukkala mumunzi wansiku mupati, wakunyika ya Roma. Nokuba boobo, eelyo bulelo nibwaalonzyelwa Kujwe, alimwi munzi wa Constantinople niwaali kulangilwa kwiindila munzi wa Roma kubaa bulemu, kwakatalika kulangaulwa kaambo kambi kakulemekezya ba Bbishopo baku Roma. Aako kaambo kakajanwa eelyo, munsaa mwaka 378, Poopo naakakona makkii aakali mikonzyanyo yamituni yobile yakazyibidwe kapati mubupaizi bwamituni bwaku Roma. Janus wakalaa kkii lyomwe, a Cybele wakalaa kkii lyomwe; aaya nga makkii obile aalibonya mucikwankwani acidinto ca Poopo eeco ncalisakatizya mumaboko kuti nzyezitondezyo zya nguzu mubupaizi bwakwe . . . . Aboobo, nokuba kuti mpuwo yamunzi wa Roma yakayabaila, pele bulemu bwa Bbishopo waku Roma bwakasiminina cakumaninina lyoonse nkaambo ka makkii aayo.3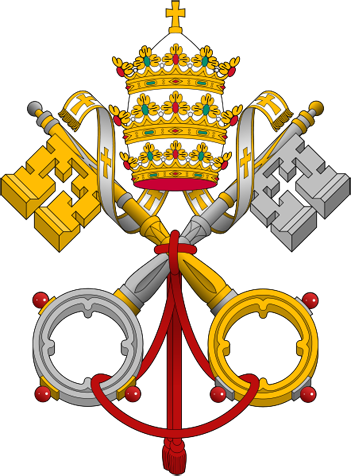 Mu 437 AD, myaanda yone yamyaka kuzwa nicaatalikwa cikombelo ca Ekklesia ca BunaKristu, poopo wakataminina caantangalala kuti nguujisi "makkii ookwa Petulo".
Kwiinda mukwaambila BanaKristu kuti aayo "makkii" ngajisi wakaakona naakalya zina lya Mwaapositolo Petulo, poopo wakalisumpula akulipa cuuno ca nguzu zya busololi akweendelezya BunaKristu antoomwe a bupaizi bwa kukomba mituni. Ooku kuswaanganya antoomwe nguzu zya bupaizi akubaa mpuwo munguzu zya mapolitikisi mukuya kwaciindi, zyakalembwa mubbuku lya Milawo ya Bukatolika. Mumusela wa 11th, kwakaba mazwanga akataa poopo a Mwami Henry IV waku Germany. Henry, mbwaakali "Muleli Uusetekene waku Roma,"
wakataminina kubaa nguzu zyakuzumizya cuuno cabupaizi kubelesya cidinto ca nguzu, aboobo wakalaa nguzu zyakweendelezya akusala akutuma babbishopo abatumwa bazikombelo. Lino kwakaba kuzwangana mubweendelezi bwa BunaKristu. Cuuno ca poopo cakapandululwa mubbuku lya Gregory lyamutwe wakuti Dictatus Papae (1075), eelyo lyakayumya kululamika kuti poopo nguwakalaa nguzu ziinda boonse mucikombelo.4
Eelyo bbuku lya Gregory VII Dictatus Papae licibelesyegwa mazubaano. Kufumbwa muntu uuli masimpe kusyoma muli Yahuwah, weelede kucenjela nkaambo eezyo zilembedwe mubbuku oomo tazyaambilizyi buyo lusyomo lwa Poopo Francis, pele azyalo zikombelo ziindene mubupaizi bwa zikombelo zyanyika, asyoonto nokuba zinjaanji, azyalo zyakakona lusyomo anzila zyakusubula basicikombelo bavwuntauzya Mangwalo kuti bajane mumuni uululeme mupati, mpoonya batalika kuzumina mumuni ooyo akweendela muli nguwo.
Eeyi milazyo ilembedwe kuti: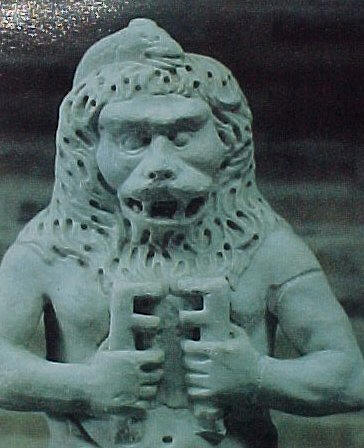 Cibumbwa cilaa mutwe wasyuumbwa cijisi makkii, ciiminina nguzu zya kujala milyango ya julu adindi lya mulilo uutazimi anguzu atalaa luumuno ankondo munyika. Aayo makkii akali ookwa Pluto, "leza wamulilo uutamani", umwi akataa baleza baku Asia, ba Janus a Cybele.
Cikombelo caku Roma cakabambwa aa Leza alikke.
Mupaizi waku Roma alikke ngulaa nguzu zyakwiitwa bupaizi munyika yoonse.
Akuti alikke nguukonzya kwaatula akukkazyika babbishopo acuuno.
Kuti, ooyo wiiminina nguwe, nokuba kuti kalaa cuuno citakwe nguzu, ulaatala lya babbishopo boonse alimwi ulakonzya kubeteka kufumbwa uuzangila akuyanda kubagwisya mulimo.
Poopo ulakonzya kulesya mulimo muntu ooyo uutabooli kumuswaangano.
Akataa zintu zimwi, swebo tatweelede kukkala antoomwe mu ŋanda yomwe abaabo mbaakatanda kuzwa mucikombelo.
Alikke nguuzumizyidwe mumulawo, kweendelanya azintu ziyandika muciindi comwe-comwe, kubamba milawo, kubunganya antoomwe mbungano zipya, kucinca makkalilo aabapaizi bakatolika; alimwi, kujanza limwi, kwaandaanya babbishopo bavwubide akubunganya baabo bacete.
Alikke nguukonzya kubelesya mukonzyanyo wansiku mucidinto.
Bana babami beelede kumyonta matende aa Poopo alikke.
Izina lyakwe lilikke ndelyeelede kwaambwa muzikombelo.
Izina lya cuuno [Poopo] liliimpene munyika yoonse
Ulizumizyidwe kwaatula baleli kuzwa acuuno cabulelo.
Ulizumizyidwe kulonzya ba Bbishopo kuti kakuyandika kucita boobo.
Ulaa nguzu zyakusala mubelesi mucikombelo cili coonse ncayanda.
Ooyo uusalwa aanguwe ulakonzya kweendelezya cikombelo cimwi, pele takonzyi kukkala cuuno cilaansi; alimwi teelede kusumpulwa abbishopo uumbi pe.
Malailile aakwe.
Kunyina caandaano nokuba bbuku linga lyaambwa kuba lya milawo yacikombelo kakwiina kuzumizyigwa anguzu zyakwe.
Kuti wasinganya muntu kwiina uunga wamwaangulula; alimwi walo alikke akataa boonse nguukonzya kulemununa muntu ooyo.
Walo alikke takonzyi kubetekwa amuntu naba ni.
Kunyina muntu weelede kusampaula yooyo uukumbila lugwasyo kuzwa kucuuno ca bwaapositolo.
Cuuno ca bwaapositolo nkokweelede kuletwa milandu mipati ya cikombelo cili coonse.
Cikombelo caku Roma kunyina pe nicakalubizyide; alimwi kunyina nociyoolubizya kukabe kutamani, Mangwalo ngaapa kamboni wacintu eeci.
Mupaizi waku Roma, kuti wasalwa busololi kwiinda mumilawo ya cikombelo, uba ncobeni musaante weelene a Petulo Musaante; Musaante Ennodius, a bbishopo waku Pavia, mbabakamboni bamakani aayo, abami bamatata basetekene kabazuminana anguwe. Mbuli bulembedwe mu milazyo ya Musaante St. Symmachus poopo.
Kwiinda mumalailile aakwe akuzumizya kwakwe, cilizumizyidwe mumulawo kuti bantu inga baleta matongoosi aabo kuli nguwe.
Kuti walo inga wazwisya akusumpula babbishopo kakwiina kumvwana ambungano yabapaizi.
Kuti ooyo uutayandi cikombelo caku Roma talanganyigwi kuba mukatolika.

Kuti ulakonzya kwaaba bantu kuzwa mulwaangluko lwabo kuti baangwe akulekelwa mumaanza aabantu basofweede.
Eeyi milawo iili 27 yakalundika nguzu zyaansi zyoonse mumaanza aabapoopo, kusikila lyoonse, nkaambo balo tabakonzyi kulubizya. (Kobala Dictate #22.) Ambweni ooyu ngomulawo wiinda busofwaazi bwa budyabulosi. Ukazya cigaminina Ijwi lya Yahuwah eelyo lyaamba cakuteengelela kuti: "Lino Yahuwah watuyubunwida nzila njalulamikila bantu, nzila eeyi tiili yakubamba Mulawo pe. Naba Mozesi abasinsimi balazuminina anzila eeyi. Nzila Yahuwah njalulamikila bantu boonse nkusyoma Yahushua Kilisito. Taakwe lusalululo pe. Nkaambo boonse bakabisya, bakalela kuba aabululami mbuli bwa Yahuwah." (Kobala BaRoma 3:21-23.)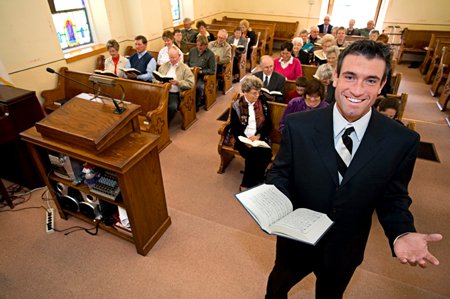 Nokuba kuti zikombelo zya Basikutongooka tazikwe bapoopo, pele zilaa mubungano zyeendelezya zikombelo, akulondola milawo yazikombelo. Mumbungano zyabweendelezi eezyo, kanjaanji bataminina kuti balaa nguzu zyakunyononona basicikombelo babo, kubaambila cintu ciluleme acilubide, kukaka mumuni mupya uukazyanya aziiyo, lusyomo atunsiyansiya twa zikombelo.
Nokuba kuti zikombelo zya Basikutongooka tazikwe bapoopo, pele zilaa mubungano zyeendelezya zikombelo, akulondola milawo yazikombelo. Mumbungano zyabweendelezi eezyo, kanjaanji bataminina kuti balaa nguzu zyakunyononona basicikombelo babo, kubaambila cintu ciluleme acilubide, kukaka mumuni mupya uukazyanya aziiyo, lusyomo atunsiyansiya twa zikombelo. Mabbuku aalembwa amawebusite aasikapepele, aakulwaizya tusimpe tukazyanya azilengwa zyakazyibilwa kale mubupaizi, alatukanwa alimwi aabo bakazyanya a lusyomo lwa zikombelo nkaambo buyo kakuyanda kusyoma Bbaibbele lilikke buyo, balakalalilwa akutandwa muzikombelo. Mbombuboobu, mpuwo ya Dictatus Papae mbwiicilaa buzumi akuzyibwa kapati akataa zikombelo zya mazubaano – nokuba zikombelo lwazyo zini zilabwentela kufumbwa uutondeka munwe kulubila akufubaazya Bukatolika.
Cilongwe cikamantene akataa Cikombelo ca Katolika caku Roma azikombelo zyakabambululwa lusyomo zya BunaKristu, cilitondezyedwe munzila iigambya mu Ciyubunuzyo 17. Mu Mangwalo, mukaintu wiiminina cikombelo [cizangide mulusyomo], alimwi mukaintu wiiminina cikombelo ca ekklesia [ca Bantu basyomeka bokwa Yahuwah']. Mbweenya mbuli mukaintu uusyomeka mu Ciyubunuzyo 12:1 mbwayimina cikombelo cakasimpe ca ekklesia, acalo cikombelo ciwide akuzanga lusyomo cilitondezyedwe a muciimo ca muvwuule naa sibwaamu. Ciyubunuzyo 17 citupa busanduluzi bwa Cikombelo ca Katolika caku Roma oomo mocipanduludwe kuti ngu mbaanyina ba bavwuule boonse naa basibwaamu.
Kaambo keni ncotubelesyela bbala lya Ekklesia kutali lyakuti cikombelo muli nzyotulemba munkamu ya WLC nkakuti ibbala lyakuti "cikombelo" talyaambi bwini ncoliiminina bbala litaanzi lya ci Giliki lyakuti, "Ekklesia." Mucizuminano Cipya coonse, Ekklesia ndibbala lyaambilizya baabo Bakaitilwa Kuzwa Anze. Ibbala lyakuti "cikombelo," lyaamba buyo kabunga kabantu, aboobo ndibbala lyakalubizya kusandululwa alimwi tiilyakeelede kubelesyegwa. Bana-Kristu mbambabo ncobeni aabo Bakaitilwa Kuzwa Anze. Basikwiiya bamasimpe bokwa Yahushua mbambabo ncobeni Bakaitilwa Kuzwa Anze kuzwida mumbungano zyabupaizi busofweede bwamu Bbabbiloni. Eelyo nolumvwugwa lwiito lwakutija munzi wa Bbabbuloni, kucinyina muntu uuceelede kupilukila kuzikombelo zyaku Bbabbuloni amisyobo yabupaizi bwankuko.
Lino umwi wabangelo bali ciloba bakajisi mitiba iili ciloba wakeza kulindime akuti, "Boola ndikutondezye mukaintu simamambe ulaampuwo uulya mbwatisubulwe, munzi mupati uulya uuyakidwe atalaa maanzi manji. Bami bamunyika bakacita bumambe anguwe...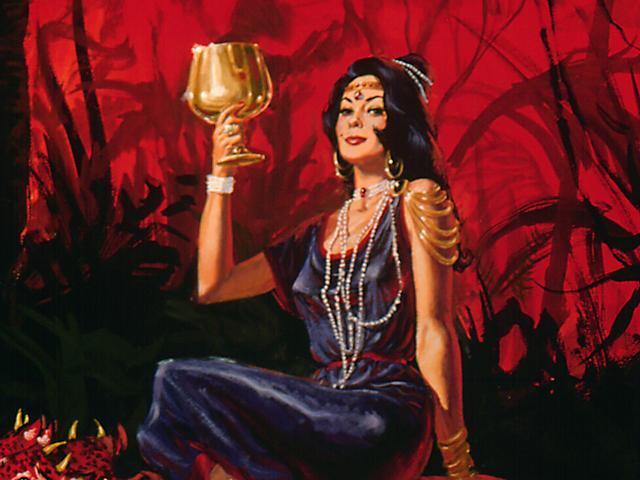 Mukaintu wakasamide zisani zyacisombo azisalala pyu, wakalibotya angolida atubwe tweebesi tuyandisi. Mujanza wakajisi nkomeki yangolida iizwide zisusi azimwi zisesemya zyabumambe bwakwe. Ankumo yakwe kwakalembedwe zina lyakuzaalikizya ndeeli, BBABBULONI WAMASESEKE MUPATI UUZYALA BASIMAMAMBE BOONSE AZISESEMYO ZYOONSE ZYAANSI. (Ciyubunuzyo 17:1-2, 4-5, KJV)
Ibbala lyakuti "katolika" liiminina kuti kuzinguluka nyika yoonse nokuba kuti mulengalenga woonse. Eelyo zikombelo zya Basikutongooka zyeendelana abupaizi bwaanyika nizyakatobela mumukondo wa Cikombelo ca katolika caku Roma, zyakaba ncobeni bavwuule akuba bana basimbi ba Bbabbiloni.
Kulansya mulawo wa Dictatus Papae kwaacitika muciindi ca Poopo Innocent III, alimwi kuyookkalilila mbuli cintu ciinda budyabulosi akusofwaala cakabede akataa bantu, akulipeekezya zina lya Yahuwah kukabe kutamani. Eeco cintu cakali cakutalisya Mulimo wabumpelenge wa Kusisikizya Kubuzyilila.
Aabo bakatamikizyigwa kuzangila Bukatolika, bakasinganyigwa ankuta ya auto de fe, nkokuti Mulimo wa Lusyomo. Musololi wambungano wakali kukkala lubeta akubapa cisubulo. Zisubulo zyakali kunoonga nkwaangwa muntolongo musiya mbi, kutundululwa akudinkaulwa. Aabo bakali kutama akuzyokela kuzikombelo, bakacili kusubulwa alimwi bunji bwabo bakanyangwa lubono lwabo, alimwi bakatandwa kuzwa aakataa bantu. Aabo batakeempwa, bakaumpwa acisamu kakwiina kusinwa; aabo bakeempwa bakataanguna kusinwa nkokuya baumpwe acisamu.5
Misela iitamani ilikke njiyootuyubunwida malweza, kupenga akuciswa nkubaamvwa bali zyuulunzuma zitabaligwi, aabo batakalekela mizeezo yabo kuti ikotamine nguzu zimbi kuleka zya Mulengi wabo. Nzila zyalunya zisofweede zyakabelesyegwa abantu bakalipeekezya kubeleka mulimo wa Yahuwah akujaya babunyina, zitondezya ncobeni nkwaazyila malailile aakabasolweda mumulimo ooyo: kuli Saatani lwakwe. Yahuwah taakaambila muntu uukonzya kufwa, nokuba muntu uukonzya kulubizya kuti ajokezyele kasimpe kakwe pe. Pele, Mangwalo aamba kuti: "Nobayandwa, mutabweedezyi muntu cibi, mumuleke buyo, nkaambo Leza uyoomusubula mubukali bwakwe. Kayi Malembe alati, "Amubaleke, ndime eensubula, njoobasubula, mbwaamba Mwami Yahuwah." (Kobala BaRoma 12:19.)
Manyongwe aakujaya bantu muciindi ca Kubuzyilila, akalaa lunya cakuti kucinyina muntu uuciyanda kwaambaula makani aajatikizya ngayo. Nokuba boobo, bantu boonse beelede kwaazyiba nkaambo kalusyomo lwa Cikombelo ca Katolika lwakuti, poopo takonzyi kulubizya akuti Cikombelo tacilubizyi, kunyina nicaalilekelela kuti cakalubizya mukujaya zyuulunzuma zyabantu nkaambo kalusyomo lwabo. Ncobeni, milazyo ya cikombelo tiininga cincidwe alimwi tiikonzyi kucincwa kakwiina kuzumina kuti ililubide, aboobo eeyo icili milawo ya Cikombelo ca katolika kusikila buzuba buno. Poopo Francis, lino mbwali "Mukwabilizi wa Lusyomo," awalo usumpula milawo eeyo, alimwi kuti naalipedwe nguzu, ulakonzya kujaya kufumbwa muntu ngwayanda kujaya ooyo uuteendelani a lusyomo lwa Bukatolika.
Nkamu ya WLC isyoma kuti Francis ngo "mwami walusele" wa Ciyubunuzyo 17. Aboobo, walo ngo poopo wamamanino. Muubulelo bwakwe moziyoocitika zintu zinjaanji zya kujala musela wanyika. Boonse bantu beelede kubala akumvwisyisya cishinshimi eeci, nkaambo boonse bayoobbaatikilwa yaakutalika milimo ya poopo wamamanino. Ciyubunuzyo 13 nkucenjezya kugaminide kwaamba nguzu eezyo zilaafwi kubelesyegwa apoopo kulwana mizeezo yabaabo baciyanda kutobela mulawo ookwa Yahuwah, akuleka tunsiyansiya twa bantu ooto twakabungililwa mu mulawo wa Bukatolika.
Eelyo bantu bakakomba simwaaba, nkaambo kakuti wakapa nguzu zyakwe kumunyama. Bamane bakakomba munyama, bakati, "Lino nguni uuli mbuli munyama ooyu? Nguni uukonzya kumulwana? . . . Munyama ooyu wakazumizigwa kulwana basalali akubazunda. Alimwi wakapegwa nguzu zyakulela misyobo yoonse, zisi zyoonse, milaka yoonse, alimwi amasi oonse. Bantu boonse bakkala munyika bayoomukomba, boonse aabo batakalembwa nyika kiitanalengwa mubbuku lyabuumi lya Mwanaa mbelele wakajaigwa." (Ciyubunuzyo 13:4, 7 & 8, NKJV)
Poopo Francis ulaandeene mumusela wabupoopo: walo ngo poopo mutaanzi uuzyila akataa ba Jesuiti. Imbungano ya Jeesu, naa, Nkamu yaba Jesuiti, mbuli mbobazyide kwiitwa kanjaanji, yakatalikwa mu 1534 kucita mulimo wa kufwanyauna kufumbwa uuzangila Cikombelo ca Katolika caku Roma. Ooyo nguucili mulimo wabo ngubaabambilwa. Aboobo, baJesuiti bakamwayikizyanya atalaa nyika, kabayiisya muzikolo zipati, kabachumaila akukambaukila bakomba mituni, kabatuminwa kuyoolailila mfulumende zyaanyika akulailila bami, pele kabatoleezya makanze aamapolitikisi mbuli nkamu yalumamba yokwa poopo yamaseseke.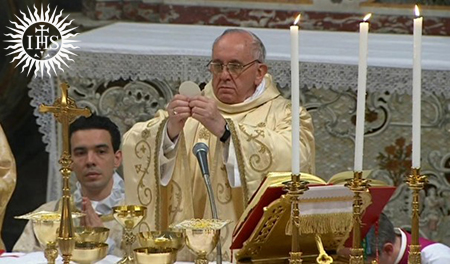 Kufumbwa mupaizi uusangana mumbungano yaba Jesuiti weelede kukonkezya cikonkezyo citajokoloki pele buyo kuti koyanda kujayigwa. Eeci cikonkezyo ciyoosya, cizyila cigaminina akataa bbibi lya mulilo uutamani; ceelede kunyandya kufumbwa muntu uucibala, nkaambo ciyubununa masimpe eeni aali kunze lya bupoopo akunzaa ciwa cabululami. Kutegwa ubale cibalo eeco, twakomba kobala eeci "Mbaani ba Jesuiti".
Cikonkezyo cili boobu cilakazya kufumbwa mulazyo wabululami akusetekana kwa Mangwalo. Pele, eeci ncecikonkezyo Poopo Francis ncaakakonkezya amubili wakwe eelyo naakasalwa busololi mu mbungano yaba Jesuiti, aboobo awalo uceendelezyegwa aacikonkezyo cabujayi eeci. Kutegwa alitondezye mbwalutide kubamba cikonkezyo eeci, kufumbwa mu Jesuiti, kusanganya a Poopo Francis, ulibanda kuti:
Mukusinizya, Ime ndasangila buumi bwangu lino, muya wangu anguzu zyabuntu bwangu zyoonse, kubelesya cceba eeli ndeetambula, Ime njoosungula zina lyangu lilembedwe abulowa bwangu, kuti bube bumboni; alimwi kuti Ime ndikajatwe kubeja nokuba kubula nguzu mumakanze aangu, beenima abasikalumamba beenzuma ba Lumamba lwa Poopo bakandikosole maanza aangu amatende aangu, akundicekula acceba kuzwa kukutwi kumwi kusikila kukutwi kumwi, akundikwamuna da akunduumpa a sulufa mukati, antoomwe acisubulo cili coonse ncekonzya kusubulwa atalaa nyika, alimwi muya wangu ukapenzyegwe amadaimona mumulilo uutamani lyoonse!6
Mbweenya mbuli munzi wa Roma mbwalidunda kuti takonzyi kucinca, kufumbwa mulazyo wa Gregory VII, awalo ucilanganyigwa kuti uciluleme aalimwi ngwamasimpe. Kuyungizya waawo, kutundulula akujaya kufumbwa ngwayeeyela mumizeezo yakwe kuti ukazya munzi wa Roma (mbuli mbokubede mu Kubuzyilila kwa Innocent III), ooyo ucili mulimo uutambulika akupegwa bulumbu.
Ciyubunuzyo ciyubununa kuti kuyoozyokololwa kupenzya bantu munsaa mamanino aanyika, ooko kwaacitidwe mumisela yakainda. Poopo Francis, mbwali poopo walusele wamamanino, alimwi mbwali poopo mutaanzi waba Jesuiti, uyoosolweda mulimo wanguzu zyabupoopo ooyu atalaa nyika. Kusanganya antoomwe, abukali bwa munyama ooyu, bayoodyaaminina atalaa bantu boonse akubasinikizya kutobela makanze aabo. "Bantu boonse bakkala munyika bayoomukomba, boonse aabo batakalembwa nyika kiitanalengwa mubbuku lyabuumi lya Mwanaa mbelele wakajaigwa." (Ciyubunuzyo 13:8, KJV)
Boonse babikkide lusyomo lwabo muli Yahuwah bayoovwunwa kuzwa kunguzu zyabudyabulosi eezyi. Nokuba kuti bamwi bakalazyike maumi aabo ansi mbuli baabo baajayigwa mumisela yakainda, Yahuwah uyoobapa nguzu zyakuliyumyayumya kusikila kubucedo bwa kubuka kuzwa kubafu, bakabusyigwe, kabatacifwi nzala, nyota, kuciswa nokuba koomoka.
Ciyubunuzyo cipede cisyomyo kuli baabo bamusela wamamanino bayokwiitwa kuti bakaime kabasyomeka kunembo lya Julu kabalangene aalufu lwa mulilo uutazimi: "Ooyo weelede kutolwa mubuzike, uyootolwa ncobeni, ayooyo weelede kujaigwa apanga, uyoojaigwa ncobeni. Aawa mpaayelede kuti basalali bakakatile kulusyomo." (Ciyubunuzyo 13:10, KJV) Zisyomyo zyokwa Yahuwah zili masimpe alimwi mulubeta lwa mamanino, eezyo nguzu zyanyika zyakali kulwana Yahuwah muciimo ca basaante Bakwe, ziyootambula cisubulo.
Sunu mukwabo, talika cilongwe cako a Mwami Yahuwah eeco ciyookupa lusyomo akukkazyika camba kuti ujatilile muzisyomyo Zyakwe, nokuba kuti Julu lyawa.

---
Azimwi zyeendelana acibalo eeci:
---
1 n/a.
2 John J. Kelly, "Rome Never Changes."
3 Alexander Hislop, The Two Babylons, p. 207.
4 Encyclopædia Britannica, "The Medieval Papacy," http://www.britannica.com/EBchecked/topic/441722/papacy/214717/The-medieval-papacy#ref704187.
5 "The Inquisition,"http://www.jewishvirtuallibrary.org/jsource/History/Inquisition.html.
6 Ibid.
7 Will Durant; The Story of Civilization, Vol. IV (Simon and Schuster, 1950); as cited in Dave Hunt, A Woman Rides the Beast.