Chapter 143

What was the character of Zacharias, and Elizabeth?
"And they were both righteous before Yahuwah, walking in all the commandments and ordinances of Yahuwah blameless." Luke 1:6.
What was obligatory under the old covenant besides the Ten Commandments?
"Then verily the first covenant had also ordinances of divine service, and a worldly sanctuary." Heb. 9:1.
In what did these ordinances consist?
"Which stood only in meats and drinks, and divers washings, and carnal ordinances, imposed on them until the time of reformation." Heb. 9:10.
What did these prefigure?
"For the law having a shadow of good things to come, and not the very image of the things, can never with those sacrifices which they offered year by year continually, make the comers thereunto perfect." Heb. 10:1.
Why was it necessary for them to offer these sacrifices?
"And if anyone of the common people sin through ignorance, while he doeth somewhat against any of the commandments of Yahuwah concerning things which ought not to be done, and be guilty; or if his sin, which he hath sinned, come to his knowledge; then he shall bring his offering, a kid of the goats, a female without blemish, for his sin which he hath sinned." Lev. 4:27-28.
Could these offerings take away their sins?
"For it is not possible that the blood of bulls and of goats should take away sins." Heb. 10:4.
To what did they look forward?
"Wherefore, when he cometh into the world, he saith, Sacrifice and offering thou wouldst not, but a body hast thou prepared Me." Heb. 10:5.
Where were the ten commandments written under the old covenant?
"And Yahuwah said unto Moses, Come up to Me into the mount, and be there: and I will give thee tables of stone, and a law, and commandments which I have written; that thou mayest teach them." Ex. 24:12.
What was to be done with these commandments when the new covenant came in force?
"But this shall be the covenant that I will make with the house of Israel: After those days, saith Yahuwah, I will put My law in their inward parts, and write it in their hearts." Jer. 31:33 (Heb. 8:8-10).
Having Yahuwah's commandments in the heart, should we also keep Yahushua and His sufferings in mind?
"By which also ye are saved, if ye keep in memory what I preached unto you, unless ye have believed in vain. For I delivered unto you first of all that which I also received, how that the Anointed died for our sins according to the Scriptures." 1 Cor. 15:2, 3.
Is it enough simply to believe in the death of Yahushua?
"For if we believe that Yahushua died and rose again, even so them also which sleep in Yahushua will Yahuwah bring with Him." 1 Thess. 4:14.
By what act do we commemorate the resurrection of Yahushua?
"Buried with Him in baptism, wherein also ye are risen with Him through the faith of the operation of Yahuwah, who hath raised Him from the dead." Col. 2:12.
But what should always precede baptism?
"Then Peter said unto them, Repent, and be baptized everyone of you in the name of Yahushua the Anointed for the remission of sins." Acts 2:38.
Toward whom must repentance be exercised?
"And have taught you publicly, and from house to house, testifying both to the Jews and also to the Greeks, repentance toward Yahuwah and faith toward our Master Yahushua the Anointed." Acts 20:20-21.
Then by being baptized, what does one signify to the world?
"For as many of you as have been baptized into the Anointed, have put on the Anointed." Gal. 3:27.
How is the death of Yahushua to be commemorated?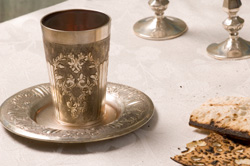 "For as often as ye eat this bread, and drink this cup, ye do show the Master's death till He come." 1 Cor. 11:26.
Note: This is commonly referred to as the "Master's Supper."
When and by whom was this ordinance instituted?
"The Master Yahushua, the same night in which He was betrayed, took bread; and when He had given thanks, He brake it, and said, Take, eat; this is My body, which is broken for you: this do in remembrance of Me." 1 Cor. 11:23-24.
What is signified by the cup?
"After the same manner also He took the cup, when He had supped, saying, This cup is the new testament in My blood: this do ye, as oft as ye drink it, in remembrance of Me." 1 Cor. 11:25.
What was done by Yahushua and the disciples after partaking of the communion?
"And when they had sung a hymn, they went out into the Mount of Olives." Matt. 26:30.
If one refuses to obey Yahuwah, can he be profited by partaking of the communion?
"Wherefore whosoever shall eat this bread, and drink this cup of the Master, unworthily, shall be guilty of the body and blood of the Master." 1 Cor. 11:27.