JOIN TODAY!
Meet new people from all over the world, make friends, change your status, upload photos, earn points, & so much more! Chat, post comments or questions on our forum, or send private emails to your friends! There is so much to do and Learn here at World's Last Chance! Join our growing Christian Community Today and receive your Free Gift!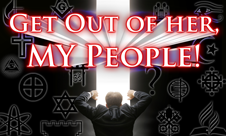 Store Categories

View Full-Size Image

Thank God for Bitcoin

Thank God for Bitcoin explores the ways in which the current monetary system is broken and what can be done to fix it. It explores the creation of money, its corruption and its potential redemption. It looks at how Bitcoin is redeeming the ills of our corrupt monetary system and how the ongoing transition to sound money is a source of hope for a broken world.
---
Retail Value and International S&H: $12
WLC points: 225
Shipping & handling: 0 points