JOIN TODAY!
Meet new people from all over the world, make friends, change your status, upload photos, earn points, & so much more! Chat, post comments or questions on our forum, or send private emails to your friends! There is so much to do and Learn here at World's Last Chance! Join our growing Christian Community Today and receive your Free Gift!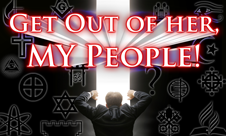 Store Categories

View Full-Size Image

The Eleventh Hour

The Eleventh Hour: Your Comprehensive Guide to Eternal Life in these Last Days: In this hour of extreme danger, Heaven is not silent. Yahuwah has not left His children to face the greatest peril the world has ever known without first warning them of the impending threat. The last message of mercy ever to be given to the world contains a most solemn warning: "Get out of her, My people!" ...lest you share in her sins, and lest you recieve of her plagues. (Revelation 18:4)

This compendium is brought to you by www.WorldsLastChance.com to exose the blashpemy of Babylon, to unmask the deceiver, and to aid you in your pursuit of eternal life! This is a huge, full-color print version of our whole website! Great for sharing with those who do not have computers. Praise Yahuwah and His blessed Son, Yahushua, for ever and ever!
---
Retail Value and International S&H: $25
WLC points: 250
Shipping & handling: 0 points