Mbungano ya World's Last Chance ninkamu yabantu balyaabide kumwaya mulumbe, batasangene kucikombelo cili coonse; balo balyaabide cakumaninina kwaabila nyika Mulumbe wa Bangele Botatwe mubukkkwene. Eelyo bumboni bwa Nsabata iibelesya zuba amwezi nibwaapegwa kuli mbabo, bakavwuntauzya mweengwe amweengwe wamakani woonse kusikila bakabula cakwaamba pele buyo koompolola mulumbe ooyo kuti ngo Mumuni muyandisi uuzwa ncobeni kujulu kuli Taata Yahuwah kuzya kubantu Bakwe bacaalizya mazuba aano. Kuzwa kuciindi eeco, swebo twakalelekwa a Mumuni Mupya uujatikizya Zina Lyakwe Lisetekene a Zina Lisetekene lya Mwanaakwe, Yahushua. Aboobo nitwakasunkwa kubambulula nzila zyamazubaano eezyo zilaa "mpuwo", antoomwe anzila njitwakali kubelesya kubalila Pobwe lya Mvwiki (Pentekkositi) kuti yakali lubide, nkamu ya WLC alimwi yakasika ambaakani mpozyaandanina nzila mulusyomo lwa Bbaibbele! Nokuba kuti twakali kudonaika, swebo twakabala makani aayo akweenda musinzo ooyo katuya kumbele kumwi katweezyekanya acikkelo cabumboni, kufumbwa nkocakali kutugamika. Taata Wesu Yahuwah wa Luyando a Luzyalo uluujisi ncobeni kujokolosya milazyo Yakwe iisetekene. Swebo tulasyoma amyoyo yesu yoonse kuti twakali lubide munzila njitwakali kubalila mazuba kusikila ku Pobwe lya Mvwiki! Pele lino kuleka buyo kupa bupanduluzi bulamfu kapati loko kupandulula mbuli mbotwaalubide, swebo tulapa buyo makani aayo ngotumvwide cino ciindi kuti mbobumboni bukkwene, alimwi ncenciceeco ncotusowela kulaale kufumbwa ncitwakali kusyoma kutaanguna (kubalila Nsabata zikkwene zili 7 kusanganya aabuzuba bomwe) mukubalila mazuba kusikila kubuzuba bwa Pobwe lya Mvwiki; akutalika kubalila Nsabata zikkwene zili 7 mpoonya akuyungizya kubalila mazuba aali 50 kuzwa waawo (BaLevi. 23:16), akubikka Pobwe lya Mvwiki muli bwa 28th nanka bwa 29th bwa Mwezi Wane ooyo uukonzya kujanwa buyo mukkalenda Lyokwa Yahuwah libelesya Mwezi-azuba. Twamukomba nobantu, amube mbuli bantu ba Berea akuvwuntauzya twaambo ootu lwenu nobeni, mbwaanga omwe omwe akati kenu uleelede kulikanzila cintu ncayelede kusyoma kuti ncecikkelo cabumboni bwa Mangwalo.
"…bakatambula akukkomanina jwi amyoyo yoonse, alimwi bakavwuntauzya Mangwalo abuzuba kuti balijanine kuti naa zintu eezyo zyakali masimpe ncobeni. Aboobo banji akati kabo bakatalika kusyoma …" Milimo 17:11-12
KUBALILA KULULEME
kusikila ku Pobwe lya Mvwiki (Pentekkositi)
Ansi aawa kuli cifwanikiso citondezya Mazuba aaMapobwe, amazuba naayelede kusika mapobwe aayo mu Kkalenda litobezya Mwezi-azuba. Kotyanka aawa kuti ukomezye cifwanikiso.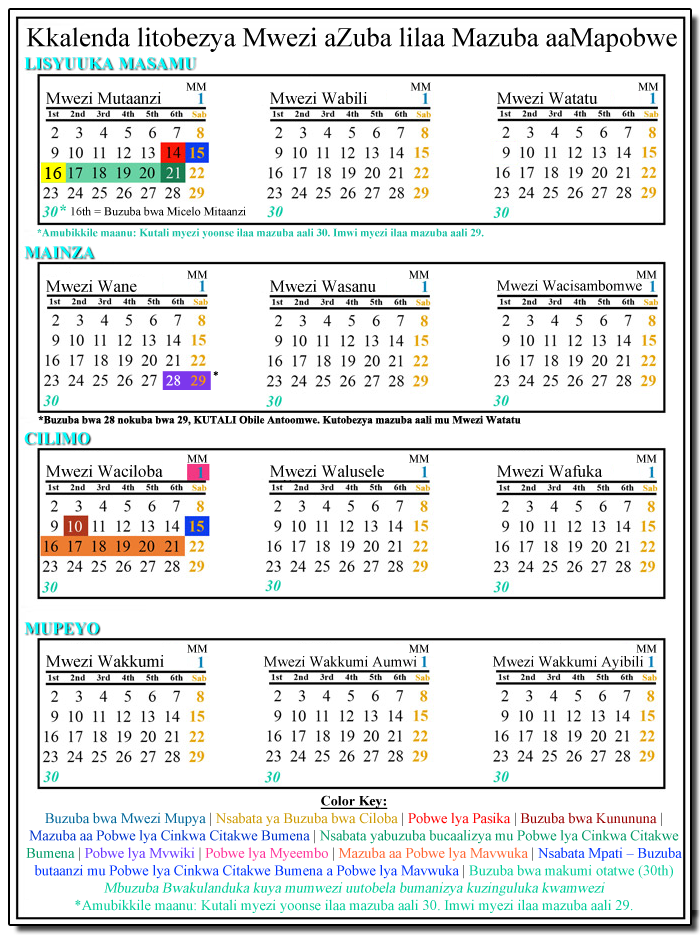 Amulangisye aawa kuti eeyi nzila mpya yakubalila mazuba kusikila ku Pentekkositi, ilazyika mulongo wa Mapobwe aasika muciindi Camalubaluba, Mainza, a Cilimo mumundando omwe uulondokede; lyomwe lyomwe pobwe kalyeendelana aciindi cabutebuzi. Pobwe lya Mvwiki ndepobwe lilikke litagantidwe buzuba mukkalenda lyokwa Yahuwah; aboobo, ndepobwe lilikke ndyotulailidwe kuti tweelede kubalila mazuba kusikila twasika mubuzuba bwa pobwe eelyo (Langa Balevi 23:16).
Nceeci cifwanikiso cipandulula zinjaanji mbotukonzya kubalila mazuba kusikila kubuzuba bwa Pobwe lya Mvwiki (Pentekkositi). Inzila yakubalila ningubauba kapati alimwi yebo ulaa nzila zyobile buyo zyakusala.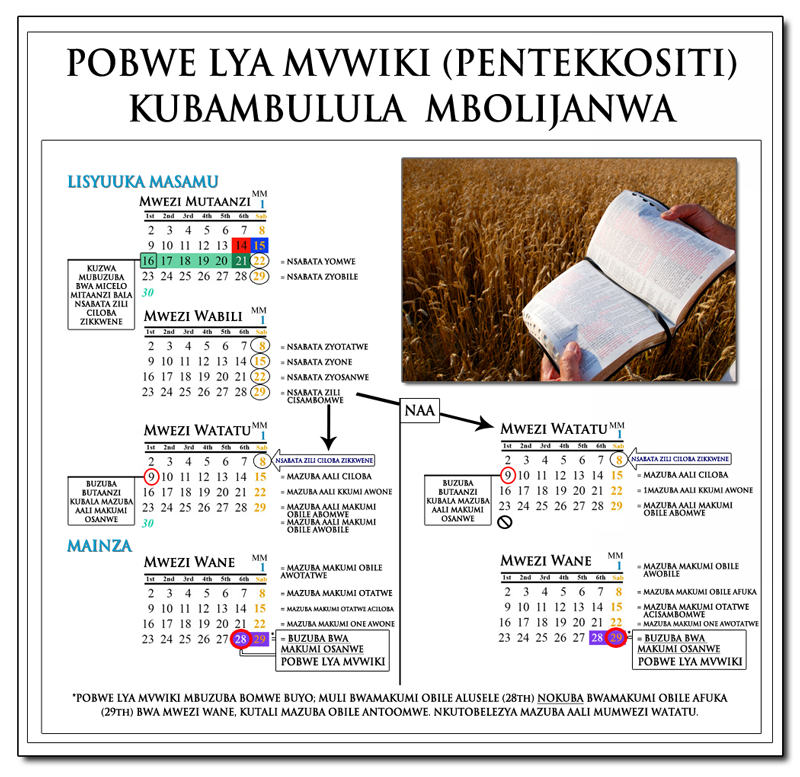 Kuzwa ku Buzuba bwa Micelo Mitaanzi (Abibu 16), swebo tulilailidwe kuti tubalile Nsabata zikkwene zili 7. Ooku kuballila lyoonse kutusisya kubuzuba bwa 8th bwa Mwezi Watatu wamu Bbaibbele. Mangwalo alisalazyide kutwaambila kuti kuzwa mubuzuba butobela Nsabata zili 7, swebo tweelede kubalila mazuba aali 50 (Kobala alimwi mubbuku lya BaLevi naa Bapaizi 23:16). Aboobo mubuzuba butobela bwalusele mu Mwezi Watatu, kuzwa mubuzuba oobo mpoonya swebo tweelede kubala mazuba aali 50; buzuba butaanzi mumazuba aali 50 kabuli bwa 9th bwa Mwezi Watatu wamu Bbaibbele. Kuti Mwezi Watatu kulaa mazuba aali 30, nkokuti buzuba bwa 50th inga bwaakusikila muli bwa 28th bwa Mwezi Wane. Kuti Mwezi Watatu kulaa mazuba aali 29, nkokuti buzuba bwa 50th inga bwaakusikila muli bwa 29th bwa Mwezi Wane. Ncuubauba cinicini kubelesya nzila eeyi kubalila.
Bumboni bukwabilila Nzila eeyi: Mvwiki zikkwene zili 7 + mazuba aali 50
Kucinca lusyomo lwamuntu TAKALI kaambo kasyoonto kakusobanina pe, alimwi mukaambo aaka, aayo makani mapati loko akataa bantu bali munkamu ya WLC. Nokuba boobo, mbuli basicikolo ba Bbaibbele basyomeka, swebo tweelede kuyaamina kucikkelo ca bumboni, nokuba kuti oobo bumboni kabuteendelani aziyanza zyesu nzyotuzyibide kucita. Kuti katuyanda kutambula mumuni wiinda kumwekesya, swebo lyoonse tweelede kuteelela mumuni ooyo uuyubunudwe kale antangalala kumbelaa meso eesu.
"Pele nzila yabaluleme ili mbuli zuba limweka, Eelyo liyungizya kumwekesya kusikila buzuba bwazulila kusalala ngwa." Tusimpi. 4:18 (NKJV)
Lino mbutwaamba boobo, ntootu twaambo twiimvwi nji tula bumboni bwakukwabilizya nzila yakubalila mazuba kuzwa ku Pobwe lya Mvwiki, kusikila Nsabata zikkwene zili 7 zyainda (nanka Mvwiki zikkwene zili 7) KUSANGANYA amazuba aali 50:

"Alimwi nywebo mweelede kubamba pobwe lya mvwiki, alya micelo mitaanzi yabutebuzi bwamaila, apobwe lya kubunganya kumamanino aamwaka." (Kulonga 34:22)
(1) Majwi ngakaamba Yahushua:
"Inywe mutaambi kuti, kucili myezi yone, mpoonya notuyootalika kutebula" (Johane 4:35, KJV)
Kuvwuntaulisya ncaakalemba Johane ciyubununa kuti Mufutuli Yahushua wakaamba majwi aaya munsaa ciindi ca Pasika (nkokuti mu Mwezi Mutaanzi). Eeci caambilizya kuti Yahushua wakalikusyoma kuti maila inga kaataninga akubizwa kusikila akataa Mainza. Kunyina muntu wakamukazya pe!
Kutegwa tululamike mazuba akuti buzuba bwa 9th bwa mwezi watatu wamu Bbaibbele kuti mbobucili buzuba bululeme bwakusekelela Pobwe lya Pentekkositi, swebo tweelede kusyoma kuti eeco ncaakali kwaamba naakakkede munsaa mugonti wameenda (Johane 4), cakatola busena Mumupeyo. Eeci tacili cintu cilangikaanga cilaa maanu, nkaambo mulongo watwaambo twa Johane amubandi wa Mufutuli Yahushua a mukaintu kumugonti inga watondezya ncobeni kuti pobwe lyeendelwa musinzo lyakali munsimunsi.
Ncintu ceelede kwiibalukwa kuti busanduluzi bwa Fenton muci Giliki, bwaambilizya kuti, Mufutuli Yahushua wakasalazya makani woonse ncobeni kuti butebuzi bwakali kutola busena "mumwezi wane."
"Inywe mutaambi kuti, 'Kutebula kuyoosika mumwezi wane'? Amulange! Amulungumike meso eenu, Ime ndimwaambila ncobeni, alimwi amulangelange kumyuunda; nkaambo yatubya kale ngalaala akulibambila kutebulwa." (Johane 4:35, Fenton)
(2) Manyongwe aaku Ijipita | Icivwula mabwe:
"Lino Mwami Yahuwah wakati kuli Mozesi, "Tambika janza lyako kujulu, nkabela civwulamabwe cilawa koonse-koonse munyika ya Ijipiti. Cilawida bantu abanyama alimwi aazisyango zyoonse zyamumyuunda. "Aboobo Mozesi wakatambika musako wakwe kujulu, mpoonya Mwami Yahuwah wakatuma civwulamabwe eelyo kwakali mabbalu-bbalu andabo zyakaanda nyika ya Ijipiti. Buluba amaila zyakanyonyoonwa: nkaambo maila akacili kusonsa, alimwi buluba bwakali bumbilide kale. Pele mpunga tiizyakanyonyooka: nkaambo tiizyakaninga komena akusima. Mbombuboobu Mwami Yahuwah mbwaakacita kuti civwulamabwe ciwe munyika ya Ijipiti Strong's H648]." (Kulonga 9:22-32)
Ibbala lyakuti "taaninga bizwa" = Strong's H648 ["lizyila kubbala ndeenya mbuli lyakuti [H651"] = taaninga sima (nkokwaambilizya kuti "acisiya kuti mbi" )
Eelyo civwula mabwe nicakawa kumatalikilo aamwezi wa Abibu (Mwezi 1 mu Bbaibbele), maila taakafwanyaunwa nkaambo taakaninga bizwa (taakaninga nokuba kusonsa). Ibbaibbele ndyaakasandulula Tyndale alyalo litabilila makani aayo:
"pele maila aampunga taakasinyigwa, nkaambo taakaninga syangwa." (Kulonga 9:32, Bupanduluzi bwa Tyndale )
Kutegwa maila kaasimide kale nobusika buzuba bwa fuka (9th ) bwa mwezi watatu wamu Bbaibbele (Sivan 9), inga aayo maila akeelede kusyangwa, kukomena akusima, akutebulwa mumyezi yobile buyo! Eeci tacili cintu cikonzyeka kucitika pe. Maila kanjaanji atola mazuba 100-120 kuti asyangwe kusikila abizwa (eeco nciindi citandila kusika akataa myezi 3½ kusikila 4 ).
(3) Bana Isilayeli Basika ku Mulundu wa Sinai:
Kuzwa mumakani aalembedwe mu Kulonga, swebo tulakonzya kukosozya makani kakwiina kudonaika kuti Mozesi wakaselemuka kuseluka Mulundu wa Sinai kajisi Milawo ili Kkumi yokwa Yahuwah kakwiindide mazuba aali 50 kuzwa niyakamana Nsabata yaciloba iikkwene. Cintu citobela ncakuti, bunji bwa Basicikolo ba Bbaibbele balazumina kuti Pobwe lya Pentekkositi nciibalusyo cakupegwa Mulawo wabulemu bwakujulu.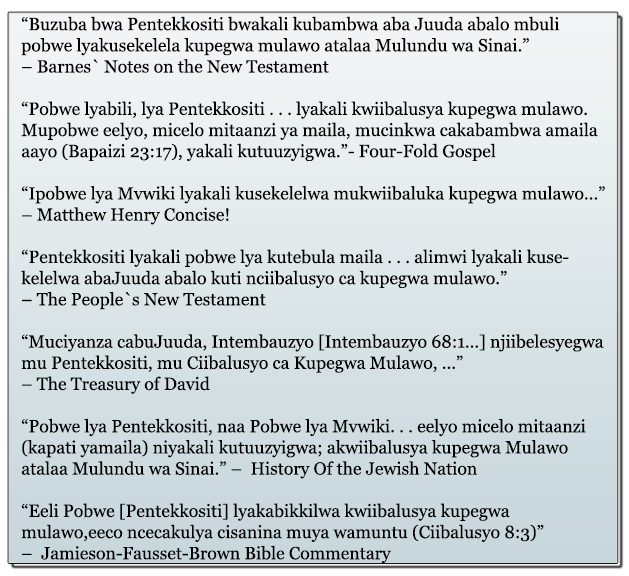 Eeci inga tiicaba cintu cilaa maanu kuti eelyo pobwe lya Pentekkositi nilyali kusekelelwa muli bwa Sivan 6 nanka bwa 91 (bwa 6th nokuba bwa 9th bwa Mwezi Watatu). Bana ba Isilayeli tiibakaninga sika ku Mulundu wa Sinai muli bwa fuka (9th) bwa Mwezi Watatu, nokuba kutambula Mulawo! Ngaaya makani aakubalila mazuba aali 50:
Mu Kulonga 19:1, swebo tubala kuti: "Mumwezi watatu, eelyo bana ba Isilayeli nibakayaamuka kuzwa munyika ya Ijipita, mbweenya buzuba oobo bakasika munkanda ya Sinai". Kuzwa mukaambo aaka, swebo twiiya ciiyo cakuti, bana ba Isilayeli bakasika kumulundu wa Sinai muli bwa 15th bwa Mwezi Watatu wakkalenda lyamu Bbaibbele. Tulakonzya kuzyiba boobu nkaambo Mozesi utwaambila kuti bakasika mubuzuba mbweenya nibakayaamuka kuzwa mumunzi wa Egypt akunjila munkanda, nkokuti oobo bwakali buzuba bwa 15th (Myeelwe 33:3). Eeci caambilizya kuti bana Isilayeli bakasika ku Mulundu Sinai mumazuba aali 7 kaziindide Nsabata zikkwene zili ciloba, oobo lyoonse mbuzuba bwa 8th bwa Mwezi Watatu wamu Bbaibbele (Langa cifwanikiso cilaatala lyawaawa).
Kuti twazumanana kubala katuya kumbele, swebo inga twabona kuti bana Isilayeli bakali lailidwe a Mozesi kuti balibatamike akulisalazya akusanzya zikobela zyabo nkaambo bakali kuyooswaangana akuswena munsi lyokwa Yahuwah – mumazuba otatwe. "Lino Mwami Yahuwah wakati kuli Mozesi, "Koya kubantu, ukabaambile kuti balibambile kukomba sunu ajuunza. Baleelede kusanzya zisani zyabo kutegwa izona kabazoolibambilide. Nkabela mubuzuba oobo, ime nde Mwami Yahuwah ndizooselukila acilundu ca Sinai kababwene bantu boonse" (Kulonga 19: 10-11). Kuzyila waawa, swebo tulizyi kuti Mwami Yahuwah wakaselukila atalaa mulundu wa Sinai mumeso aabantu boonse kabalangilizya, kakwiindide mazuba 10 kuzwa niyakainda "Nsabata icaalizya yaciloba" (buzuba bwa 8th bwa Mwezi Watatu + 7 mazuba + 3 mazuba.
Mu Kulonga 20:18-21, swebo tubala kuti bana Isilayeli bakayoowa kuba munsaa Mwami Yahuwah, aboobo bakakumbila Mozesi kuti awunke mucibaka cabo akuyoobaambawida ku Mwami. Mozesi wakatanta kuya atalaa mulundu, ooko nkwaakatola "mazuba makumi one (40) amasiku aali makumi one (40)" (Kulonga 24:18). Naakainda mazuba aali makumi one, Mozesi wakaseluka Mulundu wa Sinai kajisi Milawo iili Kkumi yokwa Yahuwah (Ciibalusyo 9:9-12). Kuzwa waawa, swebo tulakonzya kumanizya kwaamba kuti Mozesi wakaseluka ncobeni Mulundu wa Sinai kumwi kajisi Milawo KAKWIINDIDE mazuba aali 50 kuzwa niyakamana "Nsabata yaciloba yakacaalizya" (buzuba bwa 8th bwa Mwezi Watatu + 7 mazuba + 3 mazuba + 40 mazuba). Ma, nobantu kubota kaambo aaka! Aboobo tulizuminide ncobeni kuti Pobwe lya Mvwiki nciibalusyo ca kupegwa Mulawo wa Bulemu! Alimwi lino inga twakonzya kubamba buzuba bululeme kakwiina kudonaika! Aatembaulwe Mwami Yahuwah wamakamu!

BIKKILA MAANU kuti ciindi ca KUPEGWA mulawo – kubantu cakali ciindi [cikombelo cakasimpe nicakali munkanda Milimo 7:38]:
Mubbuku lyoonse lya Kulonga caandaano 19 a 20, swebo twaambilwa kuti kufumbwa cakaambwa akataa Mwami Yahuwah abantu bakwe, cakali kutuminwa kwiinda muli Mozesi. Milimo wini ncicaacitilwa boobo cintu eeci wakali wakuyumya kutondezya bulemu amulimo ookwa Mozesi ooyo Mwami Yahuwah ngwaakamupa wabusololi, bweendelezi akwiiminina bantu: [ mbweenya mbuli Mufutuli Yahushua mbwaakapegwa mulimo wabunanike ku Mwami Yahuwah wakwiiminina bantu]
Kulonga 19
3Nkabela Mozesi wakaunka ku Mwami Yahuwah, alimwi Yahuwah wakamwiitwa kuzwa mumulundu oomo mwaakabede, kaamba kuti Mboobu mboti kaambile ŋanda ya Jakobe; ukabaambile kuti bana ba Isilayeli;
8 Nkabela boonse bantu bakaingula antoomwe, akwaamba kuti, Zyoonse nzyaakwaambila Mwami Yahuwah tuyoozicita swebo. Mpoonya Mozesi wakatola majwi ngubakamwiingula bantu kuli Yahuwah.
9 Alimwi Mwami Yahuwah wakati kuli Mozesi, Langa, Ime ndaboola kuli nduwe munsi lyako nkeli mukkumbi lisiya, kutegwa bantu balimvwe jwi lyangu eelyo nekanana anduwe, alimwi bakusyome yebo lyoonse. Aboobo Mozesi wakaambilizya majwi aayo kubantu bokwa Yahuwah.
25 Nkabela Mozesi wakaseluka mulundu akuunka kubantu, akuyoobandika ambabo.
Kulonga 20
Aawa Mwami Yahuwah WAKALAILILA / WAKAAMBILIZYA milawo iili kumi [kuli Mozesi ooyo wakali munsi Lyakwe alimwi wakali kuteelela Majwi Aakwe] pele bantu bamwi boonse bakamvwa buyo kuti Yahuwah wakali kukanana a Mozesi.
18 Mpoonya bantu boonse bakabona muzuzumo, indabo amabbwalu-bbwalu, akulila kwa mweembo walwija lwa mugutu, amulundu wakali kuunduluka busi: eelyo bantu nibakabona boobo, bakakankama akuyoowa, bakatantamuka akwiimina kulaale.
19 Nkabela bakaambila Mozesi kuti, kotwaambila nduwe eeco ncakwaambila, nkabela tulakuteelela makani woonse; pele Mwami Yahuwah atabi nguukanana andiswe, nkaambo inga katuyoomana kufwa.
20 Mpawo Mozesi wakati kubantu, Mutayoowi pe: nkaambo Mwami Yahuwah taaboolela kumunyonyoona, wazida buyo kuzoomusunka kutegwa inywe mumulemeke lyoonse, kutegwa mutaciti cibi.
21 Mpoonya bantu bakaimina kulaale, awalo Mozesi wakaswena munsaa kkumbi lyamudima uusiya oomo Mwami Yahuwah mwaakabede.
22 Mpoonya Yahuwah wakati kuli Mozesi, Mboobu mboti kaambile bana ba Isilayeli, Inywe mwabona kuti Ime ndakanana andinywe kuzwa kujulu.
Kuzwa mutumpango tulaatala aawa, swebo tulakonzya kukosozya makani muzintu zitobela ansi aawa:
Mu Kulonga 20, Milawo iili Kkumi (10) YAKALAILILWA/ AKWAAMBILIZYIGWA kumwi Mozesi kamvwisyide akusalalilwa zyoonse nzyaakali kulaigwa, pele bantu tiibakaamvwa majwi ngaakali kumvwa. Pele balo bakaazyiba nkaambo AKALILEMBEDWE atalaa mabwe aayo AAKAPEDWE kuli Mozesi mbuli musololi, mweendelezi wa Isilayeli abamwi boonse kusanganya ambunga yabantu bakabungene munsaa Mulundu Sinai.
"Lino Mwami Yahuwah wakati kuli Mozesi, "Tanta acilundu, uboole kuno kulindime uzookkalile nkuko. Ndizookupe zilembelo zyamabwe zijisi milawo amalailile ngendakalemba aakulailila bantu (Kulonga 24:12)
Aawa mukonzyanyo uupedwe uliimpene mukuti, Mozesi mwiiminini wabantu, wakaluuzyikale mulawo kuutaninga PEGWA kubana ba Isilayeli [ba cikombelo cakasimpe cakali munkanda – Milimo 7:38] mbweenya mbuli Yahushua, Munununi wesu Uutwiiminina, mbwaakalaa Muya Uusalala kuutaninga PEGWA ku Cikombelo cakasimpe ku Pobwe lya Mvwiki nibakali kusekelela [Pentekkositi].
"Ngonguwe ooyu wakali mu cipaililo [ . . .Ekklesia] munkanda antoomwe amungele ooyo wakali kwaambaula alakwe mumulundu wa Sinai, alimwi ngowakali aabazyali besu Baisilayeli nibakabungene munkanda. Ngonguwe wakatambula majwi aapa buumi akwaaleta kulindiswe. (Milimo 7:38)
KUKOSOZYA MAKANI:
Malailile AKAPEGWA kubana ba Isilayeli [ba Cikombelo cakasimpe eelyo nicakali munkanda] lilikke buyo NICAKAINDIDE kale ciindi Mozesi naakatanta akuseluka Mulundu kumwi kajisi JWI lyokwa Yahuwah naakaseluka. Muya Uusalala WAKAPEGWA ku Cikombelo muciindi ca "Pentekkositi" [Pobwe lya Mvwiki], lilikke buyo Yahushua NAAKATANTIDE kuya kujulu akuyooletelezya MUYA ookwa Yahuwah muciimo ca Muya Uusalala.

Ncintu ceelede kubikkilwa maanu akuti awalo Aaroni (mupaizi mupati), mubuzuba bumwi bwakasolwede kumbele, wakalizyi kale munzila imwi kuti walo weelede kwaambilizya "pobwe lyokwa Yahuwah" mubuzuba bwini mbweenya oobo – buzuba BWINI buli mazuba 50 kuzwa niyakamana "Nsabata yaciloba iicaalizya."
"Naakamvwa boobo Aloni akubona moombe ooyo, wakayaka cipaililo kumbele lyamoombe. Mpoonya wakaambilizya kuti, "Ijunza kuzooba pobwe [Strong's H2282] lyakulemya Mwami Yahuwah."(Kulonga 32:5)
"pobwe" = Strong's H2282 [khag]; Khag ndebbala libelesyegwa kanjaanji mu Mangwalo kwaambilizya pobwe lyakweendela musinzo. (Langa cilembedwe mu The New Strong's Expanded Dictionary of Bible Words) Ipobwe lya Mvwiki ndimwi akataa otatwe mapobwe aakweendela musinzo [ ma khag] aayo Mwami Yahuwah ngaakalailide kubambwa –

Ciibaulusyo 16:16

.
Bikkila maanu aawa: Yahuwah taakabwentela Mupaizi Wakwe Mupati [Aloni] nkaambo kakwaambilizya pobwe mubuzuba butaluleme; pele Mwami Yahuwah ulilauka kuti kukomba mituni nkakaambo keni Walo ncaakakalalila. (Kulonga 32:7-9; Ciibalusyo 9:16-20)
Mozesi wakaselemuka kuseluka mulundu kajisi Milawo iili Kkumi yokwa Yahuwah mubuzuba mbweenya awalo Aloni (mupaizi mupati) naakazyi munzila imwi kuti walo weelede kwaambilizya "pobwe [khag] lyokwa Yahuwah." Eeci cakatola busena KAKWIINDIDE MAZUBA 50 KUZWA NIYAKAMANIDE "NSABATA IICAALIZYA YACILOBA"! Inga TIICABA cintu camaanu kulazyika kumbali zintu zyaacitika zyoonse eezi pe kuti zyakalicitikila buyo.
Bikkila maanu aawa: Kulangikaanga bana ba Isilayeli bakali kulangila kupobola mubuzuba mbweenya oobu, nkaambo mubuzuba bwakaindide musyule, twabona kale kuti eelyo nibakabona kuti Mozesi "walelema kuzyokela", bakaunka kuyoolilauka kuli Aloni, akutalika kulibambila zyabo [munzila isofweede] kuti bakasekelele pobwe mubuzuba bwakali kutobela. "Lino bantu nibakabona kuti Mozesi wakkala ciindi cilamfu kucilundu akuti taakwe naakapiluka, bakabungana kuzinguluka Aloni, kabati kulinguwe, "Yebo tubumbile baleza batusolwede. Nkaambo tatuzi cacitika kuli Mozesi ooyu wakatugwisya munyika ya Ijipiti." (Kulonga 32:1, KJV)
Mubweende bwa zintu, oobo mbobumboni butonkomene kututondezya ncobeni kuti kuli Nsabata iibelesya Mwezi azuba! Nkaambo muukubalila buyo "Nsabata zikkwene zili ciloba" kubelesya kkalenda lyamu Bbaibbele litobezya mwezu-azuba; mpoonya akubalila bazuba aali 50, yebo nokonzya kujana Pobwe lya Mvwiki lyamu Bbaibbele! Eeci caambilizya kuti balikke aabo babelesya kkalenda lyamu Bbaibbele lyalo litobezya mwezi-azuba kuti bajane Nsabata zya Buzuba bwa Ciloba (kusanganya antoomwe amazuba aamapobwe amwi), aabo mbabakonzya kululamika Pobwe lya Mvwiki eelyo Mwami Yahuwah ndyaakasala – ipobwe lijatene kapati antoomwe aciindi cakutililwa Muya Uusalala amvwula nkukula nsoke iicaalizya kuwa!
Zintu zikonzyene akataa zyeezyi azyeezyo zili mubbuku lya Milimo 2 zilakankamusya!
Kulonga: YAHUWAH wakatumina Mozesi kuti aselemuke kuseluka Mulundu Sinai kajisi Milawo iili Kkumi iilembedwe amunwe wakwe wini Yahuwah atalaa mabwe. (Cizumanano Cakale)
Milimo 2: YAHUWAH wakatumizya Muya Uusalala ali baabo bakabungene mu Buzuba bwa Pentekkositi kutegwa akabalembe Milawo mumyoyo yabo. (Cizuminano Cipya -

Jelemiya 31:31-33

)
Kulonga: "Kusikila bantu bali 3,000" bakafwa nkaambo kakukomba mituni (

Kulonga32:28

) – mubuzuba mbweenya oobo, Aloni wakalizyi kuti weelede kwaambilizya "pobwe [khag] kuli Yahuwah." (Kusikila : Nsabata zikkwene zili 7 zyakkwanina + 50 mazuba)
Milimo 2: "Kusikila bantu bali 3,000" bakafutulwa nkaambo ka Muya Uusalala wakaselukila ali mbabo (

Milimo 2:41

) – mubuzuba mbweenya oobo kwakali bungene zyuulu zyuulu zyabanu antoomwe nkaambo bakali kubunganina kusekelela Pobwe lya Mvwiki [Pentekkositi], nkabela Moza "wakabasikila akubalongezya ncobeni" (

Milimo 2:1

).
"Mwami Yahuwah nguutupa nguzu kuti tube basimilimo bacizuminano cipya. Mucizuminano eeci Leza tatupi milawo iilembedwe alimwi, pele utupa Muuya Uusalala. Milawo iilembedwe ileta lufu, pele Muuya upa buumi. Lino Milawo yakabezedwe bbala abbala abbwe yakaamba zya lufu, nikuba boobo bulemu bwa Yahuwah bwakaboneka ciindi naakapa Milawo. Nikuba kuti bulemu oobo bwakali kuzimaana, pele busyu bwa Mozesi bwakali kumweka cakuti Baisilayeli tiibakakonzya kumulangisisya. Naa Milawo yakaletwa abulemu buli boobo, sena mulimo wa Muuya Uusalala tuukaindilili bulemu?" 2 Bakolinto 3:6-8
(4) Inyika ya Cisyomyo:
Yahuwah wakaamba kuti micelo mitaanzi yakutebula maila yeelede kuti ikazyile muli ceeco bana ba Isilayeli ncibaalisyangila mumyuunda.
"Alyalo Pobwe lya Butebuzi munooyoolicita aawo nomuyobolola zilyo zitaanzi inywe nzimwakasyanga mumyuunda yanu. Kumamanino aamwaka munooyoocita pobwe lya kutebula micelo, aawo nimuyoobungika micelo kuzwa mumyuunda yanu. Kwaziindi zyotatwe mumwaka boonse baalumi bakalibonye kulindime, nde Mwami Yahuwah wanu. "Tamukoonoobelesya cinkwa cakabikkwa mimena mwaakupaizya munyama kulindime. Aalo mafuta aamunyama ooyo wabelesegwa mupobwe lyangu taayelede kulazikwa mane buce pe. "Mukalete muŋanda ya Mwami Leza wanu zintu zibotu kwiindilila zyakutebula zitaanzi zizwa mumyuunda yanu. (Kulonga 23:16, 19)
Kweendelanya bwakaamba Joshua, balo tiibakasika "kunyika yacisyomyo" kusikila mumwezi wa Abibu (Kobala Joshua, Zyaandaano 3-5). Kutegwa bana ba Isilayeli bakonzye kutuuzya cituuzyo ca "[maila] mapya" mu Pobwe lya Mvwiki kuzwa muli ceeco ncibaalisyangila mumyuunda, balo bakeelede kusyanga maila aaciindi lisyuuka malubaluba [aayo aasima ciindi ca Mainza] kuzwa mbubakasikila buyo munyikeeyo mu Mwezi Mutaanzi. Eeci ncintu citakonzyi kuti maila inga abizwa mumazuba aali 50 buyo. Ciindi CIFWAAFWI LOKO eelyo bana ba Isilayeli nibakali kunga balitebwida maila aayo ngubaalisyangila lwabo beni inga nicakali kuya kumamanino aa Mwezi Wane.
(5) Milimo 2 | "Waini Mupya":
Mangwalo lyoonse alazumanana kuswaanganya kutebula maila akutebula masaansa, zyoonse zyobile eezyi zyakali kucitika ciindi ca Mainza. Ooyo "waini mupya" waambwa mubbuku lya Milimo Caandaano 2, inga niwatakaliko mu Mwezi Watatu (muciindi ca Malubaluba).
"Mpoonya kwakaboneka kubala mbuli milaka yamulilo, yakakkala ali omwe-omwe wabo. Aboobo boonse bakazula Muuya Uusalala, bakatalika kwaambaula mumisyobo iimbi mbubonya mbuli Muuya mbwaakabapa. . . . [Bamwi] bakatalika kubaseka akubanonga kabaamba kuti, 'Aaba bantu bakolwa waini mupya.[Strong's G1098]'" (Milimo 2:3-4, 13)
"waini mupya" = Strong's G1098 = caambilizya "waini mupya" uulweela" (The New Strong's Dictionary of Bible Words)
Petulo naakali kukambauka mu Buzuba bwa Pentekkositi: "Pele eeci ncencico cakaambwa amushinshimi Joweli naakati, 'Yahuwah wakati, Mumazuba aamamanino njootila Muuya wangu atalaa bantu boonse. Bana banu balombe abasimbi bayooshinshima majwi aangu. Bakubusi bayoobona zilengaano, abalo bamadaala bayoolota ziloto. Iiyi, njootila Muuya wangu ababelesi bangu, baalumi abakaintu mumazuba aayo, nkabela bayooamba majwi aangu . . . " (Milimo 2:16-18, KJV)
Petulo naakali kwiinduluka kwaamba kampango katobela aaka: "Matala ayoozula maila, matalo ayoofwasuka waini amafuta mwaa! Njoomubweedezezya nzimwakasweekelwa acikwikwi, mpaso, basimooloka answabaanda, impi eeyo njindakatumide kumuvwumpa. Munooyoolya cakulilekela, nkaako muyootembaula Mwami Leza wanu. Wakamucitila zigambya, taakwe limbi bantu bangu nibayoosampaulwa pe. Eelyo no Baisilayeli nomuyooziba kuti ndili akati kanu, akuti ndendime Mwami Yahuwah wanu, alimwi taakwe Leza uumbi pe. Taakwe bantu bangu nibayoosampaulwa limbi pepe. "Musule akooku njootila Muuya wangu atalaa abantu boonse, bayooshinshima majwi aangu. Bamadaala bayoolota ziloto, abalo bakubusi bayoobona zilengaano. Ee, njootila Muuya wangu mubabelesi bangu, baalumi abakaintu mumazuba aayo." (Joweli 2:24, 28-30, KJV)
Mangwalo lyoonse alazumanana kuswaanganya kutebula maila akutebula masaansa, eezyi zyoonse zyobile zyakali kucitika ciindi ca Mainza. (Bala cilembedwe muli: Nehemiya 13:15 ; 2 Makani 31: 5; Jelemiya 8:20 ; Jelemiya 40:10; Daniele 2:35 ; Mika 7:1 ;Babetesi 15: 1, 5 ; Hagayi 1:11; Joweli 2: 24-28) Bikkila maanu: Zisyango zyamaila (mbuli maila mpunga) zyakali kusandululwa kuti "mapopwe."
(6) Kumvwisisya majwi ngabelesya Mwami Yahuwah . . .
Ooku kuteelela kupya kutusandulwida kaambo keni swebo ncotulailidwe a Mwami Yahuwah kuti "tubalile" (Bala cilembedwe mu BaLevi. 23:16) – kuleka buyo kwaambilwa kuti tulinde akulangila buzuba bugantidwe (nkokuti buzuba bwa Sivan 6 or 91).
"Kubalila" = Strong's H5608 = caambilizya "kubalila, kwiinduluka kubalila, kuzubulula (zintu), kubikka mumyeelwe, kubanzila, . . . kubalila bululeme nokuba cabulondo." (BDB Lexicon)
(7) Bapaizi 23:16 | Kusandulula:
Eelyo notuvwuntauzya cini cilembedwe muci Hebulayo ca BaLevi 23:16, swebo tujana kuti kuli kaambo kakatazya kamwi. Eelyo notweezyekanya busanduluzi bwa Cikuwa aci Hebulayo, yebo inga walibonena kuti basanduluzi bakasiya mabala amwi ambali akutaasandulula!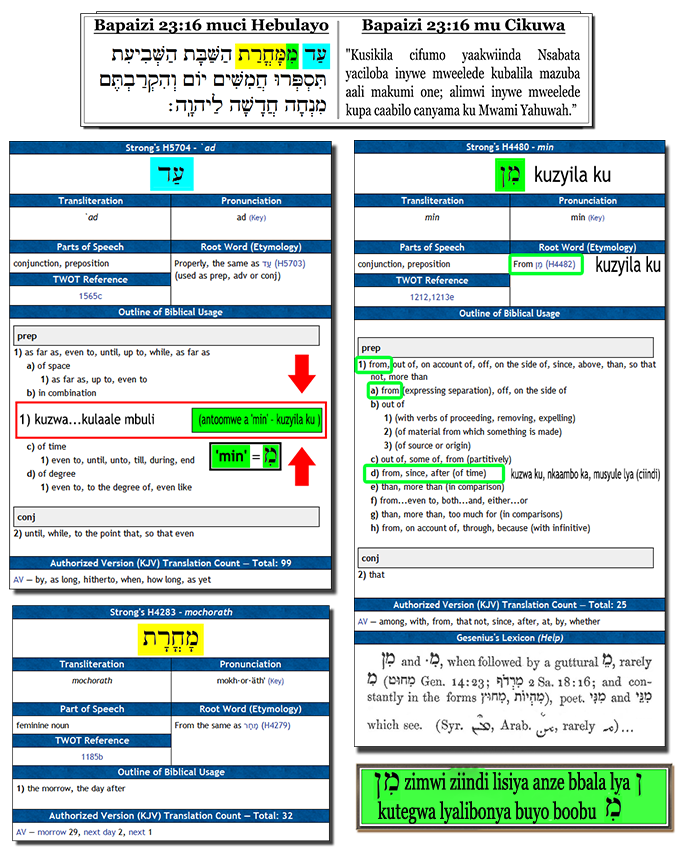 Kuzwa muzifwanikiso zyabupanduluzi atala aawa, tulakonzya kubona akusalazyilwa kuti ibbala lyakuti ád – min – mochorath inga lyasandululwa bululeme kuti "KUZWA cifumo".

Amubikkile maanu mukabbokesi kasubila kuti eelyo bbala lya 'ad noliswaangene alya min, liiminina kuti "Kuzyila".

"KUZWA cifumo yaakwiinda Nsabata yaciloba inywe mweelede kubalila mazuba aali makumi osanwe; mpoonya inywe mweelede kutuuzya caabilo canyama ku Mwami Yahuwah." BaLevi 23:16

Ncenciceeci swebo ncotusyomena kuti Busanduluzi bwa Ferrar Fenton bulasumbula mukuzubulula kampango aaka:

Kunyina pe nkamu ya WLC niizuminizya busanduluzi bwa Fenton kuti boonse buliluleme.
Fenton, nokuba boobo, wakali syomekede kapati kupandulula caalembedwe muci Hebulayo, eelyo naakasandulula Balevi 23:15-17, aawo basanduluzi bamwi mpubatakaluleme.
Aboobo, Mangwalo aambilizya kuti:
Kubalila kusikila ku Pobwe lya Mvwiki = nkubala Nsabata Zikkwene 7 + 50 mazuba
Kukosozya makani:
Nitwakamanizya kuvwuntauzya kabotu-kabotu akubala Bbaibbele mumuuya wakupaila abumboni bujanwa muli ndilyo, nkamu ya, WLC yakacaazya buyo kwaambilizya kuti kubalila mazuba kusikila ku Pobwe lya Mvwiki kweelede kubalwa Nsabata Zikkwene zili 7 + mazuba aali 50 atalaa Nsabata eezyo. Swebo twapa bumboni ncotuteelela boobo. Lino twakulomba webo mukwesu, mumeso aa Mwami Yahuwah, kuti ulivwuntauzyile twaambo ootu omwini.
"Bunkutwe bwakulilangisya akuba muntu uusyomeka, bweelede kuyandwa a sicikolo uuli woonse. Muzeezo wamuntu uuli woonse, weelede kucenguluka cakulemekezya ku jwi liyubunudwe lyokwa Yahuwah. Mumuni a lweengelelo luyoopegwa kuli baabo basala boobo kuti bateelele Mwami Yahuwah. Balo bayoobona zintu zyeebeka kazizwa mu Mulawo Wakwe. Tusimpe tupati ooto twakalazyikidwe ansi akutamvwugwa akuleka kulibonya kuzwa mubuzuba bwa Pentekkositi, lino tuyoobekema akumwesya mumuni katulibonya kuzwa mujwi lyokwa Yahuwah mubusalazi bwato. Kuli baabo bamuyanda ncobeni Mwami Yahuwah, Muya Uusalala uyoobayubunwida tusimpe ooto twakamwaidwe kuzwa mu mizeezo, alimwi uyoobayubunwida tusimpe twiinda bupya." --Fundamentals of Christian Education, p.473*

Mibuzyo a Matwangwa (Kotyanka kuti cikwazamuke)
Kuti muntu waswaanganaya musyobo walusyomo lweenzu, ncilengwa cabuntu kulibilika nokuba kuyaa kweeleba mumbali kolangila alaale, kolaa mibuzyo, amatongoosi. Mbuli basicikolo ba Bbaibbele bamasimpe ibayandisya Kasimpe, aswebo tweelede kuswena munsaa mumuni katubambilila kweenda kabotu kabotu, akupaila kuti tumvwisye busongo buli mumulumbe mupya ooyo uupegwa. Ntootu twaambo tumwi swebo lwesu ntutwakabambulula kutegwa tutambule Mumuni Mupya ooyu amoyo woonse katuliibide!
MUBUZYO: "Mukwiinduluka kwaamba cilembedwe mu Mulawo mu Ciibalusyo 16:9-10, kunyina pe mpokwaambidwe kuyungizya kubalila mazuba aali 50. Kuti nitwali kuyandika kubala mazuba aali 50 kusanganya atalaa Nsabata zikkwene zili ciloba, hena eeco cintu inga tiicaambilizyigwa mutumpango ootu na?
BWIINGUZI: Yebo ulakonzya kulibonena omwini kuti kuli makani manjaanji aatalembedwe mu Ciibalusyo 16. Ngooyu mukonzyanyo: kunyina aalembedwe buzuba bwa Pasika, bwa Pobbwe lya Cinkwa citakwe Mimena, nanka Pobwe lya Mavwuka. Alimwi kweendelanya acilembedwe mumakani aa Pobwe lya Mvwiki, kunyina nokwaambidwe buzuba bwa 50th (nokuba buzuba butobela mvwiki ya Nsabata yaciloba iicaalizya). Kuti twalanga buyo mucaandaano eeci akwiimina mpeenya aawo, swebo inga tiitwazyiba ncobeni eelyo notweelede kubamba Mapobwe. Nkaambo kakuti kunyina makani aayo mucaandaano eeci, eeco ncintu cigambya, pele kunyina ncocaambilizya eeco pe. Kusiila makani amwi kumbali tacili cintu ceelene a kupilinganya kaambo kakaluleme nikakalembedwe kutaanguna. Kufumbwa kabeela kabumboni keelede kulangisyigwa. Mbweenya mbuli kubala Bbaibbele mbokweelede kucitwa, mweengwe omwe omwe kweezyekanya amweengwe omwe omwe, akweezyekanya kaambo komwe-komwe (Izaya 28:10).
MUBUZYO: "Hena Mangwalo taambi kuti maila akeelede kutebulwa muciindi camalubaluba?"
BWIINGUZI: Mpali aawo mu Mangwalo mpokulembedwe kuti kutebula maila kwakeelede kuswaangane aaPobwe lya Mvwiki muciindi camalubaluba?
Mangwalo alazumanana lyoonse kuswaanganya kutebula maila akutebula masaansa, zyoonse zyobile zyakali kutola busena ciindi ca MAINZA. (Kubalila mazuba kuzwa mubuzuba bwa Micelo Mitaanzi, mpoonya Mvwiki zikkwene zili 7 + mazuba aali 50 = mamanino aamwezi wa Kunkumuna Masamu / matalikilo aa mwezi wa Kasangalubwi - AKATAA MAINZA kunyika ya Isilayeli)
Lino bikkila maanu aawa kutumpango tutobela ansi aawa:
"Mumazuba aayo ndakabona kuti Bajuda bamwi bakali KULYATAUKA MUZIKANDILO ZYA WAINI mubuzuba bwakulyookezya bwa Nsabata. Bamwi bakali kubikka maila, waini, masaansa, ankuyu, azimwi atalaa mbongolo zyabo kabaleta ku Jelusalemu. Ndakabacenjezya kuti tabeelede kusambalana mubuzuba oobu pe." (Nehemiya.13:15)
"Mbuwakapegelwa buyo mulawo ooyu bantu Baisilayeli, bakaleta zipego zya MICELO MITAANZI cakulyaaba: [H1715 "maila"] MAPOPWE, WAINI MUPYA, mafuta aaoliva, abuci, azimwi zilimwa mumyuunda; alimwi bakaleta kwakkumi kwazintu nzyoonse eezyo nzibakajisi." (2 Makani. 31:5)
"KUTEBULA kwamana, MAINZA ayinda, pele kwiina uutuvwuna." (Jelemiya. 8:20)
" … Mebo lwangu ndinookkala mu Mizipa kuti kandimwiiminina ku Bakalodiya aabo banooboola kulindiswe, pele nywebo mweelede kutebula MASAANSA, a MICELO YAMAINZA amafuta, muminzi eeyo njomwakatola." (Jelemiya. 40:10)
"Mpawo butale, bulongo, mukuba, insiliva angolida zyakapwasyaulwa ciindi eeco nciconya akuba mbuli BUNGU MUCIKWAAPWIDO CAMAILA CILIMO; nkabela luwo lwakakungulula zyoonse akuzipupulula, taakwe kakasyaala pe. Pele bbwe eelyo lyakagunta cibumbwa lyakaba dundu lini lyakazuzya nyika yoonse ...." (Daniele. 2:35)
"Maawe ndemucaangu! Nkaambo ndaba mbuli uufwide nzala uubwezelela MICELO YAMAINZA ciindi CAKUVWULULA MYUUNDA YAMASAANSA: taakwe zikama zyansaansa zisyeede kuti ndilye: taakwe NKUYU ZISOLOKEDE nzyefwide nkosya." (Mika 7:1)
"Kaindi, muciindi LITEBULWA MAILA, Samusoni wakainka akapongo kuyooswaya mukaintu wakwe wakati, "Njandoonjila muŋanda muli mukaintu wangu." Pele wisi wakamukasya. Wakati, "Ndakabona kuti tomuyandi, nciceeco ncindakamukwasyizya kumweenzinyoko. Ino mbuti mucizyi wakwe musyoonto tee mubotu kwiinda nguwe? Kwata nguwe mucibaka cakwe." Lino Samusoni wakabaambila kuti, "Ciindi cino mutandaambi bubi ndababweedezezya bubi Bafilisiti." Azwe waawo Samusoni wakainka kuyoojata bamwaaba myaanda yotatwe, eelyo wakabaanga bobilo-bobilo kumicila atunzenge twamulilo. Naakamana kudomeka tunzenge, wakabalekezya bainka MUMAILA AAKACIIMVWI mumyuunda ya Bafilisiti. Baakutenta tulwi-tulwi twakaimvwi, amyuunda ya MASAANSA ama oliva, mpawo micelo yoonse yakapya." (Babetesi. 15:1, 5)
"Ndakacitya kuti kube cilanga musokwe amuzilundu. Mumyuunda YAMAILA aya MASAANSA MAPYA, yamisaansa yeengwa mafuta, aali coonse cimena munyika, ku bantu aŋombe, alimwi aali zyoonse eezyo nzyomulibambila munguzu zyamaanza eenu." (Hagayi. 1:11)
"Matala AYOOZULA MAILA, matalo AYOOFWASUKA KUZULA WAINI amafuta mwaa! Njoomubweedezezya nzimwakasweekelwa acikwikwi, mpaso, basimooloka answabaanda, impi eeyo njindakatumide kumuvwumpa. Munooyoolya cakulilekela, nkaako muyootembaula Mwami Yahuwah wanu. Wakamucitila zigambya, taakwe limbi bantu bangu nibayoosampaulwa pe. Eelyo no Baisilayeli nomuyooziba kuti ndili akati kanu, akuti ndendime Mwami Yahuwah wanu, alimwi taakwe Leza uumbi pe. Taakwe bantu bangu nibayoosampaulwa limbi peepe. "Musule akooku njootila Muuya wangu abantu boonse, bana benu basankwa abasimbi bayooshinshima majwi aangu. Bamadaala bayoolota ziloto, abalo bakubusi bayoobona zilengaano" (cibalo cakainduluka kwaamba a Petulo mubbuku lya Milimo 2 - Joweli 2:24-28)
MUBUZYO: "Ime ndakamvwa kuti kubalila mazuba kusikila kumwaka wa Jubilee, ncimbonimboni cikkwene cakubalila mazuba kusikila mubuzuba bwa Pentekkositi, kubalila myaka iili 49 + mwaka omwe = myaka iili 50."
BWIINGUZI: Kunyina pe mu Mangwalo aawo mpokulembedwe kuti kubalila myaka kusikila kumwaka wa Jubilee kuti "ncimbonimboni cikkwene citondezya kubalila mazuba kusikila ku Pentekkositi, kubala myaka 49 + 1." Cikkelo ca bumboni eeco citabilila kujana Pentekkositi mumazuba aali 50 kayiindide Nsabata iikwene yaciloba, cilainda kulema kwiinda cintu cili coonse cisendekezya kuswaanganya mwaka wa Jubilee akubalila mazuba kusikila ku Pentekkositi.
MUBUZYO: "Kuti Pobwe lya Mvwiki kalili kulaale mazuba aali 99 naa 100 kuzwa kubuzuba bwa Abibu 16, mbubuti mbolinga lwaambwa kuti ndipobwe lya "Pentekkositi", eeco mumulaka waci Giliki ciiminia cintu ca 50th?"
BWIINGUZI: Inzya, Pentekkositi ciiminina cintu ca "makumi osanwe" muci Giliki, pele eeco kunyina pe ncocitondezya nokuba boobo. Masimpe ncobeni kuti, mukuteelela kupya ooku, yebo weelede "kubalila" ncobeni mazuba aali 50 kutobela noyainda Nsabata yaciloba iikkwene; eeco cilainda kutondezya kuti eeli pobwe lyeelede kwiitwa kuti "Pentekkositi."
MUBUZYO: "Nkaambo nzi Kulonga 24:16 a E.G. White ncobaamba kuti Mozesi wakayungizya kulindila mazuba aali l 6 kataninga talika mazuba aali 40 amasiku aali 40 kutanta mulundu?"
BWIINGUZI: Twakukomba kuti utyanke akutobezya kubala cilembedwe aawa: http://www.worldslastchance.com/feast-of-pentecost/why-do-exodus-and-eg-white-state-that-moses-waited-an-additional-6-days.html
---
1 Sivan 6: Lwiiyo lulaa mpuwo luyiisya kuti Pentekkositi uli mubuzuba bwa Sivan 6. Eeci cili boobo nkaambo kakuti buzuba bwa Sivan 6 lyoonse bwakali mazuba aali 50 kuzwa kuzuba bwa Micelo Mitaanzi (Abibu 16). Eeyi nzila yakubalila iitaluleme isendekezya kuti kkalenda lyamazubaano lina Gregory, amvwiki yamu Bbaibbele, kuti zileendelana. Ooku kunyina acimbi pele nkulizingaila mukooze nkaambo oobo buzuba bwa Abibu 16 (aatalikilwa kubalalila mazuba) kuti lyoonse buli "cifumo kayiindide Nsabata" (BaLevi 23:15). Eeci ncintu cikonzyeka buyo kubalila munzila yamusyobo ooyo eelyo notobela kkalenda libelesya mwezi-azuba. Ncintu citakonzyeki kuti buzuba bwa Abibu 16 inga bwaswaangana ncobeni abuzuba bwa "cifumo kayiindide Nsabata" kuti kwabelesyegwa mvwiki iizinguluka kakwiina kulekezya. (Abibu 16, mbuzuba bwaambwa abaabo balombozya kubalila munzila eeyi, kuti lyoonse mbuzuba butobela Nsabata. Eeci caambilizya kuti buzuba bwa 15th lyoonse mbuzuba bwa Nsabata, aboobo, buzuba bwa 8th, 22nd, abwa 29th, aalo mazuba aa Nsabata yabuzuba bwaciloba. Oobu mbobumboni akataa bumwi butondezya kkalenda libelesya mwezi-azuba mboliluleme. Pele cintu cuusisya ncakuti, bantu banji baloofweede akulamatila ziyanza zyabantu kuleka kusanyangula kabotu-kabotu cakusyomeka kabavwuntauzya zintu nzyobasyoma mulusyomo lwabo.)
Sivan 9: Bamwi, mbuli nkamu ya WLC ayalo mbuyakali kucita aciindi cimwi, basyoma kuti Pentekkositi uli mubuzuba bwa Sivan 9. Oobu buzuba bulajanwa kwiinda mukubalila Nsabata zikkwene zili ciloba, mpoonnya akusanganya buzuba bomwe. Mazuba mataanzi aa Mwezi Mupya amazuba aakulanduka mwezi taabalilizyigwi (nkaambo taali mazuba aamvwiki nokuba kuti mazuba aabalilwa mumwezi nguwenya), alimwi lyoonse aatalikilwa kubalila mazuba mpaabuzuba bwa Abibu 16 (Buzuba bwa Micelo Mitaanzi), buzuba butobela Nsabata. Nkamu ya WLC isyoma kuti inzila yakubalila "Nsabata zili ciloba" (BaLevi. 23:15) njiiluleme. Cintu cilikke ciimpene ncakuti lino nkamu ya WLC isyoma kuti oobo buzuba butobela Nsabata yaciloba mbobuzuba bwakutalikila kubalila mazuba aali 50 (nkokuti Pentekkositi = Nsabata zili 7 + mazuba aali 50).
---
* Swebo twakagwisya mutumpango twa Bbaibbele toonse mazina aamituni amazina aamilimo ya Taata a Mwana, akubikka mucibaka cangawo mazina aakalembedwe mataanzi. Kuyungizya waawo, swebo twakajokolosya mu Mangwalo mazina eeni ookwa Taata a Mwana, mbweenya mbwaakalembedwe kutaanguna abalembi ba Bbaibbele aabo bakayoyelwa Moza. - WLC Team