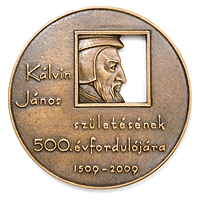 The deep conviction of members of Calvinist/Continental Reformed Churches in the authority of Scripture is a shining example of courage and commitment to truth. This conviction has strengthened believers to stand against tyranny intent on forcing them to violate their consciences. These sincere Christians have truly "subdued kingdoms, wrought righteousness, obtained promises, stopped the mouths of lions. Quenched the violence of fire, escaped the edge of the sword, out of weakness were made strong, waxed valiant in fight, turned to flight the armies of the aliens." (Hebrews 11:33, 34)
But wherever there is great truth, Satan seeks to corrupt with great error. An incorrect understanding of the science of salvation has led the Reformed churches to accept doctrines that contradict the truths of Scripture.
Calvinist theology teaches that Yahuwah predestines some people to be saved while others are predestined to be lost. Scripture establishes that salvation is due to Yahuwah's seeking the lost. "Yahuwah commendeth His love toward us, in that, while we were yet sinners, Yahushua died for us." (Romans 5:8) However, this fact does not mean that some are saved because Yahuwah predetermined they should be saved while others are lost because Yah chose to withhold mercy from them. Such a belief distorts the character of Yah: "Yah is love." (1 John 4:8) "Yahuwah is not slack concerning his promise, as some men count slackness; but is longsuffering to us-ward, not willing that any should perish, but that all should come to repentance." (2 Peter 3:9)
Calvinists teach a limited/definite atonement. While Calvinists acknowledge that the death of Yahushua on the cross was certainly sufficient to atone for all, they believe that in reality, the only people whose sins were atoned for are those individuals whom Yahuwah preselected to be saved. Scripture reveals this to be error. Yahuwah desired all to be saved and, indeed, the death of Yahushua atoned for the sins of all: "Yah was in Yahushua, reconciling the world unto Himself, not imputing their trespasses unto them; and hath committed unto us the word of reconciliation." (2 Corinthians 5:19) Isaiah 53:5-6 establishes that the atonement was unlimited, embracing the whole world: "Yahuwah hath laid on Him the iniquity of us all."
Calvinist theology teaches that those whom Yahuwah chooses to save cannot resist Him. In essence, they are saved against their will. This attributes to Yahuwah a principle of Satan's kingdom: force. Yahuwah will never violate personal freedom of choice. Yahushua died in order to insure that all would have a chance to choose for themselves. It is the fact that Yahuwah does not force the will of any that some people are, in the end, lost.
Calvinists are Trinitarians, a belief originating in paganism, not Scripture which states: "Hear, O Israel: Yahuwah our Eloah, Yahuwah is one!" (Deuteronomy 6:4) The Bible makes plain that Yahushua, while born of a virgin, is a human being - not a diety.
Many Reformed Churches teach eternal security, or "once saved, always saved." Such a doctrine removes freedom of choice from the individual – something Yahuwah will never do. Paul himself wrote: "I keep under my body, and bring it into subjection: lest that by any means, when I have preached to others, I myself should be a castaway." (See 1 Corinthians 9:24-27.)
Yahuwah invites Calvinists to lay aside the errors that keep them from following all truth into an intimate relationship with Him.