"Festividade". Para muitas pessoas a palavra aplica-se a uma celebração em particular. . . Natal!
A definição da palavra "festividade" revela um elemento religioso do qual muita gente está inconsciente.
Festividade: "uma festa religiosa; dia santo." (Webster's New Universal Unabridged Dictionary)
O Natal é uma festividade religiosa. Apesar de todas as armadilhas comerciais da celebração moderna, o Natal continua, na essência, a ser, no fundo, um festival religioso. É um momento em que uma divindade é lembrada e homenageada.
Os cristãos celebram o nascimento de Jesus no Natal. Eles trocam presentes em honra à "maior oferta alguma vez dada." Eles dizem: "Jesus é a razão da Época!" E falam em trazer o Cristo de volta no Natal.
O problema é que Yahushua, o Salvador, nunca sequer fez parte do Natal. Embora a Escritura não afirme o dia do nascimento do Salvador, a maior parte dos estudiosos concordam que Ele nasceu no Outono, e não no dia 25 de dezembro!
Para descobrir o deus que está sendo homenageado no Natal, é necessário traçar suas origens pagãs. As celebrações em 25 de Dezembro começaram logo após o dilúvio, com o nascimento de Tamuz como sendo a reencarnação de Ninrod. As tradições natalícias de hoje, vêm diretamente da antiga Babilônia e de Roma pagã.

Saturno, com vítima infantil
Os romanos pagãos homenageavam o deus Saturno com um festival de uma semana, em Dezembro, chamado Saturnália. Saturno foi o deus romano do tempo e da colheita, por isso ele foi normalmente representado segurando uma foice. Ele era o mais cruel, o pior de todos os deuses pagãos. Ele exigia o sacrifício de crianças.
Os romanos não estavam sozinhos na adoração a esse deus cruel. A adoração a Saturno era prevalente no mundo antigo. Até os israelitas adoravam a Saturno quando em rebelião contra o céu. O deus que Israel mais frequentemente adorava, quando em apostasia, era o deus Saturno, (referido na Bíblia como Quium, Moloque, ou Renfã). Até mesmo os israelitas ofereceram suas crianças em sacrifício a este deus vil sedento de sangue.
"Saturno tornou-se o campeão do paganismo Africano [também] ... tal como Baal-Hamom no Cartago Fenício, ele era o objeto de sacrifício infantil .... Apesar de um deus da fertilidade, Saturno-Baal ... não era menos implacável nos sacrifícios exigidos." (Quodvultdeus of Carthage, translation and commentaries, Thomas Macy Finn, pp. 14 & 115.).
Embora os romanos tenham desistido cedo das ofertas de sacrifícios humanos, o sangue continuava a ser derramado pelos gladiadores durante as celebrações da Saturnália, em Dezembro. Saturnália era uma celebração religiosa e todos compreendiam que o sangue derramado pelos gladiadores era um sacrifício a Saturno.
"Os espetáculos de gladiadores eram sagrados [a Saturno]." (Johann D. Fuss, Roman Antiquities, p. 359)
"O anfiteatro reclama os seus gladiadores para si mesmo, quando, no final de Dezembro, eles propiciam, com o seu sangue, ao filho do céu portador da foice [Saturno]." (Ausonius, Eclog, i. p. 156)
"Os gladiadores lutavam na Saturnália, e ... eles fizeram isso com o objetivo de apaziguar e propiciar a Saturno." (Justus Lipsius, tom. Ii. Saturnalia Sermonum Libri Duo, Qui De Gladiatoribus , lib. i. cap. 5)
"O princípio em que estes espetáculos de gladiadores foram conduzidos, foi ... [que] eles foram celebrados como sacrifícios propiciatórios ... . Quando essas multidões de homens foram 'manipulados para realizarem a festividade romana'. Quando é lembrado que o próprio Saturno foi cortado em pedaços, é fácil ver como a ideia surgiria de oferecer um sacrifício de boas-vindas a ele, definindo aos homens cortar um ao outro em pedaços sobre seu [Saturno] aniversário, como meio de propiciar seu favor." (Alexander Hislop, The Two Babylons, p. 153).
Apesar da violência e derramamento de sangue, a Saturnália era um período de festa e folia. As várias celebrações antigas, homenageando este deus sedento de sangue, chegaram até hoje como as muito amadas tradições de Natal celebradas em todo o mundo.
Estas tradições incluem:
Doze Dias de Natal;
guloseimas deixadas fora à noite;
árvores de Natal decoradas com luzes (essas eram originalmente velas feitas da gordura de corpos queimados das crianças vítimas do sacrifício);
árvores de Natal decoradas com bolas (antigamente, cabeças decapitadas de vítimas de sacrifício);
troca de presentes;
beijar debaixo do azevinho (o alimento dos deuses);
ramos verdes;
cantarolar de casa em casa (originalmente feito por cantores despidos envolvendo-se em comportamentos licenciosos);
velas do "Advento";
cartões de Natal;
. . . e muitos mais.
Até a imagem do Pai Natal, ou Papai Noel, carrega uma notável semelhança a Saturno: um velho, com uma longa barba, cercado por crianças.
Saturno, o velho malvado e exigente por sacrifício infantil, aparece na sociedade moderna em mais dois disfarces. Todo mês de Dezembro, Saturno, o deus do tempo, ressurge como o "Pai do Tempo Velho". O Bebê Ano Novo é um símbolo da vítima infantil.
Uma representação bem mais arrepiante do Pai do Tempo com o Bebê Ano Novo pode ser encontrada nesta ilustração do século 19. O Pai do Tempo (Saturno, como divindade do tempo) perante um grande relógio, segurando a sua foice. Os anos velhos estão passando como corpos adultos envoltos em mortalhas fúnebres. O Ano Novo chega como uma criança. Enquanto a imagem é bastante escura, a luz do fogo reflete no menino, enquanto, em ambos os lados, existem redemoinhos de fumaça. Os anos por vir são retratados como crianças prontas para serem sacrificadas. As vítimas de sacrifício infantil eram sempre muito veladas para que seus pais não reconhecessem que seu filho foi queimado. Todos os elementos grotescos deste deus hediondo estão contidos nesta imagem.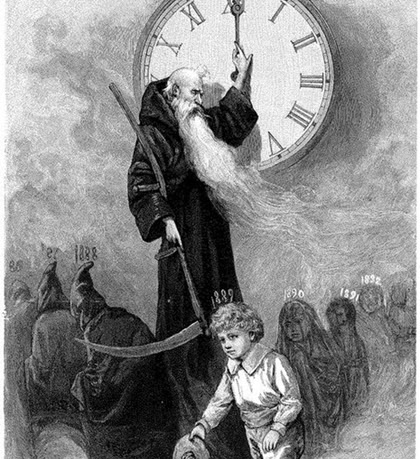 Saturno também emerge na sociedade moderna como a Morte, reunindo em sua colheita as almas sombrias. Muito poucos na sociedade moderna têm reconhecido que o Papai Noel, a Morte e o Pai do Tempo Velho são nada menos que o mais repugnante de todos os deuses. Os emblemas que identificaram Saturno são os mesmos que identificam o Pai do Tempo Velho e a Morte: foice e algo para marcar a passagem do tempo.
Há muitas desculpas dadas por pessoas sinceras de hoje, para se apegarem a festividades pagãs homenageando Saturno:
"O Natal é um momento maravilhoso para passar com a família. Estamos tão ocupados durante todo o ano que esta é realmente a nossa única chance de ficarmos juntos."


"O Natal é um grande momento para testemunhar! As pessoas estão mais abertas nesta época do ano, então eu utilizo este dia como uma oportunidade para compartilhar."


"O Natal é a única festividade que realmente se concentra em Jesus!"


"Eu sei que Jesus realmente não nasceu neste dia. Não estou enganado. Além disso, não estou adorando quaisquer deuses pagãos, por isso está tudo bem para mim!"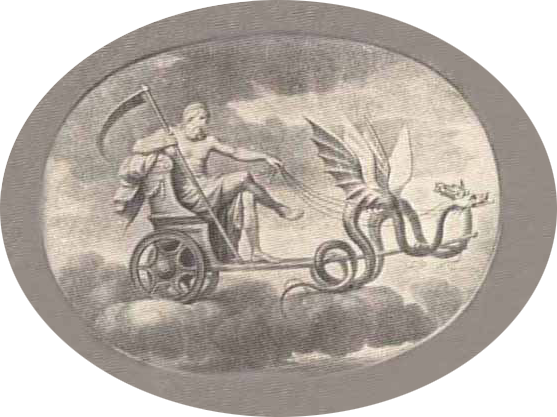 Os pagãos eram ignorantes de Yahuwah, o Criador. Eles adoravam deuses demoníacos porque não sabiam de nada. O mesmo não pode ser dito dos cristãos de hoje.
A Escritura ensina:
"Mas [YAHUWAH], não tendo em conta os tempos da ignorância, anuncia agora a todos os homens, e em todo o lugar, que se arrependam." (Atos 17:30, ACF)
Saber que o Natal é uma festividade pagã, saber que os rituais modernos são idênticos aos antigos ritos pagãos que homenageavam Saturno, e, mesmo assim, proclamar isenção de pecado, porque se sabe, é extremamente incoerente.
O Natal é verdadeiramente uma festividade: um festival religioso. Ao homenagear o deus do mal, Saturno; desonra-se Yahuwah, o Criador do Céu e da Terra.
O próprio Salvador declarou um princípio divino, quando disse:
"Ninguém pode servir a dois senhores; porque ou há de odiar um e amar o outro, ou se dedicará a um e desprezará o outro. Não podeis servir a [YAHUWAH] e a Mamom." (Mateus 6:24, ACF)
Saturno, mais do que qualquer outro deus falso, tinha atributos muito semelhantes ao próprio Satanás. Participar de celebrações natalícias confere honra a esta divindade satânica.
As palavras de um Pai amoroso a um Israel rebelde, ressoam com força para os cristãos de hoje:
"Deveras, como a mulher se aparta aleivosamente do seu marido, assim aleivosamente te houveste comigo, ó casa de Israel, diz o [YAHUWAH].... porquanto perverteram o seu caminho, e se esqueceram de [YAHUWAH] seu [Elohim]. Voltai, ó filhos rebeldes, eu curarei as vossas rebeliões." (Jeremias 3:20-22)
Participar de tradições pagãs, desonra o Criador. Volte para o seu Redentor amoroso.
"E que concórdia há entre Cristo e Belial? Ou que parte tem o fiel com o infiel? E que consenso tem o templo de [YAHUWAH] com os ídolos?... saí do meio deles, e apartai-vos, diz o [YAHUWAH]; E não toqueis nada imundo, e eu vos receberei." (2 Coríntios 6:15-17, ACF).
Saia do meio deles! Não toqueis nada imundo!
VOCÊ IRÁ sair?


---
Clique aqui para assistir ao vídeo!