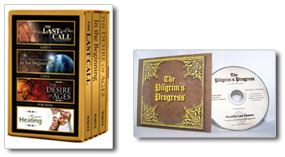 Each visitor who registers for WLC Community and confirms his/her STREET address, (no PO BOX address is accepted unless accompanied by an authentic phone number) will receive the now world famous 4-volume book set gift, which has a retail value of over US$ 55. The gift also includes FREE First-Class Mail delivery to anywhere in the world. While it is our intention to to make this free of cost, there may be custom duties or other charges imposed at the receiving end. Please note also that in many instances our free gift can take up to 12 weeks to arrive depending on location. We hope that many will take advantage of this priceless offer.
This set will take you on an amazingly detailed journey through the earth's history, starting from the creation, to the life of Yahushua (Jesus), travelling to the end of time and beyond. The books in this set have made the Bible come alive like never before for millions of readers.
Click here
to read members' testimonies about this remarkable book set gift
Click here
to read members' testimonies about
The Pilgrim's Progress
The four books in the set are: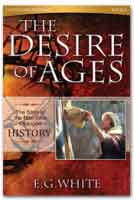 The Desire of Ages (528 pages)
Experts in the field unanimously agree that this is the best biography ever written on the life of Yahushua (Jesus).
The books starts with His birth, takes you through His childhood, His ministry, the judgement hall, the crucifixion, resurrection, and ends with Christ's ascension to heaven.
Here is an excerpt from the book that describes what Yahushua went through, "Satan with his fierce temptations wrung the heart of Yahushua. The Savior could not see through the portals of the tomb. Hope did not present to Him His coming forth from the grave a conqueror, or tell Him of the Father's acceptance of the sacrifice. He feared that sin was so offensive to God that Their separation was to be eternal. Christ felt the anguish which the sinner will feel when mercy shall no longer plead for the guilty race." Desire of Ages, page 753
Christ's ascension to heaven is beautifully described as this: "With hands outstretched in blessing, and as if in assurance of His protecting care, He slowly ascended from among them, drawn heavenward by a power stronger than any earthly attraction. As He passed upward, the awe-stricken disciples looked with straining eyes for the last glimpse of their ascending Lord. A cloud of glory hid Him from their sight; and the words came back to them as the cloudy chariot of angels received Him, "Lo, I am with you always, even unto the end of the world." Desire of Ages, page 831
The retail value: $11.99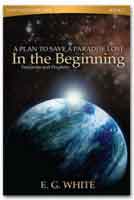 In the Beginning (591 pages)
How exactly did the universe begin? Who was Satan and why did he rebel? Why do bad things happen to good people? If YAH is good why doesn't He prevent sadness and heartbreak? These question and many more and answered with remarkable decisiveness.
Evil, you will discover as you read these pages, didn't even begin here on Earth. It is an unwelcome import from another part of the universe.
Few people today realize that the evil around us is visible evidence of a great war that has raged in the universes for thousands of years now. In the Beginning is one of the only books available anywhere in print that can reveal with accuracy and authority just how and why this great war began and who is behind it.
The retail value: $11.99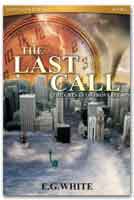 The Last Call (440 pages)
It is the most important book you will ever read after the Bible. The world is on a verge of a stupendous crisis. Here is the authoritative answer to the confusion and despair of this tense age. Revealing Yahuwah's ultimate plan for mankind. This book begins from where the Bible left off and takes you through history. Then finally pulls back the curtain on the future to show how it will finally end.
What The Last Call sees coming is not based on guesswork. It is based on a source of predictions which has never yet missed in its prophecies.
Few people alive today realize that this earth is the primary battle zone of the war. And few still know why the war is being fought and how and when it will end. After reading this book - you'll be one of them.
The retail value: $11.99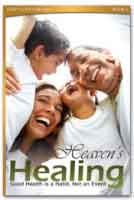 Heaven's Healing (48 pages)
It shares the only way to obtain Yahuwah's healing. It's a holistic, practical and comprehensive nutshell on how to get well and stay brimming with health and energy. You will be delighted to discover that Yahuwah often uses the simplest methods to bring about miraculous results. The principles in this book are indispensable if you want to get better and stay better. Heaven's Healing will save you and your family time, money, and may be even your life.
The retail value: $5.99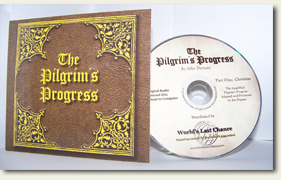 The Pilgrim's Progress (MP3)
World's Last Chance is very pleased to provide this MP3 gift of The Pilgrim's Progress (from this World to that which is to Come), an epic allegorical tale of Christian, the main character, whose journey thougt a world of sin, personifies the joys, trials, and tribulations of every Christian - namely You! There has never been a time more important than NOW for Yahuwah's people to become thoroughly acquainted with this work! Be taken away and immediately engulfed in this inspiring saga as you travel with Christian; learning lessons of spiritual victory as he struggles through the Slough of Despond, loses his burdens at the cross, and puts on the Armor of Yahuwah!The Pilgrim's Progress incites an overwhelming depth of courage, an exhilarating sense of adventure and wonderment, and ultimately serves to greatly strengthen our walk with Yahushua! This spiritual allegory imparts deep lessons and practical wisdom which will aid every End-Time pilgrim on their journey towards Heaven!
Written over 300 years ago by John Bunyan, a faithful Christian confined for 12 years in prison for preaching without a license, The Pilgrim's Progress is a spiritual classic! Other than the Bible, no other book has been translated into as many languages and it has never been out of print. Fully dramatized with 77 actors, sound effects, and music, this MP3 compressed disc will provide hours of spiritually uplifting enjoyment for the entire family!
Rip to your computer and play directly or download to CD's of an MP3 player. The retail value: $15.00
The total retail value of these Free Membership Gifts is $56.96! World's Last Chance will also process your order and ship it to you anywhere in the world ABSOLUTELY FREE!

PLEASE TAKE NOTE: Although WLC intends that all shipped items be made free to members, there may unfortunately be costs for customs, handling, delivery or other duties, fees or tips in your country which we cannot anticipate or prepay on your behalf.

Click here
to learn the benefits of joining
WLC global community
.
Please do not leave your mailing address, email address, or phone number in the comments section of any WLC page. When you are registering as a new member, you will be prompted by the system to submit your full mailing address within the registration form so that you may receive the free gift (if you so choose). Thank you. :) -WLC Team