Get out of her, My people!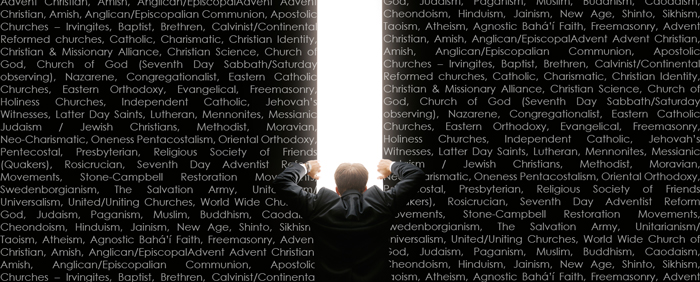 Sincere followers of Yah are loyal to the religion or denomination of which they are members. If they did not honestly believe that their particular religious organization had truth, they would not be members. However, Heaven's final warning sounds with alarming urgency: "Come out of her, my people, that ye be not partakers of her sins, and that ye receive not of her plagues. For her sins have reached unto heaven, and Eloah hath remembered her iniquities." (Revelation 18:4, 5)
It is easy to assume that the call to flee spiritual Babylon is for those in other religious bodies. Thus, many sincere believers work hard to convert others to their particular denomination. But the command to flee Babylon offers no exceptions. The Geneva Bible, a favorite of Protestant Reformers well before the King James translation, provides a slightly different word choice for this text. Slightly different, but with far-reaching ramifications: "Go out of her, my people, that ye be not partakers of her sins, and that ye receive not of her plagues." (Revelation 18:4, Geneva Bible)
This is a profound difference! "Come" is an invitation. "Go" is a command. It is precisely because "come" is an invitation, that most people miss the point of this divine command, which constitutes Heaven's final warning. They assume the passage applies to everyone else in other religions and denominations. Because they assume the command does not apply to them, they seek to convert others to their own church, inviting them to "come" and join still another organized religion or denomination.
The command to "Go!" is urgent. It implies a scattering that is missing from the invitation to "Come!" All organized religions, every single denomination, contains some degree of error. The presence of even one doctrinal error is sufficient reason to separate for Scripture describes the final generation as virgins: they have a pure faith. Their beliefs are free of error. (See Revelation 14:3-5.) Now, during the closing days of earth's history, while the eighth and final pope rules from the papal throne, all are to heed Heaven's last, merciful warning and separate themselves from any religious body that mingles error with truth.
The following links provide a partial list of the errors espoused by each group. All religions contain some truths because error by itself cannot stand. Thus, Yahuwah can reach each one where he is and lead him into the pure light of Heaven, unmixed with error. However, the Christian religion as a whole contains more truth than other religions. For this reason, it also has the most subdivisions within it. The following links cover the main errors of each religion, held in common by their various subgroups. Christianity's subdivisions are so numerous, some of them have been covered individually.
Click on a link for more information on why that religion or group is part of Babylon, to which no true believer will belong.