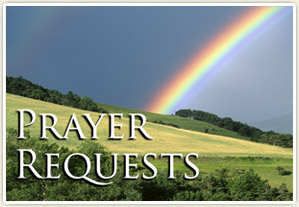 Faith is simple in its operation and powerful in its results. We believe that prayer is the key in the hand of faith to unlock heaven's storehouse, where the boundless resources of Omnipotence are treasured. We consider it a privilege to pray for you.
NOTE: Please read the prayer petitioners' guidelines, and send only 1 prayer request per week, unless it is an emergency.
To post a prayer request, you must first register an account or login. This is necessary to protect the community and the prayer board from being abused by spammers. We sincerely apologize for this inconvenience.
My eldest son Andrew needs a wife. She must be way out of his league but that she doesn't not feel that way, lest my son not listen to her, I need for her to be able to change my son into a godly man. May our God gift him a beautiful godly young wife, with blue eyes, intelligent, dainty, loving, faithful-forever to him, loyal, and of a small built but with elegance. Let her love me as a loving mother, let us gain a daughter. Let them be married for a lifetime, many years for them to behold together and be blessed with beautiful children boys and girls and NEVER to be molested by anyone. This is So URGENT. THANK YOU!
Misty Sparkles
United States, 2018-06-16 20:37:47

Dear WLC: I First of all want to Praise YAHUWAH for finding your ministry almost 2 years ago! We have learned more in the last 18 months than in my 57 years of searching for TRUTH. I ask for prayer for my aging mother whom I feel is suffering from dementia and many health issues. I need guidance what to do. My Sanctification and Salvation, as I want Victory over Self, and All Sin. I want to Die to Self and feel I am failing YAHUWAH and should be further along in His Holiness. Trying to finish papers for my Pension and frustrated in the LONG process over 6 months and finances are piling up! Salvation of my adult children! raised in church but living for world. My Marriage to grow in Yahuwah thru Knowledge of YAHUSHUA. Thank you ALL at WLC for Prayers and Ministry in YAHUWAH
walter whitehurst
United States, 2018-06-13 22:01:08

Please pray for me and my bosses family, I live with them as a babysitter and they desire to know truth but are having trouble giving up there old lives, they give me and my family the sabbath off, but don't keep it themselves, although they now they should keep it, they believe that as long as your praying to Yahuwah then it doesn't matter. the father who is fairly new in his faith is having trouble now that they have left the church, he also can't find the time to read the Bible on his own, so I guess I'm asking that you pray that He finds and makes the time to search through Yahuwah's word on his own, and that they have a desire to know the truth and build a relationship with Yahuwah, and please pray that I can help, and to know the right things to say to help them on their journey.
Theoren Mihalik
United States, 2018-06-12 14:01:52

pray for me and my daughter because time is winding up and I want me and here to be covered under god vail in time of need that is about to come.keep us covered and lead and guide us.thank you very much and god be with you.
Herbert Tucker
United States, 2018-06-12 11:27:11

Am facing financial problems. I have no income. My organization depend on Donor funds. Current I have no project funded. Am writing proposals but have not been able get one. We look after older people whose body function has been impaired due to ageing process and are bed ridden due to Non Communicable Diseases. Kindly pray for that I get clean fund from grant making organization on monthly basis.
Elisha Mwakinga
Tanzania, 2018-06-10 11:43:52

We need to rent our home out. I must leave our home furnished but we need to replace our furniture with newer furniture for the new renters. This is our home, but we must move. We live in a smaller town, so please pray that God brings buyers to us to buy all our older items, but in great condition. May we receive what we are asking for. We have the items listed at a great price. but I haven't got a call for our stove, coffee table, bread-maker, and sofa. Also, we greatly need finances for this move. My husband is a Military vet and needs back surgery, I am not sure how we are going to get things done. -Lord Help.
Misty Sparkles
United States, 2018-06-08 22:48:48

My first prayer request is for my own life in order that I may become active in God's service which I have failed him throughout my life due to my own selfish desires and now after just beyond 6 months of living without alcohol which came close to ending my life, I am still limited in leaving my home because of lack of transportation and health issues. I do pray each night and day for help at least for increase of faith as I await an answer to my issues. Last year I had a death wish and almost got my wish and am convinced it was an intervention from God that I am alive now. Yet as I await, I am losing faith and hope. I know there is a purpose for me and need help from above to live out that purpose. Thank you in advance.
Randy Trout
United States, 2018-06-05 00:48:15

Please pray for me to be loosed of my constant battle with negative spirits. I constantly battle knowing that the Father does love and care for me and that I am blessed regardless of my struggles. I am always feeling that I am not being accepted by the Father and I don't feel the indwelling of the Holy Spirit, I keep struggling with being like Yeshuah, I cant love others as myself when I don't love myself. I pray for compassion and acceptance of others but it doesn't come, I see the world as evil and corrupt and find it hard to be happy and loving. Please pray that I can be who the Father and Son want me to be just as I want to be.
Bruce M
United States, 2018-05-31 17:16:33

Please pray for our new open business Ocariza Customs Brokerage that Yahushua will touch the heart and mind of the incharge people we emailed and contact in offerring our business services and guide us in the right pathway.
Grace Ocariza
Philippines, 2018-05-31 11:50:31

Do you need 100% Finance? I can service your financial need with less pay back problem that is why we fund you for just 2%. Whatever your circumstances, self employed, retired, have a poor credit rating, we could help. Flexible repayment over 2 to 20 years.Contact us at: (
[email protected]
) Apply now for all kinds of loans and get money urgently! * Appointments in the amount ranging from 1,000 USD to 50,000,000.00 USD * The interest rate is at 2% * Choose between 1 and 40 years of repayment. * Choose between Monthly and annual repayment plan. * Terms and conditions of the loans flexibility. All these plans and more, please contact us. 1. Full Names:………………………. 2. Contact Address:………………….. 3. Loan Amount Needed:……………….. 4. Duration of the Loan………………. 5. Direct Telephone Number:…………… 6.Loan Duration:…………………….. Email: (
[email protected]
) Best Regards, Mr. Favour Henry.
Favour Henry
United States, 2018-05-28 03:22:50

Please pray for my Wife of 45 yrs. that she would be healed of being paralyzed on her left side, due to a stroke she had a 1 1/2 ago. She has expressed her desire to be able to read the Bible again as she did before the stroke. She would also like to come home soon. She has been in a Nursing home for the last year and half. We BOTH are looking forward for the time we can be together again. Please pray for both of us
Thomas Spears
United States, 2018-05-28 01:38:25

Greetings, I have a prayer requests. #1- Finances #2 - Rent our home to someone who is responsible and that the rent covers the mortgage/services. #3 - Oldest daughter would stop hating me. #4 - That our children would unite in brotherly love. Thank you! Kind regards, Misty
Misty Sparkles
United States, 2018-05-24 15:26:27

I used to copy Mr. Luke request because my English is not good I'm struggling too to believe the whole name and luni-calendar thing that you believe. I want you to pray that God will reveal to me if they are true or not. God bless.
Kareem Tony
Sudan, 2018-05-24 12:51:42

Dear brothers and sisters please pray for me, I need your prayers to find the right way to be closer to God
Kareem Tony
Sudan, 2018-05-24 12:45:36

I'm struggling to believe the whole name and luni-calendar thing that you believe. I want you to pray that God will reveal to me if they are true or not. God bless. Sincerely, Luke
Luke Smith
United States, 2018-05-23 14:23:15

pray for me ..to get wisdom
A AndakondaRAmudu
India, 2018-05-22 04:43:12

just want great wisdom and understanding for all aspects in my life to continue on this journey through this sinful world until that day of the Lord return.
kris hill
United States, 2018-05-18 18:32:18

Greetings, please pray for am suffering from morbid obesity and financially struggling. I know the power of your heartfelt prayers because I saw my prayer request back in 2011 come to an answer. Kindly pray for me on these two requests, that's all I ask of the Lord for now.
Daniel Nkandela
Zambia, 2018-05-18 13:13:42

i need a job. i had a bad divorce and have a criminal record. I was recorded like MEL GIBSON. it was about 16 years ago. I was disability for stress Now I am social security. i seem to isolate and drink thank you for your prayers to help me make the right decisions a couple of good friends alon the way would be nice Jim
james Tilton
United States, 2018-05-15 19:29:46

Hi all, please help to pray for my family again Im asking your heartfelt prayer to Yahuwah for our financial problem seriously, we are hoping that miracles happen to our brokerage and my husband job and also my online shop selling that may He blessed us and stronger our Faith to Him.
Grace Ocariza
Philippines, 2018-05-15 08:44:05

Lord help me to know my purpose in life and feel at peace with in myself and heal me and my husband for health and marriage. Lord I what to do something that will make a difference in a good way help me to find it,,I need healing Lord
gretchen starika
United States, 2018-05-13 05:52:11

Dear Brother and Sister in faith, please pray for my family. Me and my husband is now suffering financial crisis and need your kindness to include us in your prayer. Specially, that my husband will be promoted as a regular employee in the government that he is working today, and also that we can find a client in our Custom Brokerage business which is just starting for us to pay our debts in the coop and the home credit. And also for the good health of my family and to strengthens our faith in our Saviour. As Jesus said: Call to Me, and I will answer you, and show you great and mighty things, which you do not know. Jeremiah 33: 3 --To God be the Glory forever.
Embercasey Ocariza
Philippines, 2018-05-09 03:42:07

Dear brethren i greet you in the Mighty name of of my personal saviour Yahushua Anointed, please pray for my brother and my wife to find a stable job and for me to bless my cv to be able to find a job. The faith of Yahushua is given to us as a gift and we have to accept it by faith and i know that our Heavenly Father is safe to trust always and He knows what our heart desires and He will provide to us. I pray that we will be strengthened by the Holy Spirit of YAH and it will guide us to all the truth and comfort us in all the challenges that we we are facing. I pray in the might name of Yahushua Anointed, let everything that have breath praise Yahuwah Amen.
Rolivhuwa Raphulu
South Africa, 2018-05-07 14:26:02

Uneori mă întreb oare mai există cineva ca Tine ? Și tot eu îmi răspund,nu numai există nimeni...Tu,ești Alfa și Omega,Tu ești începutul și sfârșitul,Tu ești unicul Elohim la care noi ar trebui să ne închinăm,și să ne plecăm genunchii cu smerenie și cu umilință...Numele Tău înseamnă Iubire,iubire pe care noi cei de pe pământ puțin o înțeleg,puțini o trăiesc,puțini o caută,dar și cei ce o găsesc nu mai vor să se despartă de ea niciodată... Ne simțim atât de mici și atât de slabi în comparație cu Tine,Tu ești măreț și puternic,Tu cunoști totul,și știi orice,Tu vezi totul,și nu ai nevoie de niciun ajutor...Cei care Te slujesc o fac din multă dragoste pentru Tine, fără să fie forțați să facă asta... O! Tată! nu am cuvinte să-ți mulțumesc cât de multe faci Tu pentru noi,nu am cum să-ți mulțumesc...că ești Elohimul nostru...Ajută-ne acum când îți cerem ajutorul eu și frații mei care sunt pe acest pământ...Nu-Ți întoarce fața de la noi..noi credem în promisiunea Ta,pe ai rostit-o din înaltul cerului...că vei avea grijă de acei pe care i-ai hotărât Tu să Te urmeze... Noi am dori ca toți ai noștri pe care îi iubim atât de mult să fie aleși e Tine... toți oamenii de pe pământ dacă se poate...dar suntem conștienți că nu se poate așa ceva...Dar speranța că ei vor fi cu noi prin rugăciunile și postul nostru,care se înalță la Tine...este că Tu...Te vei îndura de ai noștri și vei face o minune... Tată, inima noastră este rea,este ca o piatră,nu simte că trăiește,nu se simte liberă,se simte în captivitate pentru că nu știe să Te cunoască pe Tine.Suntem beți fără alcool,suntem amețiți și ne clătinăm pe picioare,cu toate că mergem drept...suntem amețiți și nu știm încotro să o luăm.... Părintele nostru drag și scump,în loc de inima de piatră dă-ne o inimă de carne,dă-ne o inimă plină cu iubire și bunătate,iertătoare ,înțelegătoare,față de semenii noștri...Dă-ne o inimă plină de iubire,față de Tine Tată drag, să trăim cuvintele Tale,să le punem în practică,ca semenii noștri să vadă ce Minunat Tată avem...Și cât de mult iubește pe copii care se reîntorc la El... Tată la început mi s-a părut coincidență că de fiecare dată după Sabatul Tău cel sfânt sau Luna Nouă se întâmplă câte o nenorocire,acum încep să cred că nu mai este,pentru că se pare că Satana vrea să te denigreze din ce în ce mai mult....ascunzând adevărata zi de odihnă pe care Tu ai lăsat-o de la întemeierea lumii, se joacă cu viețile copiilor Tăi ca cu niște jucării....Te rog ! nu îi mai permite asta...mor atâția oameni,sunt atâția răniți,oameni care nu mai au nimic,care au pierdut tot....fi-Ți milă de de ei Te rog,dă-le discernământ să înțeleagă că dacă vin la Tine,Tu îi vei proteja,îi vei ierta și iubi și-i vei lua în brațele Tale... Te laud Tată pentru că numele Tău Yahuwah este unic și minunat...Te laud Tată pentru că ne-ai iubit atât de mult încât ți-ai jertfit pe unicul Tău Fiu Yahushua pentru iubirea ce o porți pentru noi,Te laud Tată pentru că atunci când avem nevoie de Tine,și Te strigăm Tu zici:,, Iată-mă,,....Te laud Tată pentru că ne dai hrană în fiecare zi,Te laud Tată pentru că atunci suntem ispitiți Tu ne trimiți ajutoare să ne întărească.Te laud Tată pentru că ești Elohimul nostru alegându-ne pe noi să fim copii Tăi...Te laud Tată pentru că ești atât de iubitor față de noi...Te laud pentru tot și pentru toate... Mărit să Fi Yahuwah împreună cu Fiul Tău iubit Yahushua în vecii vecilor Amin!
ena elena
Romania, 2018-05-07 04:29:38

pray for my family member struggling with drug addiction. He is spending the family's money on it. they are in financial crisis because of this . his wife stays at home with their 7 month old. they also have a 17 year old. he has been doing this for so long it has caused his wife so much heart ache and fear of what's next.
Rachel Branan
United States, 2018-05-05 13:20:52

Hi brothers I'm in financial crisis real troubles with banks my debits exceeded $20000 and this Saturday I will loose my accommodation and the banks will sue me I'm new I don't know which prayers I have say pray for me, may Jehovah be praised
Kareem Tony
United Arab Emirates, 2018-05-02 11:31:12

Please I need prayers for my children to be protected...daily
Cece Gladue
United States, 2018-04-27 10:08:19

I feel like crying but I am so Happy to find and join this site..
Cece Gladue
United States, 2018-04-27 08:48:50

Asking Yahuwah for peace and strength, for my health He knows my needs. In the name of my lovin Saviour.
Mary Ellen Cuneo
United States, 2018-04-21 22:53:48

Dearest Yah.. I ask that you use me as our vessel to help teach and lift my brothers and sisters. Teach me deeper humility and reveal signs to me please to show me the way. Thank you my father.
Nigel Claus
Australia, 2018-04-18 05:07:27