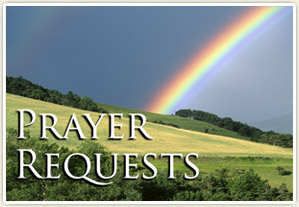 Faith is simple in its operation and powerful in its results. We believe that prayer is the key in the hand of faith to unlock heaven's storehouse, where the boundless resources of Omnipotence are treasured. We consider it a privilege to pray for you.
NOTE: Please read the prayer petitioners' guidelines, and send only 1 prayer request per week, unless it is an emergency.
To post a prayer request, you must first register an account or login. This is necessary to protect the community and the prayer board from being abused by spammers. We sincerely apologize for this inconvenience.
healing for family member.
Michaelle Allen Ella
Philippines, 2017-02-25 02:55:50

grace of transformation of my husband, kids and financial.
Michaelle Allen Ella
Philippines, 2017-02-25 02:50:23

Grace for transformation in business
odaibankss anang
Ghana, 2017-02-23 01:01:31

I know that I have put myself in this position of financial debt over a man I haven't even met but online since a year and couple months ago and it was on a dating sight and I am ashamed that I trusted him to send him money and now I don't know where I put myself in debt and don't know if I will ever get my money back, i still talk to him and now he proclaims his love for me but I am confused and what i am asking for me is to pray for me that his love is true and he finally meets up with me to pay me back all the money I foolishly sent with in the year and God forgives me for my actions in this relationship and pray that I learned my lesson well and move on.
Mary Dixon
United States, 2017-02-18 09:40:14

PRAY FOR MY FAMILY MEMBERS AND THOSE WHO ARE IN TROUBLES AND GIVE GOOD LIFE
MUPPASANI PRABHAVATHI
India, 2017-02-17 23:28:09

GREETINGS BRETHREN, I AM GLAD THAT I AM PART OF YOU KNOW. PLEASE PRAY FORM ME I HAVE A PROBLEM IN MY THROAT I HAD AN ENDOSCOPE AND THE TOLD ME IT WASN'T CANCER BUT MY THROAT IS SO NARROW TO THE EXTENT THAT I CAN NOT SWALLOW FOOD. I HAVE TO MASH EVERYTHING I EAT INCLUDING TABLETS, I CANT EVEN SWALLOW A CAPSULE HOWEVER SMALL IT IS i TAKE LONG TO EAT BECAUSE FOOD OR ANYTHING CHOKES ME. THE THROAT IS ALWAYS PAINFUL PLEASE PRAY FOR ME I NEED DELIVERANCE. THANK YOU FLORENCE
NKWANGA FLORENCE JUSTINE
Uganda, 2017-02-17 06:40:44

Help me pray that I may find other like minded people to have fellowship with here in South Carolina or near by. I feel so alone!
Nicole Coopala
United States, 2017-02-14 05:46:12

Please pray my family for a home thank you
Cora Garvey
United States, 2017-02-11 16:07:39

please help to pray for my family to know the truth which is we are devoting to go to church every saturday, but after knowing that the true sabbath is start with the new moon or basing the Luni-solar calendar i started to confused and now doubtful and need a peaceful mind and the truth. thanks
grace ocariza
Philippines, 2017-02-10 07:25:06

please help pray for my friend michael casinilio he is now in the hospital suffering of a mild coma and has been admitting 2 weeks. Please pray that God will heal him. God bless.
grace ocariza
Philippines, 2017-02-10 07:09:58

Please pray for me, ask the creator to give me a home, job, heal my illness and give me a spouse
Anderson Aparecido Oliveira Brito
Brazil, 2017-02-07 07:48:36

Please help me pray for good health and healing. Ive been diagnose having ESL Lupus since March 2015 and till now is still on medication. The last three years ha been difficult for me and my family financially. I have a hard time coping with our finances especially with high maintenance of medicines for my Lupus. Now I am afraid because my son is showing symptoms of Lupus too. I am afraid but I entrust everything unto Yahuwah who is our great healer and father. I pray for strength and wisdom that I may be able to do what is right in this times of trouble. May Yahuwah guide me and showed me a way to resolve our finances. May Yahuwah grant my prayyers that I may be able to go back to work again online as a writer - or any other work online so I can again earn for me and my kids to survive. Yahuwah, you are our great provider and I pray that you will provide an opportunity or open opportunity for me that will answer our financial problems. More so I prray for good health for my whole family and me. I just lift up everything to our great Yahuwah, amen.
lelani Sturdevant
Philippines, 2017-02-04 07:06:29

Shalom Brother... please pray for my husband Vishal..he suffering diarrhea from yesterday very badly..and we have facing lost of financial problems specially my husband vishal..please pray for him to recover soon frome this diarrhea..and for our baby Shon also..Thank you...
Rashmi Vijay
India, 2017-02-03 05:53:20

Please will you remember me in your next prayer. My name is Janni and live in Denmark, I´m a former Jehovah's Witnesses, I left the organization watchtower in 1986, I was 16 years old at the time. Left on the street to sleep on a bench. Lost all my friends and my family. I got on my feet again found a place to live. I have the last 30 years of my life searching for God's truth, but I was indoctrinated to all religions and faiths are false. I have learned that one must not read and study the Bible alone, then satan let us misfortolde scriptures. I would never like outcast, ever in my life without Jehovah's witnesses Bible Society, achieve to understand the word of God and I was satan´s disciple, they said, "if you do not eat of Jehovah´s table, you eat of satan´s table" "you're dead in our eyes ". Now I started reading the bible again. I can find my way around the scriptures and know them by heart. Something is changed for me, I see them with new eyes, a new understanding is revealed to me, now I see how wrong it is not to search for a private relationship to Yahuwah through Yahushua. I pray every day many times for wisdom and strength. Then vlc came on my screen and I have seen most of the videos. I found it, I´m not alone, I´m not alone, I am not alone. You are out there, my first thought: " few are these who find the way". I thank Yahuwah for you. I´m about to leave Babylon, I live in my household with a Muslim husband for 27 happy years of marriage and 4 children. He will not let me study the bible, he wants me like not religious, like the last 27 years. I have prayed for a solution so I can keep the sabbath and study the bible. All I find is "leave Babylon" "who loves their children more than Yahuwah is not Yahuwah worthy" "remember Ruth" and so on, and so on. Please remember me in your next prayer, I would love to get my husband to accept me praying and reading the bible and keeping the Sabbath. He also need to accept the new light I get from Yahuwah when the times come. If not a change in his heart, I need to leave Babylon and children. I´m Searching for a new place to live alone so I can devote my life to Yahuwah and Yahushua. Thank you my brothers and sisters. Greetings from alone in Denmark Janni
Janni Özkan
Denmark, 2017-02-02 18:24:39

i pray for Grace for promotion
odaibankss anang
Ghana, 2017-01-30 00:48:40

Please pray for me in my search for a job. I am becoming frustrated, especially since its difficult to find a job that will honor my request for certain days off so that i may honor Gods luni-solar calendar. Thanks
Michael Beaver
United States, 2017-01-24 15:33:34

Emergency - I am submitting this prayer request for Sean who yesterday, attempted to take his life by px. drug overdose. He is now struggling in ICU with lethal levels of potassium and creatine levels. He is diabetic - and just lost his father to stroke one year ago. I have prayed, asking for Yahuwah to stabilize his blood levels and to help him to recover enough to hear Yahuwah's promises ... Thank you
Debra Scofield
United States, 2017-01-23 19:08:52

please urgent pray for my family..Our neighbours is not good for us they behave like satanic people..Actual satan working through them and threatening us..so please please pray for us and let them leave from here...shalom
Rashmi Vijay
India, 2017-01-18 11:13:41

Unspoken prayer and a house
Martin Thomas
United States, 2017-01-17 12:27:22

please pray for my family as well us our relationship to each other and to have a strong relationship with Gods in good times and in badtimes. And also for our health specially to my brother Gibson who found out that there is a " bukol" grow in the upper of his tummy. I need your prayers for him that this will disappear in his body and let God heal him. Please also to pray of my husband that he can find a good jobs which salary income is enough and can also help to other people who needs also a help financially. last thing is we are planning to build a business need your prayers that we can decide soon what business is the best that can't affect our faith in Gods and my relationship of my family and friends. We are praying that God will bless us and guide us always and protect us in any temptation and bad spirits and bad people around us. Thank you so much also for all your prayers. May God bless you also.
grace ocariza
Philippines, 2017-01-14 08:23:35

My prayer request is for my mother who is 82 and was recently diagnosed with ulcerative colitis, diverticulitis, and now after undergoing a colonoscopy she now has a hole in her colon and bladder which is allowing fecal matter into her bladder. She is a non believer and needs Yahuwah and Yahushua. Please pray for her physical and spiritual healing. My other request is for mine and my wife's friend "snoopy" our beloved cat. Snoopy has just been diagnosed with stage 2 kidney failure. We are doing our best more than before to aid him in his diet. Please pray for complete healing for Snoopy.
joe capps
United States, 2017-01-12 18:35:56

I have a prayer request for my children. They need Gods help. Thank you and Bless you all.
Karen Redding
United States, 2017-01-09 23:29:05

HalleluYaH forevermore -prayer for strength for me and my family to be found doing the Fathers Will both now and forevermore - all in the name Yahushua
Kendal Deck
United States, 2017-01-08 16:05:20

Hi. Thank you for your support in prayer. Please pray for a new living situation for me. A place to live that is free from smoking, television addiction and any form of addictions. A healthy environment and the funds to support the living in order to serve our King of Kings. Please also pray for humility among our nations leaders and the transition of our United States leadership to happen in a humble and King of Kings honoring way. Restoration of relationships too and the blessed walk to be an honest child of the Most High where ever I go, may I serve Him well. Bless you all. Thank you.
Deborah Kemper
United States, 2017-01-07 18:39:13

Shalom Brother.. Please pray for my 9 month baby Shon..he have very badly loose motion..and not taking feeding also so please please pray for him for healing..
Rashmi Vijay
India, 2017-01-07 01:40:37

Pray that my masturbation addiction will be gone forever after so many years and that my friends and family will come to the truth of Yahuwah. May the glory be with Yahuwah always.Amen! Thanks for reading this.
Jason Ho
Singapore, 2017-01-05 17:58:37

I pray that Susan Elizabeth will find alorica@home .com and get employment that will cover her financial needs
Susan Miller
United States, 2017-01-05 17:12:14

I need your prayers my beloved brethren. Pray for Yahuwah to uphold us and not to allow us to be found wanting during this close probation period. That we should grow from faith to faith.
Esther Christian
Nigeria, 2017-01-05 06:23:24

I am fighting my generational curse of lust and pornography, please pray that I completely overcome this. Thank you
Joseph M
United States, 2017-01-01 18:43:34

Pray that I'm Able to endure trials I decided to go another way or belief contrary to the world for the Truth. Please help me overcome beseting sins. Pray I be blessed and have a sound and sober mind with love. Also one thing pray I found a virtuous wife found in Proverbs 31, Please pray fervently thanks and Yah(Elohim)bless you all!!!
Durell Thompson
United States, 2016-12-31 07:27:32