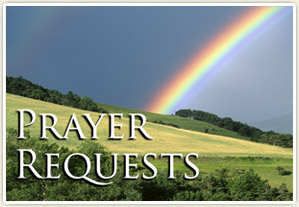 Faith is simple in its operation and powerful in its results. We believe that prayer is the key in the hand of faith to unlock heaven's storehouse, where the boundless resources of Omnipotence are treasured. We consider it a privilege to pray for you.
NOTE: Please read the prayer petitioners' guidelines, and send only 1 prayer request per week, unless it is an emergency.
To post a prayer request, you must first register an account or login. This is necessary to protect the community and the prayer board from being abused by spammers. We sincerely apologize for this inconvenience.
I pray for the poor and needy folks all around the world, and that people will wake up to the deceptions of these so-called holidays.
Glenn Robinson
United States, 2019-12-07 05:39:52

Pray for my SDA church, I have been trying to share with them information regarding EGW white being a false prophet, they are truly good people who are deceived it breaks my heart to walk away from them without trying to save them. Pray that the holy spirit be with me showing me the words to say in order to reach them. Also help me win over my first soul for Christ.
jason freeman
Canada, 2019-12-02 20:32:00

I pray that Yahuwah forgives me all the sins that I have committed agaist His devine LAW and the true love HE has shared for me since I found the true sabbath of the bible, and also save me from my besseting sins. I surely need HIS strength to carry on to the path of righteousness today and forever in Yahushuas name ....HALELUYAH
Kas Kwabena Antwi
Ghana, 2019-12-02 08:55:22

This is an emergency prayer    Please pray for me. I want to get rid of sin, I know I should keep the Sabatth but I can't do it, I want a heart longing to please Yahuwah. Pray for the guidance of the holy spirit of Yahuwah, I long to keep the Sabatth even though I know I would have trouble keeping it.
Nhut Quynh Tran
Viet Nam, 2019-11-30 20:13:35

Please pray for fast recovery of my two grandchildren and their friend and anyone else involved , twins at 16 , both in hospital after traffic accident , broken bones and Yah knows what ...
Lars Rasmussen
Denmark, 2019-11-30 05:54:48

Prayers for the peace of Jerusalem; and that people will wake up and start walking away from the madness and start to follow Christ. He is the only way out of this chaos.
Glenn Robinson
United States, 2019-11-23 11:42:46

I want to lift prayer for the World's Last Chance Team that all of you will be granted wisdom to successfully make it to Yahuwah's Kingdom, to be granted wisdom to help others to be in the kingdom that none of the World's Last Chance Team to be lost. And to be successful in preparing a people for the Savior Yahushua's Return. That Satan's efforts to destroy World's Last Chance Team will be defeated in their individual lives and communion with Yahuwah and Yahushua. I intend to keep World's Last Chance Team and Members including myself will be saved if we cooperate with Yahuwah. And nonmembers of World's Last Chance that go on the website like members but aren't for their own private reasons. May all of us cause Yahuwah to sing with joy for eternity the accomplished mission of World's Last Chance.
Tony Bruni
United States, 2019-11-23 02:17:29

Yes I would like to thank all the people who prayed for me and my wife who had cancer, she is cured of cancer now! We followed Yahushua and his ways for healing and he rewarded us with healing!!! Praise the mighty name of Yahuwah and Yahushua! And for his praying saints! I am praying for you now! Yahushua Bless You! And I didn't just start praying for you, I have been praying for a long time! For you, I love you dear brothers and sisters, and we will make it if we don't give up! Never give up!
peter chavez
United States, 2019-11-19 01:28:22

I request prayers for my daughter Kerry Ann who has submitted her request for visa in Belgium. She has been in cohabitation for 3 years and now it's over and would like to move on.
Peguy Evariste
Mauritius, 2019-11-17 12:36:38

I have some mental problems and currently unemployed. I do not wish to be rich, but I don't want to be a burden to my family... I pray that I follow Christ faithfully without blaspheming him or tainting his name and I pray for my brothers and sisters who are afflicted and are persecuted in the name of Christ. May God forgive my sins and those of others...
Min Kim
Canada, 2019-11-17 01:53:25

Requesting prayers for healing. Suffering vertigo with unknown origins.
Rhia Drouillard
United States, 2019-11-11 23:03:57

Invata-ma si ajuta-ma, Yahushua! "Ajută-mă, să le pot spune celor puternici, adevărul în faţă! Să nu mint, doar pentru a câştiga aplauzele celor slabi! Dacă-mi dai bunăstare, nu-mi lua fericirea! Dacă-mi dai putere, nu-mi lua mintea! Dacă-mi dai succes, nu mă lipsi de umilinţă! Dacă-mi dai umilinţă, nu mă lăsa să-mi pierd demnitatea! Ajută-mă, ca întotdeauna să văd şi reversul medaliei! Nu mă lăsa, să-i învinovăţesc pe ceilalţi, doar pentru faptul că nu gândesc ca mine! Învaţă-mă să-i iubesc pe oamenii, aşa cum mă iubesc pe mine însumi! Învaţă-mă să mă judec, cu aceiaşi măsură cu care-i judec pe ceilalţi! Nu mă lăsa să alunec în orgoliu, când sunt biruitor şi nici în disperare atunci când mă prăbuşesc! Mai bine, aminteşte-mi că durerea prăbuşirii este experienţa care precede biruinţa! Învaţă-mă că, chiar dacă trebuie să sufăr, trebuie să merg înainte! Învaţă-mă că, chiar dacă vor fi mereu decepţii, trebuie să nu-mi pierd încrederea! Învaţă-mă că, A IERTA, este cel mai important lucru pentru un suflet puternic şi că răzbunarea este semnul primitiv, al celui slab! Dacă îngădui, să vină peste mine furtuna, dăruieşte-mi speranţa! Dacă-mi iei biruinţa, dăruieşte-mi puterea de a trece peste înfrângere! Daca voi greşi cuiva, dă-mi curaj să-mi cer iertare! Dacă-mi va greşi cineva mie, dă-mi bunătatea ca să-l pot ierta! Şi Yahushua, dacă se va întâmpla, ca eu, să uit vreo clipă de Tine, ***Te rog frumos, Tu să nu uiţi de mine!***
ena elena
Romania, 2019-11-10 05:03:30

please pray for my business starting
jose maximuse thaya
India, 2019-11-02 20:00:18

I need your prayers. Help us here. Me and my friends who walk in The Way, Truth and Life and choosing the lonely road. Help us to find a job that is worth keeping that we may be allowed to have our day offs in appointed holy days, or start up a private business with ourselves. In Yahushua's name we humbly ask for your prayers.
Rey Gacasan
Philippines, 2019-10-31 04:10:35

I want to request a prayer for healing! I have been suffering from type 1 diabetes for last 17 years! My blood sugar levels are not under controlled even with taking medication! I know Yahushua saves! I don't like to live my life with this demonic disease anymore! Please pray for me? Thanks! Subha
Subha Wanniarachchi
United States, 2019-10-20 15:43:13

Am nevoie de rugăciunea voastră iubiți frați și surori. O soră în Yahushua draga mie ,este foarte , foarte bolnavă...și are nevoie disperată de rugăciunea voastră...V-aș ruga din tot sufletul, atunci când puteți și vă aduceți aminte să vă rugați pentru ea... Yahushua a spus:,,Din nou, adevărat vă spun că, dacă doi dintre voi se înțeleg pe pământ în privința oricărui lucru pe care doresc să‑l ceară, le va fi dat de Tatăl Meu Care este în ceruri. Căci unde sunt adunați doi sau trei în Numele Meu, acolo, în mijlocul lor, sunt și Eu! Matei 18 :19,20. Vă implor să vă rugați pentru ea... Yahuwah să vă binecuvânteze!
ena elena
Romania, 2019-10-20 05:38:45

Hello, First of all, praise to our Father in heaven, Yahuwah, whose will be done, on Earth, as it is in heaven. We are living in a truly wicked world and I do believe the end is near (signs everywhere...). I believe all true believers are afflicted by the wickedness of this world and I pray that they all find strength in Yahushua to go through all this. My eyes were opened recently to the spiritual wickedness of this world and it has been extremely difficult for me lately. Many are still blinded and deafened to the words of God and I pray that people find the truth as soon as they can, as the time is short. Also, in this world, I find it difficult to connect with true Christians and I feel very isolated. So, pray for me that I could connect with my fellow Christians so that we may be able to help one another. Thank you and I will pray for you David Hill, Scott Robertson, Ugochukwu Nwanguma, etc... everyone on this page. God bless you all and don't give up! In the name of Yeshua, Amen. P.S.: John 3:16, in your time of trials and tribulations, remember that God's only begotten son has suffered along with us.
Min Kim
Canada, 2019-10-07 06:35:41

I thank Yah for all, I also pray for marriage guidance. (true future soul mate)
Frank Acheaw Boampong
Ghana, 2019-10-06 09:54:07

Please pray for me my health has been on a slow downward spiral I've had to quit a job because of my health I can no longer do physical work I become severely out of breath I have had to go to the emergency room recently because I don't have any insurance and they say it's COPD chronic obstructive pulmonary disease I'm having a hard time getting around at home so any prayers wll be a blessing greatly appreciated and please pray for my wife also it's been a lot on her she's a wonderful supportive wife and I'll keep reading and studying Scriptures daily with prayers to my heavenly Father Yahweh in the name of Yeshua Amen
David Hill
United States, 2019-10-01 20:52:02

I'm requesting as much healing of this vessel I occupy at this moment. After a near death experience and a heart attack shortly after that, then pharmaceuticals have destroyed my brain and autonomic nervous system functions. I have been deep in studies to understand medical, words, and things in the spiritual world to heal, but as the Divine Creator God of all things has not said it time to heal, I'm asking for as much help as I can get, I'm open to receive healings on every and all levels that is possible at this moment. Love and Blessings to all that are working to bring my healing to a close Scott Robertson Thank you, together we will change the way of life on this planet for all to enjoy life once again.
Scott Robertson
United States, 2019-09-22 12:23:54

Please pray for my wife for supernatural healing in her body (waist, legs and lower abdominal pains), which started since last week. I have prayed for her but still need spiritual back up under a corporate faith and anointing. Also I need God to heal my friend's wife whose husband slept in the Lord on the 10th Sept, 2019. She has not recovered from the shock, as her husband left at 42yrs. Thank you and God bless.
ugochukwu Nwanguma
Nigeria, 2019-09-20 11:50:22

Please pray for my health I'm having issues with my neck and my left foot also having trouble what's my breathing so please I'm requesting a prayer I'm having issues at work related to my health and of course with my family I seem to be angry all the time please pray for me thanks
David Hill
United States, 2019-09-18 21:52:52

I am trying to restore a broken relationship. I would appreciate prayers and any guidance that might be available.
Deryll Hughes
United States, 2019-09-17 22:33:47

Please pray for Patrick Hume to overcome severe verbal, emotional, mental and physical abuse. He has had his head knocked a couple of times. No doubt he needs healing in brain too. Healing for his broken heart. Infilling of the Holy Spirit to OVERFLOWING. Also prayers for Nichola Ehlers (this is his sister) for the same things. Thank you.
Jeanie Greenwell
United States, 2019-09-16 00:27:42

Please pray my wife and I, her name is Kimberly. My prayer request is for her and I to be overcomers of sin like it talks about in the book of Revelation. Pray for Yahushua to give us the power of the Ruach ha'qodesh to overcome all sin and that we will know and follow the Truth. We want everlasting life on the new earth and to be with Yahushua and Yahuwah.
Armond Renezo
United States, 2019-09-15 18:44:44

a prayer for a stable job
charles mwaniki
Kenya, 2019-09-13 09:31:31

I been waiting 15_years to discover all my question upon my head .and then I I found my question but still a question ..now I was 25 years old but theres only one question that I couldn't understand why iam just like a flower base without a flower or a tree without a fruit my question started before i was a kid like a 6 years old and my first question is what happen if a human body died idescover something before that before I was 6years I dream about yhwh I told it about to my mother but he did not understand about it isence about his action and then I wait that name hi siad iam who iam and then suddenly disappeared
Julius Rey Oporto
Philippines, 2019-09-09 13:09:52

What is all about to be a human ??
Julius Rey Oporto
Philippines, 2019-09-09 12:45:45

Please pray , that I will keep Yahuwah ' s ways first , that I will be subservient to his commandments , and then he will be pleased with my change
Lars Rasmussen
Denmark, 2019-09-09 07:17:36

Pray for my family's passion fruit garden to have a high price, lots of fruits and no sickness. praying for my father not to commit adultery, not to assault my mother and not to break money. pray for my father to help me earn a living, not rely on my mother and love my family, do not set up a black fund, do not listen to misleading people but listen to my wife and children
Nhut Quynh Tran
Viet Nam, 2019-08-30 07:11:06