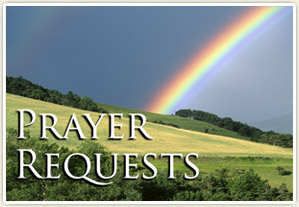 Faith is simple in its operation and powerful in its results. We believe that prayer is the key in the hand of faith to unlock heaven's storehouse, where the boundless resources of Omnipotence are treasured. We consider it a privilege to pray for you.
NOTE: Please read the prayer petitioners' guidelines, and send only 1 prayer request per week, unless it is an emergency.
To post a prayer request, you must first register an account or login. This is necessary to protect the community and the prayer board from being abused by spammers. We sincerely apologize for this inconvenience.
I am asking for prayer for us as we both have health issues my wife Olga was found to have cancer for about eight months now she is doing her gerson therapy which is essentially the eight health laws I am retired and also diabetic and also have kidney problems my wife Olga had to quit her job and has no insurance I have medicare but doctors are from Satan anyway my wife needs medical tests and they are expensive I am paying for everything right now and things are very tight with money I know Yahuwah is faithful and I pray everyday and read my bible but would appreciate some prayers from you as well! God bless you for what you are doing! I am so happy to have found Yahuwah!
peter chavez
United States, 2017-03-23 13:25:13

After many years of searching and misguiding, I finally received the blessing of JAHUWAH in these revealing times. I am a little lost on this site, I seek my bearings. Pray for me as I pray for you. The strength of prayer unites us and protects us that JAHUWAH bless you.
Jean-Claude Folie
Belgium, 2017-03-19 22:25:14

i want to come out of all my money problems
mamtha s
India, 2017-03-16 08:01:11

I want God to make a candidate of heaven, full of righteousness and sanctify for master use
KUFRE UDO
Nigeria, 2017-03-15 17:27:30

Am venturing into self employment so that I can be free to serve in the ministry. This comes with lots of mixed feelings, including the fear of unknown and lack of courage. Please pray for me to get a breakthrough and to be able to earn a living.
KARUGA MARIGA
Kenya, 2017-03-15 04:24:41

I am asking for the community of God to cure my craving for alcohol which I had quit for 6 years but then slipped back last year. It has not been as bad, but I am afraid of what may come. Thank you.
Khutso Nkadimeng
South Africa, 2017-03-15 03:18:41

I ask you to pray for me, for the creator to give me a job, a companion, to cure my illnesses.
Anderson Aparecido Oliveira Brito
Brazil, 2017-03-14 08:44:01

All Praises to the Most High Power, Yahawah! My prayer request is that the Father would show me ways to earn a living so that I can honor His Sabbaths, new moons and feast Days. Also that I would be linked up with like minded believers so I can fellowship on those days with others.
Donna Lambert
United States, 2017-03-13 17:50:53

Cât de minunate sunt căile Tale Stăpâne Creatorul meu.Cât de perfect ai făcut natura,fiecare își știe locul ei,fiecare are o sarcină pe care trebuie să o îndeplinească.Oare noi oamenii,de ce nu putem să ne îndeplinim sarcina pe care ne-ai dat-o?Pentru că sarcina ta nu e grea și nici complicată așa cum tind unii să creadă.Tu nu voiești decât să fie Iubire,ca oamenii să se iubească unii pe alții,dar nu în primul rănd,să Te iubim pe Tine mai presus de orice.Dacă Te va cunoaște cineva va veni la Tine pentru că atunci când te va cunoaște va știi că Tu ești Iubire. Yahuwah este iubire, iar cine rămâne în iubire, rămâne înYahuwah și Yahuwah rămâne în el* (1Ioan 4:16) *Să-l iubești pe Yahuwah Elohimul tău,cu toată inima ta, cu tot sufletul tău și cu toată mintea ta...Iar a doua asemeni ei este*Să-l iubești pe semenul tău ca pe tine însuți* Matei(22:37-39) Astăzi 15.13 6003.este o zi sfântă,este ziua Ta de odihnă.Majoritatea oamenilor nu le pasă de această zi minunată,Puțini sunt cei care sfințesc ziua Ta. Mi se rupe sufletul când văd că majoritatea oamenilor nu vor să știe ce îi așteptă,dacă aleg partea răului.Își pun mâinile la urechi și nu vor să audă despre Tine Impăratul meu.Sunt nepăsători,iubitori de plăceri,vor avere cât mai multă,înșelători,iubitori de sine,nu vor să miște niciun deget pentru a ajuta pe cineva care are nevoie de ajutor.Au ajuns până acolo încât închid tomberoanele de gunoi ca nu cumva săracul să mai poată avea acces la ele. E trist ce se întâmplă în acestă lume.Mă doare sufletul când văd atâta lume care moare pentru că unii oameni,influențați de spiritele rele dau, cu toporul în stânga și-n drepta în semenii lor,de parcă ar da în animale.Omoară și rănesc copii,femei,bătrâni,tot ce le cade în cale. Toată lumea e îngrozită,dar,nimeni nu se înrtreabă de unde vin toate acestea?De ce se întâmplă aceste lucruri?Singurul răspuns ni-l oferă organele de stat este că acei oameni care omoară sunt bolnavi psihici,care nu găndesc rațional. Pe vremuri cănd Yahushua era pe pământ,a întâlnit un om care locuia în morminte.Și pe acel om nu putea nimeni să-l biruiască așa de puternic era..Acel om avea mai multe duhuri necurate care îl posedau și-l chinuiau.și nu putea nimeni să se apropie de el pentru că era foarte periculos.Cănd Yahushua a trecut pe acolo omul acela a simțit că El era singurul care poate să-l salveze și a vrut să-i ceară ajutorul,dar în loc să ceară îndurare din gura lui a ieșit alte vorbe: *Ce am eu a face cu Tine,Yahushua,Fiul Lui Yahuwah cel Preaînalt?Jură-mi pe Yahuwah că nu mă vei chinui!* Yahushua i-a poruncit să iasă din acel om și au ieșit și cu îngăduința lui Yahushua s-au băgat în niște turme de porci care erau pe malul mării.Iar acei porci s-au aruncat în mare.(Marcu5:1-20) Tot așa și-n ziua de astăzi oamenii care ies pe stradă,in gări, localuri.magazine,sunt stăpîniți de duhuri rele.Și nimeni nu poate să-i vindece,pentru că nimeni nu are credința atât de mare cum au avut credincioșii în trecut.Poate ca mai sunt câțiva dar nu se află la locul potrivit. În ziua de azi dacă cauți o companie a cuiva,toți sunt sceptici și te evită,eu nu am căutat ,decăt un suflet cu care să mă închin la Tine,de a Te lăuda pe Tine,de a ne închina împreună la Tine,dar nu am găsit.Dar Tu în mare mila Ta îmi trimiți îngerii Tăi să-mi țină companie.Nu îi văd dar îi simt și uneori îi aud.Aud acel cor minunat cu glasuri divine care-ți căntă laude și Te preamăresc.Cânt și eu împreună cu ei și simt că nu mai sunt singură pentru că Tu ești alături de mine: Tu ești Creatorul nostru/ De Tine noi ascultăm,/ Azi venim cu toți la Tine/ Lucruri bune să învățăm./ Mărit să fi, mărit să Fi/ Zi și noapte zi de zi/ Cartea sfântă Tu cănd ne-ai dat/ Și pe noi ne-ai învățat.../ Acestea sunt versurile care la aud în momentul de față.Îți mulțumesc din suflet că nu mă lași să fiu singură și că ești în permanență alături de mine. Te rog din suflet ,ajută-mă ,să pot să trec de toate greutățile care mi se pun în cale și Te rog din inimă,ajută-i și pe frații,surorile mele care fac voia Ta și ascultă de cuvăntul Tău să treacă și ei cu bine de toate relele pe care cel rău, le pune în calea vieții lor.Dă-ne nouă hrană în toate zilele noastre și nu numai mâncare ci și hrană spirituală că să ne hrănim cu ea.Ajută-ne și dă-ne puterea să salvăm suflete care vor să vină la Tine. Fă-ne apărătorii Tăi,a numelui Tău cel sfânt și nu ne lăsa să ne pierdem atunci cănd ispita apare. Mă rog la Tine Yahushua Împăratul nostru, să ne protejezi de răul care se va abate asupra noastră,și să nu ne lași să fim biruiți.Fii Comandantul nostru și călăuzește-ne spre lumină.Dă-ne iubire,ca și noi să putem să dăruim semenilor noștrii.\dă-ne înțelegere,ca noi la răndul nostru să putem să fim înțelegători cu semenii noștrii.Dă-ne binecuvântare și binecuvintează pe toată lumea. Te primim în inimile noastre,noi cei care dorim să locuiești în noi.Vino la noi Yahushua,fii alături de noi în permanență și nu mai pleca niciodată pentru că dorim să nu mai pleci.Trimite-ne ajutoare cerești și ajută-ne să învingem orice ispită.Dă-ne lumină din ce în ce mai mare și nu mai lăsa nici o picătură de rău,să locuiască în noi. *Yahuwah este lumina și mântuirea mea,de cine să mă tem? Yahuwah este refugiul vieții mele de cine să-mi fie frică? Chiar dacă ar înainta o oștire împotriva mea,inima mea tot nu s-ar teme. Un singur lucru cer de la Yahuwah,și-l caut cu stăruință,să locuiesc în casa Yahuwah în toate zilele vieții mele. Căci EL mă v-a ascunde în Coliba Sa în ziua cea rea* (Psalmi 27:1,3,4,5) *Yahuwah este păstorul meu și nu voi duce lipsă de nimic* ( Psalmi 23:1)
ena elena
Romania, 2017-03-13 10:47:47

Grace to be confirm in my new role as a receiving clerk @ my work place
odaibankss anang
Ghana, 2017-03-13 03:12:55

Please pray for me. My desire is to have a better job. I have applied for one that I believe is God's will for me. I need peace that I will receive this job from God. Bless you for praying for me.
Paula Vogler
United States, 2017-03-11 10:02:41

Please I request prayer from the fellowship here, an unspoken request. Yahuwah knows what I need and prayers to Yahuwah on my behalf would be greatly appreciated. I continue to pray to thank, praise, and worship Him and for those I love, and now it's my turn to need prayer. Yahuwah our Creator and Sovereign be praised. Thank you everyone and may Yahuwah bless you and I look forward to meeting you all in New Jerusalem.
Gary David Hill
United States, 2017-03-05 19:28:27

To do God's will and make Him exceedingly pleased.
Peter Marchuk
United States, 2017-03-04 16:02:40

I'm arguing with myself that I may know whether or not I should dispatched myself from SDA to non-denominational religion that still following the teaching of the Sabbath (Luni-Solar) Ancient not Sabbath modern. Pray that I may know the light that has been dispatched to YHWH's son and daughters.
Antares Putra
Indonesia, 2017-03-03 05:51:15

That I will graduate, not just complete, from this Christian transitional house called Patsy's Place. That these women's heart will soften towards me and mine towards them. and that my body will stop hurting from my lupus. Thank you so much
MacKenzie Homan
United States, 2017-03-02 21:59:08

please pray for me am having a problem in financial...
Abed Zeferinu
Namibia, 2017-02-27 09:10:41

HalleluYah. Thank you Yah. May the power of Yahushua connect me to a believer as my wife. May i also be in prosperous/safty life always .
Frank Acheaw Boampong
Ghana, 2017-02-27 07:34:29

healing for family member.
Michaelle Allen Ella
Philippines, 2017-02-25 02:55:50

grace of transformation of my husband, kids and financial.
Michaelle Allen Ella
Philippines, 2017-02-25 02:50:23

Grace for transformation in business
odaibankss anang
Ghana, 2017-02-23 01:01:31

I know that I have put myself in this position of financial debt over a man I haven't even met but online since a year and couple months ago and it was on a dating sight and I am ashamed that I trusted him to send him money and now I don't know where I put myself in debt and don't know if I will ever get my money back, i still talk to him and now he proclaims his love for me but I am confused and what i am asking for me is to pray for me that his love is true and he finally meets up with me to pay me back all the money I foolishly sent with in the year and God forgives me for my actions in this relationship and pray that I learned my lesson well and move on.
Mary Dixon
United States, 2017-02-18 09:40:14

PRAY FOR MY FAMILY MEMBERS AND THOSE WHO ARE IN TROUBLES AND GIVE GOOD LIFE
MUPPASANI PRABHAVATHI
India, 2017-02-17 23:28:09

GREETINGS BRETHREN, I AM GLAD THAT I AM PART OF YOU KNOW. PLEASE PRAY FORM ME I HAVE A PROBLEM IN MY THROAT I HAD AN ENDOSCOPE AND THE TOLD ME IT WASN'T CANCER BUT MY THROAT IS SO NARROW TO THE EXTENT THAT I CAN NOT SWALLOW FOOD. I HAVE TO MASH EVERYTHING I EAT INCLUDING TABLETS, I CANT EVEN SWALLOW A CAPSULE HOWEVER SMALL IT IS i TAKE LONG TO EAT BECAUSE FOOD OR ANYTHING CHOKES ME. THE THROAT IS ALWAYS PAINFUL PLEASE PRAY FOR ME I NEED DELIVERANCE. THANK YOU FLORENCE
NKWANGA FLORENCE JUSTINE
Uganda, 2017-02-17 06:40:44

Help me pray that I may find other like minded people to have fellowship with here in South Carolina or near by. I feel so alone!
Nicole Coopala
United States, 2017-02-14 05:46:12

Please pray my family for a home thank you
Cora Garvey
United States, 2017-02-11 16:07:39

please help to pray for my family to know the truth which is we are devoting to go to church every saturday, but after knowing that the true sabbath is start with the new moon or basing the Luni-solar calendar i started to confused and now doubtful and need a peaceful mind and the truth. thanks
grace ocariza
Philippines, 2017-02-10 07:25:06

please help pray for my friend michael casinilio he is now in the hospital suffering of a mild coma and has been admitting 2 weeks. Please pray that God will heal him. God bless.
grace ocariza
Philippines, 2017-02-10 07:09:58

Please pray for me, ask the creator to give me a home, job, heal my illness and give me a spouse
Anderson Aparecido Oliveira Brito
Brazil, 2017-02-07 07:48:36

Please help me pray for good health and healing. Ive been diagnose having ESL Lupus since March 2015 and till now is still on medication. The last three years ha been difficult for me and my family financially. I have a hard time coping with our finances especially with high maintenance of medicines for my Lupus. Now I am afraid because my son is showing symptoms of Lupus too. I am afraid but I entrust everything unto Yahuwah who is our great healer and father. I pray for strength and wisdom that I may be able to do what is right in this times of trouble. May Yahuwah guide me and showed me a way to resolve our finances. May Yahuwah grant my prayyers that I may be able to go back to work again online as a writer - or any other work online so I can again earn for me and my kids to survive. Yahuwah, you are our great provider and I pray that you will provide an opportunity or open opportunity for me that will answer our financial problems. More so I prray for good health for my whole family and me. I just lift up everything to our great Yahuwah, amen.
lelani Sturdevant
Philippines, 2017-02-04 07:06:29

Shalom Brother... please pray for my husband Vishal..he suffering diarrhea from yesterday very badly..and we have facing lost of financial problems specially my husband vishal..please pray for him to recover soon frome this diarrhea..and for our baby Shon also..Thank you...
Rashmi Vijay
India, 2017-02-03 05:53:20