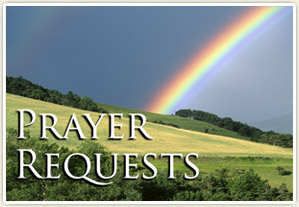 Faith is simple in its operation and powerful in its results. We believe that prayer is the key in the hand of faith to unlock heaven's storehouse, where the boundless resources of Omnipotence are treasured. We consider it a privilege to pray for you.
NOTE: Please read the prayer petitioners' guidelines, and send only 1 prayer request per week, unless it is an emergency.
To post a prayer request, you must first register an account or login. This is necessary to protect the community and the prayer board from being abused by spammers. We sincerely apologize for this inconvenience.
I thank Yahuwah for providing healing to my daughter who has been in critical illness. Thank you for an answered prayer for her and I continue to pray for her full recovery at home. I ask for prayer that Yahuwah will also touch me and help me since I am just recently diagnose with SLE and is under medication for the last six months. I pray for healing from this sickness and I pray for strength that I might be able to face this still with hope and joy in Yahuwah's love. I pray for forgiveness that my heart may truly be able to forgive too. In my heart I keep on saying I forgive but I do not know if I really truly forgive this person close to me. I pray that God will heal my heart and that I may be able to truly forgive. As for my finances, I pray that Yahuwah will guide me and help me manage whatever little resources that we have right now. We are in debt because of the present hospitalization of my daughter as well as my monthly medication bills. I pray that I may be able to find a way to settle all my obligations. Most of all I pray for salvation of my whole family especially my dad whom I struggled to forgive. Hear my prayers Yahuwah and give me the strength to go on. This is my prayer in Yahushua's name, amen.
lelani Sturdevant
Philippines, 2015-08-31 08:57:47

brothers and sisters in yahuwah is there any thing we can do to help our brother lingatong only little assistance so he and his family go on enough to built hes home.
giltrodeco jamero jr
Philippines, 2015-08-31 08:31:58

LETS PRAY FOR OUR BROTHER HERNANDO LINGATONG AND FAMILY HES HOME BORN DOWN ALL OF HIS THINGS HIS HOUSE NOTHING REMINS PRAY THAT HE AND HES FAMILY WILL STAY STRONG IN FATHER NAME.
giltrodeco jamero jr
Philippines, 2015-08-31 08:24:24

I tried to submit a question via the "Contact us" page...but it bounced back several times...Could you please tell me if you have a phone contact? I'm a newly baptized SDA back in July 2015. I'm very confused now...and I would like to talk to someone. Damien
Damien Valentino
United States, 2015-08-30 22:32:50

Please Prayer For My Anti because stone operation Dr. 90% No change for Dissension she Admit in visakhapatnam Hospital in ICU. Plz prayer for my Anti name Subhra Khosla. in Koraput
Rajendra Kuldeep
India, 2015-08-30 10:45:27

First, I want to Thank Yahuwah for His many blessings that He provides without our even asking for them... and for His forgiving our many shortcomings and sins. We've prayed on this, but we would like additional prayers: Please pray for my family and I that Yahuwah direct us during this difficult time... that WE pay attention to be aware of His nudges into the right direction... and that we obey His directions. Also that He keeps us safe during any difficult time and continue to provide for us in the face of financial hardship. I also request prayer for help with authorities that won't allow time off to observe Yahuwah's Sabbaths... this is most grievous to us.
Marjah Wales
United States, 2015-08-29 08:07:57

i want to confess something. i just had homosexual relationship again and again. and i used to ask for HIS forgiveness. but for this time HE did not forgive me. and gave me HPV. i want to pray to my lord to heal me .
abhishek singh
India, 2015-08-29 05:55:39

Pray for me that God give me strength to pray more and get out of Debt which I am swimming in: God bless you all
Dorica Thom
Zimbabwe, 2015-08-25 06:46:13

Please uplift me in prayer because I am need of a lift chair, and also an adjustable queen sized bed. I suffer from arthritis from my knee, neck, and back. These two much needed items would benefit me greatly, and given that my sole income is only from Social Security, I can not afford to buy myself these items. I appreciate your prayers, and one last item I'd like to request is... I'd love to own my very own dream home. Anything is possible with our LORD YAHUA & YAHSHUA. Therefore, I ask and pray for these things in the mighty name of our LORD GOD ALMIGHTY YAHUA, & YAHUSHUA! Amen!! THANK YOU VERY MUCH!! May the LORD bless you in your life for all your needs.
SERGIO SILVA
United States, 2015-08-25 01:06:17

please pray for me for financial break through and business success. I am a website designer but not getting contracts to do. Things a very hard please pray for me for business success. Thanks and may Yahuwah answer all your prayers too.
Raph Addo
Ghana, 2015-08-24 19:53:05

pray for me that God give me the strength to be able to overcome sin and the devil
Ronald Armstrong
Barbados, 2015-08-21 01:00:39

Pls pray to take away this hatreds in my heart right now and change me to a new being.
Jerome Pili
Philippines, 2015-08-20 08:41:00

Pls pray for me that God give me the strength to be able to overcome Sin and the devil.
Adebisi samson
Nigeria, 2015-08-19 04:08:58

Pls pray for my family to be in good health and to save our jobs. Thank you
Sandra Dsouza
United Arab Emirates, 2015-08-15 10:51:35

Prayer for my family.I am suffering from lot of debts and feel very often to abandon my family and run away to an unknown place. Kindly pray for me to get rid of all these problems. Help me to have peace in mind.
Brabhu Kulandaisamy
India, 2015-08-15 09:54:01

I start a new export business .my orders are give customers .But i have not money for supply my orders .Oh myGod help me for money.Amen
placid norbert
India, 2015-08-14 13:32:03

Please pray for my pornography addiction. I have been trying to pray for people on this prayer chain and there are many other people, but I am like them and stuck in sin too. Be blessed
Philip Kelly
United States, 2015-08-13 22:31:03

Thank Yahuwah in the Name of Yahushua , "May Yahuwah help me to worship in spirit and in truth" and guide me to choose a good wife and also improve my financial status and finally protect me spiritually, in the Name of Yahushua.....
Frank Acheaw Boampong
Ghana, 2015-08-13 11:23:01

Lord, I am on my knees with a great life. And whilst on my knees I went to the first two pages on here and began to pray for these people. People who prayed to be in the rapture, and prayed for elbows, spiritual guidance and wealth. Please give me the blessing to pray earnest for others and then I can worry about myself. Please help me live not to fast but enjoy every moment with the pleasure you provide. Through the grace of the holy son, the holy spirit and the highest high!
Philip Kelly
United States, 2015-08-10 23:41:01

please for my 4yr. granddaughter she has CF. and is now on a feeding tube. and now the doc. say's her life is short. please please pray for her.
James Tull
United States, 2015-08-10 16:40:36

PRAYER REQUEST: LORD PLEASE GIVE ME WISDOM, KNOWLEDGE AND UNDERSTANDING TO KNOW THE DIFFERENCE BETWEEN RIGHT AND WRONG. AND BLESSINGS AND SHALOM TO MY FAMILY AND TO THE WORLD. AMEN
Laura Chiprez
United States, 2015-08-09 16:36:56

I have forsaken the Lord in different ways and have committed all bad and terrible things in life resulting in losing family, dignity, respect, love everything in life. I want to pick up myself and do what is right and be his perfect follower. Please pray for me, that God gives me strength to stand up and go back to His house of worship, forgive me of my sins, cleanse and purify me, love me and guide me in Righteous ways of life of God's follower. I need deliverance and salvation
Kumbulani Mpofu
Namibia, 2015-08-09 08:46:34

Please pray for my wife Radhika Diyali ,She is suffering due to stone problems since one week. Please pray for our Church ,school and Organization that we could do His ministries regularly. Please pray Uttarkashi Uttarakhand for the well being for whole district and management.
R. Stephen Diyali
India, 2015-08-09 07:25:42

please pray for the Lord's healing grace to be bestowed to my knee. All glory is the Lord's.
Jeff Robertson
United States, 2015-08-08 11:24:44

Please pray for James S. Campbell, that Yahuwah forgive him of his sins, purify him, sanctify him, cleanse him, love him and guide him in the TRUE and righteous ways of a follower of Yahushua. So that he may obey, worship and glorify Yahuwah correctly. To make him a new creature who is worthy of serving and following Yahushua.
James Campbell
United States, 2015-08-07 15:55:44

pray YAHUWAH wash and cleanse me from my sins used me to do his works bless me with knowledge, wisdom and understanding bring blessings to my life with love and happiness change my life in all area foe the better in YAHUSHUA name prase to YAHUWAH
kevin Wallace
United Kingdom, 2015-07-31 19:39:08

Farther, as we continually seek You, Give us ears to hear and eyes to see. Thank you in Your Son's name I do pray, Yahushua. Amend
Russell Bryan
United States, 2015-07-31 18:59:43

Dear God, I want to serve you with all my heart and obey all your commands. Please provide for my family employment so we can share your words with those around us. Give me a ministry to serve amen
nelly koko
Kenya, 2015-07-31 07:00:24

father,i would like to pray that my supported employment application is accepted so that i can join the work for and i would also want to pray for the nameless child of yours that he comes back to you in time.thank you for everything father and my faith and life shall always be in your hands,,in jesus name,amen.
Allison Woody
United States, 2015-07-29 22:08:57

The Lord God Of YAHWEH my heavenly father in trust, please remember me, please help me
Men Hong
Thailand, 2015-07-27 22:20:59