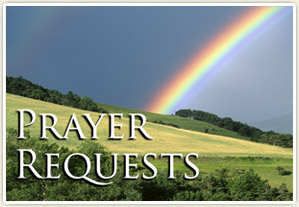 Faith is simple in its operation and powerful in its results. We believe that prayer is the key in the hand of faith to unlock heaven's storehouse, where the boundless resources of Omnipotence are treasured. We consider it a privilege to pray for you.
NOTE: Please read the prayer petitioners' guidelines, and send only 1 prayer request per week, unless it is an emergency.
To post a prayer request, you must first register an account or login. This is necessary to protect the community and the prayer board from being abused by spammers. We sincerely apologize for this inconvenience.
Dear Beloved Brothers and Sisters in Christ, I am going to attend an Interview for the post of Faculty in a Private College. Kindly, Pray for God's Will to be done. I also thank in advance for your kind prayers for me. Hallelujah..
Jeffry Andrew
India, 2016-07-27 11:59:18

Good morning. Kindly pray for to secure tender bids for building contracts and Good Samaritan integrated health programs. Thanking you
Elisha Mwakinga
Tanzania, 2016-07-27 02:19:12

This prayer request is urgent. My cousin, Judy Curtis, has been made blind. She got an infection in her only good eye and it has caused the retina to detach. Only Yahuwah Elohim and Yahushua the Mashiycah can do anything now. Thanks, Pastor Samuel J Caswell
Samuel Caswell
United States, 2016-07-23 00:41:15

Please pray for Eric McDonald-pray for his salvation.Eric needs Jesus. We do not know where Eric is right now.Pray that God will bring us Goodness about Eric.Pray foe his saftey and well-being!!! The best News would be that Eric is saved and safe in The Father's Watch care!!!!
Alfred Brown
United States, 2016-07-21 14:25:19

Please pray that The Lord touch all my family members by His Spirit working through me. So that every not-yet-born- again members will be convicted by the Holy Spirit to repent, and to put The Lord first place in their lives. Praise The Lord!
HARREY TYSOHN
India, 2016-07-19 07:48:10

I pray for grace for promotion
odaibankss anang
Ghana, 2016-07-17 04:43:14

I am slowing dying from my terminal illness. I have never been so miserable and afraid my whole life.
Rj Darash
United States, 2016-07-16 22:07:33

i pray for grace for promotion
odaibankss anang
Ghana, 2016-07-15 08:23:36

A Family Member, Judy Curtis, had to have an emergency operation on her eye. Bad infection Thank you much
Samuel Caswell
United States, 2016-07-15 02:48:34

I will be traveling by greyhound from chaparral new Mexico to Cotati California and would like to request prayers for a safe trip and safe bus drivers etc thanks ill be leavin new Mexico friday and arrive in California Saturday thanks in advance may our loving creator bless you all
jason harper
United States, 2016-07-12 19:31:25

I've made some wrong choice in the past, I chose to do something which is not a part of the Lord's plan for my life. Something related with career. Because of this, I'm facing problem today. Please pray that the Lord will revise again his plan in my life. Thanking you, for you prayer.
HARREY TYSOHN
India, 2016-07-12 05:48:19

Please pray for Zimbabwe's economy to improve
Denzel Mthokozisi Makombe
Zimbabwe, 2016-07-12 03:15:09

Please pray for me to pass my Exams
Denzel Mthokozisi Makombe
Zimbabwe, 2016-07-12 03:14:13

Pray for me for Yahushua to redeem me from any sickness and spiritual weakness and give me wisdom and understanding and able to abide by his rules..
Essuman Robert Aggrey
Ghana, 2016-07-08 17:20:13

Prayer Request: Please pray for Eric McDonald;he needs your prayers.Please pray for his salvation. Pray God to open his eyes to Jesus Christ and his Gospel…Pray God to open his eyes to see God's will for him… Pray God to heal and renew his heart-Pray God's Love will flow from the top of his head down to his feet. Eric needs Jesus;he needs to know the grace ,mercy, and love of God through Jesus Christ.... Eric needs a life transformation experience with Jesus.He needs to have his life transformed by the power of The Holy Ghost…
Alfred Brown
United States, 2016-07-05 22:48:50

Please pray for me in my work to rest in Sabbath my boss doesn't understand he want me to work up to satarday
James Sonoko
Tanzania, 2016-07-05 15:19:15

Please pray for my wife, suffering from heart disease. We are waiting for overseas doctors for surgery. Please pray for Gods healing
James Sirivalu
Fiji, 2016-07-04 23:58:40

Please pray for my family, Gods will to be done and to guide us on the right path.
Roalesi Dikinita
Fiji, 2016-07-04 23:53:08

Please pray for my 2 month baby boy shon..every day he cries so much n also at night..he also not sleeping n consistly he cry so much and even not talking my milk he only want formulated milk so plz pray for him and also me to increase my milk..shalom
Rashmi Vijay
India, 2016-07-02 16:49:39

Please pray for my husband Joel Dami and my two children Junior and Bathsheba Dami including myself. Thanks
Paula Konge
Papua New Guinea, 2016-06-23 02:54:13

Ask fellow members to join me in prayer for my wife who is seeking new job to be in line with Yahs Seventh Day.
Michael Clements
United States, 2016-06-22 13:49:09

I ask for prayer for my son and husband to fully accept the Lord and his divine law.
Elizabeth Knapp
United States, 2016-06-21 09:08:11

Kindly pray me to overcome sin and be accepted into Yah knew Jerusalem. Corruption is on the highest level, people demand bribe in work and contract that being asked. As small scale entrepreneur I face such difficulties in procuring tender bids.
Elisha Mwamkinga
Tanzania, 2016-06-19 23:27:20

Dear brothers and sisters, please intercessory prayer to the Lord Jesus Christ and Heavenly Father for my recovery from fatigue.
Renata Muchkova
Czech Republic, 2016-06-19 06:33:28

I need prayer for forgiveness. And to be guided by Yahushua. To know His will for my life now. What am I supposed to do? Things have been so difficult. How are me and my family supposed to survive. I have tried to put Yah first. I just don't think I've done things right.
harriet barton
United States, 2016-06-17 23:29:16

Yahuwah ' s grace I have a 1 month baby boy..thanks to yeshuaa. .but she is not nursing my milk plz pray for her..to take my milk and for his health..He only wants bottle..If I nursing he start crying so badly..plz plz pray
Rashmi Vijay
India, 2016-06-15 09:54:16

Maranatha Yeshua..
James Martinez
United States, 2016-06-11 00:28:28

I need prayer for Gods guidance my family has forsakin me for my past sins. The Lord has forgiven me but having trouble forgiving myself. My wife and are separated making it worse. I'm seeking Gods will in earnest.I will be out on the streets soon with out a job and no place to go Thank You
marlen Sherar
United States, 2016-06-10 22:55:51

I ask for prayer for my friend Michael. He is in dire financial need and spiritual enlightenment. Thank you I also will pray for all that are here petitioning prayers.
Marilyn Bell
United States, 2016-06-08 21:21:39

I want my father, mother and brother converted to a real Christian Faith.
Alexandro Hugo Lopes
Brazil, 2016-06-05 16:32:20