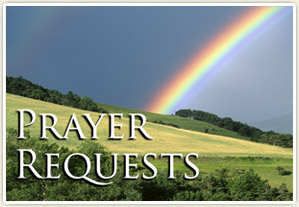 Faith is simple in its operation and powerful in its results. We believe that prayer is the key in the hand of faith to unlock heaven's storehouse, where the boundless resources of Omnipotence are treasured. We consider it a privilege to pray for you.
NOTE: Please read the prayer petitioners' guidelines, and send only 1 prayer request per week, unless it is an emergency.
To post a prayer request, you must first register an account or login. This is necessary to protect the community and the prayer board from being abused by spammers. We sincerely apologize for this inconvenience.
Please, pray for Jason, Cale, Michele, Jacque's salvation/rededication and for Stacey, Tecla, Marlize, and my relationships with them to grow. Jason and Jacque don't believe God exists. Michele and Cale have wandered from a personal relationship with Jesus. Stacey, Tecla, Marlize, and I want them to come back and to love Jesus with us. Thank you!
A G
United States, 2023-09-23 22:40:12

Please pray for a missionary activity where my family and I will present the truth of the Luni-solar Biblical Calendar. We will go house to house taking blood pressure and blood sugar and we will take the opportunity to deliver a brochure with information about the luni-solar calendar. The missionary activity will be on the 10th of the seventh lunation. Pray for us, please.
Miguel Quintero
Costa Rica, 2023-09-22 19:56:04

Please pray for me today. I am facing who I am and what I have done all my life. There is a fear of what people might think of me, so I hide and even lie who I am, to the point of not telling the truth, and so each night before I go to bed, my entire life flashes before I go to bed, and the horrible things I have done keep playing in my head. I have reduced my caloric intake to less than 400 calories a day of hopes of dying of a heart attack at my age, it should stress it out. I understand forgiveness but, isn't there a point that repeating the same sins, over and over, one becomes lost so to speak or hardened . I am more concerned about how I look in other people eyes more than telling the truth. It is to the point of even asking Yahuwah to take my life now, to end this nightmare. I have become a burden on others and it would be far greater if I was no longer here. I ask for courage to tell the truth but even that and seeing how others would see me as I am, the words they secretly whispered, would come out, and the condemnation of who I really am would be more than I could bare.i am praying now each night to no longer be here and end this nightmare. I see that as being more merciful than living the nightmare each night... I know I have not been that specific but, it's too horrible to bare or to write here.
Richard Stanton
United States, 2023-09-16 19:06:30

please pray for my family we are facing finance challenges
Apimeleki Rayasi
New Zealand, 2023-09-16 05:56:09

please pray for me especially my financial struggle, my health and my families belief that they will know the truth. and please pray my homemade food business that it will prosper. thank you for the prayer
Ronald langub
Philippines, 2023-08-18 21:34:01

For my kids (18 - Ana Clara, 15 - João Pedro - both don´t want to learn more about Yahushua and Yahuah, and 9 - Maria Beatriz - baptizes in the name of Yahushua) For my health - I have breast cancer and I´m treating it naturally
Flávia Santiago de Araújo Pio
Brazil, 2023-08-05 19:54:57

I have lost all hope and I am in fear of losing everything. I really have already lost everything by losing my wife, my dog, my best friend, and now it is has all caught up with me and the lie I lived for so many years, there is no hope. May Yahuwah forgive me for not being the servant I should have been. I am so ashamed for not trusting him and living a lie instead of the truth. The continous lie of trying to live a life that was false instead of living the truth in Yahuwah. What an evil man I am. May Yahuwah forgive me.
Richard Stanton
United States, 2023-07-21 22:08:33

please pray for my son Tomasi needs a laptop for his studies, and please pray for our company to have more job for the coming months and my son Sam needs a phone for his studies and my son Junior needs a car for his work
Apimeleki Rayasi
New Zealand, 2023-07-19 05:36:23

Hello sir/ma, please I need prayers for Yahuah to intervene in my life to help me quite the excessive use of alcohol! Please if there's anyone out there who can counsel or recommend a means to combat this menace that is almost separating me from the love and service to Yahuah I will be eternally grateful to them. Thank you all as you consider my request!
Oladipupo Sheriff Odekoya
Nigeria, 2023-07-18 04:19:30

Please pray for the KUKI Christians. Our Sisters in YAHUWAH EL and Yahushua the anointed are suffering on the account of one fake news video.
Mark Mascarenhas
India, 2023-07-13 09:17:23

Hello brothers and sisters in Christ. Sorry for my last long prayer request on 6/18/23. I'm back home in California. Sleeping better but need prayer even more. The last day I was seen at clinic I we discussed the echo of my heart that I had requested. I've been concerned about my heart because of all the insomnia. I now need to go see heart specialist. The results show I have mitral valve and tricuspid valve regurgitation. Among other problems. Please pray for me.
joe capps
United States, 2023-07-02 16:36:36

My mother has suffered from chronic arthritis for over 20years and was also diagnosed with Diabetes and hypertension over the past years. I would love to present her case here for prayers that she may once again live a life free from pain as it was before. Dear friends in the Lord, please include my missing sheep (6 in total) that went missing a week ago at my startup farm that they may be found.
Daniel Nkandela
Zambia, 2023-06-23 02:24:34

Prayers are much appreciated! Hello Brothers and Sisters. Since I don't have a physical church. I've come to the decision to reach out here for fellowship and prayer. Better late than never! I'm currently in Fort Myers FL. I'm receiving medical treatments on my neck and back. The type of medical treatment is a non surgical treatment called Prolotherapy. The clinics name is Caring Medical. I don't think by giving their name here I'm breaking WLC guidelines. I only share their name because I believe Yah has brought me here. The main doctor is a professed Christian. I believe Yah is using him to bring healing to people who are otherwise being told by AMA type doctors "we don't really know the reason for your ailment and that they need surgery or cortisone shots and pain killers and psychotropics for the rest of their lives". If you can imagine how important the neck is to our bodies and our brains with the spinal cord, vagus nerve, jugular veins, IJV, Middle Cerebral Artery, Vertebral Artery, etc.. When you start having structural problems in the neck mostly due to our modern lifestyles of looking down at our cell phones and bad posture while working at our computers (looking down). What has happened and is happening is our neck curves are being reversed little by little causing a myriad of symptoms and even disease. I've suffered with insomnia for the last 23 years of my life. I place insomnia at the top of the list of problems I have. I'm describing it in my case as a progressively worsening problem. I'll describe it as three phases over 23 yrs. The first phase was say an average of anywhere from 5 to 8 hrs per night of sleep. Phase two pushed me into the realm of anywhere from 3 to 5 hrs per night. Phase three ,the current, is anywhere from zero hrs to 5 hrs. Yah as my witness, this year and part of last year, I've had nights of no sleep to maybe 20 minutes in one night. Just on my trip here to receive treatment it was three nights of close to 30 minutes combined. Yah has kept me moving forward though. Somehow my body has acclimated. Praise Yah, I haven't had a heart attack or major stroke or mental event per se. However, there's a chance about a month ago I had a TIA. I didn't have medical insurance at the time. So I didn't go to hospital to verify. I've had a myriad of medical problems over the last 23 years costing me out of pocket in excess of $50k. I've tried everything to treat the symptoms but nothing has ever really fixed me but they have helped in little ways. I believe they've helped me stay healthier than if I didn't do anything. The medical team has determined and I've seen the imaging for myself, coupled with x-rays I brought along with me here to Florida, that I have a pretty extreme case of cranial cervical instability. I'm on day 20 of being here. Two treatments on my neck and two treatments on my lower back so far. Last night was a beautiful 8 hours of sleep and it didn't take 16hrs of laying in bed to get it. I pray that I'm out of the woods so to speak but I've had good nights before in the midst of my battle. That's where my brothers and sisters in fellowship with our Father and Christ our saviour comes in. If you feel led to pray for me, I would Love your prayers. Yah's Word promises good sleep for His Sheep. I'm in no way affiliated with Caring Medical other than being one of their patients. I share my experience to encourage those who might be going through something similar or maybe a friend or family member who has medical problems that might finally have a fix. If you feel led to watch any of their videos or read through their website. I think you'll see why I want to share them with you. Blessings!!!!
joe capps
United States, 2023-06-18 15:22:34

Please pray for me that I may overcome this gambling addiction and that I may be filled with wisdom to manage my finances. Thank you
Daniel Nkandela
Zambia, 2023-06-14 16:29:52

Please pray for my daughter and her family She needs an emotional support. Her husband also needs the same. Let Yahushua help them to get a better advice from a professional We are going to ask for help. Let the LORD of Hosts guide us through. Amen
BabyAugusthy Panamkatt
Australia, 2023-06-07 22:39:32

Pray that my wife and I are making the right decision in buying a second house in Tuttle, North Dakota. Also, pray for me as I want to follow the Lord with all my heart and learn the real truth of everything there is to learn. Also on my rebaptism along with filling of the Holy Spirit, and God's forgiveness for all my sexual sins in my life. I am 63 years old, and want to be saved, and have the courage to not live in the darkness of secrecy anymore, but live in the light.
Mark Phelps
United States, 2023-06-05 00:09:22

Prayer Request I want to serve YAHUWA faithfully and also to be ready for YAHUSHUA coming soon. Also to have he grace to teach the Christian's and non respectively,also for YAHUWA favor on me. For open doors and to finish my home projects, for progress in my engineering works. Finally to be rapturable at the coming of YAHUSHUA soon
YAKUBU MAAM
Nigeria, 2023-05-23 17:11:21

I am going to undertake Chemo therapy on Monday on May 15. Please help me pray to that the therapy will be Eloah's way to heal me completely. To be well again. I hope the side effects of the drugs are bearable. I know Yah is always with me. Amen.
ralf jr maquiling
Philippines, 2023-05-12 17:42:09

Let my son in law find suitable family counsel to sort out his family issues successfully.
BabyAugusthy Panamkatt
Australia, 2023-05-08 20:52:20

My elder daughter Annie resides at Canberra with her husband and two daughters and one son little kids, Her husband Varghese 43) having some alcoholic problems and too much intake of it leads him selfish attitude. She is sad over this but shows some love for her and kids may he limit or abstain from drinking alcohol and care more the family lives a better Christian life. Praise the Lord for His mercy on us who the author of human family. Let it be so Amen .
BabyAugusthy Panamkatt
Australia, 2023-04-23 04:42:31

Colossians 2:8-10, I pray for those who have been deceived into thinking that Jesus is NOT the fullness of the Godhead bodily. May you have ears to hear and eyes to see, spiritually. In Love
Marilyn Smith
United States, 2023-04-07 15:40:29

My son Mathew is suffering from severe head ache and has been MRI SCAN. Please pray for his health and his family. My daughter Annie and her family need to get their new house in Canberra and the builders delaying by two months please pray for this cause also. Wishing you all a very happy Passover and in feast. Amen
BabyAugusthy Panamkatt
Australia, 2023-04-05 04:57:10

Gina and I are praying to meet like-minded WLCers here near Monticello, Maine! We're praying to add to our home group of just two. Email us at: mainechimney (at) yahoo.com. Thanks all!
brad williams
United States, 2023-04-04 12:40:12

Help pray together with me for my mom physical, emotional and spiritual understanding, to come back to the true words of Yahuwah (Loving Heavenly Father), and not glorified human understanding ideology which is misleading and counterfeit. Forgive her sin of ignorant. May the holy spirit, spirit of truth of Yahuwah guide her into the truth and set her free from devil chain. Thank you. "Loving Heavenly Father, thank you for today's life that you give and may your love, kindness, grace and mercy help my family to always hold firm to your truth. We ask for your forgiveness for we have fall-short Father, help us to be clean, help us to be purify in thought, mind and deed, help us to live out your principals your character of selfless love, being doers of the word not ignorance in mind or body or spirit. We thank you Father, we desire to honor you in everything that we think and say and do, and we ask for your helper your spirit to empower us Father and guide us to your truth and set us free from all devilish devices. Make us over comer and gain victory over sin which is transgressions of your law selfless love. We pray that you take a scale from our eyes, help us to see more clearly Father. We pray that you develop and prepare us for Yahushua Christ soon coming, so we found as a bride without spot or blemish. May we embrace your light and have abundantly through Your Son Yahushua Christ word made flesh in living out your selfless love the way He show us. We love you, we Thank You and praise you for all you have done to save us from deadly sin. In Your Holy Name we pray. Amen.
Jennifer Anyi
Malaysia, 2023-03-16 00:20:41

my Prayer request is to the One who created me, I see and know Now!! this Journey has taken me places, I couldn't imagine, if I had not decided to dedicate my life which is the vital essence of my existence of "Ad maidrem Dei gloriam". So it be, because you said; Matthew 6. to my new and beautiful family thank you very much. Keep me !!!! please.
Vandes Jackson
United States, 2023-03-14 13:23:11

I have a chest cold and have had it for about 4 days and would like for others to pray for me that I may be set free from this affliction
Paul Webb
Canada, 2023-03-06 19:46:40

My Great Aunt has a friend that has recently passed away at the age of 89. Please pray for my Great Aunt. It would mean alot to me if prayers are said for her.
Paul Webb
Canada, 2023-02-23 21:14:43

Pray for clarification on this Philippians 2:10 (and other Verses similar to this) Verses that contain at the name of Jesus every knee will bow. Does this not make Jesus deity? In Revelations the angel tell John not to bow before him.
Kari Balis
United States, 2023-02-17 11:10:08

please i want us to pray for me am pregnant that should secure me and the baby till delivery
victory Godswill
Nigeria, 2023-02-14 10:18:46

please pray for nz for yahuwah our creator to remove cyclone gabriel away form us. thank you
Apimeleki Rayasi
New Zealand, 2023-02-11 18:29:53