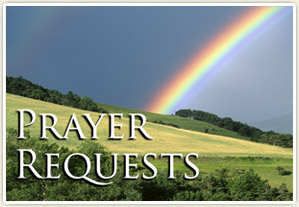 Faith is simple in its operation and powerful in its results. We believe that prayer is the key in the hand of faith to unlock heaven's storehouse, where the boundless resources of Omnipotence are treasured. We consider it a privilege to pray for you.
NOTE: Please read the prayer petitioners' guidelines, and send only 1 prayer request per week, unless it is an emergency.
To post a prayer request, you must first register an account or login. This is necessary to protect the community and the prayer board from being abused by spammers. We sincerely apologize for this inconvenience.
i am preparing for competition and job. please god help me in stud
abhishek singh
India, 2015-05-28 06:55:25

I want to be in aids in prayer. to get something that is the best thing in my life from career and my soul mate.
Midya Efrata
Indonesia, 2015-05-28 02:57:35

please pray for my brothers sunny and bonny they Infatuate the other religious girls..that girls are idol worshiper..yahuwah let them out from these girls..
Rashmi Vijay
India, 2015-05-25 10:32:09

Please pray for our family to receive increase income, while we care for three children now. Please pray that my husband gets his own business soon so he can keep the sabbath!
andrea puryear
United States, 2015-05-24 18:43:12

Need Prayer Support for our Home church to grow as He wants.
Honore Albert
Vanuatu, 2015-05-21 19:04:24

Dear sir, my job is not secure. please pray for me to achieve a good career.
john joseph
India, 2015-05-20 02:42:15

A prayer of a peaceful mind, strength & Power to overcome temptations, lust, lies, weakness in my spiritual(prayer)l life and what the spirit of yahuwah ask you to pray about concerning me is what i ask for to do the will of Yahuwah to save the lost.. 'I am that I am' bless you.
Darlington Jones Andoh
Ghana, 2015-05-19 07:05:06

Please pray for each and every soul on this earth. Thank you and God Bless everyone.
Karen Redding
United States, 2015-05-17 00:25:27

Pray for to come the trials and tribulations I am going through at my place of work. Pray for my director to forgive and forget once someone repents. Pray for me so that my director may have salvation in the Lord. Pray for my financial break through. Amen.
Felix Mulenga
Zambia, 2015-05-13 09:08:36

Hi I ask that you please pray for my family. Please pray that they have carriage and strength from God during oppressing times ahead. Thank You
Brian Burns
United States, 2015-05-12 12:28:48

Please pray that I follow Yah and fear not during this trial in my family life. Blessings to you all and praying for you all..
Kristina Barrett
United States, 2015-05-12 11:05:05

Please pray for me I have an unspoken request. God bless each and everyone. Thank you and God bless.
Karen Redding
United States, 2015-05-06 03:14:01

oh Lord, i had committed sin against you. please Lord, forgive my sin and give me a healthy and disease free life. i gave my blood for hiv testing. Lord forgive me and make result non reactive.
abhishek singh
India, 2015-05-06 02:14:15

Thank you for yours pray and Yahuwah bless you.
Roman Grah
Slovenia, 2015-05-01 07:10:17

Thank you WLC Community for the spiritual support. Pray to the living and true God for me that I may find peace in my vile heart and love His works. Pray for my sick mother Sabina Akoth that God may grant healness.
Clifton Odhiambo
Kenya, 2015-04-28 20:03:29

Please pray for me to be spiritually strong.In Jesus name
cassandra healy
Great Britain (UK), 2015-04-28 15:30:10

please pray that i may successfully pass my course.
karen Musumba
United Kingdom, 2015-04-27 19:36:29

Please pray for me as I am going to undergo a knee replacement surgery. Pray that God will guide the surgeons and everyone involved in caring for me in Jesus mighty name. Amen
Valerie Mbongo
United Kingdom, 2015-04-27 16:45:30

Please members pray for me. i need Business and financial breakthrough. I am a graphic and website designer. Pray that Yahuwah will give me more projects to do in the name of Yahushua. Amen.
Raph Addo
Ghana, 2015-04-27 14:08:55

I ask for praying for me, because I am searching new job and have sometimes demonic attacks.
Roman Grah
Slovenia, 2015-04-25 15:37:28

i want GOD to help my family by givig them helths
Vitaliy Mironuk
Ukraine, 2015-04-23 02:12:46

WLC, hope that you will pray me to strengthen my faith to Yahuwah and Yahushua
Lemuel Datoy
Philippines, 2015-04-22 03:04:24

WLC pray for me,am usually depressed and sad to a point that am sick. pray for me to get a job and happiness.
Clifton Odhiambo
Kenya, 2015-04-17 00:04:51

i want WLC to pray for me that my faith may be strengthen on a daily basis,pray for me that i find a job,i have been job hunting since i graduated in 2012.i want GOD to help me,bless me with a job.
Thebe Ramakgetla
Botswana, 2015-04-06 12:29:21

I want you to pray for me to die to world and live for jesus. I want you to pray that God make speak to me b6t best of all that i hear him and understand . Pray that my faith may be strengthen on a daily basis and i go in Gods grace doing what is desire of me witu out fare or objections . Thanks
Roland Smith
Jamaica, 2015-04-05 10:13:34

Yahuwah has blessed me all my 25 years without asking anything.Now i want to do his will for what i am created. Im greatly disturbed seeing whats going on in todays world.Im greatly thankful for worldslastchance as i needed at the right time for my spiritual life.I feel distress for im unable to make my Yahuwah happy.Now seeing this world i know Yahushua is coming soon.Just pray for me that he will be guide of my youth so that i do not waste my time for this worldly pleasures.Seriously I want to take up my cross and follow Yahushua and make others follow too as this is my only chance to make Yahuwah happy.pray that YAH'S spirit may be upon me and help me that i may not stumble in any evils ways.please pray to Yahushua that my YAHUWAH listens and bless me for his golry,honour for his name to be exalted on every corner of the earth .may his blessings continue onWORLDSLASTCHANCE people.thank you.
smith joseph
India, 2015-03-29 11:08:34

I recently cleared off an interview with an MNC, those almost two months passed away, they did not release the offer letter. Please pray on this issue. Thanks.
Dhinakar Reddy Pothireddi
India, 2015-03-23 04:44:17

Please pray for me because I'm doing my life changing exam because it is crucial I must do it well in the name of our master Yahushua
Preetham Emmanuel
India, 2015-03-18 22:25:47

To the person reading this message, I feel very sad right now in my life. I have become a moron and a best friend to satan. I started masturbating last year. It has now become part of my life. I really need your prayers.
Kofi Opoku
United States, 2015-03-18 22:22:23

i want GOD to help my family by givig them financal breakthrough
ichebadu anele
Nigeria, 2015-03-16 08:23:01