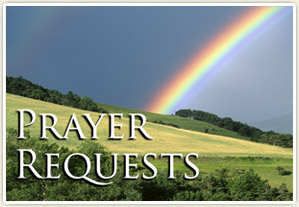 Faith is simple in its operation and powerful in its results. We believe that prayer is the key in the hand of faith to unlock heaven's storehouse, where the boundless resources of Omnipotence are treasured. We consider it a privilege to pray for you.
NOTE: Please read the prayer petitioners' guidelines, and send only 1 prayer request per week, unless it is an emergency.
To post a prayer request, you must first register an account or login. This is necessary to protect the community and the prayer board from being abused by spammers. We sincerely apologize for this inconvenience.
Dear brother in Christ,Praise the Lord Jesus. please pray for my son Mr.Dinakar Reddy,and for my daughters marriage Thanking you DrDRM REddy
manohar reddy Rama
India, 2016-05-26 01:42:58

Brethren, first I would like to say you are doing a wonderful work, I pra Yahuwah grant you the grace to continue touching people's lives. My prayer request that God should heal me, because I have been having a this headaches for a very long time now and all treatment has failed so far. I plead that you help pray for my healing. Thank you
Agbo Eric
Nigeria, 2016-05-23 09:12:54

Pray for my family they still think I'm lost. Pray that YAHUWAH Open Their eyes to see this is the truth of us who lived in the last days.YAHUSHUA IS VERY SOON TO COME!! For me i praised YAHUWAH and YAHUSHUA to know their names and to be baptized in the name of YAHUSHUA after I finished ecourse and to know our 25 belief . Pray for me to stand firm no matter what people says until i see the coming of our savior in the cloud. Thank you WLC team and all who prayed for me all over the world!!!
NEEMA MAKOKO
United States, 2016-05-23 00:42:30

My granddaughter has a lingering cold that's turning infectious. Thank you so much. Praise God in the Highest!
Odette Degray
United States, 2016-05-22 12:53:39

No one know luni-solor canlendar ,Thay think it is false ox status, Please God help me find the New bride in 144000 in world`s last chance in Taiwan.
Godknow NOname
Taiwan, 2016-05-19 02:28:28

I have an unspoken request for my family. Bless you all.
Karen Redding
United States, 2016-05-18 00:53:38

I pray that Yahweh will keep me out of jail and that Donovan Branford will pay me the money that he owes me and the clients. I also pray that I will be one of the 144,000 saints of Yahweh that will finish the everlasting Gospel upon the Earth.
MARCUS FOX
United States, 2016-05-17 13:18:37

Dear Holy Spirit: "I want to make my living by Working as a Network Security Engineer in New York City, NY earning a salary of $100,000.00 dollars and more per year. So that I can pay off all my financial debt and student loans and tax liens. I want to purchase a 3 bedroom house with a swimming pool and all modern amenities in New Rochelle, NY and a new Jeep Grand Cherokee Laredo 2017. Please give me guidelines, and give me help." Thank You for I am truly grateful for what I have. In Jesus Name, Amen
Dominica McCoy
United States, 2016-05-12 17:00:40

I find it difficult to understand the bible nor read even I cannot recite one verse or remember but I always want be with bible nor go on evangelism please I need the holy spirit to guide me
Emmanuel Gbadago
Ghana, 2016-05-09 17:55:31

my marriage and children
elizabeth nichols
United States, 2016-05-05 09:29:05

Allan Arce-Campos is a dear friend of my family, I was diagnosed with cancer vegija, prostate, lungs and bones. We are crying to God for a miracle recovery. 49, he is married and has two children. He lives in Heredia, Costa Rica.
Randall Gerardo Córdoba Araya
Costa Rica, 2016-05-04 10:38:19

I have gone back to my sin again. It has become difficult for me to stop masturbating. I don't know what to do now.
Kofi Opoku
United States, 2016-04-27 22:57:14

I have failed my family. I have failed God. My 13 year old son is struggling to become a teen, very angry doesn't believe in God and its my fault. Instead of taking the Truth's that I have been blessed with and honoring and following them I have been a coward and done nothing for 20 + years. My prayer is that God helps me find a way to be brave and to honor him and to raise up my son to be a good Christian. I feel that time has run out, I feel lost and I am just sick at heart
Greg Liouzis
United States, 2016-04-27 06:00:22

I lost hope . From1991 I have mental illness schizophrenia, some people think that I am demonized. I don't know where is the truth. I fall down moraly in sins. I need DELIVERANCE and healing, provision form the God Almighty. I pray but there is no answer. I need real God and His love, caring and provision. Please pray for me to obtain precise answers. For someone to join my life as my wife-true love, frienship and homest friiends around me.
Jarosław Chmielewski
Poland, 2016-04-20 15:05:16

Shaluwm mishpacha! Completeness and wholeness family, in Abba YaHuWaH and YaHuWSHuWA HaMashiach! I pray to walk as YaHuWSHuWA walked in this new area I've relocated to. Shaluwm dear WLCteam. Berakim
Arthur Davis
United States, 2016-04-19 11:48:49

Greetings in the wonderful Name of Yahushua haMashiach. Please pray for me as I am currently negotiating with my employer to accommodate me with observing the Sabbaths and NMD. They have given me feedback and said unfortunately they wont be able to, however I believe that things can change through prayer and faith in Yahushua as He had faith in our Father Yahuwah. Not by my will but by the Will of our Father Yahuwh. Amein
Lee-Anne MacDuggin Barnes
South Africa, 2016-04-19 05:57:16

Please pray that heavenly messengers will waft their wings over our children and loved ones to scatter the darkness. That they might weave webs of Truth all around them and their feet may find the streets of gold. Also that we all know the difference between "kids" and children. "The effectual fervent prayer of of a righteous man availeth much. James 5:16b. Blessings and Shalom
JERI and DAVID BRANSON
United States, 2016-04-12 11:30:43

Please pray for my son, Jadon Addo For good health. He is most of the time not well. Please pray for him for permanent healing. God bless you.
Raph Addo
Ghana, 2016-04-10 23:55:20

Please pray for my case and things related to it, that I be given courage and faith to in YAHUWAH. I also have songs to produce, given by YAHUWAH, that He will make it to be shared to others. Thank you so much. Frieda
Frieda Karamoy
United States, 2016-04-07 00:14:38

Pray for Dr Tim Yehs back injury
James Klink
United States, 2016-04-06 22:12:12

the Lord YAHUSHUA baptize me in the Holy Spirit. the Lord YAHUSHUA bless your ministry.
roberto lopes
Cape Verde, 2016-04-04 15:39:32

pray for my final exams
calwyn arul
India, 2016-04-02 06:48:07

Pary for my faith be stong in last phase, What is truth can belive.
Jane hsu
Taiwan, 2016-04-01 06:38:28

Pray forever in the name of YaHuWaH that I grow in the name and my country Wil saves by the name YaHuWa and my family also thanks brothers and sister's
Theodorus Waarachtig
Netherlands, 2016-03-30 04:53:41

Man of Yahuwah kindly pray for me to succeed iin Fund Raising and Tender bids for my organization ( The Good Samaritan SOCIAL service and SBE Tanzania Limited)
Elisha Mwakinga
Tanzania, 2016-03-29 02:55:51

Please pray for me as I am being strongly tempted and battling my flesh. I am in a very difficult place in my life and am struggling as I was recently living in my car and had lost everything monetarily. Please pray that I keep my focus with my Lord and Savior Yahushua and that my faith grows stronger while I am tested. Thank you Sarah
Sarah Kaczorowski
United States, 2016-03-28 21:44:15

Sugar problem
susila kirubavathy
India, 2016-03-24 01:53:51

Yahuwah știm că suntem păcătoși și nu îndrăznim să ridicăm fața către tine, Căci ne simțim rușinați de păcatele noastre,cele fără de număr, Dar mai știm că Tu ierți pe oricine vine la Tine, Și nu-l lași să piară în necaz, dacă te caută și ascultă poruncile Tale. Mai știm ca prin Fiul Tău iubit,nouă ni se iartă păcatele cele grele, Fiindcă El s-a răstignit pentru oricine vrea să caute Împărăția Ta, Yahuwah. De aceea te rugăm fierbinte,iată-ne pe noi păcătoșii care venim la tine cu umilință, Și care își încredințează viața lor Ție, Tată Ceresc. Ne-ai dat o portiță de scăpare celor care cautăm ajutorul Tău , Căci fără ajutorul Tău nu putem face nimic,suntem nimeni,suntem niște gunoaie, Nu știm ce e fericirea și liniștea sufletească, Decât atunci când ești alături de noi Dumnezeul nostru De aceea te rugam fierbinte fii alături de noi în grelele încercări care au să vină, Și întărește-ne pe noi ca să nu cădem cădem în ispita celui rău AMIN!
ena elena
Romania, 2016-03-22 17:57:51

I am sending a prayer request that you pray the YAWUWAH through HIS SON, YASHUWAH, to send me a companion who love HIM and if he does, I know that he would be the right individual for me. Because I desire to have help to do HIS work.
Vivian Anderson
United States, 2016-03-21 16:46:49

Seeking prayer for me and my wife.She trying to not be in conflict,we need prayer as we are praying to.
Michael Clements
United States, 2016-03-21 16:03:39