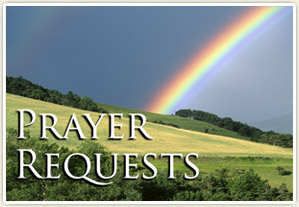 Faith is simple in its operation and powerful in its results. We believe that prayer is the key in the hand of faith to unlock heaven's storehouse, where the boundless resources of Omnipotence are treasured. We consider it a privilege to pray for you.
NOTE: Please read the prayer petitioners' guidelines, and send only 1 prayer request per week, unless it is an emergency.
To post a prayer request, you must first register an account or login. This is necessary to protect the community and the prayer board from being abused by spammers. We sincerely apologize for this inconvenience.
I have read alot of prayer request displayed here on the WLC site and I understand there are many who are struggling with the same or very simular delemers that I am experiening. It seems it is just about impossible to live, buy and sell and work when one follows the lunar sabbath. I feel there is a system that is designed to make lunar sabbath keepers uncomfortable in all aspects of their lives. I feel I am uncommfortable about beginning to explain my difficulties only that there are so many stories of others that sound like mine. I am holding on taking one more step constantly not comprehending how I can take the step that proceeds the last. Yah help me
Shaun Goldsmith
Australia, 2017-08-11 05:46:27

My wife and I are being forced out of her mother's house. My mother-in-law has been in an assisted living home and then in a nursing home for some 6 years. My wife and I have been living in the house owned by my mother-in-law, which was taken over by a guardian service. The lawyers allowed us to remain in the house and all taxes and bills were paid out of my mother-in-law's estate. Since her death in May of this year my wife and I have been told that we have to vacate the premises because the house is to be sold. We have to be out by the end of August. We do not have any money to get an apartment and my wife is ill with PTSD and chronic lyme. We have no place to go but to live in our car. I am asking everyone at WLC and all the brethren who read this to sincerely pray and intercede for us that Yahuwah will show us guidance and mercy in this critical time. My wife and I love Yahuwah and Yahushua Messiah and we observe the luni-solar Sabbath. My wife cannot hold a job because of her condition and I cannot work because of keeping the luni-solar Sabbath. We both need your prayers of support. Yahuwah bless you all...
David Ruzzo
United States, 2017-08-10 12:21:36

I'm asking for all prayers for my sweet mother who aorta aneurysm surgery back in February she is still in rehab and they're trying to get her Wing from this trach she really gets attacked by the enemy with panic attacks and anxiety so when they check her vitals everything is good so I know it's the enemy attacking her here please pray that the Lord will remove this so she can get better and get out and come home....Thank you all!!!!
Sonja Lowhorn
Afghanistan, 2017-08-09 23:30:40

Just had my daughter tell me I am totally in what I believe and I should come back to church. My two sons believe the same as I do but they are still in the world have lots of issue the that the Lord need to change and my daughter will bring this up as I am following them . Please pray that my whole family will come to the truth of Gods word. Patty, Michelle, Renee , Chuck, Joe, Husband George 17 grandchildren two daughter in laws Leslie & Julie Son in laws Matt & Kevin Please ask Father Yahuwah for his mercy and grace to see that there spiritual eyes would see the truth. In Yahushua name I pray
Nancy Benigni
United States, 2017-08-07 15:12:56

I want to give thanks and to request prayers as I adjust employment and diet to align with Yahuwa. I also pray for my marriage as I make these adjustments and my spouse thinks I am nuts.
Kevin McMullen
United States, 2017-08-06 03:29:43

I need prayer for my calling as a prophet of God to come into fruition. I know that I am called to be a prophet, but I need God to open some doors for me, and purify or make me holier. Please pray that God will guide my steps, and bring my vision to pass. I want to see Jesus Christ face to face. I need God to continue to sanctify me for His ministry. I also need financial assistance. I could use a car, and some extra money, being I am jobless. I don't want a normal job to just work, I want to make a difference in this world by boldly sharing the word of the Kingdom of God. I appreciate all prayers, I need prayer covering because I am looking for a true church to fellowship in. I want to be the prophet God has called me to be, but I have no credentials. I don't know if I should go to college for Biblical Studies or what. I need to figure out how to get ordained as a prophet. SINCERELY RYAN ZOMBRO
Ryan Zombro
United States, 2017-08-03 03:18:43

pray for me am seriously looking for a good job which can fit in my education level.i need yahuwah to provide my request according to his will.
luyima daniel
Uganda, 2017-08-02 10:04:12

Greetings Brothers and Sisters, we are in need of prayers and assistance, our relatives don't support our lifestyle, we follow a plant based diet and Luni-solar calendar, my family and I are homeless. We are in Tennessee. In Yahwah and Yahashua name, peace be with you.
David B Simpson
United States, 2017-07-28 17:03:54

Greetings Brothers and Sisters, this massage is urgent I am humbly asking for prayers, advice and financial assistance, I have a family, we are young, my wife, three children and a baby need divine assistance as soon as possible. Our relatives and friends think we have lost our minds because we follow a plant based diet and the creator's luni-solar calendar. I know I can do better but right now I feel lost, we are homeless and in need, we have a van but the AC is not working. I give thanks, in Yahwah service ad Yahashua light
David B Simpson
United States, 2017-07-28 15:30:03

Healing the sick; Please pray for a friend Mrs Noom who has cancer of the liver and collon. Thanks, Olivia
Olivia Cartier
United States, 2017-07-27 11:31:19

please pray for Yahuwah to guide me in the right paths for my loved ones who are among the lost to wake up for the scales to be removed from there eyes and his light to shine on them
Nicholas Boyle
United States, 2017-07-24 01:31:21

Please pray for my mother and siblings that they will accept Christ and be more knowledgeable of last days events and be ready for His Coming
Ann Parram-Cornwall
Canada, 2017-07-16 23:47:40

My family and I need a financial breakthrough by this Friday or we will loose our home. I am also seeking employment, please pray that YHWH will open doors for us. Thank you.
Leesa Levy
United States, 2017-07-11 18:44:35

I pray that i may able to successfully pass the engineering licensure examinations. I pray that YHWH will guide me on my review course. Shalom.
Rey Gacasan
Philippines, 2017-07-10 12:38:29

Xin hãy cầu nguyện cho tôi có đức tin của yahushua và có đức tin vào yahushua.Tôi còn đang đi học vì vậy mà hãy cầu nguyện cho tôi có thể thuyết phục nhà trường và gia đình đồng ý cho tôi nghỉ ngày sabatth vì chuyen này thật sự nghiem trọng và cần thiet .Xin cảm ơn, Quỳnh. (Please pray for me to have the faith of yahushua and have faith in yahushua. I am still going to school so pray that I can convince the school and my family to agree to let me rest on sabatth because of this really serious and necessary.Thanhk you, Quynh.)
Thi Nhut Quynh Tran
Viet Nam, 2017-07-10 10:16:44

Pray for us all that we may be ready For his soon return
Gilbert Tisnado
United States, 2017-07-06 23:23:19

Hello Everyone, i would like to share the mission where i work, we need more missionaries, financial support, and prayers for what we do, if anyone could take time to check this ministry, May God Bless You : http://www.frontlinemessenger.fr/
Alexandre Claudel
France, 2017-07-04 12:57:49

Please pray that I might find a local church and one that speaks the truth from God's word, the Bible. I'm a non practicing SDA, needing fellowship and truth. Thank you, Wendy
Wendy G
United States, 2017-07-01 23:25:49

ASKIN FOR FAITHFUL PRAYER FOR US N ALASKA FAIRBANKS, LOST FAMILYS FRIENDS ALL PEOPLES SAVED N HEAR N KNOW THE TRUTHS N YAH WORD LAWS WILL WAY , BE WIT US , AWAKIN US INSIDE OUT , LIVE FOR HIM ,WORD WILL, KEEP LUNAR 7TH DAY HOLY DAY, N MORE, UNITE US N HIM , LOVEN WAYS , ME N SHAY N KINLEY N MILFORD NORMAN LARRY JULIE TRACY LARRY JOHNATHEN ,ALL LUKE,S,N VILLAGES TOWNS CAMPS, ,,FOR GOOD RELATIONSHIPS SALVADORE SAHLENE N MORE MARY RANDY RAMONA ANGIE,, BILLS PAIDED N MORE, ,jobs n me a wife find good ,thing, ,thanks, YAH, ,hallilu yah,,,prayer all lost here n Alaska ,thanks,
sunny luke
United States, 2017-06-23 00:16:27

Let's all pray and ask our Father in Heaven to have mercy on us all. Give us his strength and not our own on a daily basis . And to Love one another as we Love ourselves ... As he Loves us ....
tamathy howze
United States, 2017-06-21 22:21:22

Pls.pray for me that I may receive the free gift as soon as possible. I'm still hoping to have those books and looking forward to read it.May God grants my prayer.
ann clave
Philippines, 2017-06-18 02:34:33

Please pray for me to withstand my current temptations of judging others, lust, quick temper and the unbelief of my family members in the current truths bestowed on us by heaven. Thank you.
Raymond Owusu Agyei
Ghana, 2017-06-17 17:45:23

I am thankful for all the truth on this website and want to thank you! Since the finding of all of this truth my life has been a chaotic mess of trials, temptations and battle for eight months! Now my fiance and I are falling apart as well! I need wisdom, discernment, and a more Christ like character! thank you and I can never thank you enough! Blessings to you from our creator!
walter whitehurst
United States, 2017-06-16 14:23:54

I request to pay for me to gate peace,forgiveness,wealth and eternal life.
Andualem worku Taye
Ethiopia, 2017-06-15 07:20:17

Can u please pray for me latrice that I will become a better person and come more closer to God and build a relationship with God and for Christopher Milan that God will change his life around and that God will work mircles and Christopher life that he will get a good paying job and that the learn take every negatively problem out his life and that Christopher be closer to God and have a relationship with God and for Christopher to have faith and God and I would like if you pray for our children that the Lord will protect them and the blood of Jesus and that God will bless them to be good kids and be closer to good and have a relationship with God and I also ask if God can help us to get married and with our financial problems will get better thank u
Latrice Finley
United States, 2017-06-11 17:13:25

Please pray for my family.... My family is suffering from financial problems and I need your help in prayers. Thank you
sylvester gyamfi
Ghana, 2017-06-07 11:42:27

Please pray for me. I recently read from the book Adventis Home pg393, 'counsel to one in debt' and it really touched my heart. I have been jobless for like two years now and have run into debts amounting to almost 2000USD. This is making me feels so down and its even staring to affect my relationship and my spiritual life. I pray to God to help me clear off this debt. (nethken2005@yahoo.com).
KARUGA MARIGA
Kenya, 2017-06-05 07:59:30

My spouse was diagnosed with Glioblastoma in July of last year. He has made it through all his treatments unbelieveably well. Almost too good to be true. I do understand that the prognosis is not great but I simply pray and as for your prayers that he is able to stay with me as long as he is needed to help me on to the right path in life. He has always searched for his purpose in life and I do believe deep in my heart that his guidence and is wisdom in guiding me to the light is his true purpose.
Samara OShea
United States, 2017-06-05 01:31:01

Pray for hope in my life. Recently I got myself into some trouble that hit my life pretty hard to the point its going to take probably the rest of the year to recover from this. Its been almost unbearable to deal with. I had so much lined up and now I have to start over. Pray that I stay strong and focused through this trial. And that I lift my head to Yahuwah lean on him for comfort. Thank you Brothers and Sisters.
Pascal Felder
United States, 2017-05-31 22:44:40

我从天堂得到启示,我必须现在禁食三天,将身体里面的鬼赶出来。我有皮肤病,总是发痒,非常痛苦,这就是魔鬼在作祟。 请大家为我代祷。
苏晓楠 苏
China, 2017-05-29 15:09:51