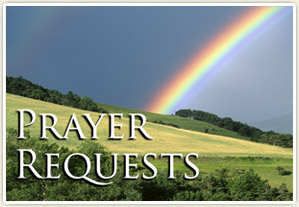 Faith is simple in its operation and powerful in its results. We believe that prayer is the key in the hand of faith to unlock heaven's storehouse, where the boundless resources of Omnipotence are treasured. We consider it a privilege to pray for you.
NOTE: Please read the prayer petitioners' guidelines, and send only 1 prayer request per week, unless it is an emergency.
To post a prayer request, you must first register an account or login. This is necessary to protect the community and the prayer board from being abused by spammers. We sincerely apologize for this inconvenience.
I want to request a prayer for healing! I have been suffering from type 1 diabetes for last 17 years! My blood sugar levels are not under controlled even with taking medication! I know Yahushua saves! I don't like to live my life with this demonic disease anymore! Please pray for me? Thanks! Subha
Subha Wanniarachchi
United States, 2019-10-20 15:43:13

Am nevoie de rugăciunea voastră iubiți frați și surori. O soră în Yahushua draga mie ,este foarte , foarte bolnavă...și are nevoie disperată de rugăciunea voastră...V-aș ruga din tot sufletul, atunci când puteți și vă aduceți aminte să vă rugați pentru ea... Yahushua a spus:,,Din nou, adevărat vă spun că, dacă doi dintre voi se înțeleg pe pământ în privința oricărui lucru pe care doresc să‑l ceară, le va fi dat de Tatăl Meu Care este în ceruri. Căci unde sunt adunați doi sau trei în Numele Meu, acolo, în mijlocul lor, sunt și Eu! Matei 18 :19,20. Vă implor să vă rugați pentru ea... Yahuwah să vă binecuvânteze!
ena elena
Romania, 2019-10-20 05:38:45

Hello, First of all, praise to our Father in heaven, Yahuwah, whose will be done, on Earth, as it is in heaven. We are living in a truly wicked world and I do believe the end is near (signs everywhere...). I believe all true believers are afflicted by the wickedness of this world and I pray that they all find strength in Yahushua to go through all this. My eyes were opened recently to the spiritual wickedness of this world and it has been extremely difficult for me lately. Many are still blinded and deafened to the words of God and I pray that people find the truth as soon as they can, as the time is short. Also, in this world, I find it difficult to connect with true Christians and I feel very isolated. So, pray for me that I could connect with my fellow Christians so that we may be able to help one another. Thank you and I will pray for you David Hill, Scott Robertson, Ugochukwu Nwanguma, etc... everyone on this page. God bless you all and don't give up! In the name of Yeshua, Amen. P.S.: John 3:16, in your time of trials and tribulations, remember that God's only begotten son has suffered along with us.
Min Kim
Canada, 2019-10-07 06:35:41

I thank Yah for all, I also pray for marriage guidance. (true future soul mate)
Frank Acheaw Boampong
Ghana, 2019-10-06 09:54:07

Please pray for me my health has been on a slow downward spiral I've had to quit a job because of my health I can no longer do physical work I become severely out of breath I have had to go to the emergency room recently because I don't have any insurance and they say it's COPD chronic obstructive pulmonary disease I'm having a hard time getting around at home so any prayers wll be a blessing greatly appreciated and please pray for my wife also it's been a lot on her she's a wonderful supportive wife and I'll keep reading and studying Scriptures daily with prayers to my heavenly Father Yahweh in the name of Yeshua Amen
David Hill
United States, 2019-10-01 20:52:02

I'm requesting as much healing of this vessel I occupy at this moment. After a near death experience and a heart attack shortly after that, then pharmaceuticals have destroyed my brain and autonomic nervous system functions. I have been deep in studies to understand medical, words, and things in the spiritual world to heal, but as the Divine Creator God of all things has not said it time to heal, I'm asking for as much help as I can get, I'm open to receive healings on every and all levels that is possible at this moment. Love and Blessings to all that are working to bring my healing to a close Scott Robertson Thank you, together we will change the way of life on this planet for all to enjoy life once again.
Scott Robertson
United States, 2019-09-22 12:23:54

Please pray for my wife for supernatural healing in her body (waist, legs and lower abdominal pains), which started since last week. I have prayed for her but still need spiritual back up under a corporate faith and anointing. Also I need God to heal my friend's wife whose husband slept in the Lord on the 10th Sept, 2019. She has not recovered from the shock, as her husband left at 42yrs. Thank you and God bless.
ugochukwu Nwanguma
Nigeria, 2019-09-20 11:50:22

Please pray for my health I'm having issues with my neck and my left foot also having trouble what's my breathing so please I'm requesting a prayer I'm having issues at work related to my health and of course with my family I seem to be angry all the time please pray for me thanks
David Hill
United States, 2019-09-18 21:52:52

I am trying to restore a broken relationship. I would appreciate prayers and any guidance that might be available.
Deryll Hughes
United States, 2019-09-17 22:33:47

Please pray for Patrick Hume to overcome severe verbal, emotional, mental and physical abuse. He has had his head knocked a couple of times. No doubt he needs healing in brain too. Healing for his broken heart. Infilling of the Holy Spirit to OVERFLOWING. Also prayers for Nichola Ehlers (this is his sister) for the same things. Thank you.
Jeanie Greenwell
United States, 2019-09-16 00:27:42

Please pray my wife and I, her name is Kimberly. My prayer request is for her and I to be overcomers of sin like it talks about in the book of Revelation. Pray for Yahushua to give us the power of the Ruach ha'qodesh to overcome all sin and that we will know and follow the Truth. We want everlasting life on the new earth and to be with Yahushua and Yahuwah.
Armond Renezo
United States, 2019-09-15 18:44:44

a prayer for a stable job
charles mwaniki
Kenya, 2019-09-13 09:31:31

I been waiting 15_years to discover all my question upon my head .and then I I found my question but still a question ..now I was 25 years old but theres only one question that I couldn't understand why iam just like a flower base without a flower or a tree without a fruit my question started before i was a kid like a 6 years old and my first question is what happen if a human body died idescover something before that before I was 6years I dream about yhwh I told it about to my mother but he did not understand about it isence about his action and then I wait that name hi siad iam who iam and then suddenly disappeared
Julius Rey Oporto
Philippines, 2019-09-09 13:09:52

What is all about to be a human ??
Julius Rey Oporto
Philippines, 2019-09-09 12:45:45

Please pray , that I will keep Yahuwah ' s ways first , that I will be subservient to his commandments , and then he will be pleased with my change
Lars Rasmussen
Denmark, 2019-09-09 07:17:36

Pray for my family's passion fruit garden to have a high price, lots of fruits and no sickness. praying for my father not to commit adultery, not to assault my mother and not to break money. pray for my father to help me earn a living, not rely on my mother and love my family, do not set up a black fund, do not listen to misleading people but listen to my wife and children
Nhut Quynh Tran
Viet Nam, 2019-08-30 07:11:06

Pray for me to keep the Sabat day, the new moon day and holy days. now I go to school on sabatth day after being tempted by satan in 2018: (((((( My house is about to collapse, pray that my family can build a house in 2019, because my family has many people (6).
Nhut Quynh Tran
Viet Nam, 2019-08-30 07:07:07

I have a personal request and please pray for my family. Thank you and God bless.
Karen Redding
United States, 2019-08-26 04:39:15

MY WIFE AND I HAVE BEEN TRYING FOR A BABY FOR OVER 3 YEARS; WE PRAY FOR GOD'S FAVOUR THAT THE NEXT 9MONTHS WILL BIRTH OUR BABIES
NATHANIEL OLEKAH
Nigeria, 2019-08-14 17:14:27

My son have been in the hospital for the past 6 weeks. I need prayers for divine healing
Mba Victor Nnabugwu
Nigeria, 2019-07-31 09:35:21

YAHUWAH, Tu ești Elohim care ai făcut cerul și pământul,marea și tot ce este în ele Tu ai spus prin gura servitorilor Tăi,David,și apostolii Lui Yahushua: **,,Pentru ce se mânie păgânii și popoarele și își închipuie deșertăciuni?,,. Conducătorii pământului s-au ridicat în picioare și împărații se adună împotriva Lui Yahuwah și împotriva Lui Yahushua Unsului Său. Căci cu adevărat împotriva Fiului Tău iubit Yahushua pe care l-ai uns Tu,s-au adunat deopotrivă toți cei care conduc și fac legi după cum cred ei de cuviință să le facă.în toate țările.făcând viața grea robilor Tăi. Ei fac tot ceea ce mâna Ta și sfatul Tău,au hotărât înainte ca să fie făcute. Și acum Yahuwah,privește amenințările lor,și dă putere servitorilor Tăi să vorbească cuvântul Tău, cu toată îndrăzneala,ca prin întinderea mâinii Tale să vindeci și semne și minuni să fie făcute în numele Tău cel sfânt. Coboară pe Mângâietorul pe care ni l-ai promis că va fi turnat peste noi...ca să ne îndrume pașii spre Tine,fiindcă cei ce sunt conduși de duhul Lui Yahuwah sunt copii Lui Yahuwah.Pentru că ei primesc duhul robiei din nou spre frică,ci primesc duhul adopției Tale prin care vom striga Tată!!! În numele Lui Yahushua Hristos te implorăm pentru asta.... AMIN!!!
ena elena
Romania, 2019-07-31 03:21:51

Hi my name is choukri hamdane i have 24years old i have a problem on my stomatch im very sick i can4t do anythings i smook every day b cause i see god he not see me I'm so tired please pray for my wickness and also i want to out on the darkness i can't sleep o have a pain on my stomatch i don't now what it's that please just pray for me to jesus save me pray and pray an pray idon't have holy spirit to pray on my heart i'm dead spirirualy
choukri hamdane
Morocco, 2019-07-29 17:39:56

I need a prayer that I can be able to choose on my schedule whenever on the Sabbath day and wont affect the rest. As well as being close to Yahuah and understanding scriptures with wisdom and knowledge,walking like Yahusha footsteps.
Antoinette Ishinaga
United States, 2019-07-24 11:15:16

I HAVE ALZHEMIER'S AND I NEED A PRAY FOR WHAT TO DO.
RICHARD MCVEIGH
United States, 2019-07-21 15:45:39

Blessing to all, I would like a prayer/healing for my son Josiah with autism with significant behaviors and speech delays, I still have faith that Yahshua will completely heal him from all disabilities and generational curses. Please stand in prayer for him. Bless this ministry.
Tasha L.
United States, 2019-07-20 17:25:52

I need help with our current rent situation. Please pray for me and my family that we will find solution soon so we will not be asked to leae. Thank you.
brommela baclaan
Philippines, 2019-07-11 14:47:56

HalleluYah may Yahuwah guide and protect me through my mmarriage/business.
Frank Acheaw Boampong
Ghana, 2019-07-10 17:59:38

I would like to ask you to assist in praying my family, there is misunderstanding between me and my wife, we usually quarrel now and then
GLYN NJUNGA
Malawi, 2019-07-10 08:00:20

Dear WLC I greet you with all living might Elohim for his constant grace and guidance.. Please pray for me everything i lay my hands fail and doesnt work as I expected it. I need favour from the Almighty father in my endeavors. Thanks for with great the father has bestowed upon
Essuman Robert Aggrey
Ghana, 2019-07-06 14:15:23

Dear WLC I greet you in the Mighty name of Yahushua the anointed, Please pray for me and my wife to get new job opportunities that may YAHUWAH lead us into the path of righteousness with wisdom and love that we may overcome the financial obstacles that we are facing. I thank you for your support may peace be with you in Yahushua's name, Amen.
Rolivhuwa Raphulu
South Africa, 2019-07-02 03:07:36