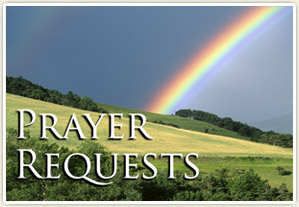 Faith is simple in its operation and powerful in its results. We believe that prayer is the key in the hand of faith to unlock heaven's storehouse, where the boundless resources of Omnipotence are treasured. We consider it a privilege to pray for you.
NOTE: Please read the prayer petitioners' guidelines, and send only 1 prayer request per week, unless it is an emergency.
To post a prayer request, you must first register an account or login. This is necessary to protect the community and the prayer board from being abused by spammers. We sincerely apologize for this inconvenience.
I ask for your prayers about my marriage. Lord Yahushua know the situation. can't explain more. please pray for me.
Beatrice Fortier
United States, 2018-02-23 14:52:03

HalleluYah in the highest. I ask for your prayers for the Mighty and Lofty One of Israel to give me strength, discernment, increase in faith, and the wisdom, courage and zeal to do Yahuwah's will. Amein. Shalom!
Raymond Owusu Agyei
Ghana, 2018-02-22 17:39:33

I Humbly Request You to Kindly Pray for Me in getting the Job Permanent in My Native Place. I Thank You, Dear Ones who Prayed and Still Praying for Me. Let all Glory Belong to God Almighty.
Jeffry Andrew
India, 2018-02-19 04:26:41

Still need prayers for my son, Jadon Addo to be healed of this stubborn rashes on his face. please pray for him.
Raph Addo
Ghana, 2018-02-15 10:58:45

Each day of winter snow I will shovel six block of snow to make path for children and people to walk safely on sidewalk so they may not get hurt. But for three year's now no one ever help's me to shovel the Snow. I s there any one on earth that could donate a snowblower So I can continue shoveling this Harvey shown. I'm 67 years of age, please in YAH NAME HELP. James in Detroit
James Coleman
United States, 2018-02-14 15:51:08

HalleluYah, May the power of Yah. protect all believers across the world and also guide us to learn and spread the truth scriptures in the Name of Yahushua .
Frank Acheaw Boampong
Ghana, 2018-02-11 13:36:35

Good morning, evening or night to Saints of FATHER YAH I would like to get in the prayer list in other for my faith to grow stronger in the creator,to be able to understand the lunar-solar calender because I worship the creator on Saturn-day.Thanks for your prayer may FATHER YAH bless you all
patrick turene
United States, 2018-02-08 11:33:55

Kindly pry for my children to open their mind and discover the truth about Elohim and Yahushua,The Sabbath and Annual Holly Days Thanking you Elisha Sibale
Elisha Mwakinga
Tanzania, 2018-02-07 12:30:23

I pray in the name of Yahushua and the same Yahuwah's power that Peter and the rest used to heal and perform other miracles that every sick person here be healed. Any need be taken care of. Now please pray for me and my family for good health, especially my 5 years old boy who keeps having rashes. Please help pray for the rashes never to come back again. Amen.
Raph Addo
Ghana, 2018-02-06 18:02:04

Today in February 2018 I am still single and quite discouraged, but in the morning of 31-December-2013 (4 years ago already) I got a special dream in which I and my future blonde haired wife (whose face I was not allowed to see clearly) would find some already-cut diamonds in the clear waters of an mountain river. Then, with the biggest of these diamonds, we tamed 5 furious bears which became friends of mine and my future wife's. Since 1992 I am medically-retired (illness-pensioner)(mental depression after a first love affair that went wrong), so that my solitude is bothering me very much, me having also a masturbation issue which I struggle to keep under the crucifixion stipulated in Galatians: 5/verse 24 (my parents died also since 2005 and 2006 and I was their only child). Since my former wife divorced me (in 1995), I yearn after a future humbled Christian wife (blonde haired even, if this is a promise from The Almighty Yahuwah)... Please pray along with me for the purpose of ending my solitude through the good and holy appearance and by-standing of the wife who was promised to me in this dream from 31-December-2013. Praised be always our Heavenly Father !! Amen !...
Stefan Valentin-Doru
Romania, 2018-02-06 07:32:22

Special prayer for a senior couple facing eviction from their home.
Robert Freeman
United States, 2018-02-05 10:06:07

2 tbis' 2 months in a coma , 3 near death accidents , 5 pieces of metal in my elbow 1 in my left heal , I shouldn't be here , and Im now hated by everyone I love . Ive been denied disability now 6 times , may God help me or kill me , I dont care which at this point
Jason Stockman
United States, 2018-02-01 07:20:28

Pray for me and my family, parents for good health and good opportunity.
kanna saheb
India, 2018-01-30 05:12:44

For our Family to come to an accurate knowledge of Yahuwah and our former SDA members.
Troy/Lenette Henderson
United States, 2018-01-29 18:43:42

Pray for my Children to get closer to God. currently when we sit for prayer and worship before going to bed they make excuses or sit not whole heart. Blessings
basil nadeem
United Kingdom, 2018-01-29 10:34:36

Greetings Dear Brethren, I express my gratitude to Yahushuah for leading me deeper into the knowledge of His Sanctuary System that brought comfort to my heart after my wife had seperated from me.
Marek Choromanski
United Kingdom, 2018-01-29 08:15:47

May Yah connect ME to a true partner for a better live
Frank Acheaw Boampong
Ghana, 2018-01-28 14:08:03

1) prayer for children that God draw them to him every day. 2)help me to find a place for gardening and build a house out of the cty. 3) pray for the brexit to be a blessing to me and my family.
Bernard Dubois
United Kingdom, 2018-01-27 10:23:41

Greetings Brethren, First I pray that every need in this list below that leads you closer to Yahushuah be granted. Also I pray that for the rest of the requests, Yahweh grant wisdom, insight and humility for those who are heavy-laden. My request in turn is: may Yahushuah lead me and my wife in the new circumstances which have arisen from her having just separated from me.
Marek Choromanski
United Kingdom, 2018-01-21 16:51:02

I have really searched to know if there is any room for questions here or guideline or interpretation of un-understood revelations, cos the word of YAHUWAH says we should test all spirits as much as I want to believe and match every of my revelations from YAHUWAH with what am getting here I will also want the people in charge of this information's to also provide a medium for individual questions to be attended to,it will help a lot.
TOCHUKWU UKEH
Nigeria, 2018-01-21 05:24:31

The family is a Christian who goes out there and follows Yahuwah.
Tran Thi Nhut Quynh
Viet Nam, 2018-01-20 23:37:36

I have a personal prayer request,God knows all about it. Thank you and God bless you all.
Karen Redding
United States, 2018-01-19 15:08:05

pl pray for me to over come all my fininical difficulties and also to save me from losing my present job a special prayer for my company to do well....AMEN
roy mcguire
Saudi Arabia, 2018-01-19 03:36:32

I would like you to pray with me for each and every one in the world. please for give each and everyone on earth. Love everyone . Michael
Michael Rogers
United States, 2018-01-15 21:33:30

Please pray for me for spiritual guidance.Also pray my family as they are Roman catholic followers to get out that and seek the real almighty GOD.Thank You.
bayanda maphumulo
South Africa, 2018-01-13 19:01:01

Please pray for me as i want to get back the mother of my kids and my kids and be a family again that will serve jahusua in a reverent manner.
Lynden Adams
Australia, 2018-01-12 14:58:55

Please pray and help me achieve my calling of Yahuwah, & restore peace with in my family, & friends so they can be saved. And peace of the whole universe. Thank You! May Yahuwah Bless You All Amen!
Michael Kakraba-Mensah
Canada, 2018-01-12 04:47:54

Favor to increase and breakthrough in my oil business
odaibankss anang
Ghana, 2018-01-11 04:36:06

Please pray for us (Karen & Paul). Since keeping the true Sabbath, satan has flung every possible problem in our way. We both know the truth and are determined by the power of his spirit that we will prevail. May Yahuwah continue to bless the WLC team and all those keeping the true Sabbath Karen & Paul
Paul Bentley
United Kingdom, 2018-01-11 03:13:07

Please for me and my husband for spiritual guidance.
Janet Jensen Petersen
Denmark, 2018-01-06 01:55:44