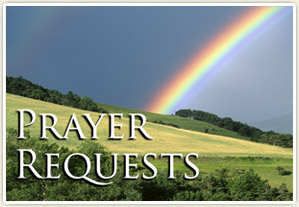 Faith is simple in its operation and powerful in its results. We believe that prayer is the key in the hand of faith to unlock heaven's storehouse, where the boundless resources of Omnipotence are treasured. We consider it a privilege to pray for you.
NOTE: Please read the prayer petitioners' guidelines, and send only 1 prayer request per week, unless it is an emergency.
To post a prayer request, you must first register an account or login. This is necessary to protect the community and the prayer board from being abused by spammers. We sincerely apologize for this inconvenience.
please help me pray for my son Jadon Addo who swallowed a coin at school. Please pray that he passes the coin out of his shit safely in Yahushua's name Amen.
Raph Addo
Ghana, 2017-10-17 16:30:04

I would like to say thank you for your prayers that I am now a registered mechanical engineer and I successfully passed the board exams. HalleluYAH! I pray that my plans and visions will be fulfilled in obtaining a self sustainable community of followers of truth within an alloted time. I called it a temporary place of refuge. In Yah's will.
Rey Gacasan
Philippines, 2017-10-08 06:02:12

Please help me achief my goals by praying with me. I want a sharp memory. I want to remember bible verses accurately. I pray for Wisdom guidance and strenght in Yahweh word. I have been watching your videos on all subjects, I pray to be able to remember the information that I received from them. I surrender my mind,sprit and heart and body to Yahweh's will. fill my heart with the love of Yahushua. Thank you for your prays.
Margo Kirkland
United States, 2017-10-06 18:38:04

I pray for Divine Direction and Breakthrough in my oil business
odaibankss anang
Ghana, 2017-10-05 02:31:39

my dear brethren I am studying in Bible college to know more about God in south India. So please pray for my studies. And for my spiritual life. so that i may serve God in proper way. And also pray for my future ministry. thank you
Vayala Samuel
India, 2017-10-04 05:22:45

Dear brethren please pray that our savior can bestow the spirit on me and keep me from straying and that our ELOHIM , our YAHUSHUA will help me convey the truth to all my family
william temple
United States, 2017-09-30 01:43:00

Please pray for me to get perpared for a flood or earthquake. I live in California. I want a generator, two gas cans, extra food and water. I live alone with my dog. I am 75 y/o and i live on a fix income and i want to be able to take care of myself. also do you have a video on clean foods. what do you teach on Pork. How do I find a follower of WLC that I can keep the sabbath with. Thank you Margo Kirkland
Margo Kirkland
United States, 2017-09-25 17:57:30

HalleluYah ,May The power of Yah Protect me from all evil act/trap. In the name of Yahushua.
Frank Acheaw Boampong
Ghana, 2017-09-18 05:53:28

10 days leading to my licensure exams and additional two more days before the day of atonement. Please pray for me that I may able to pass my licensure exams and still able to do soul searching before the Heavenly Father as the day of Atonement is fast approaching. Thank you.
Rey Gacasan
Philippines, 2017-09-17 10:55:34

Brothers and Sisters, please pray for our family that has economical problem, wish we can survive these last days events.
Cornel Kevin
Indonesia, 2017-09-17 08:27:08

please Yahwah i want to know the truth
HICHAM MOUJANE
Morocco, 2017-09-16 18:21:03

Dear Brothers, and Sisters, I am a recent convert to the Faith of Jesus, and a new member of WLC. I suffer from an extreme tobacco addiction, that is making my heart, and my body sick. I humbly ask for your effectual fervent prayers for deliverance from this demon. Thank you, and God bless you, and yours.
Franklin Tompkins
United States, 2017-09-15 17:54:02

Please pray for all in the path of this storm. May God keep us all safe. Thank you and may God bless.
Karen Redding
United States, 2017-09-10 13:28:46

Brothers and Sisters We must find a safe home soon, please continue to pray for our family. We are grateful for the assistance provided by two compassionate Sisters here, thank you!! "If there be among you a poor man of one of thy brethren within any of thy gates in thy land which Yahuwah thy Eloah giveth thee, thou shalt not harden thine heart, nor shut thine hand from thy poor brother. But thou shalt open thine hand wide unto him, and shalt surely lend him sufficient for his need, in that which he wanteth." Verses 7, 8. "If thy brother be waxen poor, and fallen in decay with thee; then thou shalt relieve him: yea, though he be a stranger, or a sojourner; that he may live with thee." Leviticus 25:35.
David B Simpson
United States, 2017-09-03 21:57:07

Greetings Dear Brothers and Sisters, we are still in need of permanent housing. Please pray and ask our loving Creator to help us find a way through this difficult situation and that all the hardships can come to a end. If there is anyway you can help, please reach out to us. Thank You, Peace Be With You and In Yahuwah's service Amen.
David B Simpson
United States, 2017-09-03 12:36:49

Please pray for healing and deliverance for my two grandkids, Andrew and Natalie. They are "special needs" children and suffer terribly from an autoimmune disorder called Pandas, similar to autism's effects, but different. It affects their gut and brain and they're doing very poorly right now. They need help!
Denise Mitchell
United States, 2017-09-02 16:53:55

I cant e-mail you ? we are only about 8 hrs apart. I'm in temperance Mi next to toledo oh. Let's see where YaH leads us. Troy is there really so few who truly Love His Law? His Word. His Torah! His Son! Thank you again for being Obedient to Our Father! HalleluYaH forevermore! I have more understanding than all my teachers, For Your witnesses are my study. Tehillim (Psalms) 119:99 TS2009
Kendal Deck
United States, 2017-08-28 22:45:10

I am suffering from my addiction for pornography. I want to stop this addiction and have a better life. I want to serve God. I want to be free from this sin. Help me. Because of this addiction, my studies have become weaker. Please pray for me.
Ishara Cramer
Sri Lanka, 2017-08-25 09:14:22

All Things Are Possible - Mark Laurent Artist: Mark Laurent www.GodlyChristianMusic.com ALL THINGS ARE POSSIBLE - Mark Laurent All things are possible with God all things are possible with God no matter what your cry, our lord can supply 'cos all things are possible with God. There is nothing too hard for him there is nothing too hard for him he gave his live away just to free us from our sin and there is nothing too hard fro him. His arm isn't short that he cannot save his arm isn't shortened that he cannot save he conquered death forever when he rose up from the grave 'cos all things are possible with God. Every word of God is true every word of God is true and the things that he has promised are the things that he's going to do because every word of God is true. And jesus loves us, this I know Jesus loves us, this I know and if we give him half a chance he's longing to let it show how all things are possible with God. All things are possible with God all things are possible with God no matter what your cry, our Lord can supply 'cos all things are possible with God no matter what your need, his love will intercede 'cos all things are possible with God.
Aaron Lee Cecala
United States, 2017-08-24 10:55:44

How Long? (Psalm 13) - Mark Laurent Artist: Mark Laurent www.GodlyChristianMusic.com HOW LONG? (Psalm 13) - Mark Laurent How long, how long? Will you forget me forever?
 How long, how long will you hide your face from me? How long, how long must I wrestle with my thoughts
 And have sorrow in my heart?
 How long will my enemy triumph over me? Look on me and answer o Lord
 Give light to my eyes or I will die! My enemy will say "I have overcome him"
 And my foes rejoice when I fall. But I trust in your unfailing love You saved me before & I was full of joy I will sing to you o Lord
 For you have been good to me You have been good to me.
Aaron Lee Cecala
United States, 2017-08-24 10:54:25

LOST SHEEP - Mark Laurent I am that lost sheep out on the hillside It's dark and it's cold I don't know which way is right I call your name A prodigal son out on the fast track I'm out of control and I don't know how to turn back I call your name Far out at sea the waves rise around me I'm so afraid the world is going to drown me My life is going to drown me Don't let the waves surround me I call your name I praise you Lord for all you have done for me.
Aaron Lee Cecala
United States, 2017-08-24 10:53:05

Hello again as I just submitted a prayer request for my sick wife and our financial situation! And it occurred to me that Yahushua is testing and building our faith right now! As I read many of your prayer requests and found that a lot of them were in worse situations than me and my wife........and just want to say we know somewhat what you are going through and we are for you and we will pray for you! Don't give up! I know right now it's hard! But if we don't give up Yahuwah will see us through! And I believe this is just a training ground before the real trouble starts! Which will be much harder! I pray for you! I love you! God is sealing us for something better! I will see you on the other side! As hard as it gets don't give up Blessed Of Yahuwah!
peter chavez
United States, 2017-08-21 02:34:56

I would like prayer for my wife as she has cancer and has been doing pretty well the last year of cancer but is struggling now with some kind of infection or inflammation and we would appreciate your prayers on this! And also financial as well may Yahuwah Bless us all as we approach his coming! Thank- You so much for your help!
peter chavez
United States, 2017-08-21 02:09:45

I have a personal prayer request. Thank you and may God bless you all.
Karen Redding
United States, 2017-08-18 22:21:17

I feel the same as Shaun Goldsmith, when I first move to the west coast, I was a seventh day adventist, one of my supervisor really could not stand me I knew what it was and the sprit behind it. now that I am a luna Sabbath keeper Man it has turn up a notch. the fire is up. and I really think that they dont know, but they allow the devil to control them. I can say that I dont be treated fairly. they want to put more work on you. I just walked off a job I am not bragging by no means but I will not be treated wrongly because of my faith. this job was making so that I was tired to tired to read study or anything. So I am like this anything that takes a lot of me other than the my Studies NO CAN DO. And when you really think about it none of this is important. the world tell you have to have this and that. I am in a place now I dont care. I just cant wait till all of this is over.
Lavina Edwards
United States, 2017-08-18 19:58:52

I have read alot of prayer request displayed here on the WLC site and I understand there are many who are struggling with the same or very simular delemers that I am experiening. It seems it is just about impossible to live, buy and sell and work when one follows the lunar sabbath. I feel there is a system that is designed to make lunar sabbath keepers uncomfortable in all aspects of their lives. I feel I am uncommfortable about beginning to explain my difficulties only that there are so many stories of others that sound like mine. I am holding on taking one more step constantly not comprehending how I can take the step that proceeds the last. Yah help me
Shaun Goldsmith
Australia, 2017-08-11 05:46:27

My wife and I are being forced out of her mother's house. My mother-in-law has been in an assisted living home and then in a nursing home for some 6 years. My wife and I have been living in the house owned by my mother-in-law, which was taken over by a guardian service. The lawyers allowed us to remain in the house and all taxes and bills were paid out of my mother-in-law's estate. Since her death in May of this year my wife and I have been told that we have to vacate the premises because the house is to be sold. We have to be out by the end of August. We do not have any money to get an apartment and my wife is ill with PTSD and chronic lyme. We have no place to go but to live in our car. I am asking everyone at WLC and all the brethren who read this to sincerely pray and intercede for us that Yahuwah will show us guidance and mercy in this critical time. My wife and I love Yahuwah and Yahushua Messiah and we observe the luni-solar Sabbath. My wife cannot hold a job because of her condition and I cannot work because of keeping the luni-solar Sabbath. We both need your prayers of support. Yahuwah bless you all...
David Ruzzo
United States, 2017-08-10 12:21:36

I'm asking for all prayers for my sweet mother who aorta aneurysm surgery back in February she is still in rehab and they're trying to get her Wing from this trach she really gets attacked by the enemy with panic attacks and anxiety so when they check her vitals everything is good so I know it's the enemy attacking her here please pray that the Lord will remove this so she can get better and get out and come home....Thank you all!!!!
Sonja Lowhorn
Afghanistan, 2017-08-09 23:30:40

Just had my daughter tell me I am totally in what I believe and I should come back to church. My two sons believe the same as I do but they are still in the world have lots of issue the that the Lord need to change and my daughter will bring this up as I am following them . Please pray that my whole family will come to the truth of Gods word. Patty, Michelle, Renee , Chuck, Joe, Husband George 17 grandchildren two daughter in laws Leslie & Julie Son in laws Matt & Kevin Please ask Father Yahuwah for his mercy and grace to see that there spiritual eyes would see the truth. In Yahushua name I pray
Nancy Benigni
United States, 2017-08-07 15:12:56

I want to give thanks and to request prayers as I adjust employment and diet to align with Yahuwa. I also pray for my marriage as I make these adjustments and my spouse thinks I am nuts.
Kevin McMullen
United States, 2017-08-06 03:29:43