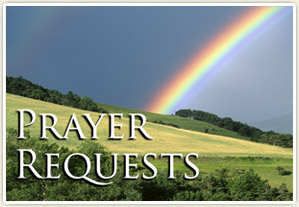 Faith is simple in its operation and powerful in its results. We believe that prayer is the key in the hand of faith to unlock heaven's storehouse, where the boundless resources of Omnipotence are treasured. We consider it a privilege to pray for you.
NOTE: Please read the prayer petitioners' guidelines, and send only 1 prayer request per week, unless it is an emergency.
To post a prayer request, you must first register an account or login. This is necessary to protect the community and the prayer board from being abused by spammers. We sincerely apologize for this inconvenience.
Please pray for my strength and faith.
Sherita Dubuisson
United States, 2016-02-12 16:04:03

For all non-catholics. God bring back home all Your sons and daughters.
Edilson Souza
Brazil, 2016-02-10 14:47:48

My wife patty has neck bone problems we are going to the doctors in a few days. I am trying to transfer to Tennessee from a Michigan factory.We haven't had any success in over three years. Please pray that our creator touches both of these requests and places us where we will do the most good for JESUS. Thank you.
William Dorman
United States, 2016-02-10 13:12:10

please pray for my aunt( Marlita Ilag ) who had a Tuberculosis. She is now suffering for the past few months until now and she losses her weight and became thinner. I do believe that God and all of us can help us to pray for her condition right now. I am also asking your heartful prayer for the health of my family, to my relatives, friends,to my husbands family also and relatives. In addition, i am asking your prayer that may God bless us always, guide us and lead us not into temptation makes us more stronger faith in Him and to know more the truth.
Grace Ocariza
Philippines, 2016-02-06 06:08:11

Please kindly pray for me to get a job as I am unemployed for the past 7 months and finding it hard to get work. Please also pray for me and my family to be able to sell our house in England to move back to our country Portugal, and for protection against people and members of the family doing wrong things against us. Many thanks kindest regards J. Neves
Joe Neves
United Kingdom, 2016-02-05 00:56:27

Kindly pray for me that my sins are forgiven and request the His holly spirit to lead me to live by faith.
Elisha Mwakinga
Tanzania, 2016-02-04 23:42:16

Dearly beloved in Christ Jesus. I want you to please pray for the men ministry the Lord has committed into my hand that the ministry will prosper and faithful men will join and run with the vision of the ministry. Thank you
michael elumeze
Nigeria, 2016-02-03 12:53:21

God has lead me to the SDA Church 3 1/2 years ago I have become a vessel of service in the House Of The Lord! He is now leading me out out of the church where He sent me to do the work of the Church in the world. Please pray for me as I go forward in the name of Jesus Christ to snatch lost and dying souls from the flames.
George Deveaux
Canada, 2016-02-03 12:47:20

I am facing heavy criminal charges for helping or being a good samaritan in trying to stop thieves in a store. I lost my job and presently unemployed because of the criminal charges. Things turned around that our house is in danger of foreclosure. I had been pleading , requesting, asking and praying for our Father Yahovah, through the intercession of is only begotten sons most holy blood, and our Messiah Yeshua Hamasicach to help me and my family pass through this storm, tests, trials and tribulation. I ask and plead to all of you my Brothers and Sisters in Yeshua Hamasciach to help me by praying for me for our Masciach's and his hierarchy of angels to help us through this harrowing situation. I could not give the details of the story because it is so long. Everytime I wake up I am praying for our Father yahovah and to our Messiah Yeshua to send out his angels and lift my family up drom all this anxiety, distress, financial constraints, depression, and all these negative forces surrounding us. Please do pray for us, please.
Donald Rocco
United States, 2016-02-03 11:10:39

dear wlc team please pray for me for good health and for my husband Vishal to get him job..and also for my brothers.. Yahuwah shalom..
Rashmi Vijay
India, 2016-02-01 03:34:32

urgent prayer requesr from colombia hello I ask for urgent prayer for the protection and health of Gladys Bonilla because bad people threatened her life they have call her to express their bad intentions please help me to ask for prayers for her she is my mom Adrian Bonjlla
m whyte
United States, 2016-01-31 14:17:30

Pe zi ce trece sunt tot mai incercata de cel rau,aproape toate persoanele dragi mie ma evita si ma indeparteaza de la ele.Stiu ca rad de mine si ma cred nebuna ca pot sa cred ca intoarcerea lui Yahushua este aproape si ca evenimentele sunt din ce in ce mai vizibile.Ma rog in fiecare clipa lui Yahuwah sa-mi dea intelepciune si rabdare si putere de de convingere ca sa pot sa fac sa vada si ei Lumina care duce la Yahushua,sa vada si ei ca adevaratele sarbatori ale Creatorului sunt cele scrise din biblie, pentru ca ei nu vor sa auda nici sa asculte.Ma rog ca toti ce au nevoie de Yahuwah sa gaseasca calea si sa vada Lumina.Cei care sunt in suferinta si au nevoie de ajutor sa-i ajute Tatal Ceresc asa cum ma ajuta si pe mine,ca pot tine Sabatul si toate Sabatorile Lui si imi da putere si curaj ca sa pastrez poruncile Lui.Rugati-va si voi cu mine sa putem sa trecem prin toate incercarile care or sa vina... VA MULTUMESC!
ena elena
Romania, 2016-01-31 07:26:57

I was in a car accident in 2014. I need $7,000 to help me with all my basis needs. I'm trying to recovery from this accident along with a brain tumor. I need new clothing, and personal items.
sylvia lumpkin
United States, 2016-01-30 22:25:34

Please pray that hearts will be open and receive this message. I praise God that you are sharing the true gospel may the lord bless you and keep you. I pray that you all will continue to be bold in Jesus name amen
Christy Harris
United States, 2016-01-29 21:35:58

Can you pray for me to enable 1 to quit smoking nicotine , rebuke the spirit of nicotine in Yahushua's name 1 gives thanks and praise to Yahuwah & Yahushua
alan sanchez
United Kingdom, 2016-01-28 15:44:00

I feel lost. I had a demonic attack on me a few years ago, and lost my Bible in the process. I felt like I have lost a part of me that I am now trying to find. I feel that I am slowly losing in touch with God, I even went back in my own ways. I feel like God was calling me before, but was not sure if it was Him. I had dreams and visions but was not sure if it was real. I do not know what to do, or what I need to do. I want to get out of Babylon but I am not sure how. Please I pray to God to help me discern the truth and guide me to the right direction. I am alive for a reason and I want to fight on God's side. Thank you.
Francess Timmer
United States, 2016-01-24 19:53:02

Please pray that God will touch the heart of my grandfather's brother who's been hurting my mom by claiming that he owns my grandfather's building which is now being owned by my mom since my dad died. The problem is, there is only one title for the whole lot where the building is and he holds it. He has already taken a big land (1.7 hectare) from his older sister who passed away 2 years ago and the reason why he claimed for it was because he paid for the hospital bills which was only about 1050 US dollars. The whole clan is the witness and they tried to interfere but it only made the situation worse. My mom is very hurt and my siblings are mad at him and it makes me very sad.
Dandel Marlon Atupan
Thailand, 2016-01-22 04:40:49

Please pray that God will change my character. I am very grumpy and impatient specially to my wife who is exactly the opposite. My son has been hearing my nags and complaints and thinks I don't love his mom. One day he gave a paper and there he wrote " Dad must love mom". It made me realized that there is really something wrong with me and I believe it's all because of things I've been holding on, bad habits, etc.Please pray......
Dandel Marlon Atupan
Thailand, 2016-01-22 04:18:25

I need prayer for a better paying job so I can get a place to live, my kids to fall in love with Yahweh and the Torah all of the bible. And for inner healing my kids dad took off and it hurts them. And me I never ever fall in love again or even get marry ,no way do I want drama from date I done one man I knew and he take off after 30years of marry.and this what made my kids hate god no place to live poor
beverley kazmierczak
United States, 2016-01-19 22:28:47

ma rog pentru toti sa nu cadeti in deceptia in care multi ati cazut deja.iar pentru mine am sami pun singur o rugaciune catre dumnezeu.multumesc
ivanov ionut
Romania, 2016-01-19 07:14:49

Please pray for me for spiritual growth, good health for my family and financial challenges am going through. Also for better health for my wife who is 3 months pregnant. God bless you.
Felix Cheele
Zambia, 2016-01-17 04:55:43

Please pray for me and my daughter angelia for health and finances need finacial blessing and family
natalie Howell
United States, 2016-01-17 01:31:01

PLEASE PRAY FOR THE DEADDICTION FO MY 58YR OLD HUSBAND FROM SLUTTING AND SLEAZING AND OTHER NEGATIVE ACTIVITIES WITH WOMEN ALSO INEED PRAYERS FOR A POSITIVE BREAKTHROUGH IN LIFE AS IAM SUFFERING WITH THIS MAN FOR 29YRS THANKS ANITA
ANITA VISHVANAYAK
India, 2016-01-13 23:42:07

Dear wlc team please pray for me for my better health b'coz i am 6 month pregnant..and for my family my mother she always have headache.. my sister Monica and her child Alex and my husband Vishal for job and good health.. and my brothers sunny and bonny for blessing because they involving world's thing..please pray for us and always remember me as in your prayer...
Rashmi Vijay
India, 2016-01-13 10:04:45

Please pray for us sin. Give us long life, good health for the whole family. Financially successful.
jedalyn panis
Philippines, 2016-01-12 05:38:24

please pray that God will direct me to the Divine Helpers as i will be traveling to China for a business meeting.thank you
odaibankss anang
Ghana, 2016-01-12 04:22:53

Please Pray That Yahuwah will fill me with His Spirit and that myself and my family will hold firm to Him and His word Until the end. Thank you so very much for your work! Peace and Love to you Brothers and sisters!
Kaleb Young
United States, 2016-01-08 17:58:25

I want Yahuwah to awaken my prayer life and fill me with the power of the Holy Spirit in Yahushua's name, amen.
James Chidiebere Njoku
Nigeria, 2016-01-02 16:35:07

I ask that you please pray for my Mom, my girlfriend, my step Dad, his family, the rest of my family-2 sons, 1 granddaughter, 1 brother, a niece, two nephews and my girlfriends family and her friends. Each and everyone of these people have made it plain and clear they are in one way or another either rejecting so important truths about YAHWEH, Yahushuah, the Holy Spirit and other important truths or the idea of God all together. I personally have tried everything, I know the Holy Spirit is at work, but so is satan. Please help me to be filled with the Holy Spirit. Please help their hearts to soften, open up and for their pride and confusion to be set aside. I also am in a very bad situation in as much as there is spiritual warfare going on, especially on Sabbath. Please pray that, that which is being delayed, be expedited so I can move and that a suitable place be obtained soon for me where worshipping God can go on less encumbered or at least a situation I have more control over. Thank you.
Fred Price
United States, 2016-01-01 14:29:29

i pray for financial breakthrough and traveling mercy
odaibankss anang
Ghana, 2015-12-27 08:29:06