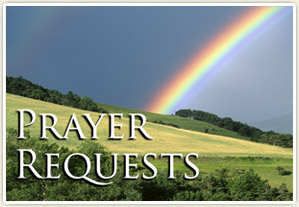 Faith is simple in its operation and powerful in its results. We believe that prayer is the key in the hand of faith to unlock heaven's storehouse, where the boundless resources of Omnipotence are treasured. We consider it a privilege to pray for you.
NOTE: Please read the prayer petitioners' guidelines, and send only 1 prayer request per week, unless it is an emergency.
To post a prayer request, you must first register an account or login. This is necessary to protect the community and the prayer board from being abused by spammers. We sincerely apologize for this inconvenience.
I want to ask for the prayer of my daughter (20), she believes in the Trinity, and when I start talking to her about this topic it is unbelievable that she is rebelling. She does not even want to know anything about the name Jahuwah or Jaschuah.
Ana Cristina da Silva
Germany, 2019-02-18 15:00:25

Heavenly Father Yahuah, I am humbly praying that your Kingdom will come soon; praying for your Light and for understanding of Your Truth; praying for discernment; praying that Truth and Righteousness will overflow. Standing on your promises, O Gracious Yah! "For behold, I create new heavens and a new earth and the former things shall not be remembered or come to mind." - Isaiah 65:17 "And He who was seated on the throne said, 'Behold, I am making all things new.' Also He said, 'Write this down, for these words are trustworthy and true.'" - Revelation 21:5 Praying for Your continued grace and mercy; giving You, O Yahuah, honor and praise! HalleluYah! Amen.
Lisa Stephens
United States, 2019-02-12 18:19:07

Dearly Beloved, I request you to kindly pray for me in getting the teaching Job in which I will be contesting for interview. Please Pray for God's Guidance and Grace to acquire it. Please remember me in your daily prayers. I Deeply Thank all the Prayerful Hearts for their concern and helping me in supporting through their prayers. Thank You.
Jeffry Andrew
India, 2019-02-10 23:55:00

I pray that my bankers will credit the loan into my account for me to pay my first fruits and also pay off my debts
odaibankss anang
Ghana, 2019-02-08 00:59:19

Father Yahuah I am praying that all men may know that Yahusha counseled His disciples: "A new command I give you: 'Love one another. As I have loved you, so you must love one another. By this everyone will know that you are my disciples, if you love one another.'" - John 13:34-35. Father Yah, it seems that many many people in this society do not understand or simply do not care that all of the scriptural knowledge in the world and all of the worldly knowledge in the world will mean absolutely nothing if they do not show genuine kindness, compassion, and love for our fellow man. It matters greatly how we treat others. For those who have hearts that are truly inclined to serve you according to Your will, please help them to understand what you and your Son Yahusha represent; the true meaning of the fruits of Your Spirit. In the name of Yahusha, I fervently lift up this prayer. Amen. -1 John 4:7-9
Lisa Stephens
United States, 2019-02-06 18:58:53

Please Pray for me to over my debts and attain financial freedom
David Roy Akena
Uganda, 2019-02-06 09:22:31

So that I and my wife be written in the book of life for ever in Yasha's holy name, amen, ameen.
Peter Marchuk JR.
United States, 2019-02-03 21:37:23

Please pray for my Son. Thank you and may God bless .
Karen Redding
United States, 2019-02-02 22:29:16

I beseech Yahuah for His Kingdom to come soon and that His love, righteousness, and truth will overflow. In this dim/dark society sin, deception, unrighteousness, and the lack of love are prevalent. Yah, please send your Son, Yahusha, Our Lord and Reigning King, soon. Thank you Father Yah for your love!
Lisa Stephens
United States, 2019-01-31 17:59:23

please pray that I keep the Sabbath properly. Im new at keeping the luna Sabbath. Is the Sabbath 24 hours or shorter. I started in the morning at 5am when should i finish.
Margo Kirkland
United States, 2019-01-25 17:39:22

pray for am not feeling ok. I have joint pains and body weakness. in Africa the day its malaria . pray for healing and strength. am avoiding the conventional medicine.
Moses Mwanjeleka
Zambia, 2019-01-25 06:46:50

Please pray with me for my wife of 7 yrs. she would go with me to church the past years at a Pentecostal church I had been in and has been prayed for. but she has no desire to read the WORD with me or to pray. I visited SDA church for a few months after leaving Pent. church and have joined WLC. YAHUWAH had woke me up about the commandments. my wife is 72 now from the PH. Thanks very much.
donald singleton
United States, 2019-01-21 19:36:48

Dear WLC, I ask you pray I am broken and loose free from satanist curses and hexes in Jesus/Yeshua name. Thank you
Daniel McPhatter
United States, 2019-01-21 11:37:10

Please offer up your prayer for my wife, Shirley, who will undergo surgery for bladder cancer.
Christopher Savarimuthu
Malaysia, 2019-01-21 10:27:33

Dear wlc I great you In the mighty name of Yahuwah the all mighty ruler of the universe, please pray for me to get a better job that will enable me to keep the Sabbath and that will enable me to support those who are close to me, my wife is unemployed please pray for her to get a job. Please pray for all my family members and those who are close to me to receive truth and devine protection from our heavenly father. may peace be with you In the mighty name of Yahushua my personal saviour Amen.
Rolivhuwa Raphulu
South Africa, 2019-01-20 10:54:11

who do i contact for free gifts i have complèted 7 e courses. pratique for me t have wisdom and spiritual understanding
Moses Mwanjeleka
Zambia, 2019-01-20 08:31:59

my roommate left 3 months ago. I have lost 500.00 a month Please pray that i get another roommate who has a permanet job and is honest, considerate, open to the sabbath, kind, understanding, easy going and nice and clean that will stay for a long time also that I will be able to keep all the bills going until then. Please pray that my memory is sharpened with a double dose of the Holy Sprite so that i can remember Yah word I am 77 years old.
Margo Kirkland
United States, 2019-01-19 10:46:22

pray that my memory be sharhpen im 77 yesrs old and i want to remember YAH words
Margo Kirkland
United States, 2019-01-16 11:40:11

I am fastly praying for my former Adventist family and my son who has been baptized into the church, please pray that the holy spirit come into those folks and open there eyes to God and let go of there false doctrines in Jesus they teach and putting the writtings of Ellen Whites writing above the word of God. Thank you for your prayers
theresa flynn
United States, 2019-01-12 08:31:10

I'm so mourning the fact that WLC has been lead to diregard EGW's writings. She has been attacked all through her ministry and still is being attacked. My prayer request is that Yah's remnant called out ones (and, I hope I'm one)will be lead and hear the Spirit of Yahuwah to expose error. I'm still being blessed with WLC ministry, take care, Philip
Philip Cordova
United States, 2019-01-11 00:16:52

I pray God should step in the problem I had at work today and also to bless me with children in my marriage
odaibankss anang
Ghana, 2019-01-10 14:59:38

please friends pray for me i am very sick
victory Godswill
Nigeria, 2019-01-10 06:42:23

Pray for the Healing, Comfort and Finances of the Skoch family here in Cottonwood, AZ, USA. Two boys recently diagnosed with Leukemia. Brady (15) and Aidan (17). Brady is in 2nd stage of Chemo and Bone Marrow Transplant next week. Aidan will begin same treatments soon. There is a Go-Fund-Me account; Brady and Aidan Skoch Leukemia Funds. May the Lord watch over this entire family in all aspects of their lives. Thank You Lord. In the Name of JESUS, Amen.
Ronald Messier
United States, 2019-01-09 16:59:49

Brothers and Sisters, I am asking for prayer during this time of grief that my family and I are experiencing. My 91-year old father has been suffering from dementia and other health issues for several years. He has been under Hospice care for a few weeks. Late this evening, the nurse that is caring for him informed me that he is transitioning and that he was able to tell her that he is tired. My heart is heavy. I don't want my father to suffer any more but this reality is so difficult. I am asking Yah for strength during this time and praying that He will remember during the resurrection. the love that my father showed to his family and to many people. Revelation 21:1-4
Lisa Stephens
United States, 2019-01-08 22:57:03

I am Hitesh from India, request to pray for me and my family as we are going under very crucial financial situation, we are trying to sale our flat from last one year and we are not getting success so do pray that we get a well customer andspecially who knows god also pray for my son who is in his 10th standard exams. Do keep us in ur prayers Hitesh
HITESH MASTER
India, 2019-01-08 05:52:08

Hello and Peace be with you, I'm having a hard time with confusion in my head, I get headaches with the amount of overload I have been having in recent weeks. I only started real prayer about a month ago, and I have been asking for guidance with deep sorrow in my heart to change. I'm in need of guidance and patience in order to be a good example for my Wife and 3 young children. Sometimes I'm quick to frustration, and I feel so scared that my Family will abandon me if I tell them my views. I am so scared and I feel so lonely just thinking about it. I'm scared that my Wife will leave me with the children, and my Brothers and Sisters will ostracise me. I have been praying to our Heavenly Father in the name of his only begotten Son Yehushu (or Jesus). The temptation to fall back into deeper sin is increasing and I'm really scared of losing my Family.
Jordan Xavier Fournier
Canada, 2019-01-02 00:07:48

Brothers and Sisters in Yahusha I am requesting prayer please, that the still small voice of Yahuah and His Holy Spirit will be ever present in my life. I need the wisdom and the courage to exercise the faith that is described at Proverbs 3:5 in all matters; not leaning on my own understanding, but trusting in Him in all of my ways. As the light becomes brighter and brighter, my supplication is for clarity in all matters, so that my life will truly be in accord with Yahuah's Will, now, henceforth and forevermore.
Lisa Stephens
United States, 2018-12-31 07:26:33

Please pray for my friend Mary, who has been treated for breast cancer for over two years, without success and spreading throughout the body. I feel this is our last best and urgent chance. She is such a godly person! Love Ken
Ken Coleman
United States, 2018-12-30 16:44:48

Prayer for me to resist evil temptations and Gods grace to help me not to sin . For to be enlightened with more new light and for me to be award a government sponsorship for a study leave in 2019. Thanks
Moses Mwanjeleka
Zambia, 2018-12-30 09:52:40

Please help me continue to learn of your truth Lord. I've found myself to live in a community where one must lie to survive. My bodily injuries if known would prevent being hired. I believe I am the only one in my area in similar understanding.
John Wood
United States, 2018-12-24 19:56:55