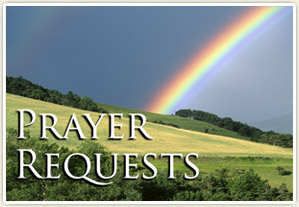 Faith is simple in its operation and powerful in its results. We believe that prayer is the key in the hand of faith to unlock heaven's storehouse, where the boundless resources of Omnipotence are treasured. We consider it a privilege to pray for you.
NOTE: Please read the prayer petitioners' guidelines, and send only 1 prayer request per week, unless it is an emergency.
To post a prayer request, you must first register an account or login. This is necessary to protect the community and the prayer board from being abused by spammers. We sincerely apologize for this inconvenience.
please pray for my aunt linda who is suffering with mental health issues
Nathan Kerin
United Kingdom, 2016-12-01 11:45:19

Please pray for a friend of mine.His wife Is filing for divorce and hes having a tough time with It.
Howard Lockamy
United States, 2016-11-26 11:13:55

I need prayer for miracles for my life. I am going through difficult dark times. Since I lost my beloved dad two years ago, everything go wrong. I am depressed, need husband, secure new job [which will be difficult because of my age, hearing impaired, white and woman] and healing for my health and my mom's health. I also need to be financial blessed. Salvation for my backslidden brother and his wife so that they could bring up their little girl with knowing the Lord.
Belinda Hogan
South Africa, 2016-11-25 02:59:42

Pray that I will br ready for Jesus return and get out of Babylon. I want out pour of the Holy Spirit.
lynda house
United States, 2016-11-24 08:45:46

pray that I can get out of babylon. my cousin, that i live with will make it very difficult.
marya miskowitz
United States, 2016-11-24 01:51:46

I want to offer a prayer of praise to our Father Yahuwah, he has granted my wonderful girlfriend Lana and I the blessing we were seeking to proceed with our relationship together, I will be asking for her hand in marriage very soon and I praise our Father in Heaven for making this happen.
Donald Drouillard
United States, 2016-11-23 14:06:04

Pray for PEACE!
Savuth Penn
United States, 2016-11-19 12:13:45

I have discovered your website today. Please I beseech you to pray on the behalf of the true believers in France, for our protection by our father YHWH. We are extremely few and our freedom and liberty of speech are very limited. We live in a very disgusting and depraved country of sodomites. Thank you
Deniz Torun
France, 2016-11-18 14:44:52

I ask for special prayers for my nephew Julian R. He is under a cloud of darkness, living with a knapsack on the streets of Toronto, Canada under satanic control.
Peter Walker
United States, 2016-11-17 08:06:55

Pray for a friend of mines wife that was diagnosed with breast cancer.
Howard Lockamy
United States, 2016-11-16 05:46:28

shalom,assist me in prayers,to stand spiritualy nd preach others word of god,also a job
sandrick kuzman
South Africa, 2016-11-15 16:24:54

I want to receive the anointing of the Holy Spirit before I began my ministry but I am still falling short before the Lord. I wish to have the power of healing. Please pray for me. I need a revival in my spirit.
Kanika Chishi
India, 2016-11-15 11:53:27

please help include in your prayer of my husband Ener who will take a board exam for Custom this coming november 15-16 to pass the board exam and will get a job soon which will not affect our beliefs or against the sabbath day. And also pray for my brother Gibson which also now started his review of Electronics and communication engineering until november and help him to pass the board exam soon.
grace ocariza
Philippines, 2016-11-14 08:05:22

kindly pray for my husband karthi's salvation.and also he wanted to start a business.GOD OPEN HIS WAYS FOR BUSINESS.MY JOB regularization,because im working as temporary position in govt sector.
lawrence mary
India, 2016-11-14 03:51:19

I pray for Grace for Promotion
odaibankss anang
Ghana, 2016-11-13 18:02:03

Please pray for me, Am addicted to Porn and Masturbation. I really want to give up this habit but I don't know how. Your advice also may help
stephen odhiambo
Kenya, 2016-11-11 04:02:20

Please pray for America. Thank You and may God bless us all.
Karen Redding
United States, 2016-11-08 21:15:38

please pray for my salvation and my family. thank you...
Michaelle Allen Ella
Philippines, 2016-11-07 05:58:32

We need your prayers to continue in faith for all our brethren all our over the world. esther
Esther Christian
Nigeria, 2016-11-04 08:08:17

I pray that God will help me find a home church in middle Tn to join, so that I can meet other brothers and sisters searching for the truth, and we can fellowship together, its just my kids and I, and I need help, I'm new to this and don't know how to teach my kids like other mothers who have been doing this long, please pray for us, please pray God will bless us with knowledge, wisdom and spiritual understanding. Thank you all so much, In Christ Holy name Amen!!
cindy rodriguez
United States, 2016-11-03 13:17:22

I have been blessed to watch many of the videos on your site. I used to be very active in the SDA church and this truth has truly liberated me. I believe in Yah's calendar and follow it. It has been such an amazing journey and I'm thankful for your ministry. My prayer request is that I wish to get married, but I honestly see no one Yah is leading me towards because so many reject this truth about the calenda and his appointed times. I don't know where to even begin with dating and I need Yah's guidance to be equally yoked with someone.
K. Onwazu
United States, 2016-11-02 18:23:51

Could you please pray for wife Rini to fully accept Christ as Saviour? Also please pay for daughter Devamayi (nearing 5 years) for good health
Shylajan Subhashanan
Kuwait, 2016-10-31 10:26:37

PRAY FOR FUTURE
manikya mani
India, 2016-10-30 13:24:35

The past two years have been the darkest days of my whole life. Now, I accepted Christ and willing to baptize next month. I am going through rough time in my life. At the end of the November, I have an important court hearing to go and I need your prayer to help me overcome these obstacles in my life.
Holritch Rivette
United States, 2016-10-30 12:42:12

I am new in WLC. I just got baptized in SDA church! I refused to sign as member today! Now I am seeking more answers and understanding around last Pope prophecy, Lunar-solar calendar, how to keep sabbaths and new moons holy? Where to worship in England, near to London or Colchester ? I feel like alone in this faith and there is no church around me, who supports lunar-solar calendar system? I need prayers and I am praying myself as well, that Gods leads me to full understanding about everything and that I am going to find a way to worship and felloship with people who share same faith with me in the name of Father Yah son Yahushua name!!
Ergo Kalamees
United Kingdom, 2016-10-29 19:24:50

I pray that God will help my family hunger and thirst for the truth, will be obedient to God, and will help us put on the whole armor of God, and will help us spiritually prepare for what coming upon this earth. In Christ name I pray AMEN!!
cindy rodriguez
United States, 2016-10-26 12:13:50

Kindly pray for my brother Godffrey Siwale, who was convicted of defilement case in USA. He is still in police custard awaiting for a court trial this Wednesday.
Geoffrey Siwale
Zambia, 2016-10-25 09:49:19

Hello with lots of love and thank you for a wonderful website you have. Would you and your community please pray for my sister Laura. After a gall bladder removal and finding out that was not the problem its now a year plus with the same stomach and digestive issues. Dr's cant seem to figure it out. We have done many communions and are believing in Jesus for a healing! God bless in the name of Jesus... Thank you
John Udelle
United States, 2016-10-23 21:55:51

O Lord my God, please help me and hear my cry. You know my pain. I am putting in a prayer request for casting out monetary demons & breaking financial curses. Please help me pray to the Lord our God to relief me from financial burden and change my financial story. Thank you lord for hearing my prayers & granting my request.
Prince Dick
Cote D'Ivoire (Ivory Coast), 2016-10-21 22:52:28

I'm planning to go and share Truth out in public here in my home town of 13,000 which grows to 18,000 during the college semesters. I'm scared, most people know who you are in such a small town. I don't want my family losing faith when people start attacking them on my behalf, and I don't want to lose faith when my relatives start saying hurtful things to my family. I am use to quitting when encountering adversity
Andres Padilla
United States, 2016-10-21 13:46:17