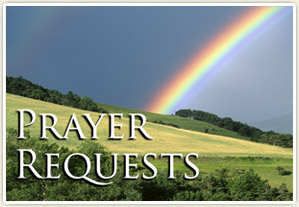 Faith is simple in its operation and powerful in its results. We believe that prayer is the key in the hand of faith to unlock heaven's storehouse, where the boundless resources of Omnipotence are treasured. We consider it a privilege to pray for you.
NOTE: Please read the prayer petitioners' guidelines, and send only 1 prayer request per week, unless it is an emergency.
To post a prayer request, you must first register an account or login. This is necessary to protect the community and the prayer board from being abused by spammers. We sincerely apologize for this inconvenience.
Please pray for me and my daughter (15), we need help because our life is so difficult. We have lived on the street for a couple of times and still don't have a home. I work in my business for more than 20 years (I am a consultant) but I can't find any clients. Further I suffer from MS and am disabled. Please pray that I will be cured. It seems that since we have found Yahuah, that our life is getting harder and harder. We pray all day long and trust that the Holy Father will help us, but often the situation gets worse and it seems that the Father has forgotten about us. Please pray for us that Yahuah will give us clients so that I can generate an income. Please pray that Yahuah will cure me. Please pray that I can take care of my daughter who needs new clothes. Please pray that we will find a home to live in. Please pray that Yahuah will bless us. Thank you so much. May Yahuah bless you all!
Beatrix Vertogen
Germany, 2022-11-28 06:19:10

I have been struggling to take this part ,i need Yahuah ruach to guide nd strenghen me in this lowly and narrow part. Amein
OKECHINEKE CHUKWUEBUKA
Nigeria, 2022-11-08 16:49:12

Please stand in Prayer over our daughter. She lives on the streets and is pregnant. She is an alcoholic and continuous to drink very heavy. Pray that she will go to rehab and seek help. Thank you.
Martha McCarroll
United States, 2022-10-17 10:05:01

Please pray for me to overcome my sin and for strength to overcome trials and tribulations! For Yahuwah to send His Helper and comforter and healing Holy Spirit to fight off evil with His Holiness and Glory forever and ever amen!!
Michael Horton
United States, 2022-10-15 02:11:25

I ask for prayers concerning my mind concerning sin. I continue to fall into a deep sadness when I cannot move forward after I sin. I know we have a fallen nature and do forgive others who sin, the problem is I do not seem to be able to forgive myself, even when I ask Yahuwah ah to forgive when when I sin. I feel each day despair and an hopeless as though I cannot move forward. Fear that there is nothing in me worth saving after knowing who I am, I only wish that my life would end, and do not wish to continue on. Pray for me to ask Yahuwah to believe I am forgiven, and that I can forgive myself as well. I am in great need to come out of this depressive state to continue on in faith. I know more prayer is needed from me, each day to begin the day in prayer and ending in each day. I pray that anyone that is facing similar feelings are also relieved of these feelings of unworthiness as well. Thank you for your time in this, and I pray your needs are met by Yahuwah as well.
Richard Stanton
United States, 2022-10-14 08:36:36

I'm in desperate need of a new home of my own... I've been dealing with a landlord that has not fixed anything is text anything since I lived here.. I believe he is breaking the law but I cannot get anybody to help me... I am legally disabled. And recently with hurricane Ian, A tree fell down in the backyard and demolished the water system and Punctured the roof... Is the landlord told me he will not fix. A few months ago I did study and get my life insurance license in Florida.. But I have yet to figure it out and how to do this job. I asked forgiveness for alcohol use in the past... I am in chronic pain and will self medicate with Alcoholwhen it gets too bad.. I smoke and I hate it. My husband left me.. Is sometimes he helps sometimes he doesn't.. I have been cleaning houses to make ends meet... I don't have any customers anymore. The landlord wrote an illegal lease and raised my rent $438... I have prayed over it spoke over it... Very new to this page... Right Now most every waking moment is trying to learn.. I now have water but there is no cleaning system for the well water.. But I have spoken over it and drink bottle bottled water. A gentleman is supposed to come and patch my roof... He was supposed to come 5 days ago keeps telling me I'll be there tomorrow in doesn't show... This website has given me Because a month ago I wanted to kill myself... I have an 18 year old daughter with a very estranged Relationship but you did call me yesterday and apologize for being mean to me... I'm desperate for a home of my own... Whether it it was my thinking or it was from Yahweh.. I had a vision of a tangible place in my new home to have home meetings to worship Yahweh... I do not go to any churches anymore.. But just sent the link for this page to my previous pastor... And I'm sending it to many people as possible. I prayed today to be Yahweh's vessel... A wonderful woman Julie found my name and called me the other day Which led me to this website... It was just after my prayers of police God tell me the truth.... I didn't know YAHWAH that point.. Is trying desperate leader learn the truth... Answer received the promises... Been trying to share this with my husband he lives in Massachusetts our daughter and I live in Florida.. I regret I don't have a lot of patience with him.. He's from Brazil and his English is very limited.... I am trying now to show him respect... Is and I know this will make the difference... We marriage because I got pregnant and he needed a green card... I try to love him I do love him but not as a husband... I was always in love with another man who I have not seen in 40 years... I repent for that... I thank anyone who sees this and prays for me and my family.
Elizabeth Mclaughlin
United States, 2022-10-07 09:59:38

My wife Leelamma is under going endoscopy colonoscopy and CT scan. Some concern for liver disease etc. Please pray for healing and proper diagnosis and healing. May the Almighty name be glorious Amen
BabyAugusthy Panamkatt
India, 2022-09-20 08:45:38

please pray for my family there house just got burnt, the gonerogo family at nadonumai in fiji,thank you W.C.L
Apimeleki Rayasi
New Zealand, 2022-09-14 03:50:31

And i would like to add prayer for my friends who don't comprehend how important yahuwah is and why they should pray evertyday and seek out the kingdom of yahuwah
Anthony Lang
United States, 2022-09-13 00:30:00

I ask for forgiveness of sins of sexual imorality, adultery, lust, drinking alcohol, foul mouth, lying deceit, judgement of others, porn in the past not now, i pray to be forgiven forvthe mistakes ive made in my life, to be the man yahuwah intended me to be, i love you.
Anthony Lang
United States, 2022-09-13 00:27:58

please pray for friend Peniasi work visa to be approved. And his dad Tomasi is sick, please me and my friend are originally from Fiji but working in new zealand for our family back in fiji. we srongly believe in the power of Yahuwah our Creator, thank W.L.C.
Apimeleki Rayasi
New Zealand, 2022-09-12 01:29:59

please pray for my family dilala,puni,nalawa,mereyani,vasiti,babe vasiti marisa,seini,big nalawa ,siteri,sakiusa,leiene,salote
Apimeleki Rayasi
New Zealand, 2022-09-09 20:59:54

my request please pray for my health as im in alot of pain and have breathing problems where i have to be on oxygen tanks and am stuggleing to lose weight thanks you
shawnee reck
United States, 2022-09-04 02:34:23

I pray for Yahuwahs will to be revealed unto us and that His glory and power is glorified in us throughout the battle in this world that we overcome any evil with good! That Yahuwah is our strength and firm foundation that we dtand on! I pray that Yahuwah is our reward that we seek through His Son so the saints overcome the darkness and wickedness of the world and recieve the Holy Spirits eternal light of Salvation! Amen and amen!
Michael Horton
United States, 2022-09-03 17:22:03

I pray father Yahuwah to bless me and my congregation whom have believed in His true sabbath of the Bible and also uses the biblical calendar to worship Him
Kas Kwabena Antwi
Ghana, 2022-08-27 06:45:08

My income for my charity organization depend on grants and donations, for the past 2 years we have not received very low cash transfer for transport costs to enable me visit to older people who need palliative care.. Please pray for to find the best donors.
Elisha Mwakinga
Tanzania, 2022-08-25 06:10:09

please pray for my cousin in fiji her name is Mereyani ,she is facing finance difficulties ,her work boss accusing her for stealing money at work, and please pray for her dad is sick, thank you
Apimeleki Rayasi
New Zealand, 2022-08-25 05:39:57

Please pray for my sister. Her boyfriend took his own life a couple of days ago. She is devastated. She is also pregnant with his child.
Carissa Paglino
Australia, 2022-08-25 01:26:22

please with all respect pray to our Creator to provide some fund for me to built our family house back home in Fiji ,, it is very old, thank you
Apimeleki Rayasi
New Zealand, 2022-08-23 06:17:19

I help older persons to access health care services. This morning am taking Jackson Mwaipopo to Mloganzila Hospital for admission to be operated tomorrow for removal of urinary bladder stone and prostatectomy. He is 86 years of age. Please pray for him to have a successful surgery and recovery.
Elisha Mwakinga
Tanzania, 2022-08-23 01:06:38

Brothers and Sisters help me pray for my health. I am in hospital now. I hope I can regain my good health and praise YHWH in every day life. All Praises to Our Father.
ralf jr maquiling
Philippines, 2022-08-06 00:09:33

I ask for prayers for myself to come out of the deep depression I am experiencing after my wife's death. I habe been wrestling with the thought of being alone, not being able to talk with someone about Yahuwah and the coming of Yahushua soon. I feel quite isolated, no one else I can talk to about the true Sabbath, Yahuwah's creation, the flat earth moon and stars, his calendar and New Moons, and so much more. She was the one I could talk to and lift her up, and she me. Now she is gone, and yes Yahuwah is there, with me, but not having someone to discuss with, while things get harder, and knowing what will come next, has made me depressed and not in tune with Yahuwah and his thoughts. Satan has attacked me on this point, to the point of dispar. I am in need of much prayer to come out of this. I have felt I have let not only Yahuwah down, but my wife down for getting to this point. Please pray for me that I come out of this depression and continue this road of knowledge and don't give up. Thank you in advance for your prayers, and I also pray for your needs as well.
Richard Stanton
United States, 2022-08-04 08:36:29

To: WLC team Praise Yahuwah! may he grant all the Christian and non Christian and the WLC members prayer requests. Personally, I wish that our Yahushua help me obtain the amount of money I need to pay the tax which imposed on the deceased depositor account in order to fulfill their charitable work entrusted to me as the beneficiary and partner to distribute the amount wisely to the poor, the needy, widows, orphans and to spread the word of Yahuwah.
Virgilio Villegas Plasabas
Philippines, 2022-07-08 20:05:02

I pray to father Yah for long live, more grace and strength to continue to serve him
Timothy Okhuoya
Nigeria, 2022-07-02 06:23:31

plese i just need my visa and my kids to come to me thanks
Apimeleki Rayasi
New Zealand, 2022-06-23 03:45:05

please pray for fiji my beloved country for Yah to burn down all demonic powers for fiji to br free from all demonic institution
Apimeleki Rayasi
New Zealand, 2022-06-20 16:46:51

God anything that will bring down my glory, God should take it away..! help me people of God.., wisdom to overcome the challenge am facing now...!
John Success
Nigeria, 2022-06-20 07:50:30

Please pray as I need a job also to help me fight the negative energies around me. Thanks
Jose Neves
United Kingdom, 2022-06-19 02:59:25

please pray for our company "Grit workforce" and for Richard and Dylan the two company directors and there family to convinced to follow the light at WLC, thanks
Apimeleki Rayasi
New Zealand, 2022-06-18 09:11:21

please pray for me I have difficult medical problem which makes my life to be complex.
Tamrat Moges
Ethiopia, 2022-06-17 16:27:43