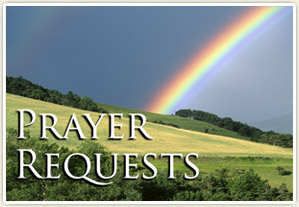 Faith is simple in its operation and powerful in its results. We believe that prayer is the key in the hand of faith to unlock heaven's storehouse, where the boundless resources of Omnipotence are treasured. We consider it a privilege to pray for you.
NOTE: Please read the prayer petitioners' guidelines, and send only 1 prayer request per week, unless it is an emergency.
To post a prayer request, you must first register an account or login. This is necessary to protect the community and the prayer board from being abused by spammers. We sincerely apologize for this inconvenience.
please urgent pray for my family..Our neighbours is not good for us they behave like satanic people..Actual satan working through them and threatening us..so please please pray for us and let them leave from here...shalom
Rashmi Vijay
India, 2017-01-18 11:13:41

Unspoken prayer and a house
Martin Thomas
United States, 2017-01-17 12:27:22

please pray for my family as well us our relationship to each other and to have a strong relationship with Gods in good times and in badtimes. And also for our health specially to my brother Gibson who found out that there is a " bukol" grow in the upper of his tummy. I need your prayers for him that this will disappear in his body and let God heal him. Please also to pray of my husband that he can find a good jobs which salary income is enough and can also help to other people who needs also a help financially. last thing is we are planning to build a business need your prayers that we can decide soon what business is the best that can't affect our faith in Gods and my relationship of my family and friends. We are praying that God will bless us and guide us always and protect us in any temptation and bad spirits and bad people around us. Thank you so much also for all your prayers. May God bless you also.
grace ocariza
Philippines, 2017-01-14 08:23:35

My prayer request is for my mother who is 82 and was recently diagnosed with ulcerative colitis, diverticulitis, and now after undergoing a colonoscopy she now has a hole in her colon and bladder which is allowing fecal matter into her bladder. She is a non believer and needs Yahuwah and Yahushua. Please pray for her physical and spiritual healing. My other request is for mine and my wife's friend "snoopy" our beloved cat. Snoopy has just been diagnosed with stage 2 kidney failure. We are doing our best more than before to aid him in his diet. Please pray for complete healing for Snoopy.
joe capps
United States, 2017-01-12 18:35:56

I have a prayer request for my children. They need Gods help. Thank you and Bless you all.
Karen Redding
United States, 2017-01-09 23:29:05

HalleluYaH forevermore -prayer for strength for me and my family to be found doing the Fathers Will both now and forevermore - all in the name Yahushua
Kendal Deck
United States, 2017-01-08 16:05:20

Hi. Thank you for your support in prayer. Please pray for a new living situation for me. A place to live that is free from smoking, television addiction and any form of addictions. A healthy environment and the funds to support the living in order to serve our King of Kings. Please also pray for humility among our nations leaders and the transition of our United States leadership to happen in a humble and King of Kings honoring way. Restoration of relationships too and the blessed walk to be an honest child of the Most High where ever I go, may I serve Him well. Bless you all. Thank you.
Deborah Kemper
United States, 2017-01-07 18:39:13

Shalom Brother.. Please pray for my 9 month baby Shon..he have very badly loose motion..and not taking feeding also so please please pray for him for healing..
Rashmi Vijay
India, 2017-01-07 01:40:37

Pray that my masturbation addiction will be gone forever after so many years and that my friends and family will come to the truth of Yahuwah. May the glory be with Yahuwah always.Amen! Thanks for reading this.
Jason Ho
Singapore, 2017-01-05 17:58:37

I pray that Susan Elizabeth will find alorica@home .com and get employment that will cover her financial needs
Susan Miller
United States, 2017-01-05 17:12:14

I need your prayers my beloved brethren. Pray for Yahuwah to uphold us and not to allow us to be found wanting during this close probation period. That we should grow from faith to faith.
Esther Christian
Nigeria, 2017-01-05 06:23:24

I am fighting my generational curse of lust and pornography, please pray that I completely overcome this. Thank you
Joseph M
United States, 2017-01-01 18:43:34

Pray that I'm Able to endure trials I decided to go another way or belief contrary to the world for the Truth. Please help me overcome beseting sins. Pray I be blessed and have a sound and sober mind with love. Also one thing pray I found a virtuous wife found in Proverbs 31, Please pray fervently thanks and Yah(Elohim)bless you all!!!
Durell Thompson
United States, 2016-12-31 07:27:32

dear brothers and sisters, i have a dream to make my parents happy, to get in to the college we want to, and to be a blessing for people around me. thankyou for praying too. God bless.
kevin kanaan
Indonesia, 2016-12-30 12:19:37

Dear Brothers and Sisters please pray for me as I am looking for online work and a safe place to live for my yet-to-be-born-son and I. We both need blessing and protection. Thank you. I also pray everyday for the requests on here that I see. Keep posting them.
Susan Elizabeth
United States, 2016-12-28 17:53:03

Dear Brothers, and Sisters I live with daily pain in my back and it has come to a point I can hardly walk or even do simple chores around my home. I've tried praying for healing a long time, and now I came across this page and thought I have nothing to lose if others can also pray on my behalf. God Bless you all and I will pray for you also.
Brenda Riddell
Canada, 2016-12-28 11:38:43

Dear Friends at WLC! Please pray for my believer friend Raju as he is appearing for Sub-Inspector's exam and events in the Police Department here. Kindly pray that Raju may come through in flying colors! Thanks to you all there! And all Praise and Glory to Yahuwah!! Jack Ittera
Jack Ittera
India, 2016-12-28 09:14:10

for my health, the thyroid, and high blood pressure... and for the people i take care of who are non-believers...
marysue lewter
United States, 2016-12-17 17:08:09

Praise the Lord. Please pray for my family members and financial needs. Enrolled Agent Part-2&3 exams. Please pray for me I need the power of the Holly Spirit to guide me understand the word of God. Best Regards. Ashok
Ashok Reddy
India, 2016-12-13 14:35:20

Please pray for me I need the power of the Holly Spirit to guide me understand the word of God
Elisha Mwakinga
Tanzania, 2016-12-13 00:25:25

Please pray for my younger sister ALMA MORATA for healing/recovery from a Stage 4 Breast Cancer. Her cancer was diagnosed last August 2015 as Stage 2. I opposed the operation/chemotherapy then because I want my sister to experience GOD's healing & power, thus we opted to alternative medicines (fruits/vegetables diet, natural juices extracts, direct injections of vitamins & minerals to her veins). Right now she's suffering from pains on her left shoulder/limb/arm. Her recent doctor's diagnosis is it's too critical for her to have an operation for now because the cancer cells spread closely to her bones of which it might cause continuous bleeding.
Rey Morata
Philippines, 2016-12-11 00:18:56

Dear brothers and sisters in Yahuwah, please pray for my uncle Micheal he is not feeling well and the doctors have asked him to undergo sonography, please pray for him. In Master Yahushua's Name
Mark Mascarenhas
India, 2016-12-08 12:42:38

Brothers and sister in Yahuwah, Please help me pray for a peaceful election in Ghana. Also pray for the protection of my party NPP and that NPP win with big margin in today's election. Please pray for me.
Raph Addo
Ghana, 2016-12-07 02:14:07

i've lost faith in God. I don't trust him anymore, I got really dissapointed and it shooked my faith and now I'm struggling to keep my faith but is getting nowhere. Please pray for me, I'm lost.
Afriyie Daniel
Ghana, 2016-12-06 21:12:06

Please pray that I find work as I need income yesterday. I have 2 M.A.s. I am in Washington state and can be reached at (425) 404-0389. Thanks and blessings...
Frank Heiss
United States, 2016-12-06 20:37:34

pray for my brother barrett, he needs his healing and protection. love you guys.
kevin perreault
United States, 2016-12-06 15:10:13

HalleluYah , I'm a truth believer from Ghana . We need general protection, because our National election falls on 7th Dec. 2016. But unfortunately is Shabbat. May Yahuwah guide us on that day...
Frank Acheaw Boampong
Ghana, 2016-12-05 16:25:44

I Thank You Yahuwah .. I need general protection ,secured business and a truth believer partner. So that I can have more time for truth ministry of Yahuwah.. (HalleluYah)
Frank Acheaw Boampong
Ghana, 2016-12-04 22:31:37

please pray for my aunt linda who is suffering with mental health issues
Nathan Kerin
United Kingdom, 2016-12-01 11:45:19

Please pray for a friend of mine.His wife Is filing for divorce and hes having a tough time with It.
Howard Lockamy
United States, 2016-11-26 11:13:55