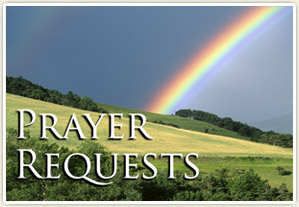 Faith is simple in its operation and powerful in its results. We believe that prayer is the key in the hand of faith to unlock heaven's storehouse, where the boundless resources of Omnipotence are treasured. We consider it a privilege to pray for you.
NOTE: Please read the prayer petitioners' guidelines, and send only 1 prayer request per week, unless it is an emergency.
To post a prayer request, you must first register an account or login. This is necessary to protect the community and the prayer board from being abused by spammers. We sincerely apologize for this inconvenience.
My son is struggling with alcohol and MJ addiction further causing mental issues
ronald mills
United States, 2017-04-22 20:08:41

Once again I have tried to find out what day is the sabbath but once again was unsuccessful to bring it up on my computer I have seen others who wrote in and complained that were unsuccessful to get Yahuwah true Sabbath also? I don't understand why it is so hard! I talked with a brother in the seventh day Adventist Church the other day and told him about all this new truth that I had found and was telling him about the lunar solar calendar and of course he resisted but I believe I really got him to think about it,.....afterwards I thought boy I'm so glad he did not ask me which day is Yahuwahs true sabbath because I would not know what to tell him! I know its out there somewhere for some people just not for me. Pleased pray that someday someone will share Gods true Sabbath with me as I cannot get it here! Thank You!
peter chavez
United States, 2017-04-22 13:32:55

That Yahuwah would help me to find which day the sabbath falls on as I cannot receive any help on this site!
peter chavez
United States, 2017-04-18 09:35:52

Beloved in Yahushua, I am requesting of thee to remember me in your prayers as almost all the time, i feel down-spirited as i seem to be worshiping alone. I also need prayers on overcoming fear and doubts, the strength to overcome "judging others". Thank you.
Raymond Owusu Agyei
Ghana, 2017-04-15 17:21:13

Dear beloved brethren, pleasant good night. I am asking you to pray that God can release me out of this marriage I'm in. I'm been mentally abuse and I really need to be out. This semester is challenging, therefore I'm asking for prayer that I will be successful with my exams. God blessing to you all Your in Christ Sis Beverley
Beverley Orr
Netherlands Antilles, 2017-04-13 23:30:16

Yahushua , My king of Kings! Redeem me with your Blood, Cleanse me from the Curse of my ancestors, accept me into your fold of Your kingdom , come into my life, and if it pleases you, Bless me as you wish. I ask for Forgiveness from my sins and the sins I have inherited.I Plead for Mercy and ask for your Grace ! Amen Pls Pray for me , All you my brothers and sisters out there!
James Allotey-Annan
Philippines, 2017-04-12 22:54:14

Lord, l pray for understanding when one man examines me: "Our little world is the lesson book of the universe. Yahuwah's wonderful purpose of grace, the mystery of redeeming love, is the theme into which "angels desire to look," and it will be their study throughout endless ages..." To confine my spiritual scholarship to his interpretation : "How is our little world a lesson book for the universe? The wonderful purpose of grace and the mystery of redeeming love was new to the unfallen worlds as well as the redeemed. Or It is a warning how Yahuwah will destroy any world that does not obey Him." Then, allows me, a sinner, 5 attempts to gain 100% to pass on pain of -25 points. Forgive me Lord if l fail eternity through this man's examination. Lord, have mercy.
George Stack
Australia, 2017-04-08 18:12:39

i am a pastor and need god to bless my ministry and also strengthen me his work. i need god to bless me spiritually and financially.
Ebenezer Aidoo
Ghana, 2017-04-07 20:03:17

Pela Família !
Aremilton Machado
Brazil, 2017-04-06 22:43:18

God is drawing me closer to him (after a lifetime of wandering) and has opened my spiritual vision,warned me - very directly - that we have little time. I'm just learning to draw knowledge and wisdom out of scripture, and to subordinate my ego to God. I am headed as far out of Babylon as I can go! I'm fine - God is walking with me and blessing me. But my wife kicked me out. She has been diagnosed with bipolar, and while she has sincere and deep spiritual aspirations, she's also deluded by a Leftism, feminism and being intellectually gifted, has an enormous ego - which the better part of her struggles with. Paganism and "earth religion" stands between her and a direct relationship with the Creator. She has a lot of trauma from child abuse and from bad experience with men, that needs healing now. Please pray that God's will be done and that he will show her his immense mercy and love, and send her the aid and healing she requires to liberate her, and allow her spirit to reach Him. Amen. Thank you and bless you all.
Dan T
United States, 2017-04-05 02:38:29

I ask in prayer that Yahuwah help me to start a home Ekklesia in my village. I pray for help in the form of strength, patience, time, Bible enlightenment and to have Him send to me those who truly want to learn and follow truth.
Benoit Deschamps
Canada, 2017-04-04 10:01:02

if there is a single prayer that I would like to request, it is all about the issue of security and safety for me and my family that we might not be affected in our place plagued with illegal drugs, and the anti drug enforcement agents are now on the hunt against certain drug users and pushers on our area.
Rey Gacasan
Philippines, 2017-04-03 23:54:40

For my daughter (Mayra) will not go to church or read the Bible. Please pray for her salvation, that she would open her heart to God and turn away from the things of this word.
Gloria Gomez
United States, 2017-04-03 10:34:59

For my wife (Chauntel), and 3 daughters (Chaun-cale, Carly-may, Angeline): Sins i receive the truth regarding Sabbath and the true day of Worship they reject YAHUAH and His Word. My wife refuse any form of religion and teach YAHUAH children the same. Please pray with me fro them to receive the blessing of reading the Scriptures and seaching and keeping the truth.
carlo raath
South Africa, 2017-04-02 08:00:34

Kindly pray for that I may be successfully sell my property and pay out those whom I owe and remain with a balance for my initial capital to start my own business. Thanking you
Elisha Mwakinga
Tanzania, 2017-04-01 15:39:16

Please pray for me and my husband James.We are childless .Pray that we may be blessed with a child soon ,all for His glory
MINU JAMES
India, 2017-04-01 01:09:20

Pray YaH bless all His children so that this new yr upon us will be filled with His power and Love, may we go from strength to strength in his knowledge and render ourselves fit in YaHuSHuas Name, Selah.
Clinton Mea
Australia, 2017-03-28 02:47:34

please pray to all my family schettini members to have peace health and protection to evil thank you
Marcio Schettini
United States, 2017-03-25 11:17:23

I am asking for prayer for us as we both have health issues my wife Olga was found to have cancer for about eight months now she is doing her gerson therapy which is essentially the eight health laws I am retired and also diabetic and also have kidney problems my wife Olga had to quit her job and has no insurance I have medicare but doctors are from Satan anyway my wife needs medical tests and they are expensive I am paying for everything right now and things are very tight with money I know Yahuwah is faithful and I pray everyday and read my bible but would appreciate some prayers from you as well! God bless you for what you are doing! I am so happy to have found Yahuwah!
peter chavez
United States, 2017-03-23 13:25:13

After many years of searching and misguiding, I finally received the blessing of JAHUWAH in these revealing times. I am a little lost on this site, I seek my bearings. Pray for me as I pray for you. The strength of prayer unites us and protects us that JAHUWAH bless you.
Jean-Claude Folie
Belgium, 2017-03-19 22:25:14

i want to come out of all my money problems
mamtha s
India, 2017-03-16 08:01:11

I want God to make a candidate of heaven, full of righteousness and sanctify for master use
KUFRE UDO
Nigeria, 2017-03-15 17:27:30

Am venturing into self employment so that I can be free to serve in the ministry. This comes with lots of mixed feelings, including the fear of unknown and lack of courage. Please pray for me to get a breakthrough and to be able to earn a living.
KARUGA MARIGA
Kenya, 2017-03-15 04:24:41

I am asking for the community of God to cure my craving for alcohol which I had quit for 6 years but then slipped back last year. It has not been as bad, but I am afraid of what may come. Thank you.
Khutso Nkadimeng
South Africa, 2017-03-15 03:18:41

I ask you to pray for me, for the creator to give me a job, a companion, to cure my illnesses.
Anderson Aparecido Oliveira Brito
Brazil, 2017-03-14 08:44:01

All Praises to the Most High Power, Yahawah! My prayer request is that the Father would show me ways to earn a living so that I can honor His Sabbaths, new moons and feast Days. Also that I would be linked up with like minded believers so I can fellowship on those days with others.
Donna Lambert
United States, 2017-03-13 17:50:53

Cât de minunate sunt căile Tale Stăpâne Creatorul meu.Cât de perfect ai făcut natura,fiecare își știe locul ei,fiecare are o sarcină pe care trebuie să o îndeplinească.Oare noi oamenii,de ce nu putem să ne îndeplinim sarcina pe care ne-ai dat-o?Pentru că sarcina ta nu e grea și nici complicată așa cum tind unii să creadă.Tu nu voiești decât să fie Iubire,ca oamenii să se iubească unii pe alții,dar nu în primul rănd,să Te iubim pe Tine mai presus de orice.Dacă Te va cunoaște cineva va veni la Tine pentru că atunci când te va cunoaște va știi că Tu ești Iubire. Yahuwah este iubire, iar cine rămâne în iubire, rămâne înYahuwah și Yahuwah rămâne în el* (1Ioan 4:16) *Să-l iubești pe Yahuwah Elohimul tău,cu toată inima ta, cu tot sufletul tău și cu toată mintea ta...Iar a doua asemeni ei este*Să-l iubești pe semenul tău ca pe tine însuți* Matei(22:37-39) Astăzi 15.13 6003.este o zi sfântă,este ziua Ta de odihnă.Majoritatea oamenilor nu le pasă de această zi minunată,Puțini sunt cei care sfințesc ziua Ta. Mi se rupe sufletul când văd că majoritatea oamenilor nu vor să știe ce îi așteptă,dacă aleg partea răului.Își pun mâinile la urechi și nu vor să audă despre Tine Impăratul meu.Sunt nepăsători,iubitori de plăceri,vor avere cât mai multă,înșelători,iubitori de sine,nu vor să miște niciun deget pentru a ajuta pe cineva care are nevoie de ajutor.Au ajuns până acolo încât închid tomberoanele de gunoi ca nu cumva săracul să mai poată avea acces la ele. E trist ce se întâmplă în acestă lume.Mă doare sufletul când văd atâta lume care moare pentru că unii oameni,influențați de spiritele rele dau, cu toporul în stânga și-n drepta în semenii lor,de parcă ar da în animale.Omoară și rănesc copii,femei,bătrâni,tot ce le cade în cale. Toată lumea e îngrozită,dar,nimeni nu se înrtreabă de unde vin toate acestea?De ce se întâmplă aceste lucruri?Singurul răspuns ni-l oferă organele de stat este că acei oameni care omoară sunt bolnavi psihici,care nu găndesc rațional. Pe vremuri cănd Yahushua era pe pământ,a întâlnit un om care locuia în morminte.Și pe acel om nu putea nimeni să-l biruiască așa de puternic era..Acel om avea mai multe duhuri necurate care îl posedau și-l chinuiau.și nu putea nimeni să se apropie de el pentru că era foarte periculos.Cănd Yahushua a trecut pe acolo omul acela a simțit că El era singurul care poate să-l salveze și a vrut să-i ceară ajutorul,dar în loc să ceară îndurare din gura lui a ieșit alte vorbe: *Ce am eu a face cu Tine,Yahushua,Fiul Lui Yahuwah cel Preaînalt?Jură-mi pe Yahuwah că nu mă vei chinui!* Yahushua i-a poruncit să iasă din acel om și au ieșit și cu îngăduința lui Yahushua s-au băgat în niște turme de porci care erau pe malul mării.Iar acei porci s-au aruncat în mare.(Marcu5:1-20) Tot așa și-n ziua de astăzi oamenii care ies pe stradă,in gări, localuri.magazine,sunt stăpîniți de duhuri rele.Și nimeni nu poate să-i vindece,pentru că nimeni nu are credința atât de mare cum au avut credincioșii în trecut.Poate ca mai sunt câțiva dar nu se află la locul potrivit. În ziua de azi dacă cauți o companie a cuiva,toți sunt sceptici și te evită,eu nu am căutat ,decăt un suflet cu care să mă închin la Tine,de a Te lăuda pe Tine,de a ne închina împreună la Tine,dar nu am găsit.Dar Tu în mare mila Ta îmi trimiți îngerii Tăi să-mi țină companie.Nu îi văd dar îi simt și uneori îi aud.Aud acel cor minunat cu glasuri divine care-ți căntă laude și Te preamăresc.Cânt și eu împreună cu ei și simt că nu mai sunt singură pentru că Tu ești alături de mine: Tu ești Creatorul nostru/ De Tine noi ascultăm,/ Azi venim cu toți la Tine/ Lucruri bune să învățăm./ Mărit să fi, mărit să Fi/ Zi și noapte zi de zi/ Cartea sfântă Tu cănd ne-ai dat/ Și pe noi ne-ai învățat.../ Acestea sunt versurile care la aud în momentul de față.Îți mulțumesc din suflet că nu mă lași să fiu singură și că ești în permanență alături de mine. Te rog din suflet ,ajută-mă ,să pot să trec de toate greutățile care mi se pun în cale și Te rog din inimă,ajută-i și pe frații,surorile mele care fac voia Ta și ascultă de cuvăntul Tău să treacă și ei cu bine de toate relele pe care cel rău, le pune în calea vieții lor.Dă-ne nouă hrană în toate zilele noastre și nu numai mâncare ci și hrană spirituală că să ne hrănim cu ea.Ajută-ne și dă-ne puterea să salvăm suflete care vor să vină la Tine. Fă-ne apărătorii Tăi,a numelui Tău cel sfânt și nu ne lăsa să ne pierdem atunci cănd ispita apare. Mă rog la Tine Yahushua Împăratul nostru, să ne protejezi de răul care se va abate asupra noastră,și să nu ne lași să fim biruiți.Fii Comandantul nostru și călăuzește-ne spre lumină.Dă-ne iubire,ca și noi să putem să dăruim semenilor noștrii.\dă-ne înțelegere,ca noi la răndul nostru să putem să fim înțelegători cu semenii noștrii.Dă-ne binecuvântare și binecuvintează pe toată lumea. Te primim în inimile noastre,noi cei care dorim să locuiești în noi.Vino la noi Yahushua,fii alături de noi în permanență și nu mai pleca niciodată pentru că dorim să nu mai pleci.Trimite-ne ajutoare cerești și ajută-ne să învingem orice ispită.Dă-ne lumină din ce în ce mai mare și nu mai lăsa nici o picătură de rău,să locuiască în noi. *Yahuwah este lumina și mântuirea mea,de cine să mă tem? Yahuwah este refugiul vieții mele de cine să-mi fie frică? Chiar dacă ar înainta o oștire împotriva mea,inima mea tot nu s-ar teme. Un singur lucru cer de la Yahuwah,și-l caut cu stăruință,să locuiesc în casa Yahuwah în toate zilele vieții mele. Căci EL mă v-a ascunde în Coliba Sa în ziua cea rea* (Psalmi 27:1,3,4,5) *Yahuwah este păstorul meu și nu voi duce lipsă de nimic* ( Psalmi 23:1)
ena elena
Romania, 2017-03-13 10:47:47

Grace to be confirm in my new role as a receiving clerk @ my work place
odaibankss anang
Ghana, 2017-03-13 03:12:55

Please pray for me. My desire is to have a better job. I have applied for one that I believe is God's will for me. I need peace that I will receive this job from God. Bless you for praying for me.
Paula Vogler
United States, 2017-03-11 10:02:41

Please I request prayer from the fellowship here, an unspoken request. Yahuwah knows what I need and prayers to Yahuwah on my behalf would be greatly appreciated. I continue to pray to thank, praise, and worship Him and for those I love, and now it's my turn to need prayer. Yahuwah our Creator and Sovereign be praised. Thank you everyone and may Yahuwah bless you and I look forward to meeting you all in New Jerusalem.
Gary David Hill
United States, 2017-03-05 19:28:27