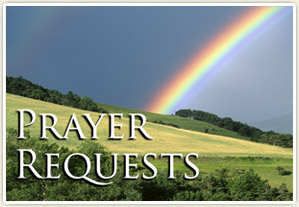 Faith is simple in its operation and powerful in its results. We believe that prayer is the key in the hand of faith to unlock heaven's storehouse, where the boundless resources of Omnipotence are treasured. We consider it a privilege to pray for you.
NOTE: Please read the prayer petitioners' guidelines, and send only 1 prayer request per week, unless it is an emergency.
To post a prayer request, you must first register an account or login. This is necessary to protect the community and the prayer board from being abused by spammers. We sincerely apologize for this inconvenience.
My wife Valorie Westley had a seizure several days ago. She is very confused and weak. Please pray for her. She's at a rehab in Conroe, Texas at present. I miss her sooo much! Hayden Westley, age 79
Hayden Westley
United States, 2019-04-20 03:36:32

pray for me to have always a peace of mind
manuel Pamaong Jr.
Canada, 2019-04-16 19:54:17

Please pray for me as i currently suffering from fractured ankle. I am pregnant and in my third trimester now. Please let us pray together to our beloved YAH to heal my broken bones and help me having normal birth. Blessed be the name of YAHUWAH
Emi Rugua
Fiji, 2019-04-08 21:41:34

I'm believing God for a new job and also for children in my marriage
odaibankss anang
Ghana, 2019-04-05 11:16:11

Shalom Aleichem. I ask for prayers, cause I've cancer in my stomach and other parts. And I have much problems with my forster mum, cause she is trying to covert me from Judaism to Islam. And beats me much cause of my Jewish faith. Thank you for your prayers. May The Most High bless you all.
מלאני אליס סנדרה גלוי לב
Germany, 2019-04-02 02:54:59

I need change of job. God should open another door for me
odaibankss anang
Ghana, 2019-03-27 11:20:27

Prayer request for a ministry in Tanzania. God is working miracles through His people in this area. These people need bibles but they are priced out of reach for a lot of people. Please pray for God's blessings on every penny that makes its way to this sincere WLC ministry (using WLC materials, not funded by them in any way). Just last week many people gave their lives to the Lord in baptism, many others committed themselves to further study and a case of bibles were delivered to remote churches. The power of Yahuwah is palpable.
Rhia Drouillard
United States, 2019-03-24 19:53:21

Praise be to Yah, I have debt issue, anytime i try getting out of debt another one comes in, Am currently fasting for 21 days to meet the New Year, Pls Help me in Prayers to vanquish all debt before the New Year starts. Thanks
Gagbah Innocent Stenzel
Ghana, 2019-03-19 10:18:03

Pls pray for Yah's will on my daughter's life. May she accomplish all the longings of her heart about her carreer, love & health. Healing in Yah's name. Amen
Sis Domingo
Philippines, 2019-03-07 10:43:00

Please pray for my son Lyle to be healed from psychosis resulting from drug use and for all desire for drugs and alcohol to be gone.
Kim Hourie
Canada, 2019-03-07 01:27:55

Please pray for my spiritual growth and to where I should send tithe too.
Mark Phelps
United States, 2019-03-04 00:55:57

WLC, please join me in praying that the Lord please deliver me and my family from demonic bondage and oppression. Almighty father please neutralize and destroy the power of the enemy over our lives and let the name of the Lord be glorified. Amen
oma A
Great Britain (UK), 2019-03-03 17:40:13

HalleluYah! Glory be to the Name of YAH Almighty. May YHWH Almighty show me right direction about my New relationship. May Ye also protects me, improve my Business and Financial status.
Frank Acheaw Boampong
Ghana, 2019-03-02 19:09:00

PROMISES OF YAHUWAH - HEALTH My son, attend to my words; consent and submit to my sayings. Let them not depart from your sight; keep them in the center of your heart. For they are life to those who find them, healing and health to all their flesh. Proverbs 4:20-22 ........ Pleasant words are as a honeycomb, sweet to the mind and healing to the body. Proverbs 16:24 ......... A happy heart is good medicine and a cheerful mind works healing, but a broken spirit dries up the bones. Proverbs 17:22 ......... My health may fail, and my spirit may grow weak, but Yahuwah remains the strength of my heart; he is mine forever. Psalm 73:26 .......... The strong spirit of a man sustains him in bodily pain or trouble, but a weak and broken spirit who can raise up or bear? Proverbs 18:14 ........... He heals the brokenhearted and binds up their wounds [curing their pains and their sorrows]. Psalm 147:3 ........... Heal me, O Yahuwah, and I shall be healed; save me, and I shall be saved, for You are my praise. Jeremiah 17:14 ............ This is the kind of fasting I want: Free those who are wrongly imprisoned; lighten the burden of those who work for you. Let the oppressed go free, and remove the chains that bind people. Share your food with the hungry, and give shelter to the homeless. Give clothes to those who need them, and do not hide from relatives who need your help. Then shall your light break forth like the morning, and your healing (your restoration and the power of a new life) shall spring forth speedily; your righteousness (your rightness, your justice, and your right relationship with Yahuwah) shall go before you [conducting you to peace and prosperity], and the glory of Yahuwah shall be your rear guard. Isaiah 58:6-8 ........... Oh, the joys of those who are kind to the poor! Yahuwah rescues them when they are in trouble. Yahuwah protects them and keeps them alive. He gives them prosperity in the land and rescues them from their enemies. Yahuwah nurses them when they are sick and restores them to health. Psalm 41:1-3
Evie Prochazkova
United Kingdom, 2019-03-02 18:24:26

thank you for your attention. Please pray for my body, my heart. I need to heal so that I can continue my ministry until Jesus coming. And Lord give me all I need. And last, pray for my country at date 17 April will election my President. There not chaos in my country. thank you very much. God Bless You. Joseph Edie K
Joseph Edie
Indonesia, 2019-03-01 03:29:41

Divine Helper to assist me to establish my business cos want to resign from my current employer
odaibankss anang
Ghana, 2019-02-24 06:09:42

Kindly pray for my Job change, debts to be cleared, parents health i have a job but due expenses incurred towards medical bills of parents and kids school fee, debts have increased, i am trying hard to Job change so that i can clear debts. ( inspite of all the issues, i am paying my tithe to my Church regularly). regards G. Anand Kumar +919743756969
Anand Kumar
India, 2019-02-23 02:42:45

LOVE LETTER FROM YAHUWAH (May you are encouraged to draw near to His presence.) My dear daughter, my dear son, If I loved you so much that I did not spare my own Son, but let him suffer for you, wouldn't I willingly do anything else to help you? If I am for you, who can ever be against you? Who dares accuse you whom I have chosen for my own? Will me, Yahuwah? No! I am the one who has given you right standing with myself. Who then will condemn you? Will Christ Yahushua? No, for he is the one who died for you and was raised to life for you and is sitting at the place of highest honor next to me, pleading for you. Can anything ever separate you from my love? Does it mean I no longer love you if you have trouble or calamity, or are persecuted, or are hungry or cold or in danger or threatened with death? No, despite all these things, overwhelming victory is yours through Christ, who loved you. Nothing can ever separate you from my love. Death can't and life can't. The angels can't, and the demons can't. Your fears for today, your worries about tomorrow, and even the powers of hell can't keep my love away. Whether you are high above the sky or in the deepest ocean, nothing in all creation will ever be able to separate you from the love of Yahuwah that is revealed in Christ Yahushua your Master. I love you with a love that lasts forever. I will be faithful to you and will continue to love you and draw you close to me. With love Your heavenly Father Romans 8:31-35,37-39; Jeremiah 31:3
Evie Prochazkova
United Kingdom, 2019-02-22 20:33:50

I want to ask for a prayer for my daughter who is currently in England, she is making a voluntary social year for Jahuwah ,but she is with a Christian organization,she would like to continue with this organization for another year.Please pray for Juliette that she finds the right way and gets rid of the Heresy of the Triune God.I ask in the name of Jaschuha, your will will happen.Amen
Ana Cristina da Silva
Germany, 2019-02-21 12:27:57

I need serious prayer! I have been struggling with pornography since I was young I knew it was wrong my whole life. At one point I was doing it everyday with lil repentance in my heart knowing it was against Yahushua. Recently I come to Repent of my sins. And in private with the help of my Dad talking to him and praying with him I stopped for awhile. Then I gave back in. I was angry and heart broken I begged God after reading Hebrews Chp 10:26 that I would never do it again. I felt low and sorry and was sick to my stomach I could enjoy nothing. After fighting the increasing battle of lust for a few days I gave in again. And I felt even worst. I felt so horrible i got a deep fear in my heart that its to late for me I got on my knees and begged for forgiveness but I still feel this fear. The very thought of porn now make me so afraid. I deleted my social media and everything that leads me to see a half dressed woman. I need prayer because I dont know of its over for me. Everyone telling me the enemy is the accuser and he making me feel condemned but a recent youtube video I watched said it too late for me? What should I do. I have not given up but I can eat, I cant sleep, i am in constant prayer asking for forgiveness but that guy said its too late. People rejected the Holy Spirit too many times and have pay there way in full into Hell no matter how many times they repent.
Marlin Crawford
United States, 2019-02-20 00:28:23

I want to ask for the prayer of my daughter (20), she believes in the Trinity, and when I start talking to her about this topic it is unbelievable that she is rebelling. She does not even want to know anything about the name Jahuwah or Jaschuah.
Ana Cristina da Silva
Germany, 2019-02-18 15:00:25

Dearly Beloved, I request you to kindly pray for me in getting the teaching Job in which I will be contesting for interview. Please Pray for God's Guidance and Grace to acquire it. Please remember me in your daily prayers. I Deeply Thank all the Prayerful Hearts for their concern and helping me in supporting through their prayers. Thank You.
Jeffry Andrew
India, 2019-02-10 23:55:00

I pray that my bankers will credit the loan into my account for me to pay my first fruits and also pay off my debts
odaibankss anang
Ghana, 2019-02-08 00:59:19

Please Pray for me to over my debts and attain financial freedom
David Roy Akena
Uganda, 2019-02-06 09:22:31

So that I and my wife be written in the book of life for ever in Yasha's holy name, amen, ameen.
Peter Marchuk JR.
United States, 2019-02-03 21:37:23

Please pray for my Son. Thank you and may God bless .
Karen Redding
United States, 2019-02-02 22:29:16

please pray that I keep the Sabbath properly. Im new at keeping the luna Sabbath. Is the Sabbath 24 hours or shorter. I started in the morning at 5am when should i finish.
Margo Kirkland
United States, 2019-01-25 17:39:22

pray for am not feeling ok. I have joint pains and body weakness. in Africa the day its malaria . pray for healing and strength. am avoiding the conventional medicine.
Moses Mwanjeleka
Zambia, 2019-01-25 06:46:50

Please pray with me for my wife of 7 yrs. she would go with me to church the past years at a Pentecostal church I had been in and has been prayed for. but she has no desire to read the WORD with me or to pray. I visited SDA church for a few months after leaving Pent. church and have joined WLC. YAHUWAH had woke me up about the commandments. my wife is 72 now from the PH. Thanks very much.
donald singleton
United States, 2019-01-21 19:36:48

Dear WLC, I ask you pray I am broken and loose free from satanist curses and hexes in Jesus/Yeshua name. Thank you
Daniel McPhatter
United States, 2019-01-21 11:37:10