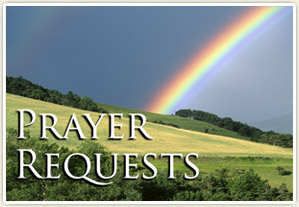 Faith is simple in its operation and powerful in its results. We believe that prayer is the key in the hand of faith to unlock heaven's storehouse, where the boundless resources of Omnipotence are treasured. We consider it a privilege to pray for you.
NOTE: Please read the prayer petitioners' guidelines, and send only 1 prayer request per week, unless it is an emergency.
To post a prayer request, you must first register an account or login. This is necessary to protect the community and the prayer board from being abused by spammers. We sincerely apologize for this inconvenience.
I thank Yahuwah for the blessings i have, most importantly His advancing light. Kindly join me in prayer for the operation and full recovery of my grandmother in my mother's side.
Adrian Destajo
Philippines, 2017-12-12 22:27:24

I want to thank Master Yahushua and Our El, Master Yahuwah, I have finally received my mark-sheet and combined certificate, i am so happy. This is a prayer of Thanksgiving. :D
Mark Mascarenhas
India, 2017-12-09 12:37:30

To be blessed in my carrier business
Christian Akosua Doris
Ghana, 2017-12-08 08:52:11

Please pray for my soul and God to fill me with His Spirit and also for my family, my Husband need Job n also my big boy (WISDOM) for more wisdom n understanding n God should guide him n long life. please i need our prayer for my senior brother (Humble, John and Jude)
Joy Idara
Nigeria, 2017-12-07 03:52:55

Please pray for my family, school, friends and especially my father to agree to keep my sabatth, I am going to contest so please make me become smarter, harder to pass this exam. . Recently I no longer prayed or read more bible, please allow me to concentrate and read the Bible, study more thrift. I do not know English so when watching WLC very hard, please pray Let me know you all on this WLC page. Please give my family a quick home and pay off the debt, the family knows the truth and I am not addicted to porn anymore. I do not love anyone else but Yah. May your prayers and the power of prayer of the righteous be great, so that you may pray for us to be just. By name of Yahushua.Amen (I used google translate, please sympathize)
Tran Thi Nhut Quynh
Viet Nam, 2017-11-30 23:33:11

Pray for my friend, Yahweh's servant Benjamin who lives each day with the challenge of bipolar disease and PTSD. Pray that he be strong and persistent in overcoming these maladies and in drawing nearer to Yahushua. Pray for the Spirit of God to strengthen his faith and healing.
Kevin David Askew
United States, 2017-11-28 20:09:35

Power of the Holy Spirit. Overcoming Power.
Yerushah Ysrael
United States, 2017-11-26 20:31:14

pray for my son Guilherme, he needs his healing and protection. love you guys.
GUILHERME F
Brazil, 2017-11-23 18:29:02

I great in the Mighty name of our savor Yahushua, kindly pray with me to strengthen my faith and wisdom in Yahuwah's word, and please pray for my family to be strong in this difficult time and my wife to get a job . And I would like to thank with for praying with me in my exams time that went very well. May Yahushua our high priest bless you and keep you safe Amen.
Rolivhuwa Raphulu
South Africa, 2017-11-23 07:08:07

1153/5000 Dear friends, I pray that you pray for each other in the Lord. Please pray for my family, school, friends and especially my father to allow me to keep on sabatth. Do not violate sabatth day and do not sleep on sabatth day, please keep me away from the haters, do not love or like anyone (male and female emotions) besides yahuwah and yahushua, let me have love, wisdom and fear yahuwah, I'm going to take the 1st semester and next year will take the 10th grade entrance exam so please pray for me to become smart and get the best results. Please let me live well yahuwah, be firm Strongly both physically and mentally, let me stay up late and wake up early in the dark to pray and read the Bible. Give me the spirit of God.
Tran Thi Nhut Quynh
Viet Nam, 2017-11-14 21:54:08

Please pray for me and my wife to be cured from the illness and be restored to our condition. And to have children. Thank you. Jesus Christ Helps
daud panjaitan
Indonesia, 2017-11-14 11:02:38

Pray for me and my family. The devil is attacking our children and other family members. Husbands are leaving wives and children getting into trouble with the law. Lack of employment for my wife is causing a strain on our finances and lives. Pray that God gives me strength to overcome this troublesome time.
Kwame Barrett
Canada, 2017-11-14 00:25:58

As I strive to surrender and obey Yah the devil is doing EVERYTHING to stop me. Pray I will remain strong and surrender all. Blessings.
Mildred Nickelson
United States, 2017-11-12 11:11:09

Asking for prayers and people to demand government immediately stop 501c3 for churches, it absolutely is an end time deception. Also, encouraging everyone to remove GPS phone tracking. We can't be expecting Yahuah to cover us while tracking, sharing everything, including location to the enemy camps. In need of heaps of prayers for self and region. Thank you, in Yahshua!
christina Tullius
United States, 2017-11-11 11:42:02

Dear brothers and sisters in Christ, please kindly pray for my friend in the Philippines. He has a brain injury and is having a hard time remembering people, places and events. Please pray for him that he will get well soon, and not be discourage with his present situation, and that he will not lose hope.
Leian Janoyan
Thailand, 2017-11-11 00:12:43

Today a 20 year old female complained not to our Supervisor, nor our Supervisor's Supervisor, But to our Supervisor's, Supervisor's Supervisor, third up in the chain of command, that I was preaching to her, in which it violates company's policy. All I ask her if she believed in God. She went as far as telling him that she will burn in hell. I said no such things. Pry that her heart can be open.
Cristina Rodriguez
United States, 2017-11-08 11:12:04

Dear brethren, kindly assist me by praying with me to strengthen my faith in Yahuwah's word so that i will be able to receive the holly spirit that will guide me to the truth and having wisdom to read and understand His Word. I am currently studying please pray with me to have an intelligent mind that will grab and succeed during exams time and kindly pray with me to overcome my weaknesses in financial management. I thank you in advance in the Mighty name of Yahushua may His name forever glorified Amen.
Rolivhuwa Raphulu
South Africa, 2017-11-06 14:33:10

Dear brethren, I am absolutely addicted to caffeine i.e. I consume massive amounts of this wildly-available drug under every guise imaginable: coffee, colas, energy drinks, chocolate - you name it. Constantly over my head hangs the toll of accrued fatigue debilitating me and disturbing my bodily functions and preventing the process of proper tissue repair. On top of that my natural food craving has been distorted so severely that it results in long spells of not eating that end up in horrendous binge eating. Only the Creator of Heaven and Earth and His Grace can help me
Marek Choromanski
Malta, 2017-11-01 14:55:25

Hello , everybody , i need your prayer to win In the Dv lottery 2019 , amen please i really want to leave my counntry to be free to worship yahweh of the name of his son yahoshoh , amen
HICHAM MOUJANE
Morocco, 2017-10-29 15:24:43

prayer for provision; a financial breakthrough and opportunity for a stable income so that our debts will finally be settled and we'll be able to save for the rainy days and help struggling relatives.. todah rabah, in the name of Yahuwah..His will be done.
wanda kakilala
Philippines, 2017-10-29 10:57:48

Pido al Señor Yahuwah, me permita recibir en casa a la primera persona o a 2 de esta zona, y mande a un hombre de su pueblo que pueda dirigir el culto, no puedo hablar bien, porque por la minusvalía me fatigo, y necesito alguien que pueda leer La Biblia en voz audible y pueda dar cursos bíblicos, ofrezco la casa que el Señor me ha dado, para este fin y a quien necesite alojarse, en el Nombre de Yahsúa lo pido y lo agradezco al Padre Celestial. Amén.
M Dolores Rodríguez Ocaña
Spain, 2017-10-27 06:50:37

Estimados hermanos pido oración por el pueblo de Real en Valencia España, para que reciban a Yashúa como su salvador personal y sean bautizados. Y pido oración para que pueda ser reunida con hermanos que guardan la misma fe y el Calendario del Creador y las Fiestas, y si Yahuwah lo permite, vivir en Irlanda con hermanos cristianos con estas referencias, que sea localizada por ellos. Yahuwah os guarde y os bendiga a todos.
M Dolores Rodríguez Ocaña
Spain, 2017-10-27 06:25:42

Estimados hermanos, pido oración por el pueblo Real en Valencia España, para que reciban a Yashúa Ha Mashiaj, como su Salvador personal y sean bautizados. Y para que pueda ser reunida con hermanos que guardan el Calednario Biblico, y si Yahuwah lo permite, conectar con hermanos en Irlanda, que guardan la misma fe y el Calendario y las Fiestas Solemnes. Yahuwah os bendiga a todos.
M Dolores Rodríguez Ocaña
Spain, 2017-10-27 06:20:16

Estimados hermanos, solicito oración por Real en Valencia para que reciban a Yashúa en su corazón y sean bautizados, y vivan con el calendario bíblico y las fiestas, hay mucho paganismo aquí.
M Dolores Rodríguez Ocaña
Spain, 2017-10-27 06:17:02

I suffer from bad depression, being brought up in a children s home still can't get passed it I ask Jesus to help me understand faith
James Hampshire
Great Britain (UK), 2017-10-23 09:30:46

please help me pray for my son Jadon Addo who swallowed a coin at school. Please pray that he passes the coin out of his shit safely in Yahushua's name Amen.
Raph Addo
Ghana, 2017-10-17 16:30:04

I would like to say thank you for your prayers that I am now a registered mechanical engineer and I successfully passed the board exams. HalleluYAH! I pray that my plans and visions will be fulfilled in obtaining a self sustainable community of followers of truth within an alloted time. I called it a temporary place of refuge. In Yah's will.
Rey Gacasan
Philippines, 2017-10-08 06:02:12

Please help me achief my goals by praying with me. I want a sharp memory. I want to remember bible verses accurately. I pray for Wisdom guidance and strenght in Yahweh word. I have been watching your videos on all subjects, I pray to be able to remember the information that I received from them. I surrender my mind,sprit and heart and body to Yahweh's will. fill my heart with the love of Yahushua. Thank you for your prays.
Margo Kirkland
United States, 2017-10-06 18:38:04

I pray for Divine Direction and Breakthrough in my oil business
odaibankss anang
Ghana, 2017-10-05 02:31:39

my dear brethren I am studying in Bible college to know more about God in south India. So please pray for my studies. And for my spiritual life. so that i may serve God in proper way. And also pray for my future ministry. thank you
Vayala Samuel
India, 2017-10-04 05:22:45