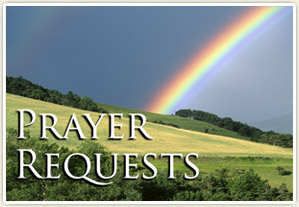 Faith is simple in its operation and powerful in its results. We believe that prayer is the key in the hand of faith to unlock heaven's storehouse, where the boundless resources of Omnipotence are treasured. We consider it a privilege to pray for you.
NOTE: Please read the prayer petitioners' guidelines, and send only 1 prayer request per week, unless it is an emergency.
To post a prayer request, you must first register an account or login. This is necessary to protect the community and the prayer board from being abused by spammers. We sincerely apologize for this inconvenience.
Please pray for me and my finances. My heavenly Father will help me to get out of debt, I will continue to search out His truth for myself and will take my side on Yahushua's side no matter what. Also pray for our children, loved ones, co-workers, neighbors, leaders, and enemies. Thank you!!!!!!!!!!!!!!
Mary Ransom
United States, 2016-08-26 15:49:51

Help me pray that I can overcome my problem due to non-payment of salary from my employer. Court case has already been in progress and hopefully this employer will settle everything for my unpaid salaries and end-of-service benefits..
QUINTIN JR CALICA
United Arab Emirates, 2016-08-24 03:51:48

my wife has left, still married and is now in love with someone else. she has taken the kids also.tried to kill myself about three times .... but it didnt work out...pain is to much to endure....pastors of the sda church is allowing the open adulterous relationship in his church.all i know is that Yahuweh words are true...pls help me get thru this nightmare
Jerome Jagan
Trinidad and Tobago, 2016-08-19 13:41:25

Pray salvation for Vicki & Paul Robinson
IrisV McGriff
United States, 2016-08-18 12:12:35

Prayer for a sustainable job, and a Family reunion…and for me to have the faith of Yahushua
Renee Michelle
United States, 2016-08-16 20:08:48

Prayer for a job that will sustainable job, and for a family reunion.
Renee Michelle
United States, 2016-08-16 20:05:59

That my family accepts me quitting meds for so called mental problems. That I never go back to alcohol or drugs.
Nicholas Enloe
United States, 2016-08-14 11:41:45

I have been trying to graduate for 15 years...
Alexandro Hugo Lopes
Brazil, 2016-08-14 03:47:24

WLC Team kindly pray for my family 2013 I lost my wife whom we married 1981 I remarried last year in April to a widow. She has 4 fully grownup children I have I have 5. We are doing well physically but she is a member of Lutheran Church. Spiritually we are not the same. Pray for family that They also know the true God, Yahwah.
Elisha Mwakinga
Tanzania, 2016-08-11 18:46:38

Hello everyone and thanks in advance for reading and praying for me. I will be praying with you all for this ministry and this list of prayers. My husband Walter got baptized on April 2015, and right after his baptism, he changed completely, but not for the best. Sad to say, today we are leaving in separate houses 'due to financial circumstances' we lost our home and I'm staying with mom and he is with his cousin. He doesn't wants a "break" from the relationship, but doesn't want us to divorce. This is not easy for me and at this point I have been getting used to being alone with the kids and I am afraid, after all the crying, thinking, and suffering that I have done in this past 7 months, I may not even want him back. I really don't know. I asked God in my prayers to take him out of my heart if He desired to do so. I didn't want to keep asking for something God maybe trying to take away from me. Amy how, I am asking for home and marriage restoration, were a beautiful family, 8 years old boy and a 3 years old girl. He loved his children and his children loved him. I don't know what's going on. The devil is working over time. I rebuke him in the name of Jesus.
Luisa Carmona
United States, 2016-08-11 03:22:24

I am asking for prayers for my 19 yrs old daughter Crystal Ortiz. She is dating an unbeliever thinking she can change him into a Christian. She is blind and is changing her ways completely. She is no longer that faithful young lady she was to the Lord. I want my daughter back, the devil wants to take her away and I cannot allow it. I know God is merciful. Please, please help me pray to get her back on track spiritually.
Luisa Carmona
United States, 2016-08-11 03:05:58

Dumnezeul,Dumnezeul Mântuirii noastre Yahuwah,dă-ne înțelepciune și putere ca să putem trece prin toate încercările care or să vină...Și nu ne lăsa,că Tu ești scutul nostru (Psalm 91:4) la vreme de nevoi, dacă ascultăm poruncile Tale(Iosua 1:8,9),dă-ne pricepere ca să păzim Legea Ta cea minunată și sfântă și lasă-ne să o ținem în inima noastră... Pe zi ce trece vedem din ce în ce mai mult că se adeverește cuvântul Tău,despre care ne-ai avertizat. Ai milă de noi Yahuwah și nu ne lăsa ca cel rău și viclean să ne doboare.Dar nu e după voia noastră ci este după voia Ta...numai Tu poți hotărî ce vei face cu noi pacătosii Tăi robi. O Dumnezeule Yahuwah sfințească-se Numele Tău în veci de veci împreună cu fiul Tău Yahushua care ne-a mântuit prin sacrificiul Său și care ne spală de păcate. Fă lumină în inimă și în minte la cei care doresc să vină la Tine,nu-Ți ascunde fața de la ei.Ci arată-le iubirea Ta și ocroteștei.Dă-le posibilitatea să țină Sabatul Tău ce Sfănt așa cum ne ajuți și pe noi și nu-i lăsa să fie dezamăgiți.Ajută-i pe cei bolnavi să se vindece și dacă nu se poate,măcar alungă-le teama din minte lor.Dă-le curaj să treacă prin toate încercările care vin peste ei așa cum ne ajuți și pe noi.Că a Ta este Slava și puterea în veci Amin!
ena elena
Romania, 2016-08-10 08:54:58

I have a situation develop with my face being invaded with demodex mites. I have been suffering worse since the month of July. I have been to three dermatologists. One told me I am imagine things and prescribed steroids which would have serious adverse effect on me. The other gave me steroid also and the last, her advised and recommendations though well meaning cannot cure me.
Dorr McKnight
United States, 2016-08-09 13:42:03

Please pray for Mike and Abby. Husband and wife, both have lung cancer. Father, you are the great physician--heal in Jesus precious name.............
Terri McInturff
United States, 2016-08-08 22:37:20

Please urgent pray for my 3 month old son shon..he have bad cough and chest conjection..and loose motion also..he is not drinking milk also..and for me I don't have lactation still so please pray for me and my son
Rashmi Vijay
India, 2016-08-08 15:32:26

pray for jenifer ford she has one lung pray that god will remove the shaddow on the other lung and it not be cancer, she has never smoked and was given 3 months to live 5yrs ago. she love's god as i and her mother do. thankyou god only can give a mirecle
Wayne Hart
United States, 2016-08-08 14:30:56

Pray so that YAHUWAH may provide all needs.
m whyte
United States, 2016-08-07 13:44:22

Please pray for me, as I have just received from the Father the revelation of the required keeping of the "true" Sabbath days/ appointed days, that I now know by following the biblical lunisolar calendar. I feel I'm weak and need prayer for strength, to not fall back to the convenience of the traditional Sunday or Saturday worship that my family and friends follow! Thank you for praying for me. Beckie
Rebecca Ramage
United States, 2016-08-06 12:06:14

I would like to Thank, Every one who prayed for me. By the Grace of God, I got a Job as a faculty. Similarly, I request you to kindly pray for me since, I'm staying away from my home and my family. Kindly Pray for me to do of God's Ministry and to do God's Will.. Thank You for every loving kind hearts.. May God Bless you and His Peace be upon you.. Hallelujah..!!!
Jeffry Andrew
India, 2016-08-05 22:15:25

Just wanted to say thank you very much for my book set gifts, your ministry is a breath of fresh air in a world of lies, thank you thank you thank you.
John Udelle
United States, 2016-08-05 11:46:54

Feeling terribly lonely and also feel called to be a wife but have yet to meet a gentleman between 55-60 who is sincerely a man after God's own heart… I won't date around or settle for anything less than a true man of God who loves and serves our Messiah….I want to serve the Lord for the rest of my life and hope to share these experiences with someone special….also seeking employment…any and all prayer is welcome…until then all I can do is stay busy in His Word, serving Him…and drawing near/seeking Him…
Renee Michelle
United States, 2016-08-03 17:37:53

I would like to ask for prayer for finances. The LORD has been leading me to walk in faith. HE continues to remind me to trust in HIM and wait on HIM. The last 4 months I have only received about 15% to 20% of the income I need (self employed). If I don't receive today, starting tomorrow are costly daily fees.
Jonathan Dacy
United States, 2016-08-03 13:37:22

please beloved brothren, is kambamba laurentius kambamba,with my family requesting a prayer,pray for us the grace of Yahuwah,Elohim to be on us,to save Elohim in truth and in the spirit ,
Kambamba Laurentius
Namibia, 2016-08-02 17:18:49

Dear Beloved Brothers and Sisters in Christ, I am going to attend an Interview for the post of Faculty in a Private College. Kindly, Pray for God's Will to be done. I also thank in advance for your kind prayers for me. Hallelujah..
Jeffry Andrew
India, 2016-07-27 11:59:18

Good morning. Kindly pray for to secure tender bids for building contracts and Good Samaritan integrated health programs. Thanking you
Elisha Mwakinga
Tanzania, 2016-07-27 02:19:12

This prayer request is urgent. My cousin, Judy Curtis, has been made blind. She got an infection in her only good eye and it has caused the retina to detach. Only Yahuwah Elohim and Yahushua the Mashiycah can do anything now. Thanks, Pastor Samuel J Caswell
Samuel Caswell
United States, 2016-07-23 00:41:15

Please pray for Eric McDonald-pray for his salvation.Eric needs Jesus. We do not know where Eric is right now.Pray that God will bring us Goodness about Eric.Pray foe his saftey and well-being!!! The best News would be that Eric is saved and safe in The Father's Watch care!!!!
Alfred Brown
United States, 2016-07-21 14:25:19

Please pray that The Lord touch all my family members by His Spirit working through me. So that every not-yet-born- again members will be convicted by the Holy Spirit to repent, and to put The Lord first place in their lives. Praise The Lord!
HARREY TYSOHN
India, 2016-07-19 07:48:10

I pray for grace for promotion
odaibankss anang
Ghana, 2016-07-17 04:43:14

I am slowing dying from my terminal illness. I have never been so miserable and afraid my whole life.
Rj Darash
United States, 2016-07-16 22:07:33