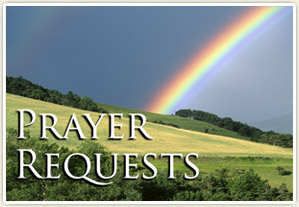 Faith is simple in its operation and powerful in its results. We believe that prayer is the key in the hand of faith to unlock heaven's storehouse, where the boundless resources of Omnipotence are treasured. We consider it a privilege to pray for you.
NOTE: Please read the prayer petitioners' guidelines, and send only 1 prayer request per week, unless it is an emergency.
To post a prayer request, you must first register an account or login. This is necessary to protect the community and the prayer board from being abused by spammers. We sincerely apologize for this inconvenience.
Dearest Yah.. I ask that you use me as our vessel to help teach and lift my brothers and sisters. Teach me deeper humility and reveal signs to me please to show me the way. Thank you my father.
Nigel Claus
Australia, 2018-04-18 05:07:27

I need all your prayers that I will be delivered from all unhealthy addictions in my life. Prayers deliverance from the evil habits. 2 specifically. Yahweh blessings on all that pray for me. Thank you all
Melvin Kewan
United States, 2018-04-18 02:51:35

Please help me through my financial crisis so that I may be fit to do YOUR work and guide me in the direction you would have me follow.
Susan Tadlock
United States, 2018-04-15 23:51:36

Please stop all wars, and save the innocent people. Please replace fighting with peace and harmony, Amen
Anita Campbell
Australia, 2018-04-13 22:27:44

To heal my daughter Amy of depression, and rid her of the negative voices in her head, Amen
Anita Campbell
Australia, 2018-04-13 21:16:54

that the Lord would grant me spirotual strength.
Richard French
Canada, 2018-04-10 15:04:30

i am praying that God should help me travel to USA to start up new life
Decider Stephen
Ghana, 2018-04-10 08:57:01

My husband and I need another car to be able to go to work. thank u
Angela Lund
United States, 2018-04-08 09:41:30

I'm asking God to help me acquire a job in the near future
Obed Ansah
Ghana, 2018-04-07 15:14:09

I ask for your prayers about my family, unborn child and my country. Lord Yahushua knows the situation. can't explain more. please pray for me.
ALECK KAMUGISHA
Tanzania, 2018-04-05 05:24:50

Pray for me I'm facing financial difficulties tomorrow I won't be able to pay my debts to the banks , pray for me that Yahuwah and Yahushua will give me the courage to face the hard time I'm totally gone but I will keep praying please brothers and sisters pray for me
kareem New believer
Sudan, 2018-04-01 05:16:53

Please pray for my 2 year baby shon he have very cough n cold and also chest congetion..plz plz pray urjently,
Rashmi Vijay
India, 2018-04-01 00:14:52

Praying for my son who is living with me. He is so sure that I am set for hell, because I refuse to go to church with him. He will not read the Real Truth and when I read it aloud he wants it stopped.
Doris Biggerstaff
United States, 2018-03-28 16:45:09

Please pray for my 92 year old mother, Lois. She is suffering.
Paul Sweany
United States, 2018-03-23 16:04:59

I want to see the Truth. Help me to set aside everything I have been taught and have been espousing as my beliefs in exchange for a deep and authentic experience of and relationship with Jesus. I would rather burn than to say that I believe what I have been taught. May I be given whatever I need to stand firmly in the center of the Absolute, All Sufficient, One.....and know.
Paul Sweany
United States, 2018-03-23 16:02:58

We are trying to sale our flat since last one year but we are not getting succed so request to pray for customer who purchase this flat as it is very urgent now to sale.
HITESH MASTER
India, 2018-03-23 03:30:22

beg for me to keep the holidays: pass, unmanile, tent, ect for good cầu xin cho tôi giữ các ngày lễ:vượt qua ,bành không men, lều,ect cho tốt
Tran Thi Nhut Quynh
Viet Nam, 2018-03-23 00:29:49

May my brothers and sisters and me throughout the world awake before the dawn of sabbaths and holy days, do not violate nor sleep in those days, do not feel burdened in those days. and prepare well before sabatth: doing housework, studying, personal hygiene, cooking, etc.
Tran Thi Nhut Quynh
Viet Nam, 2018-03-23 00:25:26

Xin anh chị em của tôi và tôi trên khắp thế giới tỉnh thức trước buổi bình minh của ngày Sa-bát và các ngày thánh, không vi phạm hay ngủ trong những ngày đó, đừng có cảm thấy gánh nặng trong những ngày đó. và chuẩn bị tốt trước khi sabatth: làm việc nhà, học tập, vệ sinh cá nhân, nấu ăn, vv
Tran Thi Nhut Quynh
Viet Nam, 2018-03-23 00:25:07

xin cho tôi chuẩn bị đầy đủ trước khi yahushua đếnvà khôn ngoan ,thông minh hơn để nghiên cứu kinh thánh.Xin cho gia đình tôi trở về với Yah và xây được một căn nhà,trả hết nợ. Please let me prepare fully before yahushua come and wise, smarter to study the Bible. Please let my family go back to Yah and build a house, pay off the debt.
Tran Thi Nhut Quynh
Viet Nam, 2018-03-23 00:14:22

please pray for me, that i may filled in the Spirit and all the goodness of God to be able to serve acording to His will all the days of my life.
uchenna agbo
Nigeria, 2018-03-21 17:26:04

please pray for my 22 month baby shon he still not start to talk let yahuwah touch his tongue atleast mamma n dady..plz pray
Rashmi Vijay
India, 2018-03-21 00:12:19

I have a personal request. God knows,Thank you Karen Redding
Karen Redding
United States, 2018-03-19 13:59:23

I am sending this prayer request that you pray for me as I continue to assist the Disabled American Veterans, because so many of them are suffering in a system that had caused them tremendous harm in the name of Veterans Administration and/or Veterans Affairs. I know YAWUWAH has open this opportunity up for me and I desire to be more affective in rendering their request for those things that they and their families need or those who are homeless and needs someone to care enough to assist them to acquire their VA Benefits in order for them to start a new and rewarding light while I share YAWUWAH Word to them.
Vivian Anderson
United States, 2018-03-19 06:05:08

Dear WLC brethren i greet you in the Mighty name of Yahushua Anointed and may Yahuwah bless you with peace and love. Please pray with me since i am applying for new job with my wife and that the faith and trust in the Father will grow abundantly in Yahushu's name Amen.
Rolivhuwa Raphulu
South Africa, 2018-03-13 03:07:46

Shalom my WLC brethren, I would ask that a prayer request be made for Lorna Harth and her family. I am her carer and am moving away. She is a believer and her grown children living near her are not. She has a disability due to childhood ritual abuse and needs help and care as well as being taken advantage of by one of her sons who is using drugs and living a sinful life; he is not a believer. She has been undergoing much spiritual attack and suffering further abuse from her son. She is all alone in her faith trying to uphold the truth and the luni/solar Sabbath and holy convocations of Yahuwah. Her son is robbing her financially as well. Please pray that Yahuwah directs through his holy spirit comfort, protection, strength and guidance to Lorna and her family in the name of his only begotten and much loved son, our Saviour Yahushua. Thank-you dear brethren May Yah continue to bless you and all of WLC for the work they are doing in bringing the truth and light to a sin darkened world.
Wayne Carsburg
Australia, 2018-03-09 18:39:04

Shalom my dear brothers and sisters in Mashiah. I ask that you would please pray for Abba Yahuwah Yireh to provide the resource of income for which I've been praying to Him the last 7 months since I lost my job. I'm humbly thankful to Him for providing for me and my wife and our house during that time but I really need a miracle of financial berakah going forward now. Thank you and birekoth :)
Aaron Gale
United States, 2018-03-09 10:07:34

Today is Sabbath please remember my son Jadon in Prayer the he will be healed from a certain viral infection as molluscum Contagiosum. Also pray for me to be healed of all infirmities.
Raph Addo
Ghana, 2018-03-08 12:15:00

I would like to ask that as many people as possible please pray for my friend Henry who has been in the hospital for a week and a half after having a heart attack. He's been having complications with his lungs and kidneys as well. This man truly loves Yahuwah please join me in prayer for him. Thank you, much love and peace, be blessed.
Michael Russell
Canada, 2018-03-07 12:00:25

I want to thank you all for praying for me in regards to the prayer request which I sent to you concerning my home. I now ask YAWUWAH if HE to send me a companion, because I am along and I am alone and not very close with my family due to my not having the material things of this world. I know if that individual is a Christian, we could work together to do HIS Will., although, I am doing my best to glorify HIS Name through YAHUSHUA, HIS SON. I pray that this is the right prayer request. Thank you
Vivian Anderson
United States, 2018-03-07 03:41:40