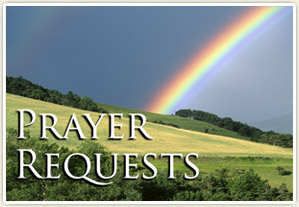 Faith is simple in its operation and powerful in its results. We believe that prayer is the key in the hand of faith to unlock heaven's storehouse, where the boundless resources of Omnipotence are treasured. We consider it a privilege to pray for you.
NOTE: Please read the prayer petitioners' guidelines, and send only 1 prayer request per week, unless it is an emergency.
To post a prayer request, you must first register an account or login. This is necessary to protect the community and the prayer board from being abused by spammers. We sincerely apologize for this inconvenience.
Please please pray for Raul's soul for he is with Yahuwah since last 9/5. This is his wife, Nenette. May he rest in peace with Yahuwah paradise.
Raul Rola
United States, 2021-09-18 18:30:32

Please pray for my oldest son, he can't believe that Yahuwah exists and he is interested in reincarnation and al this devil's doctrines...and he has some unknown health problems too, probably a demon is struggling him. I do have tinnitus and migrena...and I am soo tired from this. Please pray also that we will soon find someone to sell everything we have, the house and the shop( we don't want to make trading in our shop anymore, but we can't until we sell everything), so that we can move out from the city and live a life that brings honor to Yahuwah . We are bound by this house, we don't want it anymore. And my husband and I need to increase in faith so much more, thank you a lot.
Cristina Stefancu
Romania, 2021-09-06 11:09:54

please, pray for me to get well after stroke. I get dizzy, I get tinnitus which is terrible. I am sort of deaf. I get high blood pressure and I get cough and cerrebellum stroke. God has saved my life. but i would appreciate you pray for my health. I would also loved to get a a copy of calendar of how to know the real sabbath.Thank you
Jimmy Anderson
Seychelles, 2021-09-03 08:18:22

Dear WLC, Please pray for me to make my auntie get well because of her goiter that also growing bigger. Love, John Kurt
John Kurt Arvesu
Philippines, 2021-08-14 17:59:56

please pray for my son. He needs to give up drugs and want better for himself. He is not a typical adult, he is developmentally delayed and thinks like a 10 year old child he believes the people he stays with that give him drugs are his friends. He does not understand that they are not good people because they spend time with him.He currently is living in a tent behind a grocery store. He has health issues and needs a safe , healing environment. Please pray that I am able to help him myself, and that we will get the help he needs for his addiction and that he can get the help and guidance he desperately needs. He is an adult, even if he isn't mentally, so no one has helped me because of him being 31, they say he has to want it and that I am powerless. Please pray for him. He is my precious son, and I love him so very much.
Jenni Espinosa
United States, 2021-08-13 02:37:17

Please pray for my son,I need for satan to release him. Thank you and God bless you all.
Karen Redding
United States, 2021-08-09 00:15:52

Please pray that I don't watch porn, don't masturbate, don't think about pornographic material I've seen. I have tried to fight but not strong enough, please pray for me that I can resist this temptation. Please pray that I never see anyone masturbating again, it was because of these acts that I was tempted to. Please pray for me to overcome all temptations.
Nhut Quynh Tran
Viet Nam, 2021-08-05 04:15:11

Hello, community, I am asking for prayers for my granddaughter who was diagnosed with covid-19 please pray with me and my wife, thank you in advance.
Michael Clements
United States, 2021-07-30 14:49:15

want to start a home ecclesia & i also need a paying work 2. need the Holy Spirit fire and gift(s) to boldly proclain all i have learnt in this platform even unto death.
NYANDA ISHAYA OKEM
Nigeria, 2021-07-27 23:51:04

1. WANT TO START A HOME ECLISIA AND I NEED A PAYING WORK.. 2. NEED THE FIRE & GIFT(S) OF THE HOLY SPIRIT TO BOLDLY PROCLAIM ALL I HAVE LEARNT SO FAR EVEN UNTO DEATH.
NYANDA ISHAYA OKEM
Nigeria, 2021-07-27 23:46:03

Please help me pray for my elder sister, Mary who was found who is currently battling COVID-19 and CCF. Pray for my mother too who is also COVID-19 positive and diabetic. Their well-being is currently frightening. Please help us in prayers please
Daniel Nkandela
Zambia, 2021-07-15 15:42:00

Someone near my house has tested positive for covid. please pray for my family not to be infected with covid, even though the epidemic is approaching like this, my mother still has to go to the scrap business or else my whole family will not have food, please pray for her I make a lot of money and don't get covid.
Nhut Quynh Tran
Viet Nam, 2021-07-15 11:31:11

Prayer needed for Danielle, Thursday, July 8th. She was taken by the ambulance to the hospital, the next day she was induced in a coma and put on a ventilator (look at Danielle Filiatrault album to see pictures)
Christian Lajeunesse
Canada, 2021-07-14 18:35:48

please pray for my family and friends in these days my mom dad siblings my me and this hole world are leaders and for my love one JOSHUA SHANKS TO COME TO THE MOST HIGH MY SON PAUL STEWARD JR BRENDA SINEGAL KEEVIN SINEGAL DEVON SINEGAL JAMES SINEGAL TYRONE MANLEY THANK YOU SO MUCH IN THE BLOOD
Gena Jarmon
United States, 2021-07-07 21:28:08

Please remember us in your prayers for tomorrow's Feast of Pentecost for Abba YAHUAH to baptise us with the Holy Spirit in the name of His Son, Yahushua.
Gautam Surong
India, 2021-07-07 04:59:31

Please pray for me I'm in need of things I can't aford I am having househole problems an I need help with them. Thank you and God bless.
Karen Redding
United States, 2021-07-06 01:31:57

Greetings children of the most high. Pray for my wife esnart kaoma she 7 months pregnant and was tested positive for covid on Tuesday. Please we need your intercessions. Let's also pray for many others under going the same.
Moses Mwanjeleka
Zambia, 2021-07-04 16:10:15

please pray for me that I find a proper partner with the same fait in Yahushua. Since I lost my wife in 2013 all friends I find are Cathlics and Luther Lutherans.
Elisha Mwakinga
Tanzania, 2021-07-02 08:19:26

Please pray I find work that allows me to rest on the 7th day. Thanks.
Heath Tomashova
Canada, 2021-06-23 22:08:04

Brothers and sisters I am asking for prayer, I have begun to enage heavily in spiritual warfare as we are all suppose to do. And I feel as I have come under a heavy attack of the enemy because of this, my mind is being filled with doubtful thoughts and I don't feel rest in my spirit. I am also asking for prayers to support my marital life that Satan may not take advantage of the both of us in our weaknesses. Finally I ask prayer for those in my family and every area of my mind that I am aware of, and for you, my brothers and sisters scattered around the world. That Yahuah may fill us with His Spirit and He will change our hearts before it is too late.
Peter Orr
United States, 2021-06-06 17:08:28

Please pray for me. I am in so much pain, and I am at my wits end, and nobody around to help me. Please, I am frightened, and need peer support now, because tomorrow may be too late. I am so saddened by all of this. Please Pray that I get help now before I die, and pray that someone to help me. My parents don't care about me...I have no one.
Pamela Trickett
United States, 2021-05-23 20:02:13

Pray my wife and our children can find a new home to rent or buy before our farm house collapses. Pray someone rents us a home, ANYWHERE before the worst happens to us.
David Cache
United States, 2021-05-09 14:46:07

My husband is not a follower of the most high and I have felt we should leave the city and state we live in for a few years now. He doesn't want to leave. I pray Yahuwah would raffle his heart and show him his greatness so first my husband can follow to lead or family in the way we should go. Also our baby is 7 months old and has had 2 heart surgeries said she will need another soon. She needs healing in Yahushua name! Thank you all
Starle Beltran
United States, 2021-04-26 23:40:38

Lord my husband has covid-19 virus please heal him and for me not to get it and if I do to have it light healing for me to healing for him to get over it soon and healing for our marriage getting along health for my depression anxiety panic attacks and getting tested for the virus and getting the shots I suffer from high anxiety and healing for our families and friends Lord I sure need you and my hubby does to please heal us both thank you Lord I give this all to you prayers and healing for everybody amen
gretchen starika
United States, 2021-04-23 02:53:58

Lord please stop my ears from ringing so loud it is getting to be bothersome for me and heal my husband he is not feeling well he thinks it might be the china virus please heal him and me to I do not what the virus either and healing for our marriage getting along our health and my panic attacks anxiety depression Lord we need you to heal us and everyone else and heal our families and friends too love you Lord I give this all to you Lord..
gretchen starika
United States, 2021-04-22 03:22:13

Pray for the Ruach HaQodesh to fill me with power and use me just like YAHUWAH did with the Apostles. Pray for spiritual discernment of His word for me for me to do the will of YAHUWAH. Pray for Power and boldness to preach the message of YAHUSHUA. Pray for all the gifts and fruits of the Ruach HaQodesh to be poured upon me. Thank you.
Emmanuel Adotey-Addo
Ghana, 2021-04-16 12:27:24

I ask for the discernment of the Word and Will of Yahuwah be loosed upon me and to strengthen me from this time forward. Thank you for your prayers.
David McFadden
United States, 2021-04-16 10:38:33

please pray for my injured foot, my court case next month and my new job next week. thank you.
Apimeleki Rayasi
New Zealand, 2021-04-15 03:57:05

Please pray for Liz, her family and her loved ones, that they/she might get along in these crazy times and hopefully find the way to the coming kingdom on Earth soon :).
Almin Causevic
Germany, 2021-04-08 16:19:33

Please pray for my husband to become a follower. We have been married together 19 years and have 6 kids or youngest is six months and she also needs prayer that for her heart to be healed. She has already had 2 heart surgeries and they say she will need another one. We where taught all the lies of the church like pre trib rapture and the Earth as a globe but Yahweh had opened my years years ago but not my husband thinks I'm crazy. So please pray Yahweh will open his eyes and soften his heart. So he to will understand Yahweh plan. Thank you all!
Star Beltran
United States, 2021-03-28 23:12:48