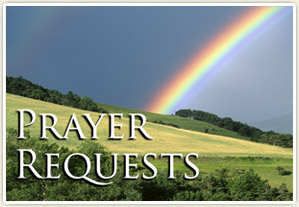 Faith is simple in its operation and powerful in its results. We believe that prayer is the key in the hand of faith to unlock heaven's storehouse, where the boundless resources of Omnipotence are treasured. We consider it a privilege to pray for you.
NOTE: Please read the prayer petitioners' guidelines, and send only 1 prayer request per week, unless it is an emergency.
To post a prayer request, you must first register an account or login. This is necessary to protect the community and the prayer board from being abused by spammers. We sincerely apologize for this inconvenience.
I ask for praying for me, because I am searching new job and have sometimes demonic attacks.
Roman Grah
Slovenia, 2015-04-25 15:37:28

i want GOD to help my family by givig them helths
Vitaliy Mironuk
Ukraine, 2015-04-23 02:12:46

WLC, hope that you will pray me to strengthen my faith to Yahuwah and Yahushua
Lemuel Datoy
Philippines, 2015-04-22 03:04:24

WLC pray for me,am usually depressed and sad to a point that am sick. pray for me to get a job and happiness.
Clifton Odhiambo
Kenya, 2015-04-17 00:04:51

i want WLC to pray for me that my faith may be strengthen on a daily basis,pray for me that i find a job,i have been job hunting since i graduated in 2012.i want GOD to help me,bless me with a job.
Thebe Ramakgetla
Botswana, 2015-04-06 12:29:21

I want you to pray for me to die to world and live for jesus. I want you to pray that God make speak to me b6t best of all that i hear him and understand . Pray that my faith may be strengthen on a daily basis and i go in Gods grace doing what is desire of me witu out fare or objections . Thanks
Roland Smith
Jamaica, 2015-04-05 10:13:34

Yahuwah has blessed me all my 25 years without asking anything.Now i want to do his will for what i am created. Im greatly disturbed seeing whats going on in todays world.Im greatly thankful for worldslastchance as i needed at the right time for my spiritual life.I feel distress for im unable to make my Yahuwah happy.Now seeing this world i know Yahushua is coming soon.Just pray for me that he will be guide of my youth so that i do not waste my time for this worldly pleasures.Seriously I want to take up my cross and follow Yahushua and make others follow too as this is my only chance to make Yahuwah happy.pray that YAH'S spirit may be upon me and help me that i may not stumble in any evils ways.please pray to Yahushua that my YAHUWAH listens and bless me for his golry,honour for his name to be exalted on every corner of the earth .may his blessings continue onWORLDSLASTCHANCE people.thank you.
smith joseph
India, 2015-03-29 11:08:34

I recently cleared off an interview with an MNC, those almost two months passed away, they did not release the offer letter. Please pray on this issue. Thanks.
Dhinakar Reddy Pothireddi
India, 2015-03-23 04:44:17

Please pray for me because I'm doing my life changing exam because it is crucial I must do it well in the name of our master Yahushua
Preetham Emmanuel
India, 2015-03-18 22:25:47

To the person reading this message, I feel very sad right now in my life. I have become a moron and a best friend to satan. I started masturbating last year. It has now become part of my life. I really need your prayers.
Kofi Opoku
United States, 2015-03-18 22:22:23

i want GOD to help my family by givig them financal breakthrough
ichebadu anele
Nigeria, 2015-03-16 08:23:01

Calvary greetings in Yahushua's name. Brethren, please pray for the grace of Yahuwah on me to be able to speak HIS Word more boldly. I also need a means of livelihood to be able to get materials for evangelism and to take care of my wife and two boys, including our parents. I would not also mind if I could get materials for evangelism from WLC. I live in Nigeria. They can be sent to c/o Jessica Ugo Hillary, Isalu Hospitals Limited, By AY Hotels, Off Wemco Road, Ogba-Ikeja, Lagos, Nigeria. Thanks and YAH bless your ministry.
Stanley Egbelu
Nigeria, 2015-03-14 09:19:22

Grace be to all ang peace from God our Father and of the Lord Jesus Christ, Please make mention of me in your prayers that the Lord Jesus Christ may give unto me the Spirit of wisdom, and revelation in the knowledge of Him, the eyes of my understanding being enlightened that I may know what is the hope of His calling. That He would grant me according to the riches of His glory to be strengthened with might by His Spirit , that I may be able to comprehend with all the saints what is breadth and length, and depth and height. And to know the love of Christ which passeth knowledge, that I might be filled with all the fulness of God. And the utterance may be given unto me that I may open my mouth boldly to make known the mystery of the gospel, that therein I may speak boldly as I ought to speak. According to my earnest expectation and hope, that in nothing I shall be ashamed, but that with all boldness, as always, so now also, Christ shall ba magnified in my body whether it be by life,or by death. Now, I have confidence in the Lord touching you, that you both do, and will do the prayers which I request you. The Lord is faithful, who shall establish you, and keep you from evil. Grace be with all that love our Lord Jesus Christ in sincerity..... AMEN In Christ
edwin ignacio
Philippines, 2015-03-13 08:32:13

I Joseph, I was a boy who is Roman Catholic, I am now plagued by many problems, especially where every person I meet do not know the Sabbath day, and they do not know Jesus in fact, they believe false aturn, yan to make me participate towards the divine falsehood. I ask the Lord Jesus to membinbingku and give the path of truth for me. and, also pray for my family, especially my sister who was almost failed to face lectures at universities BINUS, Jakarta. So that he can pass and find the path of truth with the Lord Jesus Thanks All. Jesus Bless You, Everything.
Joseph Lesmana
Indonesia, 2015-03-12 22:49:19

Please I need the prayers of the righteous people to pray for me that I may speak boldly the kingdom of God as I ought to speak. And please help me build up the M.O.S.E.Z PDR Ministry of the Olive Shaft End-time Zion Prophetic, Deliverance and Reconciliation
edwin ignacio
Philippines, 2015-03-11 12:25:38

Please help me pray for physical healing and strenght to remain strong amidst my present health condition. I am diagnose for SLE. I pray Yahuwah will heal me as I desire to serve him. May Yah bless my family and keep them strong in our times of trouble. This i ask in Yahushuas name amen.
lelani Sturdevant
Philippines, 2015-03-10 07:56:40

Brother and sister in God`s love, please pray for me. I need to be reaslesd from porn and mastubation sin. This really binding, messing, and creating distance between me and God. I don`t want to continue it. After doing that, my heart always feel empty and guilty. I do need your pray
Andreas Esa
Indonesia, 2015-03-07 23:49:21

To Brothers & Sisters in Christ, Please pray that GOD will Bless My Family & me Financial Miracle money will come to Linda & me from GOD. I'd badly need a financial blessing right now, also Prayer of agreement that my 2001  Honda Accord Coupe 2 DOOR 4 Cylinder engine & my whole car will drive & perform as a brand new Car. thanks Bro. Jerome Pierce  
Jerome Pierce
United States, 2015-03-07 07:41:04

I pray to grow in wisdom and stature and in favor with God and men
odaibankss anang
Ghana, 2015-03-07 05:24:58

my prayer request is i want you people to pray for me concerning my house, i want God to give me where to stay, i want to start my family, and also to give me more blessing and wisdom in Jesus name.
John Success
Nigeria, 2015-03-06 13:05:04

my friend Sarah isn't making good decisions...
Trevor Wolfe
United States, 2015-03-04 23:25:22

pray that celebrities escape their satanic rituals and contracts like britney spears lady gaga katy perry ive been trying to tell them escape their ilummanti agenda and their are other i cant name too many of them have fallen
Michael Herring
United States, 2015-03-02 05:34:06

obama decide to threaten Israel again buy raging war i do not support usa anymore cause of this crap! also need the appreance of christ come to me like he did to the apposals and need to be taught sabbaths kind of confusing cause of our stupid calender i download the lunar solar calender hope that helps for me
Michael Herring
United States, 2015-03-02 05:30:48

i looked at most of the churches which one is the perfect church that dont teach lies and go buy the lunar solar calender and keep the sabbaths?
Michael Herring
United States, 2015-03-02 05:16:48

Please pray for me. been sick for about 2 weeks thank you.
Karen Redding
United States, 2015-03-01 00:45:30

My son's Ph.D title "Good Governance " in the perspective of the HOLY BIBLE. to be confirmed by his guide.
susila kirubavathy
India, 2015-02-27 06:43:22

Pray that I have no fear and trust in God. Pray for me that I know how to read the word of God.
Dorica Thom
Zimbabwe, 2015-02-27 05:39:12

To my brothers and sisters in Yeshua (the Lord Jesus Christ) Please pray for me. I am undergoing many problems and have been in the midst of some hard core spiritual attacks for a while now. Please pray that I will have victory over the enemy and his minions/kingdom of darkness, and that I will be set completely free. Thank you. Your sister in Christ,
Mary lily Topno
India, 2015-02-26 17:33:05

Pray that I have no fear and trust in god. Pray that I have the strength to hold faith and be born again.
Mary lily Topno
India, 2015-02-26 17:28:59

Please pray for me so that can get a good and stable job very soon. I have left with no parental support (both my parents passed away) and no financial support. Its quite difficult for me to stay alone with no jobs. I lost my job last month. Please pray so that i can get my dream job as soon as possible and would able to pay all my debts.
Mary lily Topno
India, 2015-02-26 17:26:12