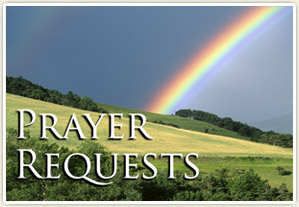 Faith is simple in its operation and powerful in its results. We believe that prayer is the key in the hand of faith to unlock heaven's storehouse, where the boundless resources of Omnipotence are treasured. We consider it a privilege to pray for you.
NOTE: Please read the prayer petitioners' guidelines, and send only 1 prayer request per week, unless it is an emergency.
To post a prayer request, you must first register an account or login. This is necessary to protect the community and the prayer board from being abused by spammers. We sincerely apologize for this inconvenience.
Kindly pray for my brother Godffrey Siwale, who was convicted of defilement case in USA. He is still in police custard awaiting for a court trial this Wednesday.
Geoffrey Siwale
Zambia, 2016-10-25 09:49:19

Hello with lots of love and thank you for a wonderful website you have. Would you and your community please pray for my sister Laura. After a gall bladder removal and finding out that was not the problem its now a year plus with the same stomach and digestive issues. Dr's cant seem to figure it out. We have done many communions and are believing in Jesus for a healing! God bless in the name of Jesus... Thank you
John Udelle
United States, 2016-10-23 21:55:51

O Lord my God, please help me and hear my cry. You know my pain. I am putting in a prayer request for casting out monetary demons & breaking financial curses. Please help me pray to the Lord our God to relief me from financial burden and change my financial story. Thank you lord for hearing my prayers & granting my request.
Prince Dick
Cote D'Ivoire (Ivory Coast), 2016-10-21 22:52:28

I'm planning to go and share Truth out in public here in my home town of 13,000 which grows to 18,000 during the college semesters. I'm scared, most people know who you are in such a small town. I don't want my family losing faith when people start attacking them on my behalf, and I don't want to lose faith when my relatives start saying hurtful things to my family. I am use to quitting when encountering adversity
Andres Padilla
United States, 2016-10-21 13:46:17

Hi could you pray for my health and wellbeing and for me to live a long happy life? Also that I have hope in God and Yahushua for keeping me blessed and safe and getting closer in communion with them? Thank you
Chris Turner
United States, 2016-10-19 09:04:19

Please pray for our country for rain Thank you!
Louise Steyn
South Africa, 2016-10-14 04:50:02

i'm feeling overpowered by laziness when it comes to fighting for my soul. be with me in my prayers. i want be im love with God
TRANOS NEMARINGA
Zimbabwe, 2016-10-12 16:30:36

Please pray for my new friend Crystal as I help her reestablish her relationship with Yahushua through Bible studies and the precious book, "Steps to Christ". I want to be able to share with her critical Bible truths; I pray that the Lord will keep the doors open, and that He will see to it that Crystal is guided into the Kingdom of Heaven~
Lana Lee
United States, 2016-10-12 16:25:52

Favor and Grace before God and men
odaibankss anang
Ghana, 2016-10-11 04:28:53

1. As we prepare to enter 2017, the LORD will keep me and my family healthy 2. That my children will be successful in their examinations particularly Mabel and Jude who are in the University 3. That the LORD will provide enough money for me to pay salary of the workers in the University where I am Vice Chancellor 4. That none of the groups such as the Academic Staff Union of Universities (ASUU), The Senior Staff Union of Nigerian Universities (SSANU), the Non Academic Staff Union (NASU), and the Nigerian Association of Academic Technologists (NAAT) and the Student Union will go on strike in 2016 and beyond. 5. That God will provide the money so that I will pay the arrears of promotion in the University completely. 6. That there will be agreement between the government and all the unions so that their salary will through IPPIS taking the burden away from school authorities. 7. That God will provide the money so that I will pay the arrears of promotion in the University completely. 8. That the medical school in my University will be accredited next year, 2016. 9. That all the other departments that lost accreditation will get them back in 2016-2017. 10. That government enquiry into my University will be turned to foolishness like the counsel of Ahitophel. The petitions against me will not stand. 11. That the LORD will protects us against kidnappers and hired assassins. 12. That I will not be removed from my current job position. Islamic forces are taking all the jobs in the country.
Michael Adikwu
Nigeria, 2016-10-07 20:10:53

I ask prayers on behalf of Lana and myself. We are seeking the Lords blessing on our union before we proceed in a marital relationship together. Please pray for this if is is the Lords will for our lives.
Donald Drouillard
United States, 2016-10-06 20:40:56

Favor and Grace before God and Men
odaibankss anang
Ghana, 2016-10-05 05:32:02

I have an uspoken prayer request. Please pray and may God bless you.
Karen Redding
United States, 2016-10-04 06:00:32

Favour and Grace before God and men
odaibankss anang
Ghana, 2016-10-03 11:10:57

please pray for my marriage restoration.
Tankiso Machaba
South Africa, 2016-09-27 20:17:52

Am weak in spirit,I need your prayers beloveds in Christ
Moses Badam
Ghana, 2016-09-24 15:10:18

QUE A PAZ DO NOSSO SENHOR JESUS, ESTEJAM COM TODOS VOCÊS!!! PEÇO EM NOME DE JESUS QUE OREM POR MEU PAÍS (BRAZIL) , POIS ESTÁ PASSANDO POR UM MOMENTO CRÍTICO DE CORRUPÇÃO E CRISE FINANCEIRA!!! QUE POSSAMOS PREGAR O EVANGELHO COM TODA FORÇA EM BUSCA DE ALMAS PARA O SENHOR JESUS!!!!!!
MAURICIO ROGERIO FURTADO
Brazil, 2016-09-24 14:59:42

Pray for a man named Jereth. His wife is leaving him and taking the kids. Pray he reads The Great Controversy.
Donald Drouillard
United States, 2016-09-23 01:17:46

Plz pray for my job & my family.
A Navodaya
India, 2016-09-21 07:28:27

please pray for nancy for she was in a accident in 2015 has areplaced hip ,knee and fused ankle and has a lot of pain when trying walk nancy ford mother of Jennifer ford she also love's god
Wayne Hart
United States, 2016-09-19 09:17:31

please pray for my sone tobe step daughter she has battled cancer and its awful sideeffects for a long time god has been and is wonderful to her but she still has terribale pain her name is Jennifer ford she has a great faith in god
Wayne Hart
United States, 2016-09-19 09:12:05

I need to be willing to be made willing to follow the Lamb wherever He goes. I need the courage and faith to surrender entirely to Yahuwah, and to be willing to obey Him no matter what! I want to be as close to him as possible; I desire to lay self aside and live for Yahushua and for my fellow humanity! "Lord, I believe! Help my unbelief!" "Create in me a clean heart and renew a steadfast spirit within me. Do not cast me away from Your presence, and do not take your Holy Spirit from me. Restore to me the joy of Your salvation..." May my whole life glorify Yahuwah and point others to His infinite love!
Lana Hein
United States, 2016-09-16 16:21:46

Please pray that Yahuwah will grant me the strength and faith of Yahushua to gain the victory over my sin of appetite/over eating. This is the hardest battle I've ever had to face and it is killing me, literally. Yahuwah save me!
Donald Drouillard
United States, 2016-09-16 00:34:50

I am bipolar and I have suicidal tendencies. I also love Jodelle Micah Ferland almost as much as Jesus Christ.
Alexandro Hugo Lopes
Brazil, 2016-09-15 22:10:35

Pray for Devin Whitfield Remember his name Yahuwah will do the rest
Victoria ferguson
United States, 2016-09-14 14:31:24

I want prayer for myself to get closers to yahuwah I asked that my children be blessed by the holy spirit. Also my friend Michelle is going through a crisis about to get evicted I pray that the holy spirit grant her some money from somewhere so her and her children won't lose there place she has been really sick and waiting on social security to come through
Tawanna Robinson
United States, 2016-09-12 21:23:01

WLC Team. Kindly help pray for gain more spiritual strength to resist and overcome conflicting interests in donor funds managed by grants managers who are not honesty. My organization " The Good Samaritan Social Service Trust" receives fund from a single donor for over 20 years. Upholding stewardship has been a major problem.
Elisha Mwakinga
Tanzania, 2016-09-12 17:04:46

I WANT TO PRAY FOR MY BELOVED PET CAT MANTU'S SON WHO IS SUFFERING ABOUT 1 MONTH .WISH HIS SPEEDY RECOVERY AND GOOD HEALTH.
HIRAK KAR
India, 2016-09-10 09:48:12

I've started a business in Dubai and looking for an improvement but unable to get good orders due to current market conditions. Need your prayers for Yah to transform and make favorable situations to prosper in His name and to be a blessing for many. Amen.
VARGHESE SAMUEL
United Arab Emirates, 2016-09-10 01:30:28

Please pray that my family may join me this week in Dubai as I'd applied for their visa which is 'Online' and still awaiting for them to be ready. And this week it's holiday here on account of Eid. In Yahushua, VS, Dubai.
VARGHESE SAMUEL
United Arab Emirates, 2016-09-10 01:26:43