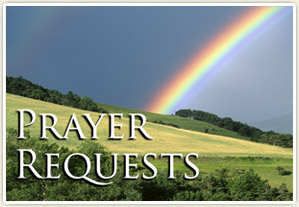 Faith is simple in its operation and powerful in its results. We believe that prayer is the key in the hand of faith to unlock heaven's storehouse, where the boundless resources of Omnipotence are treasured. We consider it a privilege to pray for you.
NOTE: Please read the prayer petitioners' guidelines, and send only 1 prayer request per week, unless it is an emergency.
To post a prayer request, you must first register an account or login. This is necessary to protect the community and the prayer board from being abused by spammers. We sincerely apologize for this inconvenience.
I had a nee problem it gives excessive pain and back pain please pray for me.
Battagani.Ravindranath Tagore
India, 2015-11-22 10:14:33

I request that thou pray for me that I may understand that which I read in the good book, to receive guidance and direction to fulfill the commandments , to praise and associate the great words of the bible in all my daily labors and activities, to be blessed in favor of this knowledge and wisdom from the Lord God and heavens itself,that I may please an serve him always, Amen
Larry Brown
United States, 2015-11-22 09:50:00

In watching WLC along with consistent daily study, my husband and i are convicted that we must denounce the SDA denomination and many other things in are lives. We ask for prayer for boldness to not be shaken regardless of what may happen now. we see the end time events unfolding in rapid succession. We know that we don't have much time and must choose now whom we will serve. i am praying for everyone listed here. PLEASE let us not take these prayer requests lightly. Let us be diligent and lift each other up. I truly believe and have seen changes in situations and peoples lives because of prayer. Shalom to you all.
Alicia Howard
United States, 2015-11-21 16:23:33

I request prayer for Aubrey D. Bennett, Alexia D. Bennett, and myself. We have chosen to leave the SDA Church. The pastor is not willing to accept the letter to remove our names from the church roll. He stated that I am wrong and this website is targeted against SDAs. He also stated that it is promoting half truths and half errors. I am asking for my heavenly Father's strength, guidance, and wisdom and to be lead to others believers like myself who are searching for truth. Thank you. Keep up Yah's great work.
Mary Ransom
United States, 2015-11-19 08:23:44

I WANT TO BE BAPTIZE WHEN IT WILL HAPPEN? I STILL NEED MORE PRAYER.
NEEMA MAKOKO
United States, 2015-11-11 16:41:35

Shalom Aleykehim Brethrens lf WLC. Please pray with me, i just got fired from my job. And i need new job to survive living. Many thanks for all your care and love. In The Name of Yahusha. Hallelu-YAH.
Gary Handhika
Indonesia, 2015-11-10 23:01:33

Dear Fred and all members of WLC, please pray for my son "Jadon Addo" to get totally healed of all sicknesses. His temperature goes high most often. I believe Yahuwah heals all kinds of sicknesses and he will heal Jadon Addo through his Son Yahushua.
Raph Addo
Ghana, 2015-11-04 00:33:50

I need the will of thy LORD to done in my life. I need His grace and mercy. I need financial blessing to be able to pay my bills. Please, brethren pray for me.
Mba Victor Nnabugwu
Nigeria, 2015-11-03 10:58:08

Am disperata nevoie de ajutorul vostru,pentru a va ruga tatalui Ceresc,sa-mi lumineze calea si sa-mi dea intelepciune sa invat cat mai mult din cartea Sa cea sfanta.Eu nu prea stiu limba engleza,si de aceea inaintez cu cursurile asa de incet.Dar ma rog lui Yahuwah zi si noapte sa imi lumineze inima catre el sa pot fii a lui pentru totdeauna.Va rog...!rugati-va si voi pentru mine... Va multumesc mult!
ena elena
Romania, 2015-11-03 07:49:24

Pray for me .my decision to come out and to join and follow the CREATOR CALENDAR WORSHIP ALREADY IT CREATED COLLISION WITH MY FAMILY. I AM STANDING ALONE.BUT I KNOW I AM NOT ALONE I HAVE BROTHERS AND SISTERS ALL OVER THE WORLDS WHO GO THROUGH THIS ISSUE .YAHUWAH IS IN CONTROL. I PRAY THAT YAHUSHUA WILL WIN. HE IS SOON TO COME. ALL THIS TROUBLE WILL END.THANK YOU WLC TO WELCOME ME TO BE PART OF THE FAMILY.
NEEMA MAKOKO
United States, 2015-10-31 22:02:06

Hi Sir, I need urgent prayers for I'm suffering from dangue fever. Only our Almighty can heal me. Thank you.
alexander john
India, 2015-10-31 13:31:40

Please pray so that many would realize what little time we have until Yahushua's coming. And, pray for people to realize that Saturday nor Sunday are the proper days for the Sabbath according to WLC's calendar. Amen. Happy Sabbath!
Peter Marchuk JR.
United States, 2015-10-27 12:17:45

I pray that the Heavenly Father possess Peter Marchuk, me, by whatever means to carry out his will and his glory. Amen. Ameen.
Peter Marchuk JR.
United States, 2015-10-23 19:52:39

Continue to pray that Yahuwah leads me into the truth. If it is truly his desire to have me start a home ecclassia that is the path I must take. I want to thank you brother Myers for your words of encouragement regarding my last prayer request. I truly believe that the scriptures have given me—and all men as head of the household—the obligation of leading the family in worship as priests unto Yahuwah. This also means that I have the authority to baptize the members of my fellowship group as well as myself and conduct marriage ceremonies to marry members of my fellowship group and myself. Even if I do not hold ministerial credentials and the state tells me I have to file marriage papers to make a marriage binding i do not have to listen to the government because I am a priest of Yahuwah. Is that how it works? If I marry myself to my fiance I can still claim her on my income taxes as my wife even though she is not considered by the state to be married to me. This all sounds very awkward and shady—to say the least...
David Ruzzo
United States, 2015-10-22 17:57:04

Please pray for my fiance's healing. She suffers greatly from neurological problems due to chronic Lyme disease and she also suffers from PTSD from being abused (both mentally and sexually) by her father. We also both need a financial blessing so we can get out from under the situation we are currently in. My fiance's mom was put into a nursing home several years ago by her other daughter, who is now passed away. Me and my fiance are living in her mom's house that she is continuing to pay for while in the nursing home. The lawyers who have assumed the estate want my fiance out but she has nowhere to go and suffers from these previously mentioned, very debilitating conditions. We have no money to move to another location. I left my Job in May to take care of her. We both love Yahuwah and Yahushua Messiah very deeply and want nothing more than to be able to completely do his will and work. We want to tithe and give offerings. We want to attend the Festivals with our brethren. We want to be in a position of learning more of the truth. Please pray earnestly with us for Yahuwah to meet all our need...
David Ruzzo
United States, 2015-10-20 11:45:22

Thank you for the encouragement about starting a home Ecclesia. However my question remains, to whom do I pay tithes and offerings? If I am not fellowshiping or attending a local church, how do I give and to whom? My fiance is very ill with lyme disease and needs the laying on of hands by the ministers and elders of the church. But if there is no church to associate with, where are the hands that must be laid upon the sick and infirm? Where is the unction of receiving the Holy Spirit of Yahuwah? How can we be right with Yahuwah and Yahushua when we feel so much in despair by forsaking His anointed gatherings in both assemblies (Church and Festivals)? We cannot take part in the appointed festivals. I know of many—Saturday—Sabbath keeping congregations that hold feasts on the appointed dates in set locations. The entire assembly gathers at these locations to feast and worship, fellowship and hear the word of Yahuwah preached. Please tell me, what are we to do? The option you have suggested of starting our own home group of believers is not altogether sufficient for our present needs. Although I greatly appreciate your compassion in this matter, seeking the support of a future "ecclesia" or "fellowship" does not address our current situation. We feel very lost and "forsaken"...
David Ruzzo
United States, 2015-10-20 11:28:04

please pray for me, I have liver cancer. thank you.
arthur scott
United States, 2015-10-19 21:56:05

i ask that you pray for me to get a better relationship with my heavenly father to be more close to HIM
Lorenzo Rebelto Johnson
Trinidad and Tobago, 2015-10-18 12:41:19

Dear Fred Myers and the WLC team, Please pray that I and my wife will find some form of like minded fellowship. We need a church family to be encouraged. If WLC is preaching "home church" while preventing sincerely honest Christians from being feed, and this turns out to be a damaging doctrine, WLC will have much to answer to Yahushua for telling His children "NOT TO ATTEND CHURCH" because they do not meet on the correct day. NO ONE goes by the Luni-Solar calendar. Although it sounds like a very plausible and acceptable issue, the fact is "it isolates true believers from growing, by being fed properly". The only way the Christian can grow is to be fed through hearing the word preached and communing with other believers in fellowship.
David Ruzzo
United States, 2015-10-16 20:49:49

I need prayers. Satan has stolen my heart completely and I do things which I no for sure they are sin.
Kofi Opoku
United States, 2015-10-14 13:53:27

Please pray for me that i continue growing in Christ and that i should be found in that number of the Saints that will be saved at His second coming.
Lowry Natala
Zambia, 2015-10-09 17:22:32

I praised the Heavenly FATHER YAHUWAH the Almighty to answer my prayers.. praise His holy name.
Jenelito Juntilla
Philippines, 2015-10-09 09:05:21

I request prayer for guidance and courage to fully surrender my life to Yahushua and be the person i was meant to be thru Yahushua, and for the salvation of all my Family. Also I need sustainable employment that will allow us to have a home, prosper me and my Family and glorify Yahuwah, through His son Yahushua.It's a very difficult time for me and my Family. Bless WLC. Glory and thanks be to Yahuwah through His son, Yahushua!
harriet barton
United States, 2015-10-02 23:21:04

Please, pray for me for divine break through s and Gods favours in every aspects of my life. Am tired of stagnation. Thank you.
Isah Suleiman
Nigeria, 2015-10-02 22:00:10

This isnt a prayer request but just to let you know the vision i had of Pope Grancis ...okay it started like this:i was somewhere in a building and im not sure if i was waiting for the pope but then Francis showed up and then he turned his back and when he turned around he looked alot like pope John Paul II ,and then he transformed into a mutated looking beast and then I started yelling the name Yehoshua and then GOD and then i looked up in the sky looking for the Lord but then i realized the Lord filled me with the Holy spirit and as i was yelling and confronting the pope who is really not himself but another ,then the pope startedto get scared of the Name i was screaming at him and soon i realized i found myself outside and then i awoke. A bit shaken but now it was making sense for sure i knew the Lord was showing me who Francis really was andFrancis is really John Paul II,like the scripture says that the 8th is one of the seven going to perdition Please wake up my brothers and sisters we must not bow down to the papacy for the end times are now...with brotherly love your brother in Christ Anthony
Anthony Gastelum
United States, 2015-09-28 21:42:14

Please help me to my life win a sense again,God bless you all!
Adrienn Kovacs
Portugal, 2015-09-27 13:39:29

Please pray for my son angel Rosales of van nuys can to not get hard time in prison no more then 3 years this week his plea agreement followed by sentencing his loving mother yanira latorre. Amen. Thank you and God bless you all
yanira Latorre
United States, 2015-09-26 22:01:08

please forgive me for what i have done.
abhishek singh
India, 2015-09-25 17:09:46

Glory be to Yahuwah Almighty for Redemption ,i seek protection for my soul and financial breakthrough/abundance for all my daily activities through Yahushua. HalleluYah
Frank Acheaw Boampong
Ghana, 2015-09-24 12:41:55

Ahoj,prosím modlete se za mě abych získal nové zaměstnání v souladu s JAHUWAH vůlí, podléhám depresi,prosím modlete se za mojí rodinu aby též následovaly JAHUSHUU.Děkuji
Alexandr Dömötör
Czech Republic, 2015-09-23 05:18:57