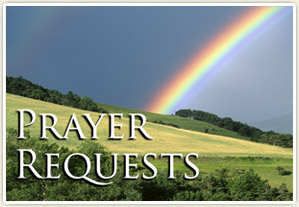 Faith is simple in its operation and powerful in its results. We believe that prayer is the key in the hand of faith to unlock heaven's storehouse, where the boundless resources of Omnipotence are treasured. We consider it a privilege to pray for you.
NOTE: Please read the prayer petitioners' guidelines, and send only 1 prayer request per week, unless it is an emergency.
To post a prayer request, you must first register an account or login. This is necessary to protect the community and the prayer board from being abused by spammers. We sincerely apologize for this inconvenience.
Please pray that Yah will bless this new Lunisolar Year that starts in a couple hours for everyone.
Justin McGeorge
United States, 2020-03-23 23:44:54

Now Satan is trying to make me give up. I do not want to give up on Sabatth. Please pray for family, school, homeroom teachers and friends to agree to keep me on Sabatth, the new moon and holy holidays. I do not want to leave Yahuah. Please do not give up or give up.
Nhut Quynh Tran
Viet Nam, 2020-03-22 10:22:30

Please pray that Yahuwah will open countless doors of opportunity for me. Oh hear my prayers Yahuwa and Yashuwa
Debra Kaplan
United States, 2020-03-21 19:48:13

PLEASE PRAY TO MY MOTHER, NOE SHE IS SICK CANCER SINUSITIS AT HER NECK, PLEASE PRAY MY MOTHER TO OUR CREATOR FATHER YAHUWAH ELOHIM AND MASTER YAHUWSHUAH OUR MESSIAS, THANKS, GREETINGS LOVE FROM INDONESIA COUNTRY
DESTRI HARIONO RAJAGUKGUK
Indonesia, 2020-03-16 09:36:32

twice failing to keep sabbath day did the third time trying to keep my Sabatth day harder than ever. Previously only my family forbade me, but now I still have difficulties with the whole school, the homeroom teacher Thien An Nguyen Thi humiliated and made it difficult for me, she threatened me, hated me. ect. she also insulted my mother at the parent meeting. Please pray for me because I want to find a good homeroom teacher who will allow me to keep sabbat day, may my family, school and friends all agree to let me keep sabbat day, new moon day and the holy day. Please pray for me not to be afraid, worried or give up. Please pray for my family to pay off the debt, and build this house in 2020. I have a small tip in prayer, that you should quote the Bible because it is Yahuah's word, and our word is not comparable with Yahah's. When quoting the Bible, angels are given the task (an order).
Nhut Quynh Tran
Viet Nam, 2020-03-01 12:14:45

Father I come in Jesus name and blood. Because in my own name and blood I am neither worthy nor known. Be merciful to me the sinner! And forgive my every debt and sin towards You. I have three unspoken requests that You know Oh Lord.I pray Father You may grant them. So that my mother and father may always have a reason to smile and be happy with me. To bring glory to Your name. To give a reason for your servants to praise Your name. To strengthen believers faith. To give a reason for nonbelievers to believe. And to discourage Your enemies Father. Please grant the requests by your grace and mercy alone may this request may be even given now. May these blessings alone be dependent upon your mercy and grace now and forever. I know You have already granted these requests for me in the past and it has undoubtedly shown. I thank You for that. May you give me faith also to help me believe that Your promise of these requests still stand. And I ask again. But thank You knowing You have already granted these requests.Even though I already have them I ask again and that you take away any doubts in Your kindness. In Jesus name I accept and am grateful amen.
mister misterz
United States, 2020-02-23 17:06:03

Glory be unto thy name Yahuwah, may Yah. Almighty grant peace, protection and reveal all about my future wife. In the of Yahushua
Frank Acheaw Boampong
Ghana, 2020-02-20 19:25:51

I would like to pray with you for my exam, this is next week on February 28th,it is about the upper level in german language,hat would be very important to me, but yahuwah knows better,my future belongs to him. Please also continue to pray with me for my future employment contract and my recognition of my profession,Thank you
Ana da Silva
Germany, 2020-02-17 14:16:56

Please pray for me, pray for something, what i should really be asking Yahuah for is preparedness to receive whatever i asking for.there is nothing too hard for Yahuah Please pray for my to be in the right place to receive it ,số i won't become prideful and forget who's Our One and Only Provider. Please pray for my parents and Aunt Diep to be healthy and not sick. Thank you. I have some tips when praying that I quote the word of Yahuah in the Bible because our words cannot be compared with Yahuah's words.
Nhut Quynh Tran
Viet Nam, 2020-02-14 11:20:15

PLEASE PRAY FOR ME I HAVE ALZHEIMER'S FOR 7 YEARS I ALL TRYING TO DO GOOD.I LOVE LORD JESUS.
RICHARD MCVEIGH
United States, 2020-02-10 21:52:15

1. Baptism of the Holy Ghost 2. That the good LORD will keep me and my family healthy in 2020. 3. That my children will be successful in their examinations particularly those in the University. 4. That the LORD will protect us against kidnappers and hired assassins. 5. That there will be no petitions against me now that I have finished my tenure. Many people try to rope others into false allegations. 6. That all plans from Islamic and occultic forces to prevent me from getting any other job after my last t job will fail. 7. That the LORD will open doors of global evangelization for me in 2020. 8. That all evil plans to Islamize Nigeria will fail. 9. That as I resume back in UNN next year there will be no obstacle. 10. That I will become the solution to my societal problems. 11. That my creative club will commence and become a global brand from 2020.
Michael Adikwu
Nigeria, 2020-02-09 15:42:40

Pray that I will overcome sexual sin. Pray that following Yah's Calendar and worshiping him correctly will help me overcome.
Mark Phelps
United States, 2020-02-08 00:05:55

May YAHUWAH the Almighty response my prayer and the forgiveness of my sins
Jenelito Juntilla
Philippines, 2020-02-03 22:16:15

Pray that the Goodwill words spoken by my mother on the 31st of January 2020, of which The God of Heaven is Witness will materialized and bear fruit and the name of the Lord Yahuwah be praised and Glorified. Amen
Jimmy Anderson
Seychelles, 2020-02-02 11:32:37

My Christian friends on January 23, 2020 They owe $400 at their hotel they have $200. They need a miracle from Yahuwah to meet their needs to the 31st of this Gregorian month. This is an emergency on their behalf. These 2 friends who worship Yahuwah I believe. Emergency! Sincerely, Tony Bruni
Tony Bruni
United States, 2020-01-25 15:03:52

I need to know exactly what to do to be born again.I read conflicting articles on net. I know that time is short, will i be able to help others to be born again also? Have a lot of relatives and friends etc..Thank You so much... William
William Morelle
United States, 2020-01-24 19:09:37

I feel so undeserving and inadequate as a follower and believer in the SACRED NAMES. I have a personal study time and prayer time each morning. It is my prayer each day that I might be a BLESSING to someone and that somehow my family and friends will find the TRUTH and come out of Babylon. I ask YAHUWAH to send someone to share TRUTH and a DESIRE to KNOW and UNDERSTAND the TRUTH as well as the ERROR hidden in Christendom. Please pray that this request will be honored by OUR HEAVENLY FATHER and that it is in accordance with HIS WILL. Thank you
Deryll Hughes
United States, 2020-01-15 22:34:52

Pray that I find like minded WLC members in the Houston, Texas area, so that we can study together. I feel so alone in this, although excited on new truth and light. I have been raised SDA all my life and will turn 60 years old in March
Mark Phelps
United States, 2020-01-14 21:26:18

I'd Like a Prayer of Salvation For My Female Friend Taylor Lee Tranberg Who as Far as I'm aware Is Still an Unbeliever and Still In a Homosexual Relationship. I Love Her Like a Sister and I don't want Her To Suffer The Second Death Thus Miss Out on Eternal Life. I Love Her So Much I'd Even Lay Down My Life For Her. I Have Been Praying For Her Salvation For the last month but I'm Afraid I Haven't Gotten anywhere. I'd Really Appreciate It If Anyone Would Do This For My Friend and Myself.
Paul Webb
Canada, 2020-01-11 16:26:03

Please pray that my sister (Marie) her husband (Ray) her son (Mat) and his wife (Mary Beth) would come to a saving knowledge of Jesus and be baptized in the name of the Father, Son and Holy Spirit. Thank you and God Bless
John Richardson
United States, 2020-01-11 16:02:11

Brothers in YahuShua, I believe the name of the Massiach is YahuSha, but that does not prevent you from greeting with greetings of love and shalom to all of you. I would like to ask for prayers for me Roberto Zanini da Silva and my wife Andreia Da Cruz Pereira. We are going through great tribulations, I have been unemployed for 5 years and would like you to intercede for us in your prayers. May the peace and love of Yahushua be with you all today, tomorrow and forever, aman! Roberto
Roberto Zanini Da Silva
Brazil, 2020-01-04 09:00:36

I would like prayer for myself and my family. I just lost my husband Dec.10, passed away from cancer within one month of finding out. Trusting in God to get us through this. I just found this website recently.
Cathy Ortega
United States, 2019-12-28 12:49:57

Help me find like minded WLC members in my area (Toronto, Ontario) so i can have communion with brothers and sisters on new moons and sabbaths on YHWH's true calendar. Help me find WLC members that might help baptize me properly before probation closes. Bless WLC with new truths and give WLC members the ability to find YHWH's lost sheep and bring them to truth AMEN.
jason freeman
Canada, 2019-12-24 20:35:39

YAHUWAH is good and worthy to be praise, im praying for the forgiveness of my sins.
Jenelito Juntilla
Philippines, 2019-12-17 11:55:39

O, Tată, mare și sfânt, o, Tu, Iubire eternă! Cum aș putea să- Ți mulțumesc vreodată? Noi nu am existat, ci Tu ai fost Acela care ne-ai creat pentru a ne bucura de existența beatifică întru iubirea, graţia şi compasiunea Ta nesfârșite. Tu ne-ai creat pe noi, astfel încât să ne putem bucura trupeşte – la fel cum Tu o faci în plan spiritual – de toate desfătările imaginabile, căci noi vedem, auzim, mirosim, gustăm, simţim, percepem şi putem chiar iubi profund – pe Tine, mai presus de orice, şi pe copiii noştri,frații si surorile noastre...etc, la fel ca şi propria noastră viaţă. Noi putem umbla, putem sta în picioare, aşezaţi sau culcaţi, şi ne putem mişca la dorinţă, ne putem roti membrele, capul şi ochii în toate direcţiile. Tu ai binecuvântat limba noastră, care poate rosti cuvintele vii ale iubirii, izvorâte din Tine, ceea ce ne permite să comunicăm între noi. O, cine Ţi-ar putea mulţumi cu adevărat Ţie, căci acţiunile Tale măreţe, izvorâte din iubirea Ta către noi, sărmane recipiente neînsemnate – sunt infinite! O, cât de insignifianţi am fi dacă am exista numai prin noi înşine; dar faptul că noi existăm se datorează numai acţiunii iubirii Tale, iar viaţa noastră este însăşi iubirea Ta, iar cunoaşterea noastră – graţia Ta. O, Tată, preabunule şi preasfântule Tată! Inima noastră smerită s-a umplut acum de o iubire de copil faţă de Tine. Lasă graţia Ta să coboare în ea şi accept-o ca supremă mulţumire pe care Ţi-o putem oferi. Căci inima noastră depinde într-o prea mare măsură de binecuvântarea Ta pentru a rosti cuvinte cu adevărat demne de Tine. Iar atunci când realizează acest lucru, ea nu ne mai aparţine, ci face parte din lucrarea Ta. Cuvântul Tău şi lucrarea Ta reprezintă de-a pururi cea mai înaltă glorificare a Ta, fie prin El Însuşi, fie atunci când este rostit de limba noastră. De aceea, noi nu avem practic nimic care să fie cu adevărat al nostru, cu excepţia iubirii şi păcatului. O, Tată! Dacă nu aş avea iubirea, ce altceva mi-ar mai rămâne decât păcatul şi moartea? Şi atunci, aş mai fi putut oare să-Ţi laud Numele în păcat şi să Te glorific pe Tine întru moarte? De aceea, Tu mi-ai dăruit iubirea, astfel încât acţiunile mele să nu constea doar din păcat şi din moarte, ci şi din iubire şi lucrările vii ale acesteia, care mi-ar aparţine mie numai întru iubire, dar Ţi-ar aparţine întru totul Ţie întru graţie şi compasiune. O, preasfânt Părinte! Pe vremea când nu posedam altceva decât înţelepciune, nu puteam realiza nici o lucrare, cu excepţia păcatului, astfel încât eram nevoită să-Ţi laud Numele şi să Te slăvesc pe Tine prin păcatele mele. Tu ai primit la vremea respectivă lauda mea impură ca şi cum ar fi fost vorba de o laudă pură izvorâtă din iubirea Ta, şi implicit a mea, deşi ea nu era decât lucrarea impură a păcatului. Eu m-am separat de lume, convinsă fiind că judecata mea este justă întru înţelepciunea pe care ai insuflat-o în mine. Şi întrucât eram convinsă că înţelepciunea îmi aparţinea, acţiunea mea s-a dovedit a fi un păcat. Iar eu Ţi-am lăudat Numele prin păcatul meu, lucru care ar fi trebuit să mă distrugă. Dar iată, Tu mi-ai dăruit acum iubirea, şi nu mai multă înţelepciune decât poate absorbi iubirea, astfel încât să nu mai risipesc, ci să adun. În risipă sălăşluieşte moartea, pe când viaţa nu poate fi găsită decât în adunare. De aceea, îngăduie-mi acum să-i adun din nou cu şi prin iubirea mea pe toţi aceia de care m-am separat, cândva prin înţelepciunea mea greşit aplicată. Îngăduie-ne să ne regăsim din nou întru iubirea şi compasiunea Ta, şi să ne adunăm întru graţia şi mila Ta eternă! Şi îngăduie-ne de asemenea ca ne schimbi inima de piatră,cu una de carne ca să ni se deschidă sufletul sa putem sa Te cunoaștem pe Tine în toată Splendoarea Ta măreață. Părinte preasfânt, te rog din toată inima mea În numele Fiului Tău Yahushua care s-a jertfit pentru noi oamenii ca să avem șansa să comunicăm cu Tine,și pe viitor să locuim cu Tine,să vindeci frații de orice boală,ca să se întoarcă la Tine și să facă după voia Ta... ca să-ți servească Ție.... O Părinte preabun și sfânt Yahuwah coboară Duhul Sfânt peste toți frații și surorile mele care sunt în lume,care nu cunosc adevărul Tău și nu numai,revarsă asupra lor iubirea Ta...ca să poată avea înțelepciune...O Tată în numele Fiului Tău iubit Yahushua ai milă de toți aceea care sunt în pericol de moarte,fie cutremure,fie furtuni,fie inundații,fie foc...protejează-i cu mâna ta ca să vadă puterea Ta cea mare... Amin!
ena elena
Romania, 2019-12-12 16:33:49

correct typos I was too scared to not have Yahuah by my side
Nhut Quynh Tran
Viet Nam, 2019-12-12 07:14:05

Hello friends. Five minutes ago I had just sent a message to my homeroom teacher about keeping the Sabatth on the new moon and holy holidays. I'm feeling empty, exactly, a little bit of peace because last week I struggled a lot to come to this decision, because a year ago I gave up the sabatth ... I agree for my offer. Praying for my family, school and friends also agreed to let me keep the Sabatth, the New Moon, and the holy days. I have traded my future to keep the Sabatth day, but God is the future. My message was sent, praying for her I was not angry, did not hate me, she agreed and loved me. May I never give up Yahuah, don't give up on the sabatth, don't give up reading the bible and pray any more ... I'm too scared to have Yahuah by my side.
Nhut Quynh Tran
Viet Nam, 2019-12-12 07:10:58

I pray for the poor and needy folks all around the world, and that people will wake up to the deceptions of these so-called holidays.
Glenn Robinson
United States, 2019-12-07 05:39:52

Pray for my SDA church, I have been trying to share with them information regarding EGW white being a false prophet, they are truly good people who are deceived it breaks my heart to walk away from them without trying to save them. Pray that the holy spirit be with me showing me the words to say in order to reach them. Also help me win over my first soul for Christ.
jason freeman
Canada, 2019-12-02 20:32:00

I pray that Yahuwah forgives me all the sins that I have committed agaist His devine LAW and the true love HE has shared for me since I found the true sabbath of the bible, and also save me from my besseting sins. I surely need HIS strength to carry on to the path of righteousness today and forever in Yahushuas name ....HALELUYAH
Kas Kwabena Antwi
Ghana, 2019-12-02 08:55:22