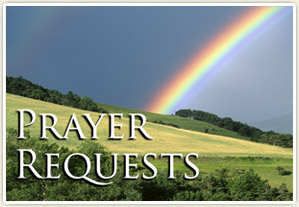 Faith is simple in its operation and powerful in its results. We believe that prayer is the key in the hand of faith to unlock heaven's storehouse, where the boundless resources of Omnipotence are treasured. We consider it a privilege to pray for you.
NOTE: Please read the prayer petitioners' guidelines, and send only 1 prayer request per week, unless it is an emergency.
To post a prayer request, you must first register an account or login. This is necessary to protect the community and the prayer board from being abused by spammers. We sincerely apologize for this inconvenience.
Praise be to our Elohim for this new day. I am going to have the second operation on my diabetic foot. From last weeks operation to this coming one today, my foot has had no closure. It can't go on like this. The foot needs to either be amputated or the wound or cut opened foot needs to be closed up. Praise Yah that he has shown me the picture of such a foot. Pray with me for His manifestation of His glory here in Taiwan. Shalom
hendry grobler
Taiwan, 2018-10-19 18:43:53

HELLO, MY NAME IS PETRE AND I NEED PRAYER, I AM FASTING AND I AM PRAYING THAT YAH PROTECT ME AND MY DAUGHTER AS WELL AS THE REST OF MY FAMILY FROM SATAN AND THE EVILS OF THIS WORLD. I NEED PRAYER THAT MY BOYFRIEND CAN SOMEDAY BECOME MY HUSBAND AND HONOR AND RESPECT ME AS HE SHOULD. I AM HOMELESS AND I NEED PRAYER THAT YAH WILL PROVIDED THE PERFECT HOME FOR ME AS SOON AS POSSIBLE. I NEED PRAYER FOR MY HEALTH AND MY FRIEND ARNOLD'S HEALTH AND MY DAUGHTER'S HEALTH. I PRAY THAT YAH FILLS ME WITH HIS WISDOM, LOVE AND HIDES ME AND MY FAMILY IN HIS FORTRESS. I LOVE YAH. THANK YOU FOR PRAYING FOR ME WORLD LAST CHANCE. OH I ALMOST FORGOT PRAY FOR ME TO WIN THIS BATTLE OF OBESITY THAT I HAVE BEEN LOSING.
PETRE BROWN
United States, 2018-10-19 14:36:05

Va rog sa va rugati si ptr mine pentru ca simt ca viata mea de credinta e praf. Si as vrea sa fiu mai apropiat de Dumnezeu si sa am o relatie mai profunda cuEl.
Cristinel A.Dumitriu
Romania, 2018-10-18 01:58:15

Dear G. Dante. While praying for you may I share this sometimes Yahuwah feels like He is your enemy. With all the pain that you go through is real. And during that time when you feel that Yahuwah Himself is your enemy. The peace you have is well able to carry you through. Yahuwah's Love is not to be doubted ok. That is exercising your faith. And that pleases the Yah so much. The peace that is with you during those very painful times is your green light to know you are able to overcome and even be healed. I encourage your sharing is very precious that the truth of why you call for prayer ok. You have learn that His love for you is very very real.receive it by faith and you will be more than an overcomes. Yah is training now to trust Him like we have never done before. Much shalom as prayer for you goes the the Father in the mighty name of Yahushua, the Anointed and Master of our lives.
hendry grobler
Taiwan, 2018-10-17 07:47:49

Please pray for me, I have health issues. I have Melena, eye problems, ear problem, skin problems, muscle problems, bladder problem, and other problems. Please ask my father the creator, father of Adam, Eve, Noah, Enoch, Moses, David, Bartholomew, St. John, Timothy etc. And the one they call Jesus Christ, to heal me from the problems I have. Please.
G Dante
Canada, 2018-10-17 06:33:19

Hi WLC, I would like to ask if you can please pray for my son and his little family. Last year due to pressure from his wife's family they became Jehovah witnesses and have cut us out of their lives and our grand-children's lives. The woman my son married had been reared a JW and walked away from them and lost family and friends. When my son married her, she convinced him to start studies with her and join as well as convincing him that every-thing that he had been taught was a lie. Please consider this request kind regards, Wayne...Shalom
Wayne Carsburg
Australia, 2018-10-17 06:06:33

Hello! Here is the update concerning my foot. It has been a week in the hospital and have had all they can do to bring healing to my foot. The wound has not improved. Now it is time for closure. When the doctor told me that they will have cut the bad flesh out. I fully witnessed with that and therefore felt it too was in line with Yahuwah's will too. Then the doctor also also said he can't tell if the result will be good. He felt it was the unknown zone. I witnessed with that too. Because I saw it was an opportunity for Yahuwah to freely glorify Himself in. Now today they don't have the closure they were needing. I myself felt my faith was not effected at what I was seeing. Something wonderful happened during the weekend and I saw a picture of my foot when they opened then dressing they did nor find a wounded foot but a perfect foot with not a mark. That is all I saw. And today I shared it to the doctor I told them to continue the treatment as they were wanting to do. But I told not to work on Wednesday on my foot but to leave me alone to enjoy the Sabbath. I said then on Thursday they can open my wound and find it as I saw in the picture Yahuwah gave me. They have all agreed. That's amazing! Yahuwah's name will be glorified on this Thursday. Please agree with me in prayer for this is not my doing. But with the eklesia in agreement with Yahuwah will I too will be greatly encouraged. I never felt faith like this ever before of the magnitude of His love here with me in Taiwan. Shalom
hendry grobler
Taiwan, 2018-10-15 09:48:27

Hello WLC prayer request team. This is just an update to help you who are praying with me. They (the hospital staff) are trying their best. And I am extremely thankful for that. And the progress is daily showing the same. I do believe miracles are a sign for the unbeliever, not for the believer, because we as a believer's can exercise our faith, which in turn pleases the Father greatly, when we do it. But that is another story! And really very sadly here, in Lin Shin Hospital there is nobody here that even thinks of Yahuwah. I have being doing the encouraging sometimes, but they themselves don't want to say much other than the normal wound dressing chatting after the dressing has been done (talking about the doctors and so on) I am now currently actively trying to pray a breakthrough for the desire of Yahushua heart.to handle the best way and time to share the picture I saw in the spirit this morning. And you you do know that this can and also is very needed as it takes some waiting on Him. I did have picture given to me this morning and I saw when they they opened the wound to dress it. It was just like the other foot totally healed. Not a mark on it. So I am praying for wisdom how to share it. Because also Wednesday is the Sabbath. [The beauty and wonder of the Sabbath is not known as it should to all believers. For two reasons only it is just plain ignorance and the lack of sound biblical teaching to help and encourage the believer to do the most important ever research] I have not shared this with anyone as yet Pierce, So please yourself be careful and help me pray it through so that Yahuwah's name will be glorified to the many people in this hospital. And also I can comfortably walk out this hospital on Thursday. Shalom
hendry grobler
Taiwan, 2018-10-14 10:11:40

I pray that God will continue to empower every members of the worlds last chance teams for the end time information awareness they creating for everybody around world for many years now.May God guide you,endowed you with wisdom and knowledge that will win more souls for the kingdom of the almighty God.God bless you all at worlds last chance in the precious name of our lord Jesus Christ!
John Edwin Abutu
Nigeria, 2018-10-14 08:56:33

I ask for Strength and good health,it has been a nightmare in finding the true Sabbath,all alone but the heavenly father blessed me with his truth,the prayer in private always works for me,a person that truly loves the father will always be alone?I thank the heavenly father for your web site,I was ready to give up.
terry hunter
United Kingdom, 2018-10-13 17:21:32

I have had an operation on my foot. The injury happened two months ago. The is under my foot. And although I did all I could to help it get better it didn't happen. Eventually the swelling got so bad that the doctor referred me the infection Doctor. They after seeing my situation, told that they will cut on top of foot and remove the bad tissue. I had felt a while ago that something like that needs to be done. But how do you it on a diabetic leg? Was the unknown. I immediately decided to have the operation. The doctor himself did not know what the result would be. I myself have felt that Yah was my very enemy. But after learning through the e-courses and the library priceless gift set received after becoming a member of WLC my faith in Yahuwah and His beloved Son Yahushua has developed to the strength to make the decision even though I felt Yahushua Himself was the very enemy. And the peace that I have I knew is not a false peace but it is His peace that passes all understanding. Remember I am all on my own here in Taiwan and have been rejected by local church long ago because of Israel. Meaning Replacement Theology and so. Thanks again for WLC clarity in that area. My prayer is for supernatural healing to take place. Much Shalom lovely family
hendry grobler
Taiwan, 2018-10-11 19:05:19

Please pray for my family my brothers especially Collin, Terrence, Ezekiel, Jeremiah, antwan, Rashad and Tariq so that their behavior can change please. Please pray for me I'm 24 years old and this is a really confusing time for me one thing my mom
Tatika Basteani
Guyana, 2018-10-11 17:56:30

I want my diabetes gone and my relationship with my significant other blessed
Millie Hernandez
United States, 2018-10-10 15:02:27

My prayer request is to get my Family out of the Pegan Church.It's been a while since I attended Church and I was wonder why, because my Mother raise us in church my nephew start having bible class at his Mother house and I went,he where reading out of the Hebrew bible then I kind of got a understanding what Yahushua name was.I starts every since I been studying about the chosen people and who we are.I want more knowledge and understanding of everything about Yahushua and our people.
Sandra Robinson
United States, 2018-10-08 09:44:05

My prayer request is to convert my wife and my two daughters out of Babylon. No matter how much I explain to them the scriptures, they are still clinging to the traditions of men. My other relatives are also in the same camp as my family. I am the only one who follow the Luni-Solar Calendar for almost 5 years now. I pray for all of them to see the truth. I am asking for your prayers. Thank you very much. Sincerely, Raul V. Rola
Raul Rola
United States, 2018-10-03 00:24:09

October 2nd, 2018 Mark A. Trimmer 212 Spring Court Linden, TN 37096 Dear World's Last Chance: I am requesting a Study Bible, Large-Print if possible. My eyesight has gotten bad, and I can't read small print anymore. I have no money to send to you as I am disabled due to a brain injury in 2014, and I am still waiting on SSI to give me a hearing. I have no income, and am staying with friends, as I lost my home also. If possible, I would appreciate any DVD's and Literature that you have available. Thank you for what you do provide, and may God Bless You!!!!! PS: Also, a Prayer Blanket would be very helpful right now. Sincerely… Mark A. Trimmer
Mark Trimmer
United States, 2018-10-02 21:13:54

I WANT EXTRAORDINARY FAVOR IN USA,OH GOD HELP US TO ESCAPE THE JIHADIST IN NIGERIA.
Christian Awo
United States, 2018-10-01 19:47:53

May Yah guide me through my business for financial breakthrough.HalleluYah
Frank Acheaw Boampong
Ghana, 2018-09-26 08:43:41

Please pray for my family and me for I know God has something in plan for me to do but I feel as if I am in the way as well as been spiritually blinded. Well thank you and may our father in Heaven keep you.
Joe Lurks
United States, 2018-09-25 10:37:10

pls pray for a friend who at the verge of decision concerning marriage, three persons are coming, but didn't know the one to choose, that God should show her the right person an Adventist, and if they are not the right persons that God should bring the right the person for her most especially an Adventist
victory Godswill
Nigeria, 2018-09-25 03:49:05

I pray for God to help me find a wife, with the same vision as mine ... let her believe in the flat earth, the lunar-solar shabbat and the solemn festivals for Israel ... I pray also for healing in the soul, to find brothers here in Brazil to worship God in the homes ...
Ronald Dos Santos
Brazil, 2018-09-17 11:32:20

Thank you Yahuwah Almighty, I pray to acquire wisdom to understand the scriptures, and also help for a true believer partner for a peaceful family.
Frank Acheaw Boampong
Ghana, 2018-09-13 12:55:24

Dear Master Jesus Pls i wish that my plan for 2018 be completed befor the ending of the year.
KINGSLEY BASSEY ASUQUO
Nigeria, 2018-09-13 11:51:54

Dear God, please let me know if I should move or not. If you feel that I should, then please let me get the deposit money and help me find a good apartment. Thank you in Jesus Name, Amen.
Janie Hollis
Bermuda, 2018-09-12 14:16:12

my prayer is that God should grant me wisdom to understand his word because when i read i will not understand and i will forget god should give retentive memory
victory Godswill
Nigeria, 2018-09-12 06:24:22

Please pray for Angel and I (Virgil Superville) as we both strive to learn the truth to secure our salvation. We need strength, faith and patience
Virgil Superville
Trinidad and Tobago, 2018-09-10 19:59:38

Please pray for my wife, Linda Woods, who is having foot surgery in the morning and will be totally disabled for 3 days with 6 weeks recovery.
Mike Woods
United States, 2018-09-09 21:11:45

Please pray for my mother that her eye health and vision gets better
Almin Causevic
Germany, 2018-09-09 15:22:02

Please pray for son Arpan S Diyali for his study and his faithful life.He is 21 years old and his doing B.Com final year and also doing DEld. Diploma for teaching under Government supervision. pray for his good friends circle and safe life for His glory.
Mission for Anath Development & Society
India, 2018-09-09 09:51:38

I ask for deliverance for my mother who is homeless and an alcoholic as well for my whole family who have Catholic roots. As well for my ex who I truly care but sadly she's a different person now and she without a doubt has a Jezebel spirit the worst spirit someone could have.
Andy Mota
United States, 2018-09-08 14:08:45