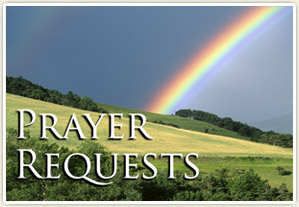 Faith is simple in its operation and powerful in its results. We believe that prayer is the key in the hand of faith to unlock heaven's storehouse, where the boundless resources of Omnipotence are treasured. We consider it a privilege to pray for you.
NOTE: Please read the prayer petitioners' guidelines, and send only 1 prayer request per week, unless it is an emergency.
To post a prayer request, you must first register an account or login. This is necessary to protect the community and the prayer board from being abused by spammers. We sincerely apologize for this inconvenience.
For God's divine mercy and intervention in my life and provision. For the grace to continue to stand firm in the Word and not to fall despite the situation
Tonwe John
Nigeria, 2018-08-20 13:17:18

plz pray and hep for these people of South Sudan
Arslan Shah
Pakistan, 2018-08-14 06:24:26

Brother and Sisters in Mashiah Yahushua, I was laid off from my job one year ago and have been unable to secure employment elsewhere in the time since. Please pray for me that Yahuwah will provide me with a resource of income suitable to provide for my wife and our household. This test of faith is becoming extremely difficult but I remain hopeful and trusting that He will deliver me out of unemployment and into exactly the opportunity that my heart desires and that our finances need. Thank you and birekoth to all of you :)
Aaron Gale
United States, 2018-08-12 17:22:50

Please I want to know Yahuwah most than anything else please remember me in prayers Yahuwah Bless us all Amen
Amponsah Michael
Ghana, 2018-08-11 12:07:06

Please pray for me, because I live alone and the next door neighbors are destroying, vandalizing and making damages to my property and no matter how many complaints I submit to the property manager and management, they ignore my complaints and allow further damages to my vehicle and property. I have been issued two protective orders, however and the property manager, management to no avail, and law firm as representatives tells them to ignore any of my complaints. This has been a their lawyer tells the management and property manager to ignore my concerns. I have been issued from the court two Protective Orders against the husband and wife to stay off my property and leave me alone. But, nothing stops them. The problems continue and the property manager reports that I am the one who is desturbing the next door neighbors to no avail. Please, this is costing me problems to have this continue. I sincerely need your prayers.
Vivian Anderson
United States, 2018-08-10 07:47:32

Please pray for me because my walk with Yahushua is heavy right now... Thanks to Worlds Last Chance for opening my eyes to the state of the world, Roman Empire and the truth, My wife is finding it strange on all this ''new'' revelations and changes and just wants thing to stay the same in the religious comfort zone she's in. And I understand her but, can you please just pray for me please. Is there a way to share the Word in bite size chunks that people can understand believers and none believers. Hallelujah i praise your mighty name i rejoice in your love and mercy i thank you Yahushua glory be to you most high YAHWEH Hallelujah i praise and i pray thank you thank you thank you my your Ruah ha'Qodesh rain forever more...
jeffrey nangolo
Namibia, 2018-08-10 06:50:22

Please pray that I will remain faithful to the new truths that Yahuwah has revealed to me and for my husband to have an open heart/mind to study these truths, also.
Pamela Santos
United States, 2018-08-08 17:29:41

Remember me in prayers for Father Yahuwah to help me stand the pressures from family, acquaintances and former members from other denominations. I need His presence to be oblivious to the lusts of the world. Thank you.
Raymond Owusu Agyei
Ghana, 2018-08-05 16:21:32

Beloved please put me in your daily prayers that Yahushua heal me from this cancer as the doctor report said i don't have much time to live.
Annette Jones
United States, 2018-07-22 18:23:50

I come here to ask for a prayer request to ask Lord Jesus to heal me completely of the rapid heart rate conditon and frequent palpitations and due to which I am not able to sleep, i am facing this situation since 4th July, and I am asking Jesus to deliever me from this weird sickness and completely heal me so i am healed and whole by august.Please keep me daily in your prayers for miraculous healing
Diana Howard
India, 2018-07-21 13:24:55

Please remember me in your prayers. I have borrowed to do some work and payment for work is delaying. Please pray for me that my money will be paid in the name of YahushuaAmen.
Raph Addo
Ghana, 2018-07-18 06:13:55

1. Please pray for my city, so that many people can know the true God according to the bible. 2. Please pray for my community, so that we can learn about the Holy Bible with spirit of Christ.
rafael raya rua
Indonesia, 2018-07-10 12:15:04

Pray for programme ahead of me
Henry Makombe
Zimbabwe, 2018-07-10 11:41:09

dont pray about others that proclaim you are bleesing pray who depart elohim that can see the light of yah..dont waste your time about all things you desire all this things are nonesens about how to speak to work you are only can see the true power of creation on your own boddy see future are just like a tree abrances you are atrue wonderfull creation on this land if uknow what imean just look up the sky see
Julius Rey Oporto
Philippines, 2018-07-07 02:42:34

Please pray for my wrongdoings that I have done because I have insult other religious faith especially Islam and the main problem that I am facing now is the problem of backsliding as a born again christian person also and I request a prayer for protection from the lies of Satan and powers of darkness
Robert Mwangamila
Tanzania, 2018-07-04 09:48:03

Please, pray for me. I know our Father has been with me and calling me for some time but, growing up in this foolish world and wanting the desires of the flesh more than the life saving Knowledge of our Father, caused me to rebel against him. But for a little while now, I have been reading and studying the word and want more than ever everlasting life and my devotion to him. I still battle with a couple of things that are very hard to break but making progress. Pray, that I might receive strength to resist this evil and put it out of my life for good.
Gary Morgan
United States, 2018-07-03 19:11:36

Please pray for my grandchildren, Gabrielle 13 yrs old & Drake 11 yrs old. Had custody of them for over 5 years. Because of circumstances with my daughter & the children's father, I made the most difficult decision of my life (was not walking with Yahushua the way I am now...ignorant of enemy's ways). Couple were to be Christians, but over the years have discovered they are not. They were to provide more for them than I could as a single grandmother. It has been the opposite (adopted for 5 years now). The adoptive parents are not the Christians that they claimed. The adoptive mother has a cold heart with anger issues...little to no affection. Did not have an attorney...they have changed the rules along the way as far as keeping our family involved in their lives. They are homeschooled, alienated from ALL family (their adoptive family too), and no friends. All to keep anyone from knowing of the abusive behavior (mental, emotional, and psychological). They are ignorant to spiritual warfare, and very prideful. Praying that God will make himself real to my grandchildren & their adoptive parents. Want to pray more specifics...Honestly praying that they realize that they are not parent material & reverse the adoption...realizing that they belong with their biological family. Whatever God's will...whatever is best. My heart is in tatters most days thinking of them...they want to be here with me. I thought I was doing the best for their future...I was so terribly deceived. Also praying God will restore what has been lost...my grandchildren are depressed, oppressed. Drake told his sister if it wasn't for her he would have killed himself by now & Gabrielle has cut herself. They both stuff their emotions...horrible situation. My heart is breaking beyond belief. I put aside my own feelings to do what I thought was best for them. PLEASE GOD...GIVE THEM HOPE & IF IT BE YOUR WILL, BRING THEM HOME!!!!
Diane Sheehan
United States, 2018-07-02 23:12:30

Please pray for All Pople in The World…Pray For Catholic People….Pray For More Satanic Organization…..Will Be Saved by YaHuwah...And Pray For Šarka./translate to English is Sara .this Woman have Multiple sclerosis,..Thank You SO Much...and Thank You YahuWah ! and Yahushua !
Patrick Adrian Bláha
Czech Republic, 2018-06-29 07:16:32

My family and I disagree on the choice of marriage partner because she belongs to another tribe. This has made us disagree on a lot of issues as a result. I really would love to settle down with this woman and for God to intervene in my situation.
Kelvin Sean Kamude
Malawi, 2018-06-26 08:11:59

This women named Kyla I know is having trouble overcoming her troubles in these time please help her to turn completely to Yahushua for her support and allow him to give her strength and faith in her times of need and please pray that she turns to scripture for her answers. Thank you all and WLC for showing me the truth. Yahuwah bless you all.
Theoren Mihalik
United States, 2018-06-25 23:12:44

One woman messaged me to asking for help with her son's fracture hand that needs to get the surgery in hospital. She need my help and I cannot help her since 62.99 dollars was stolen from WorldRemit. I can't find my transaction history about it. I think I need to get through with this prayer requests so these might help her with spiritual realms to held the hands of YaHVaH. Toda! Her name is Marieca Grecia. SHALOM
Brady Mistic
United States, 2018-06-24 22:45:39

Hi please pray for my wife see is pregnant now, because my first baby is death, so ple pray that she gets delivery well, and i have 20lakh finance problems, and i need to have a job r a business. and pray for my family member, DAD,MOM n two sisters family's.
vincent vincent samuel.L
India, 2018-06-24 10:39:41

Please pray for abundant financial blessings on my new business and that Father provide just the right clients that will be a mutual blessing. Please pray that I will manage all resources including time and finances in a manner that is pleasing to Yahuah. Thank you
Jubile Sings
United States, 2018-06-21 22:34:39

My eldest son Andrew needs a wife. She must be way out of his league but that she doesn't not feel that way, lest my son not listen to her, I need for her to be able to change my son into a godly man. May our God gift him a beautiful godly young wife, with blue eyes, intelligent, dainty, loving, faithful-forever to him, loyal, and of a small built but with elegance. Let her love me as a loving mother, let us gain a daughter. Let them be married for a lifetime, many years for them to behold together and be blessed with beautiful children boys and girls and NEVER to be molested by anyone. This is So URGENT. THANK YOU!
Misty Sparkles
United States, 2018-06-16 20:37:47

Dear WLC: I First of all want to Praise YAHUWAH for finding your ministry almost 2 years ago! We have learned more in the last 18 months than in my 57 years of searching for TRUTH. I ask for prayer for my aging mother whom I feel is suffering from dementia and many health issues. I need guidance what to do. My Sanctification and Salvation, as I want Victory over Self, and All Sin. I want to Die to Self and feel I am failing YAHUWAH and should be further along in His Holiness. Trying to finish papers for my Pension and frustrated in the LONG process over 6 months and finances are piling up! Salvation of my adult children! raised in church but living for world. My Marriage to grow in Yahuwah thru Knowledge of YAHUSHUA. Thank you ALL at WLC for Prayers and Ministry in YAHUWAH
walter whitehurst
United States, 2018-06-13 22:01:08

Please pray for me and my bosses family, I live with them as a babysitter and they desire to know truth but are having trouble giving up there old lives, they give me and my family the sabbath off, but don't keep it themselves, although they now they should keep it, they believe that as long as your praying to Yahuwah then it doesn't matter. the father who is fairly new in his faith is having trouble now that they have left the church, he also can't find the time to read the Bible on his own, so I guess I'm asking that you pray that He finds and makes the time to search through Yahuwah's word on his own, and that they have a desire to know the truth and build a relationship with Yahuwah, and please pray that I can help, and to know the right things to say to help them on their journey.
Theoren Mihalik
United States, 2018-06-12 14:01:52

pray for me and my daughter because time is winding up and I want me and here to be covered under god vail in time of need that is about to come.keep us covered and lead and guide us.thank you very much and god be with you.
Herbert Tucker
United States, 2018-06-12 11:27:11

Am facing financial problems. I have no income. My organization depend on Donor funds. Current I have no project funded. Am writing proposals but have not been able get one. We look after older people whose body function has been impaired due to ageing process and are bed ridden due to Non Communicable Diseases. Kindly pray for that I get clean fund from grant making organization on monthly basis.
Elisha Mwakinga
Tanzania, 2018-06-10 11:43:52

We need to rent our home out. I must leave our home furnished but we need to replace our furniture with newer furniture for the new renters. This is our home, but we must move. We live in a smaller town, so please pray that God brings buyers to us to buy all our older items, but in great condition. May we receive what we are asking for. We have the items listed at a great price. but I haven't got a call for our stove, coffee table, bread-maker, and sofa. Also, we greatly need finances for this move. My husband is a Military vet and needs back surgery, I am not sure how we are going to get things done. -Lord Help.
Misty Sparkles
United States, 2018-06-08 22:48:48

My first prayer request is for my own life in order that I may become active in God's service which I have failed him throughout my life due to my own selfish desires and now after just beyond 6 months of living without alcohol which came close to ending my life, I am still limited in leaving my home because of lack of transportation and health issues. I do pray each night and day for help at least for increase of faith as I await an answer to my issues. Last year I had a death wish and almost got my wish and am convinced it was an intervention from God that I am alive now. Yet as I await, I am losing faith and hope. I know there is a purpose for me and need help from above to live out that purpose. Thank you in advance.
Randy Trout
United States, 2018-06-05 00:48:15