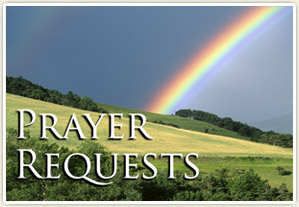 Faith is simple in its operation and powerful in its results. We believe that prayer is the key in the hand of faith to unlock heaven's storehouse, where the boundless resources of Omnipotence are treasured. We consider it a privilege to pray for you.
NOTE: Please read the prayer petitioners' guidelines, and send only 1 prayer request per week, unless it is an emergency.
To post a prayer request, you must first register an account or login. This is necessary to protect the community and the prayer board from being abused by spammers. We sincerely apologize for this inconvenience.
Please pray for me to have a job in the new country i want to move in
Rosu Lorena Evelina
Romania, 2018-12-11 11:36:39

please pray for my wife, her blood tests are due back this week, and the outcome doesnt look good. thank you in yahuwahs name!
larry stacy
United States, 2018-12-09 16:25:50

For my family health and souls
Gena Jarmon
United States, 2018-12-07 20:57:03

Hi to all, we appreciate prayers very much even so Phil 1:19. We are hearing the call to leave the city and have our home under contract but don't know where to go, this is our burden where to now Father?
Wyman Kingsley
Australia, 2018-12-04 20:33:27

quedar al pies de Jesus cada dia de mi vida
durock JEAN LOUIS
Haiti, 2018-12-02 12:36:29

I left the sda and my son thinks that I am being led by false doctrines namely this site. just need a prayer that the Lord leads him into His light. thank you
theresa flynn
United States, 2018-12-01 15:45:58

"I believe, help thou mine unbelief." Soften my heart and heal my spiritual afflictions, that I may venture all in the hands of Yahsuah.
Gary Whaley
United States, 2018-12-01 08:51:14

help my wife she does not belive in new light
Philip Cordova
United States, 2018-11-29 21:28:51

HalleluYah, May the power of Yahuwah protect /heal my Mum and the rest of the family from all evil attacks in the Name of Yahshua our Savior.
Frank Acheaw Boampong
Ghana, 2018-11-28 05:05:53

My elder daughter Ishu is suffering from kidney stone desease and younger one is appearing in Board Exams, please pray for both of them
SANJAY SHARMA
India, 2018-11-27 02:44:57

I suffer emotional and posttraumatic stress. I need the help of Yahuwah and Yahushua. Thank you.
Fernando Muñoz Fernandez
Spain, 2018-11-21 11:35:09

Hello, praise be unto Yahuah. I need prayer support over my college classes. I moved to America to follow my dreams but I can not accomplish them by keep sinning cant stop wont stop sinning need prayer help. Shalom.
Joe Budden
United States, 2018-11-19 08:43:55

I need the Holy Spirit to empower me according to Acts 1:8
Eric Kobina Woode
Ghana, 2018-11-16 05:45:30

Praise be unto Yahuah Almighty, I'm Frank Acheaw Boampong, I need prayer support about: scriptural wisdom for truth, work, marriage(a true believer) , finance and general peace and protection for all truth believers worldwide, in the Name of Yahshua our Savior.
Frank Acheaw Boampong
Ghana, 2018-11-15 07:33:51

Dear WLC, I great you in the mighty name of Yahushua my personal savior,Please pray for me and my wife to get a job opportunity and for wisdom and deliverance from the hidden dangers. May Yah answer all the prayer request according to his grace and love may peace be with you all Amen.
Rolivhuwa Raphulu
South Africa, 2018-11-14 03:21:55

I'm having problems as to to how I will serve Yahuwah well. I sometimes find myself in most ungodly acts. Pray for me so that I can refrain from such life
Ebenezer Adjei
Ghana, 2018-11-14 00:36:25

On this is scaring me, I'm new here and there is no way I can do all this requirement stuff . Does that mean I'm doomed? Pray for me because I see no way of keeping holy days or Sabbath ,I work for a living and I ain't rich I don't even know how I can stop sinning.
Roger Kressly
United States, 2018-11-12 23:53:26

Dear Brethren, I need prayers for Wisdom and understanding from our Elohim and a spirit of discernment and my faith be increased.
Essuman Robert Aggrey
Ghana, 2018-11-12 16:22:33

I have recently been baptized in the name of Jesus Christ, need prayer for a full transformation of the mind that God wants me to have, faith he needs me to have, also asked that you pray That God give me wisdom and understanding of his word when reading it Thank you
Riley Arlene
Jamaica, 2018-11-12 01:58:51

I need prayers for deliverance from demons and soul ties and I need Yahuwahs guidance for the hard times to come. I pray for discernment and the ability to bring others to Yahushua. Thank You
Karol Utley
United States, 2018-11-09 01:30:53

please pray for my family and I that we can get some income to help with food for the rest of the month.
Andries Louw
South Africa, 2018-11-08 14:12:32

Invite all who pray for you Pray for your diligent study of the Bible Pray for me to do the will of the Yahuwah Pray for me to come back and put on the robe of righteousness to Yahushua.
Nhut Quynh Tran
Viet Nam, 2018-11-06 23:57:50

Xin mọi người cầu nguyện cho con Cầu nguyện cho con siêng năng tìm hiểu kinh thánh Cầu nguyện cho con làm theo ý muốn của Yahuwah Cầu nguyện cho con trở lại mặc chiếc áo của công bình do Yahushua mặc cho. Cầu nguyện cho gia đình con xây được nhà trong thời gian sớm nhất. Cầu nguyện cho kinh tế gia đình tôi ổn định, hết nợ, có thu nhập hằng ngày. Cầu cho gia đình tôi hạnh phúc. Tôi đang trên đường trở về với Yahuwah xin cầu cho tôi có ý chí và sức mạnh gấp 10 lần lúc đầu. Trong tên của Yahushua. Amen
Nhut Quynh Tran
Viet Nam, 2018-11-06 23:55:47

I'm so confused about when Sabbath begins I want to start but don't no when. Can you please help... Kevin
Kevin Chambers
United States, 2018-11-06 12:58:19

Dearly Beloved, I request you to kindly pray for me in getting the teaching Job in which I have contested and expecting for interview. Please Pray for God's Guidance and Grace to acquire it. Please remember me in your daily prayers. I Deeply Thank all the Prayerful Hearts for their concern and helping me in supporting through their prayers. Thank You.
Jeffry Andrew
India, 2018-11-01 01:21:26

I hope my Family and my Friends be all Awakened to practice healthy detachment from Politics and Fake Religion because these two blinds most of the Truth from them. I need your Guidance Yahuwah and help them be all Healed in your name. Amen!
Nate Peralta
Philippines, 2018-10-31 05:04:42

Please pray for my faith to be increased , please ask Yehuvah to speedily get me ready, please pray that I not fail Him anymore and I am given strength to obey , please pray that i can overcome me, most importantly pray that he shows me a way I can observe the Sabbath. Please pray for me Ive been looking for God for a long time. I have done every denomination even Jehovah Witnesses and Latter day Saints. I want to do His will and im sure there is something he wants me to do.
Roger Kressly
United States, 2018-10-31 03:09:49

Hello my prayer request is for total healing of my opened wounded foot through a necessary operation to remove the bacterial infection in my foot. My foot has been like that for over three weeks and tomorrow I believe is very important and also Yahuwah has shown His closure picture concerning my situation. I believe the timing is now. Believe with me to glorify Our Elohim's name. Shalom
hendry grobler
Taiwan, 2018-10-29 13:54:29

first of all: only he can save please pray for me, that I will win the fight against drugs and my believe come stronger praise the lord
s lost
Switzerland, 2018-10-26 16:51:44

please pray to YHWH that his will be done with me. I ask that I be led to some people in my area who will help me and me help them but YHWH will be done. The area is Riverton Wyoming USA.
nicholas garcia
United States, 2018-10-23 12:47:29