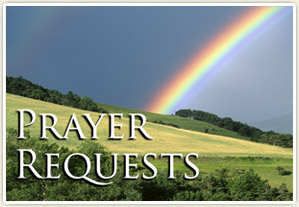 Faith is simple in its operation and powerful in its results. We believe that prayer is the key in the hand of faith to unlock heaven's storehouse, where the boundless resources of Omnipotence are treasured. We consider it a privilege to pray for you.
NOTE: Please read the prayer petitioners' guidelines, and send only 1 prayer request per week, unless it is an emergency.
To post a prayer request, you must first register an account or login. This is necessary to protect the community and the prayer board from being abused by spammers. We sincerely apologize for this inconvenience.
Shalom WLC team, Am goin through a difficult time to settle a matter of dowry for my fiance. There's too much conflict between parts, She'z pregnant and my family wants me returning to Lutheran church so as to bless the marriage.
Aleck Kamugisha
Tanzania, 2019-06-20 02:44:06

In Jesus Name greetings to you all. I give all my personal thanks to all the Saints who have supported us/me in the rescue of Melanie Frank in Germany, with your prayers to God through Jesus Christ. Due to some unfortunate circumstances, it was necessary for me to travel the great distance alone. When I arrived at the destination I immediately went to the police who are responsible for the area where she lives so that they would know of my intent - after another Christian helper, Almin had contacted them on the previous day concerning some serious allegations and health concerns. When I left the police station, I immediately went to the address of the person concerned, and I spoke to the Guardian and Custodian, the Foster parent of Melanie Frank - who's name will not be published. And, after a very lengthy discourse I am now going to make the following statements: - 1. At this present moment Melanie Frank is in a psychiatric clinic due to her suffering from a number of psychological problems where she is receiving treatment. 2. All allegations made by her concerning her Foster parent are completely false! 3. And, in a similar fashion, all personal information she has given about herself – even about her health problems are also false! I have learned quite a number of substantial and personal things from the Foster parent, and I am fully persuaded – and I have no doubts, that from has been revealed to me and of what I have been informed, that I have been told the complete truth. - Much of which cannot be published! Also, for any or all controversy in the Christian community to cease, I am fully satisfied that her Foster parent is also a Born-again, sincere and saved Believer in Jesus Christ. It is now time for us as good Christ loving Christian believers to respect and allow Melanie Frank to recuperate on her own. Please continue to pray for her and her Foster parent, who is taking extraordinary, gentle and loving care of her. -And who also has the "great burden" in dealing with Melanie's difficult psychological problems. And, please pray for Melanie's restoration to good and normal psychological health. Due to the good foresight and actions of our dear brother, Almin, the police have been involved, and I have been there personally, a day after their arrival, to confirm their involvement and that she is in good hands. Due to security concerns, please, all Believers, please respect and allow Melanie's recovery and her Foster parent and their address, or any links, and any contact details to remain private. It is no longer necessary to make any contact with them or to visit. This story has now ended. Thank you very much. Many thanks to you all for your prayers and continued support. David
D Zazay
Afghanistan, 2019-06-18 10:39:49

requesting prayer for A..J Fernandez. He doesn't want to talk to anyone. Plays video games after work. His girlfriend he has to kids with come from a mason family. He's depressed, overweight, broke out with acne all over face. Used to have a clear face and not fat. I belive you know what to pray for in Yahushua's name. Thank you
Pamela Martine
United States, 2019-06-17 21:49:54

Hello WLC team, I and my partner have found you on the internet and we thank Jahuwah for this grace. We were in a church, but this is the last time I left because troublemakers were being watched. My daughter is in England. In a Christian organization she is totally fixated and ignores the whole theme of the Trinity, the Sabbath, the names of Jahuwah and Yashuhah,and .... she rejects everything and tries to meet me and blame him for leaving the church and for being the wrong way. It's like a war, I do not want to get that far, I've been praying for a long time and I ask you to pray for me too, thanks
Ana Cristina da Silva
Germany, 2019-06-16 06:09:53

Just to add to Evie's request: If my brother in Christ and I need to take action and investigate her place and address, possibly this weekend, please pray in his holy name and almighty power that Yahuwah leads us safely in every step and provides security for our sister Melanie. Furthermore, that in this spiritual battle the demonic spirit of her mother is bound in chains and removed and she is safe. I will add in prayer that she will be protected from abuse by her mother, kept alive and saved from depression and thoughts of self-hurt plus after all this healed with the cancer healing protocol with baking soda and maple syrup Yahuwah through WLC provided. That her testimony and his glory might be great. "But Yahuwah is faithful, who shall stablish you, and keep you from evil." 2 Thessalonians 3:3.
Almin Causevic
Germany, 2019-06-13 17:31:27

Please, pray for our friend Melanie (she is a young adult). She has cancer and she is in danger because she lives with her foster mother who is abusing her so her life is in danger. My friends will call police tomorrow so please pray that the police will take this case seriously and will do all they can to help Melanie so she can be safe. Please, pray for Yahuwah's favor so Melanie can stay with her Christian friends who can help her to heal natural way and also who can support her spiritually and emotionally with Yah's Word which has the power to heal us completely. Please, pray for Yahuwah's will and guidance in this situation and for protection for Melanie and justice for her foster mother so that other people will not have to go through the same suffering as Melanie. Thank you for joining us in prayer. May Yahuwah's mercy and power are revealed in this situation.
Evie Prochazkova
United Kingdom, 2019-06-13 16:54:48

Bless souls Yahuwah Today is His holy Sabbath Everything in me to bless And praise His holy name He does, with kindness _She loves you and protects you _Alway judge with justice _His children keep them safe He is merciful and has pity _And it is rich in kindness _He is not upset, he does not quarrel unceasingly _He forgives our sins. His goodness will keep forever _For those who fear Him _His mercy will always be _For those who are near Lamb. Bless! all Him angels _Listening to His commandments _You who walk by His word _Do not get lost like the man on the path Bless !!! the whole army _Yahuwah, our Emperor _You are made for immortality _Because that's how Yahuwah dressed you. Blessed be Yahuwah !!! _Today is his holy Sabbath _Today we gather young and old _Let us praise you in heaven and on earth. You are dressed in brilliance _You are covered with light like a mantle _You are the most wonderful and full of glory _There is no one like you Yahuwah Amen!
ena elena
Romania, 2019-06-11 03:35:44

I would like to know more about the Millenian Kingdom?
Reinet THORNHILL
South Africa, 2019-06-06 00:15:08

Please pray for me so that I will come close to God and live according to his principles. Again,pray for me so that I will find a job or start up something which can give me income to make a living. Pray for my family so that we consistently love each other
Simba Makoni
South Africa, 2019-06-04 18:13:17

Por Amor a YAH orem por mim e meu novo emprego que irei obter nos próximos dias. Preciso desse novo trabalho.
JACKSON MARTINS
Brazil, 2019-06-02 21:06:07

Please pray for me to find the lost phone Yesterday. praying yahuwah transforms the person who picks up and gives it back to me. praying for yahuwah let me find a summer job that I can do while working and keep the sabatth day to earn money for my parents. Please follow yahuwah's advice. in the name of yahushua.amen
Nhut Quynh Tran
Viet Nam, 2019-05-22 03:32:27

hello brother dave please pray for me that YAH lead me in the right path i do need prayer am going true a lot please keep in your prayers thanks YAH BLESS
peter clarke
United States, 2019-05-21 00:53:12

Please Brethren pray for my wife, to enjoy good health, she has been complaining of heart breathing, that God will heal her completely. And I want a breakthrough in my business and my home as well.
Samson Ogungbayi Abolade
Nigeria, 2019-05-20 14:15:55

Dear WLC Family Please pray for my wife Hunadi to get a job opportunity she have been applying with no interviews please pray for her to have peace and joy throughout this process, and please pray for me to get new job opportunity that will enable me to regain my financial freedom and please pray for us to be strong and trust in YAH in this process for i believe that we are conquerors and we will get a break through in Yahushua's name. I would also like to pray for those who are in similar situation that may the holly spirit of Yah be poured out in our hearts to stand strong in love,faith and peace because i believe that Yah is with us and He is safe to trust. Amen
Rolivhuwa Raphulu
South Africa, 2019-05-16 02:51:04

I'd like prayers for Yahuwah to open doors for me to witness to others locally and through email.
Rhia Drouillard
United States, 2019-05-15 23:40:59

I am starting a new business venture into a new territory that i do not have much knowledge in. I need supernatural grace to weather the storm and be able to tackle each challenge that come our way. We want to be transparent and apply good christian principles in dealing with our customers. We need God's guidance and providence to succeed on this venture
Dada Espinozah
Ghana, 2019-05-10 23:36:32

I love you and I will also pray for us to be well prepared for the time of our Father in heaven. Pray for Yahuwah to follow his will, but do not follow your will. In the name of Yahushua. Amen
Nhut Quynh Tran
Viet Nam, 2019-05-06 03:07:53

Pray for me to win the title of good student at Lam Ha High School for the 2018-2019 course.  Pray for my family to build Thai-style houses in the summer of 2019. Pray for my family to sell the land at a price of at least VND 2 billion to repay the bank and build a house. Praying for my family's economy to grow with my mother's artillery business, there are many customers in the neighboring provinces where I live.Praying for my family's mulberry fields and my family's passionate fruit has grown well, with high economic efficiency. Pray for my mulberry cultivation not to be sick, die and create beautiful cocoons. Pray for my grandfather to escape lung cancer
Nhut Quynh Tran
Viet Nam, 2019-05-06 03:05:34

Hi everybody Please pray for me to go to school and still keep the sabatth day, the day of the new moon and the feast days without breaking. Praying for Yahuwah to transform the mind of my family, teachers and friends agreed to let me keep the sabatth day, the new moon day and festival days. Pray for me to keep the 10 commandments of Yahuwah and the faith of Yahushua. Pray for me to be willing to obey Yahuwah and obtain the righteousness of Yahushua.
Nhut Quynh Tran
Viet Nam, 2019-05-06 02:43:31

Please pray for me. I'm trapped in lust addiction! I want to be free from it I've been Christian since 1987. Seventh day Adventist until I left the church 3 years ago. I need deliverance from lust. Thanks and May Yahusha richly bless you all!
Melvin Kewan
United States, 2019-05-05 03:14:06

Hello MY wife Jacqui was not permitted to cross the border from use to Canada because she overstayed her 6 month time period in Alaska. She was 6 months pregnant and could not fly. 2 weeks ago we both crossed the Boarder at Niagara Falls from Ontario into New York. the customs officer asked her why she overstayed in Alaska. She explained the situation and he let her thru. we toldThe customs agent we would be flying to Arizona in a couple weeks from Toronto. the customs agent told her to bring her LEASE proof of residence to Toronto so she could fly. We had all are bags checked and were on our way to board when a Customs officer told her to go talk to another officer. The officer was very rude, would not look at her paper work, and said she needed to go to the consulate. we are waiting for an appointment. we have are tickets still available and are bags are still packed. we are waiting for a green light from the consulate. we desperately need to be in Arizona as a family as we have to meet the rest of our children there for the summer. My wife and I would appreciate your prayers concerning this matter. we understand Yah is in control.
Benjamin Fenwick
United States, 2019-05-03 17:09:53

Please pray for my elder son Vijaya Kumar he is studying 1st inter he prepared the exam for betterment please blessed me , my family & him
Appalaswamy Palagara
India, 2019-05-01 12:20:56

Please pray for me to get a place to live, I am staying with my inl-law and it is becoming very stressful. I need my own place asap
Ronald Rollins
United States, 2019-04-24 07:57:12

My wife Valorie Westley had a seizure several days ago. She is very confused and weak. Please pray for her. She's at a rehab in Conroe, Texas at present. I miss her sooo much! Hayden Westley, age 79
Hayden Westley
United States, 2019-04-20 03:36:32

pray for me to have always a peace of mind
manuel Pamaong Jr.
Canada, 2019-04-16 19:54:17

Please pray for me as i currently suffering from fractured ankle. I am pregnant and in my third trimester now. Please let us pray together to our beloved YAH to heal my broken bones and help me having normal birth. Blessed be the name of YAHUWAH
Emi Rugua
Fiji, 2019-04-08 21:41:34

I'm believing God for a new job and also for children in my marriage
odaibankss anang
Ghana, 2019-04-05 11:16:11

Shalom Aleichem. I ask for prayers, cause I've cancer in my stomach and other parts. And I have much problems with my forster mum, cause she is trying to covert me from Judaism to Islam. And beats me much cause of my Jewish faith. Thank you for your prayers. May The Most High bless you all.
מלאני אליס סנדרה גלוי לב
Germany, 2019-04-02 02:54:59

I need change of job. God should open another door for me
odaibankss anang
Ghana, 2019-03-27 11:20:27

Prayer request for a ministry in Tanzania. God is working miracles through His people in this area. These people need bibles but they are priced out of reach for a lot of people. Please pray for God's blessings on every penny that makes its way to this sincere WLC ministry (using WLC materials, not funded by them in any way). Just last week many people gave their lives to the Lord in baptism, many others committed themselves to further study and a case of bibles were delivered to remote churches. The power of Yahuwah is palpable.
Rhia Drouillard
United States, 2019-03-24 19:53:21