"Holiday". Ku bantu banji eeli bbala ligeme kwiiminina kusekelela komwe buyo . . . Kkilisimasi!
Ciimininwa mu bbala lya "holiday" ciyubununa cisyomwa mubupaizi calo bantu banji ncobatazyi.
Holiday: " ipobwe lya bupaizi; [i] buzuba busetekene." (Webster's New UniversalUnabridged Dictionary)
Kkilisimasi mbuzuba bwa bupaizi bwa kusekelela. Nokuba kuti kuli kujatikana mumakwebo mukusekelela kwamazubaano,
Kkilisimasi ucili, mumoyo, mbuzuba bwa pobwe lya bupaizi. Nceciindi liibalukwa akulemekezya leza ukombwa.
Bana Kristu basekelela kuzyalwa kwa Jeesu a ciindi ca Kkilisimasi. Balacincana zipego mukulemekezya "cipego cipati cakapegwa". Baamba kuti: "Jeesu nka Kaambo ka Kusekelela" akwaamba kuti bayanda kujokezya Kristu mu Kkilisimasi.
Cikatazya ncakuti, Yahushua Mufutuli taakwe pe anaakali "mu" Kkilisimasi! Nokuba kuti Mangwalo taapede buzuba mbwaakazyalwa Mufutuli, bunji bwa basicikolo bazumina kuti Wakazyalwa cilimo, kutali mu mwezi wa Nalupale 25!
Kuti tubbukizye leza uulemekwa a Kkilisimasi, cilayandika kuti tutobelezye nkwaakazyila kuli bakomba zilengwa leza. Kusekelela mu mwezi wa Nalupale 25 kwakatalika kaindi kasyoonto nikwaainda zambangulwe lyameenda naakazyalwa Tammuz walo wakali kutegwa ngu Nimrod wabukuluka. Sunu zilengwa zya Kkilisimasi zizwa cigaminina ku Bbabbuloni wansiku aku Roma wabakomba zilengwa leza.

Saturn, amwana wakupaizya
Bakomba zilengwa leza baku Roma bakali kulemekezya leza wiitwa kuti Saturn, mupobwe lisika a mvwiki yomwe liitwa kuti Saturnalia mu mwezi wa Nalupale. Saturn wakali leza waba Roma wa Ciindi a kutebula, aboobo wakali kutondezyegwa kajisi sikela. Wakali leza wiinda lunya abubyaabi ali baleza boonse babakomba zilengwa leza. Wakali kuyanda cipaizyo ca bana bavwanda.
Ba Roma tiibakali balikke mukukomba leza ooyu mubyaabi. Kukomba Saturn kwakali kujanikajanika munyika yansiku lini. Abalo bana Israeli baakomba Saturn liya nibakazangila julu.
Leza bana Israeli ngubakali kukomba kanji nibakali mubuzangi, wakali Saturn(walo wakategwa mu Bbaibbele ngu Chiun, Molech, naa Remphan.)Abalo bana Israeli bakali kwaaba bana babo bavwanda acipaililo ca leza ooyu usofweede, uula nyota ya bulowa.
"Saturn wakaba mukomi wa busikukomba zilengwa leza bwa mu Afrika [amwalo] . . . mbweenya mbuli Baal-Hammon ku Carthage waku Phoenicia, wakali ngowaabilwa bana bavwanda a cipaililo . . . . Nokuba kuti wakali leza wa kuzyalana, Saturn-Baal . . . wakali walunya mukuyandisya zipailizyo eezi." (Quodvultdeus of Carthage, translation and commentaries, Thomas Macy Finn, pp. 14 & 115)
Nokuba kuti ba Roma bakaleka kaindi kwaaba cipaizyo camuntu, bulowa bwakacili kutikaika abasikutingaana mukusekelela Saturnalia mu mwezi wa Nalupale.
Saturnalia lyakali pobwe lyabupaizi alimwi boonse bakalizyi kuti kutikaika bulowa abasikutingana cakali cipaizyo cakwaabila Saturn.
"Kulangilizya kutingaana kwakali setekene [kuli Saturn]." (Johann D. Fuss, Roman Antiquities, p. 359)
"Civwuka cibunganinwa kusekelela cilaliyobolweda basikutingaana, liya kumamanino a mwezi wa Nalupale nobasomba bulowa bwabo ku Mwana wa Julu uujisi-sikela [Saturn]." (Ausonius, Eclog, i. p. 156)
"Basikutingaana bakali kulwana abuzuba bwa Saturnalia, alimwi . . . bakali kucita oobu kuti baumumbbulizye akusomba Saturn." (Justus Lipsius, tom. ii. Saturnalia Sermonum Libri Duo, Qui DeGladiatoribus, lib. i. cap. 5)
"Mulazyo wakazibidwe [akutingaana] kweebelwa ooku wakali . . . [wakuti] kwakali kwaabila cipaizyo . . . liya bunji bwabanalumi 'Nibakankaulwa mbuli nyama kuti basekelele pobwe lyabupaizyi lyaba Roma.' Nokwiibalukwa kuti Saturn mwini wakakankaulwa muzyibeelabeela, ncuubauba kubona mbuwaaboola muzeezo wakupa cipaizyo kuli nguwe kwiinda mukulekela banalumi kuti bagonkaulane muzibeelabeela mubuzuba bwakuzyalwa kwakwe, eeci kuti ibe nzila yakujana nkumbu kuzwa kuli nguwe." (Alexander Hislop, The TwoBabylons, p. 153)
Nokuba luciso akutikaika bulowa, Saturnalia cakali ciindi cakupobola a kusekelela. Mapobwe manji aansiku aalemekezya leza wanyota yabulowa ooyu akaboola sunu muciwa ca Kkilisimasi uuyandisyigwa azilengwa zyawo nyika yoonse mbwiizulwa.
Eezi zilengwa zijatikizya:
Mazuba aali Kkumi a obile aa Kkilisimasi
twakulya tunona tusiigwa anze kumangolezya
zisamu zya Kkilisimasi zikulakidwe a tumumuni tumwekamweka(eezi kumatalikilo zyakali nkandela zibambwa amafuta aa mibili yabana bavwanda bakaumpwa akupaizyigwa.)
Zisamu zya Kkilisimasi zikulakidwe tubumbulu (kumatalikilo eezi yakali mitwe yakanyongolwa bana bapaizigwa)
kupobola abapanga coongo
Kucincana zipego
Kumyontana mujungusi akavwuna ka Mistletoe
Micelo mbuli mpunyukunyu zisubila (cilyo cabaleza)
Mitabi yazisamu zitayumi
kuyaabwiimbilila kuzwa kuŋanda a ŋanda (kumatalikilo kwakacitwa abaimbi balaa mantanda kabacitana zitondwa naa kulyana nkwela)
nkandela zya "Kuboola"
magwalo aa Kkilisimasi
. . . azimwi zinjaanji.
Acalo cinkonzya ca Taata Kkilisimasi, naa Santa Claus, cilakonzyanisya aca Saturn: mudaala, wa cilezu cilamfu, uuzingulikidwe bana bavwanda.
Saturn, mubyaabi, mudaala uuyandisya zipaizyo zyakwaaba bana bavwanda, ulalibonya mubuleya bwa sunu muziwa zyobile. Mumwezi uli oonse wa Nalupale, Saturn, leza wa ciindi, ulabbuka mbuli "Taata wa Ciindi Mudaala". Mwana Mwaka Mupya wiiminina mwana muvwanda wakaabwa kuti apaizyigwe. Amulange kuti zyoonse ziwa zya Saturn zili mumabazu azyo: isikela, inkoloko (mukonzyanyo wa Ciindi), a, mwana muvwanda uupaizigwa.
Citontozya mumagondo mukonzyanyo wa Taata wa Ciindi a Mwaka Mupya mbuli Mwana mvwanda zikonzya kujanwa mucifwanikiso ca musela wamyaanda ya myaka kkumi a fuka yakainda (anselelo aawa). Taata wa Ciindi, (Saturn, mbuli leza wa Ciindi), uliimvwi kumpela a nkoloko mpati, kajisi sikela lyakwe. Myaka yakainda ilatondezyegwa kiili mubupati kaivwungaidwe mungubo zyakuzikkwa. Mwaka Mupya ulazya mbuli mwana muvwanda. Nokuba kuti cifwanikiso cilasiya kapati, mumuni uzwa kumulilo umunika mwana musankwa muniini alimwi busi bulaunga mumbali. Myaka mipya iicizya ilatondezyegwa mbuli bana balibambide kupaizyigwa. Bana bakaabidwe kuti bapaizyigwe bakali kuvwumbilidwe lyoonse kutegwa bazyali babo batazyibi mwana wabo naaumpwa. Zyoonse ziga zya leza ubijide loko ooyu nkozili mucifwanikiso eeci.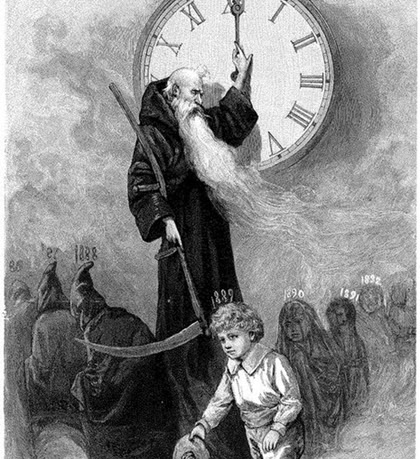 Mumusela wamazubaano Saturn ulabbuka mbuli Mutebuli wa Buusu, kayobolola miiya ya bantu mubutebuzi bwakwe. Mbasyoonto biyo mumusela wa sunu bakabwene akuzyiba kuti Taata Kkilisimasi, Mutebuli wa Buusu a Mudaala Taata wa Ciindi boonse tabali aumbi pele nguleza wiinda boonse kusesemya ooyu. Nokuba boobo, muntu wansiku loko inga waziba mpenyaawa kuti zyoonse eezi kwiina aumbi pele ngu Saturn. Indembela zitondezya Saturn nzyeenya nzyezitondezya Mudaala Taata wa Ciindi a Mutebuli wa Buusu: masikela a cimwi citondezya kwiinda ciindi.
Bunji bwabantu basinizyide sunu bapa twaambo twiindene kwaamba ncobalamatide mazuba aabakomba zilengwa leza aasetekanya Saturn:
"Kkilisimasi nciindi cibotede kapati kuba antoomwe mu mukwasyi. Tulijatikene kapati ziindi zinji mubweende bwamwaka aboobo eeci nceciindi cilikke cakuti tubaantoomwe.""


Kkilisimasi nciindi cibotu kapati kuti tubandauke nzyotusyoma! Bantu banji balaangulukide kuti bateelele muciindi camwaka eeci mpawo ncecico ncebelesyela ciindi eeci kuti ndaapaule lusyomo lwangu."


"Kkilisimasi nceciindi cilikke cakusekelela cabupaizi cigeme aali Jeesu!"


"Ndilizyi kuti Jeesu tanaakazyalwa ndilyo liya. Nsyecengedwe pe. Alimwi, nsyekombi baleza bazilengwa leza pe, aboobo cili biyo kabotu kuli ndime!"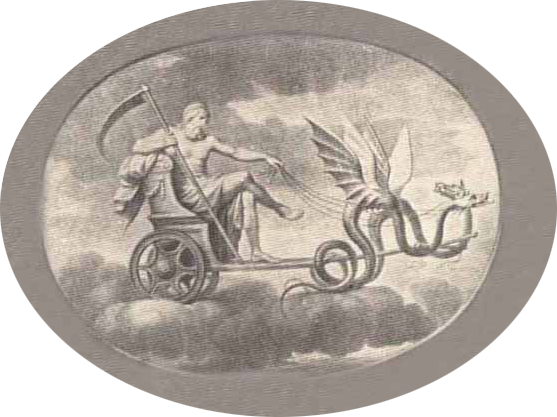 Bakomba zilengwa leza tiibakamuzyi Yahuwah, Mulengi. Bakali kukomba baleza basangu nkaambo kakutazyiba kabotu. Eeci teesyi cikonzya kwaambwa ku Bana Kristu ba sunu.
Mangwalo ayiisya kuti:
"Muziindi zyakutazyiba ooku . . . [Yahuwah] wakatyankila meso; pele lino waambila bantu bali koonse koonse kuti beempwe." (Incito 17:30, KJV)
Kuzyiba kuti Kkilisimasi nciindi cabasekelela zilengwa leza, kuzyiba kuti zimpenda zya mazubaano kutizilikonzyene a zilengwa zyakaindi loko zyabakomba zilengwa leza zilemekezya Saturn, kwamana boobo akulyaamba kuti kunyina cibi nkaambo kaluzyibo oolu, tacilondokede.
Kkilisimasi nciindi cini cakusekelela pobwe, ndipobwe lyabupaizi. Kwiinda mukulemekezya leza mubyaabi, Saturn, KUSAMPAULA kupegwa Yahuwah, Mulengi wa Julu a Nyika.
Mufutuli Mwini wakaamba mulawo wabulemu Naakati:
"Taakwe muntu uukonzya kubelekela basimalelo bobile: nkaambo inga wacimwa omwe akuyandisya umwi. Tokonzyi kubelekela . . . [Yahuwah] a luyando lwa mali." Mateyo (6:24)
Saturn, kwiinda leza wakubeja uli oonse, nguujisi ziwa zikonzyanya azya Saatani lwakwe. Kkilisimasi ndipodwe lyabupaizi lyakwe. Kutola cibeela mukusekelela Kkilisimasi nkulemeka leza mubyaabi ooyu.
Majwi a Taata waluyando ku bana Israyeli bakadilika mucibi sunu alainduluka cakumvwikisya ku Bana Kristu:
"Ncobeni mbuli mukaintu simanyonga mbwasiya mwaalumi wakwe, mbombubo mbu mwakacita zinyongene kuli Ndime, O ŋanda ya Israyeli, mbwaamba . . . [Yahuwah] . . . nkaambo bapindula nzila yabo, alimwi balilubide . . . [Yahuwah Mubambi wa Cizuminano cabo]. Amuzyokele, nywebo bana nomudilika mucibi, alimwi Njoomuponya mukudilika kucibi kwenu." (Jeremiwah 3:20-22)
Kutola cibeela mu zilengwa zyabakomba zilengwa leza, kusampaula Mulengi. Amuzyokele ku Munununi wenu wa luyando.
"Ncinzi Kristu ncazuminana a Belial [bubi]? Naa ncibeela nzi uusyoma ncaswaangene a utasyomi? Alimwi ncizi cizuminanwa ku Cikombelo ca . . . [Yahuwah] a zibumbwa? . . . Kamuzwa akati kabo akulizandula, mbwaamba . . . [Yahuwah]. Mutajati cilaa tombe, alimwi Ndiya kumutambula." (Bakorinto babili 6:15-17)
Kamuzwa anze kuzwa akati kabo! Mutajati cilaa tombe!!
Hena MU yakuzwa?


---
Amutyanke aawa kuti mulangilizye cipekupeku!