December 31, 2022
Twaleka kusyoma kuti Poopo Francis ngo Mwami wa lusele mu cishinshimi. Nokuba boobo, tucizumanana kusyoma kuti bami/malundu aali ciloba mbaa poopo bali ciloba, lino kusanganya antoomwe a Poopo Benedict XVI uufwide kali mwami wa ciloba. Ooku kucinca mukuteelela kwesu kwakaboolela mu luzyibo lwa zintu ziyoocitika kumamanino nzyaakaambilizya Ezekiya. Yahuwah aakulesyelela canguzu akunyonyoona impi zya Russia, Turkey, a Iran mumalundu aa Isilayeli, Isilayeli uyootola myaka ciloba [Ezekiya 39:7] kubungila zilwanyo zya lumamba luyookomwa. Atweezyeezye lino kuti twayungizya kuli ceeci ciindi ciyandika kuti cisi ca Russia cikamaninizye kunyonyoona cisi ca Ukraine akupwanyangula mbungano ya NATO. Kuti caba boobo tunoolangila ciindi cilamfu kwiinda myaka eeyo poopo Francis njaceelede kulela.
Kuyungizya waawo, kaambo kali mu [Ciyubunuzyo 17:11] aako kapandulula kuti 'wa Lusele ngumwi akataa bali ciloba' kalatukopa. Cimwi ciyeeyelwa mu mpasulula balozi ya bulemu eeyi ncakuti ambweni ooyo poopo uutobela Francis unooli daimona lilicengeezya kuba Poopo John Paul II. Ikuti eeco cacitika , inga busanduluzi bwayelela kuti mwami wa Lusele ngumwi akataa bali ciloba. Aboobo Poopo Francis Mwami uuzuzika biyo ciindi nkaambo tali umwi akataa bali ciloba. Ncintu ca maanu kuti ciseese cilipeekezya kuba John Paul Ii cicilelema nkaambo nyika yoonse tiilibambide kubona zintu ziyoovwundumuka mumasena manjaanji, eezyo ziyoomanina mu kuboola kwa Yahushua.
Tulangila cakutontomana kuboola kwa Yahushua kuzyoolela masi aanyika kuzwa Ku Jelusalema. Pele tatukonzyi kubinzya mulongo wa ciindi cokwa Yahuwah pe.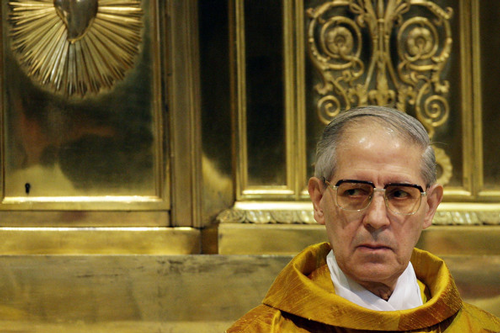 Musololi Mupati wambungano ya Jeesu ngosilutwe mweendelezi mupati mubupaizi bwa Katolika bwaku Loma, bwaba Jesuiti. Walo kanjaanji wiitwa kuti ngo Wisi Mupati. Zimwi ziindi mutwe wacuuno eeco wiitwa zina lyamasampu kuti Poopo Uusiya. Musololi Mupati mazubaano ngu Wisi Mweembezi Adolfo Nicolás.
BAJESUITI – MUTWAAMBO TULI 10
"Amubacenjelele bashinshimi babeji, aabo bamuboolela kabasamide zikobela zyaboya bwambelele, pele mumyoyo yabo mbaawumpe babutambo" – Yahushua muli Mateyo 7:15 (NKJV)
"Twakasika muciimo ca bana bambelele pele tunoolela mbuli bawumpe" - Francesco Borgia, Silutwe Mupati Watatu waba Jesuiti.
Imbungano ya Jeesu, kanjaanji yaambwa kuti nimbungano yaba Jesuiti, ninkamu yalumamba ya Cikombelo ca Katolika caku Loma iijisi zilwanyo. Eeyi mbungano yakatalisyigwa mu 1540 a Poopo Paulu III mumankanze aakuzunda Basikutongooka akulela nyika yoonse kwiinda muli Poopo. Kutegwa aayo makanze mapati amanizye kucitika, bakatalika kubelesya nzila zyakubambulula lwiiyo lwazikolo, milimo iivwolwa mali, akunjilauka kufumbwa cibeela camfulumende aakataa bantu, akucita kufumbwa musyobo wacintu cisofweede ncibakali kukonzya kucita. Tacili cintu ncotunga twaindilizya kwaamba kuti, balo bakazwidilila muzintu zinjaanji mumakanze aabo, kusikila muli poopo uuliko wamazubaano, Poopo Francis, Poopo wa Lusele alimwi wamamanino mu Ciyubunuzyo 17, ooyo wakakkede zyuuno zyamilimo mipati ku Argentina, kusanganya amulimo wa Silutwe Mupati wa Cooko ca Mbungano ya Jeesu alimwi amulimo wa Bbishopo ku Buenos Aires. Walo wakabikkwa mulimo wabu kkadinalo a Poopo John Paul II.
Mazubaano bunji bwanyika tiikubwene nzila yini ba Jesuiti mbobasisikizya kubeleka milimo yabo yabugwebenga. Lino kwiinda kaindi, nkamu ya World's Last Chance, isyoma kuti ncintu ciyandika kapati kuleta antangalala ootu twaambo twamisela yakainda twambungano yabugwebenga iisofweede boobu , akubbununa malweza aali mumbungano yaba Jesuiti.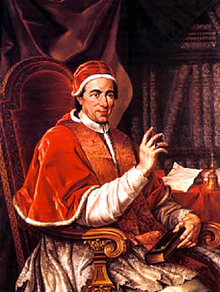 Kaambo #1
Poopo Clement XIV wakamwaya nkamu ya baJesuiti mu 1773:
Tiilyakalampa kuzwa musela wa 18th niwakainda eelyo masi aakali kutobela Bukatolika naakacimwa akutanda ba Jesuiti aabo bakali kwiingana kulinjizya mumfulumende akupilinganya bweende bwacisi. Balo bakakalalila baJesuiti cakuti bakasyaanikizya Cikombelo ca Katolika caku Loma kuti cimwayile limwi mbungano eeyo. Kusisikizya bumpelenge mumapolitikisi kwakamusikila awalo Poopo Clement XIII. Nokuba boobo, walo wakafwa kataninga bambulula cintu cili coonse. Aboobo, imulimo wa kumwayaula Mbungano ya Jeesu wakawida mumaanza ayooyo wakamutobela, Clement XIV. Eelyo Clement XIV naakasaina mulawo wakumwaya Mbungano yabaJesuiti, walo wakati, "Ime mubwini ndasaina mulawo walufu lwangu,…" Mumyaka iili buyo fuka yakatobela waawo, awalo wakafwa. [Bantu banjaanji bayeeyela kuti wakabikkilwa musamu, alimwi batamikizya baJesuiti kuti mbibakacita cintu eeco].
Source: http://www.pickle-publishing.com/papers/triple-crown-clement-xiv.htm
Kaambo #2
Kunyina nkamu iimbi atalaa Nyika eeyo yakatandwa akudyaamininwa a Bukatolika amasi aatali aaBukatolika mbuli ya baJesuiti:

Masimpe kuti baJesuiti tiibakatandwa kuzwa muzisi zinjaanji (nokuba zisi zitobela Bukatolika) nkaambo kamilimo yazikolo akugwasyilila bacete pe. Bakatandilwa kwiingana akunjilauka mumapolitikisi akuyandisya kucengelela bantu kuti batonkele makanze aabo kumbele.
"Akataa myaka 1555 a 1931 iMbungano ya Jeesu [ nkamu ya ba Jesuiti] yakatandwa kuzwa mumasi aasika 83, amumadolopo nkaambo kakulisanganya mumapolitikisi akunyonganya buleli bwa Cisi, kweendelanya abulembedwe mumalembe aa mupaizi waba Jesuiti uuzyibidwe [ Thomas J. Campbell]. Bunji bwatwaambo twakutandilwa muzisi eezyo, twakali twaambo twakunyonganya mapolitikisi, kulisanganya mumapolitikisi, kuvwundausya manyongwe mumfulumende amumapolitikisi, akusungilizya bantu kwaatula mfulumende iilela."
BaJesuiti balizyibidwe kapati nkaambo kabumpelenge wakunyengelela akweena, kusisikizya kubendelela akubbida bantu, bujayi, akudilimuna mfulumende zyamasi. Bakalisimpa akataa mapolitikisi mumasi aanyika woonse.
Source: "The Babington Plot", by J.E.C. Shepherd, p.12
Eelyo nobatandwa baJesuiti kuzwa mucisi cimwi, baide kucinca buyo micito yabo akuzyokela mucisi oomo mubakatandwa kabalaa ciimo ciimpene cakulisisikizya. Eezi zitobela nzyenzila zimwi nzyobabelesya:
"Swebo twakaboola muciimo ca bana bambelele alimwi tunoolela mbuli bawumpe. Tuyootandwa mbuli babwa pele tuyoozyokela mbuli basikwaze."
Source: Francesco Borgia, Third Jesuit Superior General.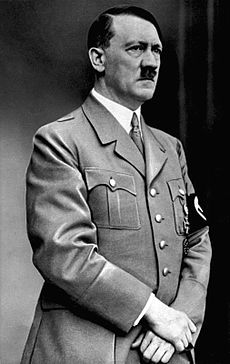 Kaambo #3
Hitler wakabamba lumamba lwakwe lwa SS lwakali kuyoogwa kuti lukonzyene aambungano ya baJesuiti a Cikombelo ca Katolika caku Loma:
"…inkamu ya SS yakabambidwe munzila njeenya mbuli milazyo yambungano ya baJesuiti."
Source: "The Secret History of the Jesuits," by Edmond Paris, p. 164
Walter Schellenberg, ooyo wakali silutwe uujata bantu basisikizya kutola milumbe bankamu yamapolitikisi ya Nazi, wakaamba kaambo aaka: "Imbungano ya S.S. Yakabambwa aba Himmler [Heinrich Himmler, basololi bambungano ya nkamu yamapolitikisi ya Nazi] kweendelanya amilazyo ya Nkamu ya baJesuiti. Milazyo a Ziyanza zyabo zyakunjilwa basangu amizimo, azyalo zyakaanzwa a Ignatius waku Loyola alimwi zyakali zilengwa eezyo Himmler nzyaakasoleka kuvwelenganya mumicito yakwe iini. Acalo cuuno camulimo cokwa Himmler kuti ngosilutwe walumamba lwa S.S., ooyo wakali mutwe wacuuno weelene ayooyo wa Silutwe wa baJesuiti alimwi mbungano yoonse yakali konzyanyidwe abweendelezi bwa Cikombelo ca Katolika." "The Secret History of the Jesuits," by Edmond Paris, p. 164
Atalaa zyoonse eezyo, Ime ndakaiya kuzwa kuli baJesuiti. Alimwi awalo Lenin wakaiya kuli mbabo, "kusikila mbuli mbwenga ndaibaluka. Inyika tiinazyiba cintu ciinda kweebeka mbuli Cikombelo ca Katolika pe. Eezyi nzyezintu zisyoonto buyo nzyenga ndaamba kuti ndakaziiya kuli baJesuiti mumulimo wa Nkamu yabo yamapolitikisi.
Source: Manfred Barthel, "The Jesuits: History and Legend of the Society of Jesus (New York, 1984), Adolf Hitler, p.266.
"Ime ndakaiya zinjaanji kuzwa munkamu ya baJesuiti", mbwakaamba Hitler... "Kusikila ciindi cino, kunyina cintu ciinda kulongosoka, atalaa nyika, kwiinda bubambe bwambungano ya Cikombelo ca Katolika. Ime ndakanjizya bweendelezi bunji bwambungano eeyi mu nkamu yamapolitikisi yangu ... Ime njanda kumwaambila maseseke ... Ime njanda kubamba Mbungano ... Mumitabi ya Mbungano yangu, swebo tuyookomezya bakubusi aabo bayootilimuna nyika yoonse ... mpoonya Hitler wakaima, akwaamba kuti inga takonzyi kwaamba zinjaanji kwiinda waawo ..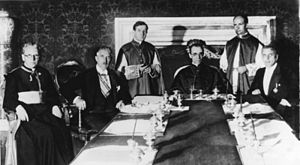 Mupaizi Pacelli (mpoonya aakale wakaba Poopo Pius XII) usaina cizuminano. Kuutaninga sika 1933 walo wakaba Mulembi wabulelo bwa Vatican. Iwabili kuzwa kulumwesyi ngu Franz von Papen, wankamu ya Nazi alimwi Mukatolika waku Loma ooyo wakali mulongwenyina a Hitler alimwi wakali mutumwa waku Vatican kuti agwasyilizye Hitler kubaa nguzu. Kululyo kulaale kulibonya umwi silutwe waku Vatican, Montini ooyo wakaba Poopo Paul VI.
Source: "Hermann Rauschning, former national-socialist chief of the government of Dantzig: "Hitler m'a dit", (Ed. Co-operation, Paris 1939, pp.266, 267, 273 ss).
"Ooyo musololi wakabaa nguzu akukkala cuuno cabweendelezi, nkulumba buyo ba Katolika ba Zentrum [Nkamu Yaakatikati eeyo yakali kweendelezyegwa a muJesuiti Ludwig Kaas] yakamusala kuti anjile mulimo, mumyaka iili buyo yosanwe yakaindide mu 1933; pele bunji bwamakanze aayo aakalembedwe mumilazyo yankamu Mein Kampf, akatalikide kale kuzuzikwa; eeli bbuku . . . lyakalembwa a Mupaizi wa baJesuiti Bernhardt Stempfle akusainwa a Hitler. Nkaambo . . . yakali Mbungano ya Jeesu yakalondola mulimo wakusandaula cisi ca Germany mbuli mbokulembedwe mubbuku eelyo, alimwi Musololi wankamu Fuhrer wakazumizya bbuku eelyo."
Source: Edmond Paris, The Secret History of the Jesuits, page 138
Franz von Papen, awumwi muntu wakanjide nkamu yalumamba lwa nkamu yamapolitikisi ya Nazi, ooyo wakali kumbele kuswaanganya cisi ca Germany amunzi wa Vatican, wakalaa majwi akwaamba kuti: "Bulelo Bwatatu bwa Reich nzyenguzu zitaanzi munyika kuleka buyo kuzuminizya pele akubelesya milazyo yabupoopo munkamu yamapolitikisi."
Source: http://www.chick.com/reading/books/153/153_03.asp
Kaambo #4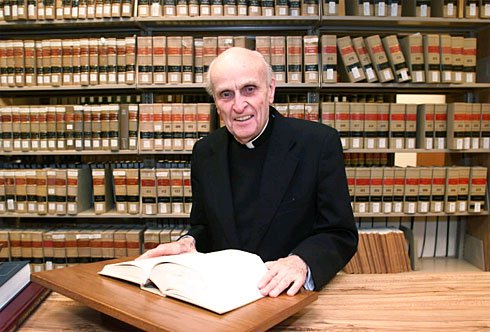 Mumyaka iili 400 ba Jesuiti bakazwidilila kuyaka zikolo zibana basyoonto azikolo zipati kwiinda nkamu iili yoonse munyika.
Eezi zikolo zisumpukide kapati zyakayiisya bantu baluulwa busongo atalaa nyika banjaanji. Aboobo, ba Jesuiti bakacengulula akupindaula mizeezo yabasololi baanyika banji balaa mpuwo, aabo bakali kweengelela Cikombelo ca Katolika caku Loma, antoomwe amakanze aaco aabupaizi.
Imukambausi uzyibidwe kapati waku Bukuwa, Charles Haddon Spurgeon, aciindi cimwi wakapa kucenjezya kuti aabo bapaizi bapaside kuyiisyilwa muzikolo zipati eezyo "… basinkila cibeela cimwi camulumbe mubotu … mbwaanga bakayiila muzikolo zya dyabooli zyaba Jesuiti."
Source: Charles H. Spurgeon "A Solemn Warning for All Churches," Sermon No. 68
Kaambo #5
Bamambi baba Jesuiti mbabajaya baleli bazisi zinjaanji mumisela minji yakainda:
Baleli bazisi bakajayigwa aba Jesuiti, kufumbwa buyo nibakasola kulesya baJesuiti kunjila mumapolitikisi aacisi akudyaaminina mpuwo yabo mucisi. Mbaaba akataa basololi bamwi bakajayigwa aba Jesuiti: William waku Orange, Mwami Henry III a Henry IV waku France, Baleli ba Alexander I a Alexander II waku Russia, Musololi Abraham Lincoln a John F. Kennedy, alimwi a Musololi waku Mexico Benito Pablo Juarez.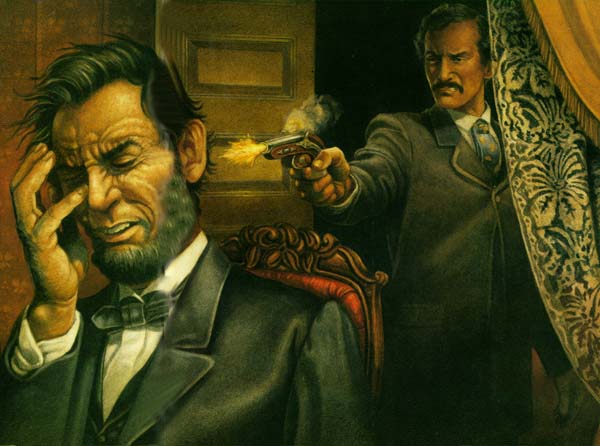 Abraham Lincoln wakalibazyi cakumaninina ciimo cabo cabujayi ba Jesuiti. Walo wakati, "... Ime nsyelwani buyo bantu bakumusanza lya Amelika balikke buyo pe. Ndigaminide kulwana Poopo waku Loma, ba Jesuiti bakwe balaa bumpelenge abazike babo boofweede kubaa nyota yabulowa kutegwa swebo tulikwabilile."
Source: Fifty Years in the Church of Rome, by Charles Chiniquy. p. 496
"Inga kwalibonyaanga wakali muzeezo waba Jesuiti, kuzwa kumatalikilo aankondo [yacisi ku Amelika yamu 1861-1865], kuti balijanine ciindi cakwaatula [nkokuti., akusisikizya kujaya] ba [Abraham] Lincoln."
Source: Thomas M. Harris (U.S. Army Brigadier General; Author of the book Rome's Responsibility for the Assassination of Abraham Lincoln)
"Mulazyo ngobayandisya ba Jesuiti [ngwa] kusisikizya kujaya."
Source: U.S. Army Brigadier General Thomas M. Harris; "Rome's Responsibility for the Assassination of Abraham Lincoln"; 1897; Page 19)
"Oolu ndusyomo lwakuti Poopo ulaa mulimo wakunyanga bulelo bami bazangila nguwe akuzangila lusyomo lwacikombelo. Ibami aabo Poopo mbaakatapaula akunyanga malelo batamikizyigwa kuti nzigwebenga zitaambiki zyeelede kujayigwa amuntu kufumbwa wasaanguna kumubona.
"Ikuti bantu tiibagwasyilila kujaya muntu mugwebenga, cili mumulawo kujaya mugwebenga'
ooyo kufumbwa wataanguna kusika aawo mpabede."
[Defensio Didei, Jesuit Suarez, Bbuku VI. C 4, Nos. 13, 14]
[Donald] Freed wiibaluka musalo umwi akataa balombwana ba [William] Colby a [Ray] Cline eelyo nibakaswaangana antoomwe cimwi ciindi. "Ncintu ceenzu ncobeni tee kayi" mbwaakaamba Freed, "nkaambo mutwe wamusalo ngubakasala wakali wakuti, 'Ndilili eelyo nocili cintu citambulika kusisikizya kujaya musololi wacisi?' Colby wakalungulula ncaakali kuyeeyela kuti wakali muzeezo weendelana alwiiyo lwabupaizi abusongo. Wakati, "Icikombelo ca Katolika, cicitingaana amubuzyo ooyu kwaciindi cikubwene alimwi ncintu citambulika," ooyo ngomuzeezo ngwaakaliyeeyela mumaanu aakwe Colby: "Cilatambulika," walo mbwaakazumanana kwaamba, "kusisikizya kujaya muntu uudyaaminina bantunyina." [Donald Freed mulongwenyina amulembi wamabbuku, Mark Lane. Walo wakabunganya muswaangano wabasongo balumamba lwaku Amelika kucikolo ca USC kuti baswaangane abantu aabo babafubaazya. Mukati kamuswaangano ooyo kwakali Lane, Ellsberg a John Gerassi, boonse aabo bakali kulwana lumamba. Kulubazu lumwi kwakali William Colby, aciindi cimwi wakali Mweendelezi wa Busongo mu Lumamba (DCI) kuzwa mu Vwivwi 1973 kusikila mu Mukazi Maziba 1976), David Atlee Phillips, a Ray Cline, ooyo wakali kugwasyilila Mweendelezi wa DCI.]
[Mubbuku lilaa mutwe wakuti Plausible Denial, Mark Lane, 1991, p. 85]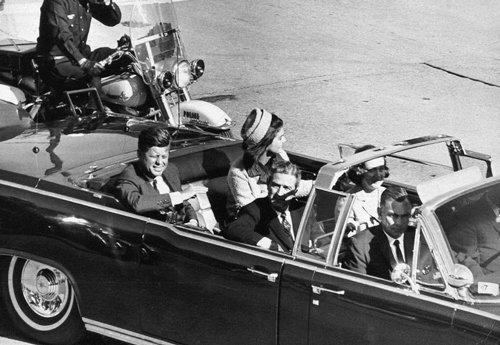 Muleli John F. Kennedy wakalijana muntenda yakujayigwa mubusofwaazi bwaba Jesuiti. Aciindi cimwi wakalizakamuna akulyaandaanya caantangalala kuzwa kumakanze ookwa Poopo akutabilila mizeezo iikwabilila lwaanguluko lwa bantu; aboobo nkaambo kamizeezo yakwe eeyo, balo bakamuzonda akumusinganya kweendelanya amilazyo yabo kuti, imuntu muzangi, waaba munzi wa Vaticani, alimwi "muntu uudyaaminina bantunyina" weelela kufwa.
Eeci ncibeela camakani aalembedwe mubbuku lya "Vatican Assassins" aba Eric Jon Phelps:
Lino nibakabona kuti Musololi Kennedy taakali kuyanda kuzumanana kulwana nkondo yaku Vietnam, Imbungano ya Busongo mu lumamba lwa baJesuiti yakatalika kumubendelela kuti imujaye. . . . Cardinal Spellman [Francis Spellman, Bbishopo mupati ku New York kuzwa mu 1939-1967], kwiinda muli ba FDR, bakasisikizya kuti baangulule mugwebenga wakali muntolongo "Lucky" Luciano . . . Lino bbishopo wakali kuyanda muntu wakumugwasya. Kuti nikwaabula uumugwasya, Spellman naakabelesya nkamu yalumba yoonse eeyo njaakagwasyilila kubunganya, kuti imugwasye kugwempula kufumbwa uumukazya. Kuti naakazumizyigwa, nikwakajulwa masena mapya aakuumina njuka, kapati mudolopo lya Atlantic. Kwakalibonya kuti, ikuti Muleli [JFK] wanonkolwa kuzwa acuuno cabuleli, boonse inga balijanina nguzu abuvwubi bunjaanji, ayalo mbungano yabusongo mulumamba inga yabulila limwi nguzu, nkabela Bbishopo inga wayungizya kulemekwa abalongwenyina baku Loma.
Aakale, mu 1964, kwaciindi citaanzi mumisela yoonse, Poopo waku Loma wakalinjizya muswaangano wa Kubambulula Milawo yaku Amelika wa 14th. Mupaizi Spellman wakapelengusya zintu munzila yeebeka cakuti wakaswayigwa a Simalelo wakwe, Silumamba wankondo yanyika yoonse alimwi Uuteya tooze twakujatya basololi, Mupaizi Montini, lino aciindi eeco ooyo wakali Poopo Paul VI. Pele kwakacili akamwi kaambo kakugwisya Muleli Kennedy. Walo wakali kuyanda kutola zilwanyo mucisi ca Isilayeli. Loftus wakalemba makani aakuti:
"Mu Vwivwi 1962 Kennedy wakakanza kuti ape cisi ca Isilayeli zilwanyo zyakulwanina ansi kulwana ndeke zyuuluka, pele zitakonzyi kulwana zilwanyo zyaku Egypt. Aayo akali makwebo mataanzi aamfulumende yaku Amelika ku cisi ca Isilayeli.... Kennedy wakasyomya ba Isilayeli kuti mbociyakwiindila buyo ciindi cakusala muleli mu 1964, walo uyoodilimuna nkamu ya CIA 'muzibeela zili cuulu akwiipupulwida muluwo'.... Lino naakafwide Kennedy mu Vwumbi Pati 1963, cisi ca Isilayeli cakasweekelwa mulongwenyina ngucakali kuyandisya kapati mu Ganda lyabulelo lya White House kuzwa muciindi naakaleka kulela Truman." Source: The Secret War Against The Jews, John Loftus, 1994]
Ino nkaambo nzi ba Jesuiti baku Vaticani ncobatakali kuyandila kuti cisi ca Isilayeli cuuzyigwe zilwanyo aciindi eeco? Nkaambo nzi Muleli Johnson ooyo wakali kweendelezyegwa abaJesuiti ncaakauntuluzya eelyo lumamba lwa Egypt nilwakapompa munkanda ya Sinai kiilibambila kulwana cisi ca Isilayeli mu 1967? Nkaambo kulwana cisi ca Isilayeli kwakeelede kutalisyigwa munzila imwi. Aboobo ooyo mulimo wakutalisya nkondo wakacitwa aba Mbungano Yabusongo yaba Jesuiti Munyika kwiinda mucisi ca Egypt nicakali kuyeeyela kuti cisi ca Isilayeli cilibulide nguzu nkaambo tacicijisi lugwasyo luzwa ku Bulelo bwa Amelika. Inkondo yakatola mazuba aali cisambomwe, yakeendelezyegwa a Silumamba waku Malta James Angleton, walo wakakanzide cintu comwe buyo: kugwampa munzi wa Jelusalema antoomwe a Mulundu wa Tempele. Nkaambo kakuti cisi ca Isilayeli tiicakajisi luzyibo lusumpukide muzilwanyo, eeco ncecaapa cisi ca Egypt kulengelezya nkondo yakulwana cisi ca Isilayeli. Aboobo, cisi ca Isilayeli cakaingula akulwana, mpoonya mumazuba aali cisambomwe, munzi uusetekene wakatolwa mumaanza aamfulumende yaba Zioni baku Loma.
Ikuti Kennedy naakapa zilwanyo kucisi ca Isilayeli, bantu baku Egypt nibakaalilwa kutalika nkondo. Kakwiina uulengelezya nkondo, nikwaabula uulwana cisi ca Isilayeli. Kakwiina nkondo iitalikidwe, Jelusalema naatakawida akutolwa mumaanza aaba Zioni, akweendelezyegwa aba Jesuiti ba Mossad. Lino Jelusalema mbuwakaba mumaanza aaba Arabu, ba Zioni tiibakali kukonzya kuyakulula Tempele lyokwa Solomoni—eeco tiibakabwene kuti ncicakali kunzaa nkondo eeyo—njaakatalisya Poopo waba Jesuiti "uutakwe kampenda",
"Ooyo uuzangide akulisumpula atalaa boonse baitwa kuti Leza, nokuba uukombwa; aboobo walo ngu Leza uukkede mu tempele lyokwa Leza [Tempele liyakuludwe lyokwa Solomoni], kalitondezya kuti walo lwakwe ngo Leza." -[II Batesalonika 2:4]
Ncintu citakwe ntenda kwaamba kuti Mweendelezi Mupati wa BaJesuiti, wakabelesya Poopo a Bbishopo wakwe wiinda kubaa nguzu, [kusisikizya kujaya Musololi Kennedy].
Cakazyila mu: http://www.bibliotecapleyades.net/vatican/esp_vatican03.htm#THE JESUITS — 1945-1990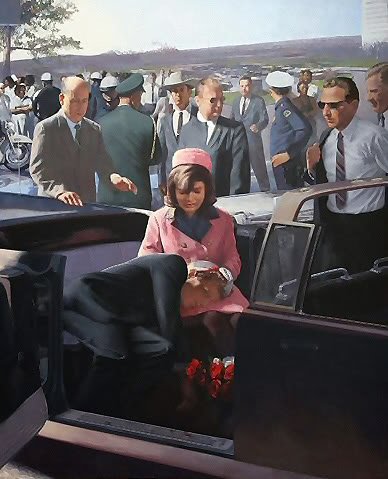 Muntu umwi inga weezyeezya kuti eeci cifwanikiso cakalambaikwa inga kacaanzikidwe kubusena kulaale mbuli ku Dallas, Texas nokuba muganda lyakuyobweda zintu zyakaindi lya Smithsonian. Pele ooyo muntu inga kalubide mukuyeeyela kwakwe koonse ooko. Eeci cifwanikisi ca Muleli John F. Kennedy naakajayigwa calunya, cakabambwa aba Mark Balma, alimwi cilaanzikidwe mumunzi wa Cikombelo caku Vaticani ku St. Paul. Eeci cifwanikiso cipedwe mutwe wakuti "Pietà" kutobela mbuli cibumbwa cilaa mpuwo cokwa Michelangelo citondezya Maliya kajisi mubili wa Kristu uugagaidwe mumaanza aakwe, acalo cilaanzikidwe mumunzi wa Vatican. Hena ono eeco tiili nzila iikopa maanu ya "kusekelela" buumi bwa Muleli waku Amelika ooyo wakali kuyandwa kapati? Nanka kuti takuli kusekelela kuzwidilila makanze aaba Jesuiti, kacicenjezya akwiibalusya kufumbwa muntu uunga wasoleka kubacokacoka mbobanga bamucita?
Cifwanikiso: http://minnesota.publicradio.org/display/web/2006/11/15/jfkpieta
Kaambo #6
BaJesuiti bamazubaano mbabeendelezya kufumbwa kabunga kabumpelenge kamaseseke aako katola cibeela kubamba Mulazyo wa Nyika Mupya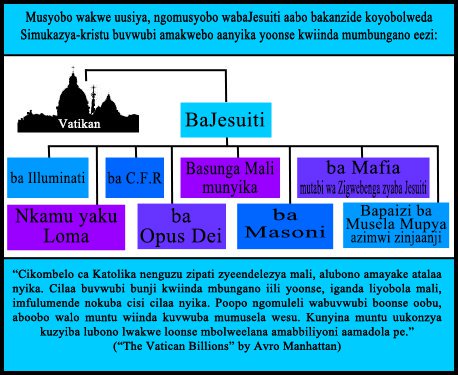 "Mumweelwe watubungabunga tweendelezyegwa abaJesuiti mazubaano kuli tubunga twaba: Freemasoni, Basikalumamba baku Malta, nkamu ya Bilderberg, abamwi balupatipati Basikalumamba baku Columbus, basumpukide baku Opus Dei – atumwi tubunga tuli kunsaa mbungano zilaanguzu eezi."
Source: http://www.toughissues.org/the%20jesuit%20oder.htm
"Kucili . . .[banalumi abamakaintu] bakkede mucisi, aabo banga bakwaambila, makani malemu aakuti, kuti yebo wasoleka kutobelezya mindando yankamu yaba Masoni, mumitabi yankamu eeyo, inga waakusika atalaa eeni, amutwe wankamu yaba Masoni, mpoonya yebo inga wabbukizyakuti ooyo muntu uuyoogwa antoomwe aSilutwe wa Mbungano ya Jeesu, muntu omwe ngweenya!"
Source: James Parton, 1855, American Historian, The Black Pope, M.F. Cusack, (London: Marshall, Russell & Co., 1896) p. 76.
Ikuti ooyu mukonzyanyo wapegwa atalaa aawa kkuli masimpe, nkokuti anselelo aawa inga kwaba muswaangano wabantu bainda kubaa nguzu munyika bobile! Silutwe waba Jesuiti a Poopo, awalo mu Jesuiti.
Wisi Walumamba Nicolás [Silutwe wa Mbungano ya Jeesu/ yaba Jesuiti] waswaangana a Poopo Francis akulemba mbuwakabede muswaangano wabo.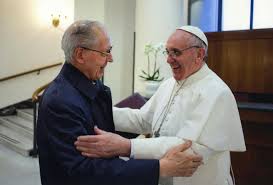 "Ime neekatambwa a Poopo Francis ndakaunka ku Ganda lya Santa Marta . . . Walo wakaliimvwi amulyango, mpoonya wakanditambula mbweenya mbotukumbatana akati kesu mubuJesuiti. Twakatola zifwanikiso zyongaye, mbuli mbwaakakumbila, alimwi wakandikumbila kuti Ime ndimulanganye munzila njeenya mbuli umwi waba Jesuiti kutalikwiindizya waawo, kuti ndimubikke aciimo ca "Tu", kutegwa nditanoolikatazi kumwiita kuti "Oosetekene,"nanka kuti "Taata Uusetekene." Ime ndakamusomba zyoonse zintu zyakumugwasya mumbungano yesu yabaJesuiti nkaambo eeco cuuno cipya ncaakatalika kweendelezya cinooyandika kubaa kulaigwa, kuyeeya kapati, kuswaangana abantu baindene, azimwi zinjaanji. Wakalitondezya kulumba kukusombwa lugwasyo oolo alimwi nitwakamutamba kuti tukaakususule cakulya antoomwe ku Curia walo wakazumina. Twakeendelana muzintu zinjaanji eezyo nzitwakayooma buzuba oobo alimwi Ime ndasyomakuti tunoobelekela antoomwe mulukamantano kubeleka mulimo wa Cikombelo …
Twakaluumwine,alimwi twakazuminana akuteelelana muzintu zyakacitika kaindi, zicitika mazubaano alimwi ziciyoocitika kumbelaa mazuba. Neekayaamuka munzi wa Casa de Santa Marta ndakalisyomede ncobeni kuti Poopo unookkomene kutusanganya akubelekela antoomwe andiswe mumuunda wa Simalelo. Kumamanino wakandigwasya kusama jansi lyangu akundisindikila kumulyango kuya anze. Mpoonya bakalibatamika Bagatela munzi ba Swiss aabo bakaliko aawo. Alimwi wakandikumbatila kabili munzila yabu Jesuiti, eeco nceciyanza cabo cakwaanzya akusindikizya mulongwaako."
http://news.sjnen.org/2013/03/father-general-meets-with-pope-francis/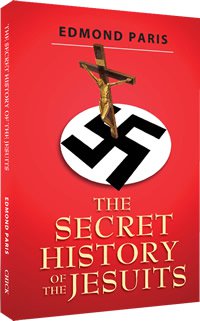 Kaambo #7
Ba Jesuiti mbabalaa mulandu wakutalisya nkondo zyobile zyanyika yoonse akusingilizya nkondo yaku Vietnam nibaamanizya kujaya Muleli Kennedy:
Image URL: http://www.chick.com/catalog/books/images/0191.jpg
"Buleya tabukubwene mulimo nguwaacita munzi wa Vatican abaJesuiti mukusungilizya nkondo zyanyika yoonse zyobile – eeco ncintu cikonzya kusandululwa nkaambo kamali manjaanji aayo aakali mumaanza aamunzi wa Vatican abaJesuiti, eeci ncecaabapa kubaa nguzu zipati munzila zinjaanji, kapati munkondo yakacaalizya kulwanwa."
Source: Edmond Paris, The Secret History of the Jesuits, page 9
Ndeeli bbuku ndyokonzya kulibalila - http://www.spirituallysmart.com/Paris-The_Secret_History_of_Jesuits_1975.pdf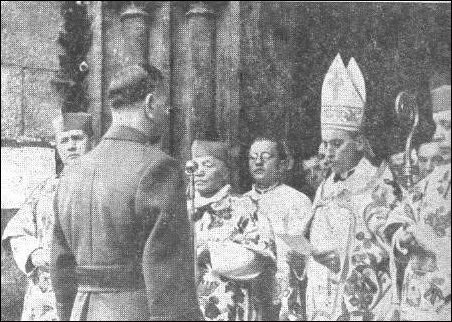 Eeyo milandu njibaacita baJesuiti, kapati eelyo nibakali kweendelezyegwa aba Ustachi (naa Ustaše) milandu iivwundausya kumoyo, iinyonganya mizeezo alimwi iikankamya kapati nkaambo nkozyicili asunu zifwanikiso zyabusofwaazi buli boobo. Eezi zintu tizyakacitika myaanda yamyaka yakainda pe. Zyakacitigwa muma 1940! Kucili azimwi zijatikizya zintu eezi zilibonya kuti nzyakukomba Saatani munzila eeyo ba Ustachi kabatobela Ante Pavelić, musololi wa Katolika waku Croatia, mbubakakobaula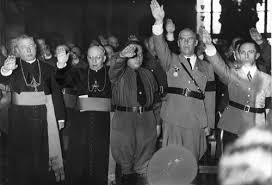 makunga aabantu mucisi ca Yugoslavia eeco cakali cibeela ca Italy a Nazi Germany, akutobela malailile ookwa Poopo. Kubantu banjaanji mucisi ca Yugoslavia, bakacaazya buyo kusala kusandukila ku Bukatolika nanka kusubulwa munzila iicisa yalunya akujayigwa.
(Cifwanikiso cili kulumwesyi - Pavelić ulangene aa Kkadinalo Stepinac ooyo wakaangilwa milandu yakuleta Nkondo akutolwa mujele akufwa kaangidwe amunzi pele wakalelekwa aPoopo JPII mu 1998 kuti aambwe kuba musaante.)
(Cifwanikiso cili kululyo – Babbishopo ba Katolika baanzya Hitler mbuli nkamu ya Nazi; Amubone kulaale kululyo: Joseph Goebbels alimwi wabili kululyo: Wilhelm Frick)
(Cifwanikiso cilaanselelo – Caando ca Ustachi)

http://www.chick.com/reading/books/153/153_03b.asp
http://www.reformation.org/holoc3.html
http://www.spirituallysmart.com/genocide_in_croatia.pdf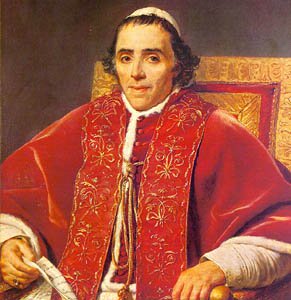 Kaambo #8
Naakaangulwa Poopo Pius VII akuzyokela kuzwa kubuzike mu 1814, malailile aakwe mataanzi mumakwebo naakasika mumunzi wa Loma, akali aakubunganya nkamu yaba Jesuiti
Mutwe wabu poopo wakasumpauka cinicini mumaanza ookwa Napoleon. Aboobo, mbwaakazundulwa buyo Napoleon mu 1814, Poopo Pius VII wakaangululwa kuzwa muntolongo akujosyegwa kumunzi wa Loma. Kubambulula lumamba lwaba Jesuit wakaba mulimo wakavwumbu. Munzi wa Loma tiiwakali kuyanda alimwi kunyangwa lugwasyo lwaba Jesuiti, nokuba kuti bakali mukuli uulema buti ku Cikombelo ca Loma, antoomwe abalongwenyina.
"Mucizuminano cakuvwuna munzi wa Loma [nkokuti., bulelo bwa Cikombelo ca Katolika caku Loma] kuti batasweekeli bweendelezi atalaa nyika kuli Basikutongooka, akubajosyela bupaizi abusololi oobo bamapoopo 'mbubaakwempede' Mumisela Yaakatikati, lino munzi wa Loma 'wakauzya' Cikombelo [ca Katolika caku Loma] ku Mbungano ya Jeesu [kuli ba Jesuiti]; aboobo bamapoopo bakalibatamika akulilekela mumaanza aaba Jesuiti."
Source: John Daniel ("The Grand Design Exposed"; 1999; Page 64)
Kaambo #9
Imbungano yaba Jesuiti yakabweza Mulimo wa Kubuzyilila mukaindi kasyoonto buyo niwaatalika mulimo ooyo alimwi eeco ncecaapa kujayigwa zyuulunzuma zyabasaante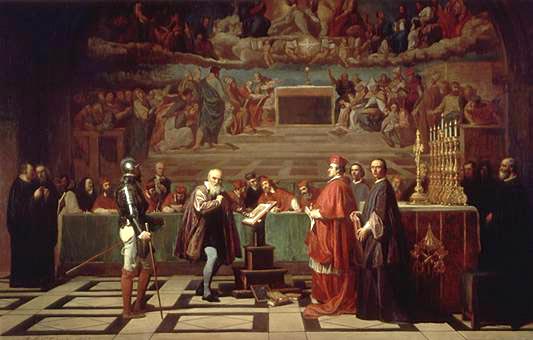 Mu 1254 Poopo Alexander IV wakaanza Mulimo wa Kuvwuntauzya aKubuzyilila. Mubetesi mutaanzi mumulimo ooyo wakali Dominic, ooyo wakabamba nkamu yabapaizi ba Dominicani.
Nokuba boobo, kaindi kasyoonto buyo kuzwa Poopo Paul III naakabambulula Mbungano ya Jeesu, ooyu Mulimo wa Kubuzyilila awalo wakatalika alimwi, mpoonya Poopo wakabapa lwaanguluko ba Jesuiti lwakucitamulimo ooyu, abalo Basilumamba babetesi bakapegwa nguzu ziindene zyakudadaula kufumbwa "uunyansya bupaizi bwa Katolika." Eeci ncecaapa kunyonyoona maumi aazyuulunzuma zya basaante.
Eezi zilembuludwe anselelo aawa zitondezya caacitika eelyo baJesuiti nibaatalika kweendelezya Mulimo wa Kubuzyilila:
"Ime njanda kumwaambila makani aankondo yakatola myaka iili makumi otatwe mu Germany, eeyo njibaasungilizya kulwanwa ba Jesuiti, kutegwa balesye Basikutongooka lwaanguluko lwa kupaila, oolo ndubaapedwe mucizuminano caku Augsburg? Nokuba kuzangila mfulumende mu yaku Ireland, kukankaula calunya zyuulunzuma zili kkumi azyosanwe zyaba mweenye bakkala Kumusanza lya Amelika, Mexico aku Cuba, kwaacitwa abapoopo ba Spanishi? Mubufwaafwi, aaya makani aakabalululwa akulembwa abalembi bamisela, kuti munzi wabapoopo wa Loma wakatila bulowa bwabantu bali zyuulunzuma makumi cisambomwe alusele mukuyanda buyokuti bataminine kuti mbabalaa bweendelezi mubupaizi." Source: Dr. Brownlee's "Popery an enemy to civil liberty", p. 105
"Ooyu wakali musela wankondo zyabupaizi bwa "BunaKristu," Myaka Makumi Otatwe mucisi ca Germany, eezyo nkondo zyakatalisyigwa aba Jesuiti, kusikila bantu batalika kulya bantunyina, akucesya mweelwe wabantu baku Bohemia kuzwa a 4,000,000 kusikila a 780,000, alimwi mucisi ca Germany kuzwa a 20,000,000 kusikila a 7,000,000, akusiya cookoca Musanza wa Germany cabaanga muunkanda muli cimpayuma, ..."
Source: Cushing B. Hassell, History of the Church of God, Chapter XVII.
Naakali kulemba makani aaba Jesuiti, [John] Lord wakati
"Balo mbalaa mulandu wakumwaya Mulawo waku Nantes,-- ooyo mulandu mupati akataa milandu yamusela uuno, ooyo wakapa kuti Basikutongooka bali zyuulu myaanda yonebatandwe kuzwa mucisi ca France, akukosoola bali zyuulu zyili myaanda yone atalaa baabo."
Source: John Lord, Beacon Lights of History, volume VI, p. 325.
"Ku Bohemia, kusikila mumwaka 1600, akataa bantu bali 4,000,000, bali 3,200, 000 bakali Basikutongooka. Eelyo ba Hapsburgs abaJesuiti nibakamanizya mulimo wabo, kwakacaazya buyo bantu basika 800,000, boonse kabali Bakatolika."
Source: Henry H., Pocket Bible Handbook, Chicago, 13th edition, 1939, p. 790.
Kaambo #10
Ba Jesuiti bakazwidilila mumakanze aabujayi bwabo kwiinda mukusungilizya bantu kulyeempa zibi zyabo kubapaizi kufumbwa nkobakabede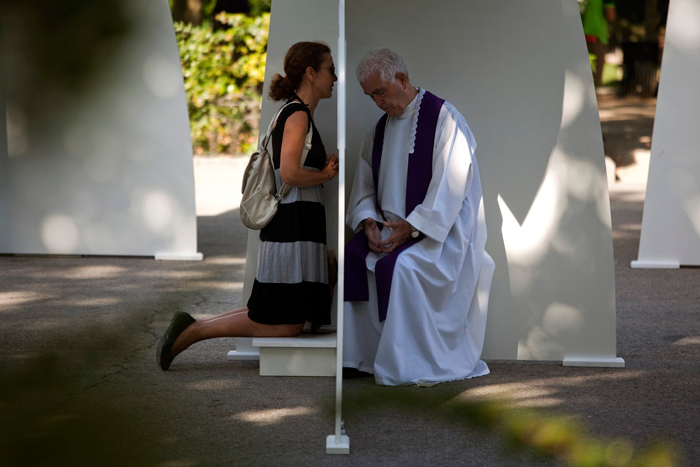 "BaJesuiti bakabankamu iili kumbele kupa (bapaizi baswiilizya nkobalyeempa zinyonyoono) bami abana babami aabo bakali kulela. Mbulibwaamba bbuku lipya lya New Catholic Encyclopedia, "bakaba babetesi baswiilizya zinyonyoono ku bami baku France wa misela yobile, kuzwa kuli Henry III kusikila kuli Louis XV; akubelelo boonse baku German kumatalikilo aamusela wa 17th ; kuli Balupatipati baku Bavaria niwakainda mwaka wa 1579; akubaleli banjaanji baku Poland aku Portugal; kumikwasyi yabasololi banyika zya Bukuwa.
"Eelyo nibakaba balailila bami, bakatalika akusendekezya makanze aabo mumapolitikisi. Mubetesi wabupaizi taakali kulelema kwaambila mwami kuti wakeelede kubamba zizuminano eezyo zyakali kunga zyagwasyilizya Cikombelo. Umwi mubetesi Le Tellier, waba Jesuiti kuli Louis XIV, mumyaka ya 1680 wakasungilizya muleli kuti azimaanye Mulawo wa Nantes, ooyo wakali kupa bantu lwaanguluko mubupaizi kuli Basikutongooka."
Source: http://justus.anglican.org/resources/bio/44.html
BaJesuiti bakatalika akuswiilizya zinyonyoono zya poopo. "Mubetesi wa Poopo, weelede kuba mupaizi wa baJesuiti: weelede kuswaya munzi wa Vatican ciindi comwe cigantidwe mvwiki-amvwiki, alimwi walo alikke nguukonzya kusalazya Poopo kuzwa kuzinyonyoono zyakwe absolve the Pope of his sins."
Source: http://amazingdiscoveries.org/S-deception-The-New-Superior-General-A-Wolf-in-Sheeps-Clothing
---------------------------
Kukosozya makani: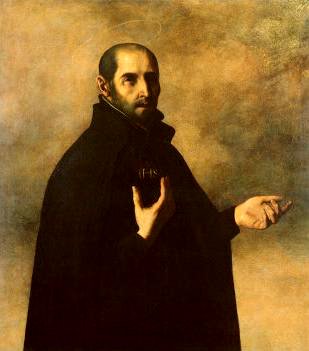 Ignatius Loyola, Wakatalisya baJesuiti
cifwanikiso caba Francis Zurbaran
Lino mbotwazyiba twaambo twamisela twa BaJesuiti, ncintu citakonzyi kusyomwa alimwi cikankamusya kubona batola milumbe munyika abasololi bamapolitikisi nkobalyataukana kwiindilana kuti batambule akutembaula Poopo Francis. Swebo tatujisi amakni aakwaamba kujatikizya nyika yoonse mbwiilubidezintu znyaakacita Loma abJesuiti bakwe.
Kucenjezya kwa Silumamba Sherman kuleelede kumvwugwa mazubaano kuti:
"Ime njanda kumwiibalusya bbuku lya Webster mbolisandulula mu Jesuiti: muntu uulengelezya, uukopa mizeezo. Ikuti Cikombelo ca Loma nicakazwidilila, Poopo naakaba Mwami wa nyika yoonse . . . Ba Jesuiti bakaboolela buyo kulengelezya, kusisikizya, alimwi kuti kacikonzyeka, kutunyanga lwaanguluko lwesu lwacisi alwaanguluko lwa bupaizi. Milazyo yabaJesuiti ilazumizya kubba, kunyonokela, kubejelezya, kweena akubejela, kulijaya akujaya bazyali bako abamukowa wako bamwi. Milandu mipati yaanyika yakacitigwa aba Jesuiti . . . Kufumbwa nkobajanwa baJesuiti balijisi mulilo wakuumpa, icceba lyakuyasya, akuvwuntauzya kuti bakutundulule. Balo mbaasinkondonyina a BanaKristu [basyoma Bbaibbele]. Buumi bwabo babuponena buyo kulwana, kubaa lubono akutembaulwa."
Source: General Sherman's Son: The Life of Thomas Ewing Sherman, S.J., Joseph T. Durkin, S. J., (New York: Farrar, Straus and Cudahy, 1959) p. 186.
Mulimo wesu mbuli basikwiita ba Taata Yahuwah kuti tubbunune munzi wa Loma abaJesuiti bakwe, akupailila kuti banyonyoonwe abusofwaazi bwabo butweena. Mupailo ncecilwanyo cilikke cakulwanya sinkondoma ooyu uulisisikizya ngotulanganlimwi buno buzuba. Munzi wa Loma abaJesuiti bakwengo sinkondoma mupati kwiinda boonse uulwana Mulumbe Mubotu akulwana mukowa wabantu. Nokuba boobo, swebo tulisyomezyedwe mu Jwi Lyakwe lyacishinshimi kuti tabakoongoli pe. Sibwaamu uyoonyonyweedwa limwi kacitaninga sika ciindi ca Kuboola Kwabili kwa Mufutuli Yahushua:
"Nkabela aayo meja aali kkumi webo ngookabona atalaa mutwe wamunyama, ayoocimwa akusulaika sibwaamu, ayoomusaala mukusiya kalaa mantanda, akumulya nyama yakwe, akumuumpa mumulilo." Ciyubunuzyo 17:16.
Alitembaulwe zina Lyakwe lyoonse kukabe kutamani!!


---