Eeci cibalo tacili cina WLC. Eelyo notubelesya milumbe iizwa kubalembi balaanze lya mbungano, imbunga izuminizya buyo zintu eezyo nzyotumvwa aanga zileendelana acilembedwe mu Bbaibbele. Kanjaanji, balembi ba milumbe eeyi tabeendelani a mbungano ya WLC muzintu zilaa bulemu (mbuli Nsabata ya buzuba bwa ciloba amutwe wa Buleza). Nokuba boobo, Eeci taceelede kutulesya kutambula zileleko kwiinda muli nzibaalemba, eezyo zyeendelana a Mangwalo. Aboobo kuzumina cibeela ca milumbe yabo takuli kuzuminizya azintu zimwi zyoonse nzyobatongomene kusyoma.


KULANGISYA ZINTU ZYOONSE
Cikombelo citaanzi ca BunaKristu cakali koongoongwa kapati kumpuwo ya Plato, alimwi bumboni bwa ziiyo zya Plato nkobucili asunu mu Bunakristu. Aaya ngamasimpe kapati casika kumakani aajatikizya Kujulu. Banakristu banji sunu inga bagambwa kumvwa kuti oolo lusyomo lwa Kujulu ndobajisi luzyila kumizeezo ya Plato iitali yamu Bbaibbele. Mubufwaafwi eeci cibalo cipandulula Plato kuti nguni, mizeezo nzi njaakajisi, alimwi mbubuti eeyo mizeezo mbuyakayambikila kumizeezo iiluulwa mazubaano iijatikizya Kujulu.
MUZEEZO WA JULU UUDUMIDE
Kuli cintu cilubide kapati mu mumuzeezo waambilizya kujulu mucikombelo aanze lya cikombelo. Kuli cintu cimwi N.T. Wright, Bbishopo waku Durham, ncaamba kuti muzeezo uuyungizya "kupyopyonganya akucesyelela bulangizi bwa banakristu."1Cintu cuusisya ncakuti, Bbishopo Wright uliluleme. Akataa bantu bobile nanka Botatwe kucisi ca Amelika aabo bakali kutaminina kusyoma mububuke bwa kuzwa ku lufu, mukuvwuntawuzya bakaamba kuti tabasyomi kuti banoolaa mibili yanyama baakubuka kulufu, pele banooli miya iitakwe mibili.2 Wright ulayungizya akuti, "Ime ndakamvwa kanjaanji bantu kabaamba kuti, 'Ime mbweyoofwida biyo, nja kujulu, nkulumba buyo kuti nsecinoolaa mubili wabufubafuba ooyu nkenooli ookuya.'"3
Banakristu banji mazubaano, balanganya kujulu kuti mbusena bweebeka, buli kulaale ooko miya iilondodwe iitakwe mibili nkoyoongoonga. Ategwa oobo mbusena bweenzu, butakonzyene anyika, ooko zintu lyoonse tazicinci. Oobo mbusena bwa miya ilikke buyo alimwi kwiina ciindi nokuba busena butakwe cintu, ooko kunyina cakucita pele buyo kubabama mumuwo kumwi kolangide ali Yahuwah.
MUZEEZO WAMU BBAIBBELE
Nokuba kuti muzeezo wakwaangululwa akuzwa mumibili yesu ulanyomenezya kubantu bamwi, iBbaibbele litondezya muzeezo wiimpene kapati uupandulula kujulu. Kweendelanya a Bbaibbele, kujulu mbusena ooko nkuubambulwidwa mulengalenga woonse, kusanganya a Nyika iilenguludwe mpya. Muciindi cakukkala munyika iipilingene, eeyo nyika mpya tiinooli njenzu kuli ndiswe pe, pele inikwiinda kubota. Inooli busena oomo tunsiyansiya amikowa mwiinoosumpuka kuya kumbele lyoonse. Tunoopona katulaa mibili yabuntu iipona lyoonse kufumbwa busena mpotubede. Muciindi cakwiile kunonzomene kukkede, tunoojisi bubi kutembaula akukomba Yahuwah mbweenya mbotucita mazubaano. Oobo bunooli busena bweebeka nkotuyookkala kukabe kutamani katwiiya akuvwuntauzya zilengwa leza zipya zyokwa Yahuwah. Muzeezo wa mulengalenga uulenguludwe bupya ngomulumbe uutaaluka Bbaibbele lyoonse. Yahuwah wakasinganya nyika eelyo muntu naakawa, aciindi eeco nyika amulengalenga woonse wakacinca. Aciindi eeco "zilengwa Leza zyoonse zyakanjila mubusofwaazi." (BaLoma 8:20) Ooyo mulengalenga Yahuwah ngwakaambide kuti mubotu mu (Matalikilo 1:31) lino wakasanduka nkaambo kakunyansya kwa muntu, aboobo kuzwa kuciindi eeco nyika inoobumbuluka. Bulangizi bwa Bbaibbele, nokuba boobo, mukutuma Messiah (Matalikilo 3:15) mbwakuti, Messiah uyoobambulula milimo ya bweeleenzi njaakacita dyabulosi (1 Johane 3:8), kutali buyo kunununa mukowa wabantu kuzwa kukusingwa mu cinyonyoono, pele akujokolosya zilengwa leza zyokwa Yahuwah mbuzyaabede kutaanguna katana bisya muntu. Aciindi eeco, "mulengalenga uyokwaangululwa kuzwa kukusinganyigwa akunjila mulwaanguluko abulemu bwabana ba Yahuwah." (BaLoma 8:21) IBbaibbele litalikila akuwa kwa muntu mu Matalikilo akumanina mu Kulengulula mu Ciyubunuzyo oomo Ijulu, a Jelusalema mupya, moziyooswaangana antoomwe a Nyika; "cikkalilo ca Yahuwah (ciyooba) akataa bantu, alimwi Walo uyookkala ambabo" alimwi zilengwa leza zyoonse ziyoojokolosyegwa. (Ciyubunuzyo 21:2-3)
Ono oobu busanduluzi bwa Bbaibbele mbobuli buubauba kapati kuteelela, eeci ncecintu cikopa maanu. Mbubuti ciiyo camasimpe cipati boobu ncocitateelelwi mu BunaKristu? Ooyu mulandu nguwa Plato.
MAKANI AA PLATO MUBUFWAAFWI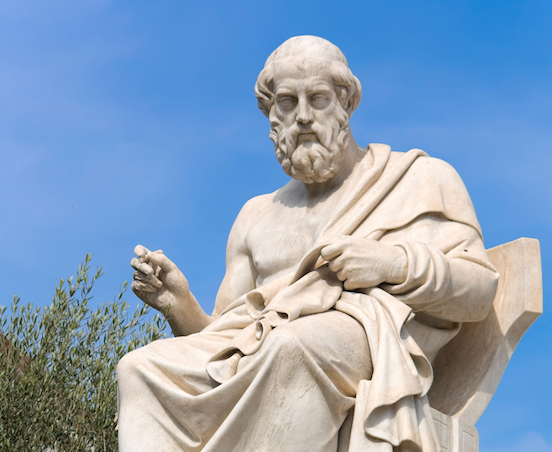 Ooyu musongo wa ciGiliki Plato (427 BC), waambwa kuti ngumwi walupatipati akataa basongo baciindi boonse. Wakazyalwa misela yone katanazyalwa Messiah pele ziiyo zyakwe zyakalaa mpuwo kapati mulusyomo lwa BunaKristu cakuti zicizumanana kukwelelezya mizeezo ya BunaKristu kusikila buzuba buno.
Plato wakasiminina kuti eezyo zintu nzyotubona mumbali lyesu munyika iino—masamu, zyuuno, mabbiza, makamu aabantu—zyoonse nzyotubona, nzyotuguma, nzyotulabila akunumfwida tazyili zintu ncobeni. Cilikke cili masimpe muzeezo wacintu. Ngooyu mukonzyanyo, bantu boonse balaa muzeezo wa bbiza mbolibede. Eelyo notweezyeka bbiza lyomwe ku bbiza limbi, tulabona mbwaayimpene, pele toonse tulizyi kuti woonse obile mabbiza nkaambo muzeezo wa bbiza nkuuli kale. Aboobo muzeezo ooyo nde bbiza lyeebeka. Ibbiza lyeebeka lijanika buyo mumuzeezo wamumutwe naa "mucinkozya cili mumuzeezo". Nkaambo kakuti ilikke mizeezo yazintu njiilondokede, Plato wakazuunyana kwaamba kuti mizeezo yamumutwe yakali sumpukide kwiinda nyika iino motukkala.
Aboobo cintu cakatobela ncakuti, Plato wakali kuyanda kwaangulula bantu kuzwa kubuzike bwakukkala munyika eeyi. Mukaano ka Bwina buli mu Mpangala kakwe, walo upandulula muntu mbwanga waangululwa kuzwa kubuzike bwa mudima waanyika eeyi akutalika kuzyiba zintu zisumpukide ncobeni. Mukaano aako uzumanana kuti bantu boonse baangidwe nketani yamusinze, kabasyoma buyo kuti zintu zya ncobeni nzintu zibonwa aameso zizingulukide mumbali lyesu. Pele kuli zintu zisumpukide kwiinda zilibonya mumeso, aboobo kuti twaangululwa kuti tuzibone, inga twateelela kuti zilainda kubaa lusumpuko, nkaambo eeco ngamasimpe eeni pele zintu zyoonse nzimvwule buyo zya ceeco citalibonyi.
MUZEEZO WA JULU OOKWA PLATO
Cintu cigambya ncakuti, muzeezo wajulu ookwa Plato, nguyooyo muntu mwaanguludwe kuzwa kuzintu zyaansi. Plato wakali kusyoma kuti muntu ubambidwe aamuya, akuti muya wamuntu ooyo ulaangidwe mumubili Wakwe, mbuli kwaangwa muntolongo. Aawa mpaakasimpidwe kaambyo ka Plato kakuti "soma sema", eeco caamba kuti mubili nintolongo naa ncuumbwe ca muya. Kuli Plato, lufutuko lucitika leelyo muya nowaangululwa kuzwa muntolongo ya mubili. Mpoonya Muya ulaangulukide kupona mubusena bwa zintu zisalala ziinda kusumpuka. Alimwi oomo, muya "ulakonzya kubona bubotu bumaninide, muciimo cisalala."4 Ninzi cijatanya Plato mbwalanganya julu ku BunaKristu?
MPUWO YA PLATO AKATAA BAMATATA BA CIKOMBELO BATAANZI
Inga caba cintu cigambya kuli bamwi kuti bamatata bataanzi mucikombelo bakali koongoongwa ku mpuwo ya busongo bwa ciGiliki. Bamwi bakali kusyoma kuti Yahuwah wakapede busongo bwa baGiliki ku bantu bamasi kutegwa balibambile kukuboola kwa Messiah munzila njeenya Yahuwah njaakabelesya Mozesi kubambila baJuuda. Munzila eeyi, Plato, wakalibonya kuti wakajisi musyobo wa Mulumbe Mubotu. Bakali kusyoma kuti basongo baluulwa bakatambwide "mumuni wa Ciyubunuzyo cabulemu kwiinda mujwi lya 'Logos,' abusongo bwa mizeezo ya muntu, 'nobumunikila kufumbwa muntu woonse uuboola anyika.'"5 Aboobo cintu cakatobela ncakuti, bunji bwa mizeezo ya Plato yakaletwa antangalala abasololi bataanzi aabo. Nkooku kuvwuntauzya kwabo mubufwaafwi.
Clement waku Alexandria (150 AD) wakali kusyoma kuti busongo bwa baGiliki bwakasolweda lwiiyo lwa buleza. Malembe aakwe akazwide ziiyo zya Plato. Ambweni mukuyandisya Plato kwakwe inga kwalibonya kapati kaambo nkaakaamba kuti:
…katanasika Simalelo, busongo bwakeelede kuba akataa baGiliki kuti babe aabululami. Alimwi lino bulayandika mukugwasyilizya bukkale bubotu; mbuli cikolo cibambila baabo bayanda kubaa lusyomo… busongo bwaapegwa cigaminina kutaanguna ku baGiliki, kusikila Simalelo akabaite baGiliki. Nkaambo eeci cakali cikolo cakaleta "mizeezo ya buGiliki," mbuli mulawo ku BaHebulayo kubabambila kuzya "kuli Messiah." Busongo, aboobo, bwakali kubambila muntu ooyo kutegwa alulamikwe muli Messiah.6
Justin Martyr (100 AD) walusyomo waciindi wakali kusyoma kuti Plato "wakaamba kabotu kweendelanya acibeela ncaakaabanya mujwi lya mazyalane ".7 Nokuba kuti kwakali kwiimpana kapati akataa ziiyo zyobile, Justin wakalutila kuti kuli zinjaanji zikonzyene akataa busongo bwa Plato a BunaKristu. Ooku kukkomanina Plato kwakaliko akataa balembi balusyomo abamwi, kapati Athenagoras. Bakalaa mulemeko ku ziiyo zya Plato, alimwi bakali kuvwuzya kwaamba boobo, zimwi ziindi kabalembulula cibalo coonse cizwa kuli Plato eelyo nobakali kukwabilila lusyomo lwa BunaKristu.8
Eusebius waku Caesarea (263 AD) wakalomya kuyanzanya Plato a BunaKristu. Wakaamba Plato kuti alikke ngo "mu Giliki, wakasika ambaakani ya kasimpe ka lusyomo lwa (BunaKristu)"9 Alimwi, Bbishopo Theodoret (393 AD) wakalibalide mabbuku kanjaanji aaciGiliki ayaayo aabasongo mbuli ba Xenophanes, Heraclitus, Zeno, Parmenides, Empedocles, Euripides, Herodotus, Xenophon, a Aristotle, alimwi wakali kuvwuzya kulembulula zilembedwe zyokwa Plato.10
Cilisalede kuti, cikombelo citaanzi cakali kukwelelezyegwa ku mpuwo ya buGiliki, kapati mu mizeezo ya Plato. Ambweni mwiyi wabuleza wiinda kubaa mulandu wakuvwelenganya mizeezo ya Plato ku cikombelo ngu Augustine.
AUGUSTINE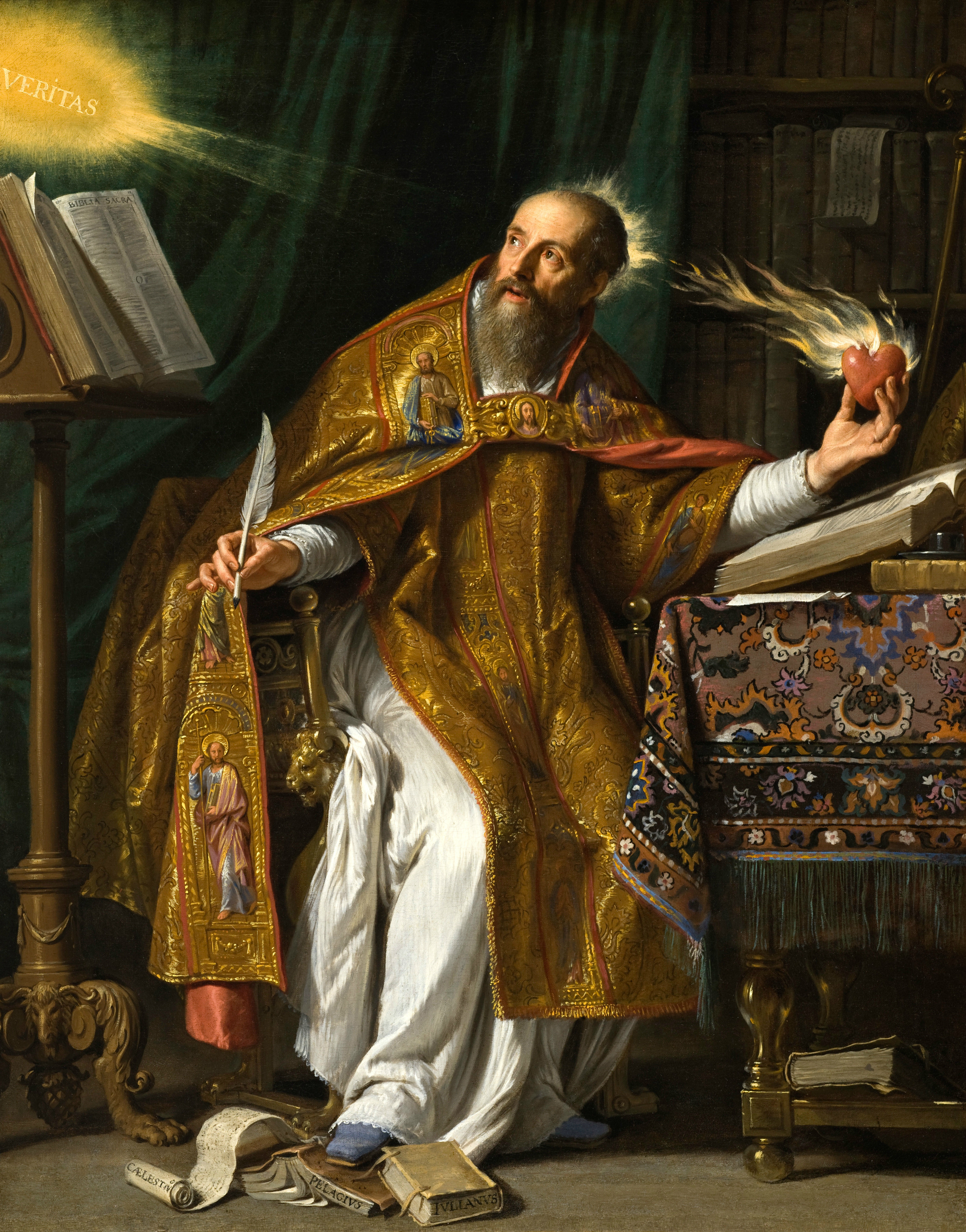 Mwiyi wabuleza wakali kuluulwa Augustine (354 AD), awalo wakakoongoongwa mumpuwo ya Plato. Bbuku lya Augustine lyamutwe wakuti De Civitate Dei , ooko nkuulika kuti "mucelo wiinda kubizwa wa lukamantano akataa BunaKristu abusongo bwa Plato"11 Augustine wakaindilizya kwaamba mukulyeempa kwakwe mubbuku lya Confessions kuti walo wakalumba Yahuwah nkaambo wakataanguna kuzyibana aa Plato, nkaambo kuti nicatakali boobo, naatakakonzya kutambula Mulumbe Mubotu.12 Lino kalanganya Plato munzila eeyi, eeco tacigambyi, nkaambo abwalo mbwaakali kulanganya julu Augustine, wakali kwiingaila kutobela mpuwo ya Plato. Mbuli mbwaakaamba Benedict Viviano mukupandulula
Augustine kuti,
"Tweelede buyo kubikkila maanu kuti Augustine wakatobela kapati busongo bwaciindi ca-Plato alimwi wakabalilizya malembe aabamwi mbuli ba Plotinus a Prophyry… Oobu busongo bwakali kapati bwa muuya anyika ya zintu zitalibonyi, eezyo zisimpidwe buyo muli omwe uuteeli, akulanganya zintu zyamisela yaansi kuti zyakali ziga zitasumpukide zya muuya nuuyaa kwiimpuka kuyooswaangana a yooyo uuteeli."13
AUGUSTINE MBWAAKALANGANYA JULU MU MUUYA
Augustine "wakali kukwelelezyegwa mubusanduluzi bwa bulelo bwa kujulu." Kuli Augustine, "bulelo bwa Leza mbuumi butamani bwakukkala antoomwe a Leza kujulu."14 Michael Vlach ulayungizya akuti "wakali muzeezo wa Augustine wa bulelo bwa kujulu ooyo wakapa kuti asyome kuti cikombelo cizuzika buleli bwa Kristu bwa myaka iili cuulu.15 Ndendileelyo mizeezo yakwe mumoza niyaatambulwa mu Bukatolika bwaku Loma, kusikila sunu ndo lusyomo lupati lwa Cikombelo ca Katolika, amuzikombelo zya basikukazya zyoonse, amumasi aa Kumbo. Aboobo matalikilo aabulangizi bwa kujulu mu BunaKristu akonzya buyo kujanwa kwiinda mukutobela mizeezo ya Plato mu cikombelo iitali ya Bbaibbele.
NCOKUYANDIKA KUBALA LWIIYO LWA MIZEEZO YA BUSONGO
Inga caba cintu cigambya kuli banakristu banji sunu kuti, eeyo mizeezo ya kujulu njobajisi tiizwi mu Bbaibbele pe, pele izyila kumusongo waciGiliki Plato. Eeci cicesya bupati bwa ncociyandika kubala lwiiyo lwa busongo ku Munakristu mubelesi. Kakwiina kumvwisyisya basongo bakali mumisela yabantu, inga cakatazya kwaandaanya kasimpe kuzwa kuzintu zilubide. Ncobeni, eeci inga cabonwa ncobeni casika kumakani ajatikizya kujulu muzikombelo zya mazubaano. Bamapasita beelede kubala mabbuku aabasongo kutegwa bazyibe mizeezo iilubide mpuyakatalikila kukwelelezya Cikombelo mumisela yabantu, aboobo kwiinda munzila eeyi inga bakonzya kukambauka mulumbe wa Bbaibbele uululamikidwe.
MABBUKU
Alcorn, Randy. Heaven. Tyndale House Publishers, Inc., 2004. Clement waku
Alexandria. "The Stromata, or Miscellanies". In The Ante-Nicene Fathers, Volume II: Fathers of the Second Century: Hermas, Tatian, Athenagoras, Theophilus, and Clement of Alexandria (Entire). Buffalo, NY: Christian Literature Company, 1885.
Augustine, S., Bbishopo waku Hippo, a Pusey, E. B. The Confessions of St. Augustine. Oak Harbor, WA: Logos Research Systems, Inc., 1996.
Biema, David Van. Christians Wrong About Heaven, Says Bishop. Mulumi 7, 2008. http://www.time.com/time/world/article/0,8599,1710844,00.html.
Geisler, Norman. A History of Western Philosophy, Vol. I: Ancient and Medieval. Bastion Books, 2012.
Jackson, B. Prolegomena: The Life and Writings of the Blessed Theodoretus, Bishop of Cyrus. In P. Schaff & H. Wace (Eds.), A Select Library of the Nicene and Post-Nicene Fathers of the Christian Church, Second Series, Volume III: Theodoret, Jerome, Gennadius, Rufinus. New York: Christian Literature Company., 1892.
Martyr, Justin. The Second Apology of Justin. In A. Roberts, J. Donaldson & A. C. Coxe (Eds.), The Ante-Nicene Fathers, Volume I: The Apostolic Fathers with Justin Martyr and Irenaeus (A. Roberts, J. Donaldson a A. C. Coxe, Ed.).Buffalo, NY: Christian Literature Company, 1885.
Schaff, Philip. The New Schaff-Herzog Encyclopedia of Religious Knowledge, Vol. IX.1914.
Viviano, Benedict T. The Kingdom of God in History. Eugene, OR: Wipf a Stock, 1988.
Vlach, Michael J. Platonism's Influence On Christian Eschatology. n.d. http://theologicalstudies.org/files/resources/Platonism_and_Eschatology_article_(PDF).pdf (cakajanwa mu Mulumi 22, 2013).
---
1 (Biema 2008)
2 (Alcorn 2004, 110)
3(Biema 2008)
4 (Geisler 2012, 69)
5 (Schaff 1914, 89)
6 (Alexandria 1885, 305)
7(Martyr 1885, 193)
8 Ibid. p.18.
9 Ibid. p.21.
10 (Jackson 1892, 19)
11 Ibid. p.21.
12 (Augustine 1996, 7.20)
13 (Viviano 1988, 52)
14 Ibid., 52-53.
15 (Vlach n.d.)


---
Eeci cibalo citali ca-WLC cakalembwa aba Shawn Nelson (https://geekychristian.com).

Twakagwisya mucibalo citaanzi woonse mazina aabaleza bafwalidwe amazina aamilimo aakuti Taata a Mwana, akubikka mucibaka ca ngawo mazina eeni ngobaitwa. Kuyungizya waawo, twakajokolosya mu Mangwalo aalembuludwe mazina aa Yahuwah a Yahushua mbuli mbwaakasanduludwe abalembi ba Bbaibbele bakayoyedwe Moza. Nkamu ya WLC.