Eeci tacili cibalo caku-WLC. Eelyo notubelesya malembe aazyila kubalembi balaanze lya mbungano, inkamu izuminizya buyo ceeco ncotulanganya kuti cileendelana a Bbaibbele. Mubunji bwaziindi aaba balembi bazibalo eezyo tabeendelani ankamu ya WLC mulusyomo lwesu. Nokuba boobo, eeco taceelede kutulesya kutambula zileleko kwiinda mu malembe aabo eelyo notuteelelesya kuti alimaninide kweendelanya a Mangwalo. Aboobo kuzuminizya cibeela ca nzibaalemba takuli kuzuminizya azintu zimwi zyoonse nzyobataminina.
Bana Kristu banji nobanonzomene muzikombelo basyoma kuti eeyo nzila njobamulanganya Yahuwah, inzya alusyomo lwabo ncobeni, kuti lugaminide kuzwa mu Bbaibbele. Kunyina pe nobanga bayeeyela, nokuba boobo, kuti miyanda iini yakusyoma muli Baleza Botatwe, tiiyakazyila mu Mangwalo pe, pele yakazyila ku lwiiyo lwaci Giliki. Nanka kuyeeyela Bamatata ba Cikombelo kuti mbabalaa mulandu wakusanganya lwiiyo lwa kukomba mituni, mbuli lwa Plato, antoomwe amalembe aasetekene. Nokuba kuti munakristu takubwene zyoonse zicitika eezyo, kuli basicikolo ba Bbaibbele, aaya makani aakatontola kaindi kuti sikoo. Kutegwa tulomye kumvwisya makani aaya, impuwo yalwiiyo lwaci Giliki mu BunaKristu ilivwuntaudwe kapati akulembwa muzikolo zipati. Umwi mwiyi William Inge, mwiyi wa Buleza ku Cikolo Cipati ca Cambridge, wakalongolola ncaakabona kuti:
"Lusyomo lwa Platonizimu ncibeela ciyandika kapati kulwiiyo lwabuleza mu BunaKristu . . . . [Ikuti bantu babala cakalembwa aa Plotinus, ooyo wakalaa mulimo wakweendelanya bu Platonizimu a Mangwalo,] inga bateelelesya zintu mbuzyakapindulwa kuzwa kuziyanza zyakaindi akuya ku bupaizi bupya, alimwi inga baibaluka mbocitakonzyeki kuzandula bu Platonizimu kuzwa ku BunaKristu kakwiina kufunzaulilizya BunaKristu muzibeelabeela. Mulumbe waku Galilaya, mbuli mbuwaamvwugwa kuzwa kumulomo wa Yahushua, kakwiina kudonaika awalo wakali sangenwe mpuwo yalusyomo lwaci Giliki . . . . Pele [BunaKristu butaanzi] kuzwa kumatalikilo kwini bwakayakidwe atalaa mpuwo ya buJuuda amizeezo yabupaizi bwa ciGiliki."[1] (kuyungizya lusinizyo)
Kuyungizya waawo, James Strong, sicikolo wa Bbaibbele mulembi wa cibeela ca Bbaibbele ca Strong's Concordance eeco cipandulula mabala, utondezya Plato mbwaakatusungilizya kusyoma muli Yahuwah. Awalo wakazumina mpuwo ya Plato mu BunaKristu:
Kuya kumamanino aamusela mutaanzi, aakataa musela wabili, banalumi bakayiide banji bakatalika kuyoboloka kuzwa ku buJuuda abupaizi bwa mituni kuzya ku BunaKristu. Aaba bakaletelezya muzikolo zya BunaKristu zya lwiiyo lwa Buleza mizeezo minjaanji ya Plato akusandaula mabala.[2] (Kuyungizya lusinizyo)
Plato kanjaanji ubalilizyigwa akataa bamayi bakalaa mpuwo kapati mumasi aa Kumbo.[3] Ino wakali muntu nzi Plato, alimwi ninzi ncaakali kusyoma? Mbubuti mizeezo takwe mbuyakasungilizya Bamatata bacikombelo bataanzi ambotulanganya Yahuwah mazubaano? Mbubuti lusyomo lwakwe mbolwiimpene kuzwa ku Mangwalo, hena cilaa kaambo eeco na? Mukubaa coolwe, misela yesu antoomwe a Bbaibbele zilayiingula mibuzyo eeyi.
Ino wakali ni Plato?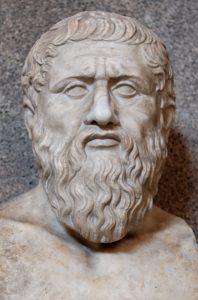 Plato (c.428-347 B.C.), izina lyakwe lini wakali Aristocles; wazyalilwa mumukwasyi wa nkumekume ulaampuwo mu buGiliki Bweebeka. Lusyomo lwa mituni ndolwakazwide mazubaayo mucisi cokwabo. Bawisi bakwe beni bakali kwaambwa kuti bakali bamukowa wa Poseidon, Leza waba Giliki wamu lwizi. [4] Mizeezo yokwa Plato yamituni yakazwide mpuwo ya bamayi mbuli ba Heraclitus (c. 600 BC) a Pythagoreans (c. 500 BC). Pele ndileelyo buyo naakafwide Socrates ooyo wakali kuluulwa naakazwidilila kubaa mpuwo ali nguwe. [5] Kalwiindide lufu lwa Socrates, Plato wakapanda mbungano yiitwa kuti Athens Academy. Eeyo yakali mbungano yabasongo bakali kuvwuntauzya ziiyo mbuli lwiiyo lwabuleza, nsaamuzi alwiiyo lwamulengalenga. [6] Sicikolo Wakwe wakalaa mpuwo kapati wakali Aristotle ooyo aakale alakwe wakabaa mpuwo iikkalilila.
Lusyomo lwa Plato
Plato wakalizyibidwe nkaambo kamizeezo njaakajisi yakuti atalaa nyika kwakali buumi busumpukide kakuli ansi lyanyika kwakali buyo zintu zitalaa mulimo mupati. Mumuzeezo wa Ziimo, ooyu muntu waku Athens wakapandulula kuti atalaa nyika, zintu zyoonse kufumbwa naa cintu nokuba muzeezo, zyakali muciimo ceebeka kakuli kunsaa nyika kwakali buyo mikonzyanyo iitaluleme ya zintu a mizeezo. Kuli Plato, ciimo ciinda bbota bweebe citalibonyi cakalaanguzu ciitwa kuti Cibotu.
Heraclitus wakali mutaanzi kuyeeyela kuti nguwaabelesya bbala lyakuti logos mukwaamba muzeezo wabulemu nokuba busongo oobo mbwaakali kuyeeyela kuti zyakali nguzu antela mpuwo yakali kweendelezya mulengalenga. Plato wakapampanuna muzeezo ooyu aakuyiisya kuti logos cakali zibeela zyotatwe zyakuti; Cibotu, Mizeezo (Logos), a Nyika ya Muuya. [7] Walo taakali kuyeeya kuti Logos (busongo, kaambo, azimwi zinjaanji.) wakali muntu susu, pele kuti zyakali nguzu naa mulazyo weendelezya zintu. Nokuba kuti Aristotle taakamaninide kubelesya muzeezo ookwa Plato wa Ziimo zya Zintu, pele wakali kusyoma muziimo zyotatwe. Aboobo wakalemba kuti:
Mbuli bwaambwa baabo batobela Pythagorean, inyika azintu zyoonse zili muli njiyo zyeendelezyegwa aanamba 3, nkaambo kuzwa kumatalikilo aakatikati akusikila kumamanino, mweelwe wazyo antoomwe ngwa "zyoonse," alimwi mweelwe wazyo nzitatu. Aboobo, kubwezya zyotatwe eezyi kuzwa akataa zilengwa leza (kwaamba boobo) amilawo yazyo, tucibelesya namba ya 3 mukupaila Baleza [8] (kuyungizya lusinizyo)
Mukuya kwaciindi eeyi namba yabulemu yakapa kuti kutalike muzeezo wa mutwe wabaleza botatwe. Cikombelo ca Bamatata, bunji bwabo bakayiide lwiiyo lwa buGiliki, bakasandulula Mangwalo kweendelanya amizeezo yaci Giliki kwiinda mukubelesya mizeezo ya buJuuda oomo mwaakalembedwe. Bakatondezya muzeezo ookwa Plato wa Cibotu kweelanya aa Yahuwah, Mizeezo ya Logos muli Johane 1:1, a Nyika ya Muuya mu kukakatila kwa muntu kuti ayiisye mutwe wabaleza Botatwe. Balembi bamisela abamayi babupaizi abalo balapandulula mpuwo ya Baleza Botatwe bokwa Plato mu Bunakristu. Ngooyu mukonzyanyo, mulembi wamisela Edward Gibbon, mu Musela wa Bunakristu ngwaakalemba, ubandauka mpuwo yabu Giliki mukutambula Baleza Botatwe mu lusyomo kaamba kuti:
Ikuti Kukomba Mituni kakuli kwaazundwa a Bunakristu, nkokuti cili masimpe kuti Bunakristu bwakasofwaazyigwa aa Kukomba Mituni. Aboobo Buleza [bupaizi bwini mumakani aaya] bwa Banakrsitu bataanzi … bwakacincwa, kwiinda mu Cikombelo caku Loma, akuba lusyomo lutateeleleki lwa baleza botatwe. Bunji bwa mizeezo yabakomba mituni, eeyo yakazyila ku Ejipita akusumpulwa mumizeezo yokwa Plato, yakazumanana kubaanga ilaa mpindu mulusyomo [9](kuyungizya lusinizyo)
Kujanza limwi, Mangwalo kunyina pe naayiisya kuti Yahuwah mbaaleza botatwe. Nokuba mu Basicikolo basyoma muli baleza botatwe abalo inga bazuminizya makani aaya. Ngooyu mukonzyanyo, Mwiyi wabuleza mu Bbaputisiti William N. Clarke, wakalemba kuti:
Ibbala lyakuti Baleza Botatwe talibelesyegwi, alimwi kunyina citondezya akuti ooyu muzeezo wakalizyibidwe kale. Pele eeci nciyanza kwaciindi cilamfu Cizuminano Cipya cakali kubalwa aanga mizeezo yaciiyo eeci yamusela wakainda yakali kalembelezyedwe kale muli ncico, pele takuli mbubo oobo pe. Mumazuba aabaapositolo muzeezo wa Baleza Botatwe wakacili kubambwa…kawiindide misela yotatwe antela yone, kwakaletwa muzeezo wa Baleza Botatwe...Oolu lusyomo lwa misela lwakalaandene kapati kuzwa kulusyomo lusalala lwa kutaanguna.[10] (kuyungizya kusinizya)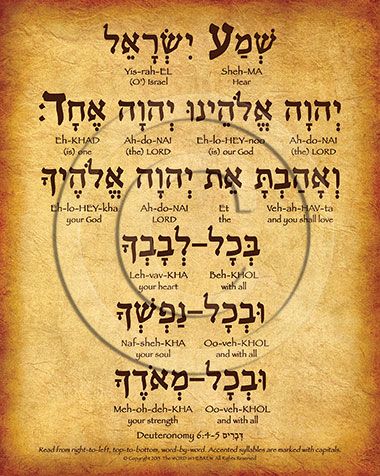 Ishema Ciibalusyo 6:4
IBbaibbele taliyiisyi kuti Yahuwah mbantu botatwe mumubili omwe pe. Pele ncoliyiisya,alimwi ncoliinduluka kutondezya kakwiina kudonaika, ncakuti Yahuwah ngumwi.
Ciibalusyo 6:4 (NASB) "Teelela, O Isilayeli! Yahuwah ngo Leza wesu, Yahuwah ngumwi! (kuyungizya lusinizyo)
Maako 12:32 (NASB) Mulembi wakati kuli Nguwe [Yahushua], "Cililuleme, Omwiyi; Waamba masimpe kuti WALO NGUMWI, ALIMWI KUNYINA UUMBI KUNZE LYAKWE; (kuyungizya kusinizya)
Kuyungizya atalaa mizeezo yokwa Plato ya mutwe wabulemu a Logos, lusyomo lwakwe kuti muuya tuufwi alwalo lwakakulwaizya misela yakatobela Bbaibbele kuti ilanganye Kristu munzila eeyo. Plato wakazumanana kuti miya yoonse yakali kupona lyoonse alimwi yakali kupona kiitaninga zyalwa,[11] alimwi, kiitaninga zyalululwa.[12] Ooku kusyoma kwakabambila nzila yakusebulula kasimpe oomo Cikombelo ca Bamatata nicakalaa mpuwo yaba Giliki[13] mucaapandulwida mulumbe mubotu. Mpoonya cintu cakatobela wakali muzeezo wakuti Yahushua wakali kupona kataninga zyalwa akumitwa mwida lya Maliya nkaambo oobo mbombubo mbucakeelede kweenda. Nokuba boobo, ziyanza zyaba Hebulayo tiizyakali kusyoma kuti muuya ulapona kuutaninga zyalwa. Pele, bakali kuyiisya kuti zintu kutaanguna "zyakali kupona" muli Yahuwah muluzyibo Lwakwe lwazintu zyoonse ziciboola kumbele. Ngooyu mukonzyanyo, muciindi cakuti twakali kupona kujulu katutaninga zyalwa, Mangwalo ayiisya kuti twakali zyibidwe kale kuli Yahuwah alimwi twakali kale cibeela ca makanze Aakwe:
Intembauzyo 139:15-16 (NASB) Ciimo cangu tiicakasisidwe kulindiwe, eelyo Ime neekabambwa mumaseseke, Alimwi akubumbwa cabunkutwe kunsaa nyika; 6Meso aako akandibona nketaninga bambwa; Alimwi mu bbuku Lyako mwakali lembedwe mazuba aangu woonse, kaataninga sika nokuba buzuba bomwe. (Kuyungizya lusinizyo)
Mangwalo alaambilizya akuti ooku kupona kwaambwa boobu nkwakuti zintu zyakali mumuzeezo ookwa Yahuwah naa muluzyibo lwa zintu ziciboola "kumalengelo aanyika." Ooyu muzeezo waciHebulayo wansiku wakupona kotaninga zyalwa mbombubo mbwaamwaambilizya Yahushua Mangwalo. Walo taakali kupona ncobeni kujulu nyika kiitana lengwa,mbuli basicikolo ba Plato mbobateelela, pele wakalizyibidwe kale kuli Yahuwah alimwi wakali cibeela ca makanze ngaakabambide kale.
1 Petulo 1:20 (NASB) Nkaambo Walo [Yahushua] wakalizyibidwe kale kaatanasika matalikilo aanyika, pele walibonya mazubaano aamamanino nkaambo kenu… (kuyungizya kusinizya)
Milimo 2:22-23 (NASB) "Nobalombwana ba Isilayeli kamuteelela majwi aaya: Yahushua waku Nazaleta, imuntu waatondezyegwa kuli ndinywe a Yahuwah mumaleele aagambya amuzitondezyo eezyo Yahuwah nzyaakacita kwiinda muli Nguwe akati kenu, mbweenya mbuli ndinywe lwenu mbombuzyi— 23 ooyu Mwaalumi wakaletwa mumakanze aakabambidwe amuluzyibo lwa Yahuwah, inywe mwakamugagaila aciciingano amaanza aabantu batamuzyi leza akumujaya. (Kuyungizya lusinizyo)
Petulo naakaamba kuti nicakali masimpe ncobeni kuti Yahushua wakali kupona kataninga zyalwa kujulu kali Yahuwah muciimo ca Jwi. Pele aaka kampango kalembedwe kuti Yahuwah wakalimuzyi kale Yahushua, eeco ncecintu cakaambilizyidwe aamushinshimi Jeremiya:
Jelemiya 1:5 (NASB) "Ime nketaninga kubumba mwida ndakalikuzyi kale, Alimwi kotaninga zyalwa, Ime ndakakusetekanya. Ime ndakakusala kuba mushinshimi wamasi." (kuyungizya lusinizyo)
Plato a Bamatata ba Cikombelo
Kwaamba kuti Plato wakalaa mpuwo akataa Bamatata, tacili cintu ncotunga twaindilizya kwaamba. Mulembi wamisela mu Cikombelo Philip Schaff ulalongolola makani mabotu aa mpuwo ya Plato kuli Bamatata ba Cikombelo kuti:
Alimwi bunji bwa Banakristu bataanzi, bakatalika kuyandisya mizeezo ya lusyomo lwa Plato, alimwi bakatalika kubelesya mizeezo kulwanya akukomezya Bunakristu akukambauka milumbe iizwide mizeezo ya Plato. Mizeezo ya Logos a Baleza Botatwe yakayakilwa atalaa Bamatata BaGiliki, aabo, nokuba kuti tiibakayiide muzikolo, pele bakanjilaukwa mpuwo ya Plato cigaminina nokuba kwiinda mumbali, kapati kuzwa ku baJuuda baku Alexandria. Kwaamba zintu zilubide zinyonganya lusyomo mbuzyakasobelela akunjila Cikombelo, eeco tacikonzyi kukazyigwa… Akataa Bamatata aabo bakali kutobela Plato, kuli Justin Martyr, Athenagoras, Theophilus, Ireneus, Hippolytus, Clement waku Alexandria, Origen, Minutius Felix, Eusebius, Methodius, Basil Mupati, Gregory waku Nyssa, a St. Augustine."[14] (Kuyungizya lusinizyo)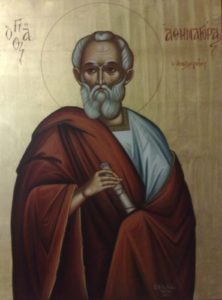 Athenagoras waku Athens
Atulange kasyoonto Bamatata ba Cikombelo bamwi bakalikuluulwa "bu Pulato".
Athenagoras waku Athens, wakali sikukazya kuzwa mumusela wabili kazyedwe mufutuli. Ibbuku lya Encylopedia Britannica lyaamba kuti, "Lwiiyo lwakwe lwa buleza lwakali yuminide mizeezo yabu Plato..."(kuyungizya kusinizya).[15] Alimwi bbuku lya Encyclopaedia Americana lyaamba kuti:
Athenagoras wakali kuvwuzya kuvwelavwela lusyomolwa baGiliki basikweema abasongo kaapti Plato antoomwe kulusyomo lwa Bunakristu." [16] (kuyungizya lusinizyo)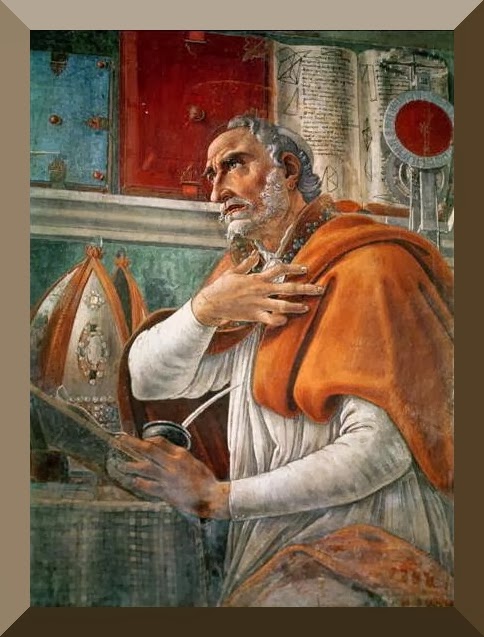 Augustine waku Hippo
Augustine waku Hippo (354 – 430 AD), ambweni nguuyinda kubaa mpuwo akataa Bamatata ba Cikombelo, wakakulwaizya mizeezo yakwe ya Plato eelyo naakati, "Mulumbe wa Plato,wiinda kusalala mubusongo boonse, uutapaula mayoba aatusinkila azintu zitaluleme…."[17] Richard Tarnas, mulembi wa bbuku lyakalaa mpuwo lyakuti 'Passion of the Western Mind, ndyaakalemba Augustine wakalumbaizya Plato kuti:
"… Wakali Augustine wakaanza BunaKristu bwa BuPlato ooyo wakanjilauka Bunakristu bwaakatikati ka Misela kucooko ca Kumbo. Bunakristu bwakaliintide kulivwelenganya kumizeezo ya BuGiliki cakuti mizeezo ampuwo ya Socrates aya Plato kanjaanji yakali kulanganyigwa aanga nja banaKristu basaante bakaindi…" (kuyungizya lusinizyo)[18]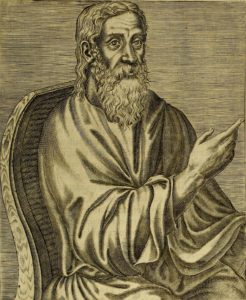 Clement waku Alexandria
Clement waku Alexandria (150 – 215 AD) wakayiila mucikolo cakalaa mpuwo kapati ku Alexandria. Albert Outler wakalemba mubbuku lyakuti 'Journal of Religion' kuti ooyu musongo:
…Ulaa busena busumpukide mu "kupindula Bunakristu kuba bupaizi bwa ciGiliki…Kulangwa kuti Clement wakaindilizya kuya kumbele akuti Banakristu bazuunyene abalo bakali kumbele mukubelesya mizeezo abusongo bwa ciGiliki mulusyomo lwa Bunakristu bwabo. Plato ngo mwiyi wabusongo ngwaakali kuyandisya kumoyo.[19] (kuyungizya lusinizyo)
Clement wakali kusyoma kuti busongo bwa ciGiliki bwakali musyobo wa mwiyi ooyo wakabambila nzila ku BaGiliki kuti batambule Kristu. [20] Ipenzi ndyakuti, muciindi cakuyaamuka mizeezo ya Plato azimwi zinjaanji zyabupaizi bwa mituni akuyaamina ku Mangwalo aabuJuuda, Clement waku Alexandria, awalo mbweenya mbuli Bamatata ba Cikombelo bamwi, wakasumpauzya akuvwelavwela ku Bunakristu.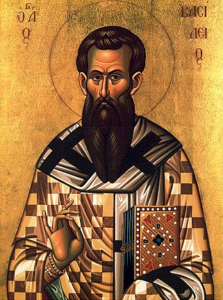 Gregory waku Nyssa
Gregory waku Nyssa (335 – 395 AD), wakali umwi Wisi wa Cikombelo wakalaa mulimo mupati wakubamba lusyomo lwa Baleza botatwe ku Muswaangano waku Constantinople (381 AD), kwaambwa kuti walo "…[waka]pandulula mulimo wa Kristu wakufutula bantu mumulaka uubelesya mizeezo ya Plato." [21] Harry Wolfson, mubbuku lya 'The Philosophy of the Church Fathers, waamba kupyopyongana kwaacitigwa eelyo Gregory naakasola kumvwanya leza omwe wa baJuuda antoomwe a bupaizi bwa ciGiliki:
"Ninzila yakweendelanya, akuswaanganya, mbuli bwaamba Gregory waku Nyssa, leza omwe wa buJuuda antoomwe a baleza banji ba buGiliki. Eeyi nzila njibakaswaanganyigwa yakacesyacesya leza omwe wa buJuuda akutambula busongo bwa baGiliki." [22] (kuyungizya lusinizyo)
Nkaambo nzi ncocilaa kaambo kuti Plato wakasungilizya Bamatata ba Cikombelo
Bamwi inga babuzya kuti ino eeco cilaa mulimo nzi kuti Plato naakalaa mpuwo iili boobo akataa Bamatata ba Cikombelo ambotuteelela Yahuwah. Hena kuvwelenganya busongo bwa ciGiliki antoomwe a Mangwalo aa buJuuda inga calubila kapati boobo? Bwiinguzi bumvwikisya mbwakuti, inzya! Mukucincanya bubambe bwa Mangwalo akubikka buGiliki, abulangizi bwa nyika iitali mu Bbaibbele, ooko nkupindulula akuvwunikila ceeco cakalembedwe kutaanguna mumalembe aasetekene. Kuyungizya waawo, Bamatata balaa mpuwo kapati mu Cikombelo banjaanji bakali kusyoma kuti muntu ulakonzya kukomena muluzyibo lwakwe lwakuzyiba Yahuwah kwiinda mu busongo bwa buGiliki (philo + sophia = kuyandisya busongo), pele Paulu wakati muntu taakazyiba Yahuwah kwiinda mubusongo bwaanyika.
1 Bakolinto 1:20-21 (NASB) Nguli muntu musongo? Nguli mulembi? Uli kuli ooyo sikukazyanya mumusela uuno? Hena Yahuwah taabamba kuti bufubaale busongo bwaanyika? 21 Nkaambo kuzwa mubusongo bwa Yahuwah inyika tiiyaka boola kuluzyibo lwa Yahuwah, Yahuwah wakali kkomene nkaambo kamulumbe waakambaukilwa mubufubafuba kutegwa aabo bateelela bavwunwe. (kuyungizya lusinizyo)
Mubwini, Paulu wakalomya kucenjezya kuti Cikombelo tiicakeelede kutolwa buzike mubusongo bwaansi:
Bakolose 2:8 (NASB) Amulangisye kuti kutabi muntu uumoongelezya akumutola buzike cabusongo kwiinda mukucengelela kutakwe bulumbu, mutunsiyansiya twa bantu, kweendelanya amilazyo ya nyika, kwiinda kweendelana aa Kristu. (kuyungizya lusinizyo)
Mukubula coolwe, Bamatata bakasandukide kumpuwo ya buGiliki, bakauntuluzyila malailile aaya. Aboobo cintu cakatobela nkusyoma muli Leza mweenzu uutazyibidwe mu Mangwalo. Mbuli sicikolo wa Cizuminano Cakale, N.H. Snaith, mbwaakakosozya kuti:
Aawo mpotwiiimvwi mukusandulula lwiiyo lwa Leza lwa Bbaibbele kweezyeka aa mizeezo ya baGiliki basongo, akali sakene akumwaikizyanya kapati kwamisela minji akunyonyoona lusyomo lwa Bunakristu…Bunakristu bwini bulipengede kusandulula ba Bashinshimi kuya kumizeezo ya Plato.[23] (kuyungizya lusinizyo)
Lyoonse tweelede kwiibaluka kuti Plato wakali muntu uutasyomi, simituni, uusweekede alimwi uutajisi Leza omwe wamu Bbaibbele. Mbuli mbotuli Banakristu, swebo tatweelede kubunganyigwa antoomwe a batasyomi:
2 Bakolinto 6:14-15 (NASB) Mutanoobungani antoomwe abatasyomi; nkaambo ninzi ncobeendelana batasyomi abasyomi, bululami akubula mulawo, nanka kuti nkweendelana nzi kuliko akataa mumuni amudima? 15 Ninzi ceendelana akataa Kristu a Beliya, naa ninzi uusyoma ncayendelana amuntu uutasyomi?
Mangwalo alikkwene kuyubununa Yahuwah ku bantu [24] Alatupa kufumbwa ncotweelede kuzyiba kuti Nguni alimwi amakanze Aakwe aalufutuko kwiinda muli Yahushua amubulelo buciboola ali buti. Jude, mweeninyina aa Mufutuli, wakalemba kuti tweelede "kutingaanina canguzu oolo lufutuko ndubaapedwe basaante." (kuyungizya lusinizyo) [25] Langisya kuti ooko kupegwa lusyomo lwa bunakristu tiikwakali mucibeela citakkwene. Balembi ba Cizuminano Cipya tiibakakulwaizya banakristu kulindila myaka iili myaanda yotatwe nkokuya Bamatata ba Cikombelo batupe mulaka nokuba busongo bwa kumvwisyisya ceeco Yahuwah ncaakaalilwa kutupandulwida mu Jwi Lyakwe. Pele, lusyomo lwakaletwa mubuzwide mukuya kwaciindi.
Mukuyungizya aawo, Paulu wakati eelyo naakali kuyiisya basyomi makani aa Yahuwah a Simalelo Yahushua Messiah, kuti walo kunyina pe ncaakasisa kuli mbabo cilaa mpindu.[26] Aboobo, Paulu kunyina pe naakayiisya kuti Yahuwah mbantu botatwe mumubili omwe. Mukwiimpanya, walo wakayiisya kuti kuli buyo Leza omwe, Taata, akuti Yahushua tali Leza, pele ngu Kristu (Messiah) ooyo Yahuwah ngwaakabamba kuti abe Simalelo.[27]
1 Bakolinto 8:6 (NASB) pele kuli ndiswe kuli buyo Leza omwe,Taata, ooko kuzwa zintu zyoonse, alimwi tuponena Nguwe; a Simalelo omwe, Yahushua Messiah, ooyo kwiinda muli Nguwe zintu zyoonse muzyakalengelwa, akupona kwiinda muli Nguwe.
Tweelede kusala naa tuyanda kuyaamina ku Mangwalo abumboni bwa Yahushua ooyo wakapaila kuti "Taata…Webo [uli] Leza wamasimpe olikke,"[28] akutwaambila kuti Yahuwah nguni, nanka kuti tulaasulaika antoomwe amalembe aamisela akutambula Baleza Botatwe aabo balaa miyanda iisyangidwe mumizeezo ya Plato.


---
[1] W.R. Inge, The Philosophy of Plotinus (London: Longmans, 1918), p. 12, 14.
[2] James Strong, John McClintock, "Trinity" in Cyclopaedia of Biblical, Theological, and Ecclesiastical Literature, Vol. 10, (New York: Harper, 1891), p. 553.)
[3] "Top Ten Ancient Greek Philosophers," Ancient History Lists, accessed 8-11-19, https://www.ancienthistorylists.com/greek-history/top-10-ancient-greek-philosophers/
[4] "Plato," Encyclopaedia Britannica, lyakajanwa mu 8-8-19, https://www.britannica.com/biography/Plato
[5] "Plato," Internet Encyclopedia of Philosophy, lyakajanwa mu 8-8-19, https://www.iep.utm.edu/plato/
[6] "All About Plato's Famous Academy," ThoughtCo., lyakajanwa mu 8-8-19, https://www.thoughtco.com/all-about-platos-famous-academy-112520
[7] Charles Bigg, Christian Platonists of Alexandria, 1886, p. 249.
[8] Aristotle, On the Heavens, Bbuku 1, caandaano 1. https://classicalastrologer.files.wordpress.com/2012/12/ontheheavensaristotle1.pdf
[9] Edward Gibbon, History of Christianity (1883, p. xvi). Mbuli bulembuludwe mu Is God a Trinity? (United Church of God, 2012).
[10] William Newton Clarke, The Christian Doctrine of God, (Edinburgh: T&T Clark, 1909), p. 230-231.
[11] Plato, Timaeus
[12] Robert G. Olson, A Short Introduction to Philosophy, (Mineola, NY: Dover Publications, Inc., 2003), p. 62.
[13] Ibbala lyakuti Bamatata ba Cikombelo mucibalo eeci inga lyaambilizya abamwi mbuli Mwaapositolo Justin Martyr.
[14] "Platonism and Christianity," The New Schaff-Herzog Encyclopedia of Religious Knowledge, 1957, Vol. IX, p. 91
[15] "Athenagoras," Encyclopaedia Britannica, 11th edition, p. 831. lyakajanwa a intaneti mu 8-8-19, https://theodora.com/encyclopedia/a2/athenagoras.html
[16] "Athenagoras," Encyclopedia Americana, s.v. (2001), Vol. 2, 605.
[17] David Davidson, Take it From the Church Fathers: You Should Read Plato, lyakajanwa mu 8-7-19, https://blog.logos.com/2013/11/plato-christianity-church-fathers/?fbclid=IwAR2uplDdR9Nj4JFzokKuW3iDtn8hj28NWP4b6g579l4Qy6AMQ3HMRoiN6O8
[18] Richard Tarnas, The Passion of the Western Mind, (Ballantine Books, 1991), p. 103.
[19] Albert C. Outler, (1940). "The "Platonism" of Clement of Alexandria". The Journal of Religion(1940), Vol. 20 (3), p. 217–240.
[20] David Davidson, Take it From the Church Fathers: You Should Read Plato, lyakajanwa mu 8-7-19, https://blog.logos.com/2013/11/plato-christianity-church-fathers/?fbclid=IwAR2uplDdR9Nj4JFzokKuW3iDtn8hj28NWP4b6g579l4Qy6AMQ3HMRoiN6O8
[21] Gregory waku Nyssa, The Great Catechism 16 [52], 32 [80 – 81].
[22] Harry Austryn Wolfson, The Philiospohy of the Church Fathers (Cambridge: Harvard University Press, 1970), p. 578-579.
[23] Norman H. Snaith, The Distinctive Ideas of the Old Testament, (London: Epworth Press, 1955), p. 187, 188.
[24] 2 Timoteo 3:16-17; 2 Petulo 1:20-21
[25] Jude 1:3
[26] Milimo 20:20
[27] Milimo 2:36
[28] Johane 17:1 a 3.


---
Eeci cibalo citali ca nkamu ya-WLC cakazyila ku https://onegodworship.com/.

Twakagwisya mucibalo citaanzi woonse mazina aabaleza bakafwalwa amazina aamilimo ookwa Taata a Mwana, akubikka mucibaka cangawo mazina aabo eeni. Kuyungizya waawo, twakajokolosya mu Mangwalo aalembuludwe mazina aa Yahuwah a Yahushua, mbuli mbwaakalembedwe kutaanguna abalembi ba Bbaibbele bakayoyedwe Moza. -Nkamu ya WLC