Eeci cibalo tacili ca WLC. Eelyo notubelesya zilembedwe aabalembi balaanze lya nkamu, tusimba buyo zyeezyo zyeendelana 100% a Bbaibbele a lusyomo lwesu cino ciindi munkamu ya WLC. Aboobo eezyo zibalo inga zyalanganyigwa kuti nzya nkamu ya WLC. Twakalelekwa kapati amulimo wabalanda ba Yahuwah banjaanji. Pele tatukulwaizyi ndinywe nobeenzuma kutalika kubala zyaalembwa abantu aabo. Eezyo nzibaalemba, twakazigwisya mumalembe eesu nkaambo kanjaanji zililubide akubaa tumpenda. Cintu cuusisya ncakuti tucilangaula mbungano yamilimo iitakwe kampenda. Ikuti konyandidwe nkaambo ka [zibalo/milumbe] iitali ya WLC, kobikkila maanu ku Tusimpi 4:18. Kuteelela kwesu nkwakuti kasimpe Kakwe kalayoboloka, eelyo mumuni nuuyaa kumwesya munzila yesu. Tulakayandisya kasimpe kwiinda buumi, nkanko tulavwuntauzya kufumbwa nkokakonzya kujanwa.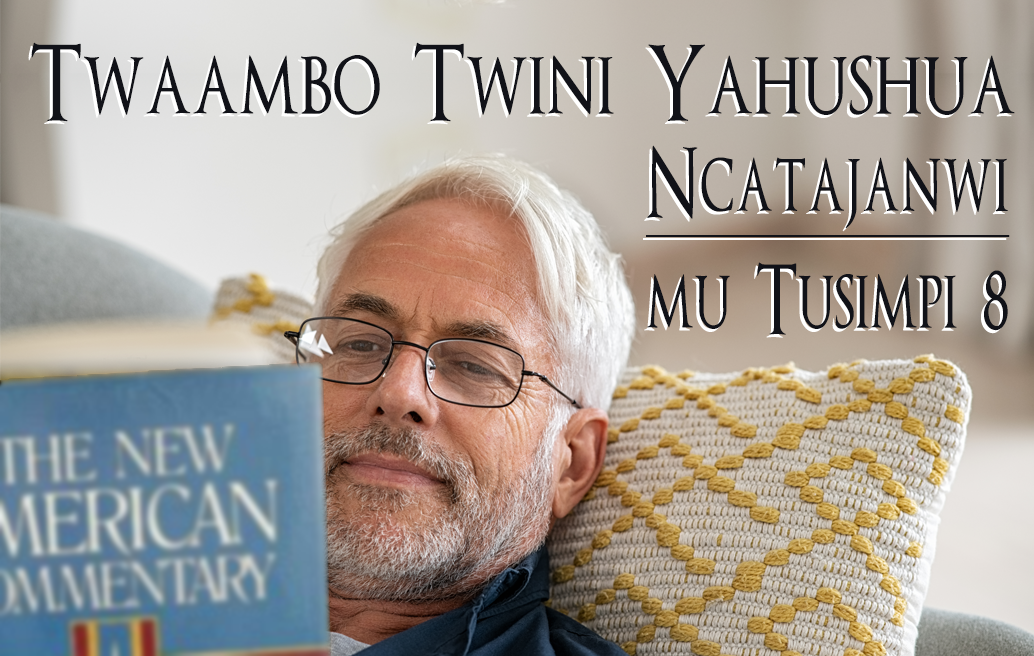 Kwaciindi cilamfu mubuumi bwangu Ime ndakali kupona nketeelede kuti Yahushua wakali kupona kataninga zyalwa akuti Tusimpi caandaano 8:22-31 inga catutondezya makani aaya. Myaka iili lusele yainda, Ime ndakaletelwa makani aakanditondezya kuti kampango ka Tusimpi 8:22-31 inga kateelelwa munzila yiindene, ooko nkokuti "busongo" bwaambwa waawa takuli kulendekezya muya wamuntu wakali kupona kataninga zyalwa (mpoonya wakazyalwa aakale kali Yahushua) ooyo wakabeleka aanga mulengi nokuba mugwasyi wa malengelo uupandululwa mu Matalikilo 1; pele kunze lyaboobo "Busongo" bwakalendekezyegwa biyo ciimo cabaanga ngu nakalindu. Aboobo Ime nsyeekacili kukonzya kubelesya kampango aaka kuti mbobumboni bumwi butondezya Yahushua wakali kupona katana zyedwe. Kuzwa aciindi aawo Ime ndakabbukizya kuti kuli tubungabunga tusyoonto-syoonto twa Banakristu baanzeene lusyomo mumakani aazisyomwa muziiyo zya Bbaibbele, pele toonse tuteelela kuti "Busongo" bwaamba aanga muntu mu Tusimpi 8:22-31 alimwi akuti eeco tiicakeelede kujatikizya Yahushua nokuba asyoonto kuti muntu wakali kupona kataninga zyalwa, nokuba kwaamba kuti mumajwi amwi — walo taakalaa buumi kataninga zyalwa.
Pele hena tacili camasimpe kuti 1 Bakolinto 1:24, 30 a Bakolose 2:3 kabatondezya kuti tweelede kusandulula Tusimpi 8:22-31 kuti nkwaambilizya Yahushua uupona kataninga zyalwa ooyo wakali kubeleka mulimo mu malengelo aaku Matalikilo?
Ootu tumpango tubala kuti: "Kristu ne nguzu zya Yahuwah abusongo bwa Yahuwah...Alimwi nkaambo kanguwe inywe muli mukati kakwe Yahushua Messiah, ooyo wakabeda ndiswe busongo buzwa kuli Yahuwah, bululami a kusetekana a kunununwa" (1 Bakolinto 1:24, 30); a Kristu "ooyo muli nguwe musisidwe imbono zya busongo aluzyibo" (Bakolose. 2:3). Eeci cimvwikaanga Paulu ujatanya Yahushua antoomwe a "busongo" bwamu Tusimpi 8, hena teesyi mbubo?
Pele kuli kazeezo kasyoonto kakonzya kutujokolosya kukukosozya boobo makani. Ngooyu mukonzyanyo 1 Bakolinto 1:30 abalo baamba kuti Yahushua uba "bululami akusetekana." Aboobo hena tulangila kugozyela makani aawo lyoonse kufumbwa notubona majwi aaya mu Mangwalo kaabandika Yahushua? Nee nokuba asyoonto pe! Nkako acalo ceelede kuba masimpe kujatikizya bbala lya busongo. Pe tatweelede kwiimina waawo mizeezo, kuti kufumbwa twabona bbala lya "busongo" mu Mangwalo, nkokuti lyaambilizya Yahushua.
Kuyungizya waawo, malembe aakonzyanya mulumbe aa Luuka 11:49/Mateyo 23:34 atondezya kuti busongo bwa Yahuwah tabuli muntu nsini wabili pele ngu Yahuwah Lwakwe. Luuka utwaambila kuti "busongo bwa Yahuwah bwakati, 'Ime njoobatumina bashinshimi'" (Luuka 11:49). Nokuba boobo, cimwi ceelelana muli Mateyo cilembedwe kuti, "Nkaambo kaako Ime [Yahuwah] ndamutumina bashinshimi inywe" (Mateyo. 23:34).
Kuyungizya waawo, Ime kaindi kasyoonto ndakaula The New American Commentary, Cibeela 14 lipasununa Tusimpi, alimwi ndakabbukizya twaambo tunjaanji 1 Bakolinto 1:24, 30 ncobateelede kubelesyegwa kupandulula Busongo bwaambwa mu Tusimpi 8:22-31 aanga ngu Yahushua watakaninga zyalwa. Lyaamba kuti:
"Ambweni kaambo kakukazyanya keni kuti Tusimpi 8 ncifwanikiso citondezya Cizuminano Cakale ca Kristu, kali mu 1 Bakolinto 1:24, oomo Paulu mwaita Kristu kuti 'busongo bwa Yahuwah.' Kulomya kuvwuntauzya kampango aaka, nokuba boobo, kuyubununa bupanduluzi bwa Kristu Paulu mbwapede kuti takuli kusendekezya Tusimpi 8 alimwi eeco tacitupi musemo wakwiimina kusandulula Tusimpi munzila eeyi.
"Kutaanguna, makanze ookwa Paulu mu 1 Bakolinto 1:24 takuli kutondeka tumpango twa Cizuminano Cakale kuti tujatikizya Kristu pele nkoololola mulandu wa ciciingano. Mubwini ugeme amulandu ulibonya eelyo walo naambilizya kuti ooyo Yahushua waakankaminwa ngo Mwanaa Yahuwah alimwi ngo Mufutuli wa Nyika. Kuba Giliki oobo mbufubafuba bumaninide. Eelyo walo naamba kuti Kristu ngo busongo bwa Yahuwah, Walo ncaamba ciiminina mulimo wakwe munzila yakuti ooyo Kristu waakankaminwa njenzila yokwa Yahuwah ya lufutuko nokuba kutiufubafuba muzeezo wabuntu kuli ncuunga wayeeyela kujatikizya nzila eeyo. Walo waamba Kristu kuti Nguzu zya Yahuwah mukampango nkeenya naingula bamaJuuda aabo bakali kulangila Messiah kuboola kalaa nguzu zitaambiki.
"Cabili, taceeleli kubweza kaambo ka Paulu akukabamba kuti kabe cakupanduluzya twaambo tuli mu Cizuminano Cakale eeco Paulu ncaatakaguminizya kwaamba nokuceya pe. Mbweenya buyo, muntu mbwateelede kubweza kampango aako kapandulula nguzu zya Yahuwah (mbuli mukonzyanyo, Intembauzyo. 78:4 ff) alimwi akutaminina kuti mbupanduluzi bwa Kristu bwini nkaambo buyo kakuyaamina mu 1 Bakolinto. 1:24. Inga cabaanga muntu umwi wabweza kampango ka 1 Johane 4:8 ("Yahuwah nduyando") mpoonya akwiimina waawo kutaminina kuti kampango ka 1 Bakolinto 13 keelede kubalwa kuti kapandulula Yahuwah" (p. 112).
Nketaninga bala cilembedwe eeci, Ime ndakaibaluka kuti Yahushua takonzyi kujatanyigwa ku kampango ka Tusimpi 8 nkaambo Luuka utwaambila kuti Yahushua "wakakkala kayaa kuyungizya kubaa busongo" (Luuka 1:52). Eeci kunyina nokuba asyoonto nocifwanikisa muntu wakalaa busongo bwa Yahuwah boonse cakuti wakalenga mulengalenga, aboobo eeco citondezya kuti tali nguwe wakali kwaambwa mu Tusimpi 8.
Pele ino mbuti makani aali mutumpango 22-24 twa Tusimpi 8 ooto twaamba "Busongo" kuti bwakatalika kubaa buumi? Ncobeni Yahuwah lyoonse wakalaa busongo bwakwe muli nguwe nkaambo lyoonse bwakaliko anguwe! Mbombubo! Cilisalede kuti Yahuwah lyoonse wakalaa busongo. Aboobo tweelede kuteelela kuti eelyo "Busongo" nobwaamba kuti: "Yahuwah wakalaa ndime Kuzwa kumatalikilo aamulimo wakwe, mutaanzi akataa milimo yakwe yansiku. Misela minjaanji yainda Ime ndakaimikizyigwa, kutaanguna, kaataninga sika matalikilo aanyika. Eelyo nikwaanyina meenda malamfu Ime ndakaletwa antangalala"? Alimwi bbuku lya The New American Commentary lilagwasyilila kuti:
"Camamanino, ooyo mukaintu wiitwa kuti Busongo mu Tusimpi 8 tali ciimo ca Yahuwah muciwa ca muntu pe pele wiiminina ciimo cilengwa Leza. Walo nciwa mbweenya ca bubambe, makanze, nokuba cili coonse eeco Yahuwah ncaakayaka munyika. Walo wakalenga aa Yahuwah aboobo nciimo camulengalenga ngwaakabamba Yahuwah" (p. 113).
Aboobo kulangikaanga oobo busongo bupanduludwe mu Tusimpi 8, makanze ookwa Yahuwah aakulenga a muzeezo, nkokuti "ijwi" lyakwe ndyabelesya kulemba alimwi lyakabambwa aciindi cimwi nsiku lini, nkokuti "kuletwa antangalala." Nokuba boobo, Yahushua taaka "kaletwa antangalala" kusikila naakazyalwa kuli Maliya. Aboobo, cilisalede kuti Yahushua tako ncobeni mucifwanikiso ca Tusimpi 8 citondezya busongo.
Saa nguni wakalenga malengelo aali mubbuku lya Matalikilo kweendelanya bwaamba bbuku lya Tusimpi? Tatweelede akulangaula kulaale pe nkaambo bwiinguzi nkobuli mweenya mu caandaano Tusimpi 8 oomo motujana twaambo tutondezya kuti Yahuwah Lwakwe ngowakali mubumbi wa malengelo aali mubbuku lya Matalikilo. Kweendelanya bulembedwe mu tumpango 26 kusikila 29, wakali: "Eelyo Walo [Yahuwah] naatakaninga bamba nyika...Eelyo Walo naakaanzika majulu... Eelyo Walo naakeenga mubalo atalaa meenda malamfu. Eelyo Walo naakayimikizya majulu atala... Walo wakasimpa musemo wanyika".
Nkuteelelesya mbuulembedwe akumvwisyisya mbuululeme mulaka uubelesyedwe mu Tusimpi, nkokuti kulendekezya aanga muntu waambwa, eelyo buyo muntu nanga wamvwa cabululeme cibalo eeci kuti tacaambilizyi muntu susu pe.
---
Eeci cibalo citali ca-WLC cakalembwa aaba Ray Faircloth.
Twakagwisya mucibalo citaanzi mazina aabakomba mituni ngobayita Taata a Mwana, akubikka mucibaka cangawo mazina mataanzi ngubaapedwe. Kuyungizya waawo twakajokolosya mutumpango ntotulembulude akubikka mazina as Taata a Mwana, mbuli mbwaakalembedwe kutaanguna abalembi bamu Bbaibbele bakayoyelwa moza. Nkamu ya-WLC