2 Balombwana [Constantine + Hillel] ÷ 2 Makanze = 1 Kucenga Kupati


Mumusela wane kuzwa ciindi ca Kristu, kkalenda lyansiku lyakadadulwa akubikka buzuba bwa Mujibelo mucibaka ca Nsabata kwiinda mukupindaula makkalenda. Nsabata yakasimpe ya Mangwalo yakasweeka .


Kumwi kubeja kupati akataa misela yoonse kwakacitigwa mucuulu amyaanda ciloba yamyaka yakainda abalombwana bobile. Muleli waku Loma, Constantine, nguwaacita cintu cibyaabi boobu: walo wakaswaanganya bantu mubulelo bwakwe kwiinda mukusumpula buzuba bwa Nsondo kuti mbobuzuba Mufutuli Yahushua naakabuka kuzwa kubafu, akukasya kubelesya Kkalenda lya Bbaibbele kubalila akujanya buzuba bwa Pasika; eeco wakacicita kwiinda mukubikka mulawo wamfulumende. Eeci cakaletelezya tunjaanji akataa bantu banji. Musololi wa baJuuda Hillel II wakapa bwiinguzi kukupenzyegwa kwakatobela eelyo mulawo ooyo niwakapegwa kwiinda mukupindula kkalenda lya Bbaibbele. Eeci ncecintu cakadadula Nsabata yamasimpe kuzwa abusena mpoyakali kujaninwa akubikka buzuba bwamituni bwa Mujibelo mucibaka ca Nsabata. Eeco cakaletelezya tunjaanji akuvwambukila munsimunsi akulaale. Zintu zyakacitika kuzwa waawo zicicitika kusikila sunu mbuli muna Kristu amuJuuda uuli woonse nakomba akubalila mazuba aakwe kubelesya kkalenda lina Gregory.
MUCITO

Constantine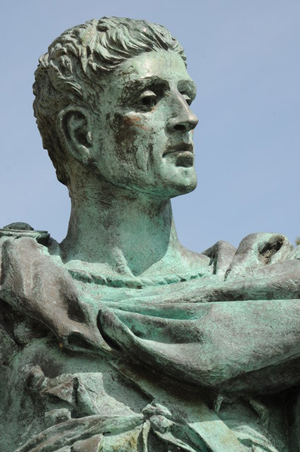 Mumusela wane kwakacitika kucinca kupati mumusela wanyika. Buna Kristu mbubwakatalika kubaa mpuwo mu Bulelo bwa Loma kumwi kukomba mituni kwakacaala kakuceendelezya bupaizi boonse. Cakali ciindi cibotu cakuti muntu omwe abaa nguzu zyakucita cintu ceebeka cilaa mpuwo akataa misela yoonse.
Constantine Mupati (c. 272 – 337 C.E.) wakalizyibidwe kapati kuti ngo Muleli "Muna Kristu mutaanzi" wabulelo bwa Loma. Mubwini, walo wakali mutaanzi alimwi kuleka buyo boobo, wakali simituni. Walo wakalizumizya kubbapatizyigwa kaindi kasyoonto buyo munsaa kufwa kwakwe pele wakazumanana akuya kumbele kulela acuuno ca Pontifexi Maximasi,nkokuti Muleli Mupati kusikila naakafwa.[1] Abalo bakatolika balazumina kuti Constantine wakakkalilila acuuno cabu pontifexi maximasi naa Muleli Mupati naakamanizya "kusanduka"[2]
Constantine wakali muntu mucenjezu mumakani aamapolitikisi akulondola bweende bwazintu. Walo wakali kuyandisya kuswaanganya nkamu zilwana mubulelo bwakwe; nkamu yabakomba mituni ayabana Kristu. BamaJuuda bakali kabunga kakali kucimwa akataa bantu banji aboobo tiibakalaa mpuwo mpati, mpuwo yabo yakali cingilidwe. Aboobo, kukanza kwa Constantine kwakali kwakuswaanganya bulelo bwakwe kwiinda mukujana mbaakani aawo aswaanganina bakomba mituni abana kristu bakumbo abalo bakali kukomba mituni. Walo wakaganta buzuba bomwe bwakubaswaanganya, buzuba bwa Nsondo bujanwa mukkalenda lyamituni.
Kkalenda litaanzi lina Juliyasi, mbweenya mbuli kkalenda lyabulelo bwa Loma eelyo lyakali kumbelaa ndilyo, lyakalaa mazuba aali lusele. Mabala kutalikila a A kusikila ku H akali kwiiminina buzuba bomwe bomwe bwamvwiki. Aciindi eeco, masi aayimpene, akali kubelesya nzila ziimpene zyakubalila ciindi, alimwi mu Bulelo bwa Loma amwalo, kwakali kwiimpana akataa zyooko zinjaanji mukubelesya kkalenda lina Juliyasi. Ikkalenda lya mituni lilaa mazuba aali ciloba, lyakajuzyigwa mubulelo bwa Loma mumusela mutaanzi wa B.C.E.[3]
Nokuba kuti kwakasika kkalenda lyamituni, kkalenda litaanzi lina Juliyasi lyakazumanana kubelesya mazuba aali lusele kwaciindi cikubwene. Pele mukuya kwaciindi, "mulongo wamazuba aali lusele aayinduluka kuzinguluka" wakaatulwa akkalenda lyamazubaano lilaa mazuba aali ciloba, eelyo lyakataanguna kubelesyegwa mucisi ca Italy muciindi cabulelo buna Juliyasi,[4] kaliindide kkalenda lina Juliyasi eelyo lyakabikkwa amulawo mu 45 BC katanazyalwa Kristu. Inzila yakubalila mazuba kubelesya mabala, ayalo yakatolelezyegwa mukkalenda lipya lyamazuba aali ciloba… Kwaciindi cikubwene mvwiki eeyo anzila yakubalila mazuba kubelesya mabala, zyakazumanana kubelesyegwa antoomwe, pele kusikila buyo ciindi eeco mvwiki niyaazuminwa akubikkwa mumulawo wa Constantine mu AD 321, eeyo nzila yakubalila ciindi, yakalilekede kale kubelesyegwa."[5] Eelyo mvwiki yamituni iila mazuba aali ciloba niyakazyibidwe aba Loma akubelesyegwa muzyooko zyabo, kkalenda lina Juliyasi eelyo lyakali kubelesyegwa kataninga zyalwa Kristu, akubelesyegwa muciindi cabuumi bwakwe, akumbelaa mazuba aabuumi bwa Yahushua, lyakacilaa mazuba aali lusele.
Aaka nkasimpe kakonzya kukwabililwa abumboni bwamisela bujanwa mumayake aansiku: kasamu kalembedwe kkalenda lina Juliyasi kacijanwa amazubaano kakatondezya mvwiki zyilaa mazuba aali lusele amvwiki zyilaa mazuba aali ciloba antoomwe mukkalenda lyomwe.
Mbuli bulelo bwa Loma mbubwakali kuyaa kukwakwamuka kukomena, ayalo mvwiki ilaa mazuba aali lusele yakatalika kuleka kubelesyegwa. . . . Kkalenda lyamituni yazilengwa leza zyamumweenya wakujulu, akkalenda lilaa mazuba aali ciloba lyabana Kristu, aaya makkalenda obile akajuzyigwa mumunzi wa Loma akutalika kubaa mpuwo. Kuli bumboni butondezya kuti mvwiki yaba Loma yamazuba aali lusele, amvwiki yamazuba aali ciloba zyakali kubelesyegwa antoomwe aciindi cimwi kwaciindi cikubwene. Nokuba boobo, kubelesyegwa antoomwe kwamvwiki eezyo tiikwakali kweendelana alimwi tiilyakalampa kusikila eelyo bantu nibaleka kubelesya misyobo yamvwiki zyobile antoomwe. Imwi mvwiki yakeelede kuleka kubelesyegwa akusowelwa limwi kumbali. Mbuli mbotuzyi toonse, eeyo yakali mvwiki yamazuba aali lusele yakamwaigwa akumwailwa limwi kuzwa mumusela wanyika..[6]
Eeci, tiicakali cintu cakacitika mubuzuba bomwe buyo. Mbuli kkalenda lyamituni lilaa mazuba aali ciloba mbulyakali kuyaa kubaa mpuwo, akwalo kubelesya mabala (aa A kusikila ku G) mukubalila mazuba aamvwiki, kwakalazyikwa ambali, mpoonya mazuba aamvwiki akapegwa mazina aabaleza bamituni mbuli mbokucili mazubaano mukkalenda ndyotubelesya.
Tacili cintu cikonzya kudonaikwa kuti kuyambukila kwamaseseke aaku Iran [Pesiya] akwalo kwakalaa mulimo mukutalisya bakomba mituni kubelesya mvwiki iijisi buzuba bwa Nsondo kuti mbuzuba busetekene. Mazina aayo ngotubelesya kuulika mazuba aali cisambomwe aamvwiki, katutakubwene ncotwaayitila boobo, akatalika kubelesyegwa aciindi bupaizi bwa Mithiraizimu nibwakabaa batobeli muzyooko zya Kumbo, alimwi muntu inga taabinda kukosozya makani kwaamba kuti aciindi mpeenya aawo bwakazwidilila akubaa mpuwo bupaizi oobu.[7]
Bumwi bumboni bwamayake aansiku, butondezya bana Kristu kababala mazuba aabo kubelesya makkalenda obile antoomwe; eelyo nobakali kulemba atalaa zyuumbwe, bakali kulemba mazuba aakkalenda lina Juliyasi amazuba aabalilwa kutobezya kkalenda lyamwezi-azuba lyamu Bbaibbele. Cimwi cilembedwe, cakalembwa muli Bwasanu, Vwumbi Pati 5, 269 C.E., caamba kuti: "Munguzu zya Claudius a Paternus, mumwezi wa Nonesi nokuba kuti Vwumbi Pati, mubuzuba bwa Venus, amubuzuba bwa 24th bwamwezi uulibonya, Leuces wakalazyika [ciibalusyo eeci] camwanaakwe musimbi uuyandwa Severa, aku Muya Uusalala Wako. Walo wakafwa [kalaa myaka yakuzyalwa] 55, amyezi kkumi awumwi,[a] mazuba aali kkumi."[8]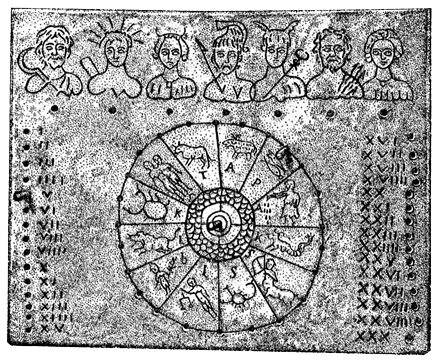 Aaka kasamu ka Kkalenda kakazyila Kumazyiba Aakusambila amubili ookwa Titus, kakabambilwa akataa 79-81 C.E. Katondezya Saturn, ujisi sikela, kaimwi mbuli leza wabuzuba butaanzi bwa mvwiki (Mujibelo). Leza wazuba (Nsondo) nguutobela kumbele lyakwe, awalo katobelwa a leza mukaintu mutuni mwezi (Muvwulo) muli bwatatu bwamvwiki eeyo.

Eeci ncecakatola busena eelyo Constantine naakabweza ntaamu yakuyungizya nguzu zyakwe mumapolitikisi. Walo wakayandisya kabunga kabakomba mituni kwiinda kabunga kabana Kristu. Aboobo, kutaanguna, wakabikka milawo yakali kulemekezya leza mutuni wa Zuba, muBuzuba bwa Zuba, naa kuti bwa Nsondo. Muvwiki ntaanzi yakalaa mazina aabaleza bamituni, Mujibelo bwakali buzuba butaanzi bwamvwiki. Nsondo yakali buzuba bwabili muvwiki kusikila kuli Bwasanu mbobwakali buzuba bwa ciloba.
Izuba, nokuba boobo, lyakali citondezyo cakwe cimugaminina Constantine lwakwe. Walo wakalembya mutwe wakuti Sol Invictus (Zuba Litakonzyi Kukomwa) atalaa mali makkobili akuzumanana kulembya oobo mubuumi bwakwe boonse. Kusumpula Nsondo, cakaba cintu citambulika akataa bantu bakomba mituni alimwi cakali cintu bamwi bana kristu ncibakatalikide kale kuzumina. Kusikila mumusela wabili, bana Kristu banji (kapati aabo bakali kukkala Kumbo), bakatalikide kale kulemekezya Nsondo kuti mbuzuba bwakubuka kwa Mufutuli kuzwa kubafu. Aboobo aawa mpampawo Constantine mpaakajanina busena bwakuti abaswaanganye antoomwe bakomba mituni abana kristu.
Mulawo wa Nsondo ookwa Constantine tuuyelede kupegwa mpuwo kapati. Walo wakasanganya kubamba, akukasya kusampaula Nsondo antangalala, kulesya kuyiita kuti Sabbatum [Nsabata] nokuba kuti buzuba bwa Simalelo [Buzuba bwa Mwami], pele kuyiita muzina litaanzi lyansiku lyamituni lyakuti, buzuba bwa Zuba [Nsondo], mbuli bantu bacisi boonse mbubakazyibide kale, kutegwa awalo mulawo ooyu utobelwe akulemekwa abaabo bakomba Hercules, Apollo, a Mithras, mbweenya abana kristu abalo. Kwakanyina mumulawo wakwe caambilizya mulawo wane nokuba kubuka kuzwa kubafu kwa Kristu.[9]
Constantine wakali kulanganyigwa kuti muna kristu nkaambo "mulawo wakwe wa Nsondo" tiiwakageme cintu comwe buyo. Walo wakalikuyanda kuti oobo buzuba butambulike kuli baabo bakomba mituni antoomwe abana kristu!
Tacili cintu cikatazya kubona, ooyu mulawo mbuwakali kunga watonkela kumbele makanze ookwa Constantine. Wakali kunga wapa bulemu kupobwe lya cikombelo cabana kristu,[10] alimwi wakali kunga wapa bulemu kumituni yabakomba zibumbwa ayalo. Mubwini kunyina cintu mumulawo ooyu catakali kunga calembwa amutnu uukomba mituni. Ooyu mulawo ulemeka mutuni ooyo Constantine ngwaakatalisya kuti ngo leza, Apollo naa Zuba. Alyalo zina lya buzuba bwini lyakali sabaide kuzyibika. Ibbala lyakuti Nsondo (buzuba bwa Zuba), lyakali kubelesyegwa akataa bana kristu abakomba mituni mbweenya buyo.[11]
Mvwiki yamazuba aali ciloba yamituni njiyaagwasyilizya kapati mukupindula kkalenda. Mvwiki iina Juliyasi yamazuba aali lusele amvwiki yamazuba aali ciloba ya Bbaibbele, zyakayaamikwa kumbali, mpoonya mubusena bwazyo kwakabikkwa mvwiki yamituni yabupaizi bwa Mithraizimu. Eeyo mvwiki yakazyila kukukomba mituni, kutali mu Bbaibbele mbuli bana kristu mbobasendekezya. "Cakali ciindi cibotu kuswaanganya mfulumende yacisi acikombelo antoomwe, nkaambo zyakali kuyandana kuba antoomwe. Oobu bwakali busongo bweebeka muli Constantine bwakubona zintu munzila eeyo akuzyeendelezya munzila iili boobo. Walo wakabasomba luumuno bantu bacikombelo, kufumbwa buyo kuti cikombelo kacilanganya mfulumende akutabilila nguzu zyabaleli."[12]
Mulawo wa Nsondo wa Constantine tiiwakamvwanya bakomba mituni abunji bwabana kristu. Nokuba boobo, wakayungizya kuleta antangalala kuzwangana kupati ooko kwakaliko kale kwamyaanda yamyaka: kuzwanganina buzuba kwakusekelela cituuzyo ca Mufutuli. Kusikila ciindi eeci, bunji bwabana kristu, kapati aabo bakali kukkala Kujwe, bakacili kukomba mu Nsabata yabuzuba bwaciloba akubamba mapobwe aaciindi comwe amwaka ookwa Yahuwah, aayo aabalilwa kubelesya kkalenda litobezya zuba amwezi lyamu Bbaibbele. Abalo banjaanji aabo bakazuminide kukomba mu Nsondo, bakacili kubelesya kkalenda lyamu Bbaibbele kubalila buzuba bwa Pasika.
Ooku kwakali kuzwanganina makkalenda obile aayimpene kwakatolede ciindi cikubwene.
Kuzwa kumusela wabili A.D. kwakali kwiimpana akataa mizeezo iijatikizya kusekelela pobwe lya pasika (Isita) lyakupenga kwa Mufutuli (lufu, kuzikkwa akubuka kuzwa kubafu). Ciyanza cansiku lini cilibonyaanga cakali cakubamba pobwe eelyo mubuzuba bwa kkumi abwane (buzuba bwa Pasika), bwakkumi abwasanu, abwakkumi acisambomwe bwa mwezi uulibonya kakwiina kubikkila maanu buzuba bwamvwiki iina [Juliyasi]nolisika pobwe eelyo kuzwa kumwaka omwe kusikila mumwaka uutobela. Bamabbishopo baku Loma, mukuyandisya kusumpula kukomba mu Nsondo kuti libe pobwe, bakakosozya kuti kusekelela ooku kweelede kucitwa lyoonse muli Basanu, Mujibelo amu Nsondo iitobela buzuba bwakkumi abwane bwa mwezi uubonwa ameso. Ku Loma, Bwasanu a Mujibelo, akali mazuba aapobwe lya Isita aakuliimya mpoonya akumanizya kuliimya ooko mukulya mulalilo.Eeci cakaleta kuzwangana ooko kwakatola misela yobile, kusikila Constantine naakanjila akati kuti alesyelele kulwana ooku, kaiminina babbishopo baku Loma akukasya nkamu imwi.[13]
Kamwi kaambo kakaambwa a Eusebius waku Caesarea, kayubununa kuti, zikombelo zyaku Asia zyakatalikide kaindi kusekelela Pasika mubuzuba bwa Abibu 14, kakuli zikombelo zyakumbo zyakasandukila kukukomba Isita wa Nsondo yabakomba mituni:
Mubuzyo wini uuliko aawa ngwakuti, aciindi eeco [mumusela wabili], yoonse minzi ya BaLoma mucooko caku Asia, mbweenya mbuli ziyanza zyansiku, ayalo yakali kutobela kuti buzuba bwakkumi abwane bwamwezi uubonwa ameso, oobo buzuba bamaJuuda nobakalailidwe kutuuzya mwanaambelele,bweelede kubambwa mupobwe lya Pasika wa Mufutuli. Aboobo, tiicakali cintu ciyandika kulesya kuliimya kwabo mubuzuba oobo, kakunyina makani kufumbwa buzuba bwamvwiki iina [Juliyasi]mulyakali kusikila pobwe eelyo. Pele tiicakali ciyanza ca zikombelo munyika yoonse kulesya ciyanza eeco muciindi eeco pe….[14]
Kuzinguluka kakwiina kulekezya kwa mvwiki iina Juliyasi kwakaleta kaambo kakuti Pasika wamu Bbaibbele mubuzuba bwa Abibu 14 tiiwakali kukonzya kusikila mubuzuba buli boonse bwa mvwiki iina Juliyasi. Aboobo, buzuba bwa Abibu 16, buzuba bwakubuka kuzwa kubafu, lyoonse tiibwakali kusikila mu Nsondo pe. Nkabela aabo bakali kutandila kusekelela Isita kubelesya kkalenda lina Juliyasi bakabikka mulawo waambilizya kuti boonse bana kristu beelede kubamba buzuba bwakubuka kuzwa kubafu mu Nsondo ya Isita, kuleka mubuzuba bwa Pasika, Abibu 14. Aboobo, mukulemekezya pobwe lyabakomba mituni, kakusendekezyegwa kuti nkulemekezya kubuka kwa Jeesu, kwakaatulwa Pobwe lyokwa Yahuwah eelyo lisekelelwa lufu lwa Yahushua.
Tubungabunga twaba bbishopo twakapegwa kaambo, alimwi kwiinda mukumvwana antoomwe, akuzuminana, twakabamba akubikka mulawo wabupaizi wakuti, maseseke aakubuka kwa Mwami kweelede kusekelelwa kuleka buzuba bumbi pele mubuzuba bwa Mwami [ bwa Nsondo], alimwi swebo tweelede kubamba pasika akuliimya mubuzuba oobu bulikke.[15]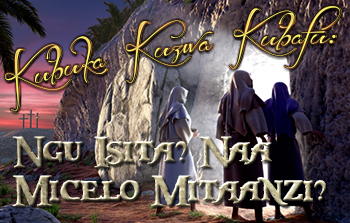 Kubuka Kuzwa Kubafu: Ngu Isita? Naa Micelo Mitaanzi?
Aabo bakacilamatide kkalenda lya Bbaibbele bakatongookela mulawo wababbishopo bakumbo ooyu. Mulugwalo ndubaatumina Victor, Bbishopo waku Loma, Polycrates wakalomya kwaamba lusyomo lwakwe lwakutobela kkalenda lya Bbaibbele mukubamba Pasika. Lugwalo lwakwe lulayandika kubana kristu bamazubaano nkaambo lujatikizya Muyandwa Johani aMwaapositolo Phillip kuti, abalo bakali kubamba Pasika! Eusebius wakalungulula makani kuti:
Pele babbishopo baku Asia, kabasolwedwa aPolycrates, bakasala kuyaamina kuciyanza eeco ncibaatambidwe kaindi kuzwa nsiku. Walo lwakwe, mulugwalo oolo ndwaakalembela Victor acikombelo caku Loma, wakalemba majwi aatobela aaciyanza eeco ncaakatambwide:
Swebo tubamba buzuba bwini; kakwiina kuyungizya, nokuba kugwisyila. Nkaambo munyika ya Asia nkobali abamwi balaa mumuni bakoona mubulongo, aabo bayoobuka mubuzuba bwakuboola kwa Mwami, eelyo nayoosika mubulemu bwakujulu, alimwi akuyandaula basaante boonse. Akataa baabo kuti Philip, umwi wabaapositolo bali kkumi ababili . . . alimwi, a Johane, ooyo wakali kamboni alimwi mwiyi, wakayaamide acamba ca Mwami, alimwi. . . ooyo wakoonena ku Ephesus. Alimwi a Polycarp ku Smyrna, ooyo wakali bbishopo alimwi wakajailwa mulumbe mubotu . . . Boonse aaba bakabamba buzuba bwakkumi abwane bwa pasika kweendelanya aMulumbe Mubotu, kakwiina kuleyaleya, pele kabatobela mulawo walusyomo lwesu.[16]
Kuti basyomi baku Asia nibaakaka kuleka kubelesya kkalenda lya Bbaibbele kubamba buzuba bwa Pasika, ncintu cikonzyeka kuti bakali kukaka kusiya Nsabata yamasimpe iibalilwa kubelesya kkalenda eelyo. Bbishopo waku Loma, "mpeenya aawo wakamwantuka akukosozya lumvwano akataa minzi yaLoma yoonse yakucooko ca Asia, azikombelo zyakali kumvwana aminzi eeyo, kuti nkunyonganya bupaizi; alimwi walo wakalemba magwalo akutandila limwi boonse kuzwa mucikombelo."[17]
Ncintu ciyandika kubikkila maanu kuti kunyina kuzwangana kwaacitika mumakani aakubuka kuzwa kubafu. Boonse bobile bakazuminana kuti oobo buzuba bwakali buzuba bwa Abibu 16, bwakkalenda litobezya mwezi azuba. Kukazyana kwini, mbuli mbokwaambwa atala aawa, kwakali atalaa makani aabuzuba bwakusekelela. Mazuba abalilwa kubelesya makkalenda, aboobo cintu citobela ncakuti, ooku kwakali kuzwanganina kkalenda lyeelede kubelesyegwa mukusekelela mapobwe. Mukumvwanya bana Kristu abakomba mituni, kusekelela kukankaminwa akubuka kuzwa kubafu kwakeelede kusandulwa kuzwa mukkalenda litobezya mwezi azuba lya Bbaibbele, kuya ku kalenda lina Juliyasi litobezya zuba lutuzu. Myaka yone kakubikkidwe milawo iisumpula Nsondo mu 321 C.E., Constantine wakaita Muswaangano waku Nicea mu 325 kuti amanizye kuzwangana ooku.
Kunyina limbi cituuzyo ca Mufutuli nicakacili kunoosekelelwa mubuzuba bwa 14th, 15th abwa 16th bwa Abibu bubalilwa mukkalenda litobezya mwezi azuba. Mumazuba aazya kumbele, zyoonse zintu zyakwiibaluka zyamusyobo ooyo, ziyoosandwidwa ku kkalenda lina Juliyasi, oomo mozinkonzya kusensela ooku akooku akataa mazuba aa Miyoba 20-22 kusikila ku Mukubwe Kaangala 22-25. Bbishopo waku Loma lwakwe awalo, kayandisya nguzu zipati ampuwo zyaku Loma, wakasinikizya makani aaya antoomwe kumwi kabelesya mpuwo ya Constantine. "Kusikila muciindi ca Constantine, kuzangila julu mucikombelo kwakali libambide kale kugwasyilila muleli wamfulumende kuti abelesye nguzu zyakwe kusinikizya bantu boonse kutobela mulawo."[18]
Constantine wakali dadanyene kwaamba kuti kkalenda lya buJuuda tiilyakaceelede kubelesyegwa kubalila mazuba.
Kumuswaangano waku Nice [Nicea], kufumbwa cakali kujatanya Buna Kristu kubazyali babo cakakoswedwa limwi. Ipobwe lya Isita kusikila ciindi eeco, lyakali kusekelelwa aciindi comwe a Pasika waba Juuda, alimwi mazuba akali kubalilwa aba Sanihedulini baku Judæa kubelesya kkalenda lya baJuuda; pele mumazuba aacizya kumbele lyakali kunoomaninide kuyaamuka kkalenda lya baJuuda, "Nkaambo tacili cintu ciluleme kuti eeli pobwe liinda kusetekana akataa mapobwe woonse kalitobela ziyanza zya baJuuda. Aboobo kuzwa ciindi cino, atulekele limwi akubulile lyo nociba cintu comwe cituswaanganya abantu bacima aaba; Mufutuli wesu wakatutondezya nzila iimbi. Inga caba cintu cabufubafuba kuti baJuuda nibali kulidunda kuti swebo tatukonzyi kusekelela Pasika kakwiina kugwasyigwa akkalenda lyabo ndyobabelesya kubalila ciindi." Aaya makani akaambwa a Muleli Constantine . . . [alimwi akaba] malailile aa Cikombelo eeco lino cakeelede kusala kwakugamika baJuuda.[19]
Constantine wakamanizya kubamba zintu zyotatwe, eezyo zyakapilinganya zintu kusikila buzuba obuno;
1. Wakabikka mvwiki yamituni ilaa mazuba aali ciloba akubamba buzuba bwa Zuba (Nsondo) kuti bube buzuba butaanzi mumvwiki, akubikka buzuba bwa Saturni (Mujibelo) kuti bube buzuba bucaalizya mumvwiki.
2. Wakasumpula pobwe lya Isita akulibikka munzila yakuti Pasika wamasimpe a Isita wabakomba mituni, nolilampa buti zitani kusikili mubuzuba bomwe antoomwe.
3. Wakasumpula buzuba bwa Zuba kuti bube buzuba bwakukomba mituni akubana Kristu.
Cintu cakatobela waawo ncakuti "Nsondo ya Isita" yakanjila mu buna Kristu kayiitwa kuti mbuzuba bwakubuka kwa Kristu. Ooku kupindula kubalila ciindi kwakacitika munzila yakuti buzuba oobo bwakali kusolweda Nsondo ya Isita mbobwakabikkwa kuti bube Nsabata yamu Bbaibbele kukabe kutamani. Eeci ncecintu cini cilaanguzu "mumulawo wa Nsondo" ookwa Constantine" alimwi cakabikka muzeezo uuciliko mazubaano wakuti imvwiki zyakali kuzinguluka kakwiina kuyozya kuzwa kumatalikilo.[20]
Cintu cakatobela micito ya Constantine, cakagwasyilizya kabunga kabakomba mituni mubulelo bwakwe. Nokuba boobo, babbishopo basofweede baku Loma bakasoleka kutondezya bana kristu kuti abalo balagwasyigwa mumilawo eeyo. "Kusikila muciindi ca Constantine, buzangi bwacikombelo bwakasikide kale ambaakani yakugwasyilila muleli wamfulumende kuti asinikizye bantu boonse kutobela milawo yakwe."[21] Ikkalenda litobezya mwezi azuba lyakasimpe, eelyo lyakabambwa kuzwa Kumalengelo akupegwa kusikila kuli Mozesi, lino lyakamwaigwa akusweeka.
Cintu Cakatobela
Cintu cakatobela waawo ncakuti Constantine wakazwidilila mubumpelenge akuswaanganya bupaizi bwamisyobo yoonse. Boonse aabo baakaka kuleka kubelesya kkalenda lya Bbaibbele kubalila Pasika, bakatundululwa kapati akupenzyegwa. Mwanaa Constantine musankwa, Constantius, wakabweza ntaamu kwiinda wisi akubikka mulawo uulesya kubelesya kkalenda lya Bbaibbele akataa baJuuda abalo. Mulembi wamakani aamisela David Sidersky wakaamba kuti: "Tiicakacili kukonzyeka mubulelo bwa Constance kuzumanana kubelesya kkalenda lyansiku pe."[22]
Mumyaka yakatobela, baJuuda bakanjila "mumulilo abuumi buyumu nta mbuli cibulo." Baleli bana Kristu baakasya baJuuda kubamba kkalenda, alimwi tiibakazumizya kwaambilizya mazuba aamapobwe. Graetz waamba kuti, "Mikowa ya baJuuda yakacaala mukudonaika kutaambiki mumakani aabupaizi aayandika kapati: makani aajatikizya mapobwe aabo." Cakatobela ncakuti kubamba makkalenda akubalila ciindi kubelesya kkalenda lyaba Hebulayo kwakatalika kucitwa a Hillel II lwakwe.[23]
Mucito wa Constantius wakanyonganya bana kristu abaapositolo abalo. Eelyo Tertullian[24] natuyubunwida kuti bana Kristu bakali kukomba mituni nibakali kupindula kukomba kwabo kuti kubede "mubuzuba bwa Zuba" kuzwa mumusela wabili, bamwi bakacili kuzumanana kutobela Nsabata yakasimpe kwacuulu camyaka. Kakwiindide myaka iili makumi one kuzwa ciindi ca Muswaangano waku Nicea, a Muswaangano waku Laodicea (c. 363-364) wakabikka kaambo kasinikizya bana Kristu kubeleka mu Nsabata akuleka kubeleka mubuzuba bwa Mwami. Ooyu mulazyo, wakasandululwa kuya mu Cikuwa, mboobu mbowaamba ansi aawa:
Bana Kristu tabeelede kucita zya buJuuda nokuba kukkala abutolo Mujibelo pe, pele beelede kubeleka mubuzuba oobo; pele buzuba bwa Mwami beelede kubulemekezya, alimwi, kuti kacikonzyeka, akuleka kucita milimo mubuzuba oobo. Nokuba boobo, kuti bajanwa kabacita ziyanza zya buJuuda, beelede kujaliwa nzila yakusikila kuli Kristu.
Kweendelanya a bbishopo muna Katolika waku Loma a sicikolo, Karl Josef von Hefele (1809-1893), kubelesya bbala lyakuti "Mujibelo" atala aawa, ncintu citaluleme. Mumalembe mataanzi, ibbala lyakabelesyedwe lyakali lyaNsabata naa Sabbato kutali buzuba bwa Saturni naa Mujibelo.
Nceeci cilembedwe mumulaka waci Latini ansi aawa:
Quod non oportet Christianos Judaizere et otiare in Sabbato, sed operari in eodem die. Preferentes autem in veneratione Dominicum diem si vacre voluerint, ut Christiani hoc faciat; quod si reperti fuerint Judaizere Anathema sint a Christo.
Bana Kristu aciindi cakupindula kkalenda, tiibakazingidwe mumaanu kuti Mujibelo inga yaba nje Nsabata pe. Boonse bakalizyi kuti buzuba bwa Saturni bwakaatulwa kuzwa kubuzuba butaanzi mumvwiki yakkalenda lyabakomba mituni, kuti bube buzuba bucaalizya mumvwiki eeyo . . . kakuli Nsabata yakali buzuba bwa ciloba bwa kkalenda lya baJuuda litobezya mwezi azuba, eeyo muleli uuli woonse ndyaatakali kuyanda kulanganya. Alimwi, aaya mazuba obile aayimpene akali mumakkalenda obile aayimpene ncobeni.[25]
Nguzu zyamapolitikisi zyabulelo bwa Loma, azyalo zyakagwasyilizya milawo yabupaizi yokwa Constantine a Constantius. Bamwi basicikolo nobeezyeezya kuti kuzwangana kwakali amakani aa Mujibelo a Nsondo, pele makani eeni aamisela ayubununa kuti bantu baciindi eeco bakalizyi kabotu kuti kwakali kkalenda lyamu Bbaibbele litobezya mwezi uubonwa ameso antoomwe azuba, alimwi bakalizyi ambolibelesyegwa kkalenda eelyo. Basyomi banjaanji bakujwe abaabo bakali kulaale abulelo bwa Loma tiibakayandide kuleka kubamba ciindi munzila ya Bbaibbele. "Aabo bana Kristu bakali kuyandisya kuleka mapenzi aakubamba Nsabata, bakatalika kubamba buzuba butaanzi bwamvwiki [iina Juliyasi]. Pele bamwi bakali kukkala kulaale a Bulelo, ooko kwanyina uutayandi baJuuda, bakazumanana kulemekezya buzuba bwaciloba bwa Nsabata."[26]
CINTU CAKATOBELA

Hillel II
Mbweenya mbuli Constantine mbwaakali nguwe wakalaa nguzu zyakubika milawo eeyo yakanyonyoona kkalenda lya Bbaibbele akataa bana kristu, aumwi mwaalumi, muJuuda, wakali kumbele kuletelezya cintu cakatobela waawo.
"Kwaambilizya mwezi mupya kwiinda mukulangilizya mwezi mupya nuulibonya, amwaka mupya kwiinda mukusika kwaciindi camalubaluba, inga cakonzya buyo kucitwa aba Sanihedulini. Muciindi ca Hillel II, Musololi mupati waba Sanihedulini, ba Loma bakakasya ciyanza eeci. Aboobo, Hillel II wakasinikizyigwa kuti apindaule kkalenda lyakaliko kale, eeco cakaletelezya kuzumizya makkenda aaba Sanihedulini mumyaka iicizya kumbelaa mazuba."

"Kkalenda lyaba Juuda aMazuba aaKulyookezya (kusanganya Nsabata): Kkalenda lyaba Juuda: Kupindula Kkalenda," http://www.torah.org

Kakutaninga sika kumwaigwa kwamunzi wa Jelusalema, Mupaizi Mupati nguwakali kubamba kkalenda. "Eelyo ba Sanihedulini (Bakapaso ba Nkuta Mpati) nibakali kulelela mu Jelusalema, kwakanyina kkalenda lyakaliko ciindi coonse pe. Bakali kubalila buyo kuti babone naa ooyo mwaka wakeelede kuba mwaka wakusotoka mazuba."[27] Ooyu mulimo wakacaalila mumaanza aa Musololi waba Sanihedulini eelyo mulimo wabupaizi niwaamwaigwa. "Mubulelo bwa Constantius (337-362) kupenzyegwa kwa baJuuda kwakasikila ambaakani yakuti . . . kubamba kkalenda kwakalesyegwa kuti."[28] Nkaambo kamicito ya Hillel II, Musololi waba Sanihedulini, wakabweza ntaamu mpati mu 359 C.E. yakupindulula kkalenda lya Bbaibbele lyansiku kutegwa baJuuda bakonzye kweendelana akukkala antoomwe abana Kristu.
Naakainda Hillel II
Mikowa yakali kulaale tiiyakacili kunoolindila batwanga batumwa bazwa ku Musololi waba Sanihedulini kuti abeetele mulumbe wakutalika mwezi mupya. Mukowa uuli woonse lino wakali kukonzya kulijanina aakutalikila mwaka mupya alimwi aleelyo mwezi wakkumi awatatu niwakeelede kubalilizyigwa.
Kkalenda "litapindaulwi"
Eelyo Hillel II "naakasimpa" kkalenda, wakasanganyizyila limwi amyaka yakusotoka mukkalenda eelyo.[29]Ncintu cikonzyekakucita eeco, pele citakonzyeki kutondezya, eeyi myaka iisotoka mazuba mbuyakali kubelesyegwa kacitaninga sika ciindi ca Hillel mbuli mbwiitobela mulongo wamyaka iizingulukana iili 19. Hillel wakasimpa kkalenda lyakwe "mukubalila myeelwe akubalila misinzo yeenda zilengwa leza mumweenya. Eeli kkalenda, licibelesyegwa mazubaano, lyakalulamika bulamfu bwamyezi akusanganya myezi mumulongo wamyaka iili 19, kutegwa ciindi citola mwezi kweenda ceelane aciindi citola kweenda zuba mumwaka omwe omwe."[30] Walo wakaambilizya mwezi wakkumi awatatu kuti kuusanganyigwa mumyaka iili mumulongo eeyi, watatu, wacisambomwe, walusele, wakkumi aumwi, wakkumi awane, wakkumi aciloba, awakkumi afuka.
Pele Hillel wakaindilizya kwiinda kuzyibya buyo bwakusekkelela myaka mumulongo wamyaka iili 19. Walo wakalonzya kubamba Nsabata yansiku kuzwa mubuzuba bwamwezi bwa lusele, bwakkumi abwasanu, bwamakumi obile abwabili, abwa makumi obile afuka mwamwezi uubonwa ameso, akwaapindwida kubuzuba bwa Mujibelo bwa myezi iina Juliyasi. Ooku kupindula mazuba kwakaletelezya a milazyo yakusotoosya mazuba: Kupindula buzuba bwa Nsabata yamvwiki amvwiki kuzwa mukkalenda lyansiku litobezya mwezi azuba, kuya Mujibelo, ncintu cakali kuyandika kucita antoomwe amilazyo yakusotoosya mazuba eeyo yakali kubelesyegwa Hillel kataninga "ganta" kkalenda litacincauki, alimwi eeco tiicakali cintu cakali kuyandika kucitwa. Mubbuku lipandulula mabala lya Universal Jewish Encyclopedia, "Mwezi ucili, alimwi Nsabata ayalo kumatalikilo yakayeeme atalaa bweende bwamwezi uubonwa ameso."[31] Eelyo Nsabata amapobwe aaciindi comwe amwaka naabalilwa kubelesya kkalenda litobezya mwezi azuba, milazyo yakusotoosya mazuba tiiyandiki kubelesya pe. Ndileelyo buyo mapobwe aaciindi comwe amwaka naabalilwa kubelesya kkalenda lyomwe, a Nsabata yamvwiki amvwiki niibalilwa kubelesya kkalenda limbi, nokujanika kwiimpana ooko kuyandika koololwa akubelesya milazyo yakusotoosya mazuba.
Milazyo ya Kusotoosya Mazuba

1. Mwaka wa baJuuda, Mapobwe aa Myeembo, taayelede kusikila mu Nsondo, muli Bwabili nokuba muli Bwasanu.
2. Kuti Buzuba butaanzi bwa Mwezi Mupya mumwezi waciloba kabusikila mu Nsondo, muli Bwatatu nokuba mu Nsondo, buzuba bwa Mwezi Mupya inga bwatonkelwa kuya kumbele kuya kubuzuba butobela.
3. Kuti buzuba bwa Mwezi Mupya bwa mwezi waciloba, mumwaka uutasotosyi mazuba, bwasikila muli Bwabili aciindi ca 3:204/1080 A.M. nokuba kumbele lyawaawo, Buzuba bwa Mwezi Mupya inga bwatonkelwa kumbele kuli Bwane.
4. Mumwaka uutasotosyi mazuba uutobela mwaka uuyungizya mwezi omwe, kuti buzuba bwa mwezi mupya mumwezi waciloba bwasika kumbelaa aciindi ca 9 a.m. akutalika mafumofumo 589/1080 muli bwa Muvwulo, Buzuba bwa Mwezi Mupya inga watonkelwa kuli Bwabili butobela.
Kakwiina milazyo yakusotosya mazuba, mapobwe aaciindi comwe amwaka alasinkilana a Mujibelo. Ngooyu mukonzyanyo, kuti Pobwe lya Myeembo (Buzuba bwa Mwezi Mupya mu mwezi waciloba) bwasika mu Nsondo, buzuba bucaalizya bwa Pobwe lya Mavwuka inga bwaakusika Mujibelo, akusinkilana kubamba buzuba bucaalizya bwa pobwe. Aboobo mulazyo mutaanzi awabili wakusotosya mazuba ulayandika. Mulazyo watatu ulomya kubona kuti ooyo mwaka utalampi kwiinda mazuba aali 355. Mulazyo wane wakusotosya mazuba ulomya kubamba kuti mwaka uusotoka buzuba uutobela, utafwiimpi kusika amazuba aali 383.[32]
Eeli kkalenda "lisimbidwe" lilaa milazyo minjaanji kapati.
Kwakali misyobo iili kkumi ayone yamakkalenda aaci Hebulayo iikonzya kubelesyegwa kubalila myaka, kayiimpene mubulamfu abuzuba bwa mvwiki eelyo nobusika buzuba bwa Rosh Hashanah. Nkaambo milazyo yakkalenda ilipilingene kapati, inga kwalibonya kwiinduluka myezi imwi mukaindi kasyoonto mpoonya yaleka kulibonya kwamisela minjaanji. Pele kkalenda lya baJuuda lyakali zyibidwe kuti lyakali luleme kapati. "Talisweekelwi" nokuba "kubungilila" ciindi mbuli mbwaacita makkalenda amwi.[33]
Eeci cakali cintu ncaakacita Hillel II kutegwa akkalilile. Wakali kuyanda buyo kujana nzila yakulesya kupenzya baJuuda ooko nkwaakali kucita mwana wa Constantine, Constantius.
Kubelesya janza lyakwe mwini ooyu Wisi wabupaizi, wakajaya cizuminano cicaalizya eeco cakaswaanganyide mikowa yakatanteene mubulelo bwa Loma abwa Pesiya. Walo wakali kuyandisya kuzumananya buJuuda kuleka kubamba lunyungu lwakwe pe, aboobo wakasiya milimo eeyo kiitacitidwe, eeco ncecintu cimwi bantu balunyungu lwakwe ncibaanyonokela. Ba Sanihedulini bakakkomanina mulimo wakwe.[34]
Eelyo Hillel II "naakaganta" kkalenda, walo kali mubusena bwakwe bwakuba Musololi waba Sanihedulini, wakazumizya baJuuda kukomba Mujibelo kwamazuba woonse aakali kutobela kuzwa waawo.
Cintu Cakatobela
Mazubaano, myaka iili myaanda ciloba kuzwa ciindi eeco, micito ya Constantine akubambulula kwa Hillel II, nzyezintu ziciingaizya zyuulunzuma zyabantu atalaa nyika.
• Bakatolika bakomba mu Nsondo kulemekezya kubuka kuzwa kubafu. Eeci ncintu ceendelana amucito wa Constantine ooyo wakapindula kubamba buzuba bwa Pasika bubalilwa akkalenda lya Bbaibbele kuya kubuzuba bwa kukomba mituni, bubalilwa akkalenda lyamituni bwa Isita.
• BamaJuuda bakomba Mujibelo nkaambo mulawo wa Talmudi ulazumizya kubamba buzuba bomwe muli aali ciloba kuti muntu katazyi eelyo lini Nsabata yamasimpe niisika.
• Basikutongooka banji balisangene a Bakatolika mukukomba mu Nsondo, buzuba butaanzi bwamazubaano, bwa mvwiki iina Gregory, kabayeeya kuti mbobuzuba bwakubuka kwa Kristu kuzwa kubafu.
• Basikutongooka, babamba nsabata Mujibelo nkaambo mbobuzuba bwaciloba bwamvwiki yamazubaano alimwi basendekezya kuti nkaambo baJuuda bamazubaano bakomba Mujibelo, nkokuti Mujibelo mweelede kuba nje Nsabata yamu Bbaibbele.
• Bamozilemu, abalo mbweenya buyo, balemeka nzila iina Gregory yakubamba kkalenda eelyo nobaunka kuyookomba eelyo zuba lyasika acilungulungu muli Bwasanu.
Tacili cintu cikonzyeka kujana Nsabata yamasimpe kubelesya kkalenda lina Gregory lyamazubaano. Eeli kkalenda litobezya zuba luzutu, njeyakali nzila yakukomba mituni yansiku. Ikkalenda lina Juliyasi litaanzi , lyakabambidwe abantu bakomba mituni,
akubambilwa
bakomba mituni. Lyakatambulwa mumulawo wamfulumende kuti kalibelesyegwa mubupaizi ku Muswaangano waku Nicea. Lyakabambululwa aakale asyaazyibwene wanyenyezi waba Jesuiti, Christopher Clavius, kumatalikilo aabulelo bwa Poopo Gregory XIII – aboobo zina lya, kkalenda lina Gregory mpulyakazyila aawo. Clavius awalo wakayumya kwaamba kuti kkalenda lina Juliyasi (ooko kwakazyila kkalenda lina Gregory), lyakabambilwa atalaa bukombi bwa mituni alimwi kunyina mpoliswaangene akkalenda lyamu Bbaibbele pe.
Mubusanduluzi bwakwe bwa kkalenda lina Gregory, Clavius wakazumina kuti eelyo kkalenda lina Gregory nilyakatambulwa kuba kkalenda lyabupaizi lya Cikombelo, kkalenda lya Bbaibbele lyakasulaikwa: "Cikombelo ca Katolika kunyina pe nicakabelesyede cilengwa cabuJuuda eeco mukusekelela Pasika, pele lyoonse mukusekelela kwaco cilangilizya bweende bwa mwezi [35] a zuba, aboobo cakalelekwa abasololi bwasetekene kapati bansiku baku Loma, pele akulomya kubikkwa mumulawo mu Muswaangano waku Nicaea."[36] Aabo "bapaizi bansiku basetekene kapati baku Loma" baambwa waawa, nimbunga yabapaizi eeyo Constantine, naakali Mupaizi Mupati, ngowakali silutwe wanjiyo.
Constantine wakali kuyandisya lukamantano. Walo wakazwidilila mumakanze aakuleta lukamantano kwiinda mukubikka mulawo uulesya kubelesya kkalenda lya Bbaibbele lyakwiibalusya lufu lwa Yahushua. Hillel II wakali kuyandisya kuvwuna buJuuda. Walo wakazwidilila mumakanze aakwe aakukamantana abaabo bakomba mituni kwiinda mukupindaula kkalenda lya Bbaibbele. Cintu cakatobela ncakuti bantu banji bakatalika kweezyeezya kuti Mujibelo nje Nsabata yamu Bbaibbele akuti Nsondo mbobuzuba oobo Mufutuli naakabuka kuzwa kubafu. Aboobo, bana Kristu abaJuuda, babalila mazuba aabo aakukomba kubelesya kkalenda lyabakomba mituni, akusiila kumbali Nsabata yamasimpe yokwa Yahuwah.
Kunyina muntu uuyandisya ncobeni kukomba Mulengi mu Nsabata iisetekene Yakwe, ooyo uunga wabalila mazuba aakukomba kubelesya cisesemyo citeeli eeci cisampaula Mwami Yahuwah akunyonyoona muya wamuntu. Lilikke kkalenda litobezya mwezi azuba lya Kumalengelo, ndelikonzya kuganta buzuba bwini eelyo Nsabata yamasimpe niisika. Kolazyiba ansi ziyanza azilengwa zyabantu buno buzuba. Kotambula jwi lyokwa Yahuwah akukomba Nguwe kutobezya nzila Yakwe njaakabikka, nzila iibelesya yamwezi azuba antoomwe kupima ciindi, akujana mazuba woonse ngayelede kukombwa.
---
[1] Ooyo mutwe wacuuno, wiitwa kuti poopo, uzyila kumunzi wa Loma wansiku. Musololi Mupati wakali mupaizi mupati wa Mbungano ya Bapaizi bakomba mituni baku Loma. Cakali cuuno cabupaizi amfulumende antoomwe.
[2] New Catholic Encyclopedia, Vol. 4, pp. 179-181. Zintu zilembedwe zinjaanji zilajanwa mubbuku lya Corpus Inseriptionum Latinarum, 1863 ed., Vol. 2, p. 58, #481; "Constantine I", New Standard Encyclopedia, Vol. 5. Kolanga amubbuku lya Christopher B. Coleman, Constantine the Great and Christianity, p. 46.
[3] Langa mubbuku lya Robert L. Odom, Sunday in Roman Paganism, "Mvwiki ya Zilengwa Leza mu Musela Mutaanzi B.C."
[4] P. Brind'Amour, Le Calendrier romain: Recherches chronologiques, 256–275.
[5] https://en.wikipedia.org/wiki/Roman_calendar#Nundinal_cycle
[6] Eviatar Zerubavel, The Seven-day Circle, p. 46.
[7] Franz Cumont, Textes et Monumnets Figures Relatifs aux Mysteres de Mithra, Vol. I, p. 112, emphasis supplied.
[8] E. Diehl, Inscriptiones Latinae Christianae Veteres, Vol. 2, p. 193, No. 3391. Kolanga abbuku lya J. B. de Rossi, Inscriptiones Christianac Urbis Romae, Vol. 1, part 1, p. 18, No. 11.
J. B. de Rossi,
[9] Philip Schaff, History of the Christian Church, Vol. III, p. 380.
[10] Kusikila ciindi eeci, bana kristu aabo bakatalikide kukomba mituni kucooko cakumbo bakali kulemekezya buzuba bwa Nsondo kuti mbobuzuba bwa kubuka kuzwa kubafu kwa Yahushua.
[11] J. Westbury-Jones, Roman and Christian Imperialism, p. 210.
[12] Michael I. Rostovtzeff, The Social and Economic History of the Roman Empire, p. 456.
[13] Odom, op. cit.,p. 188.
[14] Eusebius, Church History, Book V, Chapter 23, v. 1.
[15] Ibid., v. 2.
[16] Ibid., Chapter 24, v. 1-4, 6.
[17] Ibid., v. 9.
[18] Michael I. Rostovtzeff, The Social and Economic History of the Roman Empire, p. 456.
[19] Heinrich Graetz, History of the Jews, (Philadelphia: The Jewish Publication Society of America, 1893), Vol. II, pp. 563-564.
[20] eLaine Vornholt & Laura Lee Vornholt-Jones, Calendar Fraud, "Biblical Calendar Outlawed,".
[21] Rostovtzeff, op. cit., p. 456.
[22] David Sidersky, Astronomical Origin of Jewish Chronology, p. 651.
[23] Grace Amadon, "Makani aakalembwa ambunga Yabuvwuntausi aa Misela, Kuvwelanya, aBumboni bwa kwiimina mubuzuba bwa Kavwumbi Kaniini 22, 1844,", Part V, Sec. B, pp. 17-18, Box 7, Folder 1, Grace Amadon Collection, (Collection 154), Center for Adventist Research, Andrews University, Berrien Springs, Michigan.
[24] Tertullian,Apologia, chap. 16, in J. P. Migne, Patrologiæ Latinæ, Vol. 1, cols. 369-372; busanduluzi bwa Cikuwa mubbuku lya Ante-Nicene Fathers, Vol. 3, p. 31.
[25] Vornholt, op. cit., "Changing the Calendar: Papal Sign of Authority."
[26] Leslie Hardinge, Ph.D., The Celtic Church in Britain, p. 76. Bana kristu baku Scotland bakazumanana kubalila buzuba bwa Pasika kubelesya kkalenda lya Bbaibbele kusikila nibaalelwa amwami mukaintu wa Bukatolika bwaku Loma mumusela wakkumi aumwi.
[27] http://www.chabad.org/library/article_cdo/aid/526875/jewish/The-Jewish-Year.htm
[28] Cakalembululwa kuzwa mubbuku lya The Jewish Encyclopedia, "Calendar, History of," http://jewishencyclopedia.com/articles/3920-calendar-history-of.
[29] Busanduluzi bwakubalila kubelesya kkalenda lyabamayi bamilawo lyokwa Hillel II, langa cilembedwe, aawa http://www.jewfaq.org/calendr2.htm.
[30] Judaism 101, "Jewish Calendar," www.jewfaq.org
[31] Universal Jewish Encyclopedia, "Holidays," p. 410.
[32] http://www.ironsharpeningiron.com/postponements2.htm
[33] http://www.chabad.org/library/article_cdo/aid/526875/jewish/The-Jewish-Year.htm
[34] Graetz, op. cit., Vol. II, p. 573.
[35] "Isita ndipobwe likonzya kuselela ooku akooku; eeco caambilizya kuti talisiki mubuzuba mbweenya bwamwaka amwaka. Pele ino kayi Isita wakali kubalilwa buti? Muswaangano waku Nicaea (A.D. 325) wakabikka buzuba bwa Isita kuti bube mu Nsondo iitobela mwezi uuzwide kumweka ooyo uutobezya Pasika, ooyo wakali mwezi uuzwide kumweka uusikila muciindi camalubaluba.(http://catholicism.about.com/od/holydaysandholidays/f/Calculate_Date.htm)
[36] Christopher Clavius, Romani Calendarii A Gregorio XIII P.M. Restituti Explicato, p. 54.