Bible obsahuje zaslíbení, které je nejmocnější ze všech kdy daných.
Smutné je, že téměř nikdo o něm neví, přestože ho máme před nosem.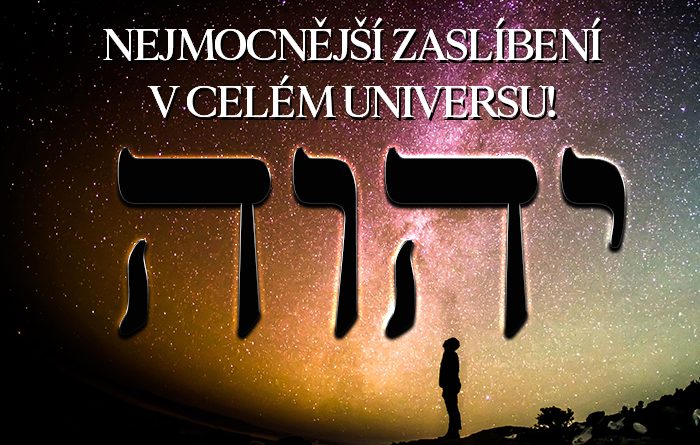 Mám tajemství, o které se chci s tebou podělit. Vlastně to ani není tajemství. Je to informace pro každého, kdo je ochoten ji hledat. Toto poznání však bylo skryto a ztraceno. Tímto tajemstvím je: Boží jméno obsahuje nejmocnější zaslíbení v universu.
Satan ukryl toto zaslíbení, pohřbil ho pod obecnými názvy "pán" a "bůh" - pod tituly, které se používají taktéž na pohanská božstva.
Yahuwah si přeje, aby zaslíbení obsažené v Jeho jménu bylo známo a používáno. To je důvod, proč Písmo opakovaně vyzývá věřící, aby "Vzývali jméno Yahuwaha" (1 Paralipomenon 16,8), a všem, kdo tak činí, je slíbená odpověď (Žalm 50,15). Je to proto, že je v tom moc! Zaslíbení! Zaslíbení určené pro každou potřebu, která může kdy vyvstat.
Neobvyklé jméno
Stvořitel je původní zdroj veškerého života. Jeho neobvyklé jméno dokonale popisuje Jeho status jako Ten všemohoucí, sebeexistující. Jeho jménem je sloveso být. Tvary slovesa být jsou: jsem, jsi, jsou, buď, být, jsoucí, byl. Všechna jsou dokonale aplikovatelná na Něj, který je, byl a navždy bude.
Když byl Mojžíš u hořícího keře a zeptal se, co má říct na otázku, kdo ho poslal, odpovědí bylo v českém překladu: "JSEM KTERÝ JSEM". A pokračoval: "Řekni Izraelcům toto: JSEM posílá mě k vám." (Exodus 3,14)
Doslovný překlad je však prostý: buď. "Buď! Buď! Řekni, že Buď mne posílá k vám."
Slovo Buď je v hebrejštině hayah.
Moc ve jménu!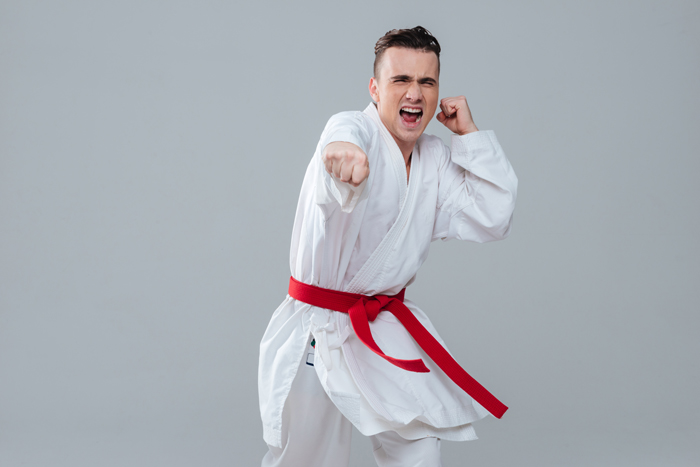 V tomto božím jménu je moc. Starodávný vojenský pokřik v Koreji byl "Hayah!" Dokonce i dnes lidé, kteří studují bojová umění, se učí, že pokřik "hiyah" zvýší fyzickou sílu jejich kopů a úderů.
Yahuwahovi proroci chápali moc božího jména stejně dobře. V Genesis 12,2 řekl Yahuwah Abramovi: "Učiním tě velkým národem, požehnám tě, velké učiním tvé jméno. Staň se požehnáním!"
Abram byl už požehnán, takže [Yahuwahovo] prohlášení mu udělilo budoucí požehnání. Použití slova hayah v takových textech prohlašuje aktuální uvolnění moci, tak aby bylo dosažení zajištěno - Abram bude požehnán, protože [Yahuwah] to tak ustanovil.
Proroci používali slovo hayah, aby projektovali [Yahovu] intervenci v budoucnu. Skrze použití tohoto slovesa zdůraznili ... tu základní boží moc, která to uskuteční ... Když byly uzavírány smlouvy mezi dvěma partnery, obyčejně obsahovaly i slovo hayah.
Jedno z nejvíce debatovaných užití slova hayah se nachází v Exodus 3,14, kde [Yah] říká Mojžíši Své jméno. Říká: JSEM (Hayah) KTERÝ JSEM (Hayah).
Protože boží jméno ... [Yahuwah] bylo dobře známo daleko dříve ... toto zjevení nejspíš zdůrazňuje, že Bůh [Eloah], který učinil smlouvu, byl Bůh, který dodržoval tuto dohodu. Takže Exodus 3,14 je více než jen obyčejný projev identity: "JSEM KTERÝ JSEM" je deklarace boží kontroly nad všemi věcmi.1
Toto je to tajemství moci ukryté v božím jménu a je tím, co z tohoto jména činí nejmocnější zaslíbení v universu.
Zaslíbení v tomto jménu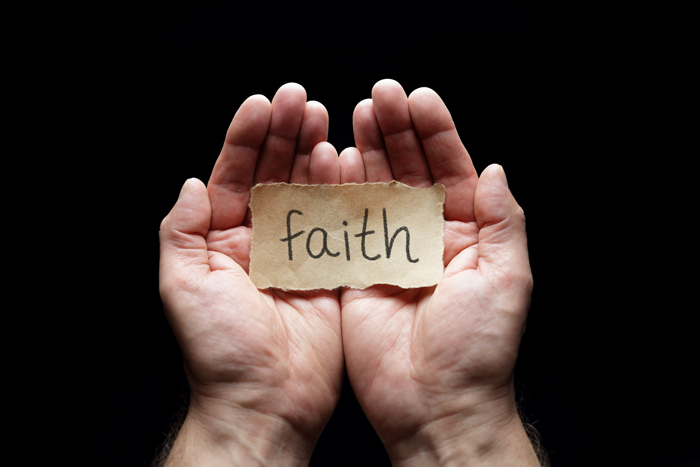 Izaiáš 55,11 odhaluje udivující skutečnost, že slovo Yaha samo o sobě obsahuje moc vykonat to, co říká: "Tak bude slovo mé, kteréž vyjde z úst mých. Nevrátí se ke mně s prázdnou, nýbrž vykoná, co chci, vykoná zdárně, k čemu jsem je poslal."
Toto poznání, společně s mocí spočívající v božím jménu, odemkne všechny poklady Nebe a propustí veškerou božskou moc na pomoc pokornému následovníkovi, který se skrze víru opírá o boží zaslíbení a podobně jako Jákob zápasil s andělem i on odmítá odejít bez požehnání.
Pro uzdravení - fyzické, mentální nebo emoční; pro ochranu; pro odpuštění, očištění a obnovení; pro přemožení hříchu ... pro doslova cokoliv co potřebuješ, je boží jméno samotné zaslíbením, kterého se můžeš chytit. A moc k naplnění tohoto zaslíbení je obsažena v slově samotném!
To je způsob, jakým povstal svět. Mocné slovo Yaha bylo opakovaně použito.
David vysvětlil, jak byl svět stvořen: "Boj se Yahuwaha celá země, všichni obyvatelé světa žijte v jeho bázni! Neboť on řekl, a stalo se, on rozkázal, a postavilo se." (Žalm 33,8-9) A to, co říkal opět a opět a opět, bylo Jeho jméno.
Světlo ... BUĎ!
Světlo bylo.
Země suchá ... BUĎ!
Země suchá byla.
Rostlinstvo ... BUĎ!
Rostlinstvo bylo.
Vše, co existuje, začalo existovat skrze boží moc projevenou skrze boží jméno.
Uchopení zaslíbení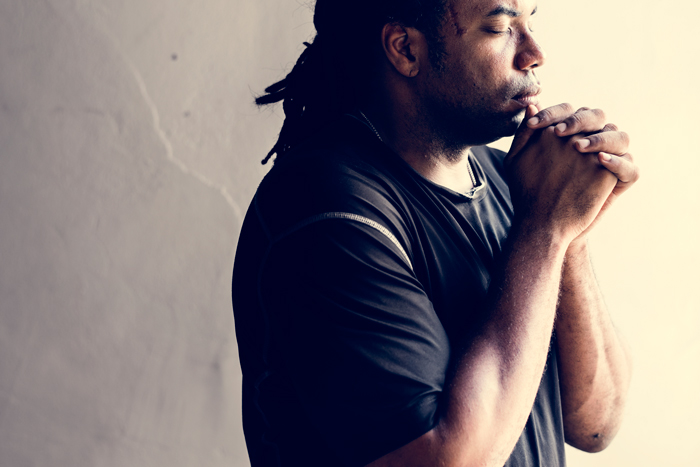 To je důvod, proč Yahuwah nemůže lhát. Pokud něco dříve neexistovalo, začne to existovat jakmile On promluví ta slova.
To je taky důvod, proč máme vzývat jméno Yahuwaha. To je způsob, jak máme vítězit v boji proti hříchu. Doslova vše, co potřebuješ pro život, zdraví, štěstí a pomoc při přemáhání hříchu, je obsaženo v moci tohoto božího jména.
Jeho jméno, BUĎ, spojené s tvou potřebou, se stává zaslíbením, které se naplňuje, když se ho chopíš vírou.
Co tedy potřebuješ? Jeho slovo pro tebe je:
Buď uzdraven.

Buď zaopatřen.

Buď posilněn.

Buď utěšen.

Buď odvážný.

Buď odpuštěn.

Buď očištěn.

Buď přetvořen k božímu obrazu.
To je to, co znamená vzývat jméno Yahuwaha. Protože Yahuwahova slova obsahují onu skutečnou moc, která povolala universum do existence, tatáž stejná slova, vyřčená ve víře a plné podřízenosti Jeho vůli, se stávají sebenaplňujícím proroctvím.
Když tedy vzýváš jméno Yahuwaha, když dovolíš tvé víře uchopit zaslíbení tohoto jména, Jeho slovo k tobě je naplněno. Pavel chápal tento mocný koncept. V Židům 11,1 vysvětluje: "Víra pak jest nadějných věcí podstata, a důvod neviditelných."
Yahushua řekl: "A jestliže byste co prosili ve jménu mém, toť učiním, aby oslaven byl Otec v Synu." (Jan 14,13) Nejedná se o žádný výherní automat: řekni to a dostaneš to. Jako vždy, Yahova zaslíbení jsou dána pod podmínkou poslušnosti vůči Jeho zjevené vůli.
Nicméně toto mocné zaslíbení je Yahovým zamýšleným prostředkem pro naše vítězství. Když se tvá víra chopí této moci k naplnění zaslíbení obsaženého v pravém slově Yaha, pak budeš vědět, že to můžeš prohlásit a stane se tak, ne kvůli nějaké tvé dobrotě v tobě, ale proto, kým On je: Stvořitel, a čím On je: tvůj Otec, který tě miluje.
Vzývej jméno Yahuwaha. On si přeje, abys to udělal! Jeho slovo pro tebe dnes je: "Až dosavad za nic jste neprosili ve jménu mém. Prostež, a vezmete, aby radost vaše doplněna byla." (Jan 16,24)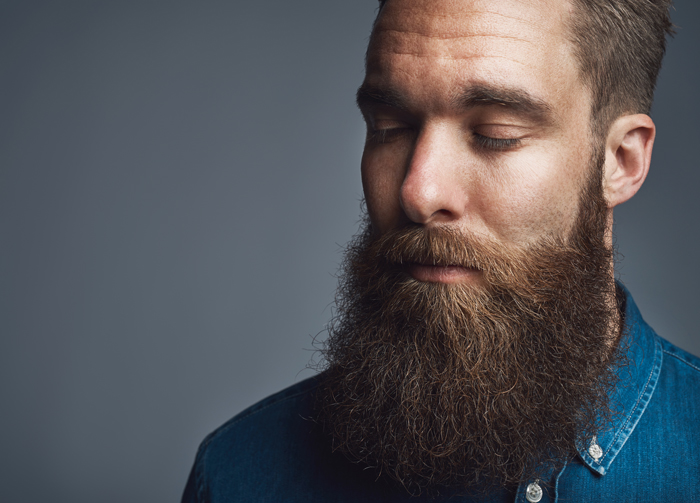 ---
1 Hayah, The New Strong's Expanded Dictionary of Bible Words.