Asumsi adalah berbahaya – khususnya ketika itu dibuat dalam bidang agama. Jika sebuah kepercayaan theologi di dasarkan pada sebuah asumsi yang salah, maka praktek keagamaan akan menjadi salah. Asumsi yang paling umum di dalam Kekristenan adalah bahwa hari Sabtu adalah Sabat yang Alkitabiah, dan hari Minggu adalah hari di mana Yahushua telah bangkit. Keyakinan ini dibuat di atas asumsi yang lain: mingguan moderen memiliki siklus tidak terputus dan tanpa interupsi sejak dari masa Penciptaan. Namun, fakta dari kalender Julian, membuktikan asumsi ini salah.
Kalender Julian telah di tetapkan pada tahun 45 SM. Sama seperti kalender dari Republik Roma sebelumnya, kalender Julian mula-mula memiliki delapan hari per minggunya! Hari-hari dalam setiap minggu dari Republik Roma dan kalender Julian mula-mula, ditandai dengan huruf A sampai H. Semua kalender Julian mula-mula (fasti) yang ada memiliki tanggal dari tahun 63 SM sampai dengan tahun 37 M.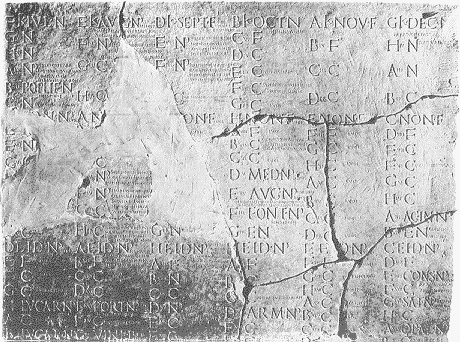 Delapan hari per minggu dengan jelas terlihat dalam prasasti batu ini.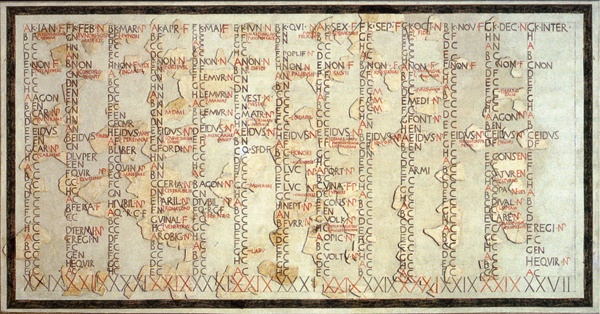 Rekonstruksi Fasti Antiates, satu-satunya kalender Republik Romawi yang masih ada.1
Seiring dengan perluasan Kekaisaran Roma, mereka berhubungan dengan kaum Mithrais yang dengan cepat menjadi sekte agama yang terkenal di Roma. Mithrais membawa model tujuh-hari per minggu yang dinamakan dengan nama dewa-dewa planetari.
"Tidak diragukan lagi bahwa kisah penyebaran orang Iran [Persia] memiliki hubungan dengan penerimaan kekafiran secara umum, terhadap mingguan yang hari Minggunya dijadikan sebagai hari yang suci. Nama-nama yang kita gunakan terhadap enam hari yang lain, tanpa mewaspadainya, berasal dari apa yang digunakan oleh orang Mithrais pada waktu yang sama ketika mereka mendapatkan banyak pengikut di provinsi Barat, dan tidak gegabah dalam membangun sebuah hubungan yang kebetulan antara kemenangan dan fenomena bersamaan. (Franz Cumont, Textes et Monumnets Figures Relatifs aux Mysteres de Mithra, Vol. I, hal. 112.)
"Tanda keutamaan yang ada pada dies Solis [hari Matahari atau hari Minggu] juga pasti memberikan kontribusi terhadap pengakuan umum hari Minggu sebagai hari libur atau hari kudus. Hal ini terkait dengan fakta yang lebih penting, yaitu, adopsi minggu ini dilakukan oleh semua negara-negara di Eropa. "( Franz Cumont, Astrology and Religion Among the Greeks and Romans, hal. 163, penekanan diberikan.)
Hari Minggu tidak mungkin menjadi hari di mana Yahushua bangkit dari kematian, karena hari Minggu belum ada di dalam mingguan delapan-hari kalender Julian pada masa Dia ada di bumi. Selanjutnya, hari Sabtu juga tidak mungkin menjadi hari Sabat yang Alkitabiah karena mingguan tujuh-hari planetari aslinya dimulai pada hari Sabtu!
Pada Permandian Titus, di Roma, yang dibangun antara tahun 79-81 M. Kalender tempel yang ditemukan di sana secara jelas menunjukkan Saturnus, dewa pertanian, adalah dewa dari hari pertama disetiap minggu.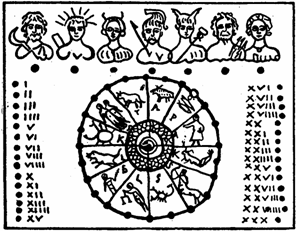 Kalender Tempel Orang Roma

Dies Solis, atau hari Matahari, atau hari minggu, dapat dilihat pada hari kedua pada minggu itu. Luna, dewi-bulan yang memakai bulan sabit sebagai makhkotanya, adalah hari ketiga di minggu itu. Mingguan ini berakhir pada hari Venus, dies Veneris, yang merupakan hari Jumat moderen, itulah hari ketujuh pada minggu itu.
Mingguan planetari kafir, seperti yang kalender Julian adopsi, adalah sejatinya kafir. Fakta sejarah mengungkap bahwa baik hari Sabat Alkitab maupun hari pertama yang Alkitabiah, keduanya tidak dapat ditemukan dengan menggunakan kalender moderen. Karena sangat penting untuk beribadah pada hari yang spesifik, maka adalah juga penting untuk menggunakan kalender Alkitabiah yang benar untuk menentukan hari itu.
Kalender luni-solar dari masa Penciptaan, menggunakan matahari dan bulan, sebagai satu-satunya yang menentukan Sabat hari-ketujuh yang benar dan hari yang tepat di mana Kristus bangkit.
"Dia menetapkan bulan sebagai penentu musim." Mazmur 104:19
Musim2 : mo'edim. Waktu perkumpulan peribadatan umat Yahuwah.
Ada dua kalender yang tersedia bagi orang Israel pada masa Yahushua:
Kalender matahari Julian dengan delapan-hari per minggu;
Kalender luni-solar Ibrani dengan tujuh-hari per minggu dan siklus mingguannya dibaharui setiap bulan baru.
Menurut anda kalender mana yang digunakan oleh Yahushua dan orang Israel?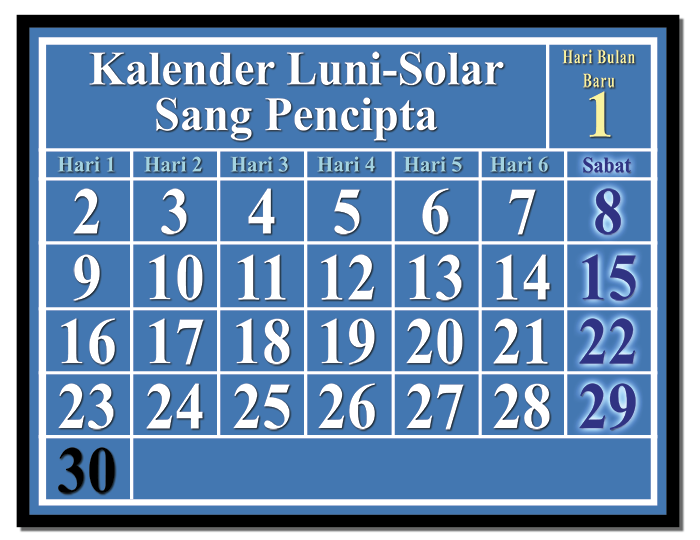 Hari di mana anda beribadah, yang ditentukan oleh kalender yang anda gunakan, menunjukkan siapa yang anda sembah.
---
Klik di sini untuk menonton videonya!
---
1 Palazzo Massimo Alle Terme, ed. Adriano La Regina, 1998.
2 "Hari raya orang Yahudi terjadi secara berkala, sehingga kata ini digunakan untuk mengenali hari-hari raya itu. . . Mo'ed digunakan dalam arti luas untuk semua acara agama. Itu terkait erat dengan Kemah Suci itu sendiri. . . [Yahuwah] bertemu orang Israel di sana pada waktu tertentu untuk mengungkapkan kehendak-Nya. Ini adalah istilah umum untuk waktu perkumpulan ibadah umat. . . [Yahuwah]." (Lihat #4150, "Lexical Aids to the Old Testament," Hebrew-Greek Key Word Study Bible, KJV.)