Manjezyeezya alaa ntenda – kapati eelyo naali mumakani aabukombi. Kuti lusyomo lumwi kaluyeeme buyo amanjezyeezya, nkokuti abwalo oobo bupaizi bwamusyobo ooyo bulilubide. Cintu cakweezyeezya cijanika kanjaanji mubuna Kristu ncakweezyeezya kuti Mujibelo nje Nsabata ya Mangwalo, alimwi Nsondo mbobuzuba naakabuka Yahushua Kristu kuzwa kubafu. Oolu lusyomo alwalo luyakilidwe atalaa kweezyeezya kwamazubaano: kwakuti mvwiki yamazuubano yakali kuzinguluka kupiluluka kakwiina kulekezya pe kuzwa Kumalengelo. Pele twaambo tujanika akkalenda lina Juliyasi eelyo, tutondezya kuti kweezyeezya kwamusyobo ooyu nkusweekela limwi kulubide.
Kkalenda lina Juliyasi lyakabambwa mu 45 B.C. Mbubwenya mbuli kkalenda lya Cisi ca Loma lyakasolwede, alyalo kkalenda lina Juliyasi litaanzi lyakalaa mwwiki yamazuba aali lusele! Mazuba aamvwiki mumakkalenda lyacisi lina Juliyasi akapedwe mabala aaya aatobela: A kusikila ku H. Woonse makkalenda mana Juliyasi (fasti) aaciliko mazubaano azyila kumusela wa 63 B.C kusikila mu A.D. 37.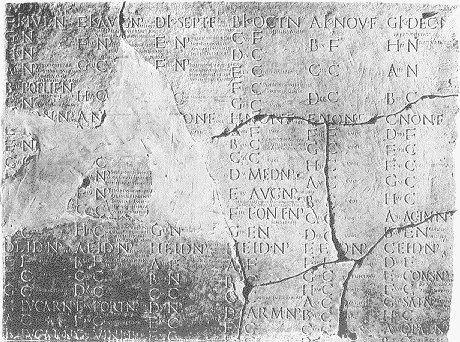 Mvwiki iilaa mazuba lusele ilalibona cakusalazya kalifwalidwe azikomwe zyamabwe.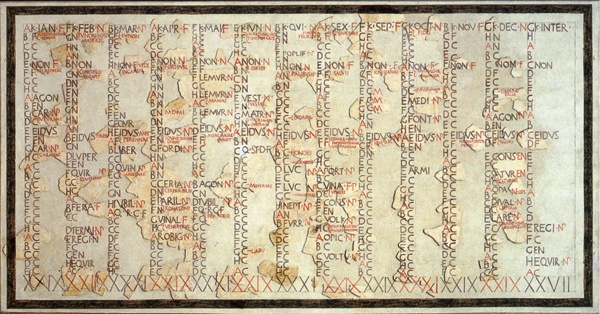 Kubambulula Fasti Antiates, lilikke kkalenda lya Cisi ca Loma liceede mazubaano.1
Mbuli bulelo bwacisi ca Loma mbubwaali kuyaa kukomena, cakaswaanganya musyobo wabupaizi bwa Mithraisim, oobo bwakafwamba kuba bupaizi mu Loma. Bupaizi bwa Mithraisim bwakaletelezya mvwiki ilaa mazuba aali lusele aaitwa mazina aabaleza banyenyezi.
"Takweelede kudonaikwa kuti maseseke aaku Iran (Pesiya) akayambukila kanjaanji akutambulwa mubupaizi bwabakomba zilengwa leza, mbuli mvwiki iijisi Nsondo kuti mbuzuba busetekene. Aayo mazina ngotubelesya mazubaano kwiita mazuba aali cisambomwe, katutakubwene, akatalika kubelesyegwa eelyo Mithraisim naakabaa batobeli mumasena aakumbo, muntu inga taabinda kubona mbokuswaaangene kutalika kwa Mithraisim akuulika mazina aa Mithraisim kumazuba ngotubelesya sunu." ((Franz Cumont, Textes et Monumnets Figures Relatifs aux Mysteres de Mithra, Vol. I, p. 112.)
"Busena butaanzi bwaapedwe dies Solis (buzuba bwa Zuba) alimwi ncecaapa kuti Nsondo ibikkwe akataa mazuba aabupaizi. Eeci ciliswaangene a kasimpe kapati aaka, kutobela mvwiki eeyo kwazisi zyaku Bukukwa." (Franz Cumont, Astrology and Religion Among the Greeks and Romans, p. 163, emphasis supplied.)
Nsondo tiikonzyi kuba buzuba oobo naakabuka Yahushua kuzwa kubafu, nkaambo Nsondo tiiyakaliko mumvwiki iina Juliyasi yamazuba aayo Walo naakali kupona. Kuya kumbele, Mujibelo tamukonzyi kuba muNsabata ya Mangwalo nkaambo mvwiki yamazuba aali ciloba yakali kutalikila mubuzuba bwa Saturn!
Mazyiba aakusambila bantu ookwa Titus, ku Loma, akayakwa akataa A.D. 79-81. Kkalenda lisimbidwe akasamu lyakajanwa ooko alimwi lilatondezya cakusalala kuti Saturn, leza wabulimi, kuti ngoleza wabuzuba butaanzi bwa mvwiki.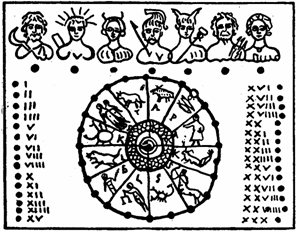 Kkalenda lyaakasumu lina Loma

Dies Solis, naa buzuba bwa Zuba, bulalibonya kabuli buzuba bwabili bwamvwiki. Luna, leza-mwezi kasamide kapapa kamwezi mbuli mushini, ulaa buzuba bwatatu. Eeyi mvwiki imanina mubuzuba bwa Venus, dies Veneris, oobo bweendelana abuzuba Bwasanu bwamazubaano, eeco ciindi bwakali mbobuzuba bwaciloba bwamvwiki.
Mvwiki yabukombi bwazilengwa leza, mbeenya mbuli kkalenda lina Juliyasi lyaaitambula, njabukombi bwamituni. Tusimpe twamisela tuyubununa kuti Nsabata ya Mangwalo nokuba Buzuba Butaanzi bwa Mangwalo tabukonzyi kujanwa kubelesya kkalenda lyamazubaano. Kuti kacili cintu ciyandika kukomba mubuzuba bwini bumwi, nkokuti ncintu ciyandika akulindiswe kuti tubambulule, kkalenda lya Mangwalo kuti tukonzye kubala kusikila kubuzuba bwakukomba bwini oobo.
Ikkalenda litobezya mwezi-azuba lyaku Malengelo, eelyo libelesya zuba amwezi antoomwe, njenzila ilikke yakujanya buzuba bwa Nsabata bwamasimpe alimwi abuzuba bwini bwakubuka kwa Kristu kuzwa kubafu.
"Wakapa mwezi mulimo wakutondezya ziindi zyamwaka." Intembauzyo 104:19
Ziindi zyamwaka2: mo'edim. Imbungano zyabupaizi zyabantu bokwa Yahuwah.
Kwakali makkalenda obile ngobaali kukonzya kubelesya bana Isilayeli muciindi Yahushua naakalaa nyika:
1. Kkalenda lyabukombi bwazilengwa leza, litobezya zuba, lina Juliyasi alimwi lyamazuba lusele;
2. Kkalenda lya Bbaibbele, lyaba Hebulayo, eelyo litobezya zuba amwezi alimwi lilaa mvwiki yamazuba aali ciloba alimwi mulongo wamvwiki zyalyo waali kwiinduluka kutalika lyoonse mumwezi mupya.
Ndilili kkalenda webo ndyoyeeya kuti bana Isilayeli (a Yahushua) ndibaali kubelesya?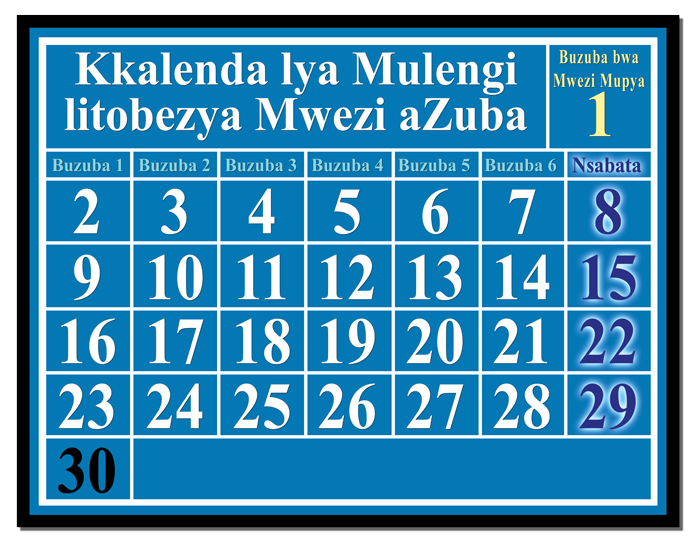 Ibuzuba nokomba, oobo bujanwa mukkalenda ndyobelesya, nceciyubununa kuti nguni webo ngokomba.

---
1 Palazzo Massimo Alle Terme, ed. Adriano La Regina, 1998.
2 "Since the Jewish festivals occurred at regular intervals, this word becomes closely identified with them . . . Mo'ed is used in a broad sense for all religious assemblies. It was closely associated with the tabernacle itself . . . [Yahuwah] met Israel there at specific times for the purpose of revealing His will. It is a common term for the worshiping assembly of . . . [Yahuwah's] people." (See #4150, "Lexical Aids to the Old Testament," Hebrew-Greek Key Word Study Bible, KJV.)