Antaganden är farliga - särskilt när de görs i religion. Om en teologisk tro bygger på ett felaktigt antagande kommer religiös praxis att vara felaktig. De vanligaste antagandena i kristendomen är att lördagen är den Bibliska sabbaten och att söndagen är dagen då Yahushua återuppstod. Dessa övertygelser bygger på ett annat antagande: att den moderna veckan har rullat oavbrutet sedan Skapelsen. Fakta bakom den julianska kalendern bevisar emellertid att dessa antaganden är felaktiga.
Den julianska kalendern upprättades 45 f.Kr. Som den romerska republikens kalender som föregick den hade den tidiga julianska kalendern en åttadagarsvecka! Veckodagarna på den republikanska och de tidiga julianska kalendrarna benämndes med bokstäverna A till H. Alla tidiga julianska kalendrar ( fasti ) som fortfarande finns dateras från 63 f.Kr. till 37 e.Kr..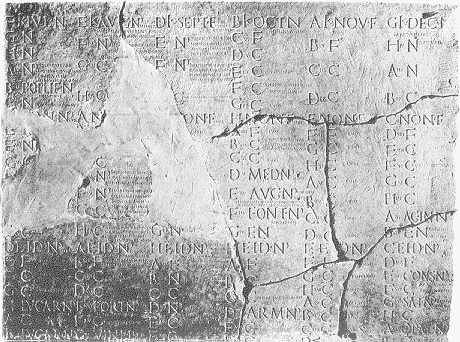 En åtta-dagars vecka kan tydligt ses på dessa stenfragment.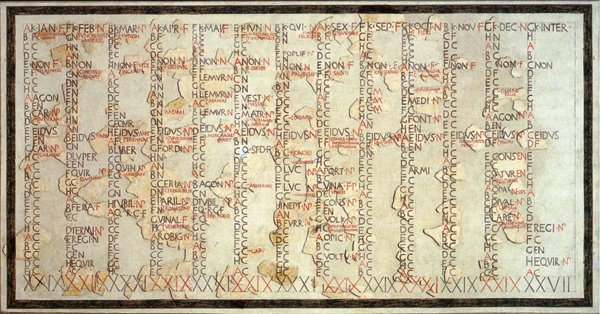 Rekonstruktion av Fasti Antiates, den enda kalendern för den romerska republiken som fortfarande finns.1
När Romarriket expanderade kom det i kontakt med mithraism, som snabbt blev en populär religiös kult i Rom. Mithraismen förde med sig en sjudagarsvecka med dagar uppkallade efter planetära gudar.
"Det råder ingen tvekan att spridningen av de iranska [persiska] mysterierna har haft en betydande roll i hedningarnas allmänna antagande av veckan som hade söndagen som helig dag. Namnen som vi omedvetet använder för de andra sex dagarna togs i bruk samtidigt som Mithraism vann anhängare i provinserna i väst, och man förtar sig inte om man upprättar ett förhållande mellan dess triumf och detta samtida fenomen." (Franz Cumont, Textes et Monuments Figures Relatifs aux Mysteres de Mithra, Vol. I, s. 112.)
"Företrädet som tilldelades dies Solis [solens dag] bidrog också säkert till det allmänna erkännandet av söndagen som en helgdag. Detta är sammanbundet med ett viktigare faktum, nämligen alla europeiska nationers antagande av denna vecka." (Franz Cumont, Astrology and Religion Among the Greeks and Romans, s. 163, betoning tillhandahållen.)
Söndag kan inte vara den dag då Yahushua uppstod från de döda eftersom söndagen inte fanns på den åtta dagar långa julianska veckan på Hans tid. Dessutom kan lördagen inte vara Skrifternas verkliga Sabbat eftersom den sju dagar långa planetära veckan ursprungligen började på Saturnus dag [lördag]!
Titusbaden i Rom byggdes omkring år 79-81 e.Kr.. En stickkalender hittades där som klart visar Saturnus, jordbrukets gud, som den första veckodagens gud.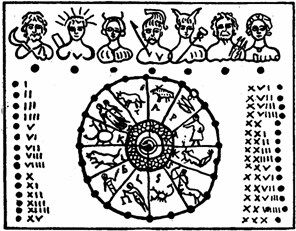 Romersk stickkalendar
Dies Solis, solens dag, ser vi är veckans andra dag. Luna, mångudinnan vars diadem är halvmånen, är veckans tredje dag. Veckan slutar på Venus dag, dies Veneris, vilket motsvarar den moderna fredagen, den tidens sjunde veckodag.
Den hedniska planetära veckan, precis som den julianska kalendern som anammade den, är ohjälpligt hednisk. Historiska fakta avslöjar att varken Skrifternas sabbat eller Skrifternas första dag kan hittas med den moderna kalendern. Om det är viktigt att dyrka på en viss dag så är det också viktigt att använda den rätta, Bibliska kalendern för att beräkna den dagen.
Skapelsens luni-solkalender, som använder både solen och månen, är det enda sättet den verkliga Sjundedagssabbaten och den rätta dagen för Kristi uppståndelse kan upprättas på .
"Du gjorde månen till att bestämma tider." Psalm 104:19
Tider2: mo'edim. Den tillbedjande sammankomsten för Yahuwahs folk.
Det fanns två kalendrar tillgängliga israeliterna på Yahushuas tid:
Den hedniska solkalendern (den julianska) med dess åttadagarsvecka;

Den Bibliska lunisolkalendern med sin sjudagarsvecka och en veckocykel som började om vid varje nymåne.
Vilken av dessa tror du israeliterna (och Yahushua) använde?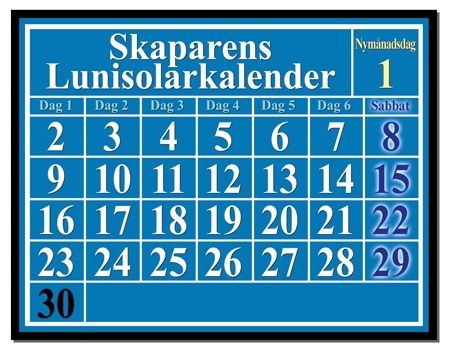 Den dag du tillber på, dikterat av vilken kalender du använder, avslöjar vem du dyrkar.
---
1 Palazzo Massimo Alle Terme, ed. Adriano La Regina, 1998.
2 "Eftersom de judiska festivalerna inträffade med jämna mellanrum, blir detta nära identifierat med dem. . . Mo'ed används i bred mening för alla religiösa församlingar. Det var nära förbundet med tabernaklet. . . [Yahuwah] träffade Israel där vid specifika tidpunkter i syfte att avslöja sin vilja. Det är en vanlig benämning för den dyrkande församlingen av. . . [Yahuwahs] folk." (See #4150, "Lexical Aids to the Old Testament," Hebrew-Greek Key Word Study Bible, KJV.)