Eeci cibalo tacili ca WLC. Eelyo notubelesya zilembedwe aabalembi balaanze lya nkamu, tusimba buyo zyeezyo zyeendelana 100% a Bbaibbele a lusyomo lwesu cino ciindi munkamu ya WLC. Aboobo eezyo zibalo inga zyalanganyigwa kuti nzya nkamu ya WLC. Twakalelekwa kapati amulimo wabalanda ba Yahuwah banjaanji. Pele tatukulwaizyi ndinywe nobeenzuma kutalika kubala zyaalembwa abantu aabo. Eezyo nzibaalemba, twakazigwisya mumalembe eesu nkaambo kanjaanji zililubide akubaa tumpenda. Cintu cuusisya ncakuti tucilangaula mbungano yamilimo iitakwe kampenda. Ikuti konyandidwe nkaambo ka [zibalo/milumbe] iitali ya WLC, kobikkila maanu ku Tusimpi 4:18. Kuteelela kwesu nkwakuti kasimpe Kakwe kalazyokoloka, eelyo mumuni nuuyaa kumwesya munzila yesu. Tulakayandisya kasimpe kwiinda buumi, nkanko tulakavwuntauzya kufumbwa nkokakonzya kujanwa.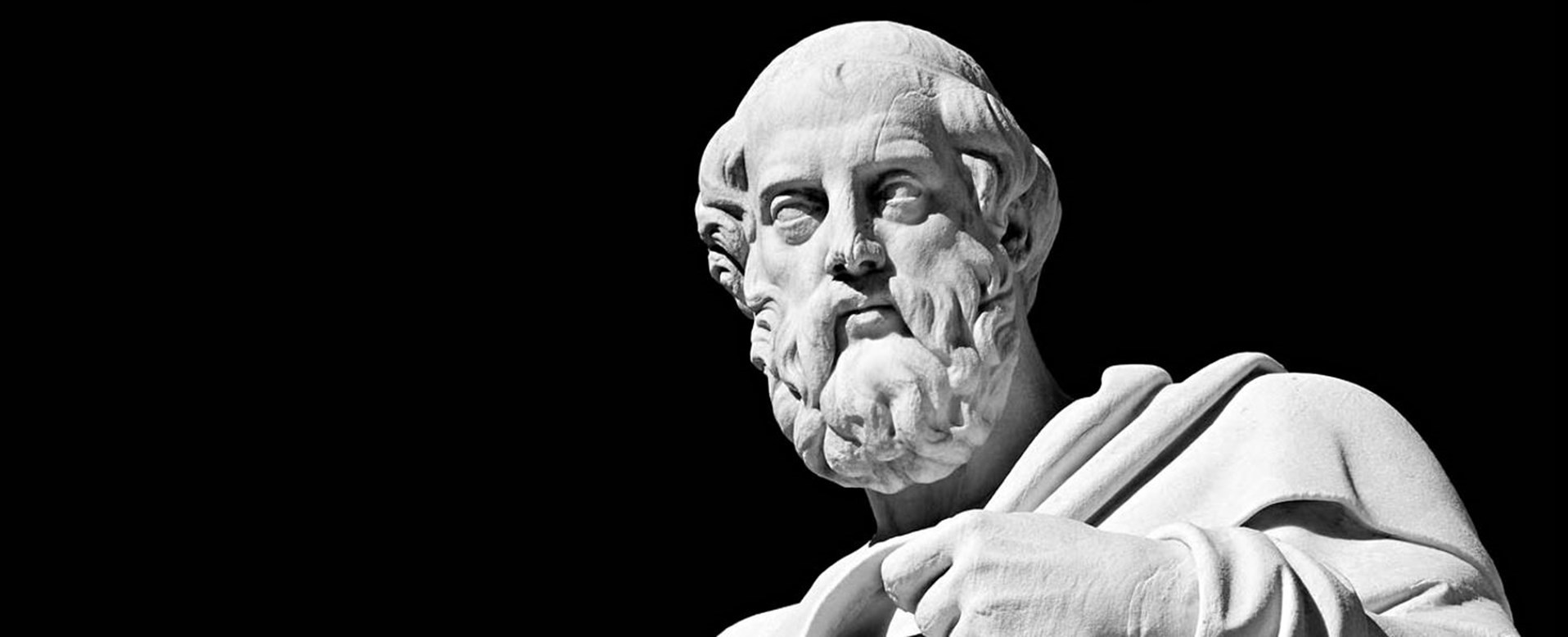 Plato (c. 428-348 BC) wakali kusyoma kuti masendekezya aa baleza baci Giliki ngakubeja, akuti ntwaano twakasaaza twakapangililwa aabantu (kunooli wakiiyasa ncobeni nondo muliso!). Walo wakali kusyoma nyika yabulondo iizwide moza (nyika ya mizeezo/ azintu). Mubufwaafwi, walo wakali kusyoma kuti eezyo zintu nzyotubona aameso munyika eeyi mikonzyanyo biyo iitalondokede yazintu zilondokede kale, mu moza. Lwiiyo lwakubeja lwakuti muya uutafwi lwakaboolela muli Plato. Walo wakatalisya cikolo cabu Giliki "cikolo ca lwiiyo lwa mizeezo yabusongo" eeco cakalaa basicikolo banjaanji mumisela yakatobela — "lwiiyo lwa mizeezo yabusongo bwaci Giliki." Swebo toba Kumbo tuvwuzya kuyeeyela mbuli BaGiliki — kutali mbuli BaHebulayo.
Lwiiyo lwa mizeezo yabusongo bwaci Giliki lwakabakwelelezya abalo bamaJuuda. Umwi wabaabo wakalaa mpuwo mpati ngu Philo (c. 20 BC-50 AD), ooyo muJuuda bamwi ngobasyoma kuti nguwaasungilizya Milazyo yaku Nicene, nokuba kuti wakali fwide kale kwamyaka 300. Bamwi basyoma kuti majwi aakuti "Mumuni uuzyila kumumuninyina, kasimpe kazyila kuli Leza wakasimpe" aali mumilazyo yaku Nicene, akazyila mumalembe ookwa Philo. Ime ndakavwuntauzya makani aayo alimwi Ime ndikkedwe camba kuti aayo inga kaanooli ali masimpe ncobeni.
Kweendelanya bwaamba mulembi wamisela yacikombelo uulaa mpuwo Jaroslav Pelikan, ooyo wakabala makunga aamabbuku 38, ngibaalemba bamatata bacikombelo aabo bakali kulumbaizya -Plato wa musela watatu, wakatobela mumatende aabasongo baci Giliki. Bakazumanana kusumpauzya mizeezo yakale akwaanza mizeezo mipya. Umwi akataa mizeezo eeyo wakali wakuti munyika njotubona ntongola meso /nyika iili mumizeezo, kuli ziimo zyotatwe — ca Omwe, ca Busongo, aca Moza — alimwi eezi zyotatwe mukubambwa kwazyo ncintu comwe, ncimwi mu bube bwaco. Tee umvwikaanga tuluuzi kale muzeezo ooyu? Ooyu ngowakali muzeezo wa Plotinus (c. 204-270 AD). Walo wakali kusyoma kuti eeco cilibonya ameso cilisofweede pele camu moza ncibotu, ooku nkuyeeyela kwabuJuuda bwamisela mitaanzi kuzwa ciindi ca Kristu. Augustine waku Hippo awalo umvwikaanga wakakwelelezyegwa mukuyeeyela kwamusyobo ooyu, akutalika kusungilizya kuti cisaaza ncinyonyoono — nokuba kuti cacitilwa mu cikwati.
Nkaambo kazyibidwe kapati kuti bamwi bamatata bataanzi bacikombelo mbuli Justin Martyr, Tertullian, Clement waku Alexandria a Theodosius, abalo bakali kutobelezya mizeezo ya bu Giliki. Ime ndakabala nzibaalemba alimwi kwiina akati kabo wakali kusyoma muli Baleza botatwe. Oolu ndusyomo lwakweena lwakamwayigwa abaabo basyoma kuti kuli Baleza botatwe bayandisya kupelengusya mangwalo akulangila kuti kunyina muntu (mbuli) uutikabale malembe mataanzi lwakwe mwini! Justin Martyr wakali Muntu uusyoma kuti (Kristu wakalengwa biya) mpoonya wakabikka matalikilo aa Logos (Ijwi) kumatalikilo aa malengelo (aboobo taakali muntu uusyoma muli Baleza botatwe pe!). Tertullian wakali kusyoma kuti Mwana wakali kunsaa Taata, ooyo muzeezo waakakwa aakale mu Cikombelo kuti wakali wabuzangi. Theophilus waku Antioch wakali kwaambilizya Leza, Ijwi a Busongo Bwakwe (eeco tacili baleza botatwe pe!). Ncobeni, Jaroslav Pelikan waamba kuti bunji bwa balembi ba cikombelo bataanzi bakali kumvwika kuti bazumina muzeezo wakuti "Leza ulalitondezya muziimo zyotatwe" Pele kali (Omwe) kutali Baleza Botatwe.
Bamatata bataanzi bakayandisyide muzeezo wa "Jwi" kutali wa Baleza Botatwe, ooku mumajwi amwi nkokwaamba kuti Yahuwah mbobeendelana a Jwi. Kusikila munsaa boonse bakali kusyoma kuti Mwana uli kunsaa Taata, pele eeco tacili ncico ciyiisyigwa mulusyomo lwa Baleza botatwe. Kwiimpanya aa Bbaibbele, mutwe wabaleza botatwe tuuyisyi kulibatamika. Eelyo Arius kayinduluka kwaambwa cakaambide bamatata bacikombelo acili mu Bbaibbele kuli Constantine Muleli, Constantine wakacinca mpaakayimvwi mukasimpe akutanda Athanasius. Alakwe wakaba muntu uusyoma muli Leza Omwe alimwi wakabbizyigwa naakali kufumba bulamfu abulo bwakwe abbishopo uusyoma muli Leza Omwe, Eusebius waku Nicomedia.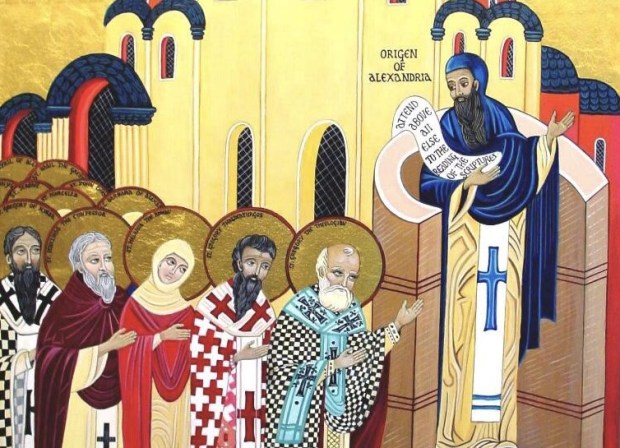 "Origen Kayiisya Basaante," Eileen McGuckin
Mpoonya kwakatobela Origen (c. 184-253). Ooyo walo wakali maninide kukwelelezyegwa mulusyomo lwaci Giliki. Walo wakali kusyoma kuti myuuya yakali kupona kabataninga zyalwa bantu — akuti iswe toonse twakali myuuya iitafwi kujulu katutaninga kuba bana bavwanda mwida, alimwi wakalaa lusyomo lwa lufutuko lwa mulengalenga woonse — kuti bantu boonse bayoofutulwa. Tacigambyi kuti wakatandwa mucikombelo! Kucikolo ca Origen ku Alexandria, yoonse eeyi mizeezo yaci Giliki yakali kukulwayizyigwa kubalwa. Cilakondelezya kuti mwaalumi wazina lya Rufinus wakazumina kuti wakacinca zyakalembede Origen kutegwa bamutande Origen pele wakalyeempa ncaakacita naakafwide Origen. Tulakonzya kutondezya makani aaya nkaambo tumwi tubeela twamalembe ookwa Origen tatukonzyene azyakalembwa mubbuku lya Rufinus. Malembe ookwa Origen akawumpwa, pele kuli zibeela zyakacaala. Origen wakali mutaanzi kubelesya mabala aakuti "Mwana uuteeli" — nokuba kuti wakabelesya abbala lya "kulengwa" naakali kwaambilizya Mwana. Wakali kwiide kwiingaila ooku akooku.
Nkaambo kakupenzyegwa, zikombelo tiizyali kukonzya kukkala ansi akumvwidana kusikila kumamanino aamusela watatu. Kwakakkalwa miswaangano yongaye buyo mumusela watatu, nkaambo ka mizeezo minjaanji yakali kuunga ooku akooku: kusyoma Leza Omwe uulibonya muziimo ziindene zyotatwe/Kusyoma kuti Leza Ngumwi takonzyi kwaandaulwa muzibeela zya baleza banji/Kusyoma Leza uuli muziimo zyotatwe, Kusyoma kuti Leza Ngumwi, Kusyoma kuti Mwanaa Leza tabeelene awisi aboobo uli kunsaa nguzu zya wisi, Kusyoma kuti Kristu wakaba mwanaa Leza eelyo naakabbizyigwa, naakabuka nokuba naakatanta kuya kujulu, akusyoma kuti buumi bwa Jeesu, amubili wakwe wakali mbuli ceelo cizimaana aciimo cakwe, musela ngwaakapona wakali wamasendekezya buyo kuutakwe ncocikonzyanya limwi cancobeni, akusyoma zimwi zinjaanji.
Eelyo Constantine naakali kuyeeyela kuti wakasanduka (c. 312), wakajana Cikombelo cilipyopyongene kapati, mpawo ciindi "cipati" ca Miswaangano ya Cikombelo mpuyaatalila aawo. Aciindi eeco Arius wakali kwaamba kuti Mwanaa Leza wakalengwa buya, aboobo eelyo ndelyakaba penzi pati kuli Athanasius (ooyo wakali kusyoma muli Baleza botatwe) abamwi ba Kujwe bakali kusyoma muli Baleza botatwe akusyoma kuti Mwanaa Leza wakazyalilwa muli Taata, nokuba kuti walo tali Leza uutamani ngu "Leza Mwana" Muntu. Aabo bakali kusyoma aasyoonto muli Baleza botatwe bakalailila Arius kumwi kabayeeyela kuti bamusandula kuzya kulubazu lwabo, pele Ime ndadonaika naa caacitika ncobeni eeco.
Kutegwa asoleke kukamantanya Cikombelo cakwe akuyumya Bulelo bwakwe, Constantine wakaita muswaangano ku Nicea mu 325 AD. Ooyu muswaangano wakali wakukosozya makani aajatikizya ciimo ca Yahushua Mwana. Kwakaambwa kuti Kristu "mbulowa bomwe" (nciimo comwe a Yahuwah) alimwi kutali buyo "kukonzyanya" (baleelene a Leza). Kwakaambwa akuti lusyomo muli Baleza botatwe talululeme. Kwakali botatwe buyo baakakide makani aayo, aboobo bakatandwa. Kwiina cakaambwa kujatikizya Muya Uusalala, aboobo kwakacili mizeezo yiindene kuti nguni naa ninzi Muya Uusalala kusikila mu 381 AD.
Pele bakomba Baleza botatwe ncibatakaamba ncakuti ooyo musalo wakazumanana niwakainda muswaangano ku Nicea. Arius wakamvwugwa mumatwi aa Constantine, mpoonya abalo bakasandukila kumizeezo yokwa Arius. Nkabela mu 357 AD kwakaba muswaangano uumbi mupati ku Nicea oomo mumuswaangano, mizeezo yokwa Arius yakaambwa kuti tiiluzi (Muswaano Watatu ku Sirmium).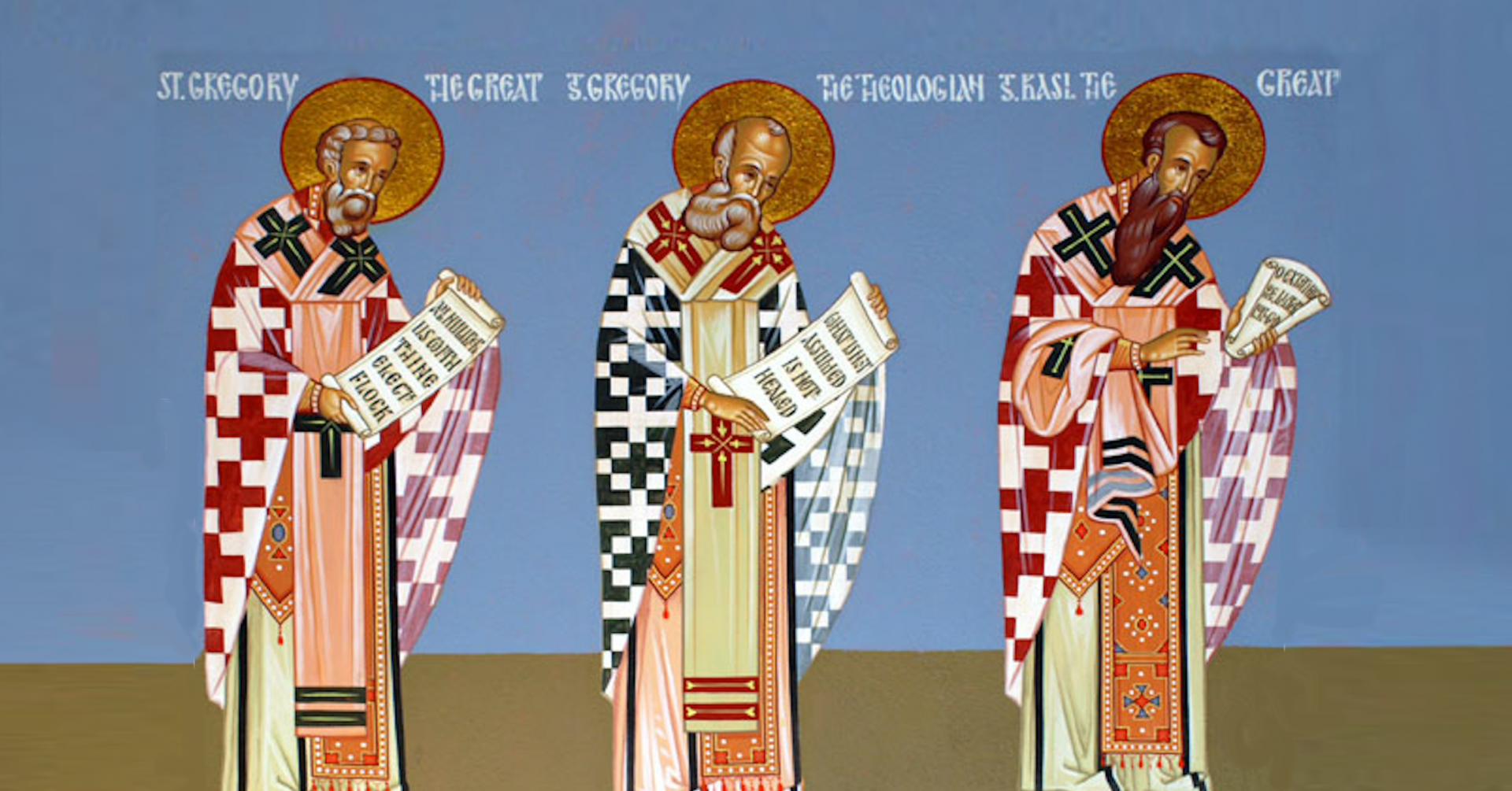 "Bamatata baku Cappadocia". Basil Mupati, Gregory waku Nyssa, and Gregory of Nazianzus
Eeco cakaindizya kupambukana, alimwi bamwi Bantu mbuli "bamatata baku Cappadocia" — Basil Mupati, Gregory waku Nyssa, a Gregory waku Nazianzus — bakanyampuka akukwabilila Baleza botatwe. Basil a Gregory waku Nyssa bakali beeninyina bakakomezyelwa mumukwasyi wa bunakristu. Bawisi (Basil Mutaanzi) bakaimvwi mumizeezo yabusongo bwaba Giliki. Basil Mupati wakalemba kuti Muya Uusalala muntu watatu, weelene, alimwi uuteeli mbuli Leza akataa Baleza botatwe, eeco ncecaali kuzunga mumuswaangano waku Constantinople mu 381 AD. Mbombubo Muya Uusalala mbuwakaba umwi uuteeli mulusyomo lwamu Bbaibbele, akuba muntu weelene aa Leza akataa Baleza botatwe.
Boonse bamatata baku Cappadocia bakali kubala lwiiyo lwaci Giliki. Bakasoleka kupelengusya Bantu botatwe, omwe-omwe wabaabo kali Leza, mbobakonzya kwiimpana mizeezo amakanze aabo, pele kabali Leza Omwe kutali Baleza botatwe. Bakaalilwa cinicini. Bakasoleka ooku akooku kupindula makani aayo kababelesya mizeezo yabasongo baci Giliki mbuli ya Plotinus — Milazyo yotatwe: Omwe, Busongo a Muya, alimwi eezi zyotatwe kazilaa mubili omwe. Bakazulwa akulizuminina kuti tabakonzyi nokuba maanu aali buti kuswaanganya zyotatwe kuti zibe comwe.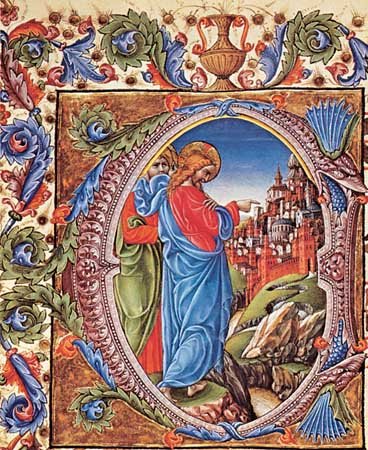 "Jeesu munsaa Milyango ya Jelusalema," malembe ookwa Liberales da Verona, 1470-74; mu Ciyobwedo ca Mabbuku ku Piccolomini, Italy SCALA/Art Resource, New York
Kwamisela minjaanji bamayi babuleza bakasoleka kumvwisyisya Bantu botatwe — omwe-omwe wabaabo kali Leza — mbobanga baba Leza omwe. Bakatingaana amibuzyo mbuli yakuti:
Hena Leza Omwe mukwasyi wa Baleza botatwe? Naa mbaaleza botatwe bavwubide antoomwe?
Hena malembe aaku Nicene aliluleme mpaalembedwe kuti Leza muzeezo omwe nanka Milazyo yaku Constantinople ililuleme mpoyaamba kuti Leza mizeezo yotatwe?
Hena Bakatolika baku Roma baliluleme kujatikizya Baleza babo botatwe, nanka Zikombelo zya Kujwe hena zili luleme?
Hena aabo basyoma mumuzeezo wakunyonyweeda limwi zyoonse kusikila kwabula cicaala (kugwisya) baliluleme naa mbabaabo bakazya muzeezo ooyo? Mbubuti Leza Mwana mbwaakali kunga wazumanana kuba Leza akulisamununa ciimo cabulemu eeco cimupa kuti kacili "Leza"?
Mpeenya kazili boobo kwakanjila Augustine waku Hippo (354-430). Kulangikaanga awalo wakakwelelezyegwa abaabo bakalaa mizeezo yakasolweda Plato mumusela watatu. Kwiinda mumalembe aakwe a Muleli Theodosius ooyo wakali kupenzya bantu, akusinikizya boonse kusyoma muli Baleza botatwe mumulawo wacisi, niwaayindide Muswaangano ku Constantinople mu 381 AD, aabo basyoma muli Baleza botatwe.
Ime lwangu, ndasyoma cikombelo cakasimpe nkabunga kasyoonto buyo kakabbuka ciindi aciindi akataa misela. Tiibakajisi Masimpe woonse, pele bakakakatilila kusyomeka anguzu zisyoonto nzibakajisi. Ime nsyaambi kuti kunyina bantu ba Yahuwah muzikombelo zipati, pele mulumbe Wakwe kuli mbabo ngwakuti "Kamuzwa muli nguwe nobantu bangu."
---
Eeci cibalo citali ca WLC cakalembwa aba Greg Michaelson, Australia
Twakagwisya mucibalo citaanzi mazina aabakomba mituni ngobayita Taata a Mwana, akujokolosya mazina mataanzi ngubaapedwe. Kuyungizya waawo twakajokolosya mutumpango ntotulembulude mazina mataanzi aa Taata a Mwana mbwaakali kulembwa kutaanguna abalembi ba Bbaibbele bakayoyelwa Moza. Nkamu ya -WLC