Umwi Wagner nabutema wakapenga kuyeeya mumoyo. Eelyo syikati wakatolede bana mbayiisya citandadi 2 kuyooswaya ku ganda kusungilwa zitima zyakaindi loko. Aabo bana bakali kuyandisya kubona zintu eezyo (alimwi kanjaanji bakalaa mulemeko). Aciindi cimwi wakalesyelela bana bobile ba Chad a Tim nibaali kutingaana kuti inga kabayoojaya cintu cimwi mu ganda eelyo. Wakafwamba kujana cimbuzi kwakutola mwana mucece Lindy, ooyo wakacili mu citandadi 1. Mpoonya boonse bana bakacingwa abazyali babo kuzwa kuganda eelyo aciindi ceelede, pele buyo omwe nguwakacaala.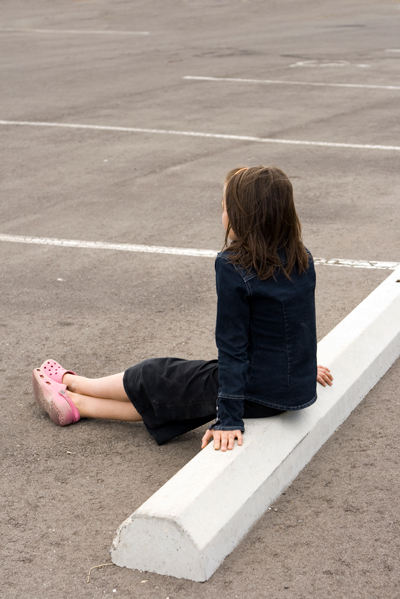 Kunyina wakaboola kuzyoocinga Pamela Forsythe. Ciindi ca 3 koloko cakainda kunyina uupompa kuzyoomucinga. Mpoonya 4, limwi kusikila 5 koloko. Ooyu nakalindu Wagner taakajisi namba yakutumizya luwaile kuŋanda koo Pamela, alimwi kusikila aciindi eeci, kwakacinyina muntu uucilibonya mulubuwa lwa cikolo ngwaakali kunga wabuzya. Walo taakakuzyi Pamela nkwaakali kukkala, alimwi kuyungizya kulemya kaambo, awalo Pamela taakuzyi kubbazu kwini kwakali ŋanda yokwabo.
Dolopo lya Indianapolis, mu cilimo ca 1964, lyakali munjeleela yakulwana akataa misyobo yabantu yaandeene. Eelyo ganda tiilyakali mubbazu lya dolopo litakwe ntenda pe, aboobo eeco ncicaamugwitizya mucamba nakalindu ooyu. Ikuti naakatoleela Pamela kuŋanda yakwe, taakajisi nzila yakutumina mulomo ku bazyali bamwana ooyu kuti bazyibe nkwabede. Lino katakwe nzila yakubatumina mulomo, wakacaazya buyo kukkala ansi akulindila. Kulindila. Akuya kumbele kulindila.
Ooyu mwiyi akana kasimbi kasyoonto aaka, bakatalika tusobano twa 'Eye Spy', 'Simon Waamba kuti' atumwi tusobano twa kubbejela kutegwa ciindeyinde ciindi. Mwiyi wakabambilila koongelezya mwana kuti atatyompwi akupenga mumoyo, pele lyoonse Pamela wakalikwiingula kakkazyikide camba kuti, "Cili kabotu, nsyeyoowede pe, Baama bali munzila kuzyoondicinga."
Tunzumina kkumi atusanu niwaayinda 5 koloko, mwaalumi wakali kusunga ganda lya zitima wakakotoka mulimo akuzwa anze. Awalo waakatazyigwa mumoyo. Pele walo taakaide kusuuluka kweenzya cimbayambaya cakwe akusiya nabutema kakkede amwana balikke mumudima wakali kuyaa kuvwuukila muciyobwedo ca myootokala.
Kumamanino, aciindi ca 5:30 koloko kumangolezya, kakwiindide mawoola obile kuzwa nibaacingwa bana bamwi, bamuka Forsythe bakasika kabazyaa kulilekelela akukwakwalisya kupandulula caabamusya. Bakakumbata mwanaabo, mpoonya walo wakaseluka kuzwa mucimbayambaya ca bayi bakwe katatyompedwe akusotokela mumootokala wabanyina, kumwi kabbabbayisya bayi bakwe kuti, "Ndalumba nobayi ba Wagner! Tuyoobonana cifumo!"
Lino naakali kweenzya mootokala kuya kuŋanda yakwe, Mwiyi Wagner wakaankamana kwiibaluka mwana Pamela mbwaakakkazyikide camba ciindi coonse. Kunyina pe naakagwitila kulangila banyina. Taakayoowede. Taakalipenzya kuyeeya. Walo wakalizyi kuti banyina bali munzila kuzyoomucinga. Kunyina pe nuuba muzeezo omwe waanjide mumizeezo yamwana ooyu kuti ambweni inga banyina tiibaboola kuzyoomucinga. Pele kunze lya boobo, walo wakali kkedwe camba, kumwi kayide kusobana tusobano akukasaazyanya amwiyi wakwe. Walo wakalaa camba akusyoma cakumaninina kuti banyina balaboola ncobeni nkaambo banyina bakaamba kuti balaboola. Ooku kumaninina ncobeni kusyoma banyina ncecintu caapa kuti Pamela alindile mawoola manjaanji kakkazyikide moyo.
Cizuminano Cipya acalo cizwide kukulwaizya kunjaanji kubantu basyoma kuti bazyibile kukkazyika moyo, akulumbaizya baabo bacita boobo. Eeci ncintu cisalazyidwe kuti kukkazyika camba nciimo cakubaa moza. Ipenzi liliko ndyakuti, bunji bwabantu tabamvwisyide bwini ncocaamba "kukkazyika moyo" mbuli mbokwaambwa mu Mangwalo. Mwati ulayeeya nookacili mwana mbookali kukalalilwa kuti "Umuna webo, kokkazyika camba!"; ooko kukkazyika camba kwiina acimbi pele nkulindizya buyo kotagwitide mumoyo nokuba kuti kuli cintu cakumusya nokuba kuti wabula cakucita. Kupandulula kuli mumabbuku aasandulula mabala mazubaano kulembedwe kuti, kukkazyika camba: "nkusala nokuba kukonzya kulindila akubikkilila kakwiina kutongooka."1
Milaka yabantu, nokuba boobo, iciyaa kusandauka mbweenya mbuli mulaka wa Cikuwa awalo, mbuuciyaa kuyungizya mabala akucinca ncaayiminina mabala amwi mumabbuku. Kutegwa tumvwisye ncokuyandika kumvwisya cini Bbaibbele ncolyaamba nolilailila basyomi kuti bazyibile "kukkazyika camba," ncintu ciyandika kwiiya bbala eelyo mbulyakali kwaambwa eelyo basandululi ba Bbaibbele nibakasala bbala eelyo kuti liiminine bbala lili muci Giliki.
KUKKAZYIKA CAMBA, kusata mumapenzi, mu kuciswa, mu kubeleka, muntenda, mukucokwacokwa nokuba mu cibyaabi cimwi, kowumwine, kotanyemede; kwiinda muzintu ziindene kakwiina kuŋuŋuna nokuba kubwentauka. Kukkazyika moyo kuzyila muciimo ca mizeezo yamuntu . . . nokuba mukwaaba mizeezo yako kuluyando lwa bulemu . . . . Kulindizya ciindi cilamfu kolangila bululami nokuba cintu cibotu ncolangila kakwiina kutyompokelwa.2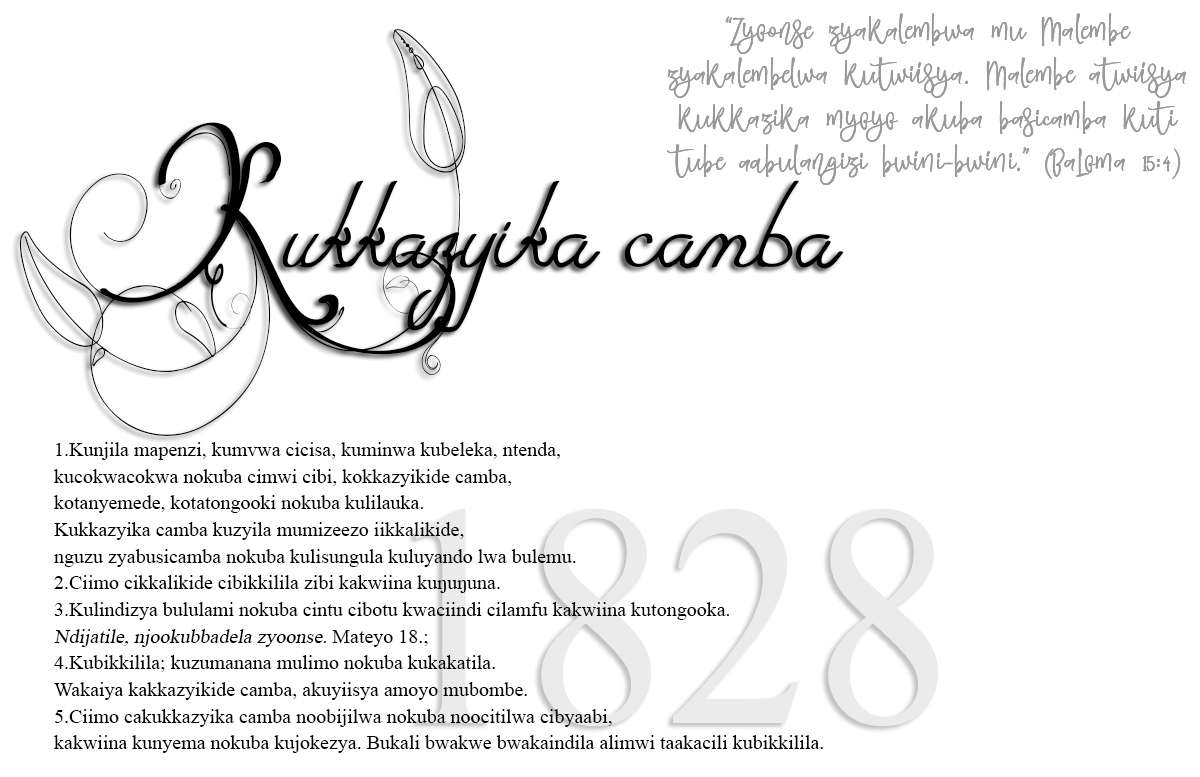 Kuleka buyo kukkazyika moyo nobulide cakucita, kukkazyika camba kwa bunakristu kuyeeme kapati mu lusyomo alimwi ncibeela cipati ca kukomena mu moza. Yahuwah uzumizya masunko aaboola mumaumi aabantu boonse, kutegwa bantu bayumye kubaa nguzu mumoza amulusyomo. Mu Baloma 5, Paulu ubandauka nzila iiletela zileleko zya moza:
Tulabaa bulemu kwiinda mukupenga amwalo: katuzyi kuti ooko kupenga nkotupenga kutuyiisya kukkazyika camba; Alimwi kukkazyika camba, kutuyiisya mbotweelede kweenda, akubaa bulangizi; Alimwi bulangizi tabupi bweemya; nkaambo luyando lwa Yahuwah lwanjizyigwa mumyoyo yesu kwiinda mu Muya Uusalala ooyo ngutwaapegwa. (BaLoma 5:3-5)3
Aayo masunko amakatazyo aazwide munzila kwiingilila baabo batobela Mwami Yahuwah, akazumizyigwa a Luyando luteeli. Ngeenya aaya masunko alakonzya kukomwa kwiinda mulusyomo akusyoma nguzu zya bulemu. Eeci ncecipa luzyibo ku muntu omwe-omwe, akumwiinzya lwakwe mwini mumasunko aayo kutegwa azyibe kuti Yahuwah ulasyomeka ncobeni.
"Kukkazyika camba" kulipedwe kubantu boonse kuti bakuyandaule. Kulajanwa kwiinda mukusala kusyoma Yahuwah abuzuba. Ooku nkusala cakuliyandila lwako omwini. Takuli kusala kuyaamide mbolimvwide mumoyo pe. Inzya ncobeni, mbolimvwa mumoyo (mbuli kuyoowa a kudonaika) nzintu zyeelede kuuntuluzyigwa eelyo nobelesya lusyomo. Lusyomo "nkuzumina mumizeezo yako kasimpe kali mukaambo nkaamba umwi, akuyaamina munguzu aciimo cakwe, kakwiina bumboni bwakuyungizya atala aawo."4
Kuli zintu zinjaanji Yahuwah nzyalangila kucitila bana Bakwe, pele kuti aabo bana tiibabelesya lusyomo lwabo, Walo ulasinkilwa muli ncayanda kubacitila. Eelyo Yahushua naakapandulula kuti, "Kuti kokonzya kusyoma, zintu zyoonse zilakonzya kucitika kuli yooyo uusyoma." (Maako 9:23)
Eelyo Yahuwah naingula mupailo wa lusyomo kwiinda mukucita maleele, mumoyo wamuntu kusinsimuka kulumbaizya. Mpoonya eeco, cipa kuti alumbe nkaambo kazileleko nzyaatambula alimwi eeco ncecikulwaizya kubaa luyando. Eeyi ninzila yaluyando iizinguluka lyoonse kwiinda mumasunko woonse mwainda muntu akukulwaizya lusyomo lupati lwiinda waawo muli nguwe!
Kosala kusyoma zisyomyo zipedwe mu Mangwalo. Aayo ngamajwi ookwa Yahuwah kuli nduwe. Koyaamika lusyomo lwako mukuzyiba Nguwe kuti Walo Mulengi ulaa nguzu-zyoonse, alimwi ulaa luyando loonse. Nkakaambo keni aaka Yahuwah ncapede makunga aazisyomyo mu Jwi Lyakwe.
Inguzu zyabulemu Bwakwe, zyakatupa kufumbwa cintu ncotuyanda mubuumi amubukkale bwesu, kwiinda mukuzyiba yooyo wakatwiita ku bulemu bwakwe: Mulinzizyo wakatupa zisyomezyo ziyandika zipati kapati kuti mukatambule buumi bwabulemu mwamana kufutulwa kukunyonyooka kwaansi aano nkaambo kazisusi. Lino amusungwaale kapati kuti muyungizye bukkale bubotu kulusyomo lwanu, busongo kuluzibo oolu. Alimwi muyungizye kulijata kubusongo oobo, kuyuma kukulijata ooko, kukomba Yahuwah kukuyuma ooko, bunyina kukukomba Yahuwah ooko, aluyando kubunyina oobo. Naa eezi kazili zinji mulindinywe tamukabi batolo, banyina mpindu mukuzibya zya Mwami wesu Yahushua Munanike." (2 Petulo 1:3-8)
Aabo balibatamika akusyoma mu luyando lwa bulemu bayoolijanina kukkazyika camba. Balo basyoma Yahuwah muzintu zyoonse, kabazyi kuti "muntu taponi kucinkwa cilikke pe, pele ulapona amajwi woonse aazwa mumulomo wa Yahuwah." (Ciibalusyo 8:3) Eelyo nobisyilwa nokuba kucitilwa cibi amuntunyina umwi, aabo bakkazyikide camba tabakakatili kujokezya pe. Balo basyoma buyo Yahuwah kuti ulalulamika kufumbwa cilubide, kabataminina cisyomyo cakuti: "Ndime eensubula; njoobasubula, mbwaamba Mwami Yahuwah." (BaLoma 12:19)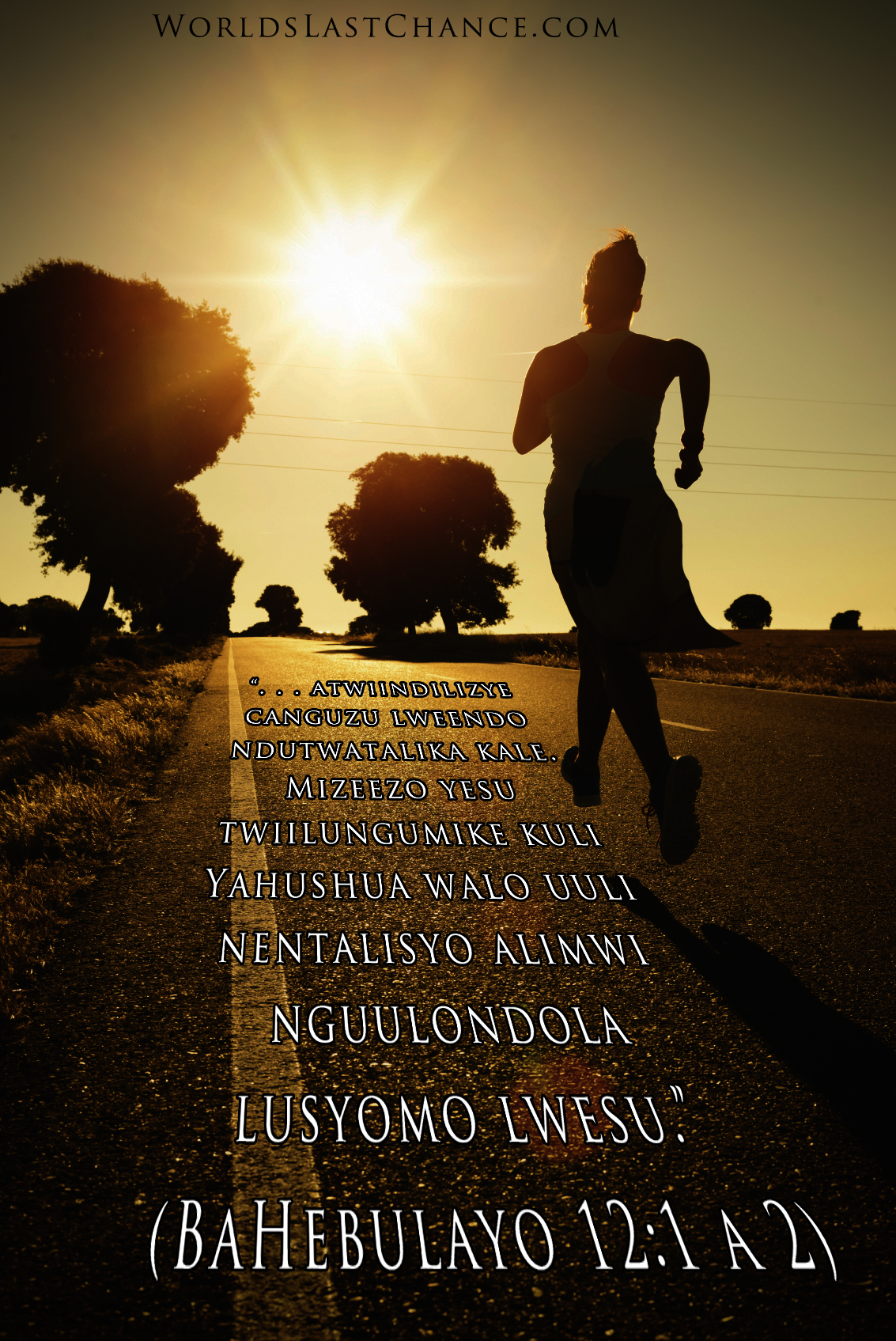 Paulu awalo wakeezyekanya buumi oobu mbuli kwiindilana kutijaana musinzo mulamfu, kumwi kakulwaizya bantu kuti: "Lino mukuti kuli bakamboni banji-banji batuzingulukide, atusowe zyoonse zitulemena azinyonyoono zyoonse zitukakatide, pele atwiindilizye canguzu lweendo ndutwatalika kale. Mizeezo yesu iibe kuli Yahushua walo uuli nentalisyo alimwi nguulondola lusyomo lwesu. Nkaambo kalutangalo lwakali kumulindilila, wakayumina mapenzi aciingano. Taakaba aansoni alufu luli boobu, lino ulikkede kubbazu lyalulyo lwa Yahuwah." (BaHebulayo 12:1 a 2) Buumi bwa bunakristu buli mbuli kwiindilana kutijaana musinzo mulamfu. Tokonzyi kuwina pe kuti waide kuvwakkamuka mpoonya wamanizya musinzo mukulaba kwaliso. Pele ooyu musinzo ngwakukkazyika camba, kotontomeka kugaminina cintu ncoyandisya akuyandisya kulindila ciindi cilamfu kusikila wajana bulumbu. Izisyomyo zili mu Jwi lya Yahuwah zyakapedwa kuyumyayumya basyomi mukutijaana musinzo wabo.
"Zyoonse zyakalembwa mu Malembe zyakalembelwa kutwiisya. Malembe atwiisya kukkazika myoyo akuba basicamba kuti tube aabulangizi bwini-bwini." (BaLoma 15:4)
Ciyubunuzyo ciyubununa kuti musela wamamanino unoojisi kukkazyika camba aluzyalo mu Moza.
Ooyo weelede kutolwa buzike uyootolwa ncobeni, ooyo weelede kujayigwa apanga uyoojayigwa ncobeni. Aawa mpaayelede kuti basalali bakakatile mulusyomo." (Ciyubunuzyo 13:10)
Ikuti kukabe muntu uukomba munyama acinkonzya cakwe . . . ngweenya ooyo nguuyakunywa waini wabukali bwa Yahuwah . . . alimwi busi bwakupenzyegwa kwabo bunikwiimpuka lyoonse . . . Nkooku kukkazyika camba kwa basaante: aabo babamba milawo yokwa Yahuwah a kusyoma Yahushua. (Ciyubunuzyo 14:9-12)
Cilakondelezya kumvwa kufumbwa ciindi nokwaambilizyigwa nkondo yamamanino akataa Yahushua a Saatani kuti, boonse bayoozunda dyabooli munkondo yamamanino, bayookoma kwiinda munguzu zyokwa Yahuwah. Eezyo nguzu nzyizyabo kwiinda mukusyoma Mufutuli wabo. Kwiinda mukubelesya lusyomo, kabayeeme muluzyibo nkaambo balimuzyi ciimo mbwabede Walo, banooyumya kukkazyika camba.
Mbweenya mbuli Yahushua mbwaakasunkwa mu Muunda wa Getisemane, abalo lusyomo lwabo luyoosunkwa munzila yakusolwa kutaambiki.
Mbweenya mbuli Yahushua naakali aciciingano, kunooli ziindi, nobanoolimvwide aanga Taata uuli Kujulu wabayaamuka akubasiya balikke.
Mbweenya mbuli Yahushua, bayoozunda kwiinda mukumaninizya kwaaba lusyomo lwabo muli Yahuwah. Balo bayoobatamika kuyanda kwabo kunsaa kuyanda kwabulemu akulindila Nguwe kuti abanunune nkaambo Walo nguuzyi nzila yiinda kubota njobeelede kweenda. Balo balikkedwe myoyo kulindila bululami, kabazyi kuti kunununwa abulumbu butakonzyi kweezyekwa buyoosikila baabo basyoma Mufutuli.
Majwi ookwa Yahushua ncibeela cazintu zyoonse mobainda: "Muyokwaabwa abazyali banu, bana bokwanu, basazinyoko boonse, beenzinyoko, alimwi bamwi banu bayoojaigwa. Muyoosulaikwa abantu boonse akaambo kangu. Pele nikubaboobo taakwe nikaba komwe kasusu kayoosweeka kuzwa kumitwe yanu. Amujatisisye muzyandamane, nkaambo oobu mbomuyoolivwuna nobeni." (Luuka 21:16-19)
Basaante mbantu basyoma Yahuwah. Balo basyoma zisyomyo Zyakwe. Ooku kumusyoma kwakayakilwa atalaa masunko mubakainda. Balo balizyi camoyo woonse kuti "Ulasyomeka ooyo wakakwiita; alimwi uyoocita ncobeni ncaamba." (1 Batesalonika 5:24) Balo balabikkilila nobapenga buyumuyumu, nobapenzyegwa akufubaazyigwa nkaambo balimaninide kukkazyika camba kuti Yahuwah uyoobanununa alimwi bulumbu busyomezyedwe mbwamasimpe.
Aboobo mutasowi busicamba bwanu, nkaambo ciyoomuletela bulumbu bupati. Muleelede kukakatila kuti mucite ziyanda Yahuwah kutegwa mukatambule nzyaakasyomezya. Mbuli bwaamba Malembe kuti, Kwasyaala kaindi kaniini buyo, eelyo ooyo sikuboola ulaboola, takoomuka pe. Muntu ngwindaamba kuti mululami uyoopona alusyomo. Pele naa akapilukile musyule, mebo nsikamukkomanini pe. Swebo tatuli baabo bapilukila musyule akunyonyoonwa, pele tuli baabo basyoma alimwi bayoofutulwa." (BaHebulayo 10:35-39)
Boonse bakkazyika camba mukusyoma Yahuwah mbabayoolya zina lya Yahuwah akukona antoomwe a Yahushua. Pele boonse batakkazyiki camba bayoosweeka.
"Ooyo uuzunda uyookona zintu eezi. Njooba Leza wakwe, awalo uyooba mwanaangu. Pele bakandu abatasyomi, bayanda zisesemya abajayi, basibwaamu abalozi, bakomba mituni ababeji, busena bwabo boonse aaba ndibbibi lyamulilo amabwe aapisya aasalufa, lwalo luli ndolufu lwabili." (Ciyubunuzyo 21:7 a 8.)
Ooyo mulongo mulamfu loko, wabantu bayoosweeka! Tacili cintu cinyandya kuti balozi abasonda, bakomba zibumbwa, babeji, basikuvwiya abajayi bayoonyonyooka. Pele cintu cinyandya mbantu bakandu? Nkaambo nzi muntu mukandu ncayoonyonyookela kuti kayoowa?
Bwiinguzi mbuubauba: aabo "bakandu" balasweeka nkaambo "tabasyomi." Lusyomo nkubweza buyo Jwi lya Yahuwah akumusyoma nkaambo kakuti Walo nguni amulimo Wakwe ngu (Luyando-loonse a Singuzu-zyoonse), kakwiina kuyungizya kupegwa bumboni bumwi pe. Aboobo, kubula lusyomo mu zisyomyo Zyakwe, mubwini ooko, nkumwaamba kuti Walo mubeji.
Lusyomo ncecintu cili muzintu zilangilwa, bumboni bwa zintu zitaninga libonya.
Pele kakwiina lusyomo tacili cintu cikonzyeka kukkomanisya Nguwe, nkaambo ooyo uuboola kuli Yahuwah weelede kusyoma kuti Walo nkwali ncobeni, akuti Walo nguulumbula baabo bamuyandaula cakutontomeka moyo woonse. (BaHebulayo 11:1 a 6.)
Aaka kaambo kayandika mubweende bwamuntu, kakalembwa mumajwi aaciimbo cimwi kuti:
Lusyomo ncintu cili muzintu zitabonwi;
Muzintu zilangilwa.
Ijwi lya Yahuwah ndilyakaamba cintu eeco, aboobo ndasyoma Ime
Nkaambo akacitika maleele kuli ndime.
Yahuwah wakaamba cintu eeci! Aboobo Ime ndamusyoma!
Eeci cintu candikkwanya . . .
Nokuba kuti bamwi badonaika naa jwi Lyakwe lili masimpe
Ime ndasala kusyoma ndilyo, ino mbuti yebo?
Yahuwah nguwakaamba cintu eeci! Aboobo Ime ndamusyoma!
Eeci cintu candikkwanya.
Ikuti yebo kosyoma kuti Yahuwah ulabamba zisyomyo Zyakwe, yebo unoolijana kokkazyikide camba kulindila Nguwe kuti akucitile cintu cikugwasya. Kuti yebo kotasyomi kuti Walo uyootumina Yahushua kunununa bantu boonse basyoma akulindila kuboola Kwakwe, pele kunze lyaboobo, yebo koyoowa; Mulumbe wa Mateyo ulembedwe majwi aawusisya aayokwaambilwa bantu boonse bali boobo, aabo kwiinda mukubula lusyoma bayokwaalilwa kukkazyika camba mbuli mbokulembedwe mu Bbaibbele:
"Tabali boonse bandiita kuti Mwami, Mwami bayoonjila mubulelo bwa kujulu; pele nguyooyo uucita kuyanda kwa Taata uuli kujulu. Bantu banji bayooboola mubuzuba oobo kuli ndime kabati, Mwami, Mwami, hena tiitwakashinshima muzina lyako? Akucita maleele manji muzina lyako? Moonya Ime njoobaingula kuti, Nsyemuzi nywebo. Kamuzwa munsi lyangu, nomucita zibyaabi." (Langa Mateyo 7:21-23.)
Pele eeco teesyi ncecintu ceelede kuba bulumbu bwamuntu pe! "Takuli kuti Mwami Yahuwah wamuka kucita eezyo nzyaakasyomezya, mbobayeeya bamwi, pele ucimweetelela, nkaambo tayandi kuti bamwi bakanyonyoonwe, pele uyanda kuti boonse beempwe." (2 Petulo 3:9) Ikuti kotakwe luzyibo, kuti kotakwe lusyomo, kuti kotakkazyikide camba – komulomba Yahuwah akupe! Walo takonzyi kwiima bana Bakwe cintu cibotu.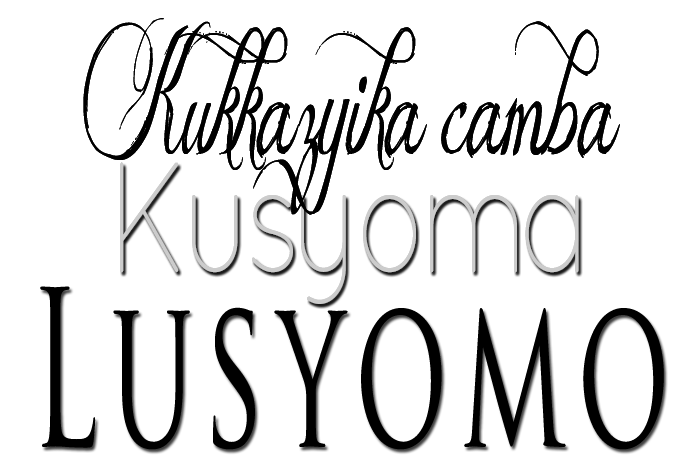 Nkaambo lusyomo taluyeeme kuli mbolimvwa mumoyo, kosala buno buzuba kusyoma muli Nguwe kakwiina makani mbolimvwide mumoyo! Acibe ciyanza cako kulindila, kosyomede, kolangila muli Yahuwah.
Ndime Jemusi mubelesi wa Leza awa Mwami Jesu Kilisito. Ndamujuzya nomisyobo iili kkumi ayibili iimwaikide koonse-koonse. Nobakwesu, kamukkomana nomusikilwa makatazyo manji-manji. Mulizi kuti lusyomo lwanu lwazwidilila mumasukusyo aaya mulaiya kukakatila. Nkabela kukakatila ooku kubeleka canguzu kuti mulondoke kamunyina kampenda naa kubula cintu cibisya cimwi. Kuti naa mpali umwi akati kanu uubula busongo, akumbile kuli Yahuwah, uupa kuli boonse kakunyina akubajanina butongo, nkabela uyoopegwa. Pele akumbile cakusyoma katadonaiki, nkaambo ooyo uudonaika uli mbuli mayuwe aalwizi aavwandauka akutonkaikwa aluuwo. (Jemusi 1:2-6)
Acibe ciyanza cako abuzuba kuyaamina muli Yahuwah. Kotaminina zisyomyo Zyakwe. Ayebo ulakonzya kukkazyika camba mbuli basaante a "kukona zintu zyoonse" antoomwe a Yahushua Mufutuli wesu.
---
Azimwi zyeendelana acibalo eeci:
---
1 Webster's New Universal Unabridged Dictionary, Second ed., 1983.
2 Noah Webster, American Dictionary of the English Language, 1828.
3 Mangwalo woonse aalembuludwe akazyila mu Bbaibbele lyaciindi ca Mwami Jemusi (KJV) pele buyo kuti kwaambwa bumbi. Mazina aabulemu aaluleme akajokezyegwa.
4 Ibid