Michael a Margaretha Sattler bakali bantu banyenzi. Bakali bantu bakali kukkomanina zintu zyabuyo akuusa mbuli bantu boonse, kabajisi bulangizi akuyoowa zintu zimwi mbweenya buyo mbuli bantu baansi aano. Pele, muciindi cakusunkwa kwalufu, balo bakasala kusyomeka kuli Yahuwah. Makakatilo aabo mukutundululwa ayoopedwa bulumbu buteeli Kujulu. Kobala kaano kabo kutegwa ayebo ukulaizyigwe kuti mbweenya Mwami Yahuwah mbwaakacitila bamwi, ayebo ulakonzya kukucitila mbweenya.
"Amulange cintu eeci. Tujisi bwato bwa Hurricane Grace buyaamba kutozya kunyika lyalwizi lwa Atlantiki. Ma! Cakomena ncobeni lino. . .ciyaabwiindila kuba cipati. Cabili, cili kunselelo lya nsumbu ya Sable kwini, cilaafwi kubboloka. Kobona eeci. Catatu yaboola mpeyo iiletezya kuzyila ku Canada. Pele bwato lino bulayaamba atalaa mayuwe aatungene mulongo . . . kabuzuunyene kutozya kulwizi lwa Atlantiki. Ino kuti bwato bwa Hurricane Grace bukalibbunte mukati kamuyoba ooyu inga kwaba nzi? Kusanganya kuli ceeco, oobu bwato buyaakweempauka kuzwa kunsumbu ya Sable, kabwiibauka kuyandaula nguzu zyakuyaamba. Lino bulaafwi kunjila mumuyoba uutontola kuuletezya kuzwa ku Canada . . . abwato bwa Hurricane Grace. Yebo inga waba syaazyibwene wabweende bwamazuba mubuumi bwako boonse . . . pele kunyina pe nookabonede cintu mbuli ceeci. Inga yaba ntenda ijatikizya zinjaanji. Inga yaba . . . muyoba uukkwene."
~ Todd Gross, Syaazyibwene wa Bweende bwa Mazuba mu TV
Kavwumbi kaniini 28, 1991: Munsaa mamaninno aaciindi camaguwo aamiyoba, kwakatalika muyoba mu Lwaanje lwa Atlantic, kujwe lyacisi ca Canada. Ooyo muyoba wakalaa muwo uubbubbula canguzu kuutozya "kunyika lyakujwe" alimwi wakavwuukila mumbalaa bwato bwa Hurricane Grace akuyungizya kuvwuuma kapati. Wakadyaaminina cooko cakumusanza coonse ooko nkowakaindila kuunga kusikila waba guwo lyuungisya kalizinguluka akupepaula zintu zinjaanji. Wakaba muyoba uula guwo uutanabwenwe mumusela wabantu cakuti wakaletelezya antenda yakajaya bantu bali 13, akunyonyoona zintu zidula mali aasika ku $200 zyuulunzuma. Wakaba: " muyoba uukkwene."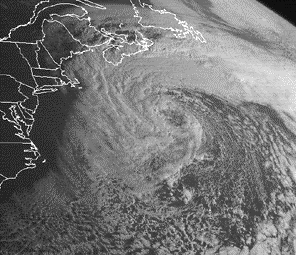 Cifwanikiso citondezya Muyoba Mupati wamu '91, kumusanza lyaku Nova Scotia, mu Kavwumbi Kaniini 30, 1991.

Akataa mayoba aaguwo lyuungisya boobo, kwakali bwato bwaba sikuzuba nswi bwa Andrea Gail. Mweendelezi wabwato Frank "Billy" Tyne, Junior, antoomwe abasibwatonyina bosanwe, bakali kuzela nswi munsaa Nkomwe mpati ya Flemish Cap. Nokuba kuti bakateelela milumbe iicenjezya kuti kulasika muyoba uula guwo lipati, aaba balombwana bakasala kuti bazyokele kunkomwe nkaambo ciyobwedo cakutontozya nswi tiicakali kubeleka bweelede alimwi zyoonse nswi nzyobakajatide tiizyakali kunga zyakkalilila akuleka kubola. Aboobo, nibakali kuzyokela kunkomwe kumaanda, bakuunjila mpuulakati muyoba mupati.
Majwi aacaalizya ookwa Silutwe wabwato aalembedwe, akali aakuti: "Waboola, nobasankwa, waboola canguzu, amulibambile." Madolomu aamungwimba, ciyumwido camungwimba, acisanza azimwi zintu zyabwato nzyezyakajanwa kazyiibauka zyakaceede kuzwa mubwato bwa Andrea Gail. Silutwe Tyne abalombwana bakwe bosanwe, bakali akataa bantu aabo bakanyikila mumuyoba ooyo wakapegwa zina lyakuti Muyoba Mupati wamu '91.
Kuti ooyo niwakali buyo muyoba wakuzuma akulabaula ndabo, aabo balombwana nibakanunuka. Kuti niwakali buyo guwo lyuungisya, nibakazelauka mumbali. Kuti muncini uutontozya nswi niwatakaleka kubeleka, balo nibakazumanana kuzela, akutanjila ntenda yalwizi. Pele muukusanganya buyo eezyo zyoonse antoomwe, eeco ncecaaletelezya kunyikizya bwato akukosozya buumi bwabantu boonse bakali mubwato oobo.
Muyoba Mupati
Eeco cakali ciindi cibotu, cakali ciindi camanyongwe, cakali ciindi camusela wabusongo, cakali ciindi camusela wabafubafuba, cakali cintu cakusyoma zinjaanji, cakali ciindi cikankamika, cakali ciindi camusela wa Mumuni, alimwi aciindi camusela wa Musinze, cakali ciindi cakasensa kabulangizi, alimwi eeco cakali ciindi camupeyo wakubula bulangizi; Twakalaa zintu zinjaanji kumbele lyesu, pele kunyina cintu ncotwakajisi lwesu tobeni, toonse twakali kugama kuya Kujulu, toonse twakali kutozya nzila iimbi – mubufwaafwi, eeco ciindi cakalikonzyene aciindi camazubaano, cakuti bamwi basololi bamfulumende aabo bakalaa mpuwo kapati, bakasinikizya bantu kuti bacitambule, nobayanda nobatayandi, mukuyandisya buyo kuti cibe cintu cakulikankaizya.
~ Charles Dickens, A Tale of Two Cities
"Muyoba mupati" : "nkusanganya antoomwe zyoonse zintu zicitika nokuba kuti kazyitalaa ntenda, pele kazizyicitika antoomwe munzila yakuletelezya manyongwe aanyonyoona zintu."1 Kuleka mbuli miyoba iicitika lyoonse, muyoba mupati utalikila "munguzu zisangene zyazintu zicitikila antoomwe."2 Miyoba mipati tiicitiki buyo lyoonse kufumbwa ciindi, pele lyoonse iletelezya lunyonyooko eelyo niicitika.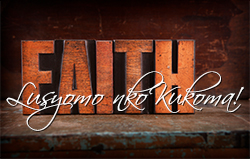 Lusyomo nko Kukoma!

Musela wacisambomwe mucooko ca Bukuwa wakali musela wamuyoba mupati —musela wamizeezo minjaanji iikazyanya—akuzunduna. Mucisi ca France, kulwana mfulumende kwakali lutide. Mucisi ca Germany, Martin Luther wakali kusandulula Bbaibbele mumulaka uumvwugwa bantu banjaanji, akunyansya poopo mukukulwaizya muzeezo wakuti bantu balakonzya kufutulwa kwiinda mulusyomo lwalo kakunyina acimbi. Mucisi ca Italy, Giordano Bruno wakali kusendekezy kuti nyenyezi zyakali zibeelz zyazuba zili kulaale, kazyizingulukidwe nyenyezinyina azimwi kumwi Pietro Pomponazzi wakali kukazya muzeezo wakuti muzimo wamuntu tuukonzyi kufwa. Munyika Mpya, cisi ca Spain cakazunda Bulelo bwaba Aztec. Mucooko ca Bukuwa coonse, lumamba lwaba Mozilemu lwakali kusaala, kujaya akutola buzike kufumbwa muna Kristu ngobakaswaanganya munzila yabo.
Cooko ca Bukuwa coonse cakali zwangene akuzandukana akataa Bakatolika a Basikutongooka. Muzeezo wa mulawo wazilengwa leza —wakuti bantu boonse balaa lwaanguluko alimwi baleelene —wakatalika kubaa mpuwo akusimya akataa bantu. Mizeezo mpiya yakaletelezya kuyeeyela zinjaanji, amakanze mapya mumyoyo yabantu batuba banjaanji aabo bakali kutundululwa eelyo nibakatalika kulwana mitelo mipati eeyo basimalelo babo njibakali kubakulaika kuti babbadele. Zyoonse eezyi zyakaleta "muyoba mupati"ooyo wakapa kuti kusike Musela wa Kusalazyilwa nikwakainda myaka iili 200. Mukupyopyongana koonse ooku kwakacinca zintu zinjaanji, umwi mukwasyi wakalukwete mulimo wakutobela kasimpe, kakwiina makani kufumbwa cinga cabacitikila. Ciinci cabo cakubelekela Mwami Yahuwah cakali ciindi cisyoonto buyo, cifwaafwi kapati — kulezya kusika myaka yobile— pele mpuwo yabo, antoomwe amukonzyanyo wabo wakusyomeka nokuba kuti bakapenzyegwa buti, ucizumanana kusikila buzuba buno.
Munsaa ciindi nceenya eeco Christopher Columbus naakali kusoleka kubungilila mali aakubelesya kuyandaula nzila mpya yakuya ku India kwiinda mukugamika kweenzya bwato kaya kumbo, kwakazyalwa mwana musankwa ku Stauffen, Germany. Tazili zinjaanji zintu zyizyibidwe zya buumi alwiiyo lwa mwana ooyo Michael Sattler, pele kulizyibidwe kuti walo wakanjila mu Ŋanda yabapaizi ku St. Peter munsaa ku Freiberg. Kusyomwa kuti walo mukuya kwaciindi, wakaba mweendelezi wa Ŋanda yabapaizi ya Benedictine, eeco caambilizya kuti, walo wakali muntu munkutwe mumulimo, uukonzya kweendelezya, alimwi akubaa ciimo cilondokede. Eelyo naakali mweendelezi, wakali mugwasyi wamusololi mumulimo wakwe. Eeco cuuno cakalaa nguzu akupegwa bulemu kapati. Eeco ncecintu cakapa kuti Michael abe umwi wabaabo balupatibapti bakasumpukide mumazubaayo.
Nkaambo kakuti Michael wakali musongo alimwi muntu uusyomeka,walo wakali zuunyene muzintu nzyaakali kusyoma. Walo wakajatikene mukubambulula bapaizi ba Benedictine Bursfeld, akubukulusya moza ku St. Peter. Mbuli mbwaakali mweendelezi, walo wakali kunoonga wakali kweendelezya busena oobo. Pele kwakali kucinca zintu kwakali kuzyaa kuswena, mbweenya mbocicitika lyoonse kuli baabo basyomeka akubaa busongo ncobeni. Misela minjaanji niyakainda muleli wacisi ca Amelika Abraham Lincoln wakapa kaambo kakuti: "Eelyo muntu uulubide ncobeni kuti wakazwezya akukamvwa kasimpe, nkabela walo inga waleka kulubila nokuba kuleka kusyomeka." Michael wakali kusyomeka.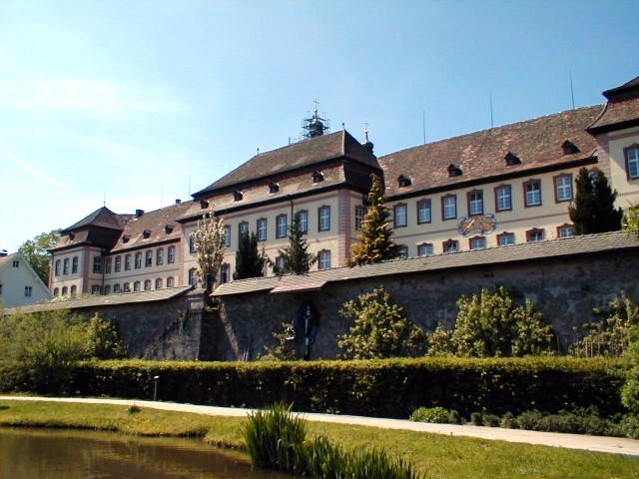 Munzi wa St.Peter mu Freiburg, ku Germany, ooko Michael Sattler nkwaakasumpukila zyuuno zyamilimo.

Akataa myaka yakuma 1520, bantu batuba basikutongooka bakavwumpa munzi wa St. Peter. Bakatalika kutongooka kuti bayanda lwaanguluko kuzwa kukubbadela mitelo akutundululwa kubaleli babo. Kabajisi mizeezo minjaanji ya lwaanguluko akweelana kubantu babo, bakali kuyanda bululami alwaanguluko lwamulawo akataa basyomi boonse, mbuli bwaamba milazyo ya Mangwalo.
Bamwi akati bantu aabo bakali ba Anabaptisti. "Anabaptisti" caambilizya kuti bakainduluka kubbizyigwa alimwi, nkaambo bakakaka lubbizyo lwabana bavwanda kuti talujanwi mu Mangwalo pe. "Mbubuti mwana muvwanda mbwanag wabaa muzeezo wakuliyeeyela kuti uyanda kubelekela Mwami Yahuwah?" Balo bakazumanana kukazya makani aayo.Tee kayi awlo Mufutuli Lwakwe taakabbizyigwa kusikilawaba mwaalumi mupati uukkwene maanu: " Lino nibakabbapatizigwa bantu boonse, awalo Yahushua wakabbapatizigwa. Naakacili kukomba Yahushua, julu lyakajaluka, Muuya wa Yahuwah wakamuselukila muciimo cankwilimba, eelyo ijwi lyakamvwigwa kuzwa kujulu kaliti, "Nduwe Mwanaangu ngwenjandisya ndabotelelwa anduwe" (Luka 3:21-23, KJV)
Cilakonzyeka, alimwi inga kacili masimpe kuti, aabo bantu bakaleta matongoosi aabo kuli Michael, ooyo wakali mweendelezi ciindi eeco. Nokuba kuti kunyina cilembedwe caambilizya mizeezo njaakabapa, pele kuli tusimpe totatwe tizyibidwe tujatikizya nguwe:
Michael Sattler wakali muntu uusyomeka musongo alimwi mwaalumi uuzyandamene mu buna Kristu. Aboobo, eelyo naakamvwa kasimpe nkaakatondezyegwa, walo taakalelema kukatambula akukazumina mubuumi bwakwe.
Michael wakaleka bweendelezi mubusena oobo akataa mwaka 1525.3
Naakayaamuka munzi wa St. Peter, Michael wakeenda musinzo kuya kubusena bwa Waldshut ooko nkobakazyila banjaanji aabo bakali kutongooka.
Lino mbotwazyiba twaambo ootu, ncintu citakwe ntenda kukosozya makani kuti, Michael wakabafwida lweetelelo aabo bantu bakali kumutongookela akuyandisya, nokuba kusandulwa, kuya kulusyomo ndobakajisi. Ncobeni naakasika kuya ku Waldshut, walo wakalaa ciindi cibotu cakuti ayindizya kubala akuvwuntauzya zintuzyoonse nzyobakali kusyoma ba Anabaptisti.
Myezi misyoonto buyo niyakainda, mu Kavwumbi Kaniini 6 kusikila 8 bwamwezi ngweenya ooyo, Michael wakasangana kutongookela lubbizyo lwabana bavwanda ku Zurich, Switzerland. Kunooli walo wakaunka buyo kuti akaakuteetele makani wwonse aazwanganinwa muciiyo eeco. "Kusikila mu 1525 kubambulula lusyomo kwakasimpwa mumunzi wa Zurich."4 Nokuba boobo, Basikutongooka bamumunzi wa Zurich tiibakaninga zyibisya ncowliiminina lwaanguluko lwabupaizi: lwaanguluko lwamuntu kuti akombe cakuliiba mbuli mbwaliyeeyela mumizeezo yakwe mwini. Basikutongooka bakali mufulumende bakaankakusubula akutundulula ba Anabaptisti, bakamwaanga Michael akumuwaalila muntolongo. Mpoonya walo wakaangululwa mu Kaanda Kaniini 18, 1525, naakasyomezya kuti ulayaamuka akuzwa mucooko eeco.
Ooku kupenzyegwa kwakali kulabila buyo cintu cakatobela waawo.
Beleka nkaambo busiku bwasika . . .
Ciimo cisyomeka cilayubununwa muzintu nzyotulisalila tobantu eelyo notuminidwe – mbweenya mbuli ciminya mbociindizya kusyaanikizya, acalo ciimo cilaindila kuyubunuka, azyalo zintu nzyasala muntu uula ciimo eeco zilatalika kulibonya masimpe mbuli mbozyibede ncobeni. ~ Robert McKee, Story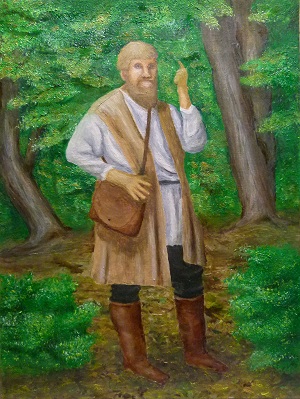 Cifwanikiso ca oyilo ca Michael Sattler kakambauka musokwe.

Cimwi ciindi cakataa myaka ya 1525 kuya ku 1526, Michael wakakwata mukaintu wakalaa zina lyakuti Margaretha ooyo wakali nabutema waku Beguine. Mbweenya mbuli Michael, Margaretha awalo wakali musongo akusyomeka alimwi wakasiya mulimo ngwaakali kubeleka nkaambo kazintu nzyaakatalika kusyoma kuti nkasimpe. Mubuzuba bwa Ganda Pati 1526, Michael wakabbizyigwa alimwi kali mwaalumi mupati. Eeci cakali cintu ncibakacita bobile kabalyaabide ncobeni, nkaambo kunooli awalo Margaretha wakainduluka kubbizyigwa.
Bantu bataanzi bakabambulula lusyomo bakakwabilila lwaanguluko lwa mizeezo yamuntu kuti ndwaanguluko lupedwe kumuntu kuzwa ku Mwami Yahuwah. Nokuba boobo, mpoonya buyo bupaizi bwa Basikutongooka nibwakaba bupaizi bwacisi, oobo bupaizi bwakatalika kutundulula akupenzya bantu.
Aaka nkasimpe kazyibidwe kabotu abalemi bazintu zyamisela bamazubaano kuti, kupenga kwa ba Anabaptisti kwakali kwiinda kucisa kupenga kwa bana Kristu bataanzi nkobaapengela mubulelo bwa Loma wamituni! Kupenzya kwakatalikila ku Zurich kaindi kasyoonto Bakwabonyina mulusyomo nibakamanizya kubamba mbungano. Kwakaba kusubula bantu muntolongo, zimwi ziindi kusubida muntu mumulindi uutakwe mumuni, mpoonya akujayigwa kakutobela aawo. Mukaindi kasyoonto basololi akataa Bakwabonyina mulusyomo bakasweekelwa maumi aabo kwiinda mukupenzyegwa.
Bupaizi bwa Anabaptisti bwakaambwa kuti mulandu mupati. Kwabikkilwa myuulo yamali manjaanji yakujatya ba Anabaptisti. Akwalo kubapa cakulya nokuba zyuli lyakoona, wakaba mulandu. Musololi walumamba ku Bavaria, mu 1527, wakapa malailile aakubikka ba Anabaptisti muntolongo akuti bakaumpweacisamu cisimpidwe ansi — pele buyo kuti balilekelela, alimwi kuti bacita boobo, beelede kukosolwa mitwe.5
Intenda yakusiya cilubide mukytobelakasimpe nintenda ncobeni iiciliko mazubaano. Nokuba boobo, Michael a Margaretha bakali kuyandisya kasimpe. Kasimpe kakali kalungu kaamoyo kwiinda cintu cili coonse kuli mbabo. James Lane Allen wakalemba kuti: "Mapenzi taayaki ciimo camuntu, pele ayubununa ciimo eeco." Alimwi nkakasimpe aako kajatikizya banabukwetene ba Sattler. Kupenzyegwa kwakayubununa ziimo zyabo zyakabambilwa mucikolo ca Kujulu, kazibekema akumwekamweka mumuni wa Mufutuli.
Ciimo cokwa Michael a Margaretha cakayubununwa mucilongwe cabo eeco cakazumanana abaabo bakali kuzyanaya azintu nzyoabakali kusyoma. Kumamanino aamwaka wa 1526, Michael wakaunka ku Strasbourg ooko nkwaakakukkala a Wolfgang Capito, muntu mu German wakali kukwabilila lwaanguluko lwabantu alimwi wakali musololi akataa Basikutongooka. Eelyo naakali ku Strasbourg, Michael wakabonana awumwi Sikutongooka Martin Bucer. Capito a Bucer bakali kukazya Michael mutwaambo tunjaanji, kusanganya akaambo kaba Anabaptisti kakukaka kubbizya bana bavwanda. "Basikutongooka aciindi eeco bakali kusulaika ba Anabaptisti nkaambo kamizeezo yalusyomo lwabo, alimwi nkaambo bunji bwabo tiibakayiide alimwi tiibakali bampelenge. Michael, nokuba boobo, wakali kweendelana ambabo, aboobo bakatalika kumulemeka. Walo wakabakombelezya kuti baangulule ba Anabaptisti boonse mbubakawaalide muntolongo."6 Nokuba kuti kwakali kwiimpana akata zintu nzyobakali kusyoma, Michael wakalaa lubomba alimwi wakalaa moyo uusangalala mbuli mbukwaalibonya eelyo walo naakaamba kuti Capito a Bucer bakali "basazinyina bazyandwa muli Leza."
Nokuba akataa basyomi bamazubaano, aabo batobela kasimpe lyoonse balasulaika akupa milandu minjaanji kuli baabo batatobeli mumuni mupya. Ncintu cuubauba kusulaika bantu akwaamba kuti balisweekede aabo bacilamatide kuzintu zilubide. Ciimo caluyando cokwa Michael, camoza mbuli wa Kristu kuli baabo batakali kumvwana anguwe, mbobumboni kumuntu uuli woonse uutobela kasimpe mazubaano. Kubaa lubomba, kubikkila bamwi maanu, kulemekezya ciimo camuntu omwe-omwe, ncecintu cibusya ciimo eeco mumoyo wamuntu umwi. Naakajayigwa Michael, ba Capito a Bucer bakali kumwaamba kuti wakali "mulongwe wabo uuyandwa muli Leza." Eeco ncintu caambilizya zintu zinjaanji muciimo cokwa Michael Sattler mumusela ooyo bunji bwa Basikutongooka nibakazyibidwe kuti bakali kucisa akuumpa kufumbwa muntu ngubatakali kumvwana limwi.
Ciindi ncaakali kubelekela Julu Michael cakali cisyoonto kapati, pele kwakamvwika mpuwo mpati mumulimo ngwaakacita kuzwa ciindi eeco iicimvwika asunu kusikila mazubaano. Mumwezi wa Mukazi Maziba kusikla mu Mulumi 1527, Michael wakabweza lweendo kuya ku Lahr, munzi wakali kunyika lya munzi wa Freiburg, kuti akaakwaabanye kasimpe kuli bamwi. Kumamanino aamwezi wa Mulumi, wakaunka kumunzi wa Schleitheim kuti akanjile muswaangano antoomwe abamwi ba Anabaptisti basyoma. Ooyo wakali muswaangano wakusisikizya buya. Zyakali ziindi zyantenda mpati eezyo. Aabo bakaimvwi kumbele mubusololi ciindi eeco, bakali kulangilwa buyo kupona myaka yobile. Michael wakalezya kupona kusika amyaka eeyo.
Michael wakakkala cuuno akusolweda muswaangano ooyo mu Mulumi 24, ooko ba Anabaptisti nkobaaswaanganina kuti bakaakumvwanane zintu nzyobasyoma. Eeco cakali ciindi cakubambulula lusyomo. Kunze lyakukaka kubbizya bana babvwanda, balo baakaka kukonkezya kabatambikide maanza atalaa Bbaibbele mbuli mbobacita munkuta, nkaambo eeco cakali kusampuzya majwi ookwa Yahushua; balo bakati kubbizya bana bavwanda cakali cintu caantangalala citondezya buyo kuti muntu uusyoma ulitondezya lusyomo lwakwe; alimwi, akuti cintu cigambya atalaa zyoonse ncakuti, bakakulwaizya kwaandaanya Cikombelo a Mfulumende!
Nibakamanizya kumvwana mutwaambo tuli ciloba, Michael wakalemba Cikonkezyo ca Lusyomo lwabo mucibalo cilembedwe mutwe wakuti Schleitheim Confessioni. Eeci cibalo cicilaa nguzu zipati akataa zikombelo zyaba Amishi, Mennonite, aba Baptisti kusikila buzuba buno.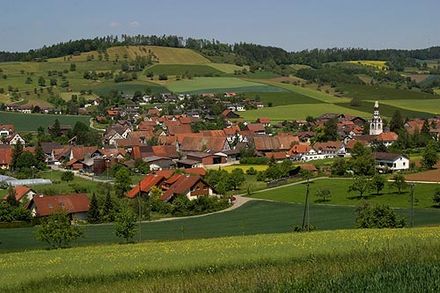 Munzi wa Schleitheim, kunyika lya munzi wa Zurich munsaa lukwakwa lwaku Germany.
"Eezi nzyeziindi zisunka myoyo yabantu . . ."
Ime ndakaiya kuti kukkazyika camba takuli kubula bukandu, pele nkuzunda kuyoowa. Muntu uukkazyikide camba tali muntu uutayoowi, pele muntu uuzunda kuyoowa. ~ Nelson Mandela
Kuli kukkomanina kwamoza mukucita cintu ncozyi kuti cililuleme. Kakwiina kudonaika, Michael a Margaretha Sattler bakalimvwide kukkomana kumwi kabalangila kasimpe eelyo nibakamanizya muswaangano ku Scheitheim. Tiilyakalampa, nokuba boobo. Petulo wakacenjezya kuti: " Amulibatamike akupakamana, nkaambo sinkondonyoko Saatani uleendeenda mbuli syuumbwa wabutambo uuya buyandaula ngwatilume." (1 Petulo 5:8, KJV)
Kufumbwa kuti kasimpe kazwidilila akuzunda cibi, boonse aabo bakazya kasimpe inga basolekesya kulanwa kasimpe aako. Kaindi kasyoonto niwakainda muswaangano waku Schleitheim, Michael a Margaretha Sattler, antoomwe abamwi basyomi ba Anabaptisti, bakaangwa ku Horb nkaambo kamalailile ookwa Silumamba Joachim von Zollern, mutumwa wa Musololi walumamba Ferdinand waku Austria. Kuzwa mumwezi wa Miyoba 1527 nibakaangwa, bakatolwa kuntolongo yakali mungazi ku Binsdorf.
Aaba bakali bantu banyama mbuli ndiswe toonse. Bakaangwa mumazuba masyoonto buyo niwakainda ooyo muswaangano wakazwidilila ku Schleitheim, bakasiya bunji bwabasyomi kabayoowede alimwi kabatunukide. Kunyina muntu uuyanda kupenzyegwa, kusubulwa, kutundululwa akujayigwa pe. Kuzwa muntolongo oomo mwaakabede, Michael wakalemba lugwalo kuli mbabo, kabakulwaizya kuti bayume akuzulila lusyomo.
Ime ndimwaambila ncobeni kuti kwiinda muluzyalo lwa Mwami [Yahuwah], kuti, amusongwaale nywebo, amweende mbuli basaante bokwa [Yahuwah]. . . . Kutabi muntu uumuzyola kuzwa kumakanze eenu, mbuli mbucaacitikila bamwi kusikila ciindi cino; pele amweende kamukkazyikide camba, kakwiina kuzelauka, kuti mulikulike ciciingano ca Mufutuli [Yahuwah] eeco ncaakalazyika ali ndinywe, akucilazyika ansi kuti muleke kumulemekezya akumutembaula [Yahuwah], akutalika kusampaula akutyola milawo Yakwe iiteeli, yamasimpe alimwi iiletela buumi.
Mutatyompokelwi, kuti mwakalalilwa a Mwami [Yahuwah] . . . nkaambo ooyo [Yahuwah] ngwayanda ulamulaya, mbweenya mbuli wisi mbwalaya mwanaakwe musankwa ngwayandisya. Nkuli nkomunga mwagama kuti mwatalika kutija Mwami [Yahuwah]? Ninzi cinga camugwasya kuti nywebo mwasulaika [Yahuwah]? Hena tali [Yahuwah] uuzuzya julu anyika?
. . . Alimwi kutabi muntu uumwaatula kuzwa atalaa amusemo ooyo uulazyikidwe mu Mangwalo aasetekene, alimwi waandidwe abulowa bwa Kristu abamwi bakamboni banjaanji bokwa [Yahushua]. . . . Amuzibeteke zyoonse nzyemulembela inywe; amubikke twaambo ootu nobasazima mumyoyo yenu , . . . kutegwa mukajanwe kamuli bana babombe myoyo, bazyala micelo alimwi bateelela Mwami [Yahuwah]. Nobayandwa banabokwesu, mutakankamani kuti ndabelesya majwi aalema kwaamba kaambo aaka: nkaambo ndacitila cintu eeco kucitila mulimo umwi. Basazima bamwi bakamwaambila kale kuti swebo tobamwi tuli kale muntolongo; alimwi kuzwa aciindi abalo basazima baku Horb nibakaangwa, bakatuleta ku Binzdorf. Muciindi cino tunjide mumapenzi aa basinkondoma manjaanji. Aciindi cimwi bakatukonga kutwaangilila; mpoonya akutuumpila mumulilo, alimwi akutuyasa acceba. Muntenda eeyi mebo ndalyaaba cakumaninina kuluyando lwa Mwami [Yahuwah], alimwi antoomwe abanabokwesu bamwi amukaintu wangu, twakalibambila kufwida bumboni Bwakwe, mpoonya Ime ndakayibaluka banabokwesu batasyomeki bamweelwe mupati, alimwi andinywe, nokuba kuti muli bangaye buyo, inywe nokabunga kasyoonto; alimwi, kuli babelesi basyomeka basyoonto mumuunda ookwa [Yahuwah] . . . aboobo Ime ndayeeya kuti ncinbotu kuti ndimusinsimune kumakani aaya, kuti mututobele swebo munkondo iino, kutegwa mutatyompokelwi nomulaigwa a Mwami [Yahuwah].7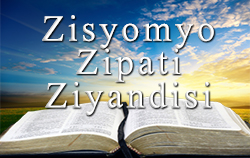 Zisyomyo Zipati Ziyandisi

Majwi ookwa Michael alisalede mbuli golide, kaatazimide mumisela milamfu. Lusyomo lwakwe muli Yahuwah, aluyando lwakasimpe ndwaakajisi, tiilwakali kuzungaanyigwa.
Lubeta lwakacitika mu Kaanda Kaniini 17-18, 1527, ku Rottenburg. Michael wakaiminina basintolongo boonse, katondeka ku Mangwalo kuti nzyenguzu zilaatala aazyoonse mumakani aaciluleme acilubide.
Michael wakalizyi kuti kubaa moza ncintu ciyandika kwiinda buyo kwaamba kumulomo kuti muntu ulasyoma: ngo mulimo wamoyo wamuntu wini. Ngooyu mukonzyanyo, mukukwabilila beenzinyina ba Anabaptisti mukaambo ncibakali kukakila kubwezya zilwanyo, walo wakati:
Kuti ba Turkii batuboolela kuzyootulwana, swebo inga tiitwabalesya pe; nkaambo cililembedwe kuti: Webo utajayi. Swebo tatweelede kulikwabilila katulwana aba Turk abamwi batupenzya, pele tweelede kukombelela [Yahuwah] mumipailo yakulyeetezya kutegwa tukonzye kusyomeka akubeeleba. Pele Ime ndaamwaambila kuti, kuti kulwana nkondo nicali cintu ciluleme, kupenzya, kwaanga akujaya bana Kristu batakwe kaambo, kuleka ba Turki, nikali kaambo kakucitila cintu eeco; pele inywe, nomuyanda kuba bana Kristu, alimwi nomuyanda kulikankaizya muli Kristu, ndinywe mupenzya bakamboni bana Kristu batakwe kaambo, akuba mbuli ba Turki mumyoyo yenu.8
Cakatola kukulwaizyigwa kapati kuti aambe kaambo aako. Walo mukulikwabilila wakayungizya kaambo kamwi:
Inywe nobasimilimo bokwa [Yahuwah], Ime ndamukulwaizya kuti muyeeye mulimo ooyo Mwami [Yahuwah] ngwaakamwiitila, kuti musubule babisyi, kukwabilila akukobelela batakwe milandu.
"Kakuli, swebo tiitwakabisyila Mwami [Yahuwah] a Mulumbe Mubotu, inga mwalibonena kuti Ime nokuba basazima abacizyi mbotuli limwi kuti tiitwakanyansya mujwi nokuba mukucita cintu cinyansya mfulumende iili yoonse pe. Aboobo, inywe nobasimilimo bokwa [Yah], kuti kamutaninga kumvwa nokuba kubala Jwi lyokwa [Yahuwah], amutumine bantu bayiide, akuyandaula mabbuku aasetekene aamu Bbaibbele, kufumbwa mumusyobo mwaalembedwe, alimwi amutukulwaizye swebo a Jwi lyokwa [Yahuwah]; alimwi kabakonzya kututondezya kuzwa mu Mangwalo Aasetekene, kuti swebo naa tulilubide, swebo inga twakkomana kweempwa akulilekelela alimwi akupenga cakuliyandila kufumbwa mulandu acisubulo ncotutipegwe notujaninwa mulandu; pele kuti kakwiina cilubide, Ime ndasyoma muli [Yahuwah], kuti inywe inga mwasanduka, alimwi akutambula malailile."
Naakali kwaamba boobo, babetesi bakagwagwamuka kuseka akuguntana mitwe yabo, mpoonya mulembi wadolopo lya Ensisheim wakati, "Ma yebo ootakwe mpuwo, ocigwebenga camupaizi, hena inga twatalika kukazyana anduwe? Ooyo uusina bantu nguuti kakazyane anduwe, Ime ndakusyomya ncobeni."
Michael wakati, "kuyanda kwa [Yahuwah] akucitwe boobo."9
Nibakamanizya kuvwiya-vwiya muli cabo babetesi kwa woola lyomwe akwiinda akati woola lyomwe, bakapiluka kuti bazyoomupe mulandu:
Mukaambo ka Muleli Mweendelezi Uulemekwa kabwekelana a Michael Sattler, lubeta lwakosozyegwa kuti, Michael Sattler weelede kutolwa kumujayi, ooyo uyoomutola kubusena nkwayoojayilwa, akumukosola mulaka wakwe; mpoonya akumuwaalila munkalaki, oomo mwatikavwalaulwe amubili acibulo cisubila kupya mulilo; mpoonya aakuletwa kumulyango, mpoonya kasyaanikizyigwe ziindi zyosanwe munzila njeenya eeyo.10
Ooyo wakali mulandu uutaambiki, uusinganya ncobeni: kukosolwa mulaka wakwe akukwamaunwa cikanda caamubili azibulo zisubila kupya mulilo, mpoonya akuumpwa. Bamwi basintolongo bakalilekelela. Michael, nokuba boobo,wakaliyumyayumya. Mu Kaanda Kaniini 20, 1527, Michael wakatolwa akataa dolopo lya Rottenburg akutundululwa. Mumasunko woonse aayo, lusyomo lwakwe tiilwakazungaana. Nokuba kuti cibeela camulaka wakwe cakatendwa, walo wakazumanana kupaila, kaamba kuti:
"Singuzuzyoonse, O Mwami [Yahuwah], nduwe nzila akasimpe; nkaambo Ime nsyeejanwa kulubila, Ime buno buzuba kwiinda mulugwasyo lwako, ndilapa bumboni ku kasimpe akukonkezya abulowa bwangu." Mpoonya aawo wakatonkelwa mumulilo mupati. Eelyo ntambo nzyaakaangidwe nizyakamana kupya, Sattler wakapa citondezyo kunkamu yakali kumulangilizya kuti walo wakali kkazyikide moyo mukujayigwa yamusyobo ooyo alimwi wakapaila kuti, "Taata, Ime ndabikka muya wangu mumaanza aako."11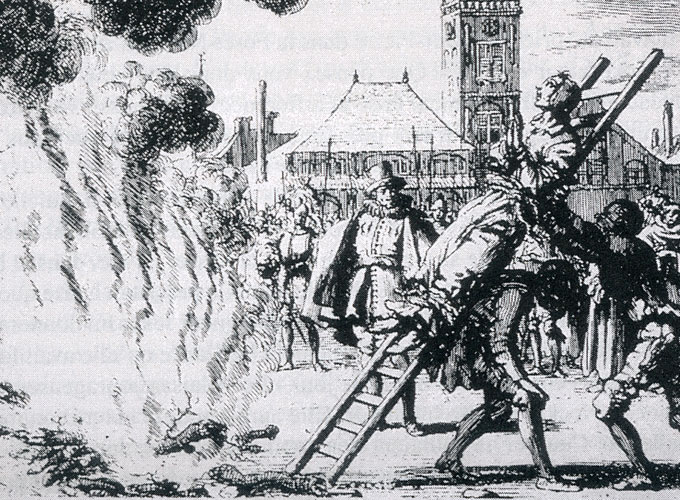 Mubuzuba bwa Kaanda Kaniini 20, 1527, Michael Sattler wakaangililwa kumalele naakamanizya kutundululwa, akutonkelwa mumulilo, akukonkezya bumboni bwakwe kwiinda mubulowa bwakwe. Wakali mu Anabaptisti kulezya buyo myaka yobile.
Kusyomeka kusikila ku Lufu
"Kubaa camba kwini nkuzyiba kuti ulimyankutidwe kotaninga talika, pele yebo ulatalika nokuba boobo akwiinda muli zyoonse kakwiina kulilesya."
~ Harper Lee, To Kill A Mockingbird
Kuli makani masyoonto buyo aazyibidwe ookwa Margaretha Sattler pele awalo wakatobela mwaalumi wakwe kaindi kasyoonto mulufu. Margaretha "wakali mukaintu muyumu mulusyomo alimwi ngumwi akataa bamakaintu bangaye bakanjide mulimo wa Kubambulula lusyomo. Bunji bwabamakaintu aabo mbaakaangidwe limwi bakali bamakaintu ba Bazangi, pele bunji bwabo bakaangululwa nkaambo tiibakasangene mumulimo ooyo alimwi bakalilekelela nibakaangidwe."12
Nguzu akubaa camba kwakwe kwakakankamika Muleli mukaintu waku Hechingen, mukaintu ookwa Silumamba Joachim von Zollern ooyo wakapede malailile aakuti ba Sattler baangwe, alimwi wakali mubetesi mupati nibakabetekwa. Ooyu mukaintu wakaswaya Margaretha muntolongo, akumukulwaizya kuti alilekelele akumusyomya busena bwakukkala mumunzi wakwe.
Bwiinguzi bwa Margaretha kumukaintu ooyo butondezya nguzu zyalusyomo lwakwe. Eelyo mukaintu muleli ooyo naakasola kwaambila Margaretha kuti wakanjila ntolongo nkaambo buyo kakuti wakali mukaintu wabulemu uuteelela mwaalumi wakwe, Margaretha wakamwiingula kataleyileyi kuti: "Ime nsyetobeli zintu nzyesyoma nkaambo nzyasyoma awalo mulumi wangu. Ime nditobela mulumi wangu nkaambo kazintu nzyesyoma lwangu."13
Mazuba obile kuzwa naakaumpwa mulumi wakwe, Margaretha wakatolwa kumulonga wa Neckar akuyoonyikizyigwa muli Bwatatu, Kaanda Kaniini 22, 1527. Bakali kwetene, kusikila munsaa myaka yobile buyo; alimwi akuba basololi kusikila munsaa mwaka omwe.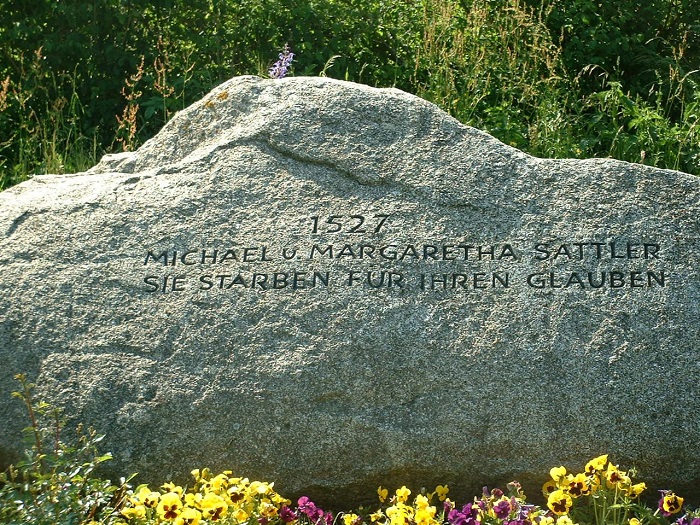 Ciibalusyo cokwa Michael a Margaretha Sattler caambilizya buyo kuti: "Bakafwida lusyomo lwabo."

"Tulizingulukidwe akkumbi pati lyabakamboni . . ."
Kubaa camba nkulilesya kuyoowa, kudyaaminina bukandu – kutali kuleka kuyoowa. ~ Mark Twain
Maumi aaba Michael a Margaretha Sattler akakosolwa, pele aabo bayoopona kusikila Mufutuli Yahushua akapiluke, aabo beelede kupona mumazuba aakujala musela wanyika, balemekezya Mwami Yahuwah, mbabaitwa kuti mumuni uumweka: eeco cisyomyo ncaakabacitila Mwami Yahuwah, Walo ulakonzya kukucitila ayebo.
Stuart Hamblen wakali muntu uulikkomanisya kapati, uukkala buumi bwakupobola lyoonse, mwiimbi, uusobana zisobano, alimwi uutola milumbe muli sikapepele. Naakamanizya kulyaaba buumi bwakwe ku Mufutuli Yahushua, wakatalika mulimo wakubambulula buumi aciimo cakwe. Aayo makani akaduma ku Hollywood—kuleka buyo kuti akali kusesya—kuti ooyo muntu wakali sikupobola akulikuna makoko lino wakasanduka akuba muna Kristu. Bumwi buzuba masikati, Hamblen wakaswaangana amweenzinyina ngobasobana limwi John Wayne.
"Makani nzi ngeekamvwa aaya aajatikizya nduwe, Stuart?" Wayne wakabuzya.
"Tee kayi ulizyi kale mbweenya mbobaamba John," Hamblen wakaingula. "Taali maseseke eeco cintu Leza ncanga wacita."
"Eeco ncowaamba cimvwikaanga ndizina lyaciimbo," Wayne wakamwetamweta kumwi kaambila mweenzinyina.
Stuart Hamblen wakaunka kumunzi wakwe akuyoolemba ciimbo cilaa mutwe ooyo. Bumboni bwa Michael a Margaretha Sattler, nciiyo ncobayiisya buno buzuba; zyoonse nzintu zijanwa mulwiimbo lwakuti:
Taali maseseke eeco Mwami [Yahuwah] ncakonzya kucita.
Ncaakacitila bamwi, Walo uyookucitila ayebo!
Katambikide maanza aakwe, Walo uyookulekelela.
Taali maseseke Mwami [Yahuwah] ncanga wacita.
Basyomi bamazubaano balaa ciindi cibotu ciimpene. Lino swebo tukkala mumazuba aamamanino aamusela wanyika. Ciindi camapenzi cili munsaa ndiswe. Eelyo myeembo yaakutalika kulila , kucinyina ciindi kucakulelema kusikila kumamanino. Kuzwa waawo, kupyopyongana kutaambiki kuyootobela atalaa nyika. Eelyo madaimona aakulibonya kaalipeekezya kuba zilengwa leza zizwa kunyika zili kulaale, akunyawita atalaa nyika yoonse, eelyo poopo aakusumpulwa kuti abe muntu wiiminina bantu boonse, eelyo kukomba kwalweeno kwaakusinikizyigwa bantu boonse kuti kabatayandi kufwa, hena yebo ulaa lusyomo lwakuti ukazumanane kuteelela akubamba mulawo ookwa Yahuwah? Eelyo Saatani nayooliyubununa kumwi kalicengeezya kuti walo ngo Yahushua Lwakwe , kataminina kuti wakacinca Nsabata yansiku akwiisandula kuba Nsondo yakkalenda lina Gregory, hena yebo uyoozumanana kuyaamina Mujwi lyokwa Yahuwah lilikke?
Kuyeeyela buyo kupenzyegwa akufwa inga caba cintu cifundusya mpeyo acikanda akugwisya moyo kuli nduwe. Yebo inga wayeeya kuti tojisi camba mbuli baabo bakajailwa bumboni. Hena Ulizyi na? Abalo tiibakajisi camba pe! Ooko kubaa camba ncipego cipegwa kuzwa ku Mwami Yahuwah kubana Bakwe basyomeka, eelyo nociyandika cipego eeco.
Yebo toyelede akulipenzya kuyoowa mazuba aacizya kumbele. Yebo toyelede kulipenzya kuyeeya kuti naa uyootama eelyo wakutalika kupenzyegwa. Yebo ulakonzya kusiila zintu zyoonse eezyo mumaanza ookwa Taata waluyando.
Muyoba uuyoosya ulazya! Inguzu zyamusinze zyabusofwaazi, zyamadaimona abantu banjidwe mizimo, ziyooswaangana antoomwe atalaa nyika kuzimaanya bantu boonse balemeka Mwami Yahuwah.
Yebo mulimo wako, buno buzuba, ngwakumuzyiba kabotu Mwami Yahuwah cakuti, yebo ukakonzye kuyaamina kuli Nguwe, kuzisyomyo Zyakwe, akuluyando Lwakwe kutali kucintu cimbi kunze Lyakwe pe.
Kosala. Obuno buzuba! "Maanza aakwe alikutambikide, Walo ulilibambide kukulekelela yebo." Nkooko koya kuli Nguwe lino.
Obuno Buzuba.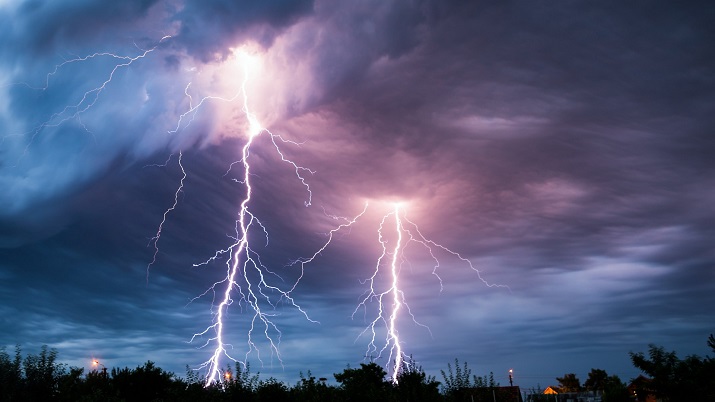 Muyoba uutaambiki ulazya. Kolibambila buno buzuba kuti eelyo waakukuumputa muyoba ooyo, yebo utakazungaani pe.
"Nguzu zyesu amayubilo ngu Yahuwah, ngomugwasyi uuliwo muciindi camapenzi oonse. Nikuba kuti nyika izungaane inga tiitwayoowa pe, inga tatuwi nikuba kuti zilundu ziwide akati kalwizi. Pe, tatuwi, nikuba kuti maanzi afufuma akuvwuuma, nikuba kuti zilundu zitenkaane akuvwuuma kwawo." (Intembauzyo 46:1-3, KJV)
---
7 Thieleman Van Bragt and Jan Luyken, Martyrs Mirror, pp. 419-420.
13 As quoted in The Radicals.