Eeci cibalo tacili ca WLC. Eelyo notubelesya zilembedwe aabalembi balaanze lya nkamu, tusimba buyo zyeezyo zyeendelana 100% a Bbaibbele a lusyomo lwesu cino ciindi munkamu ya WLC. Aboobo eezyo zibalo inga zyalanganyigwa kuti nzya nkamu ya WLC. Twakalelekwa kapati amulimo wabalanda ba Yahuwah banjaanji. Pele tatukulwaizyi ndinywe nobeenzuma kutalika kubala zyaalembwa abantu aabo. Eezyo nzibaalemba, twakazigwisya mumalembe eesu nkaambo kanjaanji zililubide akubaa tumpenda. Cintu cuusisya ncakuti tucilangaula mbungano yamilimo iitakwe kampenda. Ikuti konyandidwe nkaambo ka [zibalo/milumbe] iitali ya WLC, kobikkila maanu ku Tusimpi 4:18. Kuteelela kwesu nkwakuti kasimpe Kakwe kalayoboloka, eelyo mumuni nuuyaa kumwesya munzila yesu. Tulakayandisya kasimpe kwiinda buumi, nkanko tulavwuntauzya kufumbwa nkokakonzya kujanwa.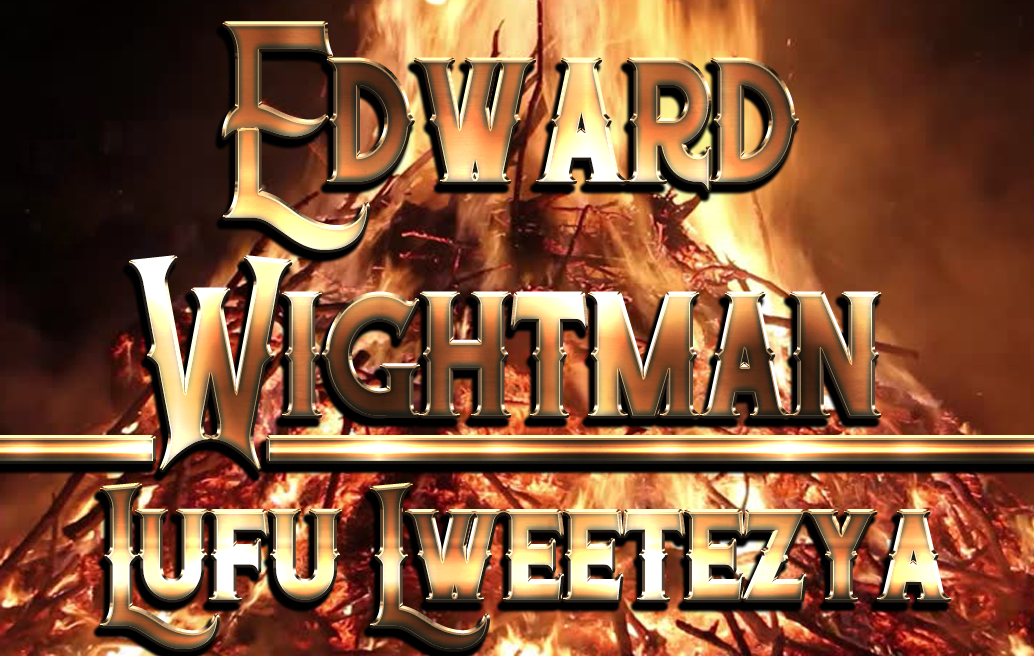 "Pe ma, ikuti mabbuku aatakwe buumi kaafusilwa mumabangabanga aamulilo kuumpwa, ino inga caba buti kumabbuku aalaa buzumi, aayo ngotutaambe kuti, mbantu?"1
Aaka nkaano ka Edward Wightman, uulaa Zina litazyibidwe akataa basicikolo ba Bbaibbele mazubaano, pele lizyibidwe kapati mumisela yaku England kuti ngomuntu wakacaalizya kuumpilwa acitanda cisimpidwe ansi nkaambo kakuzangila lusyomo lwa cikombelo.2 Mbuli bunji bwa milandu yamusyobo ooyu, aaka nkaano kazwide ziyanza zyabupaizi amapolitikisi aamazubaayo, muciindi bantu nibaazuunyene kweendelezya kufumbwa kaambo kajatikizya lusyomo lwa Bunakristu. Bunji bwa malembe aaciindi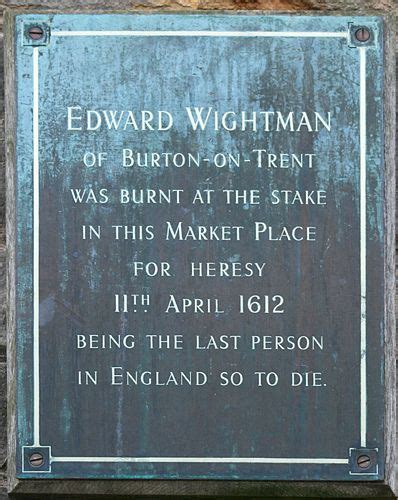 eeco alipingene mukusandulula ciimo ca muntu "uuzangide lusyomo" kubaanga wakali muntu uunjidwe basangu, wakacinkuka mumaanu. Pele Wightman wakali mwaalumi simakwebo uulemekwa alimwi walupatipati mumunzi, ooyo walo mukuyandisya lusyomo lwakwe akuliiba kulyaambilila nzyaakali kusyoma, wakaliletelezya ku Mwami waku England, James I. Kuyandisya makanaa bupaizi kwakapa kuti James abe mbuli "Mukwabilili wa Lusyomo" akubikka mulawo wakujaya muntu kumwaangilila acitanda akumuumpa aamulilo mu 1612.
Bazyali ba Wightman bakali kuzyalilwa ku Burton-upon-Trent, kucooko ca Staffordshire. Walo wakazyalilwa nkukooko mu 1566 alimwi mbuli bunji bwa bantu bakali kukkala nkuko, wakabbizyigwa muciyanza cabupaizi bwansiku bulaa tunsiyansiya. Wakanjila cikolo mulwiiyo lwa mulaka ku Burton alimwi akusangana mumpindu yakusuma akuuzya zyakusama mukwasyi ookwabo. Mu 1593 wakakwata Frances Darbye.
Mpoonya walo wakatalika kweendelana abalusyomo lwa Puritani, nkako mu 1596 wakasalwa kuba umwi wabasololi aabo bakapedwe mulimo wakuvwuntauzya bweende bwa mukubusi wakanjidwe basikazwa wamyaka 13, Thomas Darling. Eeci cilangilwa kuti kusikila akataa myaka ya-1590 Wightman wakalaa mulimo kapati akulemekwa akataa bantu, akutola cibeela munkamu mpya yakaanzwa akutalika kukwelelezya bantu baku Burton mumapolitikisi. Lino katobelezya makanaa Darling, eeco cakaba ciindi cakamucinca mubuumi bwakwe, akupa kuti ayelele ncobeni alikke kupasununa banjidwe mizimo. Darling taakatama biyo kuti wakanjidwe dyabooli, Pele wakali kulwana "nkondo zinjaanji zyakulwana tuyowela" oomo mwaakali kumvwika majwi aamadaimona abangele kaazwa muli nguwe. Eeci cakali cintu cimwi, mbuli mbotutiibone, cakakwelelezya Wightman munzila njaakali kulanganya lusyomo lusangenwe tunsiyansiya.
Cintu ncaakatalisya mu "kuzanga" cakali kujatikizya mbwaakali kuteelela kufwa kwa muuya, oobo bulangizi bwakazumanana kupambuka lusyomo lwa cikombelo akuyandisya tunsiyansiya.3 Akataa myaka 1603/4 a 1610/11, kulyeendelezya kwakwe kwakaindizya kuyaa kulikankaizya. Kweendelanya amalembe aankuta, walo wakali milembi uubujula, nokuba kuti nzyaakali kulemba tazininga janwa. Wakabejelezyegwa mucikombelo ca nkwaakali kukkala mpoonya kwakatuminwa mulumbe wakumwaanga. Ooyo mulawo wakalaide bakapaso baku Burton kuti bamweete mpeenya-mpeenya kunembo lya Mufundisi Richard Neil kuti abuzyililwe makani woonse.
Walo wakajata bubi kubunganya antoomwe mulumbe waciiyo cakwe cabuleza kalibambila kuzyoobetekwa akulyaangulula. Ambweni kayeeya kuti inga wapegwa nokaba kaindi kasyoonto kuti alivwiilile mulandu ngwaakapegwa, walo wakaabanya bapaizi mulumbe ooyo ngwaakalembulula kalangila kuti bamugwasyilile kulivwuna. Pele, antela kayeeya kuti ncecintu ncaakasyede kucita, wakatumina cimwi ncaakalembulula ku Mwami James I, eeco cakapa kuti mulandu wakwe baukosozye.
Mwami James I wakakkala acuuno cakulela cisi 1603, "kaliyeeya kuti wakali mubetesi weelela mumakani aamibuzyo ya bupaizi aboobo waakakatila kulomya kulibikka mutwe wacuuno wakuti 'Mukwabilili wa Lusyomo.'"4 Kuzwa mu 1607 wakaluujisi kulwana Bakatolika baku Loma mumakanaa mabbuku aajatikizya cikonkezyo ca Oath of Allegiance, alimwi amukukulwaizya bamwi kuti balembe zintu zimuyovwa. "Comwe ncaakasiminide mwami ooyu cakali ca kukwabilila bukatolika bwakwe buzukide kwiinda mukujatilila milazyo mipati yotatwe ya cikombelo, aku baapositolo, baku Nicene abaku Athanasia."5
Wightman walaamvwisyide aawo mpaakayimvwi Mwami, pele wakoonzomoka kulwana Mfulumende ya Cisi a Cikombelo. Akataa tubeelabeela twakulivwunya ntwaakalembede ooto tuciliko, waambilizya lusyomo oolo kuti "ndolumwiinda kumucima akumusesemya Yahuwah lwakwe... lusyomo lwabuyo ndubaatambula bantu luzwide tumpangaliko totatwe twabantu ooto, twiitwa kuti Milazyo Yotatwe... [Baapositolo'], Mulazyo waku Nicene awaku Athanasius, oolo lusyomo lwamyaka 1600 eeyi yainda lwakoongola munyika."6
Kusikila ciindi eeco Wightman wakalizandula kuzwa kutubungabunga tumwi, kabuzyilila zintu zyoonse mu masimpe aasyoma Banakristu, akukazya "kuti kubbizya bana bavwanda nciyanza citondwa...[akuyumya kwaambilizya kuti] sakalamente lyakubbizyigwa [li] leelede kucitilwa mumeenda oomo balaa ciimo cakubbizyigwa bamvwisyide mobasandulwa kuzwa ku mamambe kuzya ku lusyomo."7
Pele cintu cini cakapa kuti bumweelele ncakuti wakazangila kusyoma Baleza Botatwe aciwa ca Yahuwah. Kwakali kulubila mutwaambo ootu ncaakazyamya boobu kukaka bubambe bwa Mulazyo waku Nicene wamu 325 a Mulazyo wakatobela waawo waku Constantinople mu 381. Walo wakataminina kuti oolo lusyomo lwakali lwakulengelezya alimwi akuti Kristu wakali "cilengwa leza biyo kuleka kuti wakali Yahuwah amuntu mumubili omwe pe...[Nokuba kuti eeci tiicakali kwaambilizya kuti Kristu wakali muntu mbuli bantu boonse pele] kali buyo muntu nsini uulondokede akubula cinyonyoono."8 Kusikila aciindi eeci Mwami James wakabilila kwiinda lyoonse kuyandisya kukosozya mulawo wakuti Wightman akajayigwe, nkaambo mumyaka yaatobela wakatalika kulwisya kuzimaanya kufumbwa bantu bazangila lusyomo mucisi aanze lyacisi.
Kakwiindide buyo myezi yongaye mumiswaangano ya "balemekwa bayiide," Wightman wakaletwa kunembo lya Mufundisi Neil kwaciindi camamanino. Kweendelanya bwaamba Wightman, Mufundisi wakamwaambila kuti "pele buyo kuti ndililekelele akusulaika mizeezo yangu inga walo ulanduumpa acitanda cacisamu mudolopo lya Burton kumbelaa bantu boonse mubuzuba butobela."9 Kukosozya makani amulongo wa milandu njaakatamikizyigwa kwakasanganyidwe "zyabuzangi zisofweede zya Ebion, Cerinthus, Valentinian, Arius, Macedonius, Simon Magus, Manichees, Photinus, azya ba Anabaputisiti abamwi bazangi bainda waawo, alimwi kuyungizya waawo, ayimwi mizeezo njibaabbwa yakupunga mubumpelenge bwa Saatani."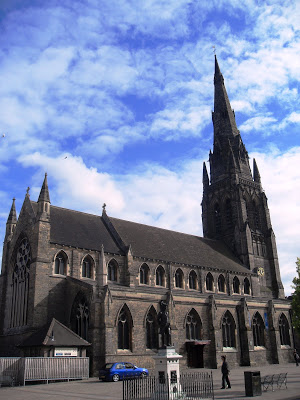 Cikombelo cina Maliya Musaante mubusena bwa Makwebo ku Lichfield sunu (Photograph: Patrick Comerford)
Wakapegwa malailile aakuti "abikkwe abusena bulaa ntangalala munselelo lya dolopo lyaambwa kale [alimwi] kabalangilizya bantu awumpwe akusububwidwa mulandu waambwa kale kuti cibe cicenjezyo amukonzyanyo ku Banakristu bamwi kuti batakasoleli limwi kucita mulandu uuli boobo."10
Eelyo kumamanino naakaletwa kuzyokwaangililwa acisamu, camba tiicakamukkede pe. Eelyo mililo niyakayasyigwa wakafwamba kukwiila kuti alilekelele, nokuba boobo wakamuka nkaambo wakatalikide "kucocoma akwiida mumulilo." Pe ma, tiilyakalampa, kwiinde buyo mvwiki zyobile nanka zyotatwe wakaletwa alimwi kunembo lya nkuta, lino katakwe bukandu bwa mabangabanga aamulilo uuvwilima, waakaka a "akwiindizya kusampaula lusyomo lwaapangililwa aacikombelo kwiinda kaindi." Mwami wakajata maanka kupa malailile kuti akajayigwe, mpoonya mu Mukubwekaangala 11, 1612, wakatolwa lwabili acisamu.
"[Wightman] bakamutembaizya akuyoomwaangilila acitanda aawo kuti akawumpwe mulilo ambweni inga walilekelela, pele nokuba kuti wakalilauka buti basilikani bankuta bakamwaambila kuti eeco tacikwe makani mpoonya bakalailila kuti akubungililwe nkuni mumbali lyakwe, nkabela wakaumpwa kusikila waba twe."11
Mu myezi yakatobela kuzwa naakajayigwa, bantu banjaanji mubupaizi abalo bakatii njile manyongwe ngeenya aayo, nokuba kuti kubula bulemu kwa bafundisi akumwaya cuuno cipati ca Bweendelezi mu 1640-2 tiikwaaleta kucinca milawo yacisi nokuba buti. Mubuzuba bwa Kaanda kaniini 2, 1648, "Mulawo wa Cisubulo ca Buzangi" wakabambwa.12 Pele aabo bakali kukazyanya aamulawo ooyu mutubunga tulyeendelela mumasena aamwi, nokuba boobo, cakali kwaambilizya kuti ooyu Mulazyo tiiwakapegwa nguzu. Alimwi kutali nikwaabikkwa mulazyo uumbi mu 1677 ("uukasya kuumpa bazangi"13) eelyo Wightman naakaba muntu wamacaalizyo mumusela wacisi ca England wakawumpwa acisamu nkaambo kakukazyanya aalusyomo, ndendileelyo buyo, nicaalesyelwa limwi eeco ciyanza. Mulandu Wakwe wakainduluka kwaambwa abalembi bongaye kakwiindide myaka 100 kuzwa nikwaabikkwa Mulawo wa Lweengelelo mu 1689. Cilikke cakatobela ncakuti tubungabunga tuniini twakali kukazya kujayigwa boobu, aboobo eeco cakakwelelezya mizeezo yabuleya kuyaa kulesya ciyanza eeci.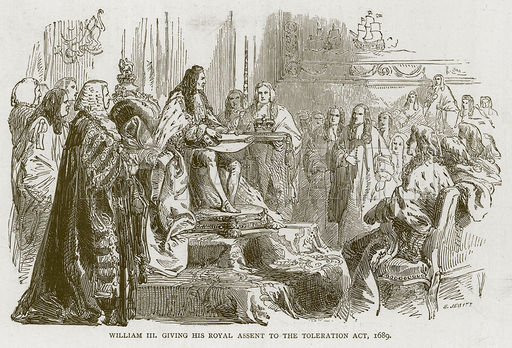 Mukuya kwaciindi, kulangikaanga Mwami James I wakabula lusyomo munzila yakutyompokezya bantu bazangila lusyomo nkaambo balo bakaindizya kuzanga nokuba boobo, aboobo "caantangalala bazangi kuzwa aciindi eeco, nokuba kuti bakalisinganyidwe kujayigwa, ategwa beelede kulekelwa kunyonyooka kabaumwine cakusisikizya muntolongo kwiinda kubafwida nkumbu, akukondelezya bantu bamwi, aabo balangilizya nkobajayilwa abuleya."14
---
1 'Matthieu Ory, Uubeteka Buzangi Pravity mu Cooko ca France, Paris, 1544'. Lawrence Goldstone, Nancy Goldstone, Out of the Flames, Broadway, 2003.
2 Kujaya umwi wakatamwa buzangi akukaka kusyoma Baleza Botatwe, Bartholomew Legate, wakawumpwa mvwiki zyotatwe zyakainda ku London.
3 Mumulumbe Wakwe umwi akataa buleya walo wakaambilizya kuti "muya wamuntu ulafwidilizya antoomwe amubili alimwi tuutoli cibeela mukukkomana kuli Kujulu nokuba kumvwa kucisa kuli mu Mulilo Uutamani, kusikila mu Buzuba bwa Lubeta, pele ulalyookezya antoomwe amubili kusikila BN ciindi eeco" M. W. Greenslade, 'The 1607 Return of Staffordshire Catholics,' Staffordshire Catholic History, 4, 1963–4, p 6–32; Clarke, Lives of Two and Twenty English Divines, p. 147.
4 Earl Morse Wilbur, A History of Unitarianism, Harvard, 1945, p. 177.
5 F. Shriver, 'Orthodoxy and Diplomacy: James I and the Vorstius Affair,' ante, lxxxv, 1970, p 453-4; James VI and I, The Workes of the Most High and Mightie Prince, Iames by the Grace of Yahuwah, King of Great Britaine, London, 1616, p 302.
6 Bodleian Library, ms Ashmole, A True Relation of the Commissions and Warrants for the Condemnation and Burning of Bartholomew Legate and Thomas Withman, 1521 B, 7, 1a–1b, London, 1651, p 8.
7 Ibid., p 8-9, 23.8 Ibid., p 5.9 Lincolnshire Archives Office, D&C, Ciij/13/1/2/2, fo. 1r.
8 Ibid., p 5.9 Lincolnshire Archives Office, D&C, Ciij/13/1/2/2, fo. 1r.
10 Robert Wallace, Antitrinitarian Biography, E. T. Whitfield, 1850, pp. 567-568.
11 George Birkhead, Michael C. Questier, Newsletters from the Archpresbyterate of George Birkhead, Cambridge University Press, 1998, p. 153.
12 "Kapati aabo ba Yahuwah uuli muzibeela zyotatwe, kubuka kuzwa kubafu, lubeta lwamamanino, akuti Bbaibbele nde Jwi lya Yahuwah... kwiinduluka kucita cintu cikasyidwe ceelede kupegwa mulandu wa bulwani akujayigwa kakwiina kujatikizya bapaizi" (Felix Makower, The Constitutional History and Constitution of the Church of England, Ayer, 1972, p. 193).
13 Cisubulo ca kuumpilwa acisamu cakazumanana mubbuku lyamilawo ku England kusikila mu 1790, mbuli cisubulo ca mukaintu wakajata mwaalumi wakwe.
14 A. J. Loomie, Spain and the Early Stuarts 1585–1655, Aldershot, 1996, ch. 10.
---
Eeci cibalo citali ca-WLC cakalembwa aaba Carlos Jimenez.
Twakagwisya mucibalo citaanzi mazina aabakomba mituni ngobayita Taata a Mwana, akubikka mucibaka cangawo mazina mataanzi ngubaapedwe. Kuyungizya waawo twakajokolosya mutumpango ntotulembulude akubikka mazina as Taata a Mwana, mbuli mbwaakalembedwe kutaanguna abalembi bamu Bbaibbele bakayoyelwa moza. Nkamu ya-WLC