Silumamba John Patterson wakalaa mulimo mupati. Impuwo yakumanizya kusimpa akulazyika njanji iizwa ku Uganda kusikila ku Mombasa yakali dumide kapati. Mulimo ookwa John wakali wakuyaka cizabukilo atalaa Mulonga wa Tsavo. Mbwaanga walo wakali muvwimi wakali kukondwa kuvwima banyama bapati, bamusyokwe, John wakali kulangila kutembaulwa kapati eelyo naakali kubeleka kubusena ooko kwakali kujanika banyama musyokwe. Kumwi kalangalanga mumbalaa munzi mupya aawo mpaakaletwa kuti azyookkalile mpawo, kumangolezya aa mwezi wa Miyoba 1898, kunyina ancaakabwene kuti muluvwunavwuna munsimunsi lyamunzi ooyo musyokwe, kwakali cinyama cicenjezu, cicenjede mukubendelela akujaya, kacisobaila mumusinze wakavwuukide atalaa nyika nilyakabbilide zuba kumangolezya.
Mazuba masyoonto kuzwa naakasika, babelesi bakwe bobile bakazimina. Aabo bakali bataanzi buyo akataa banjaanji bakatobela kusweeka kuzwa waawo. Mvwiki zyotatwe kaziindide, John wakafumina kumvwa kubucedo kuti umwi Mweenye Walupatipati, Ungan Singh, wakalumwa munyama wamusyokwe. Akataa masiku bamwi bakabona syuumbwa kanjizya mutwe wakwe mucivwuka cokwa Singh. Wakamumanka munsingo Singh , mpoonya ooyu syuumbwa wakamududumuna akumutola kuyoomulida kulaale musyokwe. John wakanyansamuka cakufwamba akubilila kulibambila kuweza munyama ooyu, nkaambo kufumbwa buyo kuti syuumbwa walabila nyama abulowa bwamuntu, inga kucinyina nanga wakkuta nyama eeyo alimwi inga tacibayoowi pe nababa bantu pe. Nokuba boobo, kufumbwa ncaakasoleka cili coonse kuti ajate syuumbwa ooyo, wakaalilwa kujata munyama ooyo. Kufumbwa ncaakapelenusya kucita, ooyu munyama wakazumanana kuluma akulya banalumi banjaanji katayoowi kujatwa, kayaa kubadudumuna kumwi kabakwiizyanya kuzwa muzivwuka zyabo masiku kuti bakaligwe musyokwe.
Mukuyoowa kwabantu boonse, cakalibonya masimpe kuti lino ooyo taakali munyama omwe buyo wakali kuluma bantu, pele bakali basyuumbwa bobile, kabagwasyana! Mumyaka iili fuka yakatobela, aaba basyuumbwa bobile bakazumanana kuleta ntenda kubantu aabo bakali kuyaka njanji. Mukuya kwaciindi, aaba basyuumbwa bakabaa camba akutalika kuliiba.1 Bamweenye bakatalika kuyoowa kuti aaba basyuumbwa tiibakali banyama ncobeni, pele kuti bakali madaimona. Masimpe, bakalicenjede cakuti bakali kweeleba tooze toonse twakateyedwe akuzwela bantu boonse bakali kubavwima, bakali kupenauka mulukwakwa lusinsinkene oolo lwakayakilidwe mumbalaa bantu kakwiina kulimvwisya kweendeenda akataa masiku; bakali kweeleba kufumbwa nyama njibaateyedwe nokuba nyama yakabikkidwe musamu; eeco ncecakaleta muzeezo wakuti aaba tiibakali banyama bamusyokwe bakacenjede boobo, pele kuti bakali madaimona.2
Kutaanguna, aaba [basyuumbwa] tiibakali kuzwidilila kukwelela kutola musyokwe kuti baluma muntu, pele mukuya kwaciindi, kwakacinyina cakali kunga cabalesya alimwi bakalaa camba cakulangana antenda iili yoonse mukuyandisya buyo kuti balume muntu wakulya. Inzila yakujata bantu yakaba yabucenjezu, bakatalika kubendelela bantu akubajata nobatalibambide, cakuti aabo babelesi bakatalika kuvwiyavwiya kuti aabo tiibakali banyama beni bamusyokwe, pele kuti bakali madaimona aalibonya muciimo cabasyuumbwa. . . . Alimwi bakali kulangikaanga bakalaa maanu aakuzyiba makanze aamuntu woonse, cakuti kufumbwa bantu ncibakasola kucita, nokuba kubayubilila cakulisisa ncobeni kabalindila kujata banyama aabo, aabo banyama bakali kweeleba busena oobo akuyoolumina muntu kubusena bumbi mubusiku oobo. . . kwakacinyina cintu cibakonga nokuba kubazungaanya akubayoosya kuti cibalesye kuluma, pele buyo kulya bantu ncecintu ncibakali kukanza lyoonse. Kufumbwa muntu ngubakapingilila, bakali kumutobelezya kakwiina cibalesya kusikila bamukwempula, nokuba kuti ooyo muntu kali mulukwakwa lusinsinkene ncobeni, kali mucivwuka cijalidwe, naa kakkede mumbalaa mulilo uuyaka. Kudubula ntobolo, kuyobeka, nokuba kwiingwa zisisi, zyoonse eezyo bakali kwiide kuuzya akulibuwabuwa kubee tabakubwene cicitika.3
Aaba basyuumbwa bakabaa camba cakuliiba cakuti bakali kuluma akutalika kulya muntu, munsaa bantu kabalangilizya. Eeyi ntenda yakazumanana kusikila mumwezi wa Nalupale eelyo mulimo wakuyaka njanji niwakayimwa kwa mvwiki zyotatwe.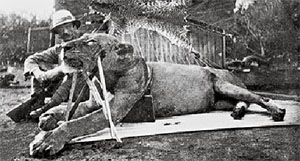 Umwi syuumbwa wakali kulya-bantu ku Tsavo.
Umwi muvwimi wabanyama bapati bamusyokwe ooyo wakapedwe mulimo wakuti ajaye basyuumbwa, awalo wakajayigwa akuligwa abanyama aabo batakacili kuyoowa bantu. Kumamanino, awalo naakati lumwe syuumbwa lwakwe, John Patterson wakajaya syuumbwa mutaanzi ooyo wakali kuluma akulya bantu. "Bulumbu bwakujaya munyama wamusyokwe bwakamukkomanisya ncobeni; ooyo syuumbwa wakali mulamfu kuzwa kumpemo kusikila kumucila kupima amatende aali fuka amayinci lusele, wakali kwiimikila bulamfu kupima matende otatwe amayinci aali fuka, alimwi wakatola banalumi bali lusele kumutembaizya syuumbwa ooyo wakali kulya bantu, eelyo nibakamudumbaizya kutola kulukwakwa nkobakali kukkala.."4 Mvwiki zisyoonto nizyakainda, wakajayigwa syuumbwa wabili. "Ooyo wakali mulamfu kupima matende aali cisambomwe kuzwa kumpemo kusikila kumucila, akwiimikila matende otatwe amayinci aali kkumi alimwi."5 Mbombubo bwakamana ntenda yakuluma bantu munzila yabujayi akataa masiku eeyo yakatola bantu batalezyi kusikila makumi otatwe abosanwe.6
Pele kucili cintu acimwi ciyoosya cakuti inga yebo cakwiimikizya masusu atalaa mutwe wako. Kuli cintu cimwi cifundusya mpeyo acikanda, cilaa nguzu, cilicenjede alimwi cilisofweede, kacikubendelela munjeleela yameso aako. Webo tokonzyi kucibona kufumbwa nosola kucenka kulubazu lwaco, pele lyoonse ulimvwide aanga eeco cintu nkocili munsimunsi lyako; kuti wacizwezya muliso lyako mpoonya wasola kulangisya, kunyina ncokonzya kubona: inga wiide kucizwezya buyo, kubee ndibbalabala, pele yebo ulimvwide kuti uli munsaa ntenda, amoyowoonse inga waduuntisya. Mbombubo oobo mbubakalimvwide aabo balombwana bakali kusimpa njanji eelyo nibakaswayigwa basyuumbwa baluma bantu ku Tsavo. Muntu inga weezyeezya buyo bukandu, kubimba akuyoowa kwakabanjide akuduunta mumyoyo yabo, kumwi kabalibilikide kuti inga kabayoolumwa cinyama cisofweede ciyaa kubolyonga sokwe munsimunsi lyabo; kacicenjede, kumwi kaciyaa kubendelela kuti cilume muntu akumukwamauna akumulya.
Pele mukufwiinsya makani, atuyungize tusimpe tumwi aawa. Atwaambe kuti Silumamba Patterson, naakaziminidwe cakucita, naakatalika kuweza banyama balya bantu aabo kuti akwabilile babelesi bakwe, wakatumina mulomo kumuntu umwi wakazyibwe kuvwuba basyuumbwa: aabo basyuumbwa mbaakavwubide muntu ooyo bakali kukonzya kuweza akujaya basyuumbwanyina. Atwaambe kuti Patterson wakakombelezya muntu ooyo kuti alete basyuumbwa bakwe bavwubidwe mulubuwa oomo Patterson mwaakali kukkala ababelesi bakwe. Kutaanguna babelesi bakwe nibakalibilika akweeleba mumbalaa banyama aabo nokuba kuti balivwubidwe, mpoonya mukuya kwa ciindi, nibakakkazyika moyo yabo kubona banyama aabo mbubakali babombe alimwi ambubakali kuyandisya kuba munsaa bantu, mbweenya mbuli banyama bamwi bavwubwa mbobabede. Nkabela babelesi nibakatalika kuswena munsimunsi akubaa cilongwe abanyama aabo: kubakwezyakwezya akubabuwabuwa, kubapa tufuwafuwa twakulya, akuzumina kuti aaba basyuumbwa bakalaa mulimo mupati mubuumi bwabantu boonse. Pele aabo basyuumbwa babombe bakavwubide tiibakazwidilila kuweza akujata basyuumbwanyina aabo bakali kuluma bantu, nkabela kwakalangika aanga bakali kwiide kubayoosya akubatanda buyo kuti batasiki munsi lyalubuwa.
Nokuba boobo, kakwiindide buyo mvwiki zyongaye kakuumwine alimwi kakunyina cicitika, basyuumbwa bakaluma muntu alimwi, bakainduluka ciindi cabili acatatu; lyoonse bakalicenjede kuleya akuzelauka kufumbwa kooze kakateyedwe mutuzilazila oomo mubakali kweetezya kuzyooluma bantu. Limwi eeco nicakaindizya kuya kumbele, bantu bakasinsimuka akujula meso, akutalika kulangisya; mpoonya bakabona kuti mbaasyuumbwa aabo babombe bakavwubidwe, mbibakalaa mulandu wakujazya bantu aabo bakali kulumwa. Kwiinda kuti bakwabilile bantu kuntenda yakulumwa, balo bakali koongelezya ntenda iiluma bantu kuti isike mulubuwa mwini.
Ino mpaaciindi cili aawo babelesi nibakali muntenda ncobeni? Hena ndileelyo nibakatungumene, kabafundilide kuyoowa alimwi kabayubide muzivwuka zyabo, akukankama mulukwakwa oomo mubakalijalila kuyoowa kulumwa basyuumbwa bakali kweendeenda mulubuwa kuyandaula muntu wakuluma? Naa ndileelyo nibakanjizya basyuumbwa babombe akati kalubuwa lwabo, akubatambula kuti tabakwe kampenda, akubabuwabuwa akubasanina, kabatakubwene ciindi coonse eeco kuti aabo mbabasyuumbwa beni bakali kuluma akulya bantu mbibakali kusobanya boobo? Ooku takuli buyo kulengelezya kaambo nobantu. Pele ncecintu cakacitika kale akati kesu mubuumi buno mbotukkede, alimwi cakasakana kale cakuti kunyina muntu uukonzya kuzyiba nkociyakweelela, nokuba muntu wakabala ncobeni kuzyiba cintu eeco coonse pe.
Basyuumbwa baku Bbabbuloni aabo baduntaila akataa bana Kristu, mbaasyuumbwa babutambo ba kukomba mu Nsondo. Bantu bakomba Mujibelo, mumizeezo yabo bayeeya kuti kukomba mubuzuba bwaciloba bwamvwiki yamazubaano, ncecintu cakulitondezya lusyomo lwabo antangalala; pele kuli ntenda mukusyoma kuti kufumbwa muntu, poopo nokuba muntu muna masi, ulaa nguzu zyakucinca mulawo wabulemu wa Kujulu ookwa Eloah wakasimpe. Ncintu ceelede kuti eeyo ntenda iili mulweeno oolu, iletwe antangalala. Nokuba boobo, kucili ntenda mpati itaambiki. Eeyo nintenda yiinda ntenda zyoonse, iinyanyaazya masusu akutilimuna muntu nkaambo tiibwenwe kuti nintenda pe. Ilisisidwe antangalala kumbelaa meso aabantu. Aabo "basyuumbwa babombe bavwubidwe" bakatambulwa akuzuminwa akataa banamaleya, mbuzuba bwa Mujibelo kuti nje nsabata yabuzuba bwa ciloba; aawo mpaali moyo wamaseseke aaku Bbabbuloni woonse.
Mbweenya mbuli babelesi aabo bakali kubamba njanji iizwa ku Uganda kusikila ku Mombasa mukaano nkotwapa kale, aabo bakalutide kuvwima basyuumbwa bakali anze lya lukwakwa lwabo, kakuli ciindi coonse bakali kuwentuzya akwiimpya kulangisya basyuumbwa babombe bakavwubidwe aabo bakakkede mulubuwa lwabo, leza wa Mujibelo awalo ulisisidwe ncobeni munzila njeenya. Eelyo Nimrod/Saturn naakajayigwa nkaambo kakukomba mituni, eeco cintu cakagambya bantu boonse bakali kumulumbaizya akumutembaula nkaambo kabuzangi bwakwe bwakuzangila julu. Kuti nkalakata yamulombwana mbuli yooyo inga wajayigwa, munzila yalunya boobo, eeco cakapa kuti kukomba mituni kusiswe kuzwa antangalala.7
Lino Shemu wakali njilaukide mizeezo yabantu cakuti bakatalika kutobela mukonzyanyo wakwe uutondwa wa Kuzanga kupati akuzangila Julu, aboobo eelyo zibeela zyamubili wakwe nizyakatuminwa muminzi kuli basimabbuku, ooko mpuwo yakwe nkuyakazwidilide kapati, inga muciindi eeco nikwaalibonya kuti aayo malweza aakukomba mituni kuti naakacili kuyandika kuya kumbele, akeelede kucitwa cakusisikizya nkaambo kacisubulo cakukosoolwa mubili muzibeelabeela mbuli bwaacitwa Shemu. Bukandu bwakujaigwa munzila iili boobo, mbuli mbwaakajaigwa naba Nimurodi ooyo wakalaa nguzu ncobeni, eeco cakapa kuti, kwaciindi cili mbocibede, bantu boonse bayoowe akusisikizya loko kufumbwa cijatikizya mituni. Aboobo, muuziindi eezi nikwakatalikwa, . . . ciyanza ca "Maseseke," eeco, cakalaa munzi waco uucigaminina mubulelo bwa Bbabbuloni; eeco ciyanza cakayambukila akumwaikila atalaa nyika yoonse. Mu Maseseke aayo, kwakaanzwa caando cakubbama mulomo acikonkezyo, alimwi kababelesya zilengwa zyamasalamuzi aamazyalane, bantu bakasolwedwa asyoontosyoonto kuya kumituni eeyo yakamwaidwe kucitwa antangalala, kusikila limwi bakatalika akuyungizya zintu zipya kumituni eezyo zyakaindizya kusampaula akusisikizya kwiinda kaindi.8
Bongaye buyo baluleme aabo bakaceede muciindi eeco, tiibakali kukonzya kwiimika mulwi wabuzangi wakatobela waawo. Kujaya Nimurodi kwakazimaanya buyo kukomba mituni antangalala kusikila, mbucikalibonyela buyo ciindi cibotu citaanzi cakutalika alimwi, oobo bupaizi bwakavwukkuka alimwi mbuli zambangulwe lyameenda, kabulaa nguzu ampuwo kapati, akusofwaazya kufumbwa ciyanza camukowa wabantu mubwakanjilauka akujana bantu babukkomanina.
Bana Kristu bataanzi bakasweekelwa buumi busalala bwakulizula eelyo nibaatambula kukomba mituni akubusanganya ku buna Kristu. Oobu bukristu bwaku Bbabbuloni, bujisi Saturn kasisidwe mukati muli mbubo, bwakayungizya kusumpulwa atalaa misyobo yoonse yakukomba mituni, mumusela wane eelyo munzi mupati wa Bulelo bwa Loma niwakalonzyelwa kuzwa ku Loma akuya ku Constantinople.
Mafumina ncobeni, bamabbishopo baku Loma bakalitondezya muya wakuliyanda akubaa bumpelenge, pele, mumisela yotatwe yakataanguna kwiinda, bakali kutaminina buyo kuti nguzu zyabo zyizwa kumusololi wabo mupati, ooyo wakali mumunzi mupati wanyika ya Loma yoonse. Pele eelyo munzi mupati ooyo niwakalonzyegwa kuya Kujwe, alimwi munzi wa Constantinople niwakalibonya kuti inga wabaa mpuwo kwiinda munzi wa Loma, kwakayandaulwa kaambo akamwi kakuzumanana kupeda bulemu kuli Bbishopo waku Loma. Aboobo aako kaambo kakajanwa mu mwaka wa 378, eelyo Poopo naakakona cijuzyo eeco cakali kwiiminina mituni yobile yakali kwiinda kubaa mpuwo mumunzi wa Loma aciindi eeco. Janus wakalaa cijuzyo mumatansyi aakwe,9 alakwe Cybele wakalaa cijuzyo;10 nkabela eezi nzyezijuzyo zyobile Poopo nzyalisamika atalaa maboko aazikobela zyakwe kuti nzitondezyo zyanguzu zyabupaizi.11
Eeyo yakali nzila yabucenjezu. Kwiinda mukulitondezya kwakwe kubantu bakomba mituni kuti walo wakali kwiiminina Janus a Cybele, aboobo kuti wakaleelede kukona "zijuzyo," zyabaleza bobile aabo, poopo mpoonya aawo nkulijanina busena bwakubaa nguzu akataa bakomba mituni. Kuzwa waawo, ntaamu yakatobela yakali buyo yakumvwanya bana Kristu akubasyomezya kuti walo ngowakeelede ncobeni kukkala acuuno kutobela Petulo mwaapositolo akuti walo wakalijisi kale "zijuzyo" zyokwa Petulo. Mubwini eezyo zijuzyo nzyaakali kutaminina kuti nzyookwa Petulo, zyakali zyamituni Janus a Cybele yakumunzi wa Bbabbuloni.
Aboobo, nokuba kuti bulemu bwamunzi wa Loma bwakayabaila, pele bulemu bwa Bbishopo waku Loma bwakali kunoosimpidwe kuti nji akusumpulwa kuya kumbele lyoonse. Atalaa muzeezo ooyu, ngomulimo wini ooyu ngwaakazuunyana kulondola. Mpoonya wakalekela kwainda ciindi cili mbocibede, nkabela eelyo cisesemyo ca Maseseke nicakalibambila nzila yaco, kwaciindi citaanzi, Poopo wakaambilizya antangalala kuti wakalaa nguzu atalaa boonse, kweendelanya amakkii ngaakapedwe Petulo. Munsaa mwaka wa 378 wakasumpulwa akubaa nguzu, mubupaizi bwa mituni, akupegwa makkii aanguzu zyabusolozi. Mumwaka wa 431, wakataminina caantangalala kuti wakajisi makki ookwa Petulo.12
Lino nkaambo kakuzilaika kwa banaKristu, poopo wakaliyakila cuuno cabusolozi kusikila watalika kulangwa kuti ngosilutwe wa Cikombelo ca Buna Kristu amusololi wabupaizi bwamituni.

Tacili cintu cikatazya kubona Bakomba mituni mbubakali kunga balibungilila munsaa poopo eelyo nibakamvwa kuti ilaa nguzu nzyaakajana mu makkii ookwa Petulo. Balo bakati aayo makki ngaakajisi Poopo, akali makkii ookwa "Petulo" ooyo wakazyibidwe mpuwo kapati akataa bakomba mituni ibakasangene mu Maseseke aaci Chaldeani. . . . Kwakali mwaalumi wakali kwiitwa kuti "Petulo" aciindi cimwi mumunzi wa Loma ooyo wakalaa busolozi abulemu bupati mubupaizi bwa mituni. Ooyo mupaizi, ngowakali kusandulula Maseseke kuli baabo bakali kusangana bupaizi oobo, zimwi ziindi wakali kwiitwa bbala lyaci Giliki lyakuti, Hierophanti, pele mumulaka uutasumpukide waci Chaldee, mulaka wini wa Maseseke, mutwe wacuuno cakwe, wakali kwiitwa kuti "Petulo"- nkokwaamba kuti,"musanduluzi." 13,14

Ciganto ca Munzi wa Vaticani kacitondezya makkii ookwa Janus a Cybele,, lino ncecitamininwa a poopo. Eeci ciganto cibikkidwe atalaa musyobo uutuba awagolide andembela yaku Vaticani.
Mupaizi mupati wamaseseke aakukomba mituni, musanduluzi Mupati ooyo wakali kuyiisya maseseke aasisidwe kuli baabo bakasumpudwe munkamu, awalo wakali kulisakatizya amakkii ookwa Janus a Cybele, nkaambo walo ngowakali umwi kwiinda muli nguwe mwaakali kuyubunwidwa maseseke woonse.
Aboobo tulakonzya kubona inzila aayo makkii ookwa Janus a Cybele mbwaakali kukonzya kutamininwa kuti makkii ookwa Petulo, "musanduluzi" wa Maseseke." Inzya, swebo tulaa bumboni bulaa nguzu ncobeni kuti, mumasi amwi aatanteene amunzi wa Loma, aayo makkii akazyibidwe buyo abantu bakomba mituni kuti akali makkii ookwa Petulo", pele kwaamba kuti makkii ookwa Petulo waku Loma. . . . Ooyo mutwe wacuuno wakali mupati akubaa nguzu ncobeni cakuti poopo inga taakuulekela kuti wiindwe kumbali pe; alimwi kweendelenya amulimo wabupoopo, wakali masimpe kuti, kuti poopo naakalaa ciindi cibotu, naakabelesya mutwe wacuuno ooyu kuti umujanye mpindu abama poopo bakali kutobela musyule. Nkabela eelyo Poopo naakasika, akunjila akati kabupaizi bwabakomba mituni; eelyo abalo nibakacaazya buyo . . . kukkalila mubweendelezi bwakwe, ninzi acimwi ncaakali kukonzya kucita kunze lya kukamantanya Bukombi bwamituni a Buna Kristu, pele mukusendekezya kuti kulibonye aanga "Petulo waku Loma" wa Bakomba mituni amakkii aakwe, wakali kwiiminina "Petulo waku Loma" mwaapositolo, akuti "Petulo waku Loma" ngowakali mwaapositolo ncobeni ooyo . . . [Simalelo Yahushua Munanike] ngwaakapa "makkii aabulelo bwakujulu", tee kayi aako nkaambo kakulengelezya buyo? Aboobo, mukuvwelenganya buyo majwi ongaye, bantu azintu zyoonse zyakasangene mumakani aayo zyakapalangana; Kukomba mituni a Buna Kristu kwakavwelengana cakuti, kufumbwa cintu cisofweede eeco mupaizi mumpelenge ncayanda kucita inga wacicita kakwiina uumulesya; nkabela BanaKristu bakoofwaala akwaalilwa kubona buzangi bwakacitika aawo, mpoonya Poopo wakaba mweendelezi wabo wiiminina Petulo mwaapositolo, kumwi kulubazu lwa Bakomba Mituni wakali kwiiminina Petulo, ooyo wakazyibidwe kuti wakali musanduluzi wa Maseseke akalaa mpuwo akati kabo.15
Mutwe wacuuno wapoopo wiiminina zinjaanji. Ibbala lyakuti "katolika" lyaambilizya kuti "mulengalenga woonse." Mbuli silutwe wa Cikombelo ca Katolika, walo ngosilutwe wa Cikombelo ca Katolika ca Buloma. Aayo maseseke aakayobwedwe cakubambilila akusisikizya mukati kazikonzyanyo azibumbwa zyakanjilaukene, muziyanza amutunsiyansiya, oomo momujanwa ciiminina leza uusisidwe. Kwiinda mukulipeekezya kubaa nguzu zyakukona makkii ookwa Janus a Cybele, poopo wakaba ngosilutwe alikke uusolweda maseseke aaku Bbabbuloni. Izina lini lyabupaizi bwamalweza abulozi oobu lilipedwe mu Bbaibbele kuti ngu "Bbabbuloni wa Maseseke."16
Cilikke lino ncotweelede kulibuzya ncakuti ino ndizyina nzi eelyo Nimrod ndyaakazyibidwe akataa bantu kuti nguleza wa Maseseke mumulaka waci Chaldeyani. Eelyo zina. . . lyakali Saturn. Saturn a Maseseke, aaya obile mabala aamulaka waci Chaldeyani, alimwi mabala aajatene. Mbuli Maseseke aayo mbwaayiminina ciyanza cisisidwe, aboobo Saturn wiiminina leza Uusisidwe.17 Kuli baabo bakasangene mumaseseke aayo, ooyo leza wakali yubunudwe kuli mbabo; kuli bamwi boonse wakali sisidwe. Lino zina lya Saturn mumulaka waci Chaldee lilembwa kuti Sat?r; pele, mbuli sicikolo waci Chaldee uuli woonse mbwazyi kale, eeli zina lilaa mabala one buyo, kuti – St?r.
Eeli zina lijisi mweelwe wamunyama simukazya-Kristu 666, ooyo wakaambwa mu Ciyubunuzyo:
S = 60
T = 400
U = 6
R = 200
666
Kuti Poopo kali ngomuntu wiiminina Saturn ncobeni mbuli mbutwabona kale, nkokuti awalo mweelwe wa silutwe wa Maseseke aa Malweza, ngu 666. Pele katuciya kumbele kusanganya waawo, . . . izina litaanzi lyamunzi wa Loma alyalo lwalyo lyakali lyakuti Saturnia, "munzi wa Saturn." Lyakaambilizyigwa aumwi Ovid,18 a Pliny,19 alimwi a Aurelius Victor.20 Mbombubo, mpoonya aawa twazyiba kuti, Poopo . . . alikke nguuyiminina Saturn kusikila buzuba buno, alimwi walo nguulela akweendelezya atalaa munzi uukkede atalaa malundu aali ciloba, aawo munzi mutaanzi waku Loma wa Saturn mpuwakayakidwe akulela nyika yaba Loma kuzyila mpawaawo, alimwi kuzwa aawo, cisi ca Italy "cakaitwa zina lyakwe kwaciindi cilamfu," zimwi ziindi kaciitwa kuti "nyika ya Saturnia."21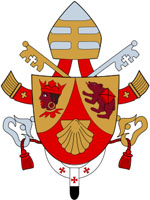 Ciganto cokwa Pope Benedict XVI
Maseseke eeni aasisidwe aaku Bbabbuloni ngakuti kufumbwa musyobo wabupaizi uutobelwa akubalila mazuba akupima ciindi kubelesya makkalenda aakubeja, aayo aatajanwi mu Bbaibbele, ooyo ngomusyobo wabupaizi bugaminide kuli leza uusisisdwe, Saturn, uuzyibidwe akuti muzangi mupati, Nimrod. Nokuba kuti kuli misyobo minjaanji yazilengwa zicitwa antangalala mu Nsondo, pele ooyo leza uusisidwe ngomusemo wazilengwa zyoonse eezyo, ngo Saturn. Saturn ngo leza mutuni wakaulikwa buzuba oobo mbomwiita mazubaano kuti Saturday. Acalo ciganto cini cokwa poopo uulela cino ciindi, Poopo Benedict XVI, cilisalede kutondezya makani woonse aaya. Kufumbwa poopo wakalela kuzwa mumusela wansiku wa 12th , wakalaa makkii ookwa "Petulo" kaasanganyidwe muciganto cakwe.
Busena bupandulula munzi wa Vaticani mumakkompyuta, busandulula zikonzyanyo zisimbidwe atalaa ciganto cokwa poopo kuti zili mu "musyobo wamutwe wamuntu uusiya mbi . . . Eeci ncinkozya cansiku lini ca Diocese waku Freising [Bavaria], . . . mutwe wa muntu usiya mbi tiiwakali mukonzyanyo mweenzu mumilumbe ya Bukuwa. Walo . . . wakali muciyanza caku Bavaria."22 Inkaya iili anselelo ayalo ilisanduludwe: "Inkaya . . . yakali kubelesyegwa mumisela yansiku kwaandaanya akataa beenzu basilweendo. Benedict XVI wakali kuyanda kuzumanana ciyanza eeco . . . ." Ooyu munyama upanduludwe kuti: "Malama wamusyobo uusubila, ulitondezyedwe . . . Busanduluzi buubauba mbwakuti: ooyo malama wakavwubwa kwiinda muluzyalo lwa Leza ngo Bbishopo waku Freising lwakwe; eeco cibbudu cikulikidwe atalaa malama ooyo ngomukuli wa Mbungano yakwe."23
Eeci inga kacili cintu cuubauba ncobeni, alimwi ceelela mumapolitikisi kusandulwida makunga aabantu, pele teesyi busanduluzi bunjide mumaseseke eeni, aayo aasisidwe ncaayiminina. Ciganto cokwa poopo cakabambilwa nguwe abbishopo mupati Andrea Cordero Lanza di Montezemolo (mpoonya wakaba kkadinalo.) Kufumbwa muntu uuzyibide maseseke aamisela, kuti watuminwa kujatila poopo mulimo wakumubambila ciganto, inga wazyiba ncobeni ncocaamba eeco ciganto muziyanza zyansiku. Malama wiiminina "nguzu, kucenjela, kuyoosya mukukwabilila bamukwasyi wakwe."24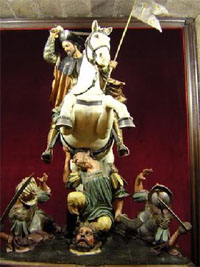 St. James Uujaya mu Mozilemu. Eeci cibumbwa cilaa mpuwo cibikkidwe antangalala mu Cikombelo ca Katolika ku Santiago de Compostela. Nokuba kuti umwi mu Mozilemu ulasyodoolwa kunsaa nsumba zyambizi zyakwe, kuli ba Malama bobile baimvwi mumbali lyakwe. Kunembo lyakwe kuli Mutwe wa mu Mozilemu uukosodwe kuzwa kumubili wakwe, kuupwatwide kulanga yooyo wakamujaya.
Mutwe wa muntu uusiya mbi "wakazyila ku Misela Yaakatikati eelyo nikwakali kwaambwa kuti mbulemu kwaabilwa Mutwe wa Muntu uusiya mbi."25 Ziganto zyamusyobo ooyu taali buyo matusi amasampu aakataa misyobo yabantu pe, pele nkutukila muntu mu Mozilemu uuli woonse nkaambo mbwaanga balo bakalaa citondezyo ca Mutwe wa muntu uusiya mbi, alimwi kakwiina kusiya ambali naba omwe, mubupaizi bwa Izilamu. Misinzo yabupaizi eeyo yakajazya ba Mozilemu banjaanji, ba Juuda abana Kristu baapositolo mbweenya buyo. Muciindi ca Misinzo eeyo, cakali cilengwa kulanganyigwa kuti mbulemu kukosola mutwe wa mu Mozilemu uusiya mbi nkaambo kaciyanza ca bupaizi bwakwe.
Eeci ciganto cakalaa njili kunsaa ncico. Nokuba boobo cili masimpe kuti eeyo njili "yakali kubelesyegwa kwa misela minjaanji kwiiminina James Musaante, wisi wabasaante baku Spain. Malende aakwe nkwaacili ku Santiago de Compostela; ooyo ngo munzi umwi akataa minzi ya Katolika "iisetekene" yotatwe."26 Nkaambo kakuti ooyo munzi wa Santiago de Compostela uli munsaa nkomwe yacisi ca Spain, injili yakaba citondezyo ca musaante ooyo ulaa malende aayakidwe nkuko kunkomwe eeyo. St. James uzyibidwe kanjaanji kuti ngu Santiago Mantamoros: St. James Uujaya MuMozilemu! Kutobelezya ziyanza zyansiku, "James Musaante mwaapositolo wakalibonya kali silumamba uujisi cceba katantide mbizi kaya kuyoogwasyilizya lumamba lwa bana Kristu kulwana ba Mozilemu mumusela wa Reconquista. Kwiinda mubusaante bwakwe, eezyo nkondo nzyaakalwana James Musaante kali Mujayi waba Mozilemu, lyoonse zyakali kuzwidilila kuzunda kwa Kristu atalaa basinkondonyina ba Mozilemu."27
Eezi zinkonzya zyakasalwa cakutontomeka kabotu-kabotu. Zyakali kubelesyegwa munzila zyaandeene a Mupaizi Cardinalo Ratzinger kataninga kuba Poopo Benedict. Mu 1981, Ratzinger wakasumpulwa mumulimo kuti abe Mweendelezi wa Mbungano ya Ciiyo ca Lusyomo; eeco cuuno cakali kwiitwa musyule lyaciindi kuti Mulimo Uusetekene wa Kuvwuntauzya. Eeco cakamupa kuti walo abe nguutobela Silutwe Muvwuntauzi Mupati. Kataninga salwa kuba poopo, Benedict wakalaa mpuwo aluzyibo mulwiiyo lwa buleza. Walo mukusala kusanganya cinkonzya ca mutwe wamuntu uusiya mbi, injili a mutwe wa Malama, eeco cakali cintu ncaakacita caali, mbuli mbobazumina abalo bamumunzi wa Vaticani; "Cardinalo Joseph Ratzinger, wakasalwa kuba Poopo akulisamika zina lya Benedict XVI, wakasala cinkonzya naa cidinto cilaa zikonzyano ziiminina zinjaanji eeco citondezya kumusela wesu ciimo a Bulelo Bwakwe."28
Mumwezi wa Ivwivwi 2006, Benedict wakanyemya ba Mozilemu kuzinguluka nyika yoonse eelyo naakaambilizya cakalembedwe mumisela yaakatikati, kaamba kuti, "Amunditondezye buyo cintu cipya eeco ncakaleta Mohammed, pele oomo inga yebo walijanya buyo zintu zisofweede zitali zyabuntu bwanyama, mbuli malailile aakwe aalusyomo lwa Izilamu oolo walo ndwaakali kukambauka kuti, lweelede kumwaigwa munyika yoonse kubelesya cceba." Ba Mozilemu bakakalala akumutapatila kuti alilekelele.
"Salih Kapusuz, ooyo uutobela musololi wankamu iilela cisi ca Turkey AKP, wakati, Poopo Benedict wakali kulabalika zintu zitakwe maanu nokuba kupindaula caali zintu. 'Walo ulaa mizeezo iisiya iizwa mumusinze wa Misela Yaakatikati,' mbwaakaamba oobo. 'Walo uyooinda mumisela kalaa ciimo cabantu bamwi mbuli Hitler a Mussolini.'"29 Kunyina pe Poopo naakalilekelela, pele wakaanka buyo kulyuusyawusya kumwi kaamba kuti bamwi bantu balinyemede nkaambo kamajwi ngaakaamba.
Kasimpe keni kakuti bantu bamwi inga basala kusanganya zitondezyo zyamalweza boobo mu "ciganto cizwide zitondezyo ziiminina zintu zinjaanji" mukukakatila kutondezya musela woonse "ciimo cakwe aacuuno cabulelo bwakwe", eeco ncintu cituletela mubuzyo wini wakulibuzya kuti: Ino ninzi cintu cini Benedict ncakanzide muciindi cabulelo bwakwe?
Kuleka buyo kwiibalusya zintu zyabulwani, zyabantu bakoya mbanyama bamusokwe mumicito yabo mukubelesya mutwe wa muntu uusiya mbi kuti ube muciganto cabo, kuli zinjaanji zisisidwe kunze lyazifwanikiso, eezyo nzyezintu zyeelede kumvwisyigwa. Mutwe wamuntu walunyungu oolo abusyu bukoya bwamuntu uuzyila kumukowa wabantu bacikanda cisiya, uyubununa zinjaanji eelyo nuuyezyekwa acitondezyo cakali kwiiminina Nimrod.
Ime ndakalibonena kale kuti Nimrod, mbwaanga wakali mwana musankwa ookwa Cush, wakali muntu uusiya. Lino, kwakali cilengwa muziyanza zyaku Ejipita, eezyo zyakalembwa mubbuku lya Plutarch, kuti "Osiris wakali kusiya mbi," eeco ncecaambwa munyika bantu banji mubakalaa musyobo wacintu cisiya, aboobo caambilizya kuti wakaliimpene kusiya kwiinda bantu bamwi mbwaakali kusiya. Plutarch ulaambilizya akuti Horus, mwana musankwa ookwa Osiris, "wakalaa musyobo wakusalala," alimwi muunzila eeyi kanjaanji, Osiris mbwaakali kutondezyegwa muzifwanikiso. Pele swebo tulaa bumboni butazungaani kuti Osiris, mwana musankwa alimwi mwaalumi wa leza mukaintu mupati waku Ejipita, wakali kutondezyegwa kuti wakali muntu wacikanda cisiya. Mubbuku lya Wilkinson kulakonzya kujanwa cinkonzya cakwe cimutondezya ciwa cakwe kakwiina kudonaika kuti wakali mu Cushite naa muntu uusiya.30
Eeci cifwanikiso cizwa mubbuku lilaa mutwe wa Cikuwa waamba kuti Ziyanza a Zilengwa zya Ba Ijipita Bansiku31, liswaanganya lunyungu lwa Osiris alwa Nimrod. Izina lya "Nimrod" lizyila kubbala lyakuti Nimr, "siluwe," alya rada naakuti rad "kuzunda." Aboobo, eelyo zina liiminina kuti "wakazunda siluwe." Aboobo, cikutu ca siluwe lyoonse cakali kujatikizya Nimrod alimwi bapaizi bapati bokwa Osiris bakali kusama zipaya zya basiluwe muziindi zimwi nibakali kwiitwa kucita mulimo mupati."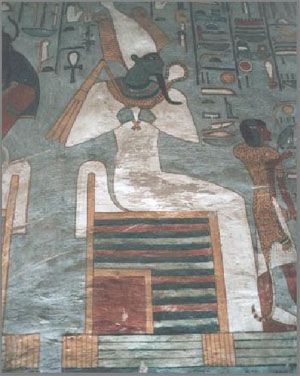 Eeco cipaya cakali kuswaanganya mupaizi wakacisamide kuli [Osiris] a Nimrod. Ooyu Osiris wakalaa cikanda cisiya, wakali samikidwe kuzwa kumutwe kusikila kumatende mucikobela camabatabata, kucamba kasama cipaya ca siluwe, alimwi kuzwa mucibuno kuyaansi kasamide cikonzyanya ancasamide kucamba."32
Acimwi cikonzyanyo cokwa Osiris33 citondezya nguwe kalaa cikanda ciinda kusiya kwiinda cabamwi baku Ijipita aabo bakalaa cikanda cisiya, alimwi akumutondezya, kali nkalakata lyamuntu. Amubone mucifwanikiso mupaizi mbwayimvwi kunembo lya Osiris. Ooyu mupaizi tali mwana pe; ulaa cilezu mbuli mbokutondezyedwe. Mupaizi ooyu usamide cipaya ca siluwe, ooko nkokutondezya kuti mupaizi ookwa Osiris. Mulembi wacifwanikiso taakali kulengelezya zyamumutwe wakwe eelyo naakali kweenga zifwanikiso eezyi kazyiindene bupati pe. Pele, eeci cifwanikiso taceendelani azilembedwe zimwi eezyo zitaminina kuti Nimrod wakali nkalakata yamulombwana.
Mumabbuku aalembedwe aamwi, Nimrod ulitondezyedwe kalaa cikanda cisiya. "Ku India, mwana muvwanda Crishna (wakali kutondezyegwa kali leza mwana uusiya cikanda), kali mumatansyi aaleza mukaintu Devaki, kumwi katondezyedwe ulaa masusu mbuli boya bwa mbelele aciwa cikoya camuntu uusiya nanka walunyungu lwa bana Afulika."34 Zifwanikiso zyamazubaano, zitondezya Crishna/Krishna kalaa ciwa camusyobo wiimpene amusyobo wa ciwa cabanyina.
| | |
| --- | --- |
| | |
| Eeci cibumbwa cifwalidwe cizwa ku Bbunganino lyaba Hindu, citondezya Nimrod mu Hindu, a Krishna kalaa masusu aciwa mbuli bana Afulika (Edward Moor. London: T Bensley). | Zifwanikiso zyamazubaano zicitondezya Krishna kalaa cikanda cisiya mbi. |
Cikkelo cabumboni inga caambilizya kuti Nimrod wakalaa ciwa camusyobo wacintu cisiya. Mbwaanga Nimrod/Saturn wakali leza zuba weendelezya buzuba bwa Mujibelo, oobo buzuba bwakaulikwa zina lyakwe, alimwi Nimrod wakali kwiiminina muntu muna Afulika mububambe bwamubili wakwe, nkabela mutwe wa muntu uusiya mbi, ncitondezyo ceelede kutondezya leza uusisidwe, walo ooyo ngu Saturn abuzuba bwakukomba nguwe, bwa Mujibelo. "Saturn, leza uusisidwe, - leza wa Maseseke, ooyo ngwayiminina Poopo, ulaa maseseke aakonzya kuyubunwidwa buyo baabo basangane mubulozi bwamaseseke aayo"35 ; ulitondezyedwe atalaa cidinto cokwa Poopo Benedict kali mbuli mutwe wa muntu uusiya mbi uulyaangide muncinda kumutwe. Kutondezya cinkonzya eeco, ncintu cimvwisyigwa buyo abantu basyoonto basangene mubulozi, ncintu citondezya cuuno ca Poopo kuti ngo Musanduluzi Mupati wa Maseseke.
Mucishinshimi, malama wiiminina bulelo bwa Medo-Persia.36 Kusumpula buzuba bwa Nsondo kuti mbuzuba busetekene, kwakazyila kumaseseke aabupaizi bwaku Persia, kapati bwa Mithraizimu. Malama, aboobo, wiiminina kusumpula buzuba bwa Nsondo. "Mulimo wacidinto eeci, ngwakutondezya maseseke amakanze aaku Bbabbuloni."37 Aboobo, eezi zitondezyo zyobile zilaatala lyacidinto cokwa Poopo Benedict, nzitondezyo zilaa maseseke aayiminina mazuba aa Nsondo a Mujibelo, mulimo wazitondezyo eezi ngwakutondezya mwini wamazuba aayo, kumuntu uusangene bupaizi oobo, kuti ooyo ngo silutwe ulaa nguzu atalaa mazuba obile antoomwe aakukomba aayo. Mutwe wamuntu uusiya wiiminina leza uukombwa Mujibelo, Malama wiiminina leza uukomba mu Nsondo. Ooyo uulaa cidinto cilaa zitondezyo eezyi, ngo silutwe uupandulula maseseke aaku Bbabbuloni. Kumuntu uutasangene bupaizi oobo, aaya maseseke alisangene mumulimo wakuti muntu inga watobela silutwe wamazuba akukomba aayo kwiinda mukulya musa akutambula masakalamenti mu Nsondo amubuzuba bwa Mujibelo aciindi ca 4 koloko kumazuba, mpoonya akubalila musa ooyo kuti ngwakumamanino aamvwiki.38
Pele kucili maseseke aayindide kusiswa aaciyandika kuyubununwa: kuganta kuti nguni mwini leza uusisidwe. Nguni ooyo Nimrod ngwaakali kwiiminina? Mwaapositolo Paulu wakaingula mubuzyo ooyu: "Pele Ime ndaamba kuti, eezyo zintu bantu bamasi nzyobapaizya, eelyo nobatuuzya zipaizyo kumadaimona akumizimo yabo, alimwi kutali ku Mwami Yahuwah: alimwi Ime njanda kuti inywe mutabi nomukamantana amizimo nokuba masabe pe."39 Eezyo nguzu zyakaintizya Nimrod akusungilizya baabo bakali kumukomba, kunyina acimbi pe, pele ninguzu zya Saatani mwini, sinkondonyina wamuntu a Mwami wakujulu.
Lino, kuti twalibuzyabuzya, inga kwajanika kuti, mbwaanga zina lya Saturn lyakali zina lya silutwe wabupaizi ooyo wakali kubonwa ameso, nkabela alyalo zina lya Teitan lyakali zina lyakali kwiitwa silutwe wabupaizi inga kwatakali kulibonya, silutwe wamunyama wa [ Ciyubunuzyo 13].Teitan ngomusyobo mbolilembwa eelyo zina lya Sheitan mumulaka waci Chaldeani, ooyo wakali kwiitwa kuzwa nsiku lini kuti ngu Saatani abantu aabo bakomba madaimona baku Kurdistan; alimwi abaku Armenia nanka ku Kurdistan,40 ooku kukomba Dyabooli nkokujatikene mu Maseseke aaci Chaldeani aayo aakamwaikila kumbo munyika ya Asia, akuya ku Etruria aku Loma. Tacili cintu cikonzya kukakwa kuti . . . Teitan, mulusyomo lwa Bakomba mituni, wakalikonzyene a Dyabooli, naa Saatani.41
Inga caba cintu cikatazya kubantu bamazubaano kuti babone mbwaaswaangene mazina aa "Saatani" and "Teitan." Nokuba boobo, kuli cintu cimwi cikonzya kwaatondezya mbwaaswaangene mulwiiyo lwamabala. Mulaka wansiku waci Chaldee kanjaanji wakali kulembulula mabala aa Sh a S kuti abe T. Amulange mikonzyanyo iitobela ansi aawa:
Mabala aaci Hebulayo amuci Chaldee
Shekel (kupima bulemu wacintu ) Tekel
Shabar (kutyola) Tabar
Seraphim Teraphim
Asar (kuvwuba) Atar
Lino kosiila kumbali zyoonse zinkonzya zyalweeno, azitondezyo, misa amasakalamenti aabakomba mituni amazina aasisikizya baleza bamadaimona amisangu iili mu buna Kristu; cintu cinga cacaazya antangalala, ncintu citondezya kuti nguni wini leza uusisidwe kunzaa bupaizi bwansiku abupaizi bwalweeno bwamazubaano boonse: ngu Saatani ncobeni, kwiina awumbi pe. Ooku takuli kusampaula Bakatolika baku Loma pe. Pele, nkuzumina kuti aayo "maseseke aamalweza"42, ngaakali kwaamba mwaapositolo Paulu mumusela mutaanzi, aakamwaikizyanya akunjilauka nyika yoonse, kusanganya a BaJuuda a Basikutongooka mbweenya buyo. Misela yakainda musyule, yakavwukkila kasimpe ka maseseke aaku Bbabbuloni kunsaa lweeno cakuti kunyina muntu pe pele aabo basangene bupaizi oobo uukonzya kuzyiba kasimpe koonse: boonse bantu bakomba Mujibelo tabakubwene pe kuti bakomba Saturn/Sheitan/Saatani. Mu Mangwalo, Bbabbuloni ncitondezyo ciiminina kupyopyongana abupaizi bwalweeno. Nokuba boobo, bunji bwa basicikolo balazuminana kuti eeli zina lya Bbabbuloni lyakali kwiiminina kuti "Mulyango wa baleza."
Oobo buzuba muntu mbwasala kuti akombe, mbobuzuba bugakimide kukomba kwakwe muntu ooyo kuli Leza weendelezya akutaminina buzuba oobo kuti mbuzuba bwakwe. Kufumbwa kukomba mubuzuba bubalilwa akupimwa kubelesya kkalenda lyalweeno, ooyo ngo mulyango wabaleza balweeno naa (zyeelo, madaimona, basangu, masabe, dyabooli atuyowela). Ooyu ngo mulazyo ngwaakali kwaamba lwakwe Kristu eelyo Walo naakati, "Nkaambo Mwanaamuntu ngo Simalelo wa buzuba bwa Nsabata abwalo."43 Simalelo wabuzuba bwa Nsondo ngu Solis Invicti (izuba litakonzyi kuzundwa). Simalelo wabuzuba bwa Mujibelo ngu Saturn/Sheitan/Saatani. Simalelo wabuzuba bwa Nsabata, Mulengi wajulu anyika azilengwa leza zyoonse. Kutegwa muntu agamike kupaila kwakwe kuli leza uululeme, muntu weelede kukomba mubuzuba bululeme bwa Leza/ leza ooyo, bupimwa akubalilwa kubelesya kkalenda Lyakwe/ lyakwe. Kulazika kumbali milimo yako yoonse akubamba buzuba oobo mbolyookezya, ooko nkokutondezya kupa bulemu kuli Sibulemu ooyo uulela buzuba oobo.
Yebo utalisungilizyi kuyeeyela mumizeezo yako kuti kukomba mu Nsondo ncintu citakwe mulandu kwiinda kupaila mumazuba amwi. Kupaila Mujibelo kugamika kukomba kwamuntu ooyo kuli leza usisidwe ooyo, wakaulikwa buzuba oobo, Saturn/Sheitan/Saatani. Nokuba boobo, akwalo kukomba mumazuba obile aaya kuliswaangene cakutajokolosya. Kukomba mu Nsondo, mubuzuba "butaanzi" bwa mvwiki, ncintu ciyungizya kutonkela kumbele lweeno lwakuti Mujibelo, mbobuzuba "bwaciloba" bwa mvwiki yamazubaano, akuti bweelede kuba Nsabata yamasimpe. Boonse aabo bakomba kubelesya kkalenda lyabakomba mituni lyokwa poopo, bazumanana kutabilila Maseseke aaku Bbabbuloni, aayo aakanjilauka akulisamika ciwa ca bunaKristu mumusela wane, akusangana mukupaila Nimrod. Mukucita boobo, bapa bulemu kunguzu eezyo zyakamusumpwide akumukulwaizya mumicito yakwe: nguzu zyokwa Saatani.
Basikutongooka aabo bapaila mu Nsondo aba sinsabata bakomba Mujibelo, tabaluleme mukulizeeza kuti baliluleme kwiinda Bakatolika baku Loma. Ba George Sinclair baku Ulbster bakati: "BuLoma ninzila ya Bunakristu iibambuludwe yakukomba zibumbwa, alimwi iliimpene kuzwa kubuna kristu nkaambo ilainda kubaa bumpelenge, lunya, ntenda alimwi ilatambula kufumbwa musyobo wabupaizi wamalabisi uusofweede."44 Eeci ncecintu cinjilaukide Bunakristu boonse, ncobeni, anyika yoonse eeyi iliswaangene mukubelesya kkalenda lyakubeja lya Maseseke aaku Bbabbuloni / Loma.
Inkondo yakulwanina kukomba, eeyo yakatalika ciya ciindi Lusifa naakalipeekezya akutaminina bulemu bwakeelede kupegwa buyo kuli Eloah wamasimpe alikke, iyoolula akukalala kulwanwa kusikila kumamanino kwini kwaciindi. Aaka nkakaambo kalwaninwa munkondo mpati akataa Mulengi a Lusifa. Masimpe kuti lino maseseke aaku Bbabbuloni avwumbulwa akusiigwa antangalala, akuti ooyo leza uusisidwe, Saturn, lino wabbununwa kuti nkukomba zyeelo, mizimo adyabooli, alimwi akuyubununa kwiinda cintu cili coonse mbocikonzyeka kucitwa, kuti eeco ciindi cakaambwa mu Ciyubunuzyo kuyoocitika munsaa kuzyokela kwa Kristu, casika lino alindiswe.
Muzilengaano zya Mamanino aaciindi, kaindi kasyoonto munsaa lubeta lwakwe, Johane wakabona kwaciindi citaanzi Cikombelo Cizangide "kacilembedwe ankumo lyaco" (Ciyubunuzyo 17:5). Ninzi ncociiminina eeco cilembedwe "ankumo yakwe"? Hena tacaambilizyi buyo kuti, kaindi kasyoonto kayanda kubetekwa, ciimo cakwe cinoozwidilide cakuti, kufumbwa muntu ulaa meso aalanga akubona, ooyo weendelezyegwa amoza, uyoolizyibila mwini, mbuli mbocibede kuti , . . . ayibaluke zina eelyo . . . Moza wa [Yahuwah] ndyaakapede cikombelo, mbolyeelela cikombelo eeco. Lubeta lwa Bbabbuloni luyaa kubinda kuswena cino ciindi; alimwi eelyo noluyaa kuswena, Luzyalo lwa . . . Mwami [Yahuwah], kalweendelana a Jwi lyokwa . . . [Yahuwah], amumuni kuumunika kuzyila mujulu lyoonse, kuyoolibonya masimpe kuti Loma ngo Bbabbuloni ncobeni wa Kumamanino aciindi; akuti ciimo camilimo yakwe, zibumbwa zyakwe, mapobwe azilengwa zyakwe, bapaizi bakwe amicito yabo yoonse, bakasungulwa kuzwa kumunzi wansiku wa Bbabbuloni.45
Aaya mazwanga mapati kwiinda yaayo aalwanwa akataa Bakatolika a Basikutongooka, nokuba alakataa baabo babamba Nsondo abaabo babamba nsabata Mujibelo. Buno buzuba Ijulu liyubunwida tusimpe twa kukomba Mulengi wesu kumizeezo yamuntu eeyo yakasizyigwa amusinze wamanjezyeezya aziyanza zyakukomba mituni zyiimpene. Kupaila leza umwi, ncintu cikonzya buyo kucitwa mukubalila buzuba bwakukomba akubelesya kkalenda lyabakomba mituni. Kutegwa muntu atondezye bulemu ku Mulengi, kkalenda Lyakwe libelesya mwezi-azuba antoomwe, ndelyeelede kubelesyegwa kubalila akujana buzuba Bwakwe busetekene. Aaka nkakaambo keni kalwaninwa, njembaakani yakulisalila njalangene mumeso muntu uuli woonse uukkede atalaa nyika: Nguni yebo ngoti kakutaukile?
---
1 Muleli waku Amelika,, Theodore Roosevelt, wakali muwezi wakalaa mpuwo. Eelyo naakali kwaamba ncayeeya akaano aaka wakati: "Ime njeeya kuti eeco cakacitika kuli basyuumbwa-balya-bantu ku Uganda . . . ngamakani aayebeka aalembedwe." (Lugwalo lwakwe kuli F. C. Selous mubbuku lya Forward, The Man-Eaters of Tsavo, lyakalembwa aba John H. Patterson.)
2 Mangwalo lwawo aambilizya banyama banjidwe mizimo, masabe nokuba basangu. Langa Mateyo 8:31-32.
3 Patterson, The Man-Eaters of Tsavo, "Basyuumbwa balya Bantu balibonya ciindi citaanzi," Caandaano 2.
4 Patterson, op. cit., "Lufu lwa Syuumbwa Ulya-bantu Mutaanzi," Caandaano 8.
5 Patterson, op. cit., Lufu lwa Syuumbwa Ulya-bantu Wabili," Caandaano 9.
6 Cipekupeku camu 1996 cakaano aaka, The Ghost and the Darkness, cakatamininakuti kwakafwa bantu bali 135. Ooyu mweelwe uyeeme akaambo aako nkaakaamba Patterson mu 1925. Ibbuku lya Patterson, lyakalembwa mu 1907, lyaamba kuti bamweenye bali 28 bakafwa "kusanganya atalaa milwi yabana Afulika batabalidwe." Makani aakavwuntaulwa akulembwa mubbuku lyamutwe wakuti Proceedings of the National Academy of Sciences, akubikka mweelwe wabantu bakaligwa basyuumbwa kuti wakali 35 alimwi banji basika 75 bakajaigwa nokuba kuti tiibakaligwa. Kobala acilembedwe cilaa mutwe wakuti The Lion's of Tsavo: Exploring the Legacy of Africa's Notorious Man-Eaters, (New York: McGraw-Hill, 2004), cakalembwa aba Dr. Bruce Patterson.
7 Homer, upandulula Nimrod "kuti wakali muwezi mupati wampuwo wakalaa mubili mupati. . . Sikweema umweezyekanya aa Pelorian; cintu cipati, eeco cilaa ciimo cipati mbuli nkalakata yamuntu. . . ." (William Holwell, A Mythological, Etymological, and Historical Dictionary, (London: C. Dilly, 1793) p. 308.
8 Alexander Hislop, The Two Babylons, (New Jersey: Loizeaux Brothers, Inc., 1959) pp. 66 a 67.
9 Ovid, Fasti, lib. I. II. 95, 99, Vol. III, p. 18.
10 "Cybele," Tooke's Pantheon of the Heathen Gods and Illustrious Heroes, tr. Andrew Tooke, (London, 1806), kutaanguna lyakalembedwe mutwe wakuti Pantheum Mythicum Seu Fabulosa Deorum Historia asicikolo mu Jesuiti François Pomey, p. 153.
11 Hislop, op. cit., p. 207.
12 "Bumboni butondezya kuti ooku kutaminina kwakacitwa ciindi citaanzi mu 431, kobala ncaakalemba Elliot kuti Horæ, Vol. III, p. 139. Mumwaka wa 429 walo wakasendekezya kuti, muumwaka buyo wa 431 eelyo kutaminina ooku nikwakayambukila kulaale akulyaandaanya ." (Hislop, ibid., zyoonse zyobile zyakalembululwa.)
13 Langa John Parkhurst, An Hebrew and English Lexicon, Without Points, (London, 1799), p. 602.
14 Hislop, op. cit., p. 208.
15 Hislop, ibid., pp. 208-210; langa cakalembwa a Jacob Bryant, A New System or an Analysis of Ancient Mythology, (London: J. Walker, 1807) Vol. I, pp. 308-311, 356, 359-362.
16 Ciyubunuzyo 17:5
17 "Mumaseseke aa Musa, aabo bakomba bayiisyigwa kukomba munzila eeyi: 'Leza UUSISIDWE, alimwi Mufutuli wangu, kobaa luzyalo kuli ndiswe.' –(M'Gavin'sProtestant, Vol. II., p. 79, 1837.) Nkukuli ooku kupailila 'Leza Uusisidwe' nkukwakazyila, pele buyo kuzwa kukukomba Saturn wansiku, ooyo ngo 'Leza Uusisidwe'? Mbweenya Poopo mbwaakalemekezya leza muna Bbabbuloni kwiinda muzina lya St. Dionysius, a St. Bacchus, ooyo wakajaigwa,' mbweenya buyo alyalo zina lya 'Satur' lyakasanganyigwa mukkalenda lyakwe: nkaambo buzuba bwa Miyoba 29th ndipobwe lyakusekelela 'St. Satur,' ooyo wakajaigwa. – (Ibbuku lyokwa Chambers lyakuti Book of Days, p. 435)" Hislop, op. cit., p. 269.
18 Fasti, lib. VI. II. 31-34, Vol. III, p. 342.
19 Historia Naturalis, lib. III. 5, p. 55.
20 Origo Gentis Romanæ, cap. iii.
21 Hislop, op. cit., pp. 269-270.
22 Langa cilembedwe aawa www.vatican.va/holy_father/benedict_svi/elezione/stemma-benedict-svi_en.html. Nokuba kuti ncintu "cijanikajanika muziyanza zyaku Bavarian," kunyina muntu uuzyi pe mbucatalika cilengwa eeci pe.
23 Ibid.
24 Langa cilembedwe aawa www.heraldry.ws/info/article05.html; awaawa, www.fleurdelis.com/meanings.htm
25 Ibid.
26 Imwi minzi yobile nja Loma a Jelusalemu.
27 Langa cili waawa www.crusades-encylopedia.com, St. James Uujaya Malama.
28 Langa cili waawa www.vatican.va/holy_father/benedict_svi/elezione/stemma-benedict-svi_en.html.
29 www.telegraph.co.uk/news/worldnews/1529021/Muslims-condemn-Pope-for-insulting-Prophet.html
30 Hislop, op. cit., p. 43.
31 Sir John Gardner Wilkinson, op. cit., Vol. VI, Plate 33.
32 Langa cilembedwe aawa Hislop, op. cit., pp. 44 a 45; Wilkinson, op. cit., Vol. IV, pp. 341 a 353.
33 Osiris wakali kutondezyegwa kasamide mulembo uutuba wakuzikkilwa nkaambo wakali leza wabuumi butobela lufu.
34 Hislop, op. cit., p. 238.
35 Hislop, ibid., p. 271.
36 Langa cili mu Daniele 7; kweezyekanya acili mu Daniele 2:38-40.
37 www.stedmundsbury.gov.uk/seb/live/arms.cfm
38 Ofisi lya Bbishopo Skylstad, Mupaizi Katolika waku Spokane, Washington. Eelyo naakabuzyigwa, Mugwasyi wa Bbishopo wakati, "Kufumbwa ciindi kaciindide ciindi ca 4 koloko Mujibelo inga caambwa kuti nciindi ca musa a sakalamenti lya kumamanino aamvwiki. Eeco ncecitola busena bwa mvwiki yoonse. Yebo toyelede kuunka ku musa kuyootambula sakalamenti alimwi mu Nsondo."
39 I Bakolinto 10:20
40 Frederick Walpole, TheAnsayrii, (London: Richard Bentley, 1851) p. 397. Langa acakalembwa, a Ba Austen H. Layard, Nineveh and Its Remains, (London: John Murray, 1853), Vol. I, pp. 287-288. Aabo ba Turki, bakazyila kumulonga wa Euphratesi, abalo bakaamba mbweenya buyo. Mubbuku lya Redhouse's Turkish Dictionary, izina lya "Saatani," lyaambwa kuti shèyt?n (J. W. Redhouse, London: Bernard Quaritch, 1880, p. 277.)
41 Hislop, op. cit., p. 276.
42 II Batesalonika 2:7
43 Mateyo 12:8
44 Letters to the Protestants of Scotland, First Series, (Edinburgh, 1852), p. 121, mbuli bwaalembedwe mubbuku lya Hislop, op. cit., p. 285.
45 Hislop, op. cit., pp. 2-3.