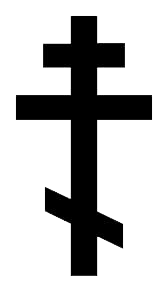 The hundreds of millions of members of the Eastern Orthodox Church are extremely devout, adhering strictly to doctrines and traditions passed down for over 1,000 years. Unfortunately, much of Eastern Orthodoxy is based upon a faulty premise and is, therefore, in error. Following is a list of some of the errors found within Eastern Orthodoxy.
Most of the errors found within Eastern Orthodoxy are the doctrines founded upon "Sacred Tradition." Time will never transform error into truth. Only those beliefs founded upon sacred Scripture are consistent with Heaven's truths.
Eastern Orthodoxy teaches a triune godhead. The doctrine of the Trinity comes from paganism and cannot be found in Scripture which clearly states: "Hear, O Israel: Yahuwah our Eloah is one!" (Deuteronomy 6:4) The Bible makes plain that Yahushua, while born of a virgin, is a human being - not a diety.
The Eastern Orthodox belief that when a soul dies, it is temporarily separated from the body and may either linger a short while on earth or be immediately escorted to paradise or Hades, is in direct contradiction of Scripture which defines a "soul" as the combination of the breath of Yah with a physical body. Furthermore, Scripture is clear that there is no consciousness after death: "The dead praise not Yahuwah, neither any that go down into silence. For in death there is no remembrance of thee: in the grave who shall give thee thanks?" (Psalm 115:17; 6:5)
The belief in consciousness after death is based upon the assumption that the soul is immortal. However, Scripture declares that Yahuwah is "the King of kings and Lord of lords, who alone has immortality." (1 Timothy 6:15, 16)
Although the Eastern Orthodox Church technically does not believe in transubstantiation as taught by the Catholic Church, they nevertheless believe that sometime between the Proskomedia and the Epiklesis, a mystery occurs in which the bread and the wine does become the actual body and blood of Christ. While sincere in their belief, such a doctrine is blasphemous because it, in effect, recrucifies the Saviour at every mass. This contradicts the Bible which explains:

[Yahushua] has [entered] . . . into heaven itself, now to appear in the presence of [Eloah] for us; not that He should offer Himself often, . . . He then would have had to suffer often since the foundation of the world; but now, once . . . He has appeared to put away sin by the sacrifice of Himself. And as it is appointed for men to die once, but after this the judgment, so [Yahushua] was offered once to bear the sins of many. (See Hebrews 9:24-28.)
Eastern Orthodoxy venerates Mary, as the Theotokos and, in keeping with their belief in consciousness after death, teaches that believers can pray to her and any other saint in Heaven. While the Bible does reveal that, in addition to Enoch, Moses and Elijah, there are many people in Heaven who once lived on earth, nowhere in Scripture does Yahuwah ever authorize anyone to pray to any human being. Prayer is a form of worship. Offered to anyone other than Yahuwah, it is idolatry. John the Revelator recounted his experience: "And I fell at his feet to worship him. But he said to me, See that you do not do that! I am your fellow servant, and of your brethren who have the testimony of Yahushua. Worship Yahuwah! For the testimony of Yahushua is the spirit of prophecy." (Revelation 19:10)
Any error separates believers from their Heavenly Father. Yahuwah is calling His Eastern Orthodox children to compare their beliefs with Scripture, lay aside all error, and enter a close, intimate relationship with Him.