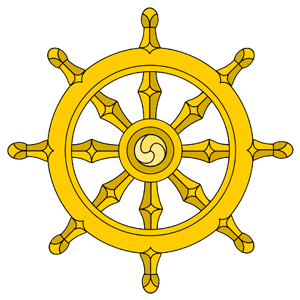 Many sincere people who have been repulsed by the divisions and inconsistencies seen in other religions are drawn to Buddhism. It's emphasis on compassion, working for the good and happiness of others, and diligent pursuit of truth is very attractive to many good-hearted, intellectually honest individuals. It's core values are well summarized in the words of Scripture: "He has shown you, O man, what is good: and what does Yahuwah require of you but to do justly and to love mercy, and to walk humbly with your Elohim?" (Micah 6:8)
Nevertheless, Buddhism contains some errors that, if clung to, will prevent believers from reaching ultimate joy and enlightenment.
Buddhism is a non-theistic religion. As such, it denies the existence of any and all gods, including the Creator, "who is and who was and who is to come." (Revelation 1:4)

The Buddhist doctrine of annatta rejects the existence of the human soul. While Scripture is adamant that Yahuwah alone has underived immortality, it nevertheless establishes that the breath of life from Yah combined with the physical body creates a living soul.

Buddhists believe in a form of reincarnation more accurately known as transmigration. Transmigration, while not the same as reincarnation, nevertheless allows for a form of continued life-after-death. The Creator of all has taught that there is no life-after-death: "For the living know that they shall die: but the dead know not any thing." (Ecclesiastes 9:5) Any immortality enjoyed by created beings is a gift of grace: "The wages of sin is death, but the gift of Yah is eternal life through Yahushua the anointed our Master." (See Romans 6:23.)

Buddhism's belief in Nirvana as the ultimate desirable destination largely denies the existence of a real and physical Heaven* (the abode of the Creator), Yahuwah's son, and angels.

Note: The Bible makes plain that Yahushua, while born of a virgin, is a human being - not a diety.
*WLC is not here suggesting that the redeemed go to Heaven. Scripture teaches that immortality in the earth made new is the reward of the saints.

Buddhists accept Buddha as their only Master, thus depriving them of the joy of a close relationship with their Creator who commands: "Thou shalt have no other gods before Me." (Exodus 20:3)

Buddhism is inconsistent regarding Yahushua. On the one hand, Buddhism teaches that Yahushua was "fully enlightened" while, at the same time, they teach that He was not, in fact, the Son of Yahuwah as He claimed. The two are mutually exclusive stances. Either Yahushua was fully enlightened (which would mean He was not lying when He claimed to be the Son of Yahuwah) or He was a liar and not enlightened.

Ultimately, Buddhism is a form of salvation by works. An individual only reaches Nirvana after expending individual effort. True salvation, however, is not dependent upon anything a human can do.

"For by grace are ye saved through faith; and that not of yourselves: it is the gift of Yahuwah: not of works, lest any man should boast. For we are his workmanship, created in Yahushua the Annointed unto good works, which Yahuwah hath before ordained that we should walk in them." (Ephesians 2:8-10)
Now, He that is Ultimate Truth is inviting His children to step free of the errors of Buddhism which limit their pursuit of wisdom and happiness, and into the ultimate enlightenment of His glorious reality.