Jaina Dharma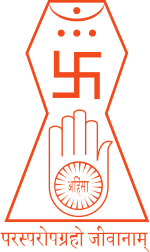 Jainism's emphasis on the equality between all forms of life is consistent with a principle so beautifully stated by the Son of Yahuwah: "As you would that men should do to you, do you also unto them." (Luke 6:31) The importance that Jainists place on spiritual independence is likewise laudable. Many who rely on their priests, pastors or rabbis to decide what is truth for them would do well to learn from the example of the Jainists, as no one can be salvation for someone else.
Nevertheless, the truths of Jainism are mingled with error. Thus, its sincere followers are kept from arriving at true joy and knowledge. Following is a general list of errors found in this religion.
Although Jainism was founded as a non-theistic religion, Jainists of today believe that multiple deities dwell in the heavens. However, there is only one deity: the Creator of Heaven and earth. He explains: "I am Yahuwah, and there is no other;
apart from me there is no God [El/Deity]." (Isaiah 45:5)
Jainism, like all other organized religions with their stated creeds, is a religion based on salvation by works. The only way to obtain liberation from reincarnation and enter the higher realm is through a life of severe self-denial and asceticism. The Creator declares: "For by grace you have been saved through faith, and that not of yourselves; it is the gift of [Yah], not of works, lest anyone should boast." (Ephesians 2:8, 9) Every true advancement, every thorough transformation of character, is a gift.

Salvation, character transformation and even eternal life itself is a divine gift that cannot be obtained through human works.
The Jainist version of karma is yet another extension of salvation by works which, ultimately, will always be doomed to failure: "For by the works of the law shall no flesh be justified." (Galatians 2:16)
Janinists believe that at death, the soul is reborn into another life, the state of which is dependent on the karma accrued during their previous life. Such a belief is founded on the assumption that the soul is immortal. The problem of such a belief is two-fold:


1. The Creator alone is naturally immortal. See 1 Timothy 6:13-16.

2. At death, the body returns to the earth and the spirit to Yah who gave it. There is no consciousness after death, either as a spirit or reincarnation into another life: "For the living know that they shall die: but the dead know not any thing, neither have they any more a reward; for the memory of them is forgotten. Also their love, and their hatred, and their envy, is now perished; neither have they any more a portion for ever in any thing that is done under the sun." (Ecclesiastes 9:5, 6)
Yahuwah, the Creator of all, now invites His children in the Jainist faith to turn aside from the efforts to advance themselves and accept His gift of grace that will transform their characters and elevate them beyond their highest hopes and aspirations. "Eye hath not seen, nor ear heard, neither have entered into the heart of man, the things which Yahuwah hath prepared for them that." (1 Corinthians 2:9)