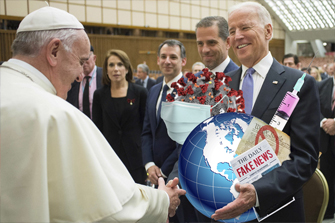 What WLC covers in the news and why:
1) News about the First Beast [the Roman Catholic Church], and the Second Beast [the USA]. Since these are the 2 dominant end time players in Revelation 13, it is important to cover their news extensively.
2) News on Pope Francis [age 80], since he is the Eighth and last pope of Revelation 17. The end of his reign means the End of the world. This is why the Second Coming of Yahushua is measured in years and not decades.
3) News of near fulfillment of First Woe of Rev 9. First Woe will not be due to an 'alien' attack, but a 'demonic' attack. Francis will deceitfully emerge as humanity's savior; world leaders will surrender their authority to him, to revive collapsed world economy. Pope wages final war against His people.
4) News that show man's cup of iniquity is overflowing, and divine judgment is about to be unleashed.