Résumés
A well-written résumé is an essential first-step to gaining an interview. Write a résumé that highlights all you have to offer a prospective employer. Sample résumés have been provided for your review.
Résumés: Introducing Yourself to an Employer (Click Here)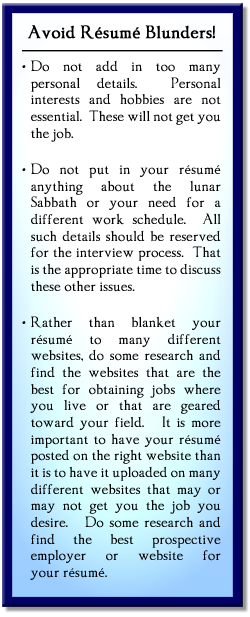 A well written résumé is an important tool for obtaining an interview. A recruiter scanning through a stack of submitted résumés spends an average of 10 seconds on each one before going to the next. It is vitally important that what you present in your résumé captures the attention of the prospective employer in those 10 seconds.
A résumé should be no more than one page. It is a summary of your educational and work experience, not your life history. Your résumé should contain your personal contact information as well, so that the prospective employer can contact you if he/she wants to invite you to an interview.
Every résumé should have one of two sections right at the beginning: an Objective or a Summary. For people just starting out in the work force or those who do not have a lot of work experience an objective statement should be written. For those who have already established a solid career and have prominent work experience, a summary statement should be used instead. A summary is basically a longer version of the objective statement and can be very useful for impressing the recruiter with the significant attainments one has already achieved in one's work experience.
Be sure to include all dates in your schooling and previous work experience. To exclude any has the appearance of covering up something you do not want the recruiter to know about, such as having been fired from a job. On the other hand, those with extensive work experience do not need to expound at length on details of work experiences and achievements that are not relative to the position sought. Only those details that relate directly to the position you are applying for should be included.
When writing your résumé, ask a friend or your spouse to look over it. Nothing impresses prospective employers less than mistakes, grammatical errors and misspelled words on the very piece of paper you are using to try to convince them that you are the best for the job. Mistakes, grammatical errors and misspelled words are a major reason why many résumés get rejected. The recruiter will assume that if you are that careless and sloppy on such an important document, you will be careless and sloppy in any work you perform for the business.
Once you have written your résumé, do not consider it a masterpiece that never needs any more work. Résumés should be frequently updated. Each job for which you are applying will have a job description. After determining if you have the skills and experience to qualify, modify your résumé to emphasize what you have to offer that meets their requirements. Take the job description, reword it in your own words, and incorporate that into your résumé.
Some jobs require that you fill out an application. Even when you are doing nothing but stopping by to pick up an application, make sure that you present yourself in a way that is in keeping with how the business employees are dressed. First impressions do make an impression. Make yours count! (For this reason, when you send in a cover letter and résumé, print them on good quality paper if at all possible.)
WLC is happy to provide several sample résumés for your instruction. These are for instructive purposes only. Do not just copy résumés you have found on-line. Bring some of your own personality into it. A unique, original résumé is more likely to catch the attention of the recruiter.