JOIN TODAY!
Meet new people from all over the world, make friends, change your status, upload photos, earn points, & so much more! Chat, post comments or questions on our forum, or send private emails to your friends! There is so much to do and Learn here at World's Last Chance! Join our growing Christian Community Today and receive your Free Gift!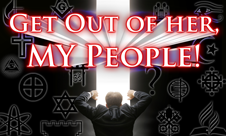 eCourses Completion Status
James Says that by Works a Man is Justified and not by Faith Only
James 2 - Read the whole chapter.
When we talk about justifying works like Brother James does in James 2, when we talk about earning something by what we do, people gasp! But the bible does say in the New Testament in James 2 that by works a man is justified and not by faith only. If that's what it says, leave it where it's at, let it lie, don't try to explain it away, just believe it even if you don't know how to harmonize it with other texts, just believe what it says. It also says - was not our father Abraham justified by works when he offered up his son Isaac upon the altar? That's what a New Testament epistle says. Let's believe that text just as much as we believe Romans 3 or Romans 9, etc. [Read them for comparison]
So, we must stop trying to make doctrine based on a denominational position or a system of belief that a group has. The worst thing you can do is get a denominational belief or system of doctrine in your mind that disallows you from being able to believe some bible verses. We have to wipe all that away, read the Bible and believe all the verses.
If we've been giving to the poor and storing up heavenly treasure, we will get it for sure when we enter His Kingdom.. Yahushua will return soon to establish His Kingdom on earth. Let us be also aware of the fact that almsgiving affords us, here and now in this life, all the other benefits including in a sense, atonement and cleansing from sin.
This has been the principle established in all the texts we have examined in the preceding lessons so this is something to chew on and think about going forward.
These were more noble than those in Thessalonica, in that they received the word with all readiness of mind, and searched the scriptures daily, whether those things were so. (Acts 17:11)
Receive the word with eagerness and then examine the scriptures daily to see if these things be so as the Bereans did in the Book of Acts.

---
This lesson was taken from a non-WLC video by Matthew Janzen:
The Power of Almsgiving (Luke 12:32-34)