JOIN TODAY!
Meet new people from all over the world, make friends, change your status, upload photos, earn points, & so much more! Chat, post comments or questions on our forum, or send private emails to your friends! There is so much to do and Learn here at World's Last Chance! Join our growing Christian Community Today and receive your Free Gift!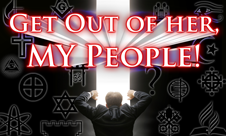 eCourses Completion Status
Do not confuse the Lord Yahuwah with the Lord Yahushua, his Christ.
A Letter from Yahushua: About Yahuwah Our Father and Me (Continued)

Do not confuse the Lord Yahuwah with the Lord Yahushua, his Christ.
He shall be great, and shall be called the Son of the Highest: and the Lord G-d [Yahuwah] shall give unto him the throne of his father David: Luke 1:32
Wherefore of these men which have companied with us all the time that the Lord Yahushua went in and out among us, Acts 1:21
To all that be in Rome, beloved of G-d [Yahuwah], called to be saints: Grace to you and peace from G-d Yahuwah our Father, and the Lord Yahushua Christ. Rom. 1:7
When you read the accounts of my life, you can see that I am a man and that Yahuwah is someone else, the true G-d, the G-d of Israel whom I worship and serve. And yet, in some contexts powerful and impressive people insist that my whole message counts for nothing unless "the deity of Christ" is part of it. But listen carefully, my child: you must prefer me to them, just as some of my first followers had to turn from even the most prestigious and powerful scholars and scribes in order to take me as their teacher. Just come to me, and learn from me, and I will resolve your confusion. My earliest followers faithfully recorded the truths Yahuwah gave me, and even more truths, which Yahuwah's spirit soon taught them. "Very truly, I tell you, whoever receives one whom I send receives me; and whoever receives me receives him who sent me."
Verily, verily, I say unto you, He that receiveth whomsoever I send receiveth me; and he that receiveth me receiveth him that sent me. John 13:20
Do you really think my theology needs some help, some correction? Why do you call me "Lord, Lord" and yet treat my teaching about Yahuwah as something desperately in need of supplementation, using words that I never used, even demanding that my followers use them? You dare not load them down with requirements that my disciples and I did not establish as conditions of the new covenant!
Whosoever shall confess that Yahushua is the Son of G-d [Yahuwah] , G-d [Yahuwah] dwelleth in him, and he in G-d [Yahuwah]. 1 John 4:15
Listen to me, and plug your ears when people presume to tell you what I really must have been hinting at. Don't be seduced by alleged deep secrets about my imagined "inclusion in the divine identity," discernible only by the learned or by the "spiritual." "I have spoken openly to the world;" truly, "I have said nothing in secret."
Yahushua answered him, I spake openly to the world; I ever taught in the synagogue, and in the temple, whither the Jews always resort; and in secret have I said nothing. John 18:20
Yes, for a short time I did have to keep my identity as Messiah quiet so that it would not result in misunderstanding, or even an armed revolt. But I told my messengers the whole truth about me and my mission; "I have made known to you everything that I have heard from my Father."
Henceforth I call you not servants; for the servant knoweth not what his lord doeth: but I have called you friends; for all things that I have heard of my Father I have made known unto you. John 15:15
I have held nothing back from you. Therefore, you should attend carefully to what my messengers did and did not write. They explained how my life fulfilled prophecies about the Messiah, and also prophecies about Yahuwah. But in citing these last, they did not hint that I am Yahuwah himself. Rather, in some of them, the fulfillment is Yahuwah working through me,
Behold, a virgin shall be with child, and shall bring forth a son, and they shall call his name Emmanuel, which being interpreted is, G-d with us. Matt. 1:23
...and in others, my G-d [Yahuwah] revealed to them another meaning of the ancient text, another, more recent fulfillment.
The voice of one crying in the wilderness, Prepare ye the way of the Lord, make his paths straight. Mark 1:3
If you think a text from my messengers is hinting at some deep, unexpressed truth about me, look to see if the author or a worthy character in their narrative draws that conclusion. If not, you may be jumping to that conclusion.