JOIN TODAY!
Meet new people from all over the world, make friends, change your status, upload photos, earn points, & so much more! Chat, post comments or questions on our forum, or send private emails to your friends! There is so much to do and Learn here at World's Last Chance! Join our growing Christian Community Today and receive your Free Gift!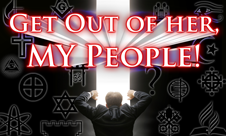 eCourses Completion Status
Everyone knows that I was killed. No one can kill Yahuwah!
A Letter from Yahushua: About Yahuwah Our Father and Me (Continued)

Everyone knows that I was killed. No one can kill Yahuwah! He leads and does not follow; no one is greater than him. Ps. 89:6, Isa. 40:18; Deut. 10:17
For who in the heaven can be compared unto the Lord [Yahuwah]? who among the sons of the mighty can be likened unto the Lord [Yahuwah]? Ps. 89:6

To whom then will ye liken G-d? or what likeness will ye compare unto him? Isa. 40:18

For the Lord [Yahuwah] your G-d is G-d of g-ds, and Lord of lords, a great G-d, a mighty, and a terrible, which regardeth not persons, nor taketh reward: Deut. 10:17
While he is eternally all-knowing, I told you there was something I didn't know.
33 O the depth of the riches both of the wisdom and knowledge of G-d! how unsearchable are his judgments, and his ways past finding out! 34 For who hath known the mind of the Lord? or who hath been his counsellor? 35 Or who hath first given to him, and it shall be recompensed unto him again? Rom. 11:33–35.
If you say I really did know in my "divine nature" or in my "divine mind" then you are calling me a liar. Don't do it!
Notice that at my trials my enemies never accused me of claiming to be more than Yahuwah's Messiah, the promised King of Israel.
SPECIAL NOTE: 53 Matt. 26:59–66, 27:17,22, 29, 37, 42–44; Mark 14:55– 65, 15:2–5, 12, 18, 26, 32; Luke 22:66–71, 23:1–5; John 18:33–38. [Some readers infer that Yahushua must have been making some sort of "divine claim" because in Matthew and Mark he is accused of blasphemy. But the careful reader should note that Yahushua there claims only that he will be seated at Yahuwah's right hand, which assumes that Yahushua is not Yahuwah himself, but rather someone else.]
I tell you the truth: I never said a single thing that it would be blasphemous for a man to say, so long as that man really was Yahuwah's chosen Messiah. And so I am.
Listen to me, and I will help you to see that the Lord Yahuwah and the Lord Yahushua Christ are not the same "Lord." Even though I am a unique lord, the Father is my G-d even as he is yours. Don't be confused by the fact that I now share some of his titles. He has graciously inspired his servants to call me many things that he has been called:
"Lord," Rom.1:4 - And declared to be the Son of G-d with power, according to the spirit of holiness, by the resurrection from the dead:
"G-d," Heb. 1:8 - But unto the Son he saith, Thy throne, O G-d, is for ever and ever: a sceptre of righteousness is the sceptre of thy kingdom.
"Savior," " Luke 2:11 - For unto you is born this day in the city of David a Saviour, which is Christ the Lord.
"Master," Jude 1:4 - For there are certain men crept in unawares, who were before of old ordained to this condemnation, ung-dly men, turning the grace of our G-d into lasciviousness, and denying the only Lord G-d, and our Lord Yahushua Christ.
"First and Last," "Rev. 2:8 - And unto the angel of the church in Smyrna write; These things saith the first and the last, which was dead, and is alive;
"Alpha and Omega," Rev. 22:13 - I am Alpha and Omega, the beginning and the end, the first and the last.
and even "Lord of lords and King of kings." Rev. 17:14 - These shall make war with the Lamb, and the Lamb shall overcome them: for he is Lord of lords, and King of kings: and they that are with him are called, and chosen, and faithful.
Just remember that the very people who ascribe these titles to me also clearly teach that Yahuwah is my G-d, the G-d over me, the G-d to whom I submit.
Yahushua saith unto her, Touch me not; for I am not yet ascended to my Father: but go to my brethren, and say unto them, I ascend unto my Father, and your Father; and to my G-d, and your G-d. John 20:17 (See also Rom. 15:6; 2 Cor. 1:3; Eph. 1:3, 17; 1 Pet. 1:3; Rev. 1:6, 3:2, 12)
It should be no surprise, since I am like him, his very image, and am still about his business, that he would generously allow me to share some of his wonderful titles. I praise him for it!
3 And they sing the song of Moses the servant of G-d, and the song of the Lamb, saying, Great and marvellous are thy works, Lord G-d Almighty; just and true are thy ways, thou King of saints. 4 Who shall not fear thee, O Lord, and glorify thy name? for thou only art holy: for all nations shall come and worship before thee; for thy judgments are made manifest. Rev. 15:3–4
Yes, I know that some sophisticated people among you, noting the differences between Yahuwah and me, will avoid saying that I am Yahuwah himself. They instead proudly discourse on "the deity of Christ," and argue that I have a "divine nature." In truth, they have muddied the waters with their rulings requiring people to say that I am "perfect in divinity and perfect in humanity, the same truly G-d and truly man...one and the same Christ, Son, Lord, only-begotten, acknowledged in two natures."
Neither I nor my apostles taught you these things. If a "human nature" is a man, then I am a human nature. If the "divine nature" is a G-d, you should remember that there is only one G-d, and he is our Father.
Hear, O Israel: The Lord [Yahuwah] our G-d, The Lord [Yahuwah] is one: Deut. 6:4

These words spake Yahushua, and lifted up his eyes to heaven, and said, Father, the hour is come; glorify thy Son, that thy Son also may glorify thee: 2 As thou hast given him power over all flesh, that he should give eternal life to as many as thou hast given him. 3 And this is life eternal, that they might know thee the only true G-d, and Yahushua Christ, whom thou hast sent. John 17:1–3

And we know that we are of G-d [Yahuwah], and the whole world lieth in wickedness. 20 And we know that the Son of G-d is come, and hath given us an understanding, that we may know him that is true, and we are in him that is true, even in his Son Yahushua Christ. This is the true G-d, and eternal life.1 John 5:19–20
If "human nature" is instead supposed to be the defining qualities which any human must have, then like any human being, I have human nature. But if "divine nature" is supposed to be the defining qualities, which any G-d must have, then I do not have divine nature, as I have already explained.
After hundreds of years of telling people that I was feigning having anything like typical human limitations, which would mean that I was deceiving those around me, more recently some of you, willing to do anything to save your G-d-man theories, have changed your theology, saying that Yahuwah can temporarily give up his perfect knowledge, his immunity to temptation, and his unlimited power. Perish the thought! The Lord Yahuwah Almighty can't be killed, can't be tempted, and can't be ignorant of any fact.
NOTE: (a), (b), (c) below -- Even if these are done through the mediation of an angelic being, nonetheless it is Yahuwah who (indirectly) does such things
Yes, he can appear in human form and
(a) even wrestle with a man, SEE Gen. 32:22–32
verse 24: And Jacob was left alone; and there wrestled a man with him until the breaking of the day.
(b) visit a man and receive his hospitality, See Gen. 18:1–22 (Abraham)
verses 1-2: And the Lord appeared unto him in the plains of Mamre: and he sat in the tent door in the heat of the day; And he lift up his eyes and looked, and, lo, three men stood by him: and when he saw them, he ran to meet them from the tent door, and bowed himself toward the ground,
(c) be seen by Moses and the elders of Israel, Ex. 24:9–11
9 Then went up Moses, and Aaron, Nadab, and Abihu, and seventy of the elders of Israel: 10 And they saw the G-d of Israel: and there was under his feet as it were a paved work of a sapphire stone, and as it were the body of heaven in his clearness. 11 And upon the nobles of the children of Israel he laid not his hand: also they saw G-d, and did eat and drink.
Nothing is too hard for him. But appearing in human form is not the same as being a man, is it?
New Testament writers, firm in their conviction that Yahushua was a real man, speak loosely of him as "in the likeness of sinful flesh" (Rom. 8:3), "revealed in flesh" (1 Tim. 3:16), "come in the flesh" (1 John 4:2) and "being born in human likeness" (Phil. 2:7). But they do not thereby mean to suggest that Yahushua only seemed to be human, or that Yahushua transitioned from being a disembodied spirit to being embodied in a human (or humanoid) body. For them, he is the supernaturally conceived but human Son of Mary (Luke 1:35; Matt. 1:18), a literal descendant of David (Rom. 1:3), "a man" (Acts 2:22; John 8:40) although "from heaven," that is to say, Yahuwah-sent and G-dly (1 Cor. 15:47; John 3:13).
Don't shrink your idea of Yahuwah down to human size just to save your theory that he is me! Better you should re-examine your teachings about me in light of what I and my apostles actually said, not to mention the prophets before me. They all agree that I am a man, a descendant of David,
He shall be great, and shall be called the Son of the Highest: and the Lord G-d shall give unto him the throne of his father David: Luke 1:32

Concerning his Son Yahushua our Lord, which was made of the seed of David according to the flesh; Rom. 1:3

Remember that Yahushua of the seed of David was raised from the dead according to my gospel: 2 Tim. 2:8

I Yahushua have sent mine angel to testify unto you these things in the churches. I am the root and the offspring of David, and the bright and morning star. Rev. 22:16
They do not offer the dark saying that I am "man" but not "a man" or that I am "human" but not a "human person."
Regarding this speculation that any "LORD" or "G-d" seen in the times of the patriarchs was me, I never told you that, nor did any of my apostles. Listen to us!