JOIN TODAY!
Meet new people from all over the world, make friends, change your status, upload photos, earn points, & so much more! Chat, post comments or questions on our forum, or send private emails to your friends! There is so much to do and Learn here at World's Last Chance! Join our growing Christian Community Today and receive your Free Gift!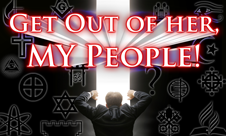 eCourses Completion Status
I am your lord, but not your G-d; Yahuwah is one.
A Letter from Yahushua: About Yahuwah Our Father and Me (Continued)

I am your lord, but not your G-d; Yahuwah is one. [Deut. 6:4, Mark 12:29; Gal. 3:20 see also 1 Cor. 8:4–6;
O Israel: The Lord [Yahuwah] our G-d is one Lord [Yahuwah]: Deut. 6:4. And Yahushua answered him, The first of all the commandments is, O Israel; The Lord [Yahuwah] our G-d is one Lord [Yahuwah]: Mark 12:29

Now a mediator is not a mediator of one, but G-d [Yahuwah] is one. Gal. 3:20
My disciples wanted to see the Father,
8 Philip saith unto him, Lord, show us the Father, and it sufficeth us. 9 Yahushua saith unto him, Have I been so long time with you, and yet hast thou not known me, Philip? he that hath seen me hath seen the Father; and how sayest thou then, Show us the Father? 10 Believest thou not that I am in the Father, and the Father in me? the words that I speak unto you I speak not of myself: but the Father that dwelleth in me, he doeth the works. 11 Believe me that I am in the Father, and the Father in me: or else believe me for the very works' sake. John 14:8–11
I told them to look at me in order to see the Father — not because I am the father, but because I am like him. I am his image,
Who is the image of the invisible G-d [Yahuwah], the firstborn of every creature: Colossians 1:15
Truly he was and is at work in me. (John 14:10) Eventually even Thomas was given eyes to see the Father at work in me, reconciling the world to himself.
And Thomas answered and said unto him, My Lord and my G-d. John 20:28
To wit, that G-d [Yahuwah] was in Christ, reconciling the world unto himself, not imputing their trespasses unto them; and hath committed unto us the word of reconciliation. 2 Cor. 5:19
That life-changing power, it comes from us. And one who truly follows me fellowships with us, with the one true G-d, Yahuwah, and also with me, his unique Son, your human lord. Yahuwah and I are, respectively, the one G-d and the one lord.
[1 Cor. 8:6; Eph. 4:4–6]
But to us there is but one G-d [Yahuwah], the Father, of whom are all things, and we in him; and one Lord Yahushua Christ, by whom are all things, and we by him. 1 Cor. 8:6
4 There is one body, and one Spirit, even as ye are called in one hope of your calling; 5 One Lord, one faith, one baptism, 6 One G-d [Yahuwah] and Father of all, who is above all, and through all, and in you all. Eph. 4:4–6
Follow me, and truly, we will dwell with you.
That which we have seen and heard declare we unto you, that ye also may have fellowship with us: and truly our fellowship is with the Father, and with his Son Yahushua Christ. 1 John 1:3
But don't confuse us with one another, and let go of speculations to the effect that we are two "Persons" in some imagined "triune" G-d. I didn't teach you that, and neither did my messengers. My Father is G-d [Yahuwah], all of G-d; he is not merely one of three "Persons" in G-d, whatever that may mean!
Did I say "I am"? Yes! As in, "I am he. "Or you might say "I am the one." And I also said which one I am: the Messiah. I explained this clearly to the Samaritan woman.
25 The woman saith unto him, I know that Messias cometh, which is called Christ: when he is come, he will tell us all things. 26 Yahushua saith unto her, I that speak unto thee am he. John 4:25–26
24 He that loveth me not keepeth not my sayings: and the word which ye hear is not mine, but the Father's which sent me. 25 These things have I spoken unto you, being yet present with you. John 14:24–25
Will you listen to me? Yahuwah has exalted me to his right hand.
9 Wherefore G-d [Yahuwah] also hath highly exalted him, and given him a name which is above every name: Phil. 2:6–11
This was done as a reward for my unique service to him, in winning people of all nations to him.
And they sung a new song, saying, Thou art worthy to take the book, and to open the seals thereof: for thou wast slain, and hast redeemed us to G-d [Yahuwah] by thy blood out of every kindred, and tongue, and people, and nation; And hast made us unto our G-d [Yahuwah] kings and priests: and we shall reign on the earth. Rev. 5:9–10
Obey Yahuwah and honor me; this gives him glory. "Who can forgive sins but Yahuwah alone?" The answer is: someone who Yahuwah has authorized to forgive sins on his behalf, like me,
[see Matt. 9:2–8] Excerpt from verse 6: But that ye may know that the Son of man hath power on earth to forgive sins,
Just like my followers as well.
Whose soever sins ye remit, they are remitted unto them; and whose soever sins ye retain, they are retained. John 20:23
What could possibly convince you that I am not Yahuwah, but rather his unique human Son, when I have already plainly told you that he knows more than me,
But of that day and that hour knoweth no man, no, not the angels which are in heaven, neither the Son, but the Father. Mark 13:32
That he is greater than me,
Ye have heard how I said unto you, I go away, and come again unto you. If ye loved me, ye would rejoice, because I said, I go unto the Father: for my Father is greater than I. John 14:28
That I only do his will and follow his lead,
Then answered Yahushua and said unto them, Verily, verily, I say unto you, The Son can do nothing of himself, but what he seeth the Father do: for what things soever he doeth, these also doeth the Son likewise. For the Father loveth the Son, and sheweth him all things that himself doeth: and he will shew him greater works than these, that ye may marvel. John 5:19–20