JOIN TODAY!
Meet new people from all over the world, make friends, change your status, upload photos, earn points, & so much more! Chat, post comments or questions on our forum, or send private emails to your friends! There is so much to do and Learn here at World's Last Chance! Join our growing Christian Community Today and receive your Free Gift!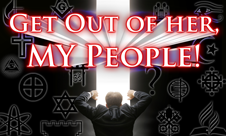 eCourses Completion Status
I know you mean well.
A Letter from Yahushua: About Yahuwah Our Father and Me

Dear Christian, [Born Again Believer]
I've been meaning to talk to you about Yahuwah and me.
I know you mean well; you're trying to rescue my honor from people who say I'm just one of many "great spiritual teachers." In truth, I do not wish to be lumped together with the likes of Muhammad, the Buddha, or Gandhi. I don't mind being compared to Moses, although my ministry has far surpassed his.
For Moses truly said unto the fathers, A prophet shall Yahuwah raise up unto you of your brethren, like unto me; him shall ye hear in all things whatsoever he shall say unto you. Acts 3:22 [see also Acts 7:37; Deut. 18:15; John 1:17–18]
I do wish, though, that you would pay attention to my teaching, both during my bodily ministry on earth and in my post- resurrection ministry through my hand-picked apostles.
I need you to stop confusing me with Yahuwah, our heavenly Father. You pray to Yahuwah and then call him "Yahushua," as if that were his name. He has a name, but "Yahushua" is not it!
And Yahuwah said moreover unto Moses, Thus shalt thou say unto the children of Israel, the Lord G-d of your fathers, the G-d of Abraham, the G-d of Isaac, and the G-d of Jacob, hath sent me unto you: this is my name for ever, and this is my memorial unto all generations. Exodus 3:15
You pray to my Father and you thank him for dying on the cross for you. But this never happened! Pay attention, my children. I am Yahuwah's Son, not him!
33 The Jews answered him, saying, For a good work we stone thee not; but for blasphemy; and because that thou, being a man, makest thyself G-d [Yahuwah]. 34 Yahushua answered them, Is it not written in your law, I said, Ye are g-ds? 35 If he called them g-ds, unto whom the word of G-d [Yahuwah] came, and the scripture cannot be broken; 36 Say ye of him, whom the Father hath sanctified, and sent into the world, Thou blasphemest; because I said, I am the Son of G-d [Yahuwah]? John 10:33-36
I am a man, and it should go without saying that the Almighty is not a man.
But now ye seek to kill me, a man that hath told you the truth, which I have heard of Yahuwah: this did not Abraham. John 8:40

G-d [Yahuwah] is not a man, that he should lie; neither the son of man, that he should repent: hath he said, and shall he not do it? or hath he spoken, and shall he not make it good? Numbers 23:19
He, my Father, is the only true G-d [Yahuwah].
But to us there is but one G-d [Yahuwah], the Father, of whom are all things, and we in him; and one Yahushua Christ, by whom are all things, and we by him. 1 Cor. 8:6

One G-d Yahuwah and Father of all, who is above all, and through all, and in you all. Eph. 4:6

For there is one G-d [Yahuwah], and one mediator between Yahuwah and men, the man Christ Yahushua; 1 Tim. 2:5 [see also John 17:1–3; 1 Thess. 1:9–10; 1 John 5:20]
I am his Messiah, his Christ, his anointed one, not the anointer.
25 The woman saith unto him, I know that Messias cometh, which is called Christ: when he is come, he will tell us all things. 26 Yahushua saith unto her, I that speak unto thee am he. John 4:25–26
I died, and thanks be to Yahuwah, he raised me and made me immortal.
3 For I delivered unto you first of all that which I also received, how that Christ died for our sins according to the scriptures; 4 And that he was buried, and that he rose again the third day according to the scriptures: 1 Cor. 15:3–4 [see also Verses 42–56]