JOIN TODAY!
Meet new people from all over the world, make friends, change your status, upload photos, earn points, & so much more! Chat, post comments or questions on our forum, or send private emails to your friends! There is so much to do and Learn here at World's Last Chance! Join our growing Christian Community Today and receive your Free Gift!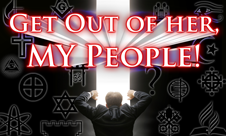 eCourses Completion Status
The one true G-d [Yahuwah]
A Letter from Yahushua: About Yahuwah Our Father and Me (Continued)

The one true G-d [Yahuwah] does not have a G-d; no one is his G-d, He is my G-d [Yahuwah]. He's the only one like that. The rest of us are under him. My G-d is your G-d; Yahuwah is Father both of me and of you all. I told you this plainly, right after he raised me.
Yahushua saith unto her, Touch me not; for I am not yet ascended to my Father: but go to my brethren, and say unto them, I ascend unto my Father, and your Father; and to my G-d, and your G-d [Yahuwah]. John 20:17
I did something that even Yahuwah could not do: I lived as an example for you of a human life lived in faithful submission to Yahuwah, walking out the two most important commandments, to "love the Lord your G-d with all your heart, and with all your soul, and with all your mind," and to "love your neighbor as yourself."
Yahushua said unto him, Thou shalt love the Lord thy G-d [Yahuwah] with all thy heart, and with all thy soul, and with all thy mind. Matt. 22:37 [see Deut.6:5]
the second is like unto it, Thou shalt love thy neighbour as thyself. Matt. 22:39 [see Lev.19:8]
You can't tempt Yahuwah Almighty;
Let no man say when he is tempted, I am tempted of G-d [Yahuwah]: for Yahuwah cannot be tempted with evil, neither tempteth he any man: James 1:13
But I was tempted, and I passed the tests.
And [J-sus] Yahushua being full of the Holy Ghost returned from Jordan, and was led by the Spirit into the wilderness, 2 Being forty days tempted of the devil. And in those days he did eat nothing: and when they were ended, he afterward hungered. Luke 4:1–2 [see also Luke 4:3–13]
For we have not an high priest which cannot be touched with the feeling of our infirmities; but was in all points tempted like as we are, yet without sin. Heb. 4:15.
I prayed to Yahuwah both in secret and in public,
16 And he withdrew himself into the wilderness, and prayed. Luke 5:16
41 And he was withdrawn from them about a stone's cast, and kneeled down, and prayed, Luke 5: 22:41
I worshiped him in the temple, and from a young age I studied his revealed words.
41 Now his parents went to Jerusalem every year at the feast of the passover. 42 And when he was twelve years old, they went up to Jerusalem after the custom of the feast. . . . 47 And all that heard him were astonished at his understanding and answers. Luke 2:41–42, 47
I taught you to pray to him and I showed you how to relate to him.
5 And when thou prayest, thou shalt not be as the hypocrites are: for they love to pray standing in the synagogues and in the corners of the streets, that they may be seen of men. Verily I say unto you, They have their reward. 6 But thou, when thou prayest, enter into thy closet, and when thou hast shut thy door, pray to thy Father which is in secret; and thy Father which seeth in secret shall reward thee openly. 7 But when ye pray, use not vain repetitions, as the heathen do: for they think that they shall be heard for their much speaking. Matt. 6:5–7 [also 8-13]
As I explained clearly, it was Yahuwah who sent me,
Whosoever shall receive one of such children in my name, receiveth me: and whosoever shall receive me, receiveth not me, but him that sent me. Mark 9:37
Verily, verily, I say unto you, He that receiveth whomsoever I send receiveth me; and he that receiveth me receiveth him that sent me. John 13:20
Yahuwah who empowered me,
The Spirit of the Lord [Yahuwah] is upon me, because he hath anointed me to preach the gospel to the poor; he hath sent me to heal the brokenhearted, to preach deliverance to the captives, and recovering of sight to the blind, to set at liberty them that are bruised, Luke 4:18
How Yahuwah anointed Yahushua of Nazareth with the Holy Ghost and with power: who went about doing good, and healing all that were oppressed of the devil; for Yahuwah was with him. Acts 10:38
Yahuwah who vindicated my claims by the amazing miracles he did through me,
But I have greater witness than that of John: for the works which the Father hath given me to finish, the same works that I do, bear witness of me, that the Father hath sent me. John 5:36
Believest thou not that I am in the Father, and the Father in me? the words that I speak unto you I speak not of myself: but the Father that dwelleth in me, he doeth the works. 11 Believe me that I am in the Father, and the Father in me: or else believe me for the very works' sake. John 14:10-11
Ye men of Israel, hear these words; Yahushua of Nazareth, a man approved of Yahuwah among you by miracles and wonders and signs, which Yahuwah did by him in the midst of you, as ye yourselves also know: Acts 2:22
And later through my messengers.
And fear came upon every soul: and many wonders and signs were done by the apostles. Acts 2:43
By stretching forth thine hand to heal; and that signs and wonders may be done by the name of thy holy child Yahushua. Acts 4:30

And by the hands of the apostles were many signs and wonders wrought among the people; (and they were all with one accord in Solomon's porch. Acts 5:12
And Stephen, full of faith and power, did great wonders and miracles among the people. Acts 6:8
Did I make myself Yahuwah? No, as I explained, that was a false accusation. All I ever claimed to be was Yahuwah's Son, his Messiah.
29 My Father, which gave them me, is greater than all; and no man is able to pluck them out of my Father's hand. 30 I and my Father are one. 31 Then the Jews took up stones again to stone him. [See John 10:22-39]
Notice that my messengers and I never once said I am "G-d the Son." [as Trinitarians do falsely]
I did say that the Father and I "are one," [See John 10:30 above.]
Yes, even as the one who plants and the one who waters are "one." That is to say, we're about the same business.
Now he that planteth and he that watereth are one: and every man shall receive his own reward according to his own labour. 1 Corinthians 3:8
Neither I nor my apostles ever told you that the Father and I are the one G-d; no, he is my G-d, Yahuwah.
Him that overcometh will I make a pillar in the temple of my G-d [Yahuwah], and he shall go no more out: and I will write upon him the name of my G-d, and the name of the city of my G-d, which is new Jerusalem, which cometh down out of heaven from my G-d: and I will write upon him my new name. Rev. 3:12