JOIN TODAY!
Meet new people from all over the world, make friends, change your status, upload photos, earn points, & so much more! Chat, post comments or questions on our forum, or send private emails to your friends! There is so much to do and Learn here at World's Last Chance! Join our growing Christian Community Today and receive your Free Gift!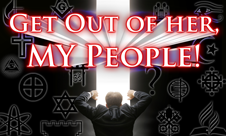 eCourses Completion Status
To sum up, I am Yahuwah's unique Son.
A Letter from Yahushua: About Yahuwah Our Father and Me (Continued)

To sum up, I am Yahuwah's unique Son, and I have been raised up to be his right-hand man, a Joseph to his Pharaoh.
And Pharaoh said unto Joseph, See, I have set thee over all the land of Egypt. (Genesis 41:41) [See Gen. 41:37–45.]
Someday I will be your judge; Yahuwah has appointed me to that role.
Because he hath appointed a day, in the which he will judge the world in righteousness by that man whom he hath ordained; whereof he hath given assurance unto all men, in that he hath raised him from the dead. Acts 17:31
I will rule and reign from a truly Yahuwah-like position which I was given by the one true G-d [Yahuwah].
For he hath put all things under his feet. But when he saith all things are put under him, it is manifest that he is excepted, which did put all things under him. 1 Cor. 15:27
I'm a man still, although Yahuwah has raised me up to be "a life-giving spirit" with an immortal body.
42 So also is the resurrection of the dead. It is sown in corruption; it is raised in incorruption: 43 It is sown in dishonour; it is raised in glory: it is sown in weakness; it is raised in power: 44 It is sown a natural body; it is raised a spiritual body. There is a natural body, and there is a spiritual body. 45 And so it is written, The first man Adam was made a living soul; the last Adam was made a quickening spirit. 46 Howbeit that was not first which is spiritual, but that which is natural; and afterward that which is spiritual. 1 Cor. 15:42–46
If you think that it would be wrong to worship or pray to "a mere man," you need to fearfully reconsider what you just called me. Would you stand in front of one of this world's kings or emperors, point your finger at him and say out loud that "he's just some guy"? When you stand before me as your judge, you will see how "mere" I am! You will bow your knee to me, "to the glory of Yahuwah the Father."
And that every tongue should confess that Yahushua is Lord, to the glory of G-d [Yahuwah] the Father. Phil. 2:11
Although I am not your G-d, I am your lord, and you ought to love and fear me.
And said to the mountains and rocks, Fall on us, and hide us from the face of him that sitteth on the throne, and from the wrath of the Lamb: Rev. 6:16
These shall make war with the Lamb, and the Lamb shall overcome them: for he is Lord of lords, and King of kings: and they that are with him are called, and chosen, and faithful Rev. 17:14
If you think that Yahuwah could not possibly put a human being into this position I now enjoy — well, that's just the voice of unbelief. I told you that I am "a man who has told you the truth that I heard from Yahuwah."
But now ye seek to kill me, a man that hath told you the truth, which I have heard of G-d [Yahuwah]: this did not Abraham. John 8:40
Empowered by Yahuwah, yes a real man can do all that Yahuwah's Messiah must do. This man is forever your priest who stands between you and Yahuwah.
Wherefore in all things it behoved him to be made like unto his brethren, that he might be a merciful and faithful high priest in things pertaining to G-d [Yahuwah], to make reconciliation for the sins of the people. Heb. 2:17 [See also: Heb. 3:1, 4:14–15, 6:20, 8:1, 9:11]
This man is the one intermediary between Yahuwah and all of my brothers and sisters.
For there is one G-d [Yahuwah], and one mediator between G-d [Yahuwah] and men, the man Yahushua; 1 Tim. 2:5
This man is "the first and the last, and the living one. I was dead, and see, I am alive forever and ever; and I have the keys of Death and of Hades."
17 And when I saw him, I fell at his feet as dead. And he laid his right hand upon me, saying unto me, Fear not; I am the first and the last: 18 I am he that liveth, and was dead; and, behold, I am alive for evermore, Amen; and have the keys of hell and of death. Rev. 1:17–18
Now listen closely: I am not the first and last G-d [Yahuwah] — that position has been taken! I am the first and last exalted human lord, raised to immortality, and exalted until all are subject to me, even as I am subject to Yahuwah.
But I would have you know, that the head of every man is Christ; and the head of the woman is the man; and the head of Christ is G-d [Yahuwah]. 1 Cor. 11:3
20 But now is Christ risen from the dead, and become the firstfruits of them that slept. . . . 28 And when all things shall be subdued unto him, then shall the Son also himself be subject unto him that put all things under him, that G-d [Yahuwah] may be all in all. 1 Cor. 15:20–28
I once stumped my own countrymen by asking them how in the prophetic Psalm David could call the Messiah, his own descendant, "lord."
35 And Yahushua answered and said, while he taught in the temple, How say the scribes that Christ is the son of David? 36 For David himself said by the Holy Ghost, The Lord said to my Lord, Sit thou on my right hand, till I make thine enemies thy footstool. 37 David therefore himself calleth him Lord; and whence is he then his son? And the common people heard him gladly. Mark 12:35–37
They didn't know, but a reader of the New Testament should understand that Yahuwah has exalted me, the very point of the prediction I quoted to them.
For David himself said by the Holy Ghost, The Lord [Yahuwah] said to my Lord [Yahushua], Sit thou on my right hand, till I make thine enemies thy footstool. Mark 12:36
The Lord [Yahuwah] said unto my Lord [Yahushua], Sit thou at my right hand, until I make thine enemies thy footstool. Psalm 110:1
I am not the Lord Yahuwah Almighty, I am the first son of Mary whom Yahuwah "has made both Lord and Christ."
Therefore let all the house of Israel know assuredly, that G-d [Yahuwah] hath made the same Yahushua, whom ye have crucified, both Lord and Christ. Acts 2:36