JOIN TODAY!
Meet new people from all over the world, make friends, change your status, upload photos, earn points, & so much more! Chat, post comments or questions on our forum, or send private emails to your friends! There is so much to do and Learn here at World's Last Chance! Join our growing Christian Community Today and receive your Free Gift!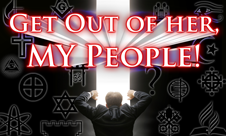 eCourses Completion Status
200 Proofs Earth is Not a Spinning Ball! | Proof 101-110
Click here to view "200 Proofs Earth is Not a Spinning Ball!" with images.
Proof 101: Sigma Octantis is claimed to be a Southern central pole star similar to Polaris, around which the Southern hemisphere stars all rotate around the opposite direction. Unlike Polaris, however, Sigma Octantis can NOT be seen simultaneously from every point along the same latitude, it is NOT central but allegedly 1 degree off-center, it is NOT motionless, and in fact cannot be seen at all using publicly available telescopes! There is legitimate speculation regarding whether Sigma Octantis even exists. Either way, the direction in which stars move overhead is based on perspective and the exact direction you're facing, not which hemisphere you are in.
Proof 102: Some heliocentrists have tried to suggest that the Pole Star's gradual declination overhead as an observer travels southwards is proof of a globular Earth. Far from it, the declination of the Pole Star or any other object is simply a result of the Law of Perspective on plane (flat) surfaces. The Law of Perspective dictates that the angle and height at which an object is seen diminishes the farther one recedes from the object, until at a certain point the line of sight and the seemingly uprising surface of the Earth converges to a vanishing point (i.e. the horizon line) beyond which the object is invisible. In the ball-Earth model the horizon is claimed to be the curvature of the Earth, whereas in reality, the horizon is known to be simply the vanishing line of perspective based on the strength of your eyes, instruments, weather and altitude.
Proof 103: There are several constellations which can be seen from far greater distances over the face of the Earth than should be possible if the world were a rotating, revolving, wobbling ball. For instance, Ursa Major, very close to Polaris, can be seen from 90 degrees North latitude (the North Pole) all the way down to 30 degrees South latitude. For this to be possible on a ball-Earth the Southern observers would have to be seeing through hundreds or thousands of miles of bulging Earth to the Northern sky.
Proof 104: The constellation Vulpecula can be seen from 90 degrees North latitude, all the way to 55 degrees South latitude. Taurus, Pisces and Leo can be seen from 90 degrees North all the way to 65 degrees South. An observer on a ball-Earth, regardless of any tilt or inclination, should not logically be able to see this far.
Proof 105: Aquarius and Libra can be seen from 65 degrees North to 90 degrees South! The constellation Virgo is visible from 80 degrees North down to 80 degrees South, and Orion can be seen from 85 degrees North all the way to 75 degrees South latitude! These are all only possible because the "hemispheres" are not spheres at all but concentric circles of latitude extending outwards from the central North Pole with the stars rotating over and around.
Proof 106: The so-called "South Pole" is simply an arbitrary point along the Antarctic ice marked with a red and white barbershop pole topped with a metal ball-Earth. This ceremonial South Pole is admittedly and provably NOT the actual South Pole, however, because the actual South Pole could be demonstrably confirmed with the aid of a compass showing North to be 360 degrees around the observer. Since this feat has never been achieved, the model remains pure theory, along with the establishment's excuse that the geomagnetic poles supposedly constantly move around making verification of their claims impossible.
Proof 107: Ring magnets of the kind found in loudspeakers have a central North pole with the opposite "South" pole actually being all points along the outer circumference. This perfectly demonstrates the magnetism of our flat Earth, whereas the alleged source of magnetism in the ball-Earth model is emitted from a hypothetical molten magnetic core in the center of the ball which they claim conveniently causes both poles to constantly move thus evading independent verification at their two "ceremonial poles." In reality the deepest drilling operation in history, the Russian Kola Ultradeep, managed to get only 8 miles down, so the entire ball-Earth model taught in schools showing a crust, outer-mantle, inner-mantle, outer-core and inner-core layers are all purely speculation as we have never penetrated through beyond the crust.
Proof 108: The mariner's compass is an impossible and nonsensical instrument for use on a ball-Earth. It simultaneously points North and South over a flat surface, yet claims to be pin-pointing two constantly moving geomagnetic poles at opposite ends of a spinning sphere originating from a hypothetical molten metal core. If compass needles were actually drawn to the North pole of a globe, the opposing "South" needle would actually be pointing up and off into outer-space.
Proof 109: There are no fixed "East" or "West" points just as there is no fixed "South." The North central Pole is the only proven fixed point on our flat Earth, with South being all straight lines outwards from the pole, East and West being concentric circles at constant right angles 90 degrees from the pole. A westerly circumnavigation of Earth is thus going around with Polaris continually on your right, while an easterly circumnavigation is going around with Polaris always at your left.
Proof 110: Magellan and others' East/West circumnavigations of Earth are often quoted as proof of the ball model. In actual fact, however, sailing or flying at right angles to the North pole and eventually returning to one's original location is no more difficult or mysterious than doing so on a globe. Just as an architect's compass can place its center-point on a flat piece of paper and trace a circle either way around the "pole," so can a ship or plane circumnavigate a flat-Earth.
---
Source: 200 Proofs Earth is Not a Spinning Ball! (Eric Dubay)