JOIN TODAY!
Meet new people from all over the world, make friends, change your status, upload photos, earn points, & so much more! Chat, post comments or questions on our forum, or send private emails to your friends! There is so much to do and Learn here at World's Last Chance! Join our growing Christian Community Today and receive your Free Gift!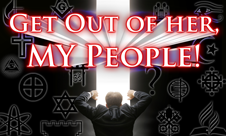 eCourses Completion Status
In Remembrance of Me: Do this in the kingdom | Part B
At the feet washing, Christ had given convincing proof that He understood the character of Judas. "Ye are not all clean" (John 13:11), He said. These words convinced the false disciple that Christ read his secret purpose. Now Christ spoke out more plainly. As they were seated at the table He said, looking upon His disciples, "I speak not of you all: I know whom I have chosen: but that the scripture may be fulfilled, He that eateth bread with Me hath lifted up his heel against Me."
Even now the disciples did not suspect Judas. But they saw that Christ appeared greatly troubled. A cloud settled over them all, a premonition of some dreadful calamity, the nature of which they did not understand. As they ate in silence, Yahushua said, "Verily I say unto you, that one of you shall betray Me." At these words amazement and consternation seized them. They could not comprehend how any one of them could deal treacherously with their Teacher. For what cause could they betray Him? and to whom? Whose heart could give birth to such a design? Surely not one of the favored twelve, who had been privileged above all others to hear His teachings, who had shared His wonderful love, and for whom He had shown such great regard by bringing them into close communion with Himself!
As they realized the import of His words, and remembered how true His sayings were, fear and self-distrust seized them. They began to search their own hearts to see if one thought against their Master were harbored there. With the most painful emotion, one after another inquired, "Master, is it I?" But Judas sat silent. John in deep distress at last inquired, "Master, who is it?" And Yahushua answered, "He that dippeth his hand with Me in the dish, the same shall betray Me. The Son of man goeth as it is written of Him: but woe unto that man by whom the Son of man is betrayed! it had been good for that man if he had not been born." The disciples had searched one another's faces closely as they asked, "Master, is it I? "And now the silence of Judas drew all eyes to him. Amid the confusion of questions and expressions of astonishment, Judas had not heard the words of Yahushua in answer to John's question. But now, to escape the scrutiny of the disciples, he asked as they had done, "Master, is it I?" Yahushua solemnly replied, "Thou hast said."
In surprise and confusion at the exposure of his purpose, Judas rose hastily to leave the room. "Then said Yahushua unto him, That thou doest, do quickly. . . . He then having received the sop went immediately out: and it was night." Night it was to the traitor as he turned away from Christ into the outer darkness.
Until this step was taken, Judas had not passed beyond the possibility of repentance. But when he left the presence of his Master and his fellow disciples, the final decision had been made. He had passed the boundary line.
Wonderful had been the long-suffering of Yahushua in His dealing with this tempted soul. Nothing that could be done to save Judas had been left undone. After he had twice covenanted to betray his Master, Yahushua still gave him opportunity for repentance. By reading the secret purpose of the traitor's heart, Christ gave to Judas the final, convincing evidence of His love. This was to the false disciple the last call to repentance. No appeal that the heart of Christ could make had been spared. The waves of mercy, beaten back by stubborn pride, returned in a stronger tide of subduing love. But although surprised and alarmed at the discovery of his guilt, Judas became only the more determined. From the sacramental supper he went out to complete the work of betrayal.

---
We have taken out from the original article all pagan names and titles of the Father and Son, and have replaced them with the original given names. Furthermore, we have restored in the Scriptures quoted the names of the Father and Son, as they were originally written by the inspired authors of the Bible. -WLC Team
---
WLC Source:
https://www.worldslastchance.com/in-remembrance-of-me.html