JOIN TODAY!
Meet new people from all over the world, make friends, change your status, upload photos, earn points, & so much more! Chat, post comments or questions on our forum, or send private emails to your friends! There is so much to do and Learn here at World's Last Chance! Join our growing Christian Community Today and receive your Free Gift!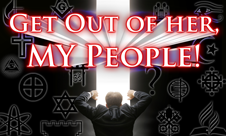 eCourses Completion Status
In Remembrance of Me: Do this in the kingdom | Part D
None should exclude themselves from the Communion because some who are unworthy may be present. Every disciple is called upon to participate publicly, and thus bear witness that he accepts Christ as a personal Saviour. It is at these, His own appointments, that Christ meets His people, and energizes them by His presence. Hearts and hands that are unworthy may even administer the ordinance, yet Christ is there to minister to His children. All who come with their faith fixed upon Him will be greatly blessed. All who neglect these seasons of divine privilege will suffer loss. Of them it may appropriately be said, "Ye are not all clean."
In partaking with His disciples of the bread and wine, Christ pledged Himself to them as their Redeemer. He committed to them the new covenant, by which all who receive Him become children of Yahuwah, and joint heirs with Christ. By this covenant every blessing that heaven could bestow for this life and the life to come was theirs. This covenant deed was to be ratified with the blood of Christ. And the administration of the Sacrament was to keep before the disciples the infinite sacrifice made for each of them individually as a part of the great whole of fallen humanity.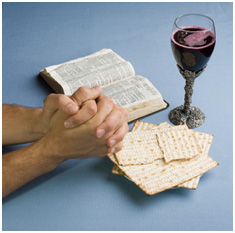 But the Communion service was not to be a season of sorrowing. This was not its purpose. As the Master's disciples gather about His table, they are not to remember and lament their shortcomings. They are not to dwell upon their past religious experience, whether that experience has been elevating or depressing. They are not to recall the differences between them and their brethren. The preparatory service has embraced all this. The self-examination, the confession of sin, the reconciling of differences, has all been done. Now they come to meet with Christ. They are not to stand in the shadow of the cross, but in its saving light. They are to open the soul to the bright beams of the Sun of Righteousness. With hearts cleansed by Christ's most precious blood, in full consciousness of His presence, although unseen, they are to hear His words, "Peace I leave with you, My peace I give unto you: not as the world giveth, give I unto you." John 14:27.
Our Master says, Under conviction of sin, remember that I died for you. When oppressed and persecuted and afflicted for My sake and the gospel's, remember My love, so great that for you I gave My life. When your duties appear stern and severe, and your burdens too heavy to bear, remember that for your sake I endured the cross, despising the shame. When your heart shrinks from the trying ordeal, remember that your Redeemer liveth to make intercession for you.

---
We have taken out from the original article all pagan names and titles of the Father and Son, and have replaced them with the original given names. Furthermore, we have restored in the Scriptures quoted the names of the Father and Son, as they were originally written by the inspired authors of the Bible. -WLC Team
---
WLC Source:
https://www.worldslastchance.com/in-remembrance-of-me.html