JOIN TODAY!
Meet new people from all over the world, make friends, change your status, upload photos, earn points, & so much more! Chat, post comments or questions on our forum, or send private emails to your friends! There is so much to do and Learn here at World's Last Chance! Join our growing Christian Community Today and receive your Free Gift!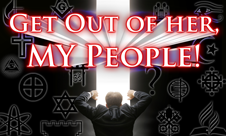 eCourses Completion Status
Patience of the Saints | Part B
patience
. They trust Yahuwah in all things, knowing that "man doth not live by bread only, but by every word that proceedeth out of the mouth of Yahuwah doth man live." (Deuteronomy 8:3) When hurt or wronged by others, those who have patience do not seek revenge. They trust Yahuwah to right every wrong, claiming the promise: "Vengeance is Mine; I will repay, saith Yahuwah." (Romans 12:19)
Paul likened this experience to that of a long-distance race, encouraging: "Wherefore seeing we also are compassed about with so great a cloud of witnesses, let us lay aside every weight, and the sin which doth so easily beset us, and let us run with patience the race that is set before us, looking unto Yahushua, the author and finisher of our faith." (Hebrews 12:1 and 2) The Christian life is like a long-distance race. It cannot be won in a quick sprint. Rather it takes patience, a steadfast will and a willingness to wait long for the reward. The promises of Yahuwah's Word are given to strengthen believers in their individual races.
"For whatsoever things were written aforetime were written for our learning, that we through patience and comfort of the scriptures might have hope." (Romans 15:4)
Revelation reveals that the final generation will possess the spiritual grace of patience.
He that leadeth into captivity shall go into captivity: he that killeth with the sword must be killed with the sword. Here is the patience and the faith of the saints. (Revelation 13:10)
If any man worship the beast and his image . . . the same shall drink of the wine of the wrath of Yahuwah . . . and the smoke of their torment ascendeth up forever and ever . . . Here is the patience of the saints: here are they that keep the commandments of Yahuwah and the faith of Yahushua. (Revelation 14:9-12)
It is interesting to note that each instance is given in the context of the final struggle between Yahushua and Satan. All who will overcome the devil in earth's final struggle will do so only in the strength of Yahuwah. This strength is theirs through faith in their Redeemer. By exercising faith, based on their knowledge of His character, they will exercise patience.
Like Yahushua in the Garden of Gethsamane, their faith will be tested to the uttermost.
Like Yahushua on the cross, there will be times when, emotionally, they will feel as though their Heavenly Father has at last forsaken them.
Like Yahushua, they will overcome by reposing their trust entirely in Yahuwah. They will submit their wills to the divine will and wait for Him to deliver in the way He knows best. They are content to wait long for justice, knowing deliverance and rewards beyond their wildest imagination will come to those who trust the Saviour.
Yahushua's words are part of their personal experience: "Ye shall be betrayed both by parents, and brethren, and kinsfolk's, and friends; and some of you shall they cause to be put to death. And ye shall be hated of all men for my name's sake. But there shall not an hair of your head perish. In your patience possess ye your souls." (Luke 21:16-19)
The saints trust Yahuwah. They trust His promises. This trust has been built upon individual experience. They know that "Faithful is he that calleth you, who also will do it." (1 Thessalonians 5:24) They can endure hardship, persecution and scorn because they have complete confidence that Yahuwah will deliver them and the promised reward is sure.