JOIN TODAY!
Meet new people from all over the world, make friends, change your status, upload photos, earn points, & so much more! Chat, post comments or questions on our forum, or send private emails to your friends! There is so much to do and Learn here at World's Last Chance! Join our growing Christian Community Today and receive your Free Gift!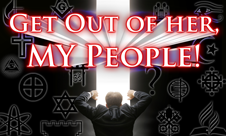 eCourses Completion Status
Women should see themselves as Blessed handmaidens of Yahuwah.
When Yahuwah was looking for one to bear His only begotten Son, He chose a very humble woman in Miriam. Let's look at her response to this blessing:
Luke 1:38- And Mary said, Behold the handmaid of Yahuwah; be it unto me according to thy word. And the angel departed from her.
And later she said:
Luke 1:46- And Mary said, My soul doth magnify Yahuwah, 47 – And my spirit hath rejoiced in Elohim my Saviour. 48 – For he hath regarded the low estate of his handmaiden: for, behold, from henceforth all generations shall call me blessed.
Miriam/Mary considered herself Yahuwah's handmaiden. The Greek word used here means "a female slave". She regarded herself as Yahuwah's slave. She knew that Yahuwah looked upon her "low estate" and decided to bless her. And Yahuwah knew that He didn't have to be concerned with her pride getting in the way of His glory. She was in her place, loving her role as Yahuwah's handmaiden. O women of Yahuwah, He has great blessings in store for you! Seek to be His handmaidens. Female slaves have no choice, they have to do their master's bidding because they are slaves. Follow her example and His promise is-you will be blessed! It is upon the handmaidens that Yahuwah will pour out His Spirit:
Acts 2:17- And it shall come to pass in the last days, saith Elohim, I will pour out of my Spirit upon all flesh: and your sons and your daughters shall prophesy, and [b] your young men shall see visions, and your old men shall dream dreams: 18 – And on my servants and on my handmaidens I will pour out in those days of my Spirit; and they shall prophesy:
Many proud women today claim to have His Spirit and because of this they choose to lead men in the Ekklesia. However, it is only upon the humble handmaidens who know their place that Yahuwah will give His Spirit. You never saw Yahushua's mother taking the role of a teacher. She never claimed "Look, I was chosen to be Yahushua's mother…you should hear what I have to say". No, she knew very well her place and that is one reason why Yahuwah chose to bless her.